Taisan is a soft and fluffy Filipino chiffon cake. It is popularly served as an afternoon snack or midmorning pick-me-up.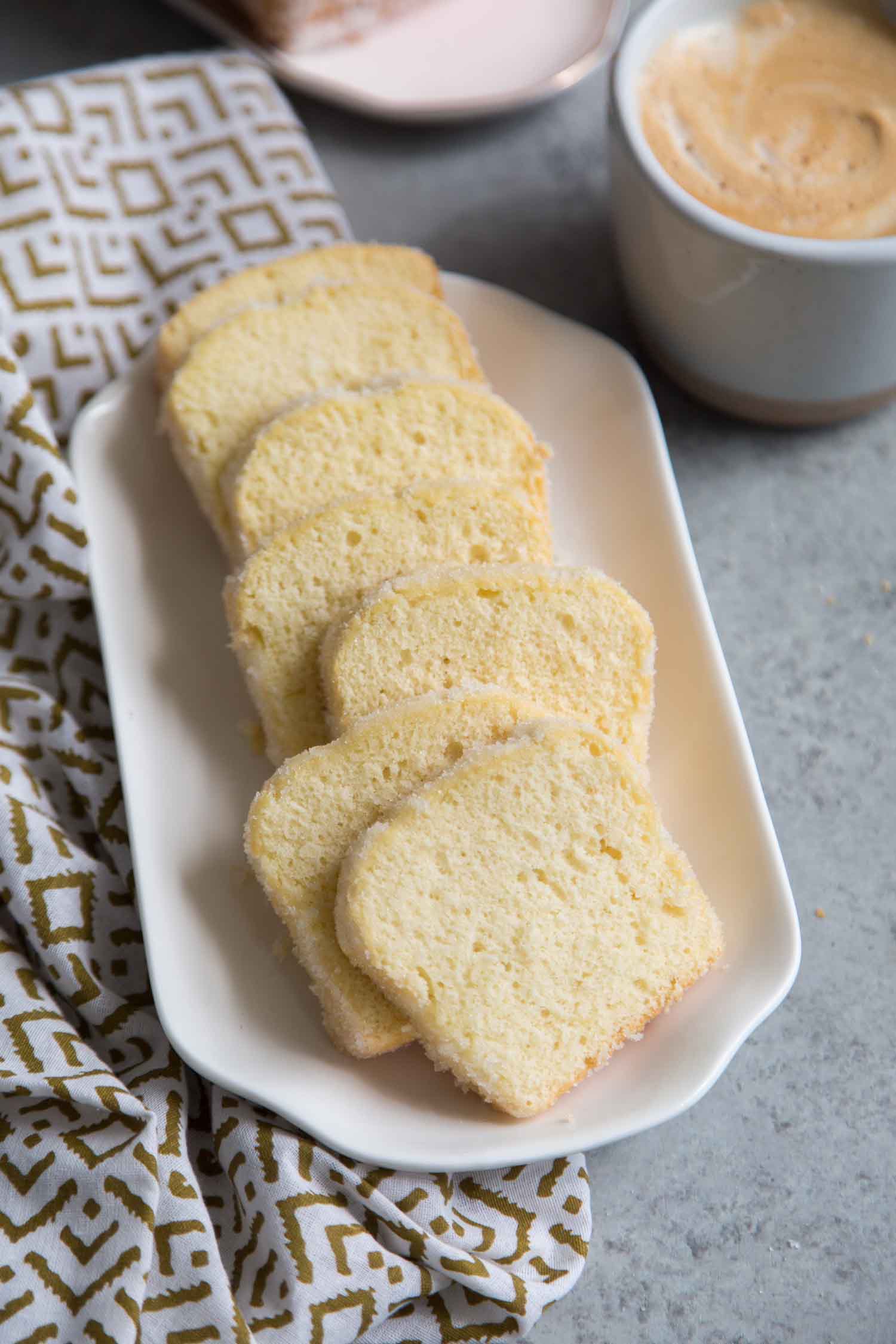 All sorts of different cuisines from all over the world could be found within minutes from my hometown. (FYI: I grew up in the suburb of Walnut, about 30 miles east of Downtown Los Angeles.) One reason I could never leave Southern California.
Taiwanese, Japanese, Thai, Korean, Peruvian, German, you name it. You could find a restaurant, mom and pop shop, or market nearby with whatever food/ingredient you wanted.
As a first generation Filipino-American, I was lucky to be near multiple Filipino markets, a good selection of Filipino restaurants, and most important- plenty of Filipino bakeries.
Red Ribbon was my favorite Filipino bake shop. I went there frequently with my parents to fill up on pandesal, chicken empanadas, and taisan!
What is Taisan?
Taisan is a Filipino chiffon cake.  I'm not sure where the name "taisan" originated from, or what it means. I asked friends and family, but no one seems to know the answer.
I ate countless slices of taisan as a kid. It's the perfect little treat any time of day. As a child, I enjoyed it with hot chocolate or warm milk. Nowadays, I prefer it with cold brew coffee or a strong latte.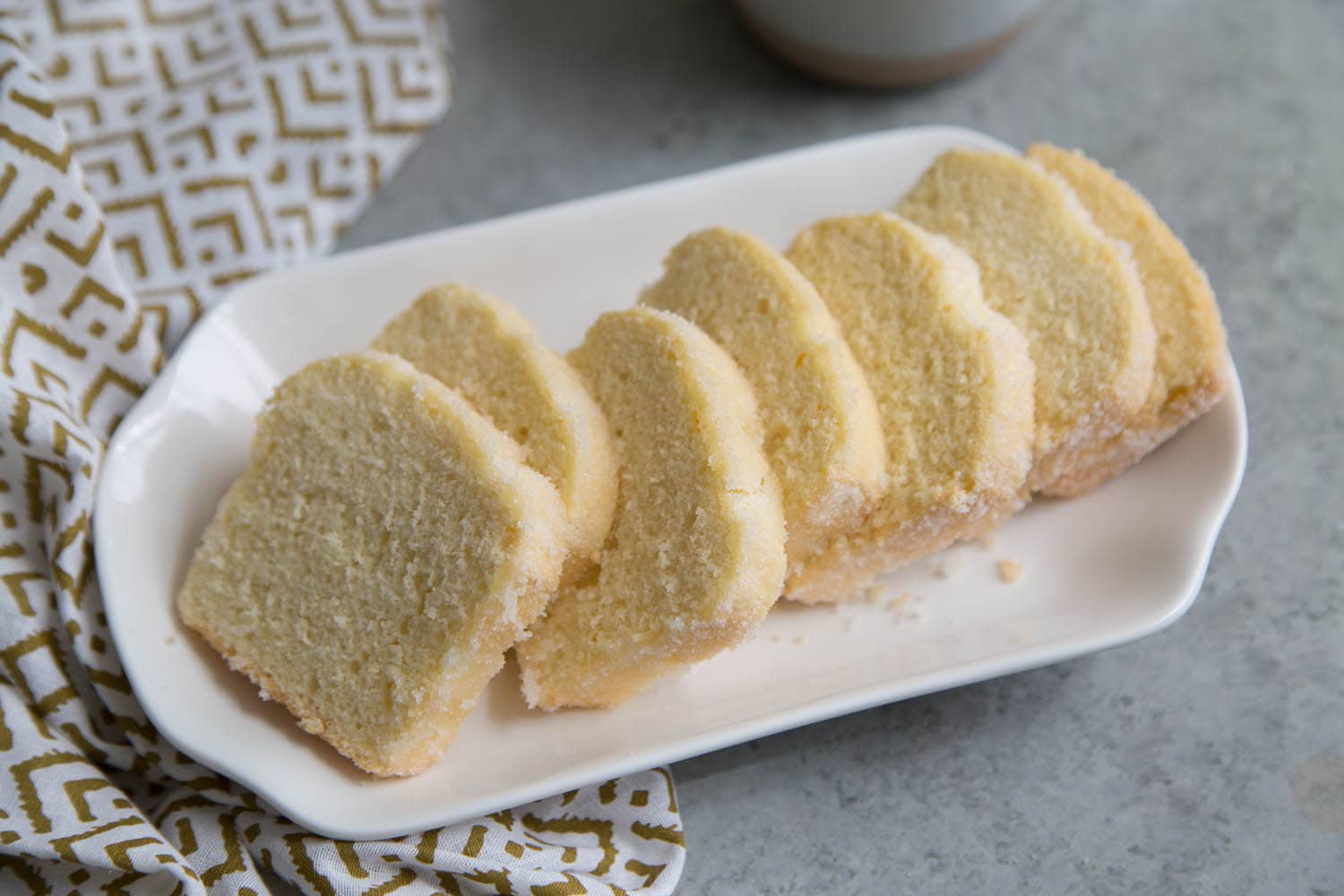 What is a chiffon cake? How does it differ from a sponge cake?
Chiffon cake is a light and fluffy cake made with flour, baking powder, eggs, sugar, and vegetable oil.  The cake is leavened with baking powder and whipped egg whites.
Sponge cake, also known as a genoise, is made with flour, sugar, eggs, and melted butter. Genoise batter usually doesn't use chemical leavening (baking powder). Instead it relies on the aeration and volume created during mixing the batter.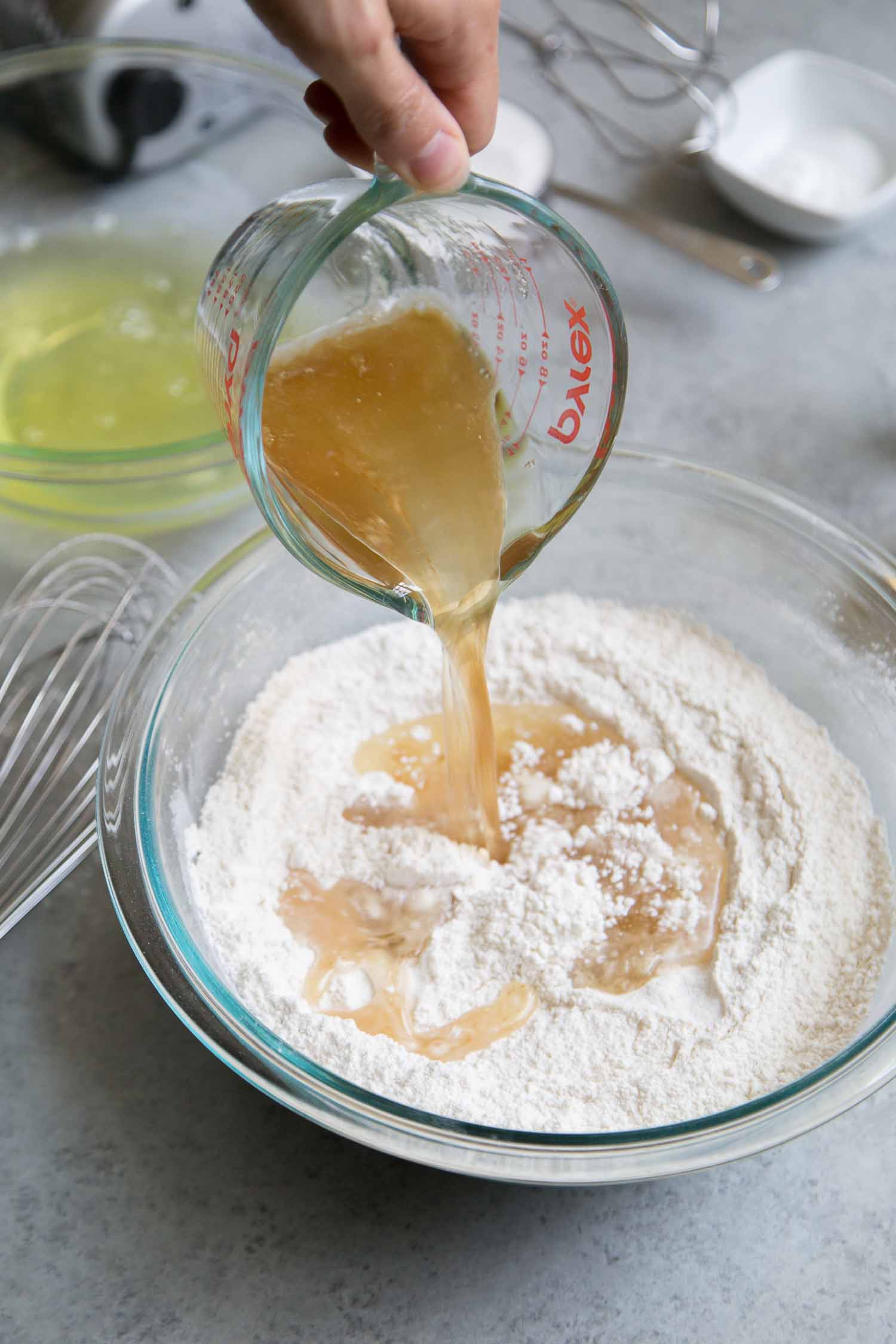 How to make Taisan (Filipino Chiffon Cake):
A stand mixer is not necessary for making taisan. I suggest using an electric hand mixer, but with a strong arm and a little effort, this taisan cake can also be whipped together by hand.
You'll need two bowls. In a large bowl, combine all the dry ingredients: cake flour, baking powder, sugar, and salt. To that bowl, add egg yolks, water, vegetable oil, and vanilla. This gets mixed together until it's smooth and thick.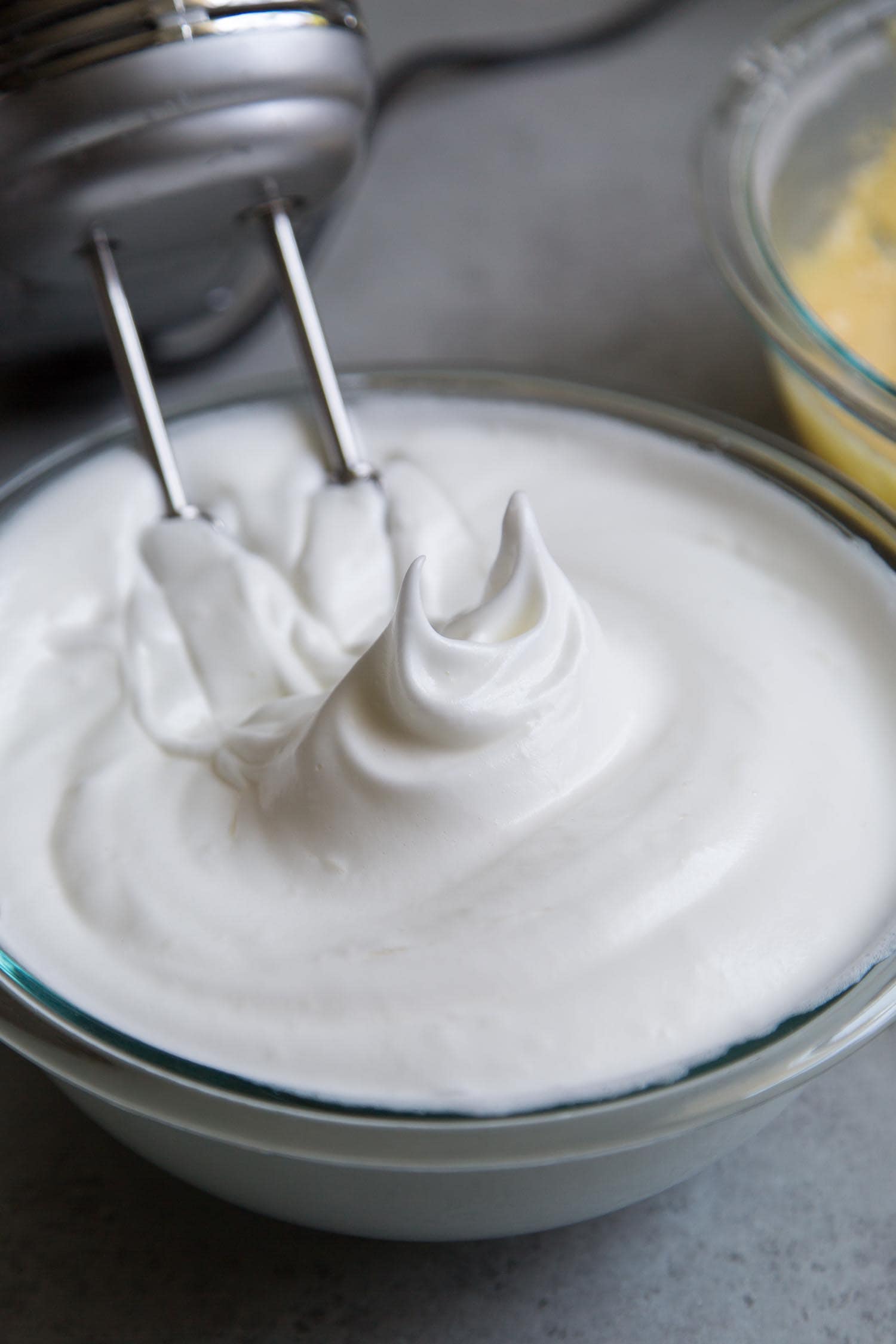 In a separate bowl, egg whites are whipped with cream of tartar and sugar to stiff peaks. At stiff peaks the egg whites should be able to stand straight up when the beaters are lifted from the mixture.
Be careful not to overwhip because the egg whites will start to separate.
Tips on whipping egg whites:
Make sure the bowl is clean! Ensure there are no traces of oil or fat, which will prevent egg whites from whipping correctly.
Egg whites whip stronger bonds at room temperature. (However, it is much easier to separate eggs while cold.)
Start whipping egg whites at the lowest (slowest) speed until the mixture if foamy like freshly poured beer.
After whites are foamy, increase speed and slowly add granulated sugar about one tablespoon at a time. Once all the sugar has been added, increase speed until whites have reached stiff peaks
Why add cream of tartar to egg whites?
Cream of tartar, also known as tartaric acid or potassium hydrogen tartrate, aids in strengthening the bonds of whipped egg whites.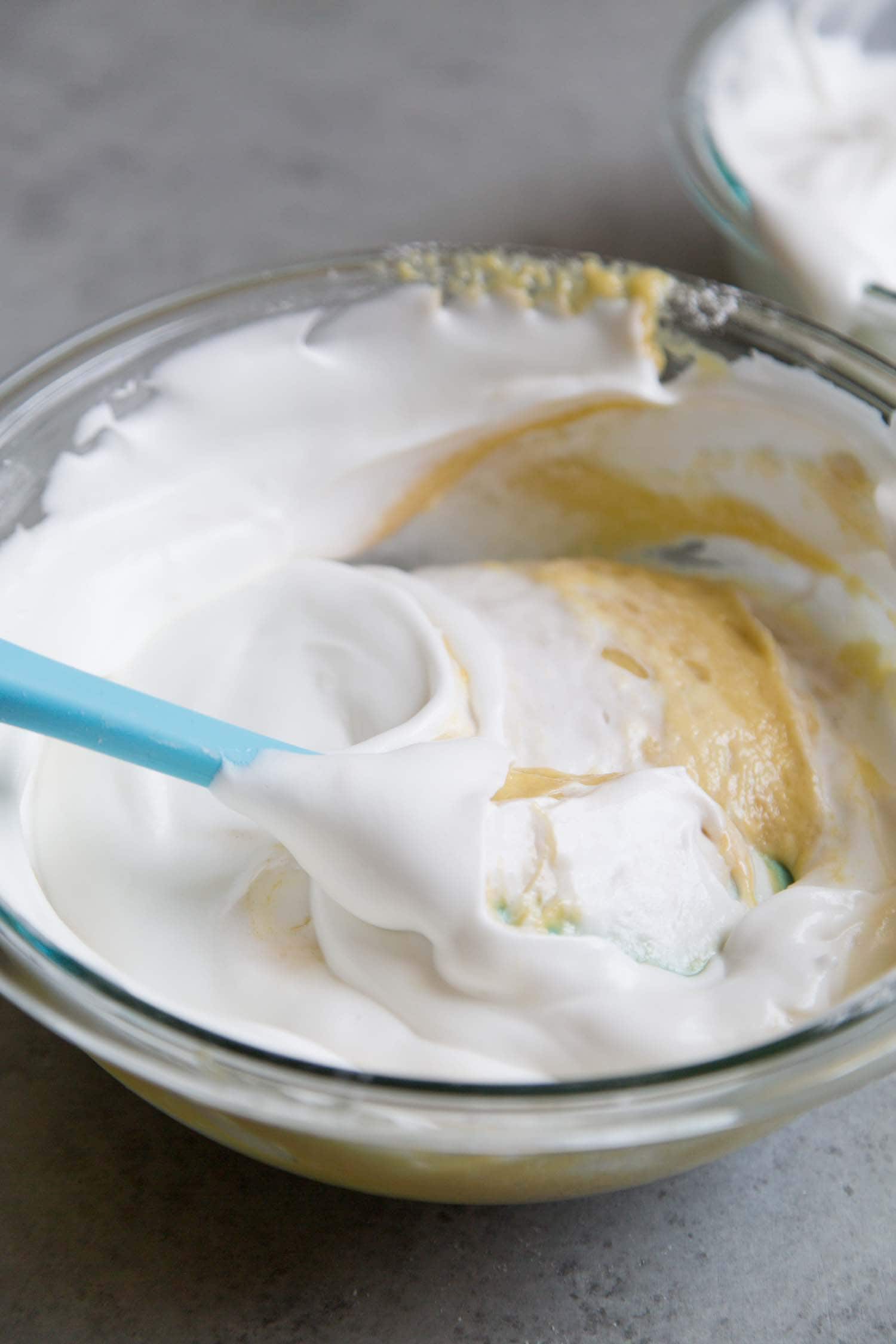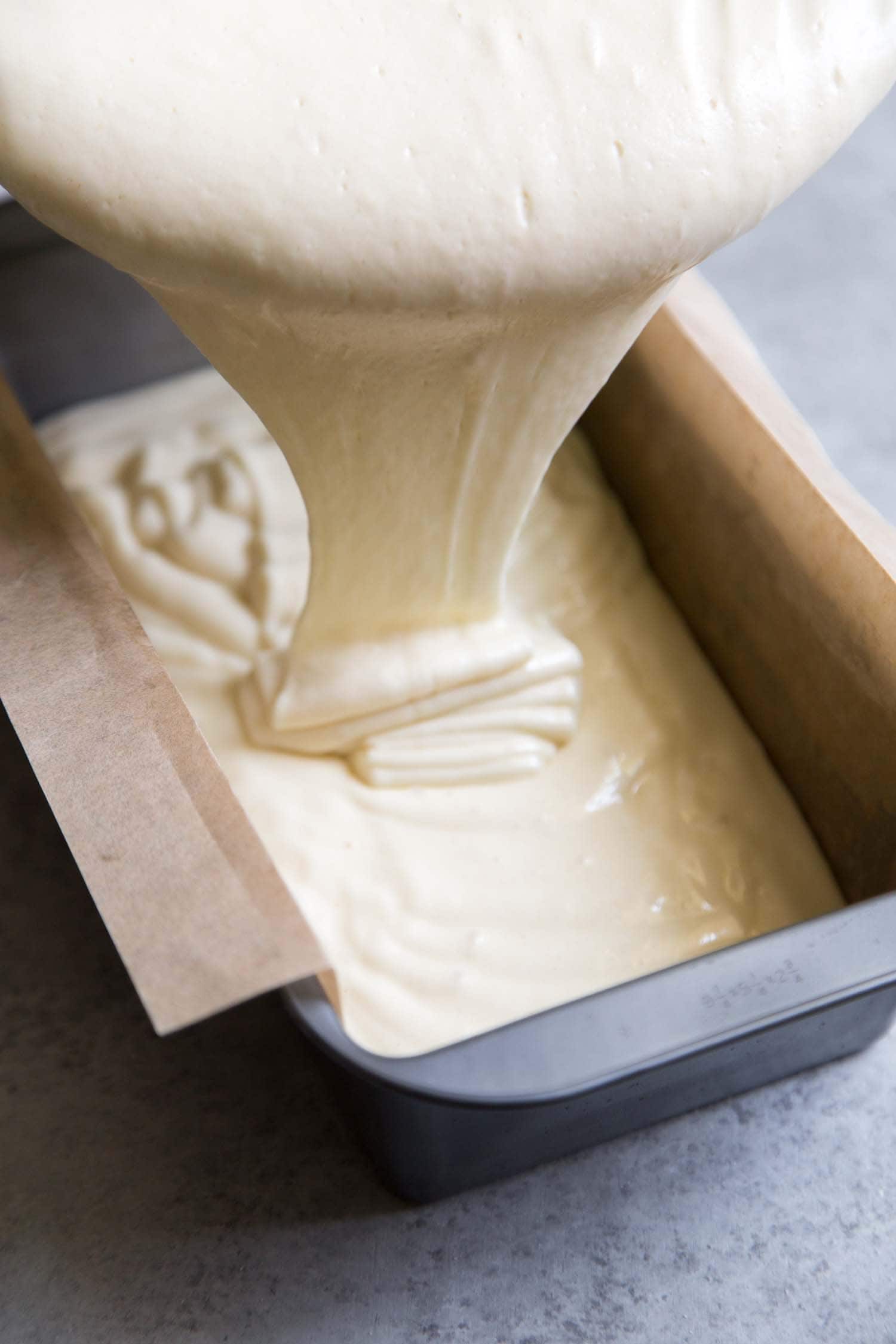 When folding ingredients, the lighter mixture should be added to the denser mixture. In this case, the whipped egg whites will be added to the dense flour mixture.
The egg whites should be added in three additions to ensure thorough mixing. This will also help to keep the aeration from the egg whites from deflating too much.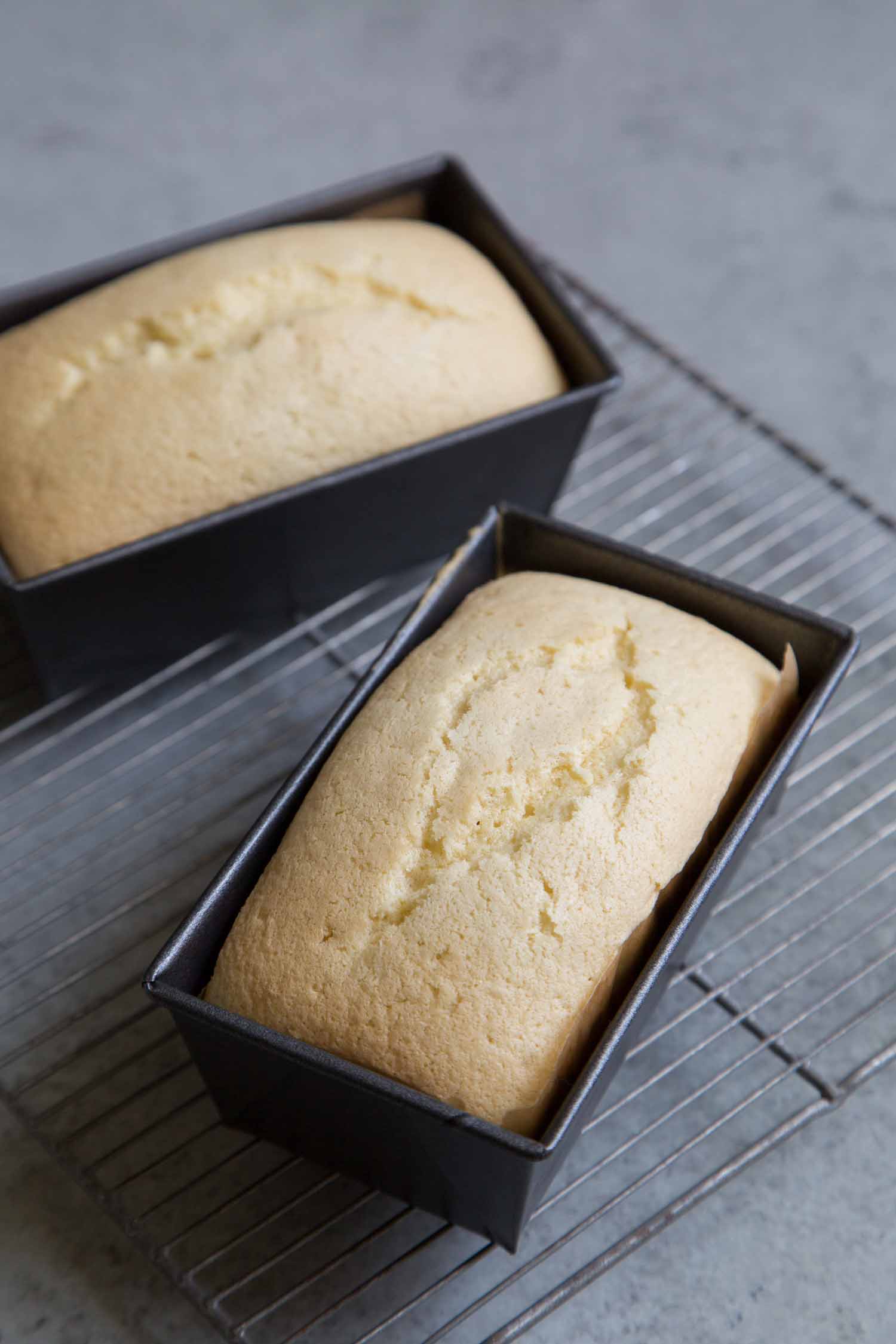 This recipe makes enough for two 9×5-inch loaf pans or multiple mini pans. After baking, the warm taisan cakes are brushed with melted salted butter and coated with granulated sugar.
The taisan cakes can be served warm or at room temperature. They remain soft and moist for a few days, but it's best served within two days of baking.
I suggest sharing the loafs with friends and family. They'll surely appreciate it!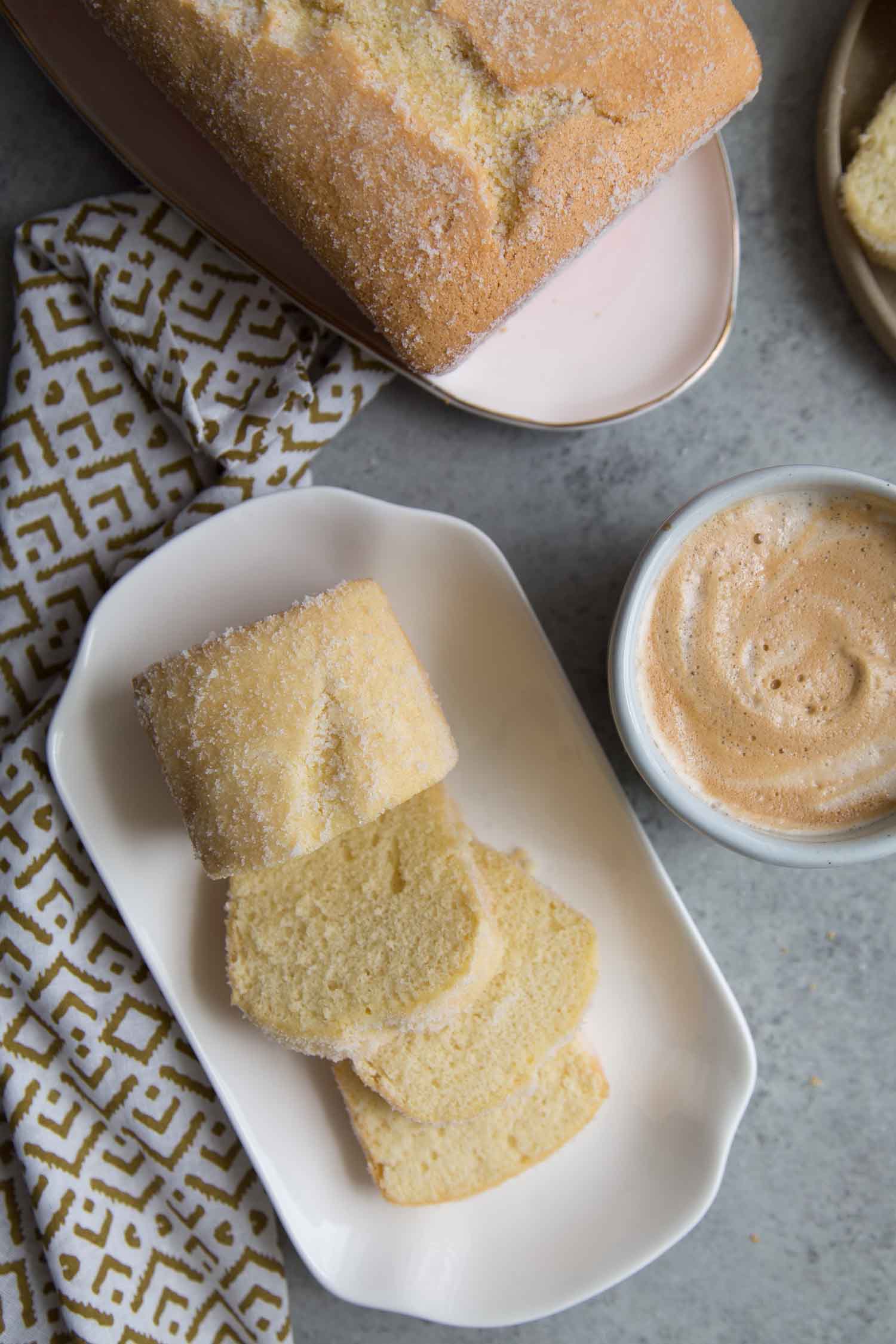 Taisan Filipino Chiffon Cake
Filipino chiffon cake brushed with melted salted butter and coated with granulated sugar
Yield: two 9x5-inch loaf pans or several mini pans
Ingredients
2

cups

cake flour

1

Tablespoon

baking powder

1/4

teasponn

fine sea salt

1

cup

granulated sugar, divided

1/2

cup

vegetable oil

1/2

cup

water

2

teaspoons

vanilla extract

6

large egg yolks

1

cup

egg whites (about 7 large egg whites), room temperature

1

teaspoon

cream of tartar

melted salted butter, for brushing

additional granulated sugar, for coating
Instructions
Preheat oven to 350 degrees F. Grease and line two 9x5-inch loaf pans with parchment paper.* Set aside.

In a large bowl, sift together cake flour, baking powder, salt, and 1/2 cup of sugar. Whisk in sugar. In another bowl, whisk together oil, water, vanilla, and egg yolks. Add wet yolk mixture to dry flour mixture. Mix until thick and smooth. Set aside.

In another bowl, whip egg whites on low speed until foamy. Add cream of tartar and continue to whip on low speed. Add sugar one tablespoon at a time while mixing. Once all the sugar has been added, increase mixing speed and whip to stiff peaks.

Add whipped egg whites to cake batter in three additions. Using a sturdy spatula, gently fold in 1/3 of egg whites into cake batter. Adding egg whites in three additions will ensure thorough mixing and this will also keep the volume of whipped white eggs from deflating.

Pour cake batter into prepared loaf pans. Bake 9x5-inch loaf pans for 33-35 minutes until toothpick inserted in pan comes out clean. Alternatively, bake mini 3.25x5.5-inch loaf pans for 20-25 minutes. Allow cakes to cool in pan for 3-5 minutes before unmolding.

After unmolding, liberally brush warm cakes with melted salted butter. Roll warm buttered cakes in granulated sugar. Use a serrated knife to slice cake into portions. Serve warm or at room temperature. Store any leftover cakes in an airtight container for up to 4 days.
Notes
Alternatively, use one 9x5-inch loaf pan and two mini 3.25 x 5.5-inch loaf pans OR five mini 3.25 x 5.5-inch loaf pans
Egg whites whip stronger bonds at room temperature. However, it is easier to separate egg whites from egg yolks while eggs are cold.
Make sure egg white bowl is clean. Any traces of oil or fat may hinder egg whites from whipping.
Be careful not to overwhip egg whites, otherwise, egg whites will separate.