These nectarine scones are far from the traditional scone. They are made using a combination of butter, milk, cream, and egg which results with in a fluffy and crumbly texture.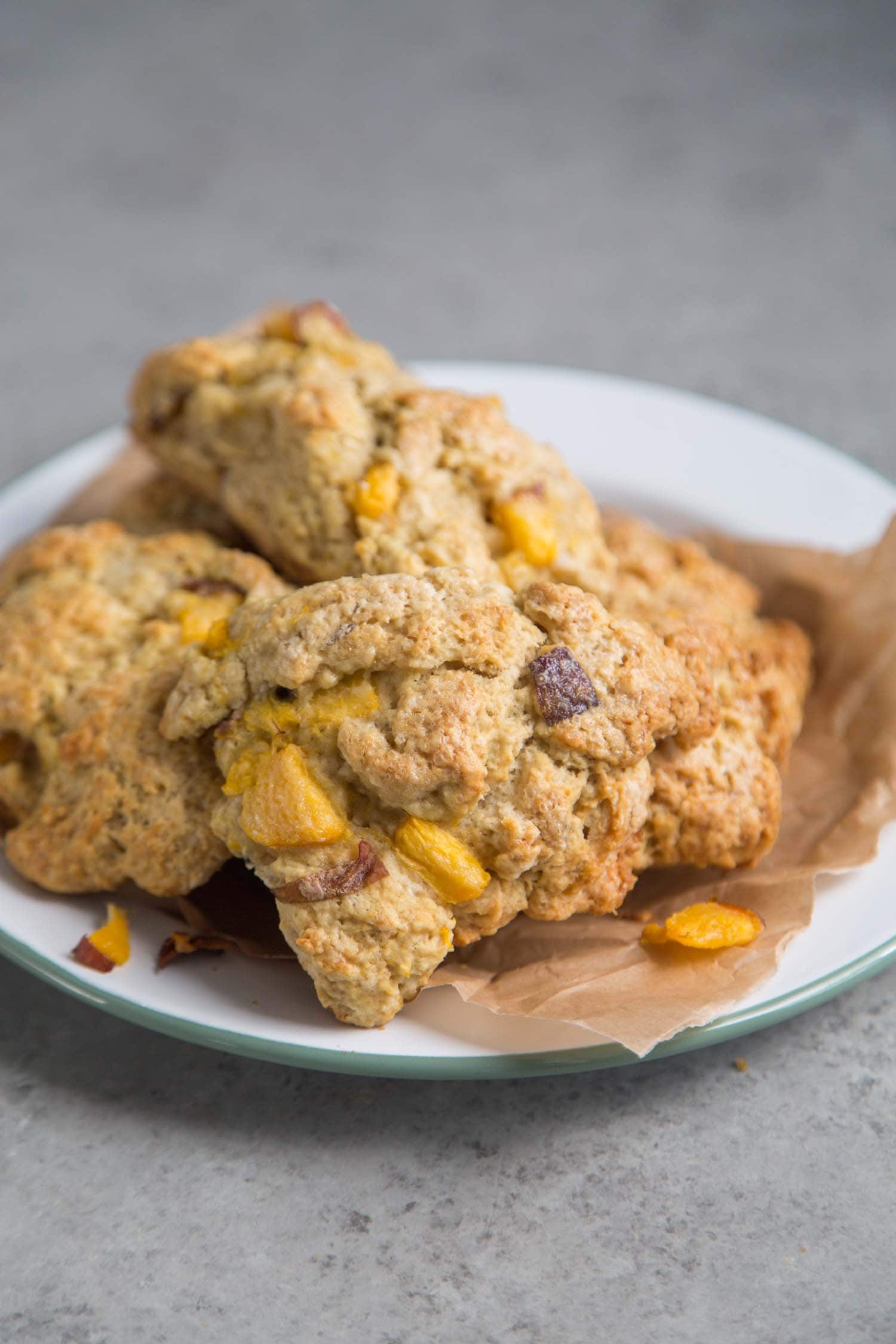 Stone fruit season is my favorite. Nectarines, peaches, plums, cherries, mangos. I tend to go a little overboard when they're on sale at the market.
Last week, nectarines were on sale. And I bought a ton. I try to eat as much fresh (raw) as I can before they start to soften too much.
The recipe for these nectarine scones only requires one nectarine! It's the perfect recipe when you have only lonely nectarine that may be a little past it's prime. Perhaps it's bruised, maybe it got squished, or maybe you're just tried of eating raw nectarines.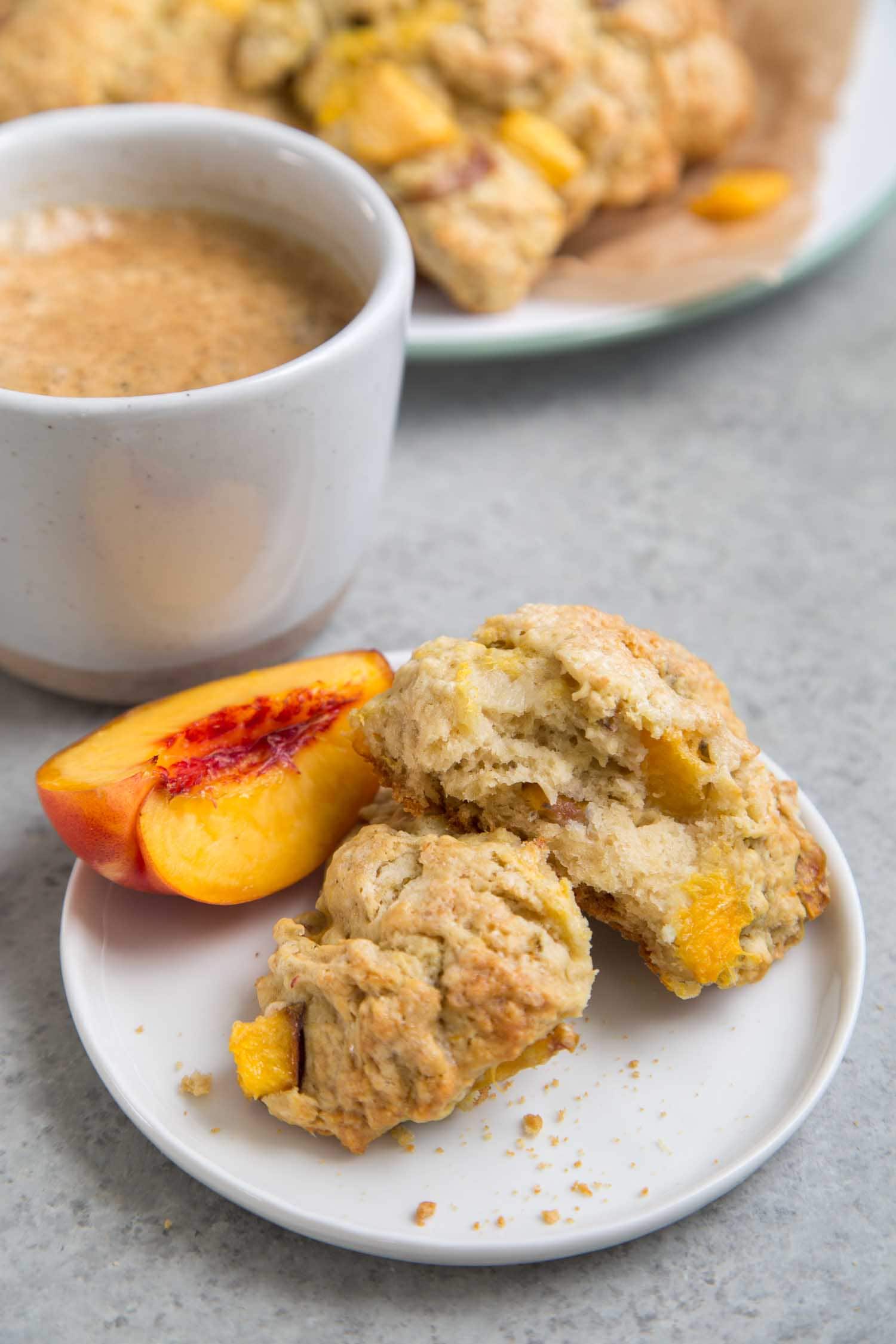 These nectarine scones are moist, buttery, and just a tad sweet. They're perfect for breakfast, alongside your early afternoon coffee, or even served alongside a meat and cheese board!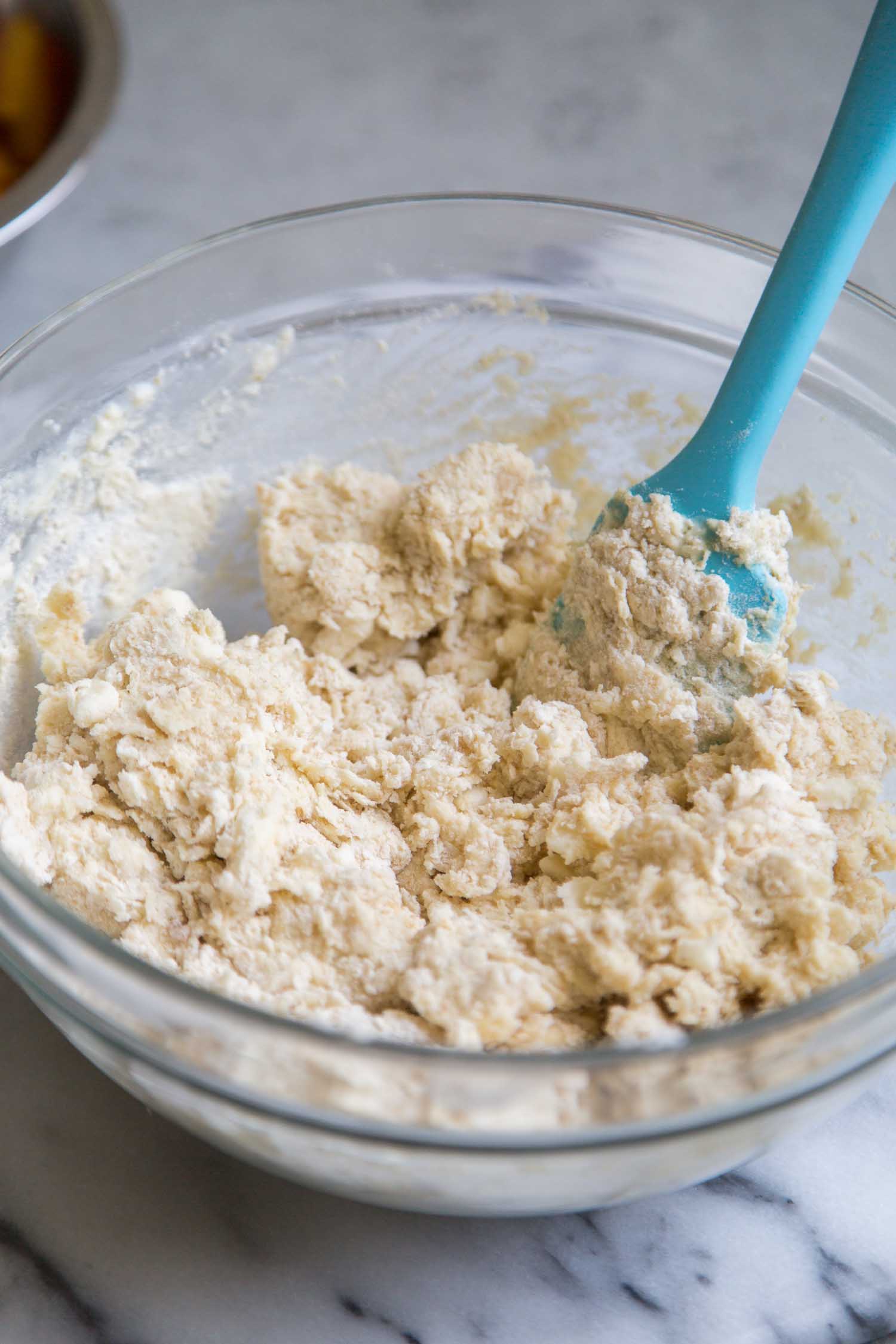 Make sure all your ingredients are COLD!
When it comes to making scones (and biscuits and pie dough), it's best to work with COLD ingredients. It's also a good idea to chill your mixing bowl.
Similar to pie dough, in scone making butter (or choice of fat like lard or shortening) is cut into the dry ingredients. This technique helps to produce that flakey texture. The little pockets of butter melt and steam during baking, helping to leaven the scone, while also those flakey layers.
I suggest using a handy dandy pastry blender tool to cut the butter into the flour mixture. Otherwise, you can use two fork or simply work quickly and use your fingers. At this stage, the mixture should look like coarse, peddled sand.
The cold liquids are then added and folded in. The dough should look like a "shaggy mess" (as photographed above).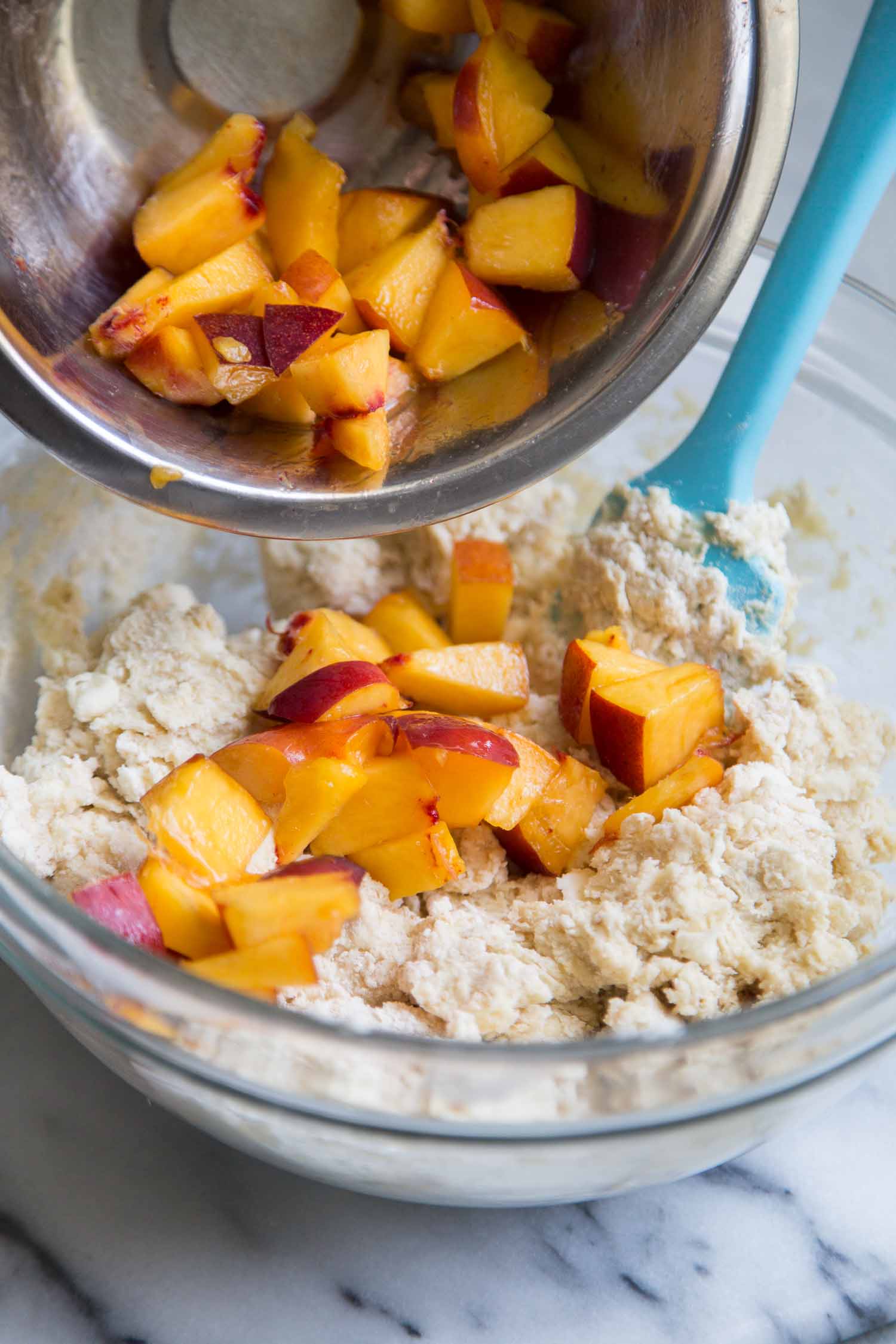 Freeze the nectarine!
Nectarines (especially super ripe ones like the one I used this in recipe) are soft. It is best to semi-freeze the chopped nectarines before folding them into the scone mixture.
These nectarine scones are adapted from these white chocolate strawberry scones. To keep the sliced strawberries intact, I also had to semi-freeze the fruits.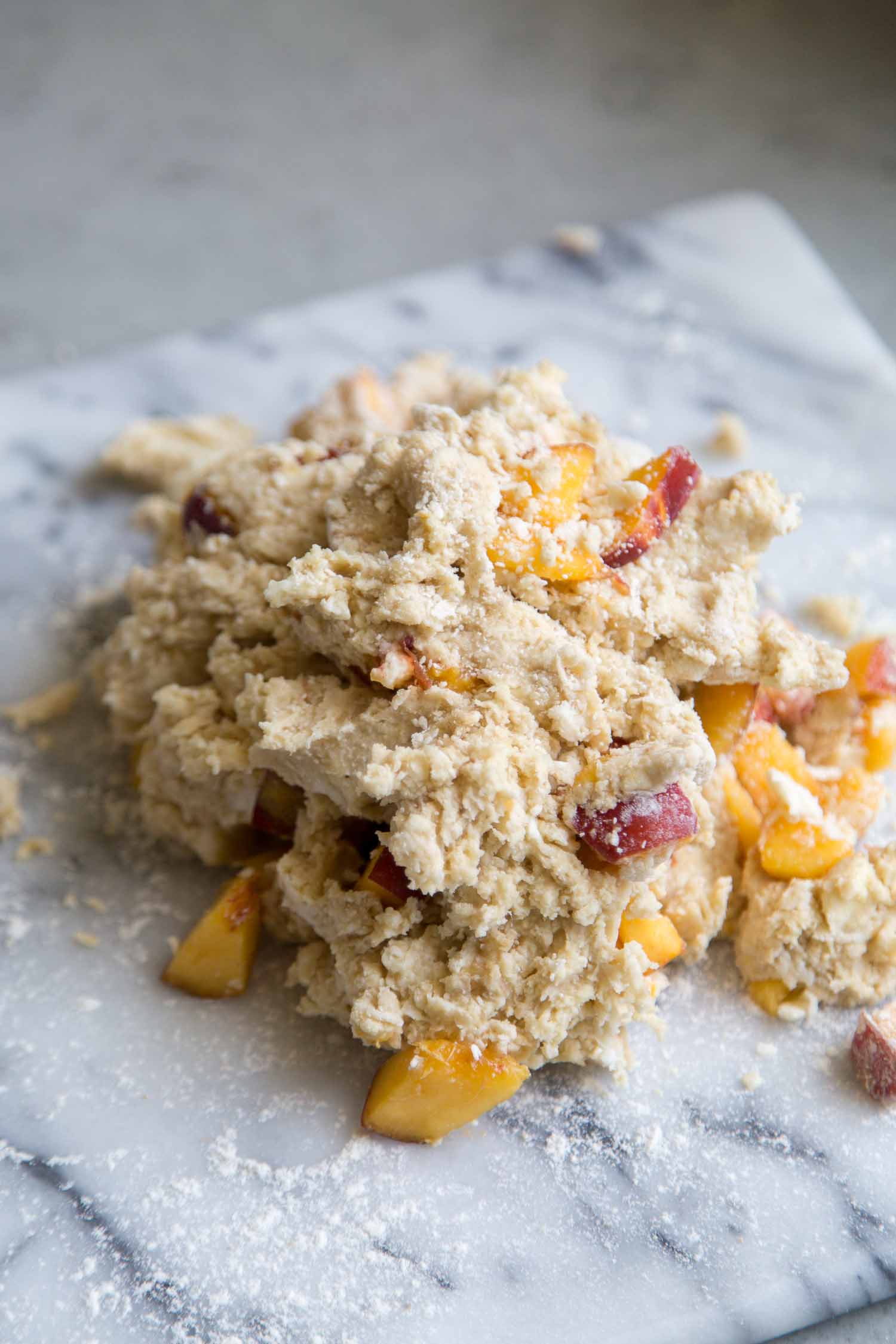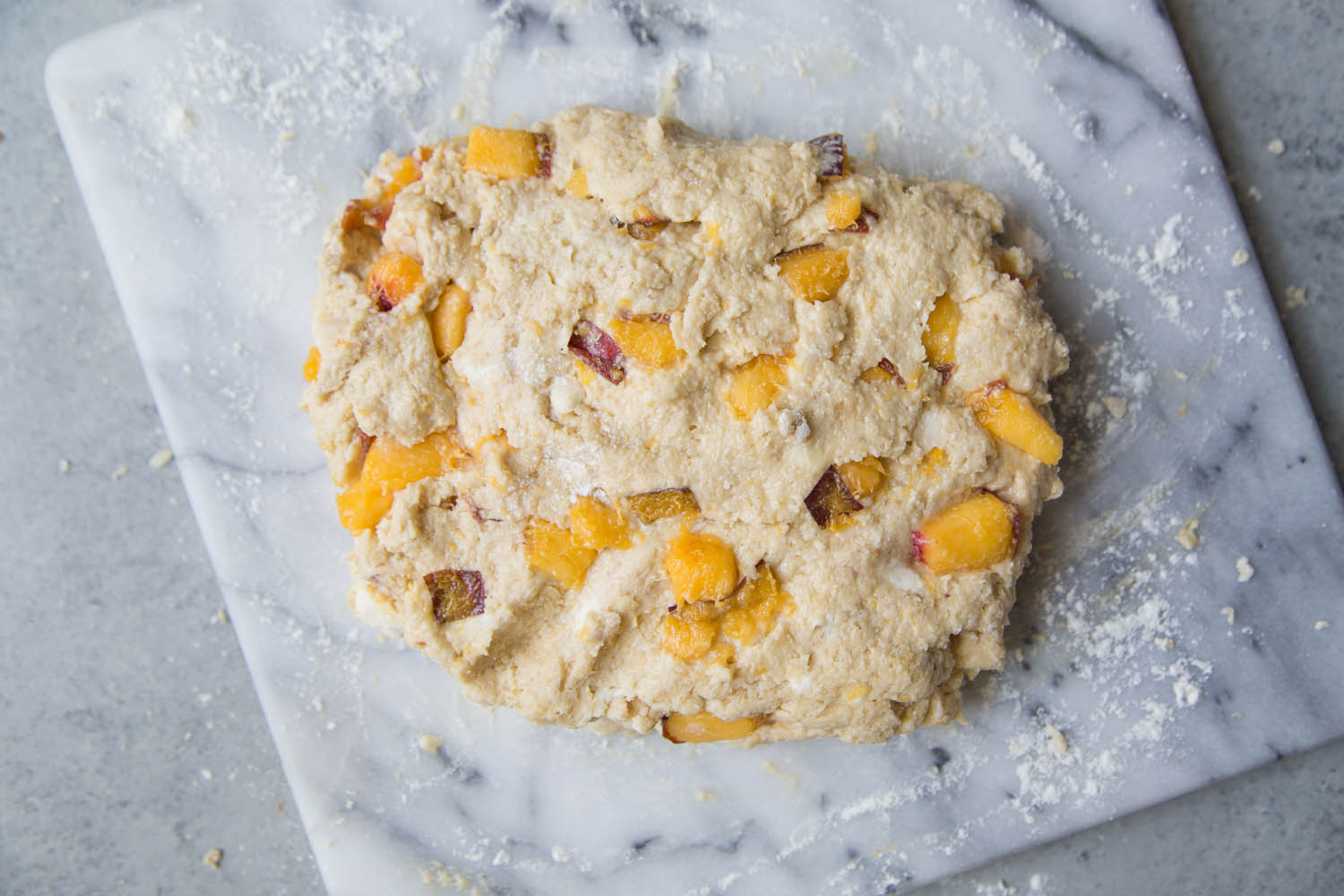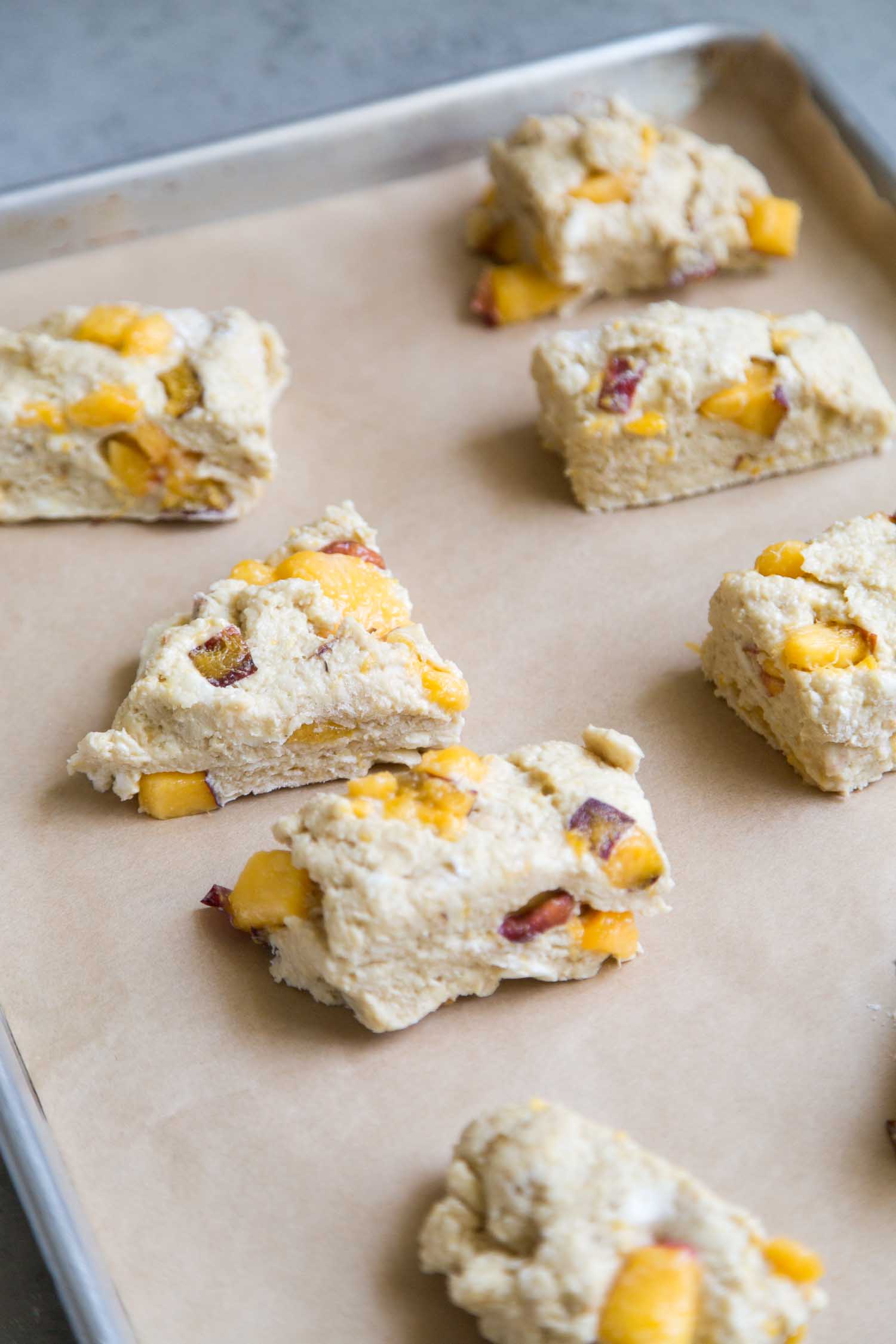 Gently knead the dough together and pat into a circle or rectangle with a thickness of about one-inch. The dough can be sliced into 8 wedges, rectangles, or rounds.
Before baking, the scones get lightly brushed with cream and a sprinkling of turbinado sugar.
The baked nectarine scones will soft a little crunchy on the outside, but soft and fluffy in the interior. They're best eaten warm, fresh from the oven.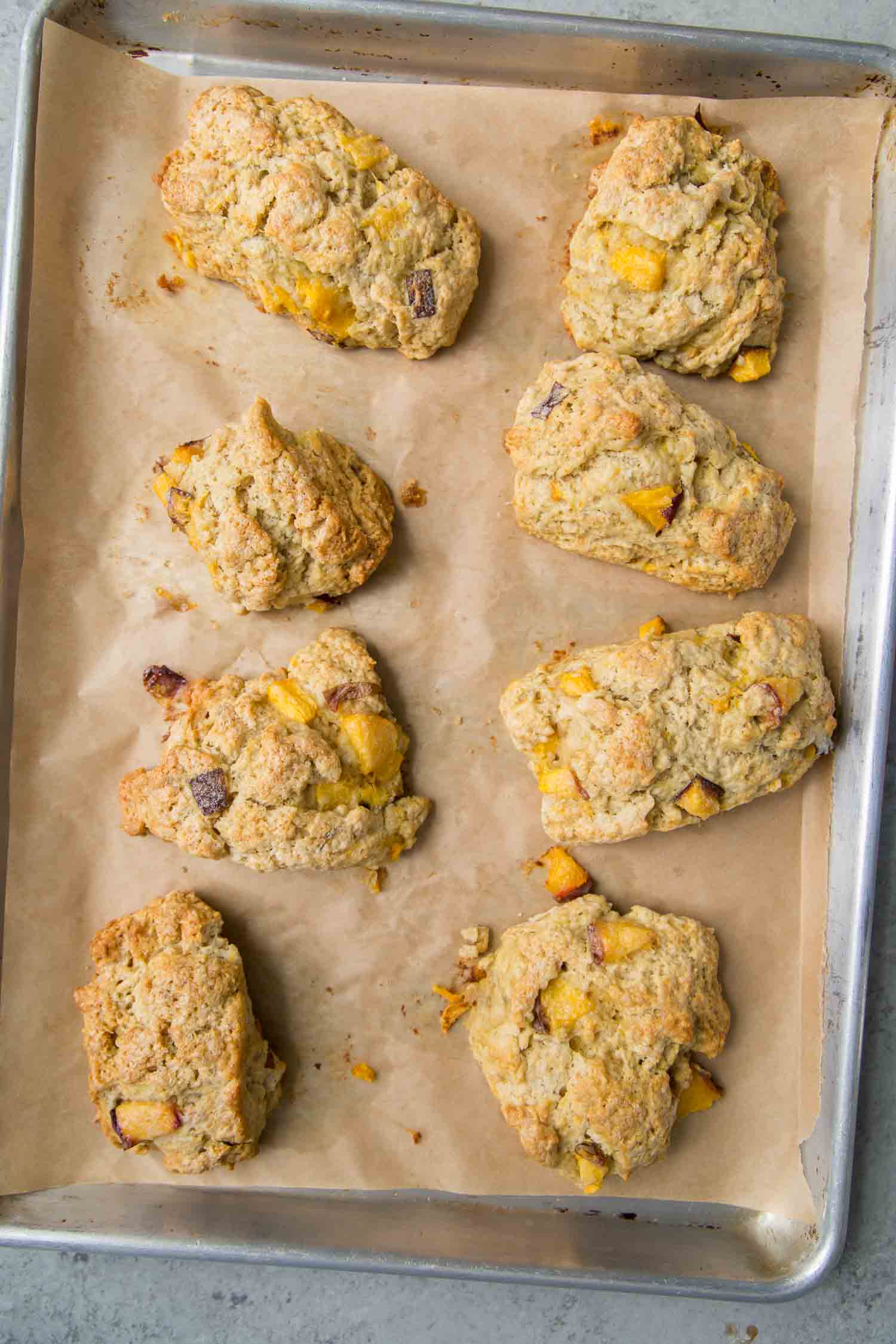 Nectarine Scones
Yield: 8 scones
Ingredients
1 1/4

cup

chopped nectarine, ripe

2 1/2

cups

all-purpose flour

2

teaspoons

baking powder

1

teaspoon

baking soda

1/2

teaspoon

fine sea salt

1/4

cup

light brown sugar, packed

1/2

cup

unsalted butter, cut into cubes, cold

1/2

cup

whole milk, cold

1/4

cup

heavy cream, cold

1/2

teaspoon

almond extract

1/4

teaspoon

vanilla extract

1

large egg

heavy cream, for brushing

turbinado sugar, for sprinkling
Instructions
Place chopped nectarine in a freezer safe tray or bowl. Cover and let chill in the freezer for 15-20 minutes until semi-solid.

In a large bowl, whisk together flour, baking powder, baking soda, salt, brown sugar. Toss in cubed butter. Cover and let chill in the freezer for 15 minutes until ingredients are cold.

Preheat oven to 400 degrees F. Line baking sheet with parchment paper or silicon baking mat. Set aside.

Remove flour mixture from freezer. Using a pastry blender (pastry cutter) or two forks, cut butter into flour until mixture resembles coarse sand.

In a small bowl, whisk together milk, cream, extracts, and egg until well combined. Add wet ingredients to flour mixture. Fold to combine until mixture is a "shaggy mess." Gently fold in cold nectarines.

Dump coarse dough onto a floured work surface. Gently knead dough together. Pat dough into a rectangle with a thickness of about 1-inch. (Alternatively, shape into an 8-inch circle.) Cut scones into 8 pieces.

Transfer scones onto prepared baking sheet, allowing at least 2-inches of space between scones. Lightly brush scone tops with heavy cream and sprinkle with turbinado sugar.

Bake for 23-25 minutes until scones have puffed up and the tops are golden brown in color. Let scones cool slightly on baking sheet before transferring to a wire rack to cool. Serve scones warm or at room temperature.
Notes
Scones can be left out at room temperature for a dayHowever, since the nectarines are not fully cooked (or dried out) during baking, I suggest storing any leftover scones in the fridge. Simply reheat in the microwave or toaster oven, or enjoy chilled!
All images and text © The Little Epicurean