Strawberry scones made with butter, buttermilk, and fresh strawberries. Ideal for brunch, afternoon tea, or general summer snacking!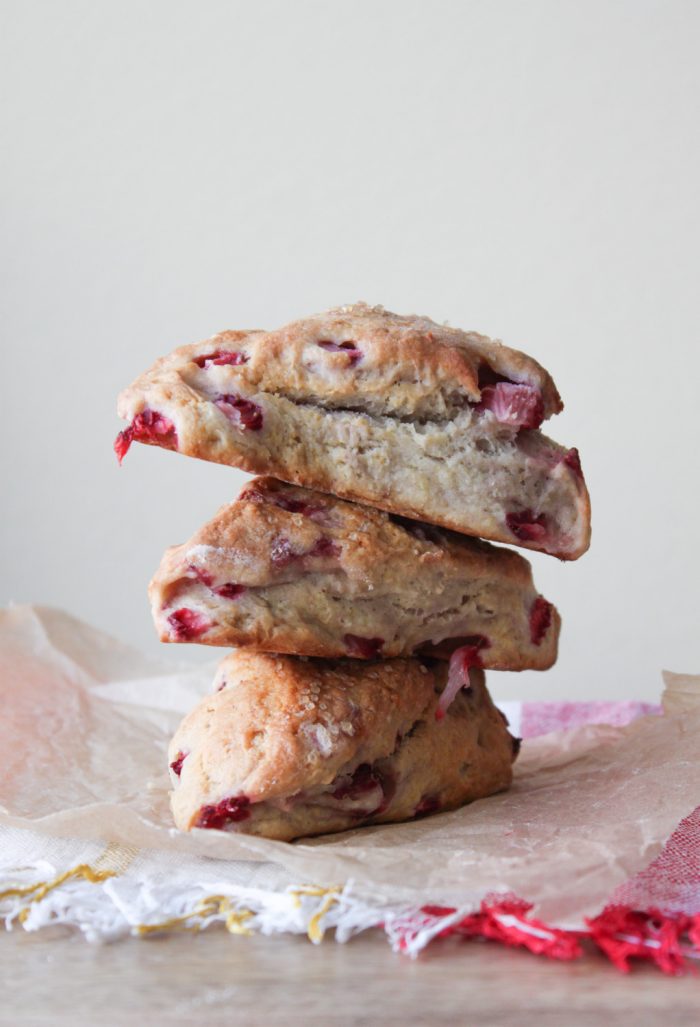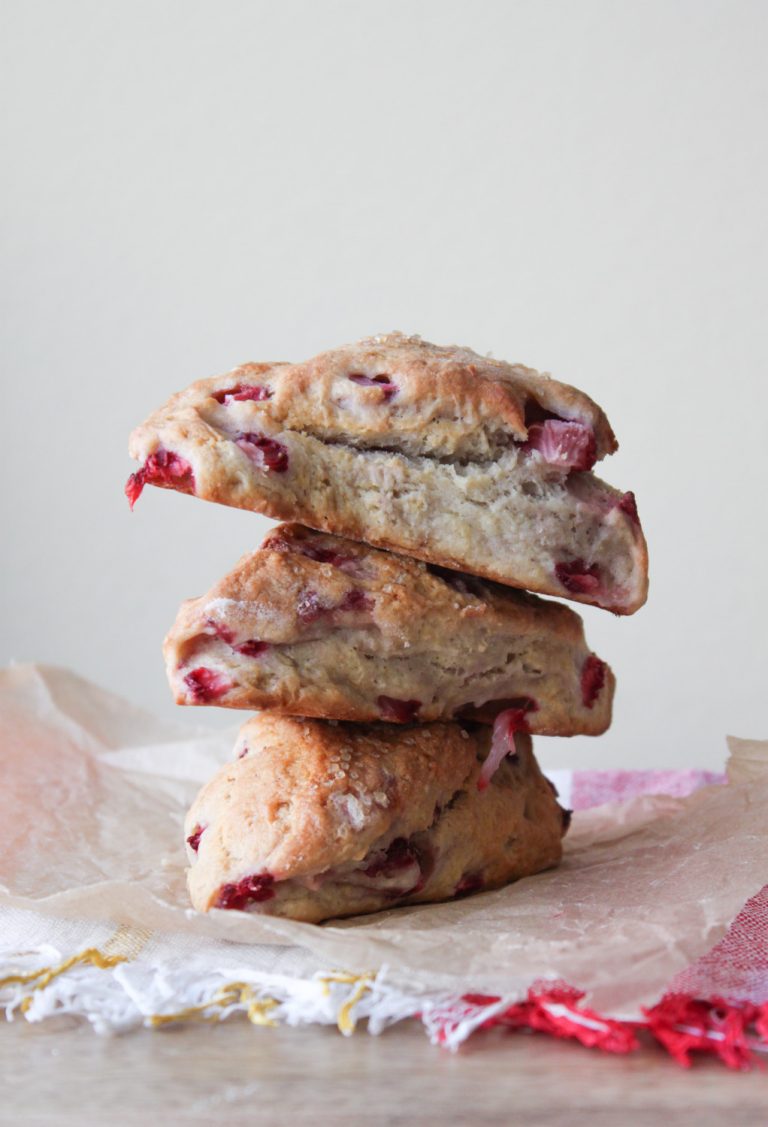 Warm nights, beach trips, and open toed shoes. What's not to love about summer?
Strawberries, stone fruits, watermelons, and more. I can't get enough of summer's fruits.
For those that tend of overstock on fresh strawberries, here's a quick and easy recipe for you!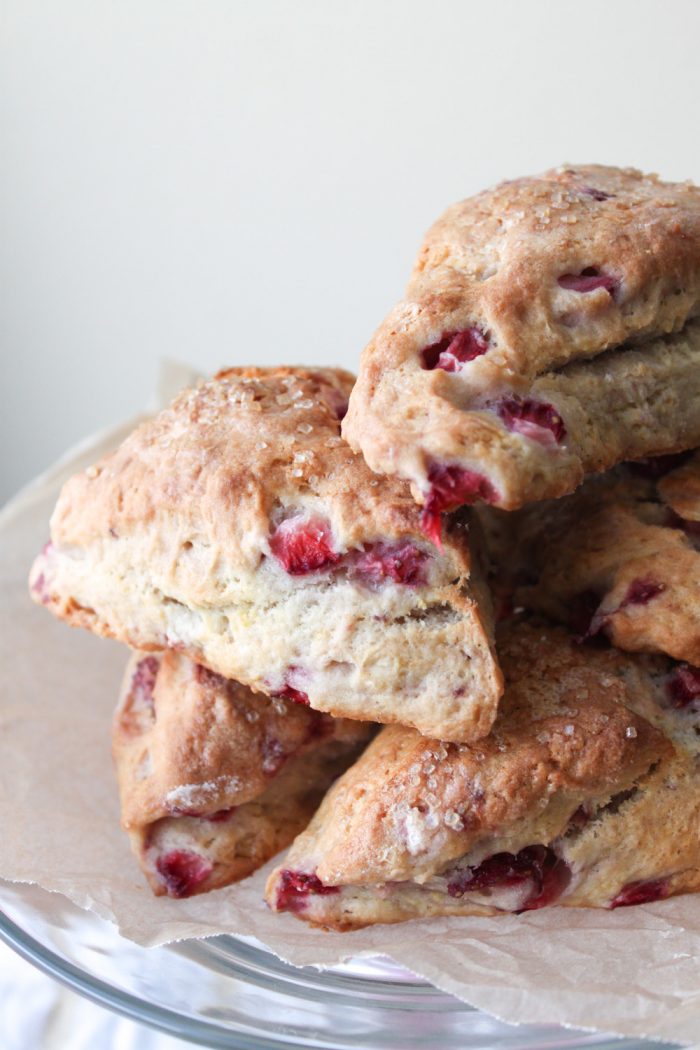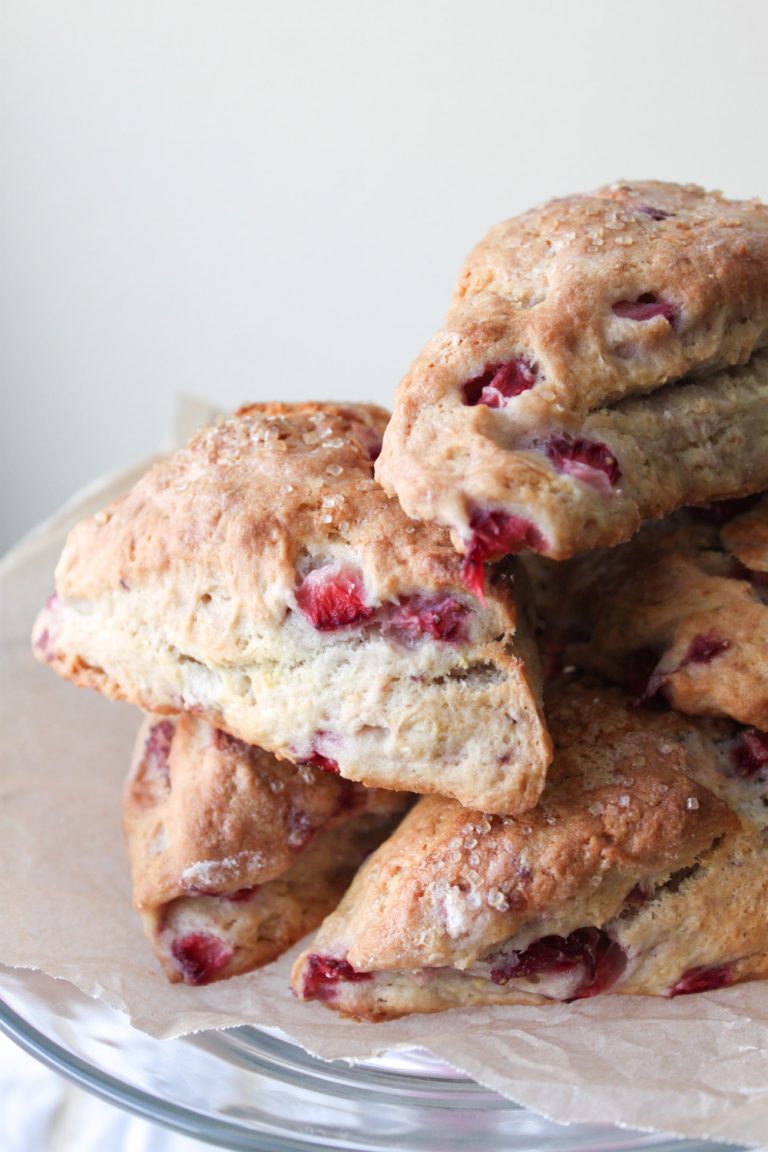 Strawberry Scones
There are so many different baked goods to make with fresh strawberries.
From this strawberry layer cake to strawberry kiss cookies to these chia strawberry jam pop tarts, the strawberry recipes are endless.
Scones are a great anytime treat. Enjoy them for breakfast, as an afternoon snack, or as a little bite to end dinner.
Unlike my usual scone base with simply uses cream and butter (see:maple oat pecan scone and tart cherry and toasted almond scone), this strawberry scone recipe is a tad bit different.
This scone base uses butter, buttermilk, and yogurt!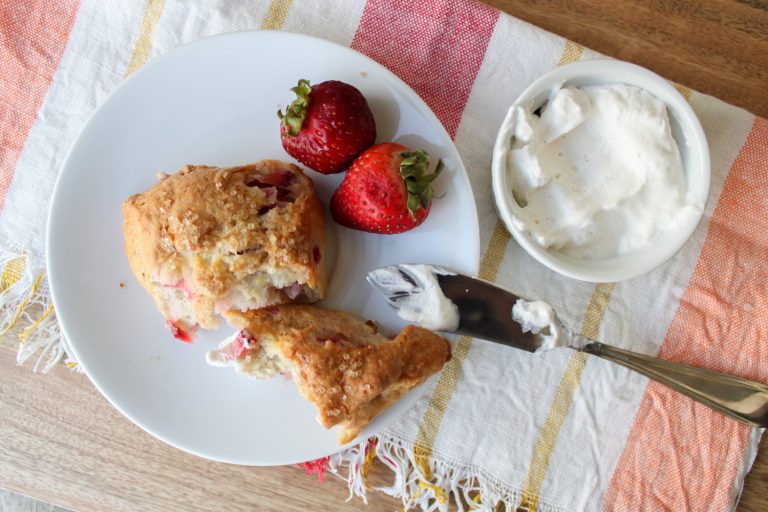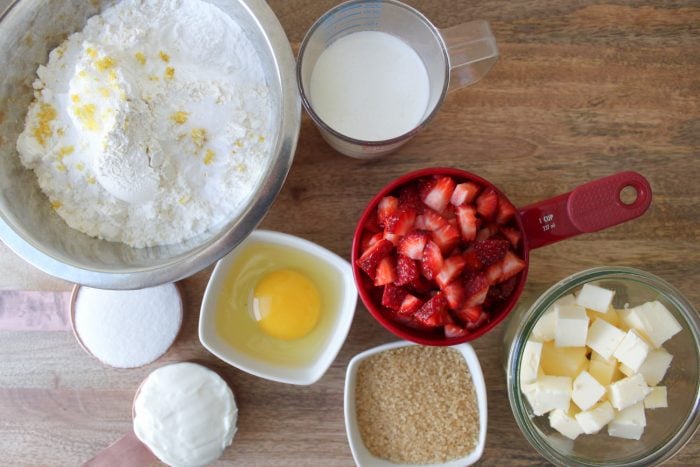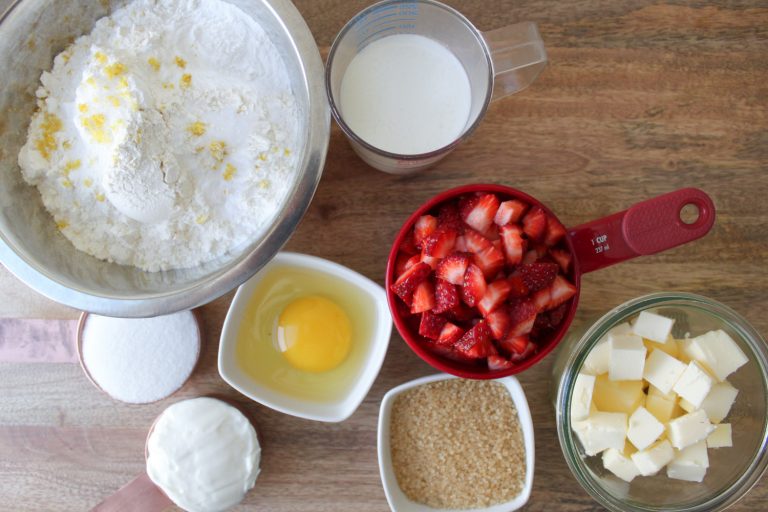 Cold ingredients are best for scones
It is important to use COLD ingredients when making scones. Whisk together the dry ingredients (flour, baking powder, etc) and toss in the cold cubed butter. Cover and let that mixture chill in the freezer until COLD!
It's a good idea to also chill the mixing bowl. Keep the egg, yogurt, and buttermilk chilled until you're ready to mix the batter together.
To ensure the strawberries are easy to fold into the dough, keep them cold or semi-frozen.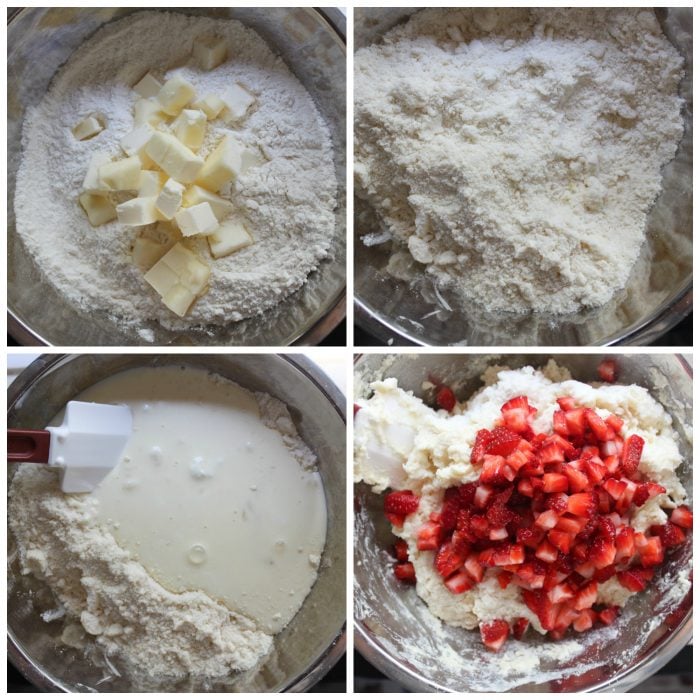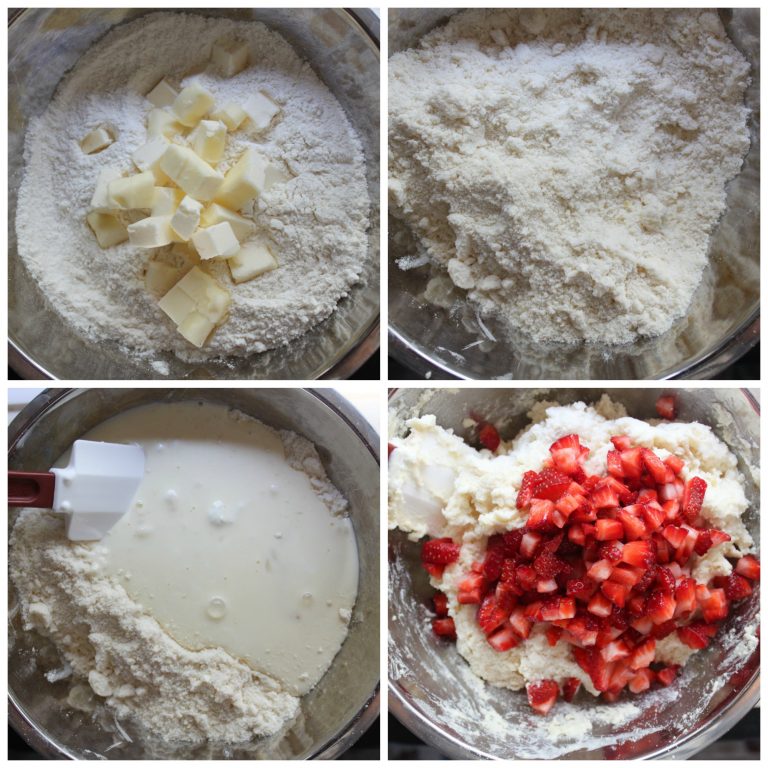 Mixing Scone Dough by Hand:
Scones are best mixed together by hand. Cut the butter into the flour mixture using a pastry cutter toll or two forks. Or, simply work quickly and use your fingers to rub the butter into the flour.
The resulting mixture should look like coarse, pebbled sand.
Next, pour in the cold liquids. Fold in the liquids using a sturdy spatula. Be careful not to overnight.
Lastly, add the semi-frozen strawberries. Fold or knead the dough until the strawberries are evenly distributed.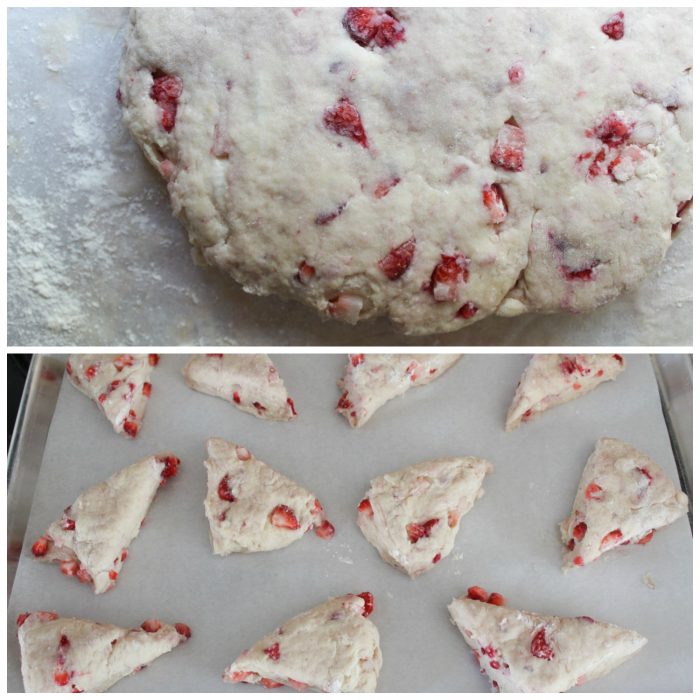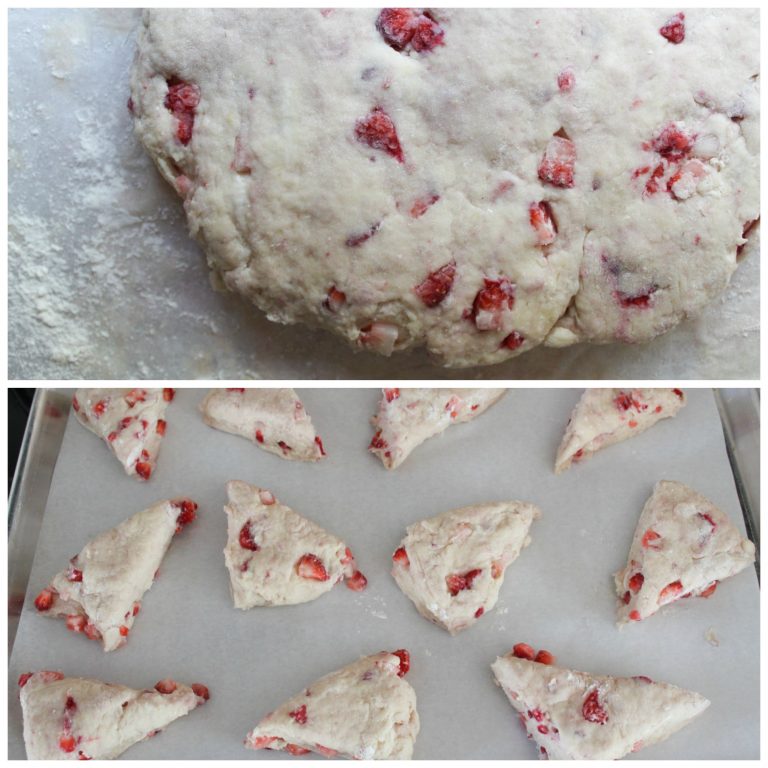 Pat the dough to a circle with a thickness of about 1-inch. The dough can be sliced into wedges, triangles, rounds, squares, or you can use a cookie cutter.
Before baking, the scones are brushed with cream and topped with turbinado sugar.
In no time, you'll have a delicious batch of summer strawberry scones fresh from the oven!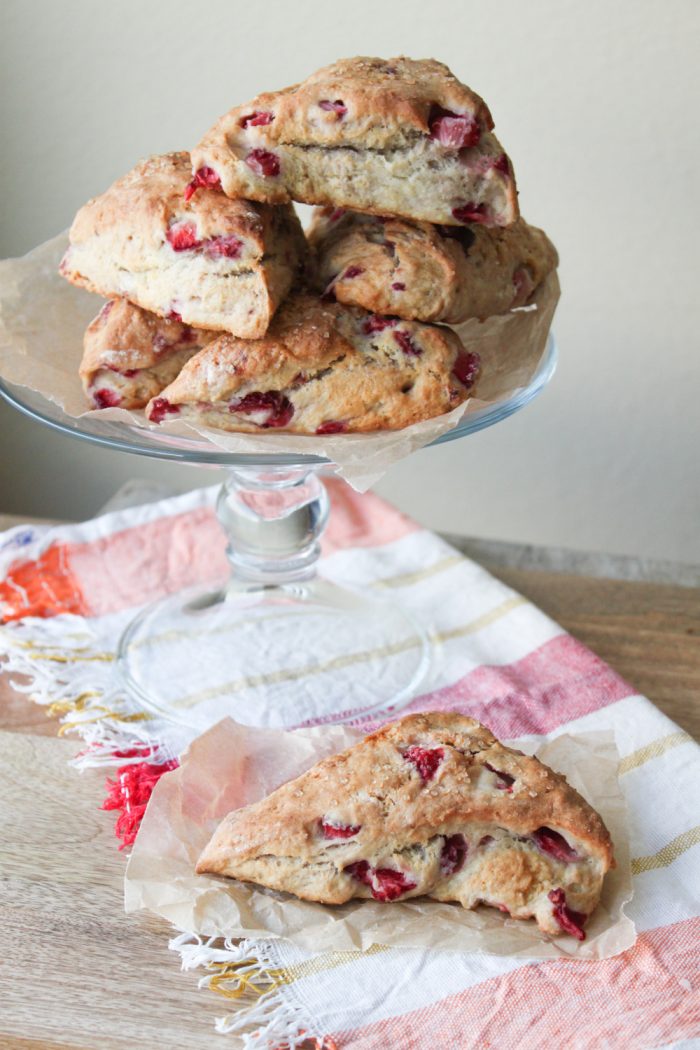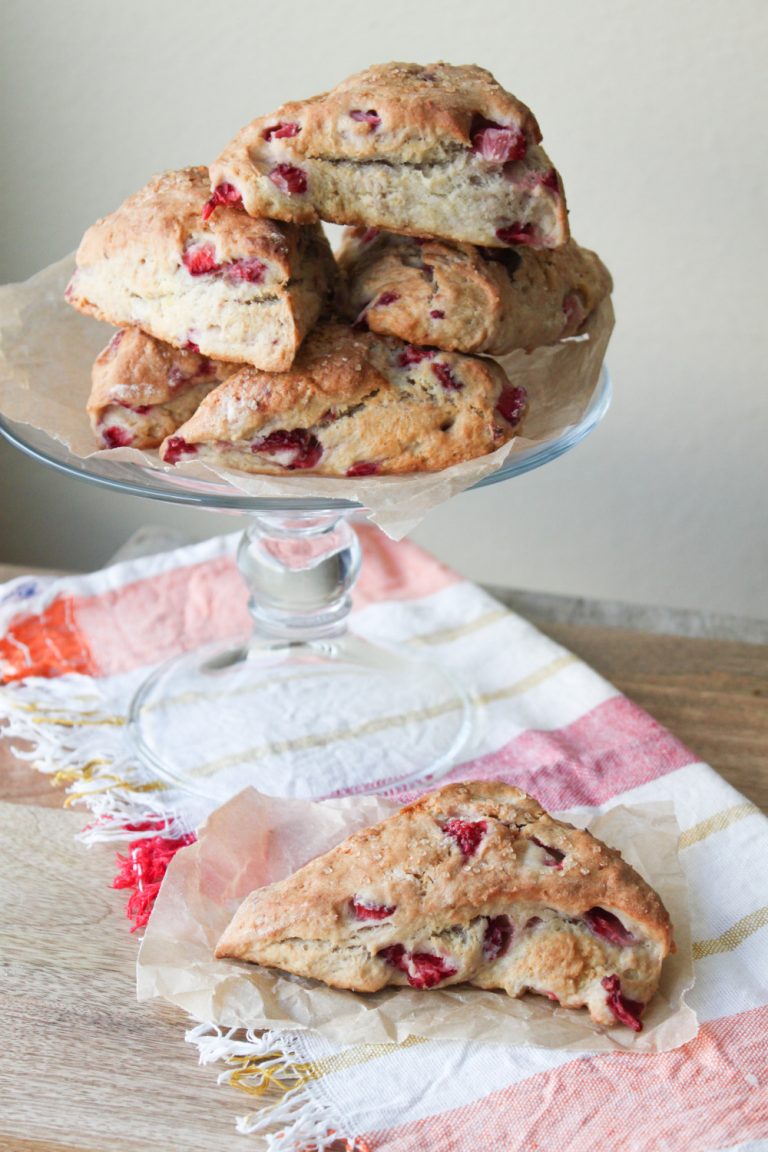 More Summer Fruit Scone Recipes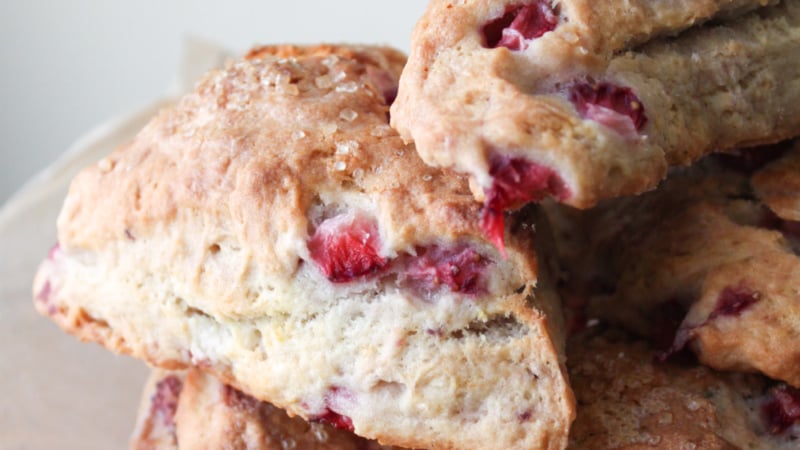 Summer Strawberry Scones
Petite scones made with fresh strawberries.
Ingredients
2 1/2

cup

all-purpose flour

2

teaspoon

baking powder

1

teaspoon

baking soda

1/2

teaspoon

kosher salt

1/3

cup

granulated sugar

finely grated zest from 1 lemon

1/2

cup

unsalted butter,

cut into small cubes, chilled

1

large egg

1/4

cup

plain yogurt

1/2

cup

buttermilk

1

heaping cup chopped strawberries

heavy cream,

for brushing

turbinado sugar,

for sprinkling
Instructions
Preheat oven to 400 degrees F. Line baking sheet with parchment paper. Set aside.

In a large bowl, whisk together flour, baking powder, baking soda, salt, sugar and lemon zest.

Add chilled butter cubes. Cut into flour using a pastry blender, two fork, or your fingers until mixture resembles coarse sand.

In a small bowl, whisk together egg, yogurt and buttermilk. Pour into dry mixture. Fold to combine. Midway through mixing, add chopped strawberries. Continue to fold until strawberries are evenly distributed.

Transfer dough to a lightly floured surface. Pat dough into a circle with a thickness of about 1 inch. Cut scones into desired shapes (rounds, triangles, squares).

Place cut scones onto prepared baking sheet, allowing at least 1 inch between scones.

Light brush top of scones with heavy cream and sprinkle with turbinado sugar. Bake for 18-20 minutes until scones have puffed up and the tops are golden in color.

Let scones cool slightly on baking sheet before transferring to wire rack to cool.Serve warm or room temperature with whipped cream, clotted cream or jam.