This tomato shrimp scampi can be served as a meal or an appetizer. It's wonderful with crusty bread and chilled white wine.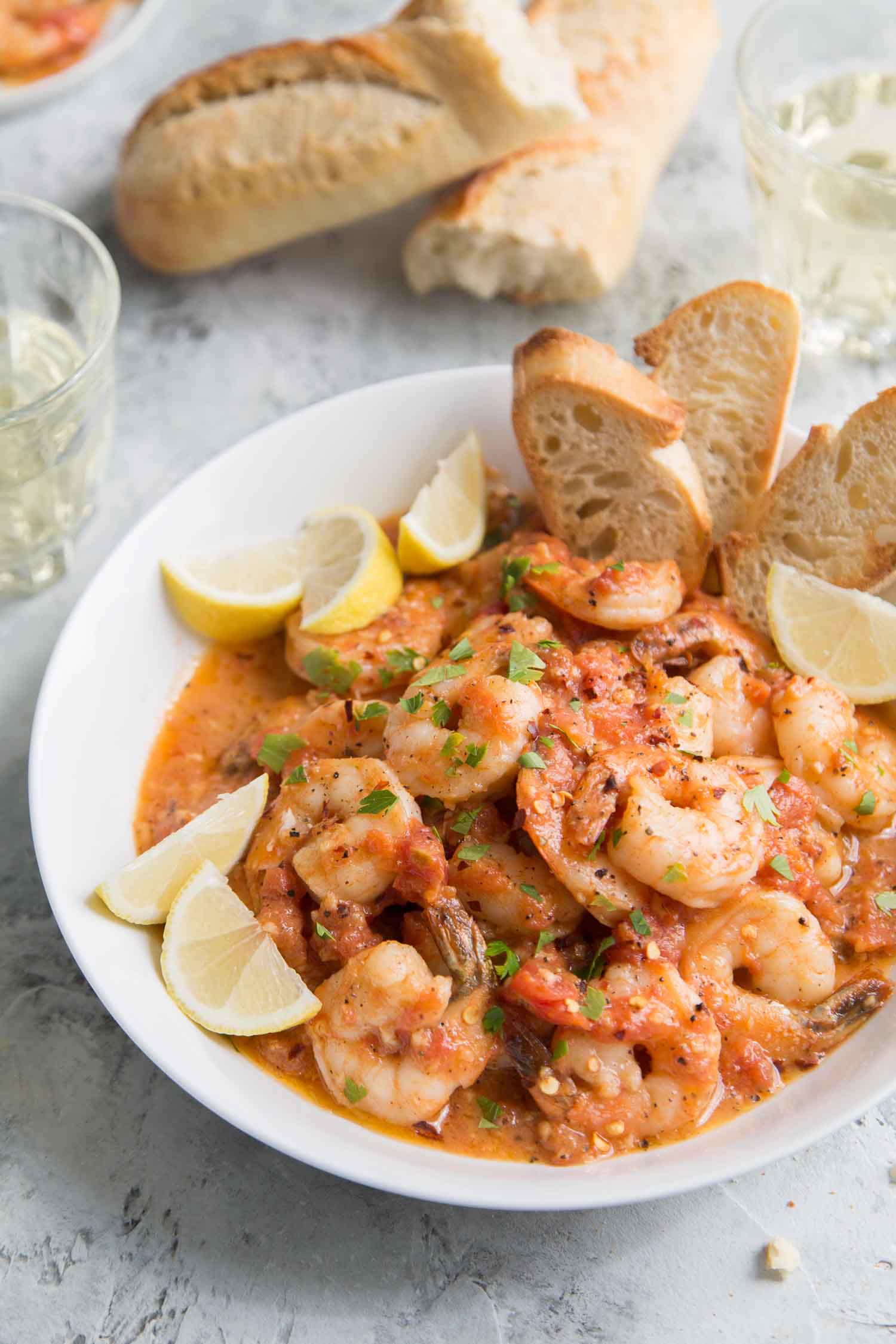 Let's start with the basics and define the ingredients used in this recipe:
What is scampi?
Biologically, "scampi" refers to a langoustine known as Norway lobster or Dublin Bay Prawn. Scampi is easily identifiable by its long, slender claws. It is a skinny salmon colored lobster found in Europe, especially in the Mediterranean and northeastern Atlantic.
The "shrimp scampi" we know and love today, was likely adapted by European immigrants trying to make their home country's recipes  using American ingredients. While scampi was nowhere to be found in America, there was a similar looking substitute- shrimp!
Nowadays, scampi refers to a butter sauce flavored with garlic and white wine. Across Italian-American restaurants, you're bound to find chicken scampi, mushroom scampi, crab scampi, pasta scampi, etc.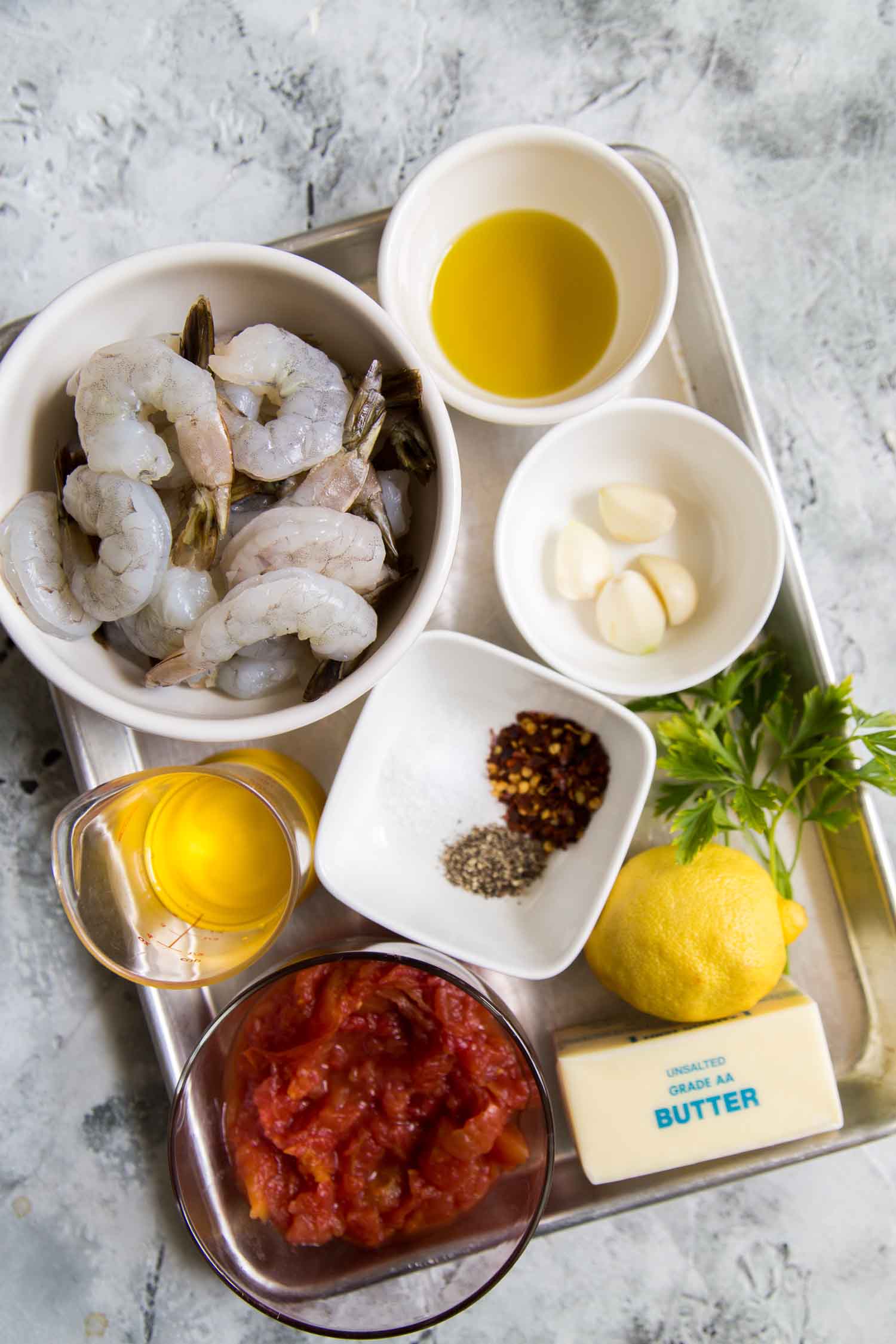 Tomato Shrimp Scampi Ingredients
Fresh or Frozen Shrimp?
They're all the same. Most "fresh" shrimp sold at markets (even the fancy ones!) have been frozen and thawed. Frozen shrimp is perfectly fine. Defrost it overnight in the fridge and use within 2 days.
This recipe uses LARGE shrimp (listed as 26/30 or 26-30 pieces per pound)
For the sake of ease, I like to use deveined, shelled shrimp.
Kitchen Staples:
The remaining ingredients are all common kitchen staples that you probably already have.
Canned diced tomatoes add tangy, umami that compliments the "scampi" sauce.
"Scampi" sauce made from olive oil, butter, garlic, white wine, and a touch of red pepper flakes.
Fresh squeezed lemon juice adds a fresh, bright flavor.
Carbs:
This dish can be served with toasted bread, crusty rolls, or pasta.
If serving with pasta, double up on the sauce so you fully coat the bucatini, penne, spaghetti, macaroni, etc.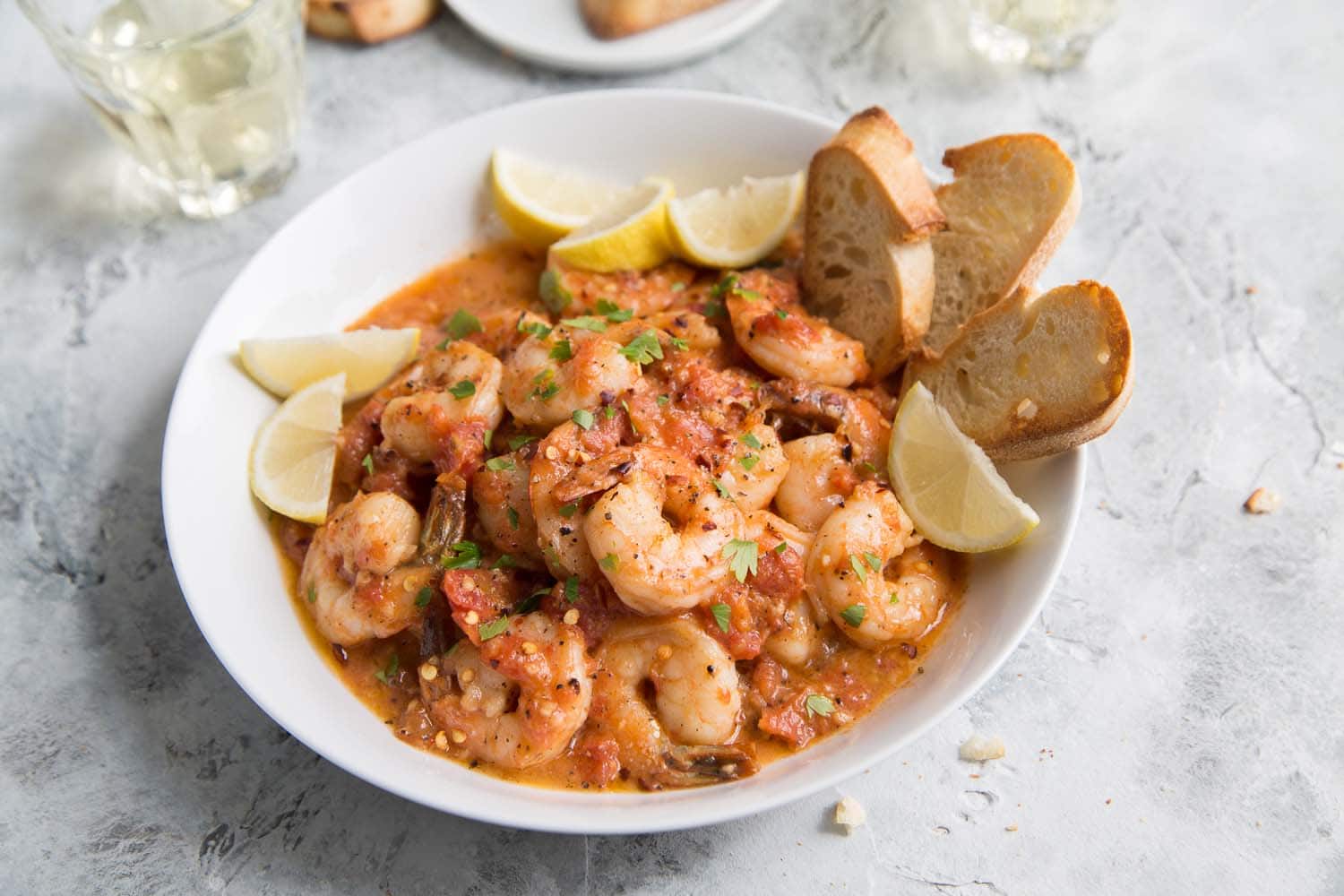 Why this tomato shrimp scampi dish is awesome:
My husband is very picky with seafood. He likely won't eat it unless it's super fresh or it's being served to him at a fancy restaurant where you have to make reservations weeks in advance.
I didn't expect him to like this shrimp scampi, but he did. So much so, that he was using the toasted baguette slices to mop up as much of the tomato garlic sauce as possible.
This dish is great for cocktail parties, wine and tapas night!, or as an appetizer to a holiday meal. And most of all, it's lovely for  those pajama Friday nights when you're eating on the coffee table with a bottle or two of wine.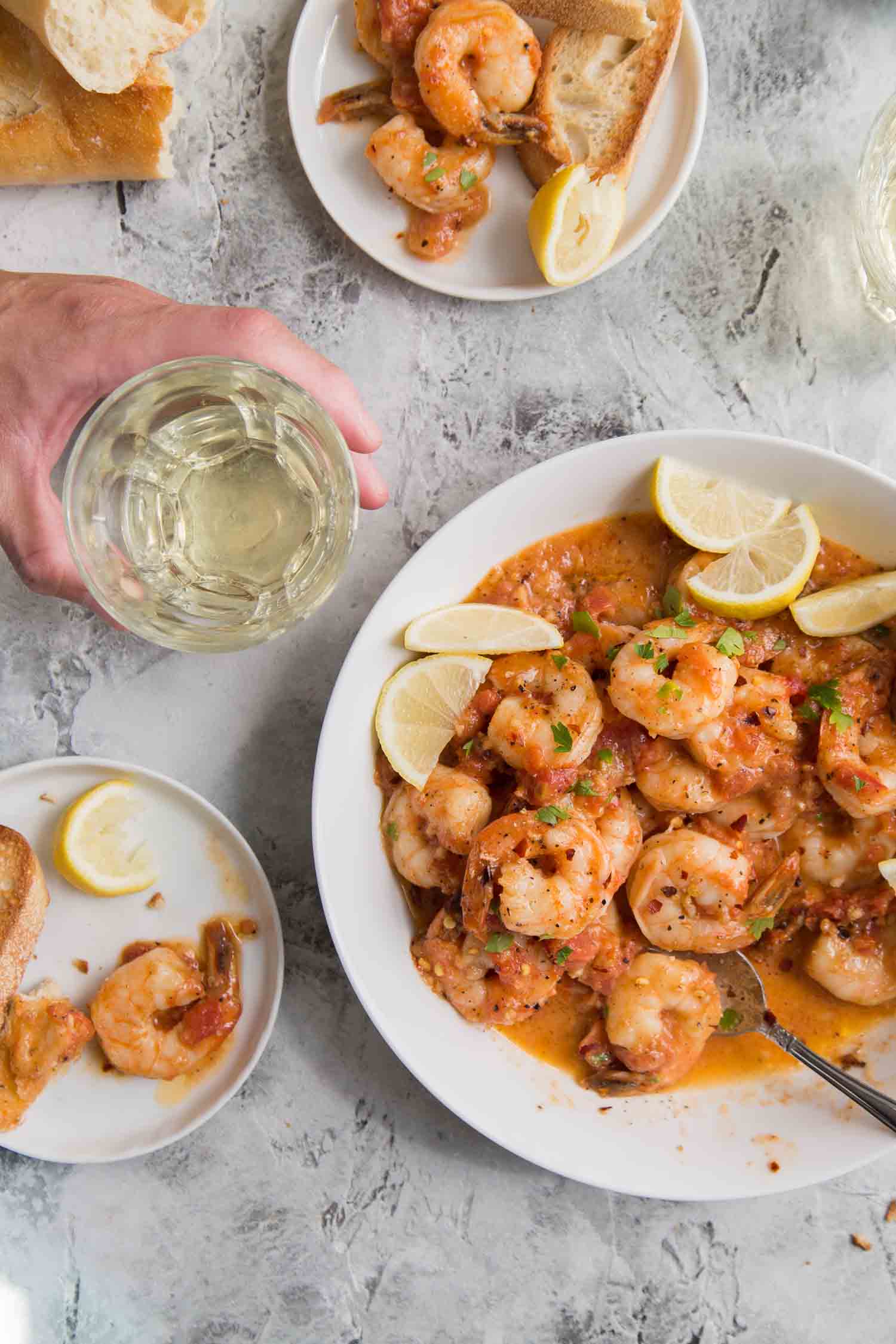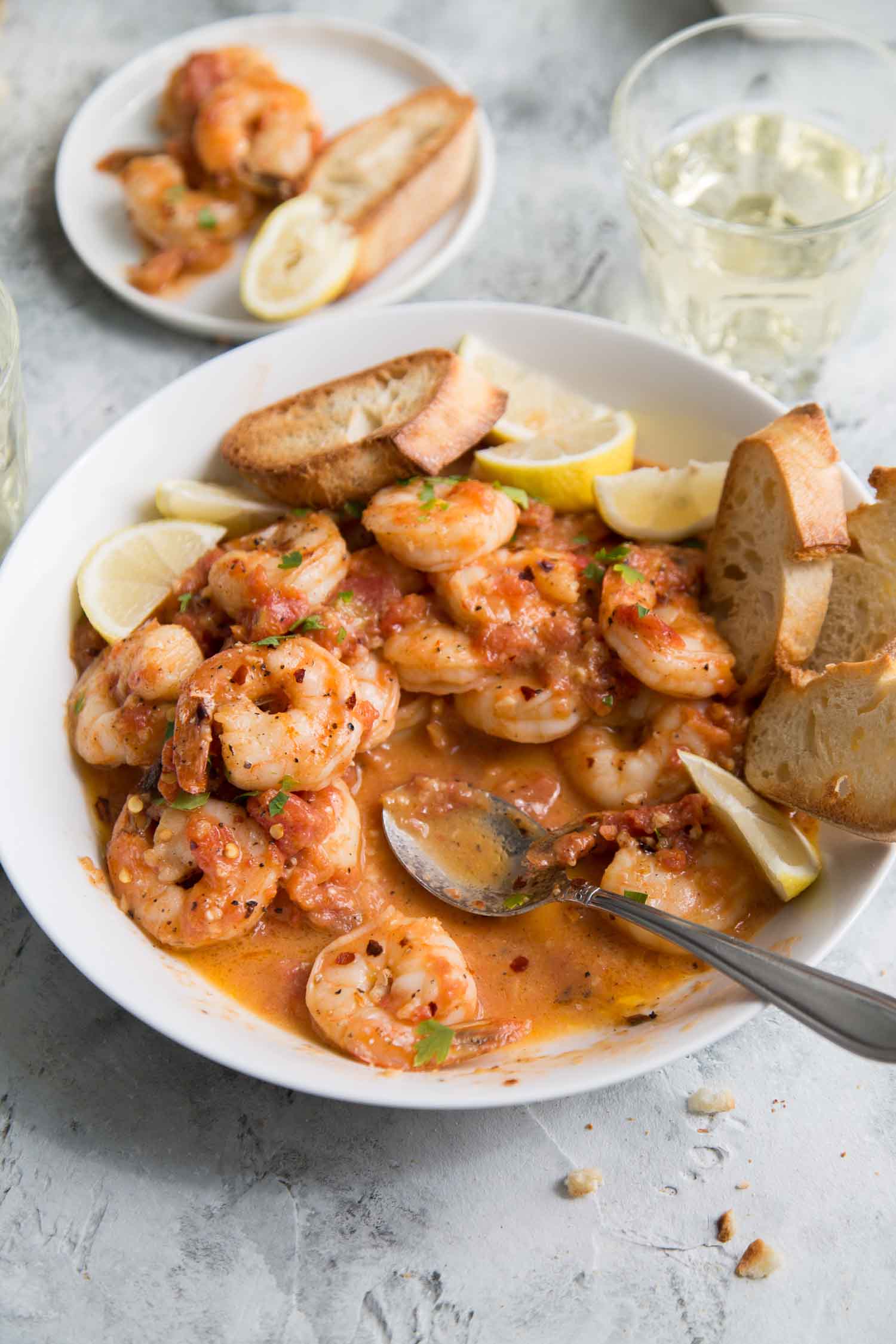 Tomato Shrimp Scampi
Yield: serves 4 as a meal, 6 as an appetizer
Ingredients
1

pound

large shrimp, peeled, deveined, tails on*

1/2

teaspoon

kosher salt

1/4

teaspoon

freshly ground black pepper

3

Tablespoons

olive oil

1/2

teaspoon

red pepper flakes

8

Tablespoons

unsalted butter

4

cloves garlic, minced

1/4

cup

dry white wine

15

oz

can diced tomatoes, drained (no salt added)

2

teaspoons

fresh squeezed lemon juice

1/2

teaspoon

kosher salt

1/4

teaspoon

freshly ground black pepper
Instructions
Pat shrimp dry. Toss shrimp with 1/2 teaspoon kosher salt and 1/4 teaspoon ground black pepper. Set aside.

In a large skillet, heat oil over medium heat. Add red pepper flakes and cook for about 10 seconds. Add butter and swirl until butter melts. Add garlic and cook for about 30 seconds until fragrant.

Add in seasoned shrimp. Cook for about one minute on each side until shrimp starts to color. Add wine and drained tomatoes. Cook until tomatoes are warm and shrimp is pink throughout, about an additional 1-2 minutes.

Remove from heat. Season with lemon juice, salt, and pepper. If desired, garnish with chopped parsley. Serve with toasted bread, crackers, or cooked pasta.