This spaghetti carbonara uses a handful of staple ingredients. It is quite possibly the easiest pasta dish to make!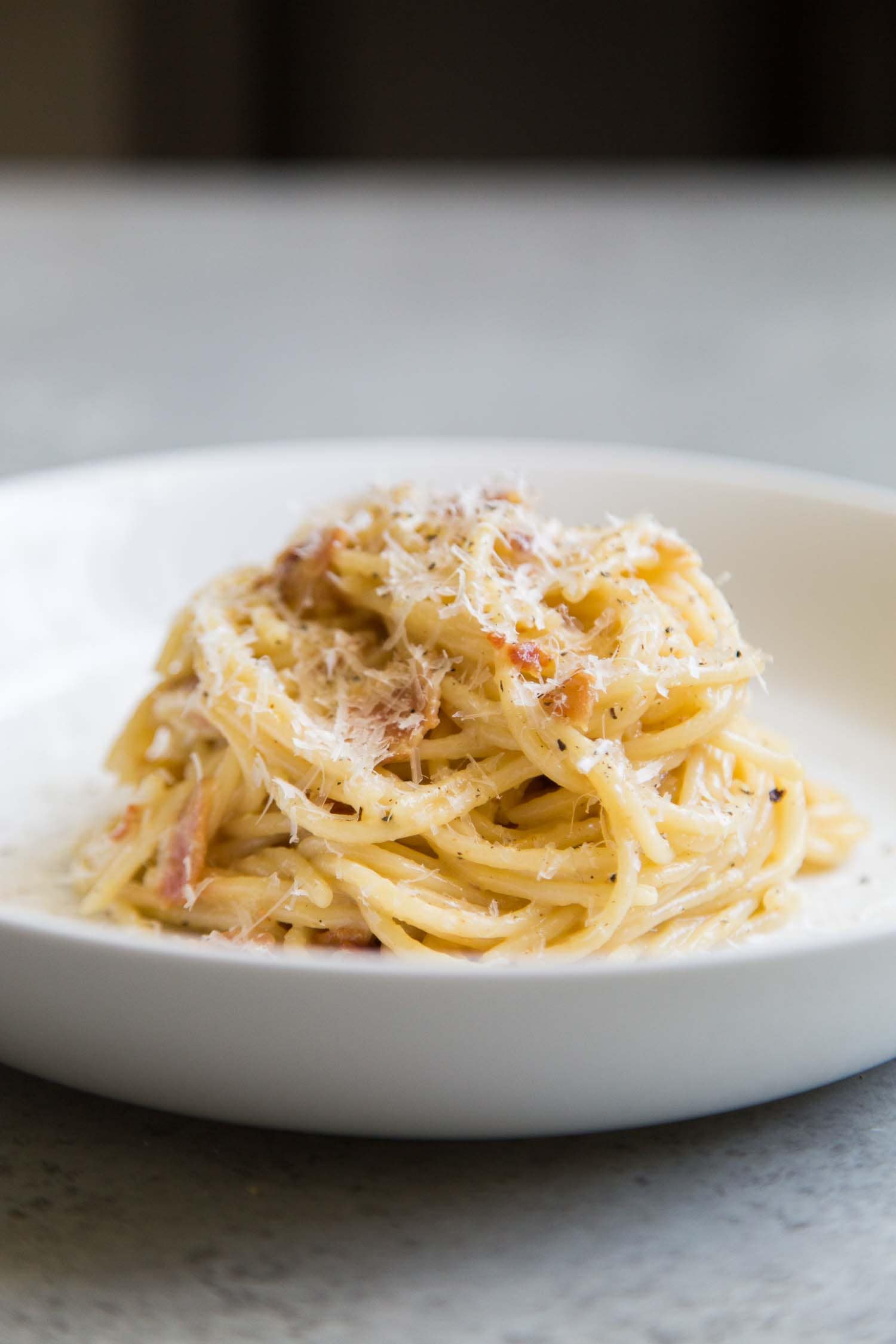 This isn't your traditional carbonara. This version is made with bacon!
I refer to spaghetti carbonara as "breakfast spaghetti."
(No, I don't commonly eat pasta for breakfast. Only on special occasions…)
It is because carbonara is made from common breakfast ingredients: eggs, cured meat, and cheese.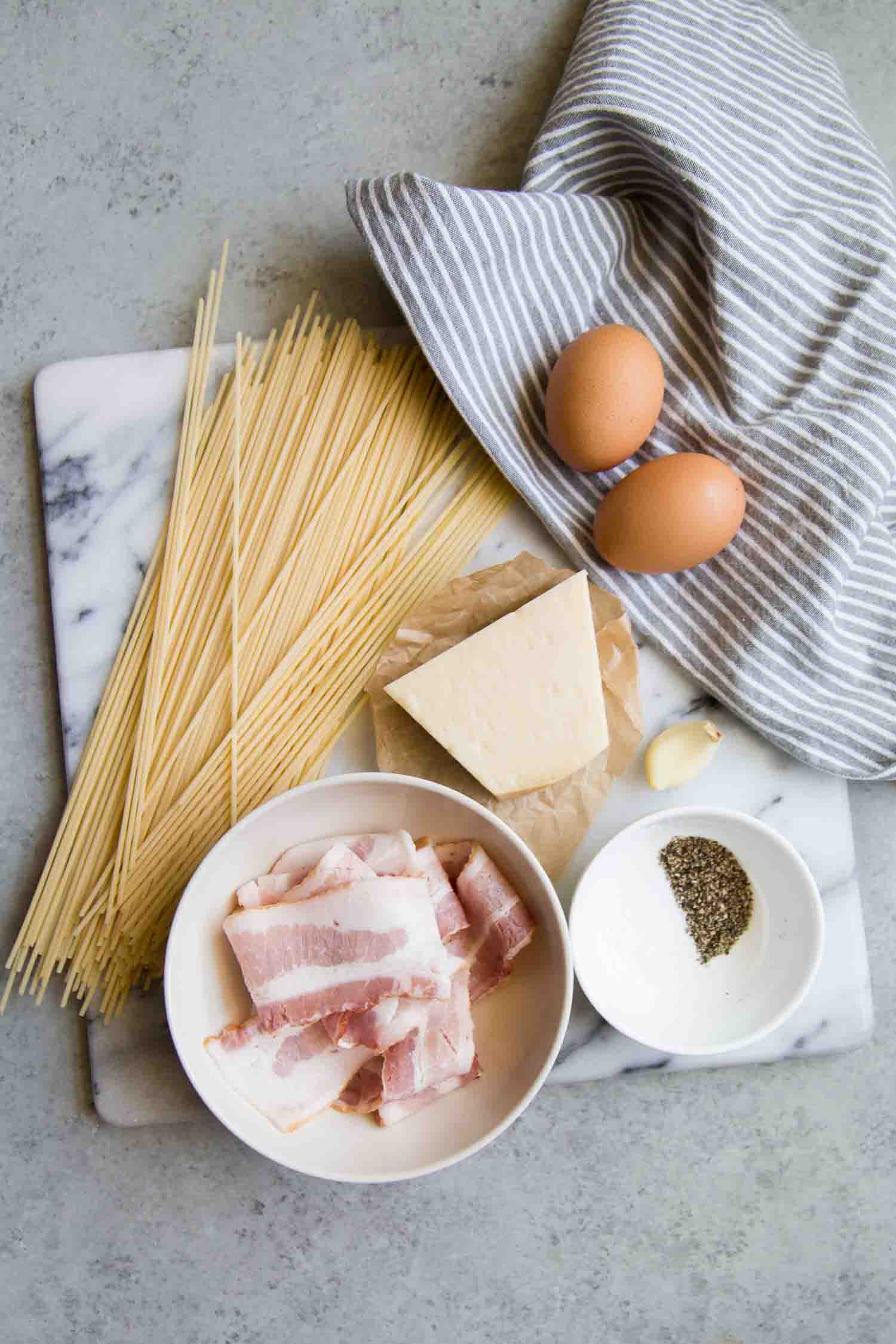 Spaghetti Carbonara
Traditional carbonara is made from egg, hard cheese, and guanciale. There are numerous variations on this classic Roman pasta dish. This is my quick and easy, get dinner on the table in less than 20 minutes version.
What is guanciale?
Guanciale is an Italian cured meat made from pork jowl. Similar to pancetta (made from pork belly), guanciale is unsmoked.
It adds a delicious delicate flavor to pasta and other dishes. However, guanciale may be difficult to procure at your regular supermarket. A speciality deli or butcher shop is where you'll find the premium stuff.
If you can't find guanciale, pancetta would be a great substitute.
The next best alternative:
Bacon. My fridge (or freezer) is always stocked with bacon.
Traditionalists would probably frown at bacon in carbonara because of bacon's iconic smokey flavor.
I love bacon. I welcome the smoky flavors and richness of bacon.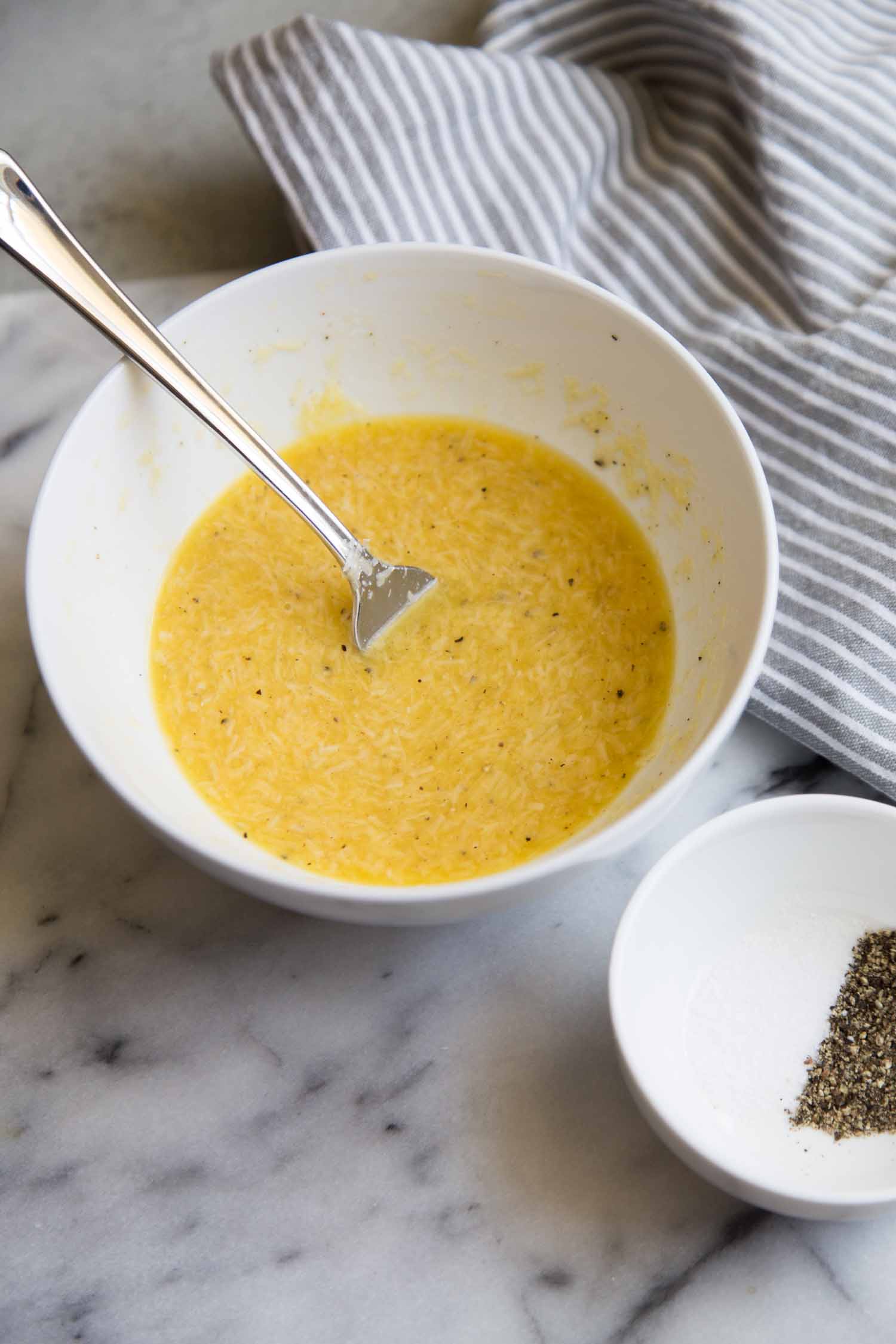 The creaminess comes from the "egg sauce"
The sauce for this pasta dish is simply made from whole eggs, grated cheese, salt, and pepper. That's it. SUPER SIMPLE.
I whisk a little bit of the reserved pasta water with the eggs. This ensures the egg sauce is silky and creamy.
It doesn't take very long to cook the eggs. The residual heat from the pasta is enough to bring the eggs to a safe temperature.
To be safe, it's a good idea to heat the sauce over the stove for a minute. Don't cook it too long. You don't wanted the eggs to curdle.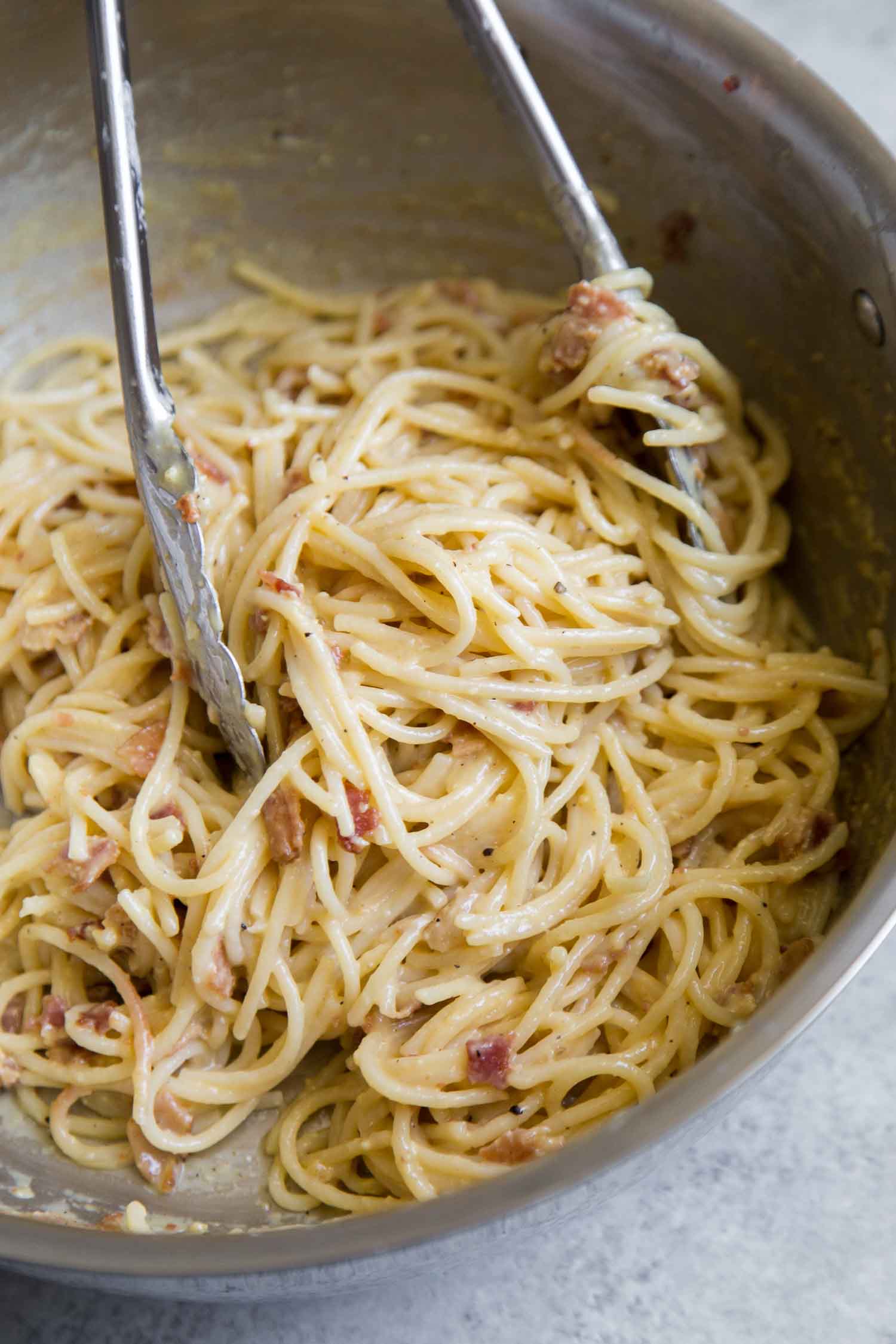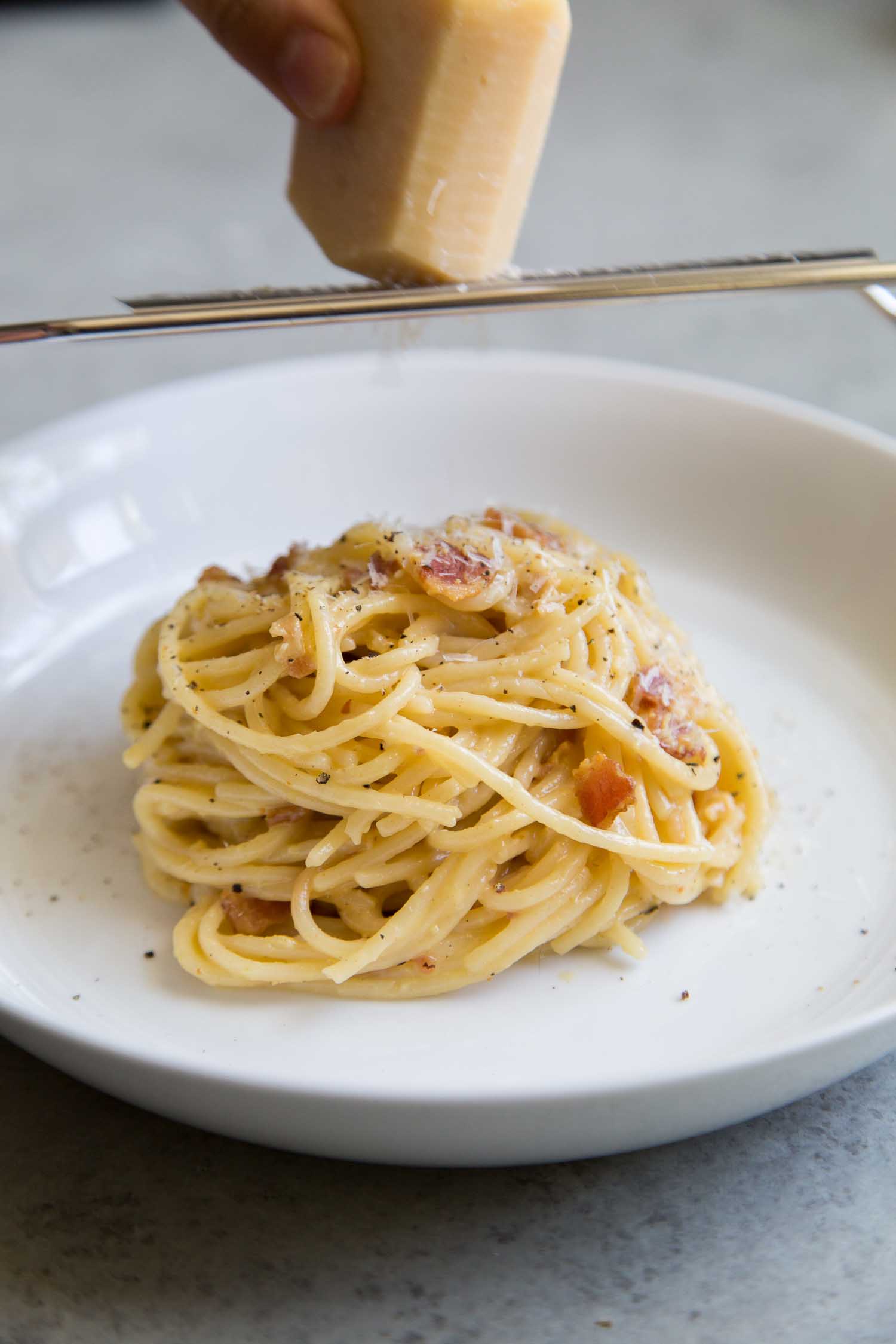 With simply a handful of ingredients, you can create a delicious hearty meal. Even a meal to impress a date with.
During the colder, winter months I'll make alfredo and more richer sauces.
While this isn't the most healthy or light pasta dish, I serve my spaghetti carbonara over a giant bowl of arugula or spinach to balance it out.
Spaghetti Carbonara
Ingredients
8

oz

dried spaghetti

4

oz

bacon,

chopped into small pieces

1

minced garlic

2

large eggs

1/2

cup

grated Parmesan cheese (or Pecorino Romano)

1/4

teaspoon

kosher salt

1/4

teaspoon

black pepper

2

Tablespoons

reserved pasta water
Instructions
Cook spaghetti to al dente according to pasta package instructions. Reserve about 1/4 cup of pasta cooking water. Drain pasta and set aside.

Place bacon in a single layer in a large cold pan. Set over low heat and slowly cook bacon to render fat. Once bacon has released some grease, increase to medium heat.

Flip bacon pieces are needed for even cooking. Continue to cook based on your desired of crispiness. Remove from heat and remove bacon pieces and allow to drain on a paper towel lined plate. Keep rendered bacon fat in skillet.

In a medium bowl, whisk eggs, grated cheese, salt, pepper, and 2 tablespoons of reserved pasta water until smooth. Set aside.

Heat skillet with bacon fat over medium heat. Once hot, add minced garlic. Stir and cook until fragrant and lightly browned, about 45-60 seconds. Add cooked pasta and bacon. Toss to combine.

Pour in egg mixture. Quickly toss to coat pasta in sauce while the heat is still on, about 30-40 seconds. At this point, the "sauce" should have thickened. Remove from heat.

If sauce is too thick, add in splash of reserved pasta water. Season with additional cheese and black pepper, as desired. Serve immediately.