As summer comes to an end and zucchinis are still plenty, make this spiced zucchini banana bread to help welcome some warm fall flavors!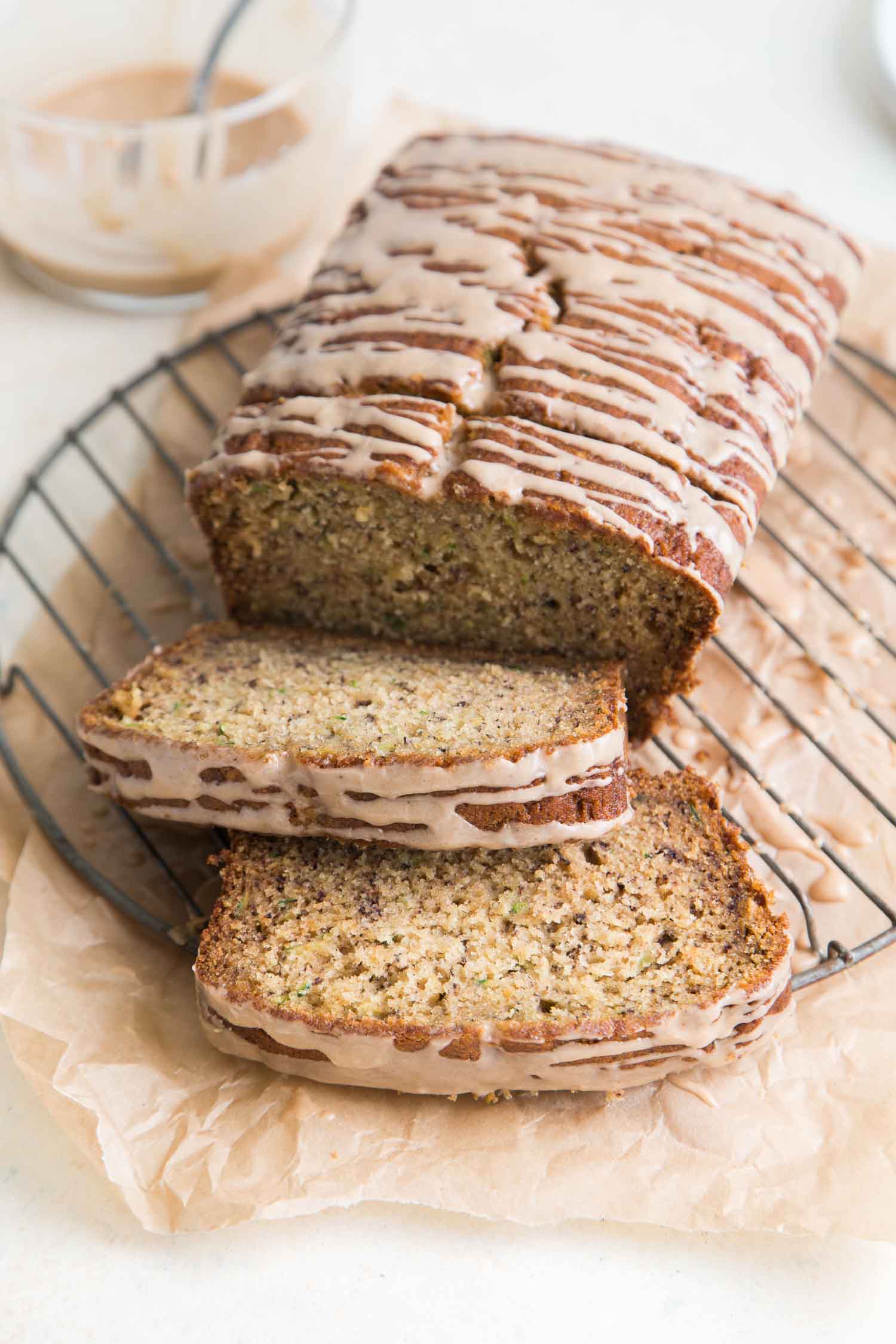 The days following Labor Day and before the official start of autumn are tough. Saying farewell to summer is often bittersweet for me. I enjoy the fruit and veggies, outdoor activities, and the long daylight hours.
But then again, I also look forward to the warm flavors, spices, and hearty comfort foods of autumn and winter. This spiced zucchini banana bread is the perfect transition to fall baking!
Zucchini Banana Bread
It's everything you already love about banana bread but MORE!
The addition of shredded zucchini means this banana bread is extra moist. Cinnamon, cardamon, nutmeg, turmeric is mixed into the batter AND used to glaze the finished quick bread.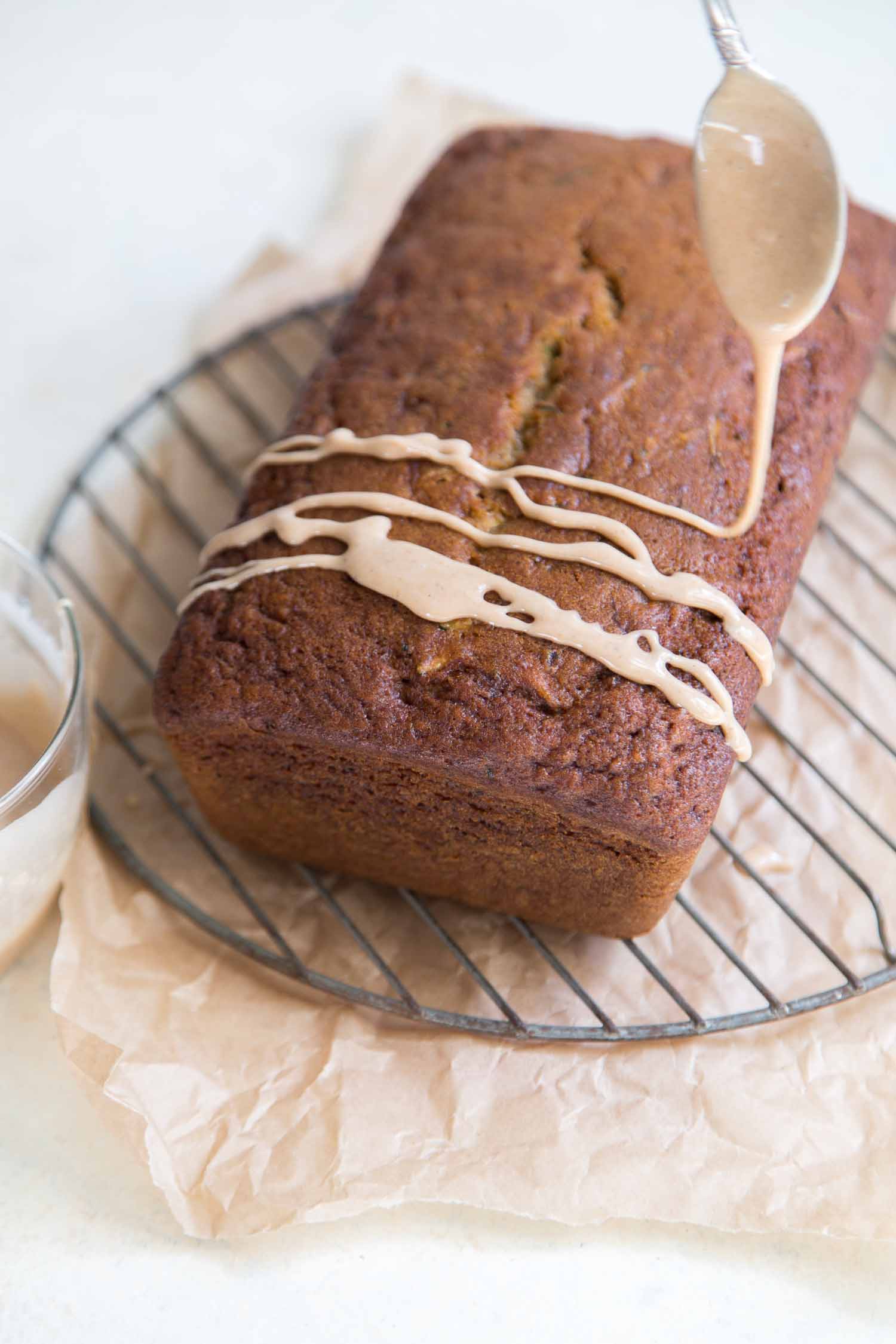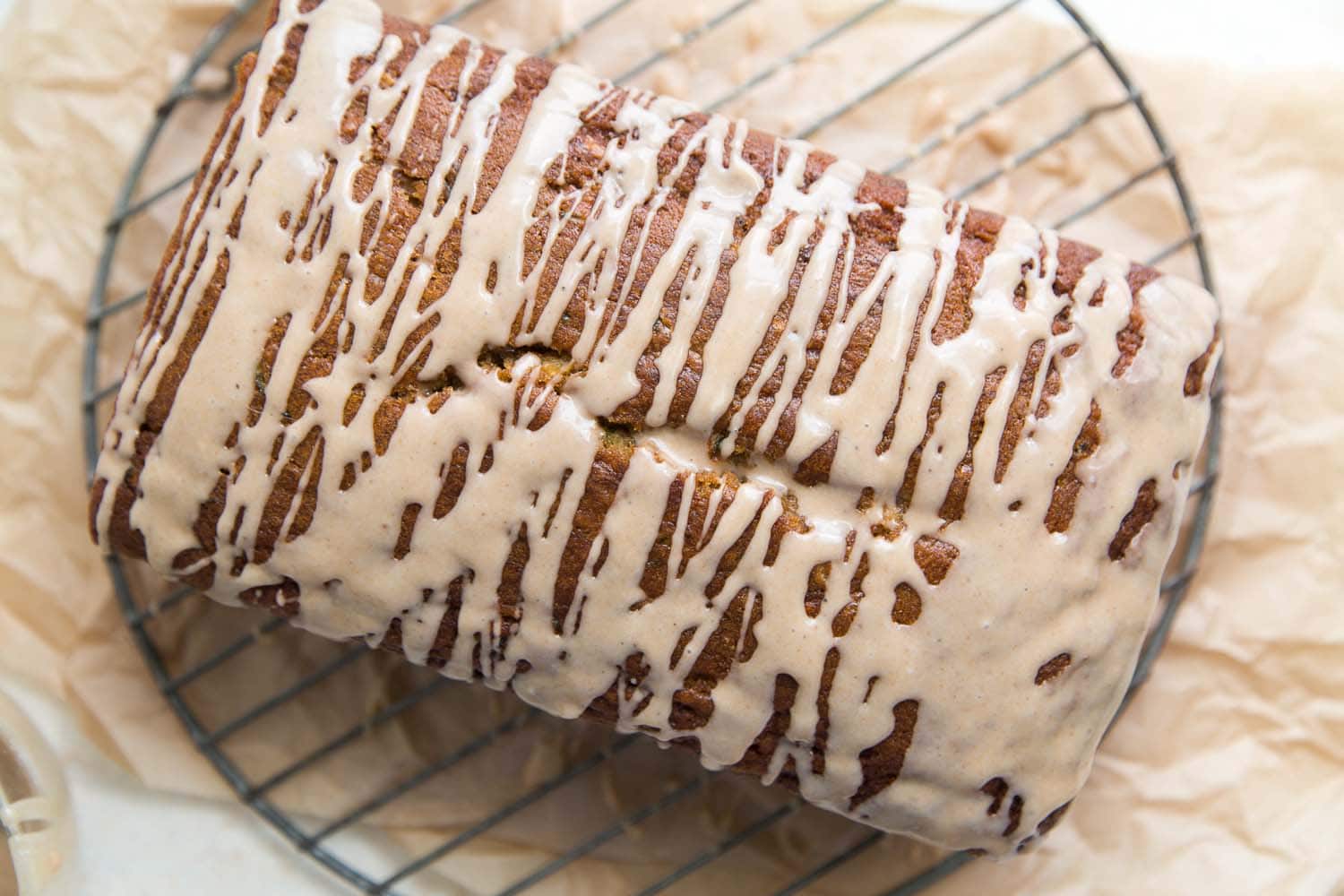 This recipe is loosely adapted from the zucchini banana bread loaf in the September/October issue of Bake From Scratch magazine.
Oil vs Butter Based Quick Bread:
Vegetable oil (or other neutral flavored oil) is often used in banana bread. Oil lends to the iconic moisture-rich, dense texture of banana bread.
Since this recipe uses mashed banana and shredded zucchini (which provides plenty of moisture as is), there is no need to use oil. That might be overkill.
Instead, softened room temperature butter is creamed with sugar.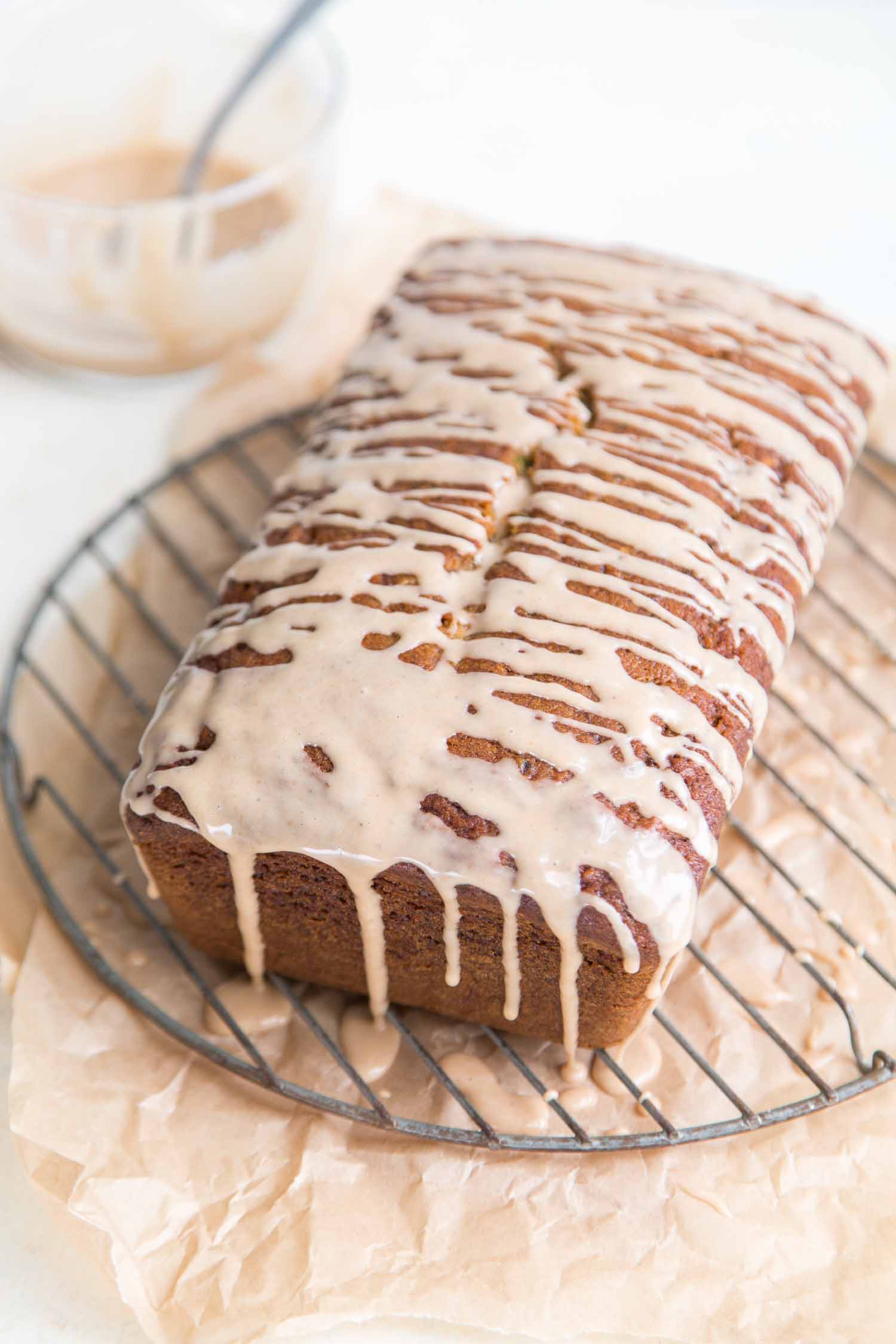 Warm Spices
This recipe uses a combination of ground cinnamon, cardamom, nutmeg, turmeric, and a touch of ginger. These spices work in harmony to balance out the sweetness of the super ripe banana.
For extra warmth, the glaze is almost spiced. Lightly drizzle on the glaze or pour it over the top for extra coverage.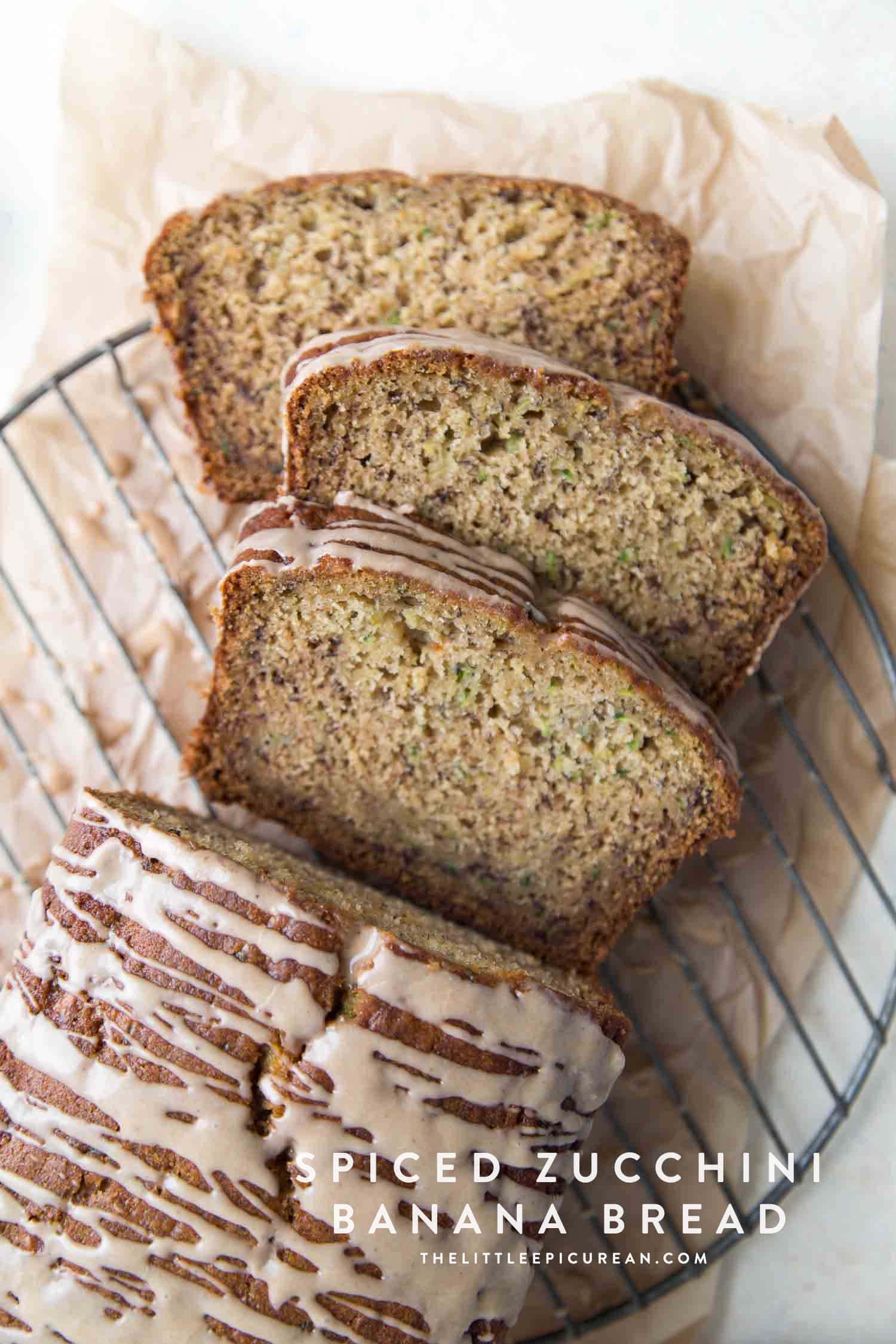 If you're feeling extra, you can use turn this banana bread into French toast!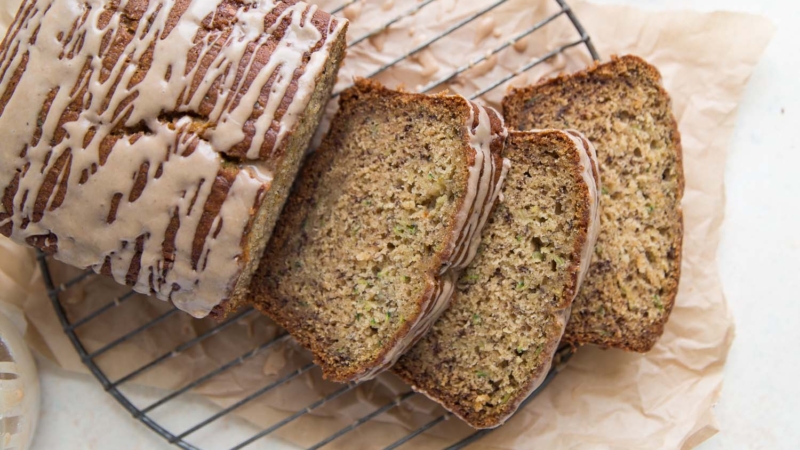 Spiced Zucchini Banana Bread
Yield: 9×5-inch loaf
Ingredients
1/2

cup

unsalted butter, room temp

3/4

cup

granulated sugar

2

large eggs, room temp

1

teaspoon

pure vanilla extract

1 1/2

cups

(340 grams) ripe banana, mashed

1

cup

(150 grams) shredded zucchini, packed

2

cups

all-purpose flour

1

teaspoon

baking powder

1

teaspoon

baking soda

1

teaspoon

fine sea salt

1/2

teaspoon

ground cinnamon

1/4

teaspoon

ground nutmeg

1/4

teaspoong

ground ginger

1/4

teaspoon

ground cardamom

1/4

teaspoon

ground tumeric
Spiced Glaze:
1

cup

confectioners' sugar

1/2

teaspoon

ground cinnamon

1/8

teaspoon

ground nutmeg

1/8

teaspoon

ground cardamom

1/8

teaspoon

ground tumeric

2

teaspoon

maple syrup

1

Tablespoon

milk, or milk alternative
Instructions
Preheat oven to 350 degrees F. Butter and flour a 9×5-inch loaf pan. Set aside.

In the bowl of a stand mixer fitted with paddle attachment, cream together butter and sugar until fluffy. Add eggs and vanilla. Mix until combined.

Add mashed bananas and shredded zucchini. Mix until combined. Scrape down bowl as needed.

In a large bowl, whisk together flour, baking powder, baking soda, salt, cinnamon, nutmeg, ginger, cardamom, and turmeric. Add to mixing bowl. Mix on low speed until fully combined and there are no longer any dry streaks of flour.

Transfer batter to prepared loaf pan. Bake for 60-70 minutes until bread is golden brown and toothpick inserted in center of bread comes out clean. Let bread cool in pan for 10-15 minutes before unmolding. Allow bread to cool to room temperature on a wire rack.
Spiced Glaze:
Stir together confectioners' sugar, cinnamon, nutmeg, cardamom, and turmeric together. Add in maple syrup and milk. Stir until smooth. Drizzle over cooled zucchini banana bread.