These chorizo potato tacos feature an easy homemade chorizo mix made from ground pork and several spices. The chorizo is cooked with potatoes and onion, served on soft corn tortillas and topped with tomatillo salsa.
Thanks to Ole Mexican Foods for sponsoring this post. As always, all opinions mentioned here are entirely my own.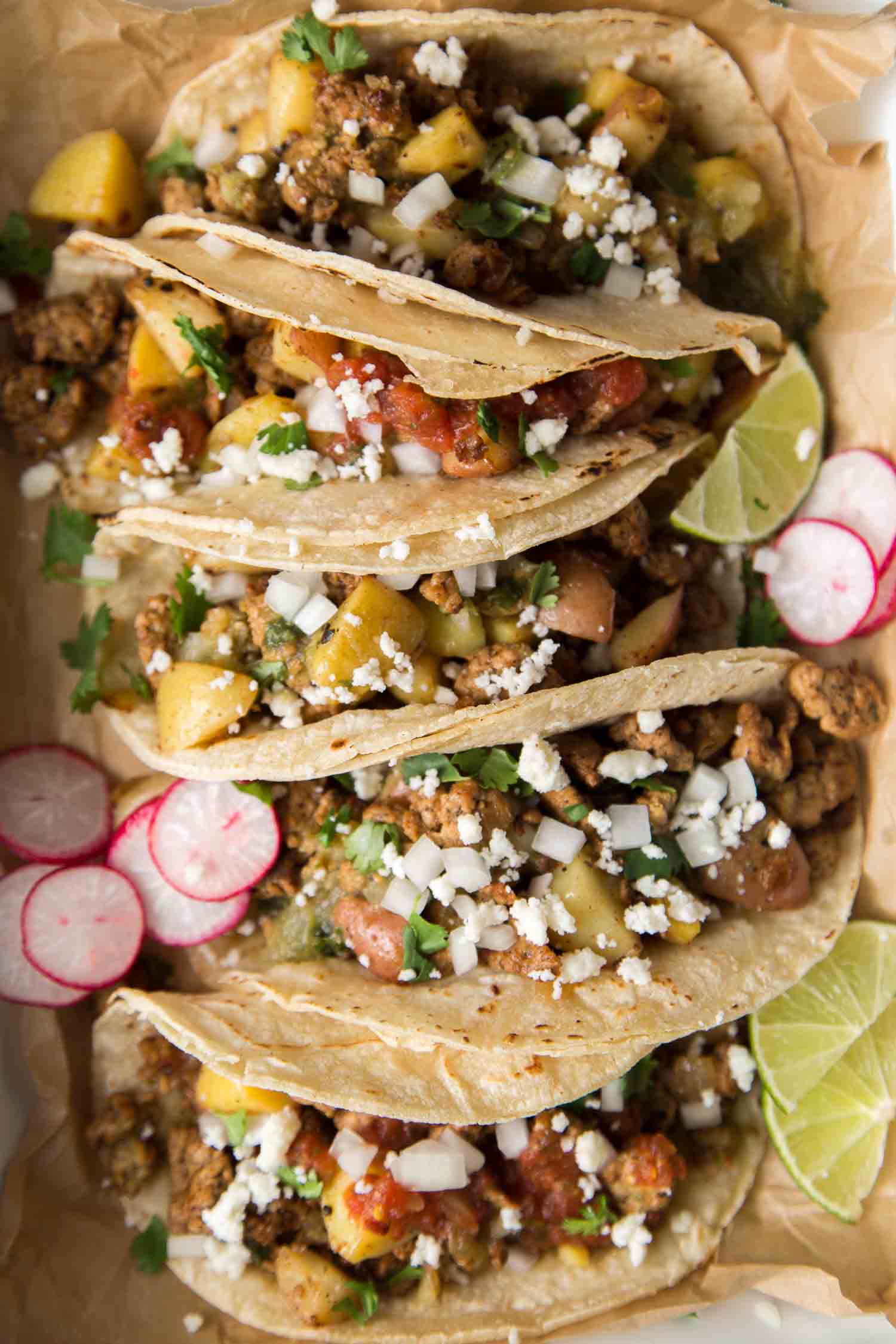 I love tacos. It is evident by my weekly taco meals documented in my Instagram stories.
I've partnered with Ole Mexican Foods to share my love of tacos and celebrate the upcoming Dia de los Muertos!
What is Dia de los Muertos?
Translating to "Day of the Dead," Dia de los Muertos is a day spent with family as you pay respects to loved ones who have since passed away.
Growing up in a Catholic Filipino household, we also observed Todos los Santos (Spanish translates to "All Saints). The traditions are very similar to the Day of the Day celebrations in Mexico.
It may sound a bit spooky, but much of the celebrations take place in the cemetery or graveyards. The occasion is far from scary. It is actually a very happy, festive, and fun occasion.
The day starts off with mass and prayers, followed with an abundance of flowers, candles, and food. LOTS AND LOTS OF FOOD.
During this event, family and friends come together to honor ancestors and loved ones that are no longer present. It's a day of remembrance and a celebration of life.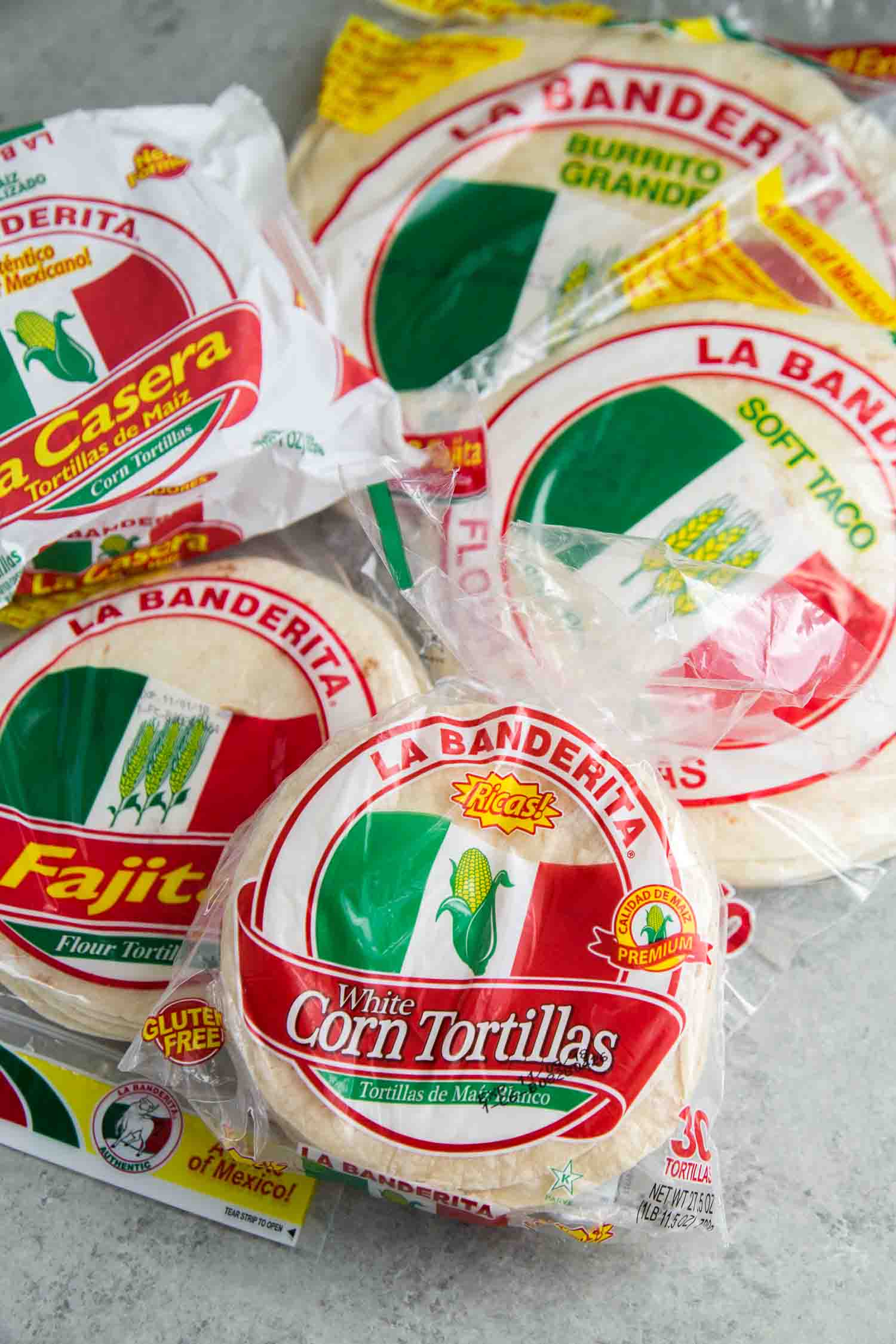 With any celebration, you're going to need food. Great food has the power to bring people together.
Ole Mexican Foods & La Banderita
Back in 1988, Ole Mexican Foods founder, Veronica Moreno, started producing and selling authentic Mexican tortillas in Atlanta, Georgia. The company companies to use traditional ingredients and time honored techniques to make their tortillas.
Ole Mexican Foods makes La Banderita branded tortillas. They have a wide range of tortillas to choose from.
Do you want corn or flour tortillas? Do you want tortillas for fajitas, enchiladas or burritos? They have the tortilla for that.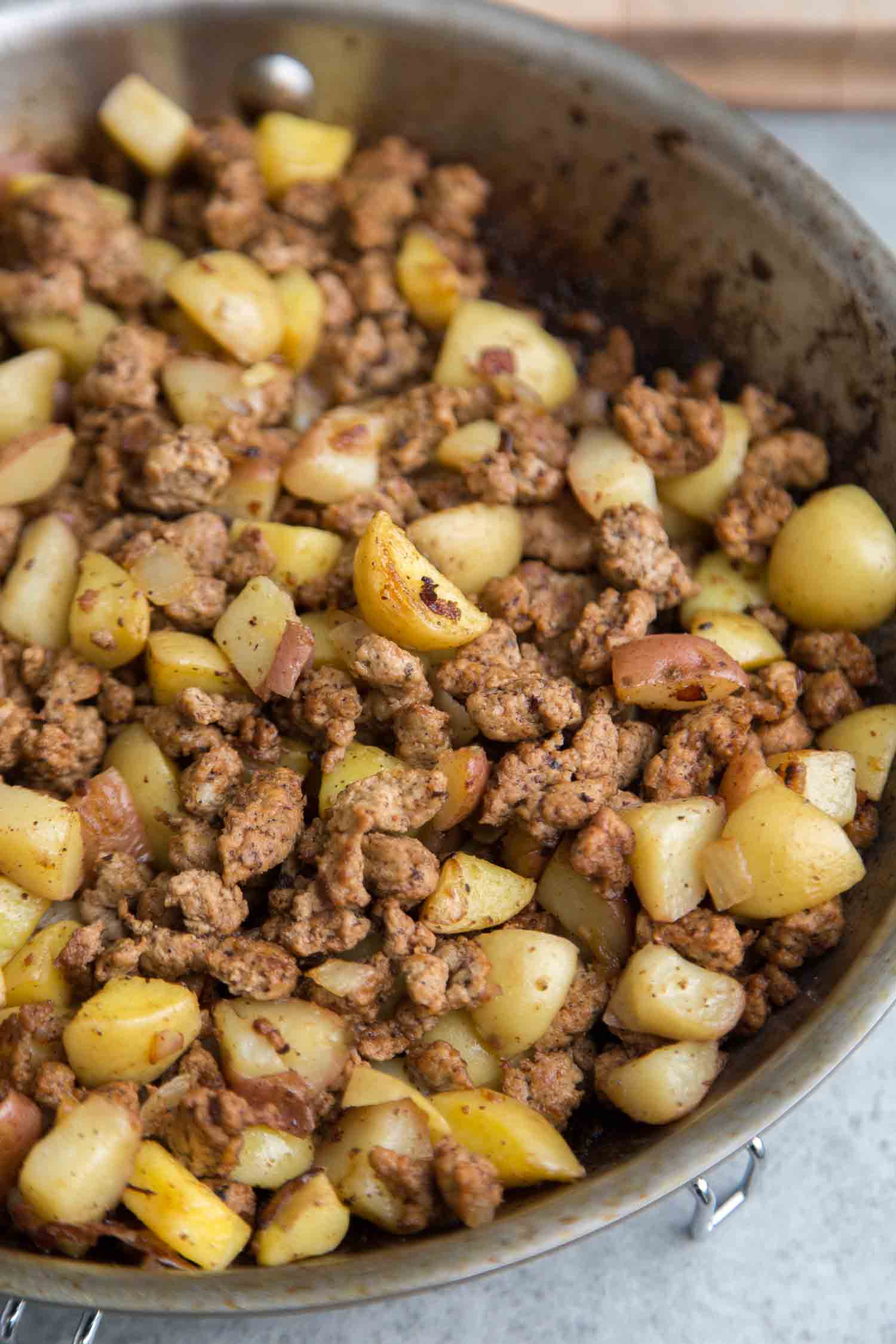 Chorizo Potato Tacos
In honor of my late father, I'm making chorizo potato tacos for Dia de los Muertos. My dad was a meat and potatoes kind of guy. He would totally approve of these hearty tacos.
While you could purchase store bought chorizo, I prefer to make my own simplified version.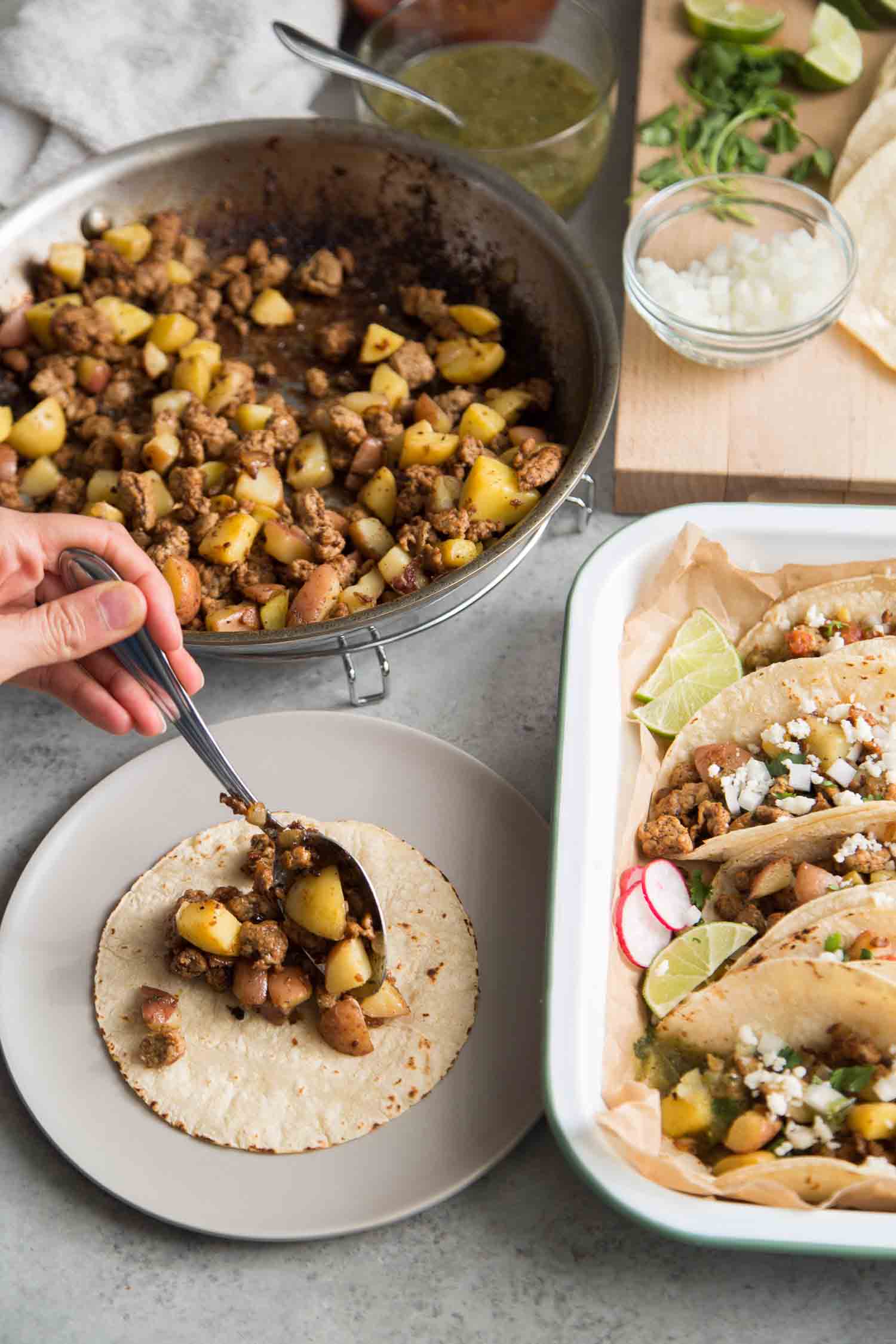 I mixed together lean ground pork with a variety of spices including ancho chile powder, cumin, coriander, garlic. The mixture is chilled overnight to allow the flavors to meld together.
The following day, the spiced pork mixture is cooked with par-boiled potatoes and chopped onions. The resulting mixture is super flavorful.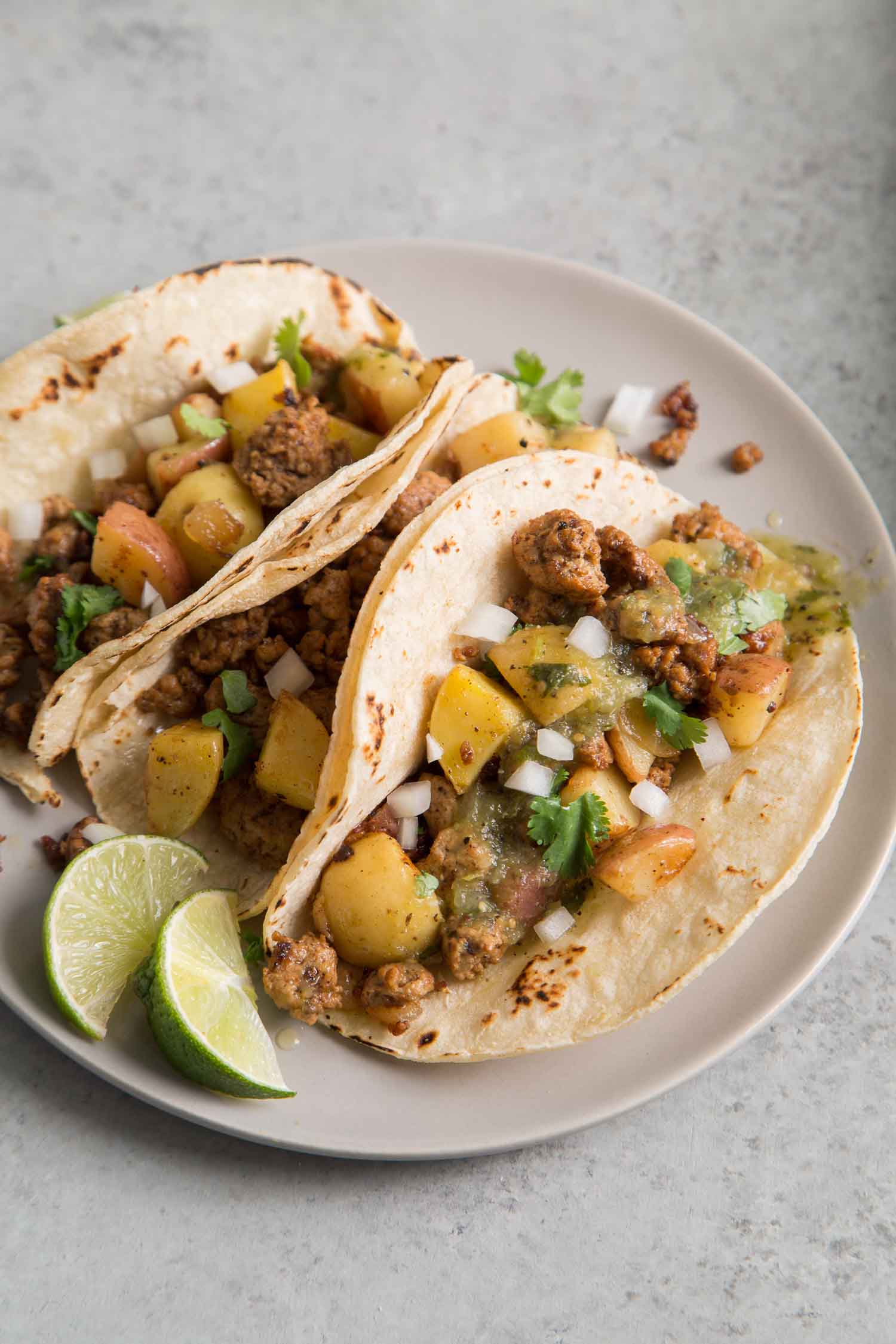 Warm up La Banderita corn tortillas and start assembling these chorizo potato tacos.
This recipes makes a hefty portion. You'll definitely be able to feed a crowd!
Interested in more recipes using La Banderita tortillas? Try these favorites:
Baked Tortilla Bowls– Make the ultimate ice cream sundaes in these homemade cinnamon sugar tortilla bowls!
Pineapple Cheesecake Chimichangas– Tortillas filled with vanilla cream cheese and pineapple chunks. Deep fried and tossed in graham cracker crumbs.
Make Ahead Breakfast Burritos– Roll up burritos filled with sausage, bacon, eggs, potatoes, veggies and cheese. Then, keep in the freezer until you're ready to eat!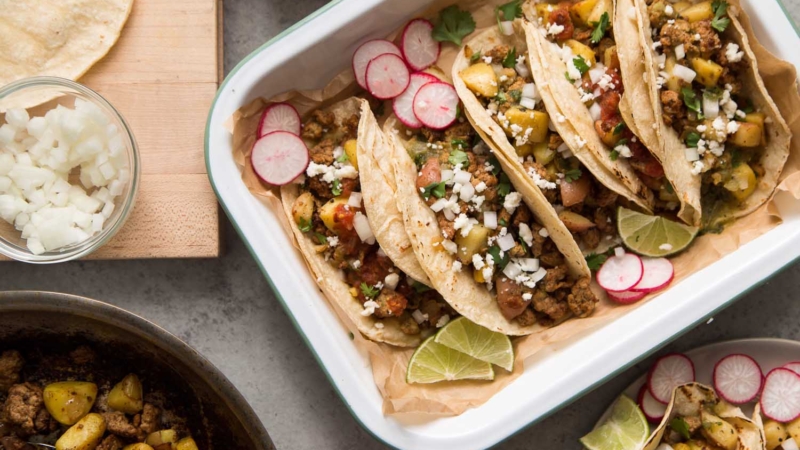 Chorizo Potato Tacos
These chorizo potato tacos feature an easy homemade chorizo mix made from ground pork and several spices. The chorizo is cooked with potatoes and onion, served on soft corn tortillas and topped with tomatillo salsa.Yield: makes 16 tacos
Ingredients
Chorizo Mix:
1

pound

extra lean ground pork*

(93% lean, 7% fat)

1

tsp

kosher salt

1

Tablespoon

ancho chile powder

1 ¼

tsp

garlic powder

(granulated garlic)

½

tsp

ground cumin

½

tsp

chipotle powder

½

tsp

smoked paprika

¼

tsp

ground coriander

¼

tsp

ground black pepper

¼

tsp

dried oregano

1

Tablespoon

apple cider vinegar
Potato Onion Filling:
1

pound

small boiling potatoes,

such as petite gold or baby reds

1

cup

chopped yellow onion

pinch

kosher salt
Components:
4

Tablespoons

grapeseed oil,

or vegetable oil

La Banderita corn tortillas

tomatilla salsa,

homemade or store-bought

finely chopped white onion

chopped parsley

crumbled cotija cheese
Instructions
Chorizo Mix:
Place ground pork in a large bowl. In a separate small bowl, whisk together salt, ancho chile powder, garlic powder, ground cumin, ground coriander, smoked paprika, black pepper, chipotle powder, and dried oregano.

Add spice mixture and apple cider vinegar to ground pork. Knead together until thoroughly combined. Cover with plastic wrap and let mixture chill in the fridge overnight.

Potatoes:
Halve and quarter the baby potatoes. Boil in salted water for 8-10 minutes until just tender. Drain and set aside.
Cooking Filling:
In a large skillet, heat up 1 ½ tablespoons of oil. Add half of chorizo mix and cook over medium-low heat. Stir and break up large clumps of meat. Cook until browned, about 6-8 minutes. Remove from pan.

Add another 1 ½ tablespoon oil and cook remaining half of chorizo mix. Remove meat from pan, leaving behind as much oil/fat in pan.

Over medium heat, warm up remaining tablespoon of oil. Add onions and potatoes. Cook until onions are translucent, about 8 minutes. Stir contents often to prevent potatoes from sticking to pan. Season with kosher salt.

Add in cooked chorizo. Stir to combine and heat for 2-3 minutes until chorizo is hot.
Taco Assembly:
Heat a large skillet over medium heat. Place 2-3 La Banderita tortillas in hot skillet and cook for about 15-20 seconds on each side. Transfer warm tortillas to a plate lined with a clean dish towel. Keep tortillas covered with towel. Repeat with remaining tortillas.

Spoon chorizo potato filling into warm tortilla. Top with tomatillo salsa, chopped onion, chopped parsley, and crumbled cotija cheese. Enjoy immediately.
Notes
Regular ground pork (usually labeled simply as "ground pork") found at supermarkets will generally have between 12-15% fat. Lean ground pork will have fat between 10-12% fat. Super-lean (or extra-lean) will have 10% or less fat. You can also grind pork at home using pork shoulder.
Higher fat content will result with moist, juicier meat. 
If using store-bought Mexican chorizo, remove from casing. 
If baby potatoes are on the smaller size, simply halve.