Pineapple Cheesecake Chimichangas filled with vanilla cream cheese and cinnamon spiced pineapple chunks. They're fried until golden and tossed in sweet graham cracker crumbs.
This recipe post was sponsored by Ole Mexican Foods. Thank you for supporting our brand partners. As always, all opinions stated here are entirely my own.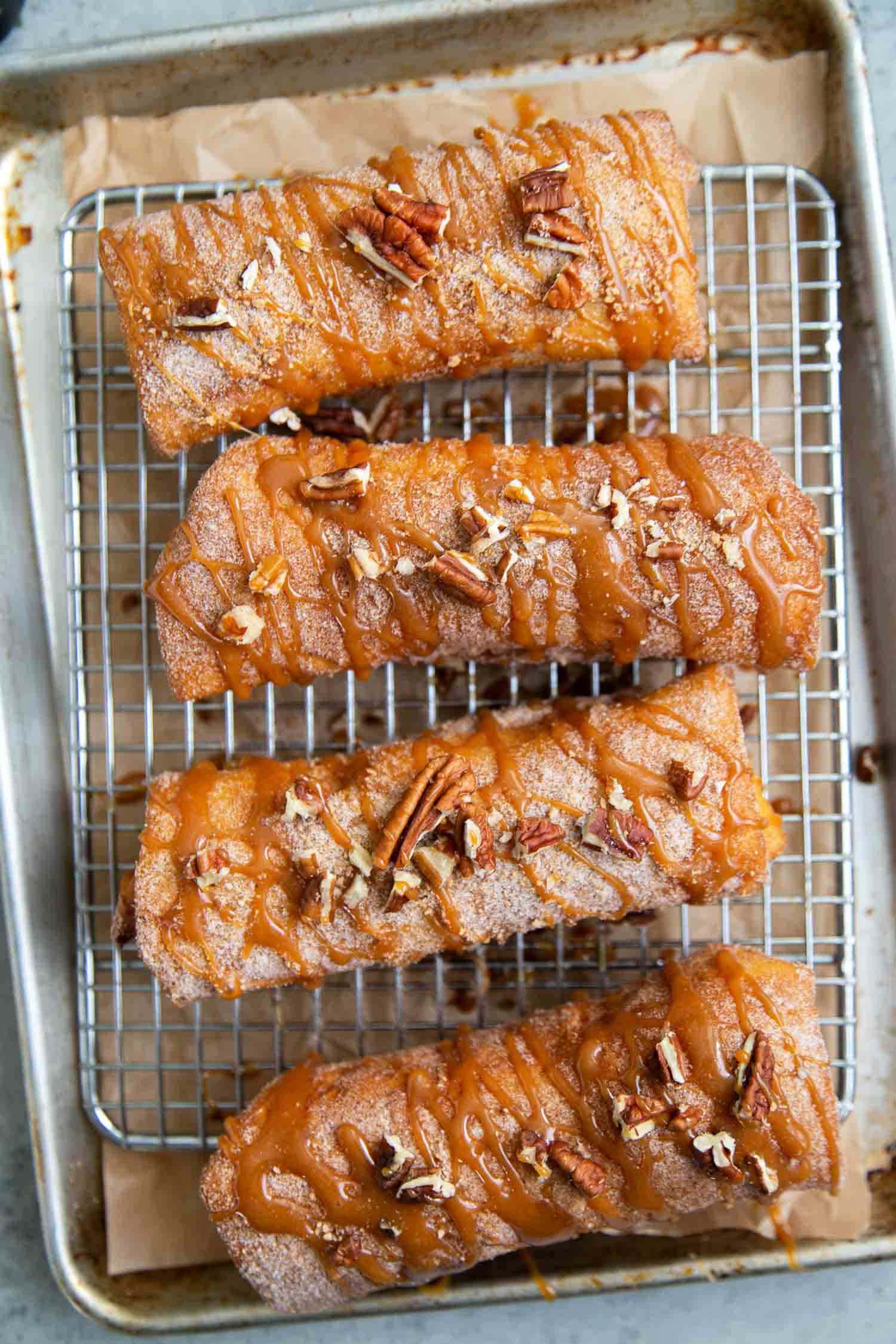 I've partnered with Ole Mexican Foods once again to celebrate the upcoming Dia de los Muertos!
Last year, I made these tasty chorizo potato tacos. This time, we're going with something sweet!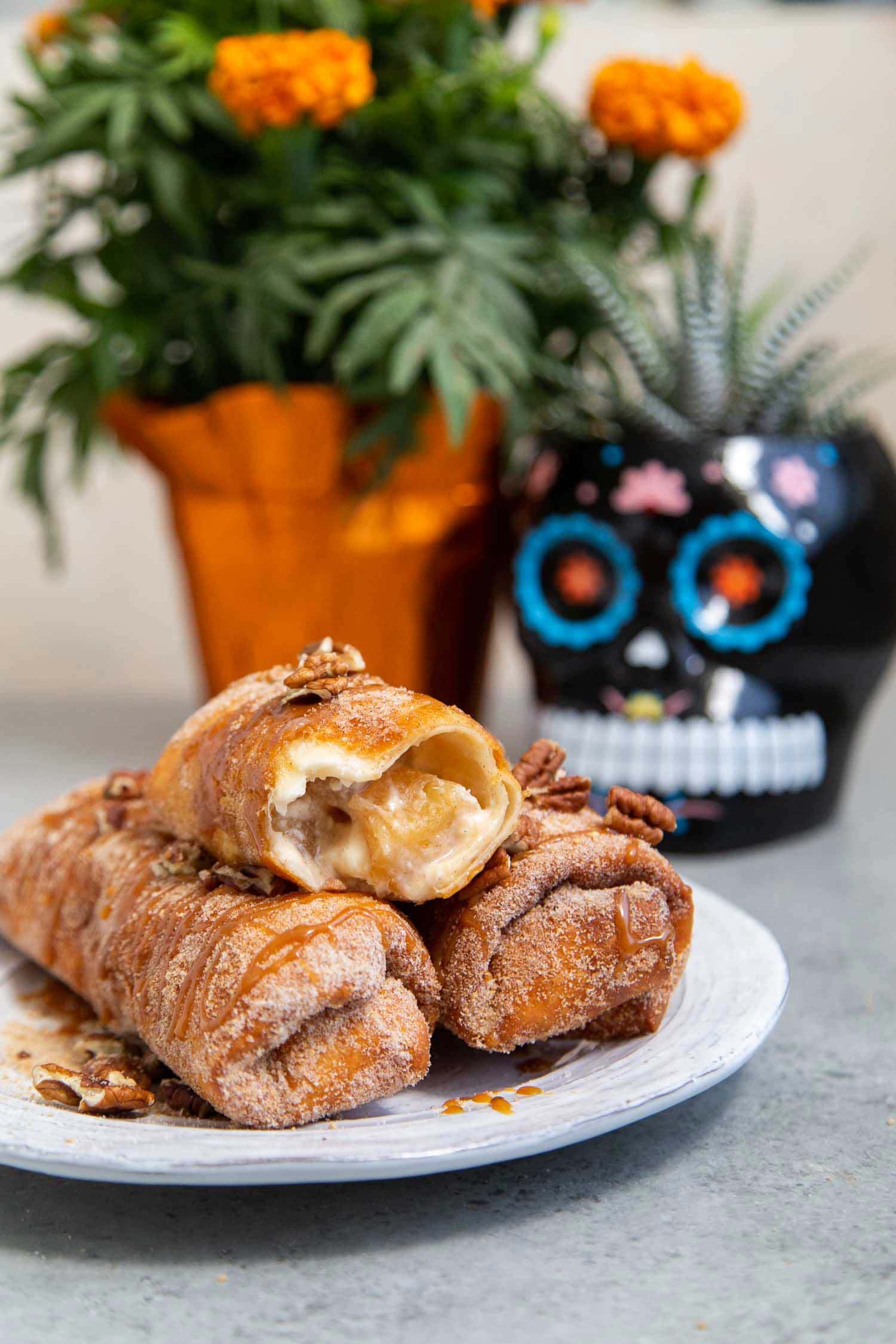 What is Dia de Los Muertos?
Dia de los Muertos translates to "Day of the Day."
It is a special time spent with family as you pay respects to loved ones who have since passed away. It starts October 31 and ends on November 2.
Growing up in a Catholic Filipino household, we observed Todos los Santos (Spanish translates to "All Saints"). This holiday takes place on November 1. The traditions are very similar to the Day of the Day celebrations in Mexico.
It may sound a bit spooky, but much of the celebrations take place in the cemetery or graveyards.
However, the occasion is far from scary. It is actually a happy, festive, and fun occasion!
The day starts off with mass and prayers, followed with an abundance of flowers, candles, and food. Lots of food!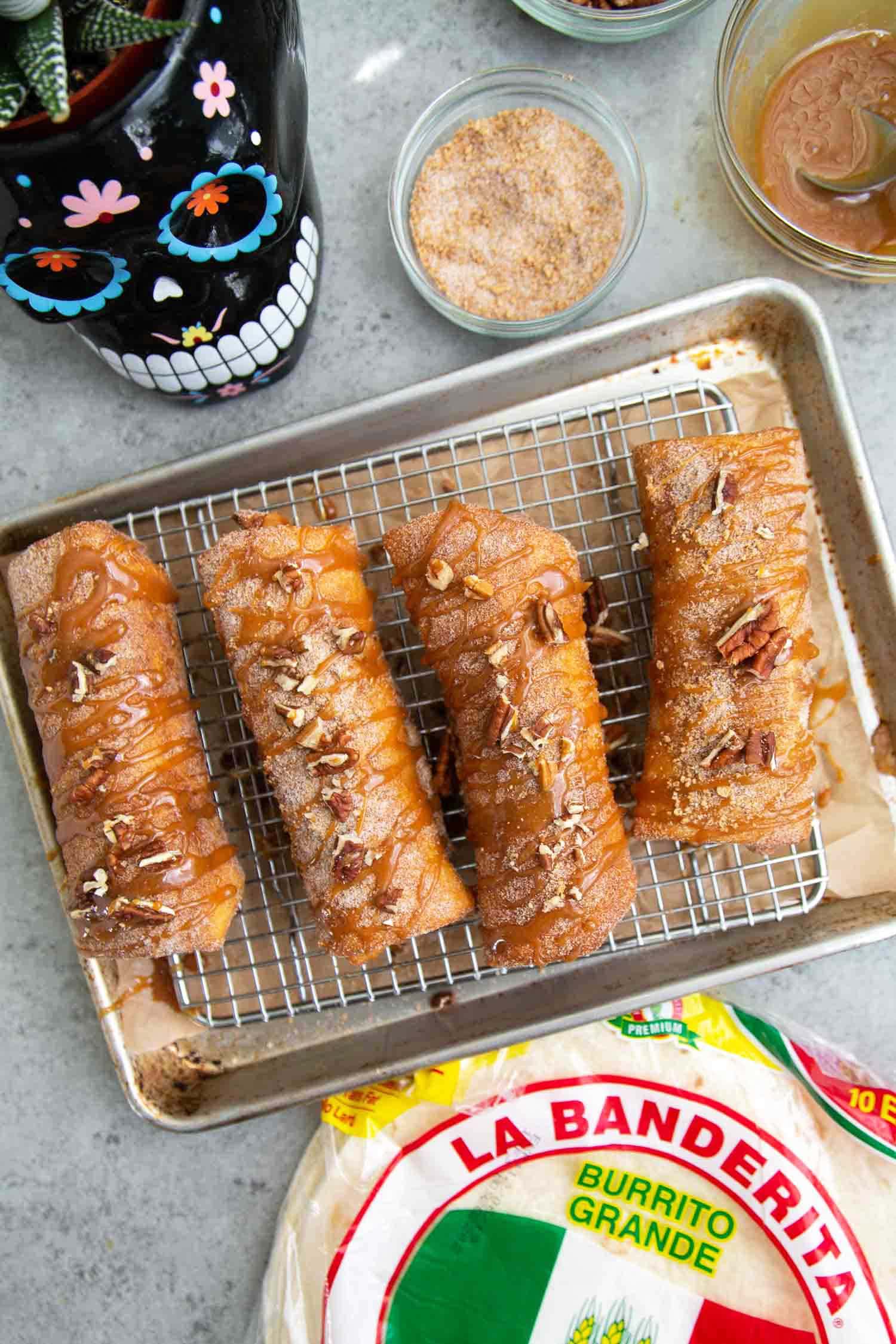 As with all celebrations, food is an important aspect. Food has the power to bring people together and evoke so many memories.
Dessert Chimichangas
In honor of my late father, I'm making these pineapple cheesecake chimichangas for Dia de los Muertos.
My dad shared my sweet tooth. He introduced me to all his favorite cinnamon desserts: cinnamon rolls, cinnamon coffee cake, and churros.
Asides from our fondness of desserts, we shared a love for fruits. All fruits, but especially tropical fruits!
Weekend mornings we would share mangos, guavas, papayas, coconut, or whatever fruits he was currently growing in our backyard.
But the fruit we enjoyed most often together- pineapple!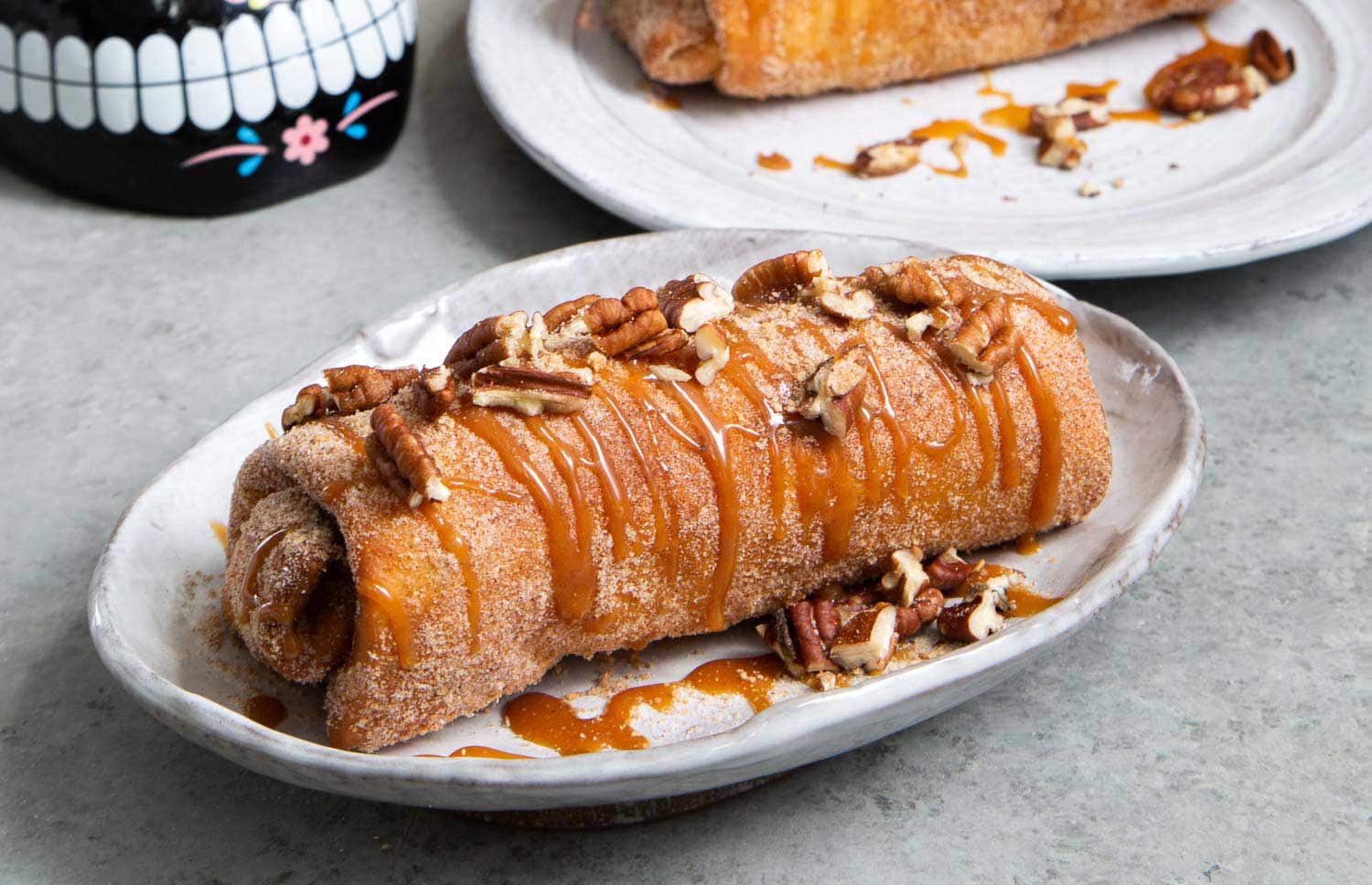 These sweet chimichangas are filled with cinnamon spiced pineapple chunks and vanilla cream cheese.
Foods 101
What is a chimichanga?
Chimichangas are best enjoy warm, fresh from the fryer.
As such, this recipe makes a small batch of 4 chimichangas.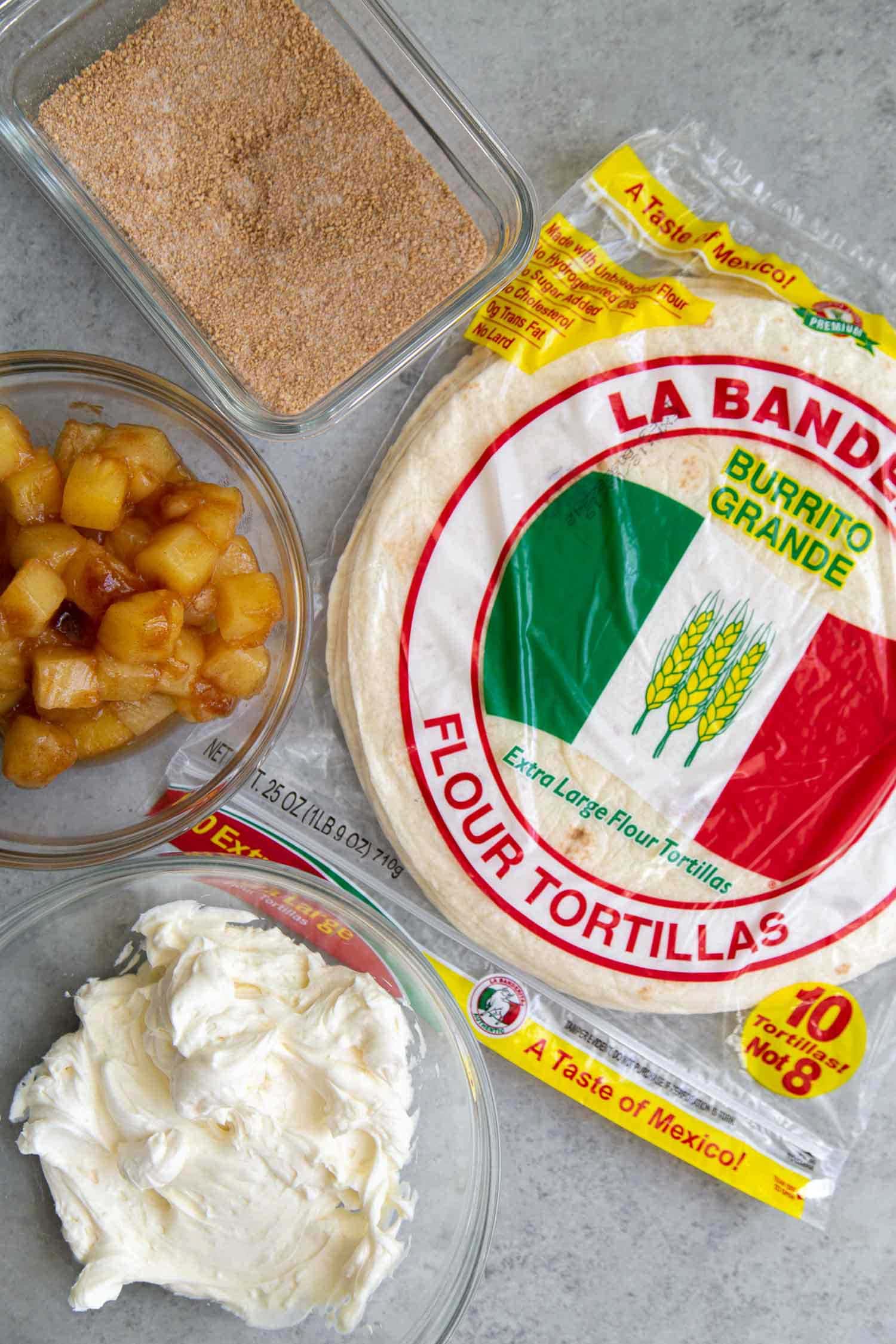 Sweet Chimichangas Components:
Cinnamon Graham Coating
Spiced Pineapple Filling
Vanilla Cream Cheese Filling
La Banderita Extra Large Flour Tortillas (10-inch)
Cinnamon Graham Coating
To get that iconic cheesecake flavor, the fried chimichangas are tossed in ground graham crackers spiced with cinnamon. Ground the graham crackers as fine or as coarse as you'd like.
Spiced Pineapple Filling
This recipe uses canned pineapple chunks. Be sure to use pineapple canned in 100% pineapple juice.
Don't use the ones soaked in heavy syrup. Those pineapple will be way too sweet.
Fresh pineapple would also work wonderfully in the recipe.
Vanilla Cream Cheese Filling
The cream cheese filling is a simple mixture of cream cheese, sour cream, sugar, and vanilla. To make the filling extra special, use vanilla bean paste.
It's important to use full-fat block cream cheese. Do not use low-fat or reduced fat cream cheese. The filling will be too thin.
La Banderita Extra Large Flour Tortillas
Use 10-inch "burrito" or grande" La Banderita flour tortillas. It is also labeled as "extra large" flour tortillas.
I prefer La Banderita flour tortillas because they are made with unbleached flour and aluminum-free baking powder.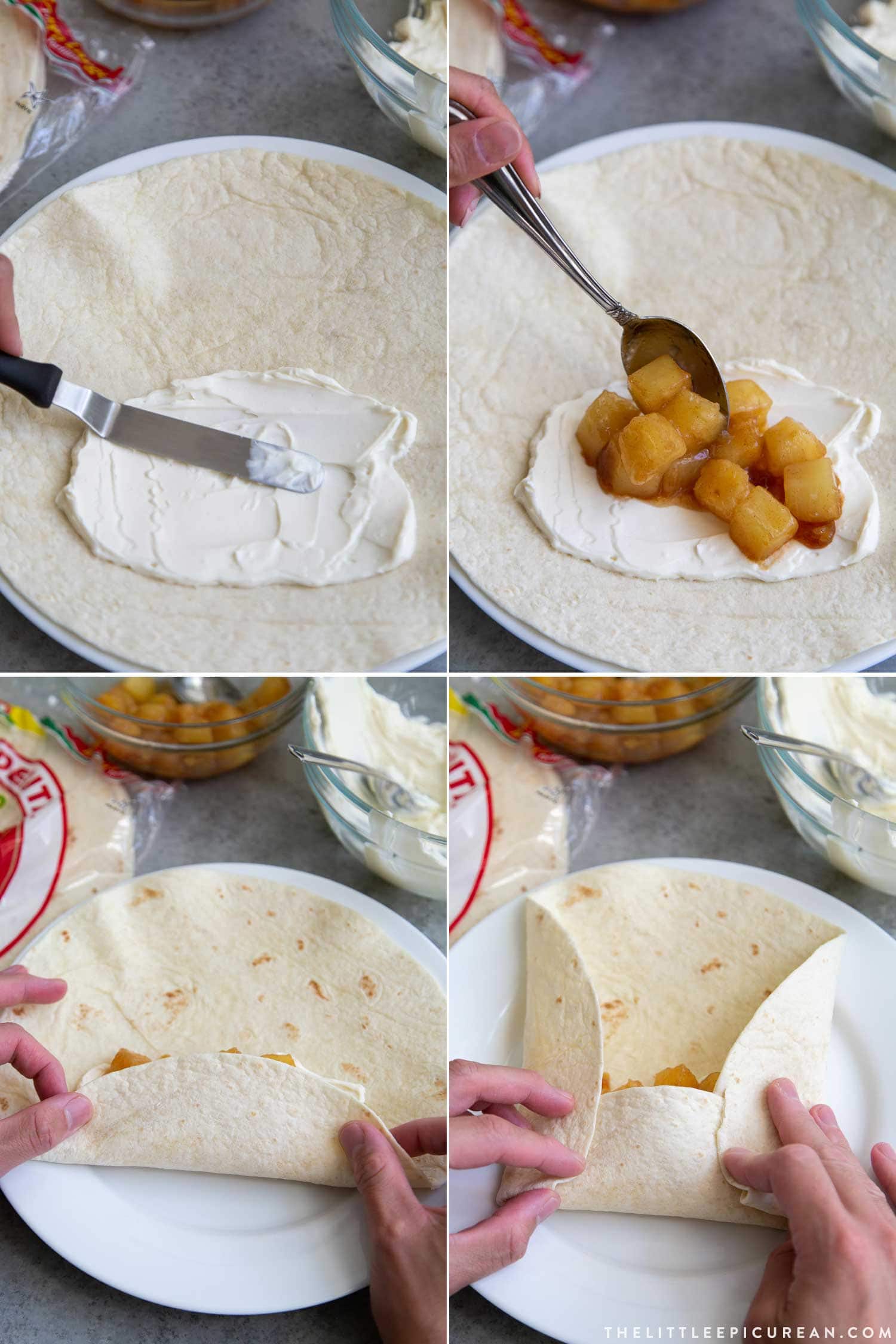 How to Assembly Burrito:
Spread about three tablespoons of cream cheese filling toward the bottom third of tortilla.
Add about 1/4 of cooled pineapple chunks on top.
Fold bottom third of tortilla up to cover filling.
Fold in the two sides of tortilla. Roll into a tight log. Use a toothpick to seal seam.
The burritos are quickly fried in oil in golden brown and crispy. Allow the chimichanga to drain on paper towels for a minute or two.
Toss the chimichangas in cinnamon graham coating while still warm. Once coated, place the chimichangas on a wire rack until ready to serve.
For the finishing touch, garnish the chimichangas with a drizzle of warm caramel and a sprinkling of pecans.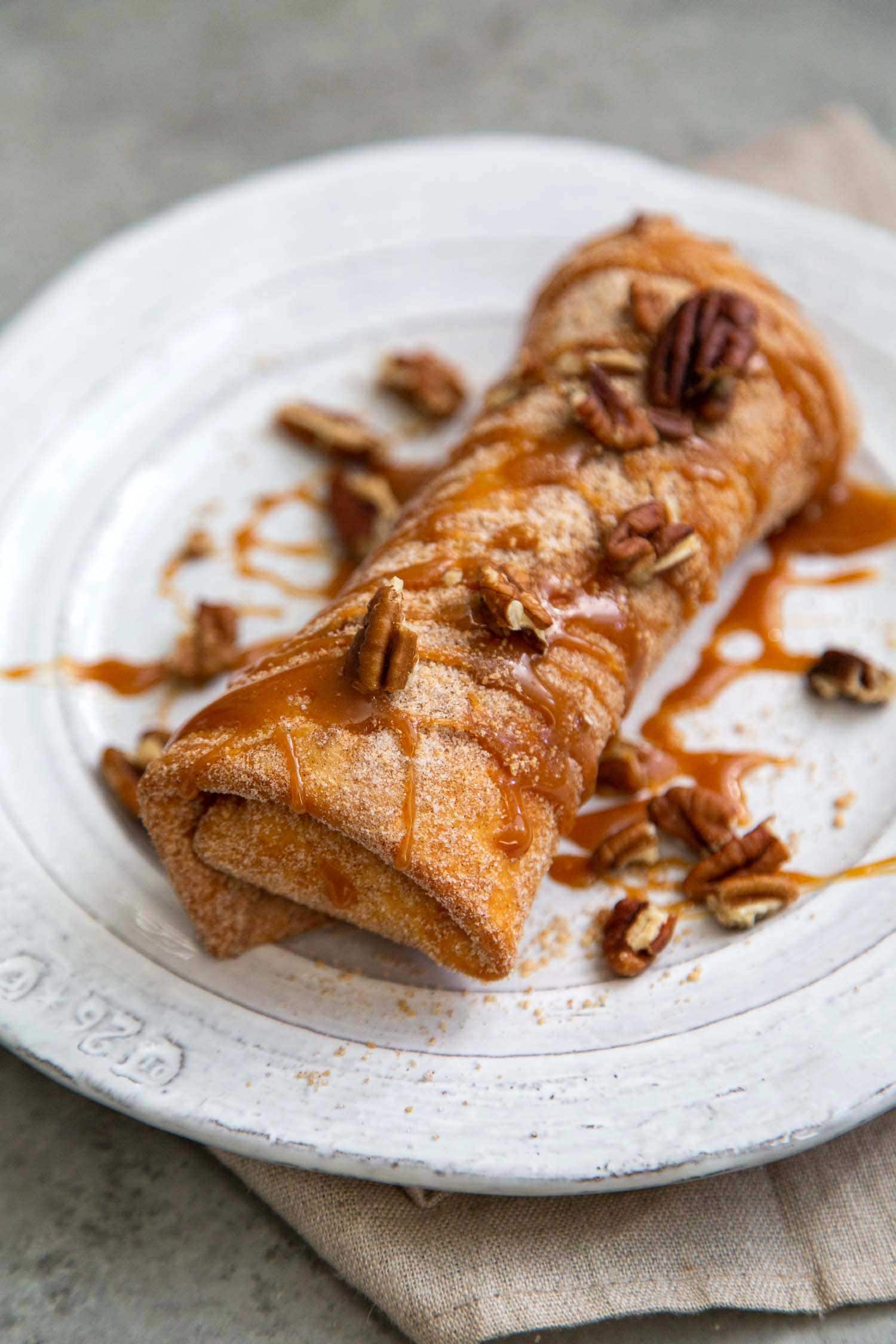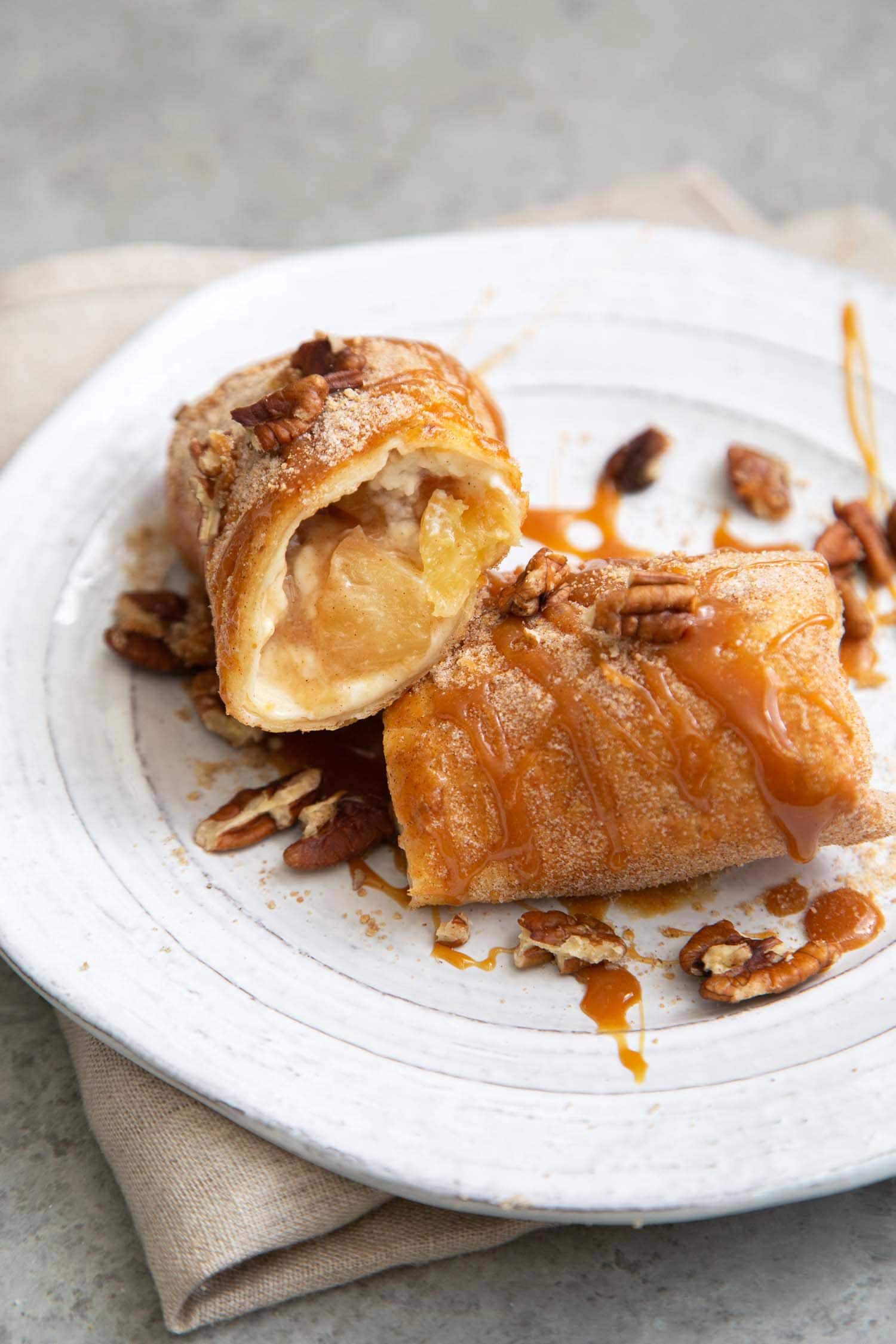 As with all fried foods, it is best to serve these pineapple cheesecake chimichangas fresh from the fryer.
Nothing beats the contrasting textures of biting into in the crispy tortilla with sweet pineapple and creamy filling.
For extra decadence, serve these warm chimichangas with a scoop of ice cream!
I know my father would have absolutely loved these pineapple cheesecake chimichangas!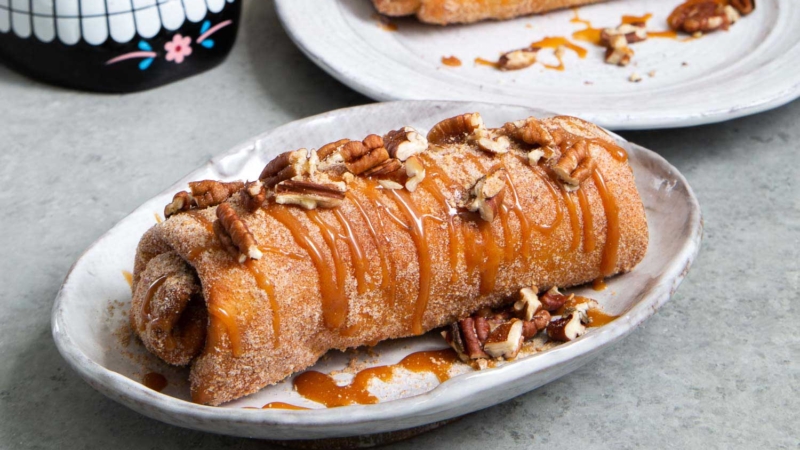 Pineapple Cheesecake Chimichangas
These Pineapple Cheesecake Chimichangas are filled with vanilla cream cheese and cinnamon spiced pineapple chunks. They're fried until golden and tossed in a sweet graham cracker powder.
Ingredients
Cinnamon Graham Coating:
4

sheets

graham crackers

6

Tablespoon

granulated sugar

1 ½

teaspoon

ground cinnamon
Pineapple Filling:
20

oz

can pineapple chunks

(in 100% pineapple juice), drained*

¼

cup

light brown sugar,

packed

¼

teaspoon

ground cinnamon

pinch

kosher salt

1

teaspoon

arrowroot powder
Chimichangas:
8

oz

block cream cheese,

softened

3

Tablespoon

sour cream

¼

cup

granulated sugar

1

teaspoon

vanilla extract

pinch

kosher salt

pineapple filling
Garnish:
warm caramel sauce

toasted pecans
Instructions
Cinnamon Graham Coating:
In a food processor fitted with a blade attachment, pulse together graham crackers until fine. Whisk in sugar and cinnamon. Set aside.
Pineapple Filling:
Place drained pineapple chunks in a medium sized sauce pot. Add brown sugar. Set over medium heat. Stir often until sugar has dissolved. Add cinnamon and salt.

Cook over medium heat for about 3-5 minutes until pineapples have slightly softened. In a small bowl, combine arrowroot and 1 teaspoon water. Add arrowroot mixture to pineapples. Stir immediately to distribute. Cook for about 30 seconds and then remove from heat. Pineapple mixture will slightly thicken. Allow to cool to room temperature.
Chimichangas Assembly:
In the bowl of a stand mixer fitted with paddle attachment (or using an electric hand mixer), beat cream cheese until smooth. Add sour cream, sugar, vanilla, and salt. Beat until well combined.

Warm up tortillas in the microwave for 10-15 seconds until flexible.* Place one tortilla on work surface. Spread 3 tablespoon of cream cheese filling towards the bottom third of tortilla. Add ¼ of cooled pineapple mixture on top.

Fold bottom third of tortilla up to cover filling. Fold in the two sides of tortilla. Roll into a tight log. Use a toothpick to seal seam. Place seam side down on baking sheet or plate. Repeat with remaining tortillas.
Frying:
Attach candy thermometer to a heavy bottomed pot. Fill pot about 2-inches deep with vegetable oil or vegetable shortening. Set over medium heat until oil reaches 365°F.

Once oil comes to temperature, carefully place 1 or 2 burritos into hot oil seam side down. Do not overcrowd the pot. Cook for 90 seconds on each side, until golden in color. Remove and drain fried burritos onto a paper towel lined baking sheet. Repeat with remaining burritos.

NOTE: Keep an eye on the thermometer and adjust heat accordingly to maintain even cooking temperature.

Allow fried burritos to cool slightly, about 1 minute. Remove toothpick seal. Toss warm burritos in cinnamon graham coating. Transfer to wire rack to cool for 3-5 minutes before serving. Serve pineapple cheesecake chimichangas warm. Garnish with warm caramel drizzle and toasted pecans, if desired.
Notes
These are best enjoyed warm within 30 minutes of frying. Overtime, the chimichangas will lose their crispiness.
Ingredient Notes:
Only warm up tortillas before assembly if tortillas are not flexible. In my experience, La Banderita tortillas are soft and pliable straight out of the bag.
Drain pineapple chunks before use. Save or discard pineapple juice.
Cornstarch may be used in place of arrowroot powder. I prefer arrowroot powder because it does not "cloud up" the filling the way cornstarch does.