A tropical take on banana cream tart, this coconut cream tart is layered with coconut caramel, coconut pastry cream, and toasted shredded coconut.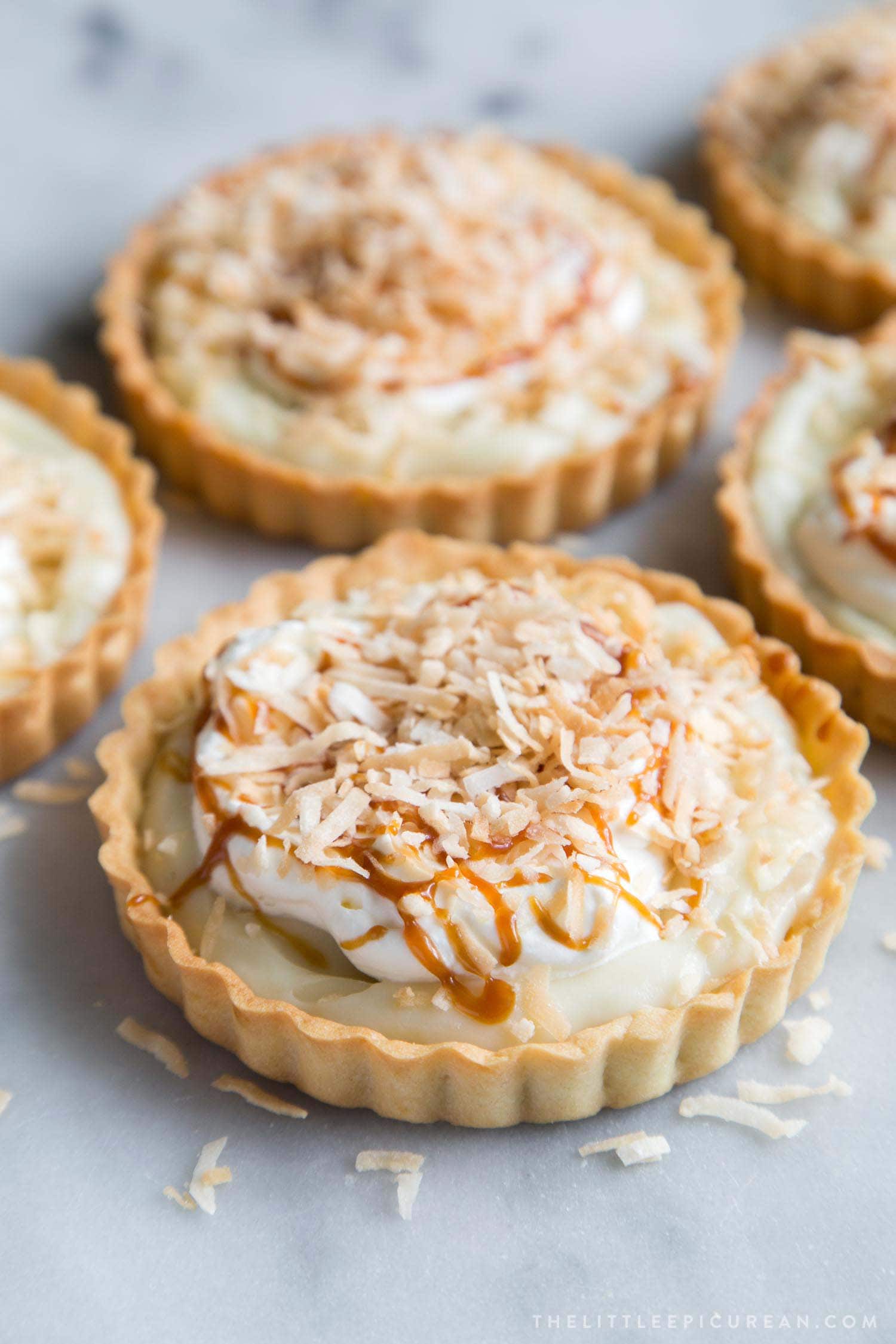 The many uses of coconut
Coconut is the miracle fruit. From one simple plant comes many uses.
Coconut water provides hydration. Coconut meat is rich in vitamins and minerals and provides nourishment with its high dietary fiber content. From soups and curries to sweets and treats, coconut milk is extensively used in Asian and Pacific Islander cuisine.
Asides from food and drink, coconut oil is used for cleaning and body products. (Scroll to the bottom of the post for coconut based lip balms!)
Coconut leaves are used for cooking and it can be also weaved into baskets and other containers. Structures such as bridges or housing can be made from coconut trunks.
Out of all the ways to utilize coconuts, obviously my favorite way to enjoy coconuts is in dessert!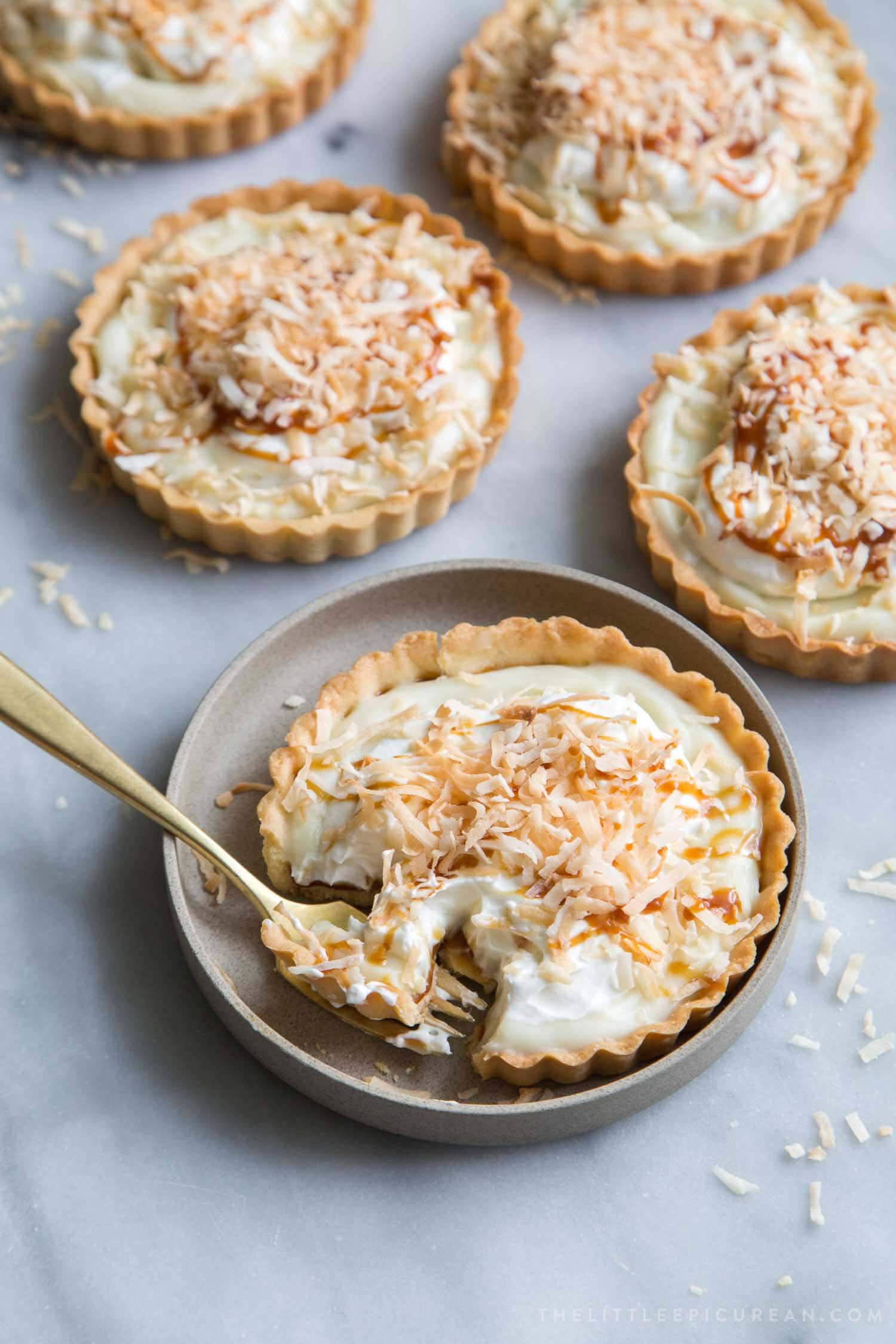 Coconut Cream Tart
This coconut cream tarts consists of a crunchy sweet shell, a thin layer of coconut caramel, luscious coconut pastry cream, a dollop of sweetened whipped cream, and a sprinkling of toasted shredded coconut on top.
It sounds like a lot of work, but I assume you it's worth the effort.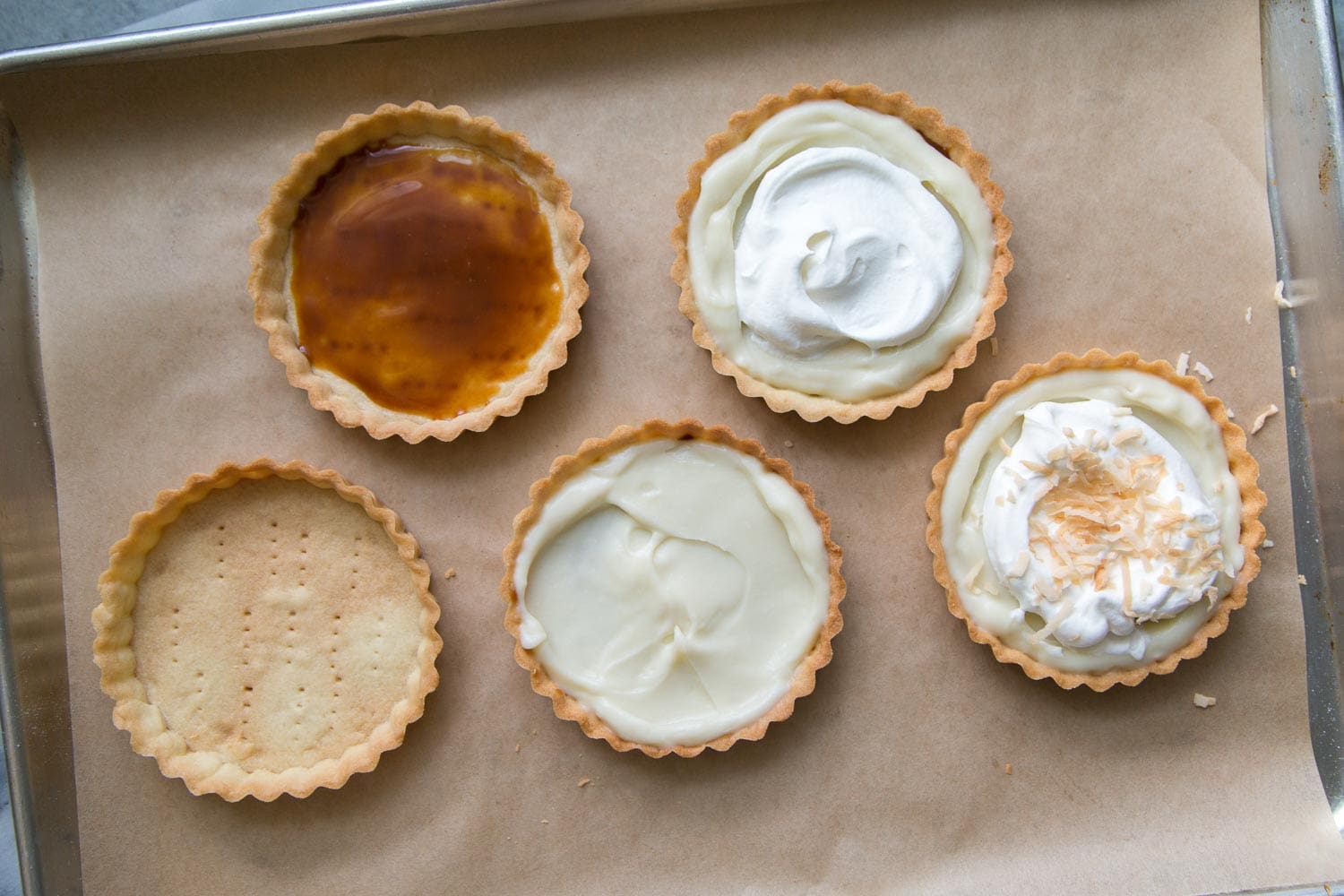 The preparation of this tart can be made over the course of several days.
Sweet Tart Dough:
Start off by making the sweet tart dough. It can be chilled in the fridge for up to two days. After baking, the tart shells can be held at room temperature in an airtight container for up to 3 days.
Coconut Jam:
Homemade coconut jam (or coconut caramel) keeps in the fridge for up to two weeks. Coconut jam will vary in color depending on what kind of sugar you choose to use. Coconut jam (kaya) or coconut caramel can also be purchased.
If you're super pressed for you time, simply substitute in your favorite store bought caramel sauce.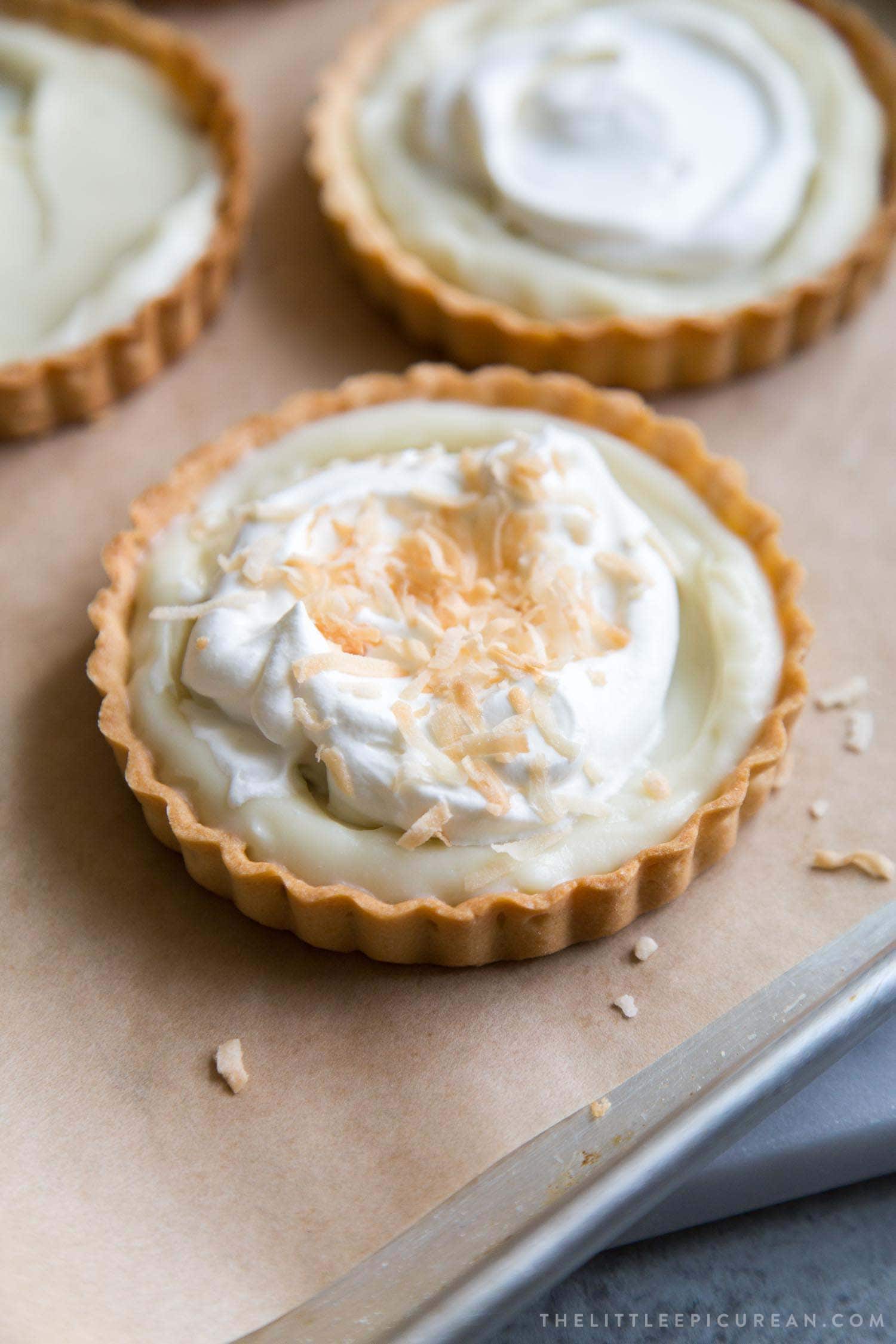 Coconut Pastry Cream:
Coconut pastry cream can be made a day in advance and kept in the fridge overnight. I don't suggest any longer than 36 hours because the cream will eventually separate.
The recipe uses coconut cream. This is different from coconut milk. Coconut cream is thicker in consistency and it contains a bit more fat. More fat means more coconut flavor!
Toasted Shredded Coconut:
Sweetened shredded coconut can be toasted in the oven or in a skillet. The toasted coconut needs to be cooled to room temperature before storing.
Once completely cooled, the toasted coconut can be kept in an airtight container for several days (and it will still maintain it's crunch!).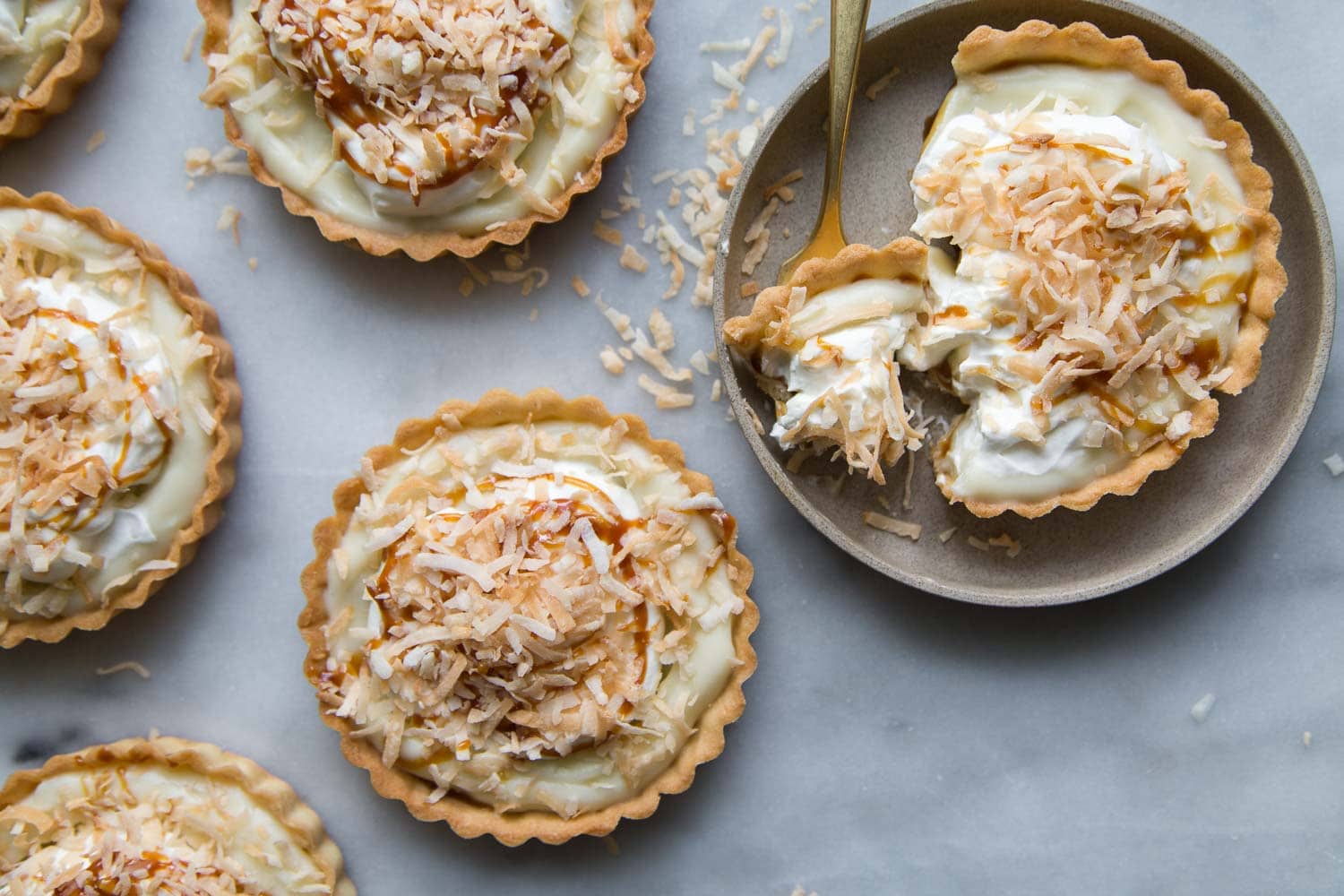 Don't plan for leftovers!
This coconut cream tart should be eaten the same day it is assembled. The moisture from the coconut caramel and coconut pastry cream will eventually soften the crunchy sweet tart shell.
It's the contrasting textures (asides from the flavor!) that makes this coconut cream tart so addicting. The crunch from the shell and the silky pastry cream mixed with the rich whipped cream and sweet toasted coconut- it's a tropical vacation in a bite!
Coconut Cream Tarts
Ingredients
Sweet Tart Dough:
1/2

cup

( ) unsalted butter

, room temp

1/2

cup

granulated sugar

1/4

teaspoon

fine sea salt

1

large egg

, room temp

1 3/4

cup

all-purpose flour
Coconut Pastry Cream:
1

cup

canned coconut cream

1

cup

whole milk

1/2

cup

(114 g) granulated sugar

3

Tablespoon

(21 g) cornstarch

2

large eggs

1/4

cup

(57 g) unsalted butter

, sliced into tablespoons

1/8

teaspoon

fine sea salt

1/2

teaspoon

pure vanilla extract
Coconut Caramel:*
15

oz

canned coconut milk

, full-fat, unsweetened

1/2

cup

(114 g) coconut sugar, palm sugar, or light/dark brown sugar

1/4

teaspoon

fine sea salt

2

teaspoon

pandan extract

, optional
Whipped Cream:
1 1/2

cup

heavy cream

, very cold

1

Tablespoon

confectioners sugar
Toasted Coconut:
1 1/2

cups

sweetened shredded coconut
Instructions
Sweet Tart Dough:
Using a stand mixer fitted with a paddle attachment, cream butter, sugar, and salt until smooth on medium speed. Scrape down sides of bowl as needed to ensure thorough mixing. Add egg and mix until well combined.

Add flour. Mix on low speed until just incorporated and there are no longer any dry streaks of flour.

Divide dough into two equal parts. Shape into two disks about 1/2-inch thick. Wrap well in plastic wrap and chill for one hour or up to overnight.

Preheat oven to 350 degrees F.

On a lightly floured work surface, roll dough to about 1/8-1/4-inch thickness. Cut out a circle a little larger than the tart mold. Carefully transfer circle to tart mold, pressing it gently into place. Trim the dough level with the tart mold by rolling the pin over the edges.

Dock the bottom of the tart shell with a fork. Repeat with remaining dough and tart shell molds. Bake for 15-20 minutes. The tart shell should be golden brown in color. Let cool to room temperature on wire rack.
Coconut Pastry Cream
Line a quarter-sheet baking pan with plastic wrap, making sure the sides of the pans are covered. Set aside.

Pour coconut cream and 3/4 cup milk into a large heavy bottomed sauce pot. Whisk together and place over medium heat. Stir occasionally to ensure milk does not burn along sides or bottom of pot. Bring to a simmer.

Meanwhile, in a medium bowl, whisk together sugar and cornstarch. Add in remaining 1/4 cup milk and eggs. Whisk until smooth.

Once milk is at a simmer, reduce heat. Slowly add about 1/3 cup of hot milk mixture into cornstarch mixture. Whisk constantly to distribute heat. Continue to add milk and whisk until only about 1/3 of milk is left into sauce pot.

Pour all of cornstarch-milk mixture back into the sauce pot. Increase to medium heat. Whisk constantly until mixture has thickened to a custard. Allow mixture to come to a boil for 15-30 seconds to cook out any cornstarch flavor. Remove from heat.

Whisk in butter until smooth. Add in salt and vanilla and whisk until combined.

Pour hot pastry cream into prepared plastic wrapped sheet pan. Spread evenly. Cover with surface of pastry cream directly with plastic wrap. Freeze for 10-15 minutes until pastry cream has cooled to room temperature. Remove from the freezer and transfer pastry cream to an airtight container. Place plastic wrap directly on surface of pastry cream. Cover with lid. Let chill in the fridge until ready to use.
Coconut Caramel:
In a small sauce pot, combine coconut milk and coconut sugar. Set over medium heat and bring mixture to a boil. Once mixture has boiled, reduce heat and let simmer until thickened, about 8-12 minutes. Stir often to ensure mixture does not burn along the sides of the pot. Remove from heat.


Add salt and pandan extract. Stir to combine. Pour jam into heat proof containers. Allow to cool to room temperature and then store in the fridge until ready to use. Jam will continue to thicken in the fridge.

Whipped Cream:
Use a hand mixer (or stand mixer fitted with a whisk attachment) to mix together heavy cream and confectioners' sugar. Mix on medium speed until cream reaches stiff peaks. Use immediately, or cover and keep chilled in the fridge for up to one day.

Toasted Coconut:
Preheat oven to 350 degrees F.

Spread coconut on a baking sheet. Bake for 5-8 minutes, stirring shredded coconut every 2 minutes until lightly golden and fragrant. Allow to cool to room temperature.
Assembly:
Spread a thin layer of coconut caramel in each baked tart shell. Add 1/2 cup of pastry cream over caramel. Spread into an even layer. Spoon a dollop of whipped cream. Drizzle additional caramel, if desired. Finish with a handful of toasted coconut. Enjoy immediately!
Notes
Coconut Caramel: Feel free to use your favorite store-bought coconut jam (kaya) or coconut caramel. For less coconut flavor, substitute in salted caramel or other caramel of choice.
I used these 4.75-inch tart shells with removable bottoms.
Kaya Essentials Giveaway!
In honor of Small Business Saturday, I've teamed up with my friend Sara of Kaya Essentials to host a giveaway. Visit my Instagram account for all the details!
Kaya Essentials is a woman-owned business that specializes in handmade organic coconut skincare. The products are made using fair-trade organic coconut oil sourced from Davao in Philippines.
With each Kaya Essentials purchase, one school meal will be donated to public school children in the Philippines!
Kaya Essentials currently sells lip balm, face & body balm, and coconut milk baths. They have a wide range of scents ranging from beloved favorites like lavender and grapefruit to more exotic ones like calamansi and lemongrass.