These Cookie Butter Snickerdoodles incorporates additional spice and flavor to classic cinnamon sugar cookies!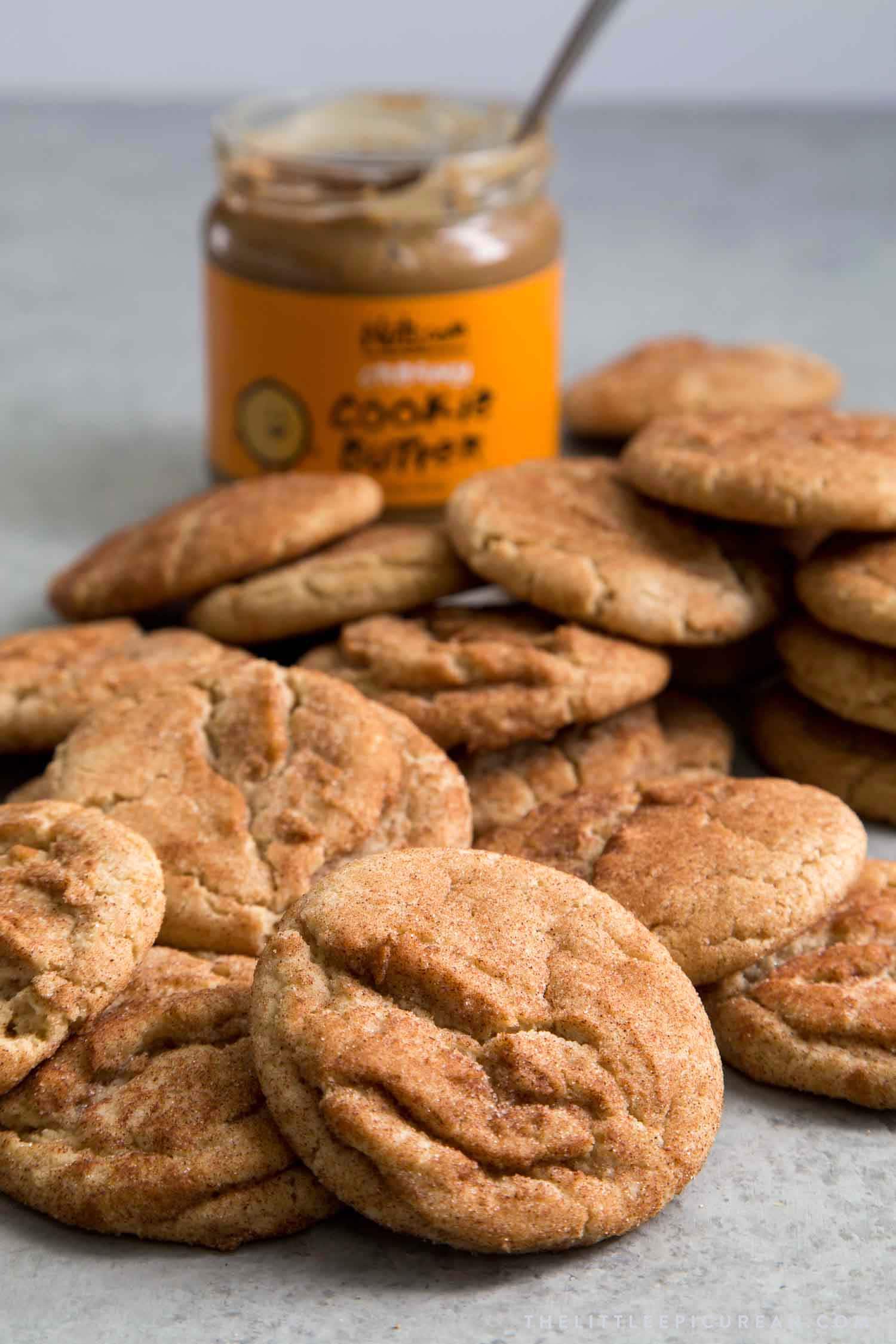 Cookie Butter Snickerdoodles
Snickerdoodle cookies were my absolute favorite growing up. Whenever I was at the mall (which during my teenager years translated to ALL THE TIME), I would buy myself a snickerdoodle cookie from Mrs. Fields.
Over the years my cookie preferences have changed. I'm more drawn to shortbread cookies and chunky cookies with nuts, but I will always have a soft spot for soft and chewy cinnamon sugar cookies.
This year, I'm revamping the classic snickerdoodle with the addition of cookie butter!
What is cookie butter?
Cookie butter is a magical mixture of crushed biscuit cookies pulverized into a smooth and creamy spread. It's sweet, rich, and decadent.
It is made from speculaas (also known as speculoos or Biscoff cookies), a thin and crispy Belgian cookie made with various spices.
Cookie butter has become super popular over the last decade. This delicious spread can be eaten on toast, waffles, bagels, or straight out of the jar.
It can be mixed in desserts such as cookie butter truffles or cookie butter cheesecake.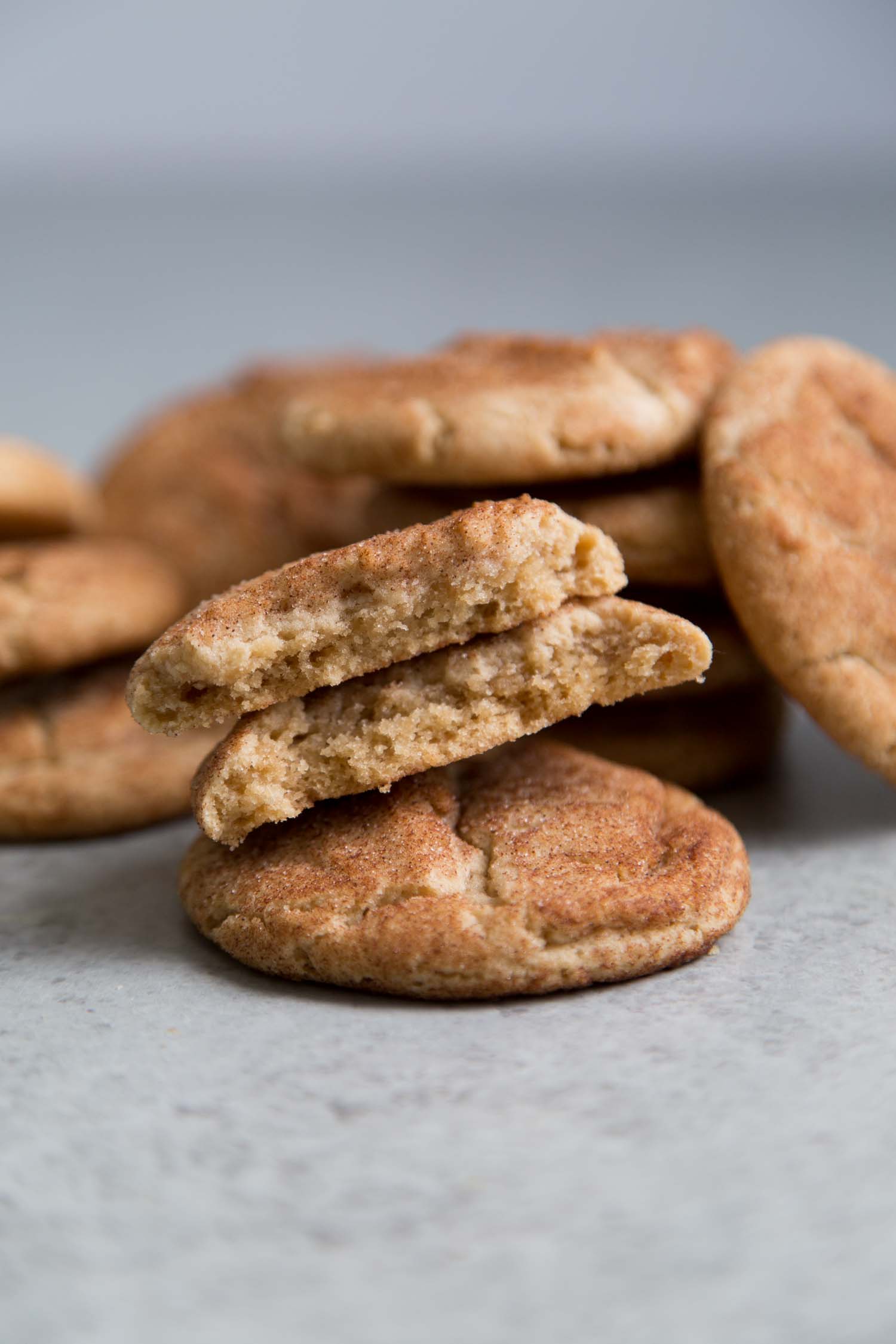 What are snickerdoodles?
Snickerdoodles are a popular American sugar cookie is believed to have originated in New England during the 19th century. (Side note: The Joy of Cooking claims that these cookies are German in origin.)
These cookies are known for this cinnamon sugar coating. Snickerdoodles often have a wrinkled surface.
The snickerdoodle cookie comes in all sorts of varieties to cater to all preferences: soft and chewy, puffy and cake-like, thin and crispy.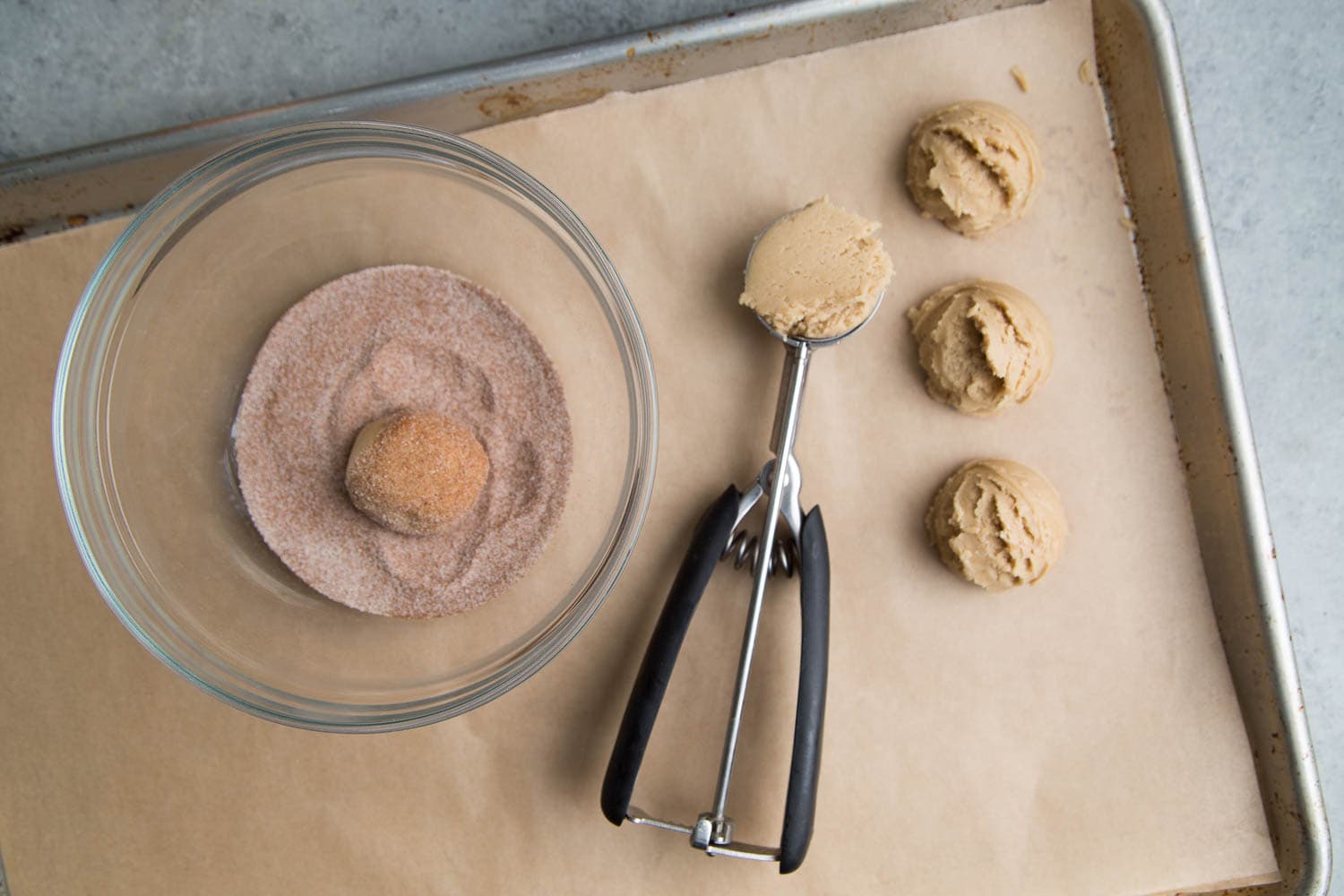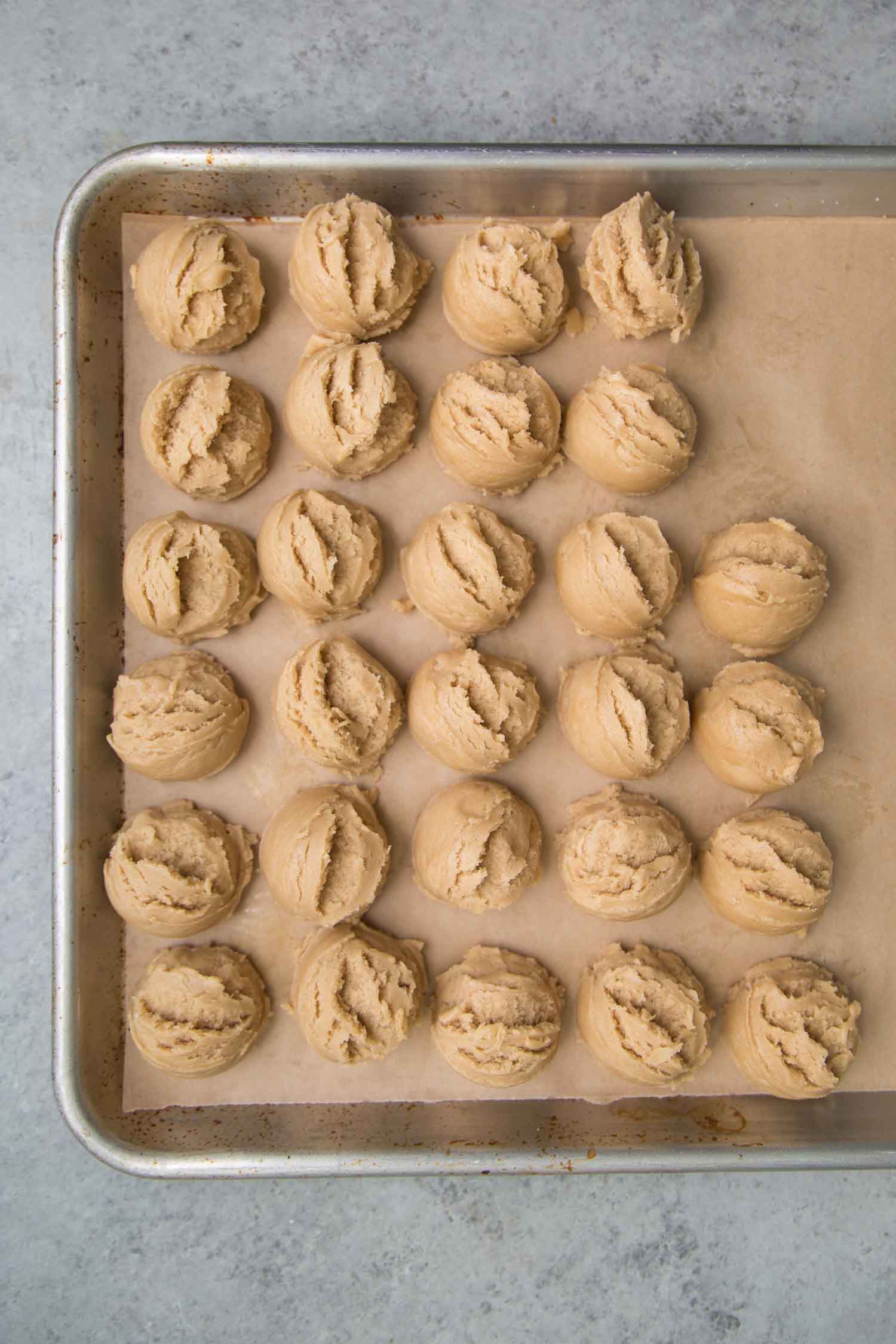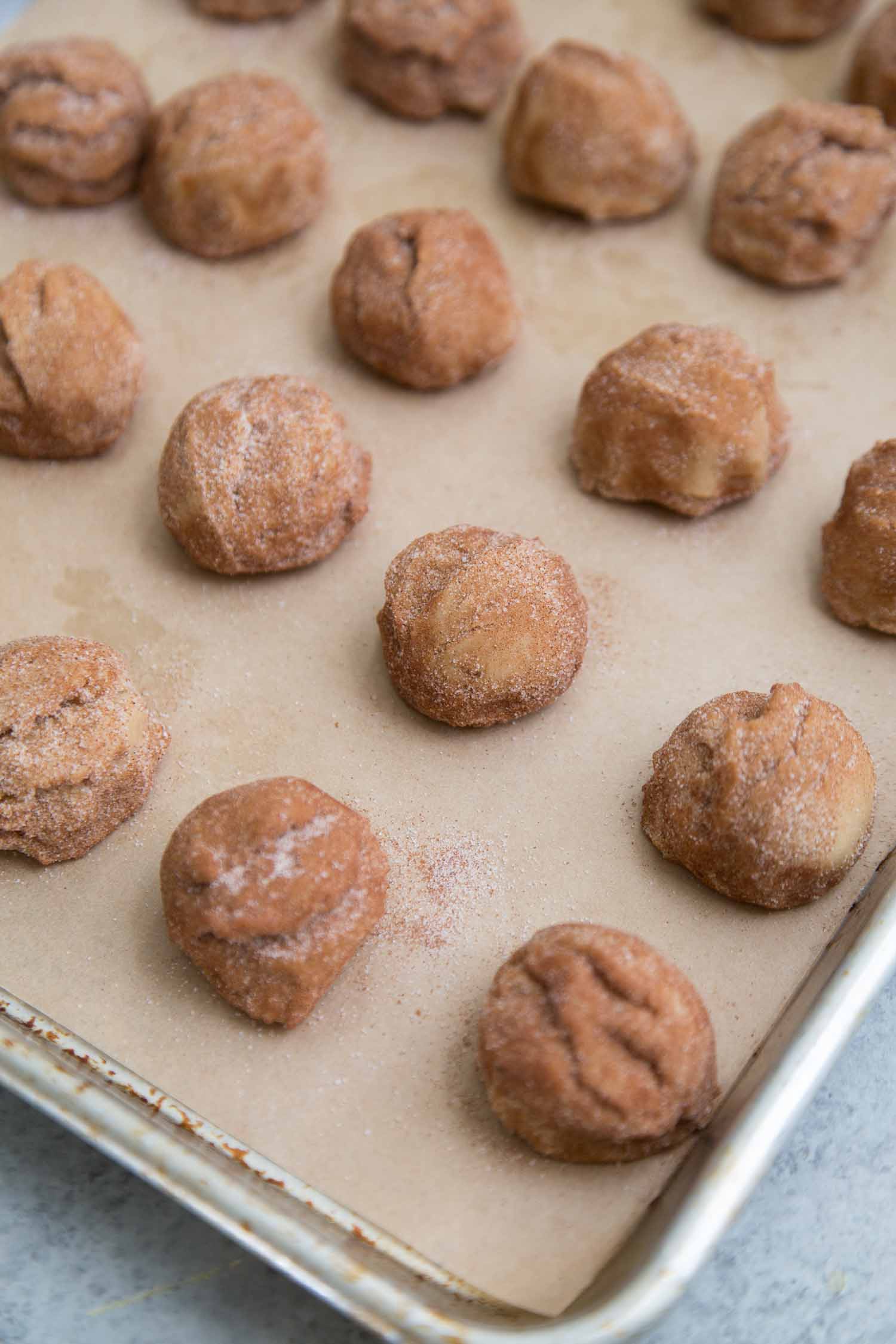 Cookies 101
No Chill Cookie Dough
The dough is mixed together like any standard cookie dough. No need to rest or chill the dough after mixing. It can be immediately portioned into balls.
For even, consistent results, it is best to use a cookie scoop or measuring spoon to portion out the dough.
The cookie balls are rolled in cinnamon sugar and baked until the edges are set. The cookie butter snickerdoodles will be super soft and fragile directly out of the oven. Let them cool for a few minutes to regain structure because digging in.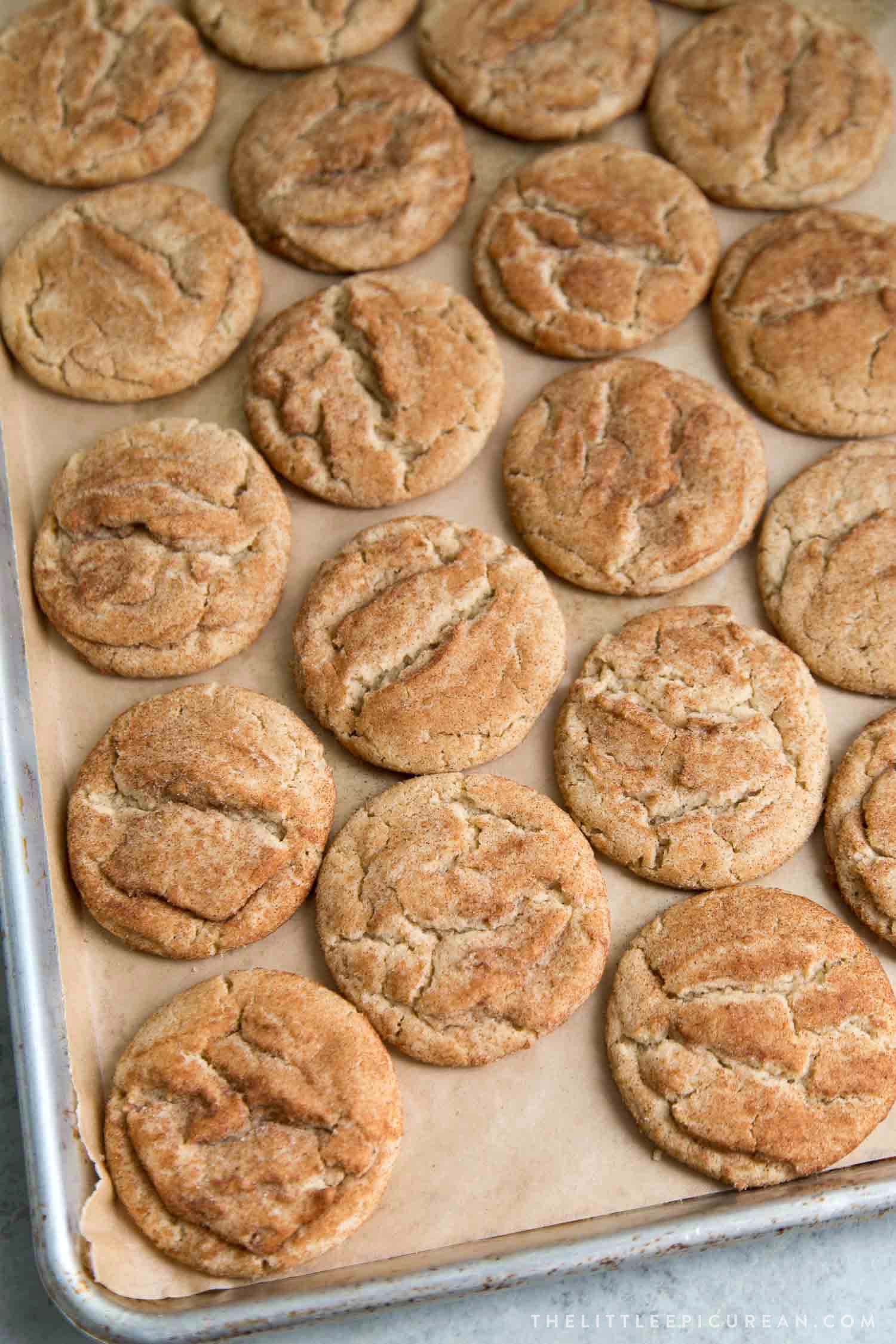 Why do snickerdoodle recipes contain cream of tartar?
Most snickerdoodle cookie recipes have a touch of cream of tartar in the dough. Cream of tartar provides a little tang, adding some contrast to the sweet cookie.
Cream of tartar is an acid salt. It is a byproduct of wine making. Cream of tartar is an ingredient in baking powder. As such, it leavens baked goods- meaning softer cookies!
But don't get carried away adding a ton of cream of tartar to baked goods. Too much of it will result in bitter tasting foods.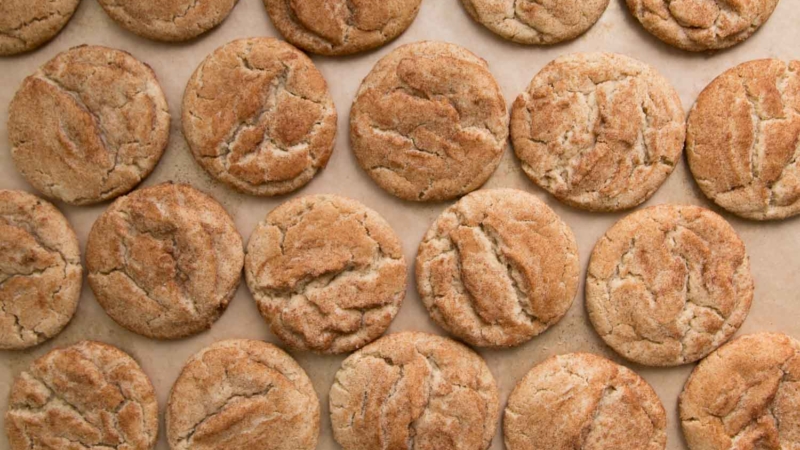 Cookie Butter Snickerdoodles
Not your average snickerdoodle cookies. This version is made with speculoos cookie butter for added spice and flavor! Yield: 28 cookies
Ingredients
2 ¾

cup

(330 g) all-purpose flour

½

teaspoon

cream of tartar

1

teaspoon

baking soda

½

teaspoon

kosher salt

½

cup

(115 g) unsalted butter

, softened, room tempe

½

cup

(140 g) cookie butter

1 ¼

cup

(250 g) granulated sugar

2

large eggs
Coating:
¼

cup

(50 g) granulated sugar

1

Tablespoon

ground cinnamon
Instructions
Preheat oven to 350°F. Line baking sheets with parchment paper or silicone baking mat. Set aside.

In a large bowl, whisk together flour, cream of tartar, baking soda, and salt. Set aside.

In the bowl of a stand mixer fitted with a paddle attachment (or using an electric hand mixer), beat together butter, cookie butter, and sugar until smooth. Scrape down bowl as needed to ensure thorough mixing. Add eggs and continue to mix until well incorporated.

Add dry mixture in two additions. Mix on medium speed until cookie dough forms. Scrape bowl as needed.

Coating: In a small bowl, mix together sugar and cinnamon.

Roll cookie balls into sugar coating mixture. Place cookie balls 2-inches apart of prepared baking sheet. Bake 10-12 minutes, until the edges of the cookies are set. Allow to rest in baking sheet for 3-5 minutes before transferring to wire rack to cool.

Enjoy cookies warm or at room temperature.
Notes
Ingredients:
Cookie butter is also labeled as speculoos spread or Biscoff cookie spread
Storage and Leftovers:
Store cooled cookies in an airtight container for up to 4 days.