These peanut butter mousse tarts are lined with white chocolate bottoms and filled with sliced bananas and creamy peanut butter mousse.
Desserts with multiple components can seem daunting. Have no fear. These peanut butter tarts are rather simple to make and can be prepared over the course of several days.
The one drawback to these tarts: they need to be eaten within 24 hours of assembly. Overtime, the tart shell will absorb the moisture from the mousse and start to soften.
Peanut Butter Mousse
These mini tarts use the same pâte brisée dough (shortbread pastry) as these Blood Orange Earl Grey Tarts. It's a very forgiving dough that can be rolled out multiple times without affecting its quality.
The dough can be made ahead of time and stored in the fridge overnight. Bake the tart shells the following day. If you're not ready to assembly, the baked tart shells can be stored at room tempertuare for up to 2 days.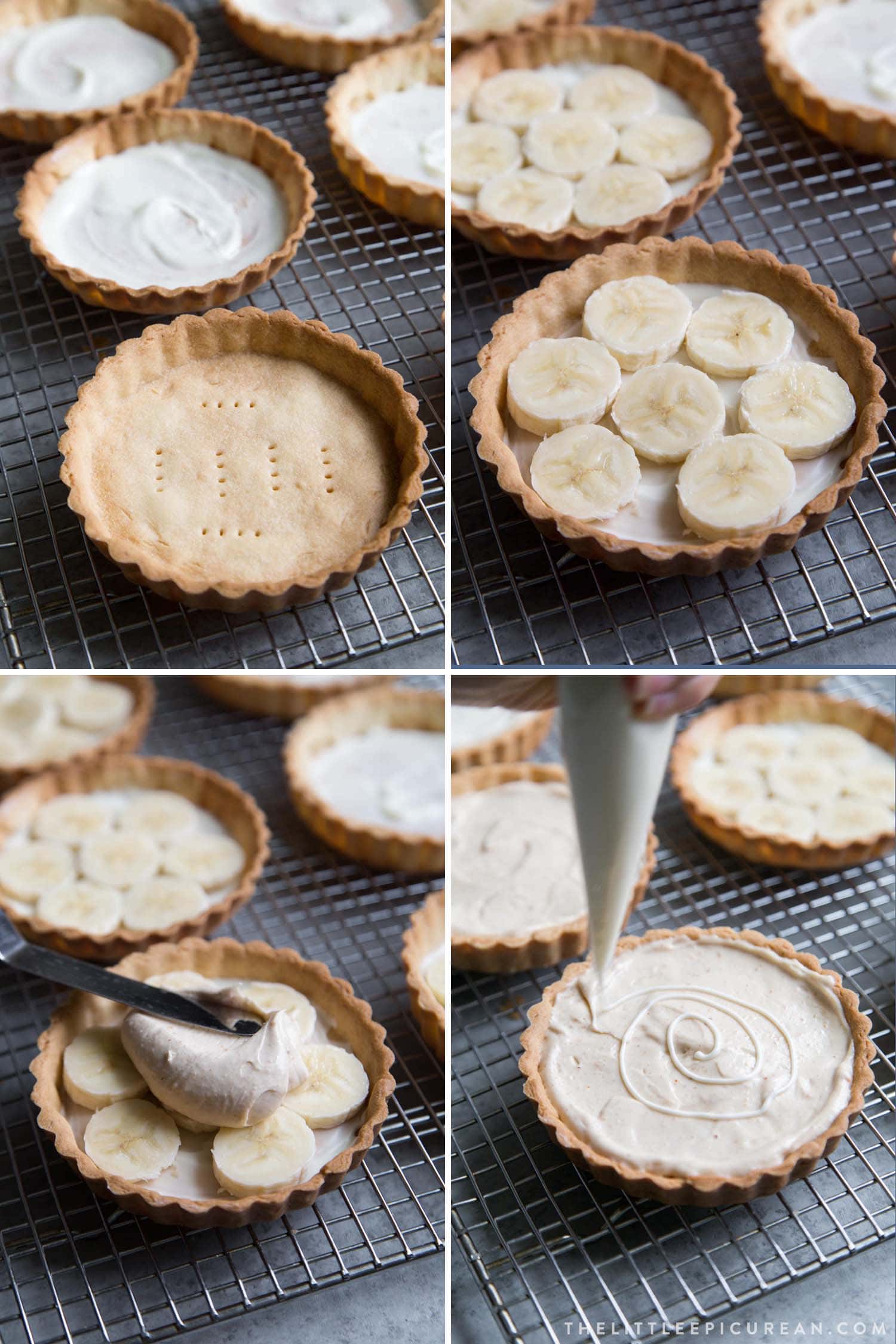 Assemble Banana Peanut Butter Tarts
The tart shells are lined with melted white chocolate. This will ensure the bottom of the tart remains crunchy and crispy even after it's filled with mousse.
Milk chocolate and dark chocolate will also work. Use chopped chocolate, chocolate chips, or even melting wafers.
Sliced bananas are arranged over the melted chocolate. A generous dollop of peanut butter mousse is spread on top. And finally, a drizzle of melted white chocolate finishes the dessert.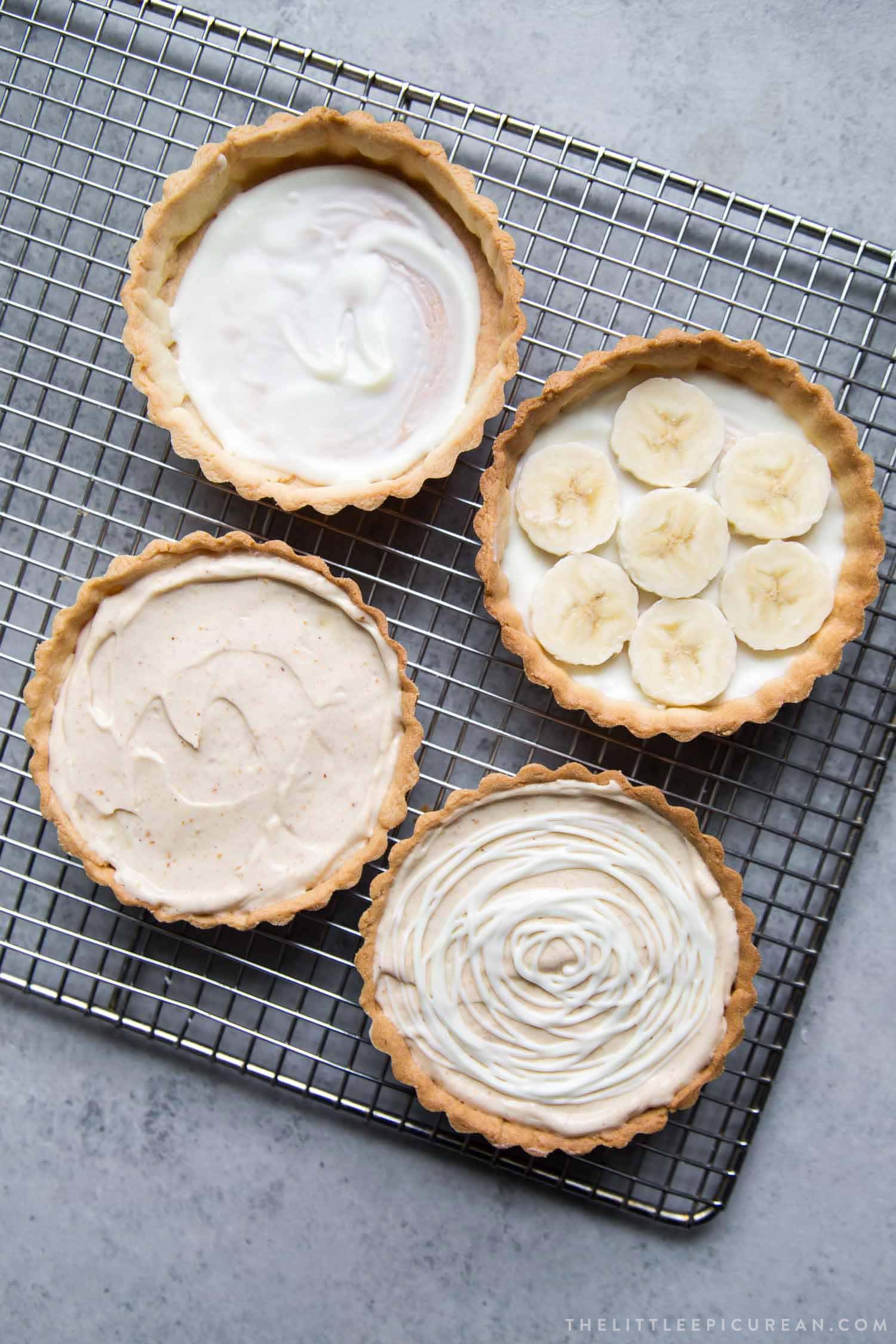 What's in the peanut butter mousse?
Traditional mousses are often stabilized with gelatin or egg whites. This peanut butter mousse is a shortcut version that is simply made from heavy cream and peanut butter.
Results will vary depending on the texture and quality of the peanut butter used. For this recipe, I used smooth, natural peanut butter from Trader Joe's.
It's the kind of peanut butter that requires stirring prior to each use. The PB is made with peanuts and salt. That's it. As such, I had to add a touch of confectioners' sugar (powdered sugar) to sweeten up the mousse.
Should you choose to use a sweetened peanut butter like Jif or Skippy, I suggest you omit the addition of confectioners' sugar.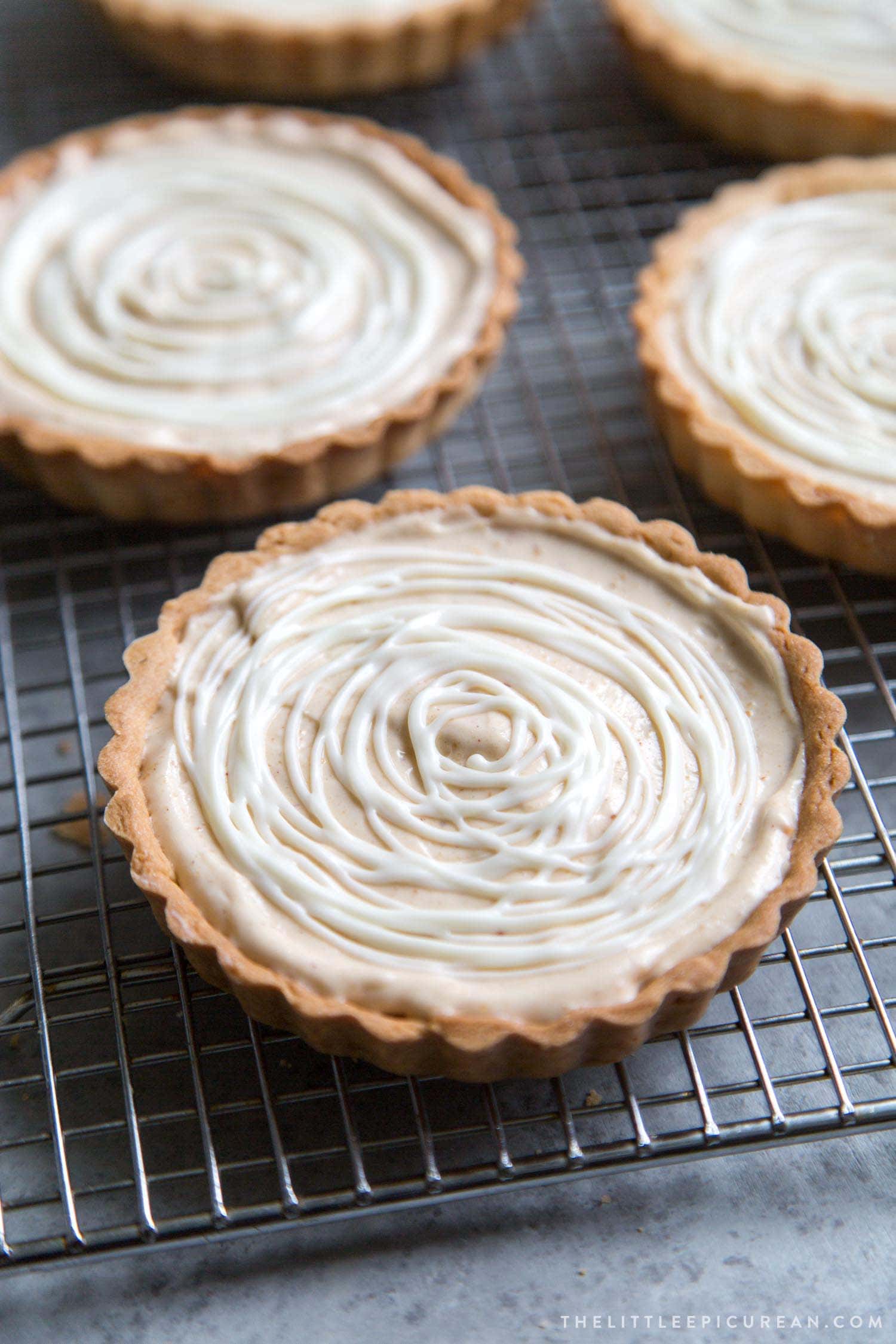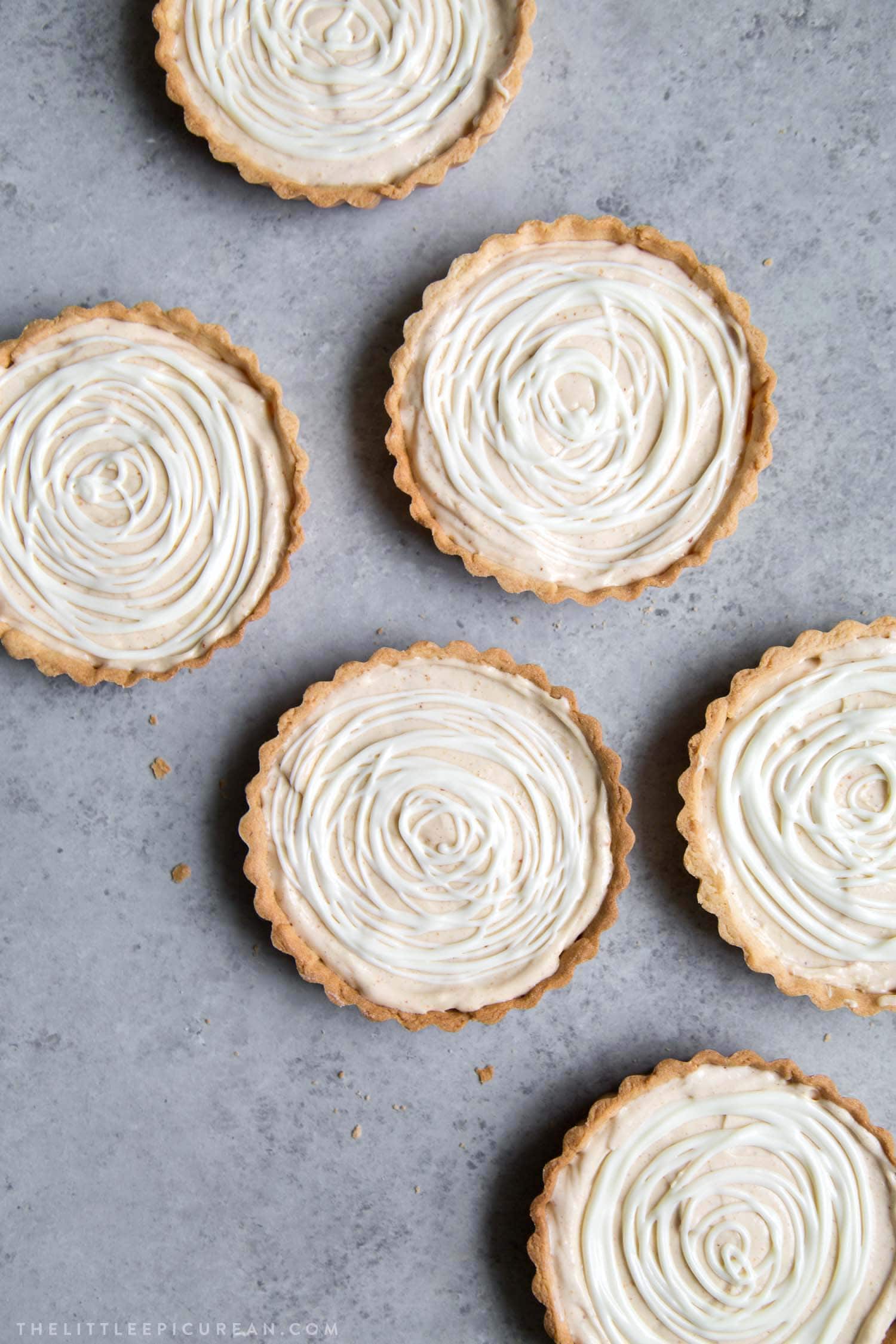 These peanut butter mousse tarts are best eaten the day they are assembled.
Store any leftovers in a container in the fridge for up to two days. The crust will soften over time resembling an icebox cake in texture.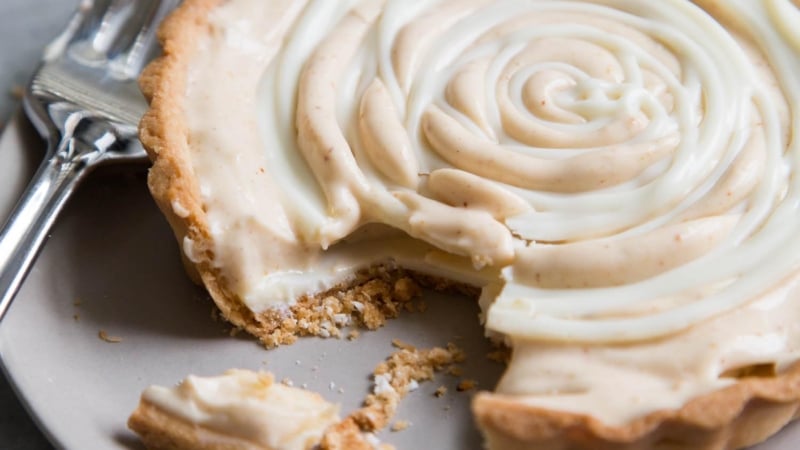 Peanut Butter Mousse Tarts
These peanut butter mousse tarts are lined with white chocolate bottoms and filled with sliced bananas and creamy peanut butter mousse.
Ingredients
Crust:
½

cup

(110 g) unsalted butter,

softened

¼

cup

(50 g) granulated sugar

¼

teaspoon

kosher salt,

or fine sea salt

½

teaspoon

pure vanilla extract

1

large egg yolk

1 ½

cup

(190 g) cake flour,

unsifted
Peanut Butter Mousse:
1

cup

heavy cream,

very cold

¼

cup

smooth peanut butter*

⅓

cup

confectioners sugar

generous pinch kosher salt*,

to taste
Additional Components:
white chocolate

thinly sliced bananas,

as needed
Instructions
Crust:
In the bowl of a stand mixer fitted with a paddle attachment, cream together butter, sugar, salt, and vanilla on medium speed. Mix until smooth. Scrape down the sides of the bowl as needed to ensure thorough mixing. Add the yolk and continue to mix on medium speed until incorporated. Add all the flour and mix on low speed until the dough is crumbly, about 30-45 seconds.

Dump mixture onto a clean work surface and press contents together until it forms a cohesive dough. Press dough into a rectangle about ½-inch thick. Wrap tightly in plastic wrap and let chill in the fridge for at least 30 minutes up to overnight.

Preheat oven to 400 F. Place chilled dough on a lightly floured work surface. Divide dough into 6 parts. Working with once piece at a time, roll dough out into an even layer about ¼-inch thick and about ½-inch larger than the 5-inch tart pan.

Gently lift dough and position it over the tart pan. Using your fingertips, gently press dough against the sides and bottom of the pan. Use a knife or mini offset spatula to trim the overhang over the edge of the pan. Repeat with remaining pieces. If the dough happens to tear, simply repair the tear by pressing additional dough into the hole.

Use a fork to dock holes on the bottom of the dough. Bake tart shells in preheated oven for 15-20 minutes until the dough is golden brown throughout. Let the crust cool in pan for 5 minutes before unmolding. Allow crusts to cool to room temperature on wire rack.

Peanut Butter Mousse:
Place chilled cream in a chilled bowl. Whip to medium peaks. Add peanut butter, confectioners sugar, and salt. Continue to whip to almost stiff peaks.

White Chocolate:
Gently melt white chocolate over a bain-marie (double boiler). Alternatively, microwave white chocolate at half power for 10-15 second intervals until melted and smooth.
Assembly:
Spread a thin layer of melted white chocolate in each cooled tart shell. Let sit at room temperature for a couple minutes until chocolate sets. Or place in the refrigerator for 5 minutes to speed up the process.

Arrange sliced bananas over chocolate shell. Spoon peanut butter mousse on top and gently spread into even layer to cover the bananas.

Drizzle melted white chocolate over peanut butter mousse. Serve immediately, or keep tarts chilled until ready to serve.
Notes
Ingredients Notes:
I used smooth peanut butter from Trader Joe's. It's simply made with two ingredients: peanuts and salt. It's the kind of peanut butter you have to stir before using.
If you use sweetened peanut butter, reduce the amount of confectioners' sugar to taste. 
Reduce amount of salt in mousse if your peanut butter is salty.
White chocolate chips or chopped white chocolate will work. You can also use Ghirardelli white melting wafers or Wilton candy melts. 
If you don't like white chocolate, milk chocolate or dark chocolate can also be used in it's place.