This spicy beer bread features pale lager mixed with pepper jack cheese, red pepper flakes, and sliced jalapeños.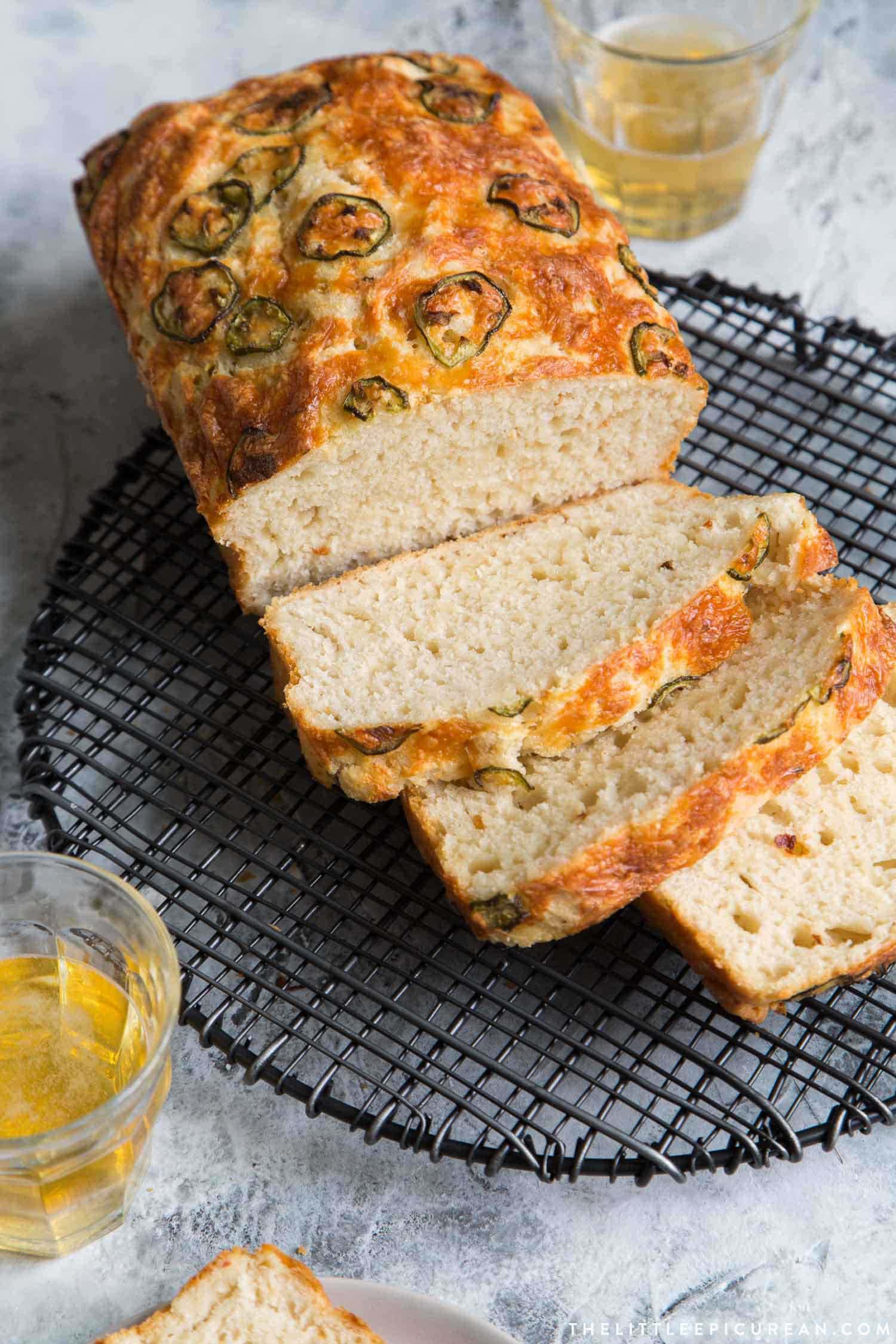 Drink your beer and eat it, too!
Earlier this week, I shared this stout ice cream. Today, we're going savory with beer.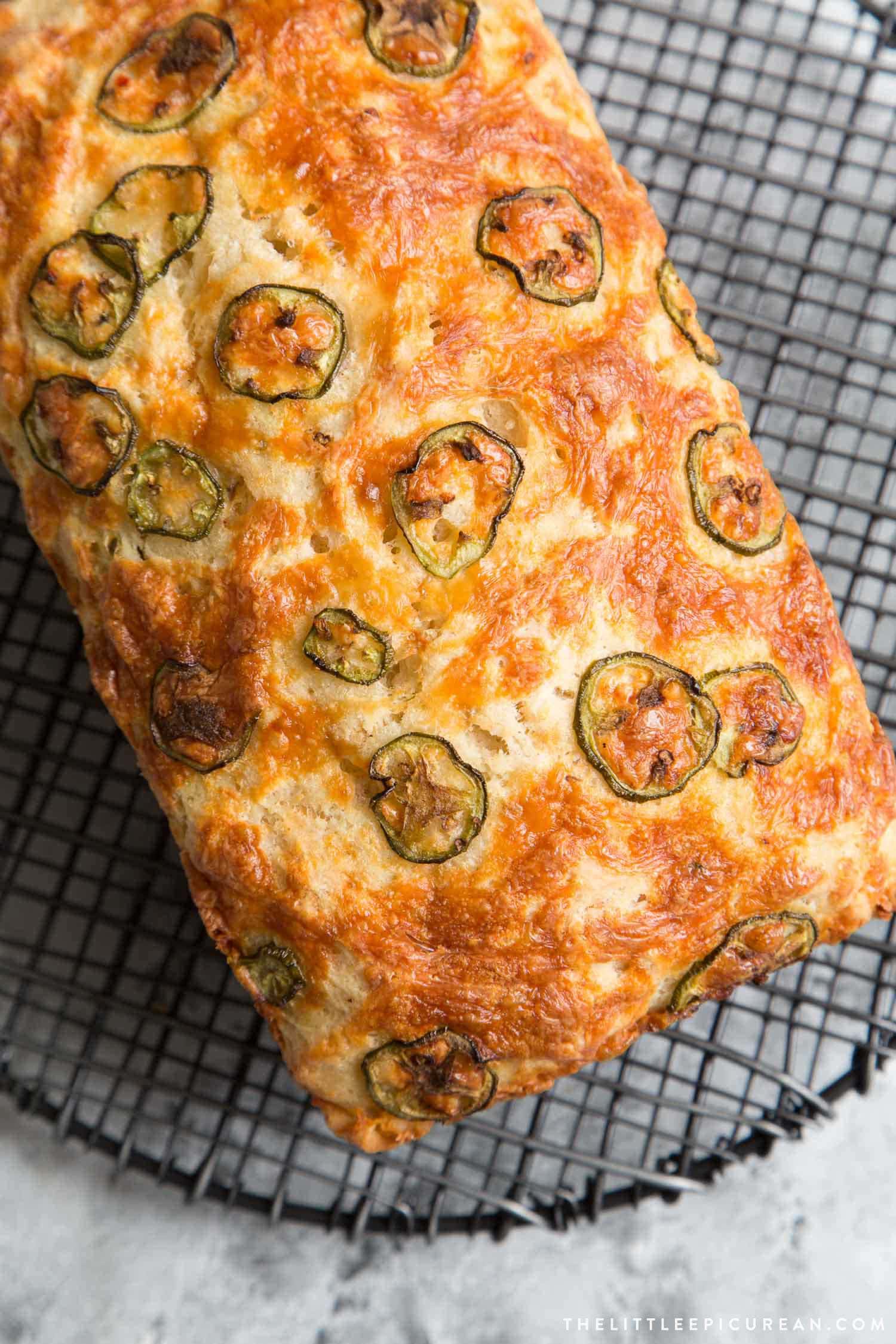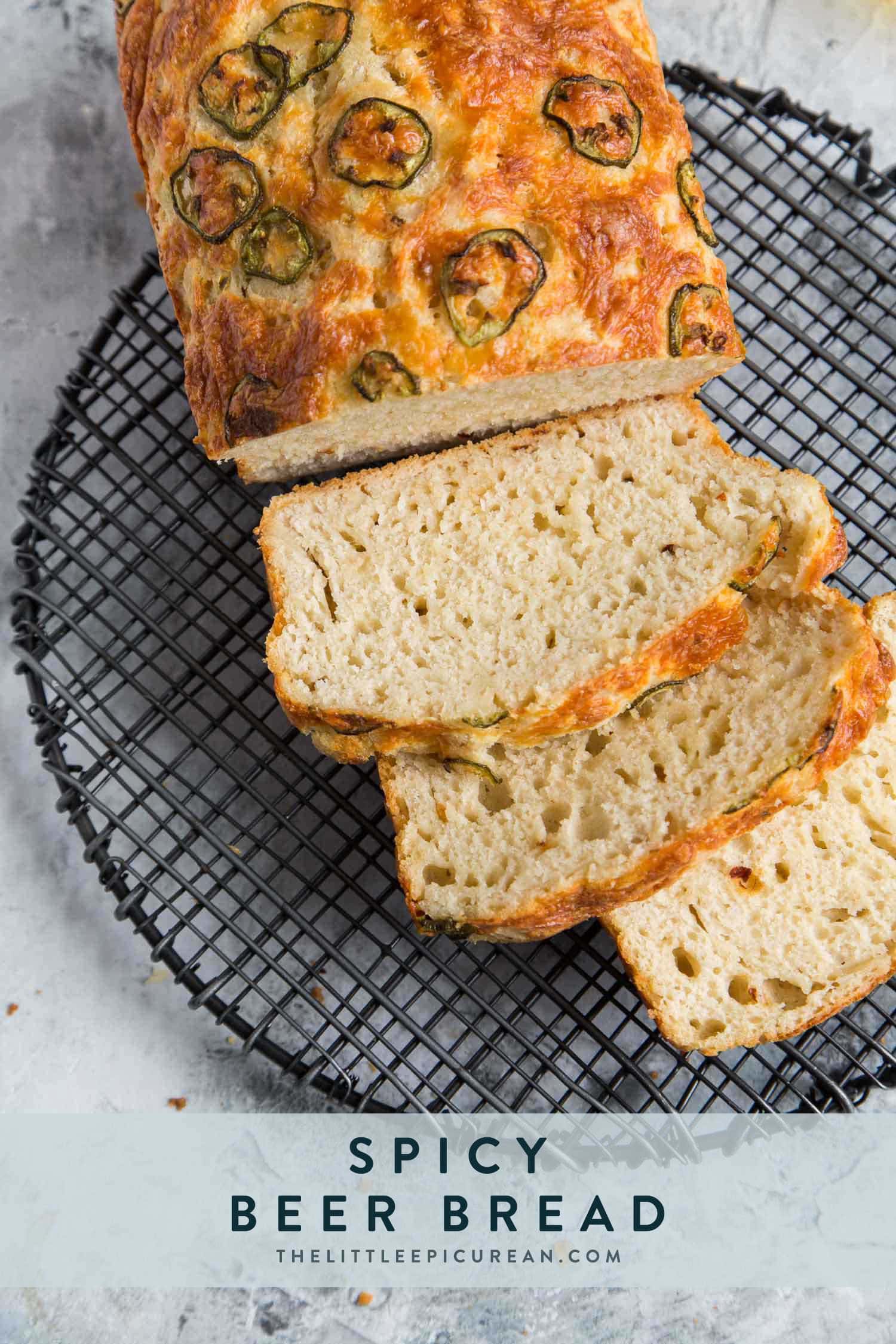 Cheese Beer Bread
I have made several other beer breads in the past. This black pepper cheddar beer bread is my absolute favorite.
However, this new spicy beer bread is a worthy contender. It's quick and easy to make, and it only requires one bowl!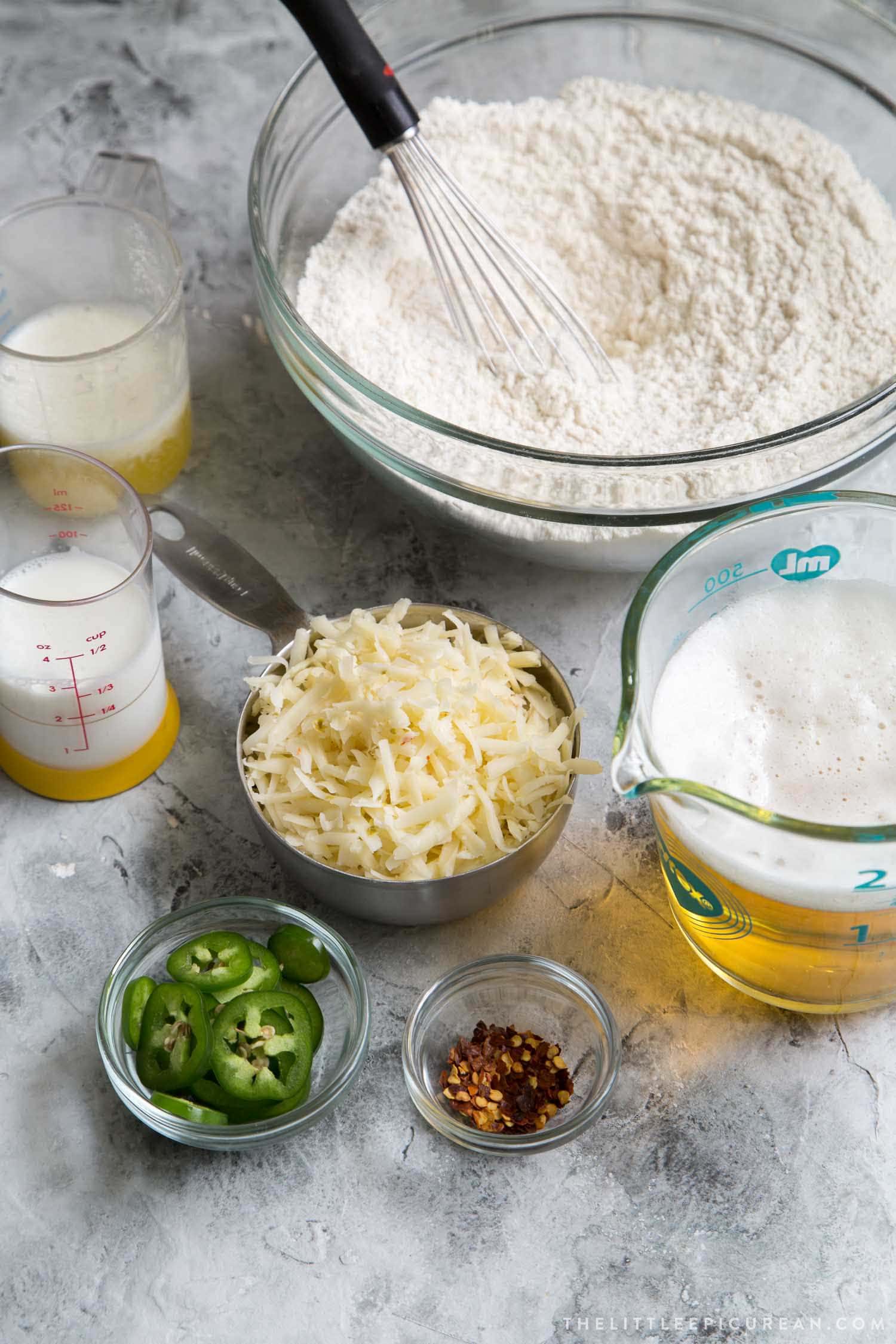 A couple years ago I made this stout bread loaf. It's a easy yeasted bread made with dark beer and cocoa powder.
This spicy beer bread is MUCH easier! It's a simple quick bread that is easily mixed together by hand. No mixer or extra equipment needed.
The bread only requires a handful of ingredients. All the flavor comes from the beer and cheese. As such, choose a beer you enjoy drinking!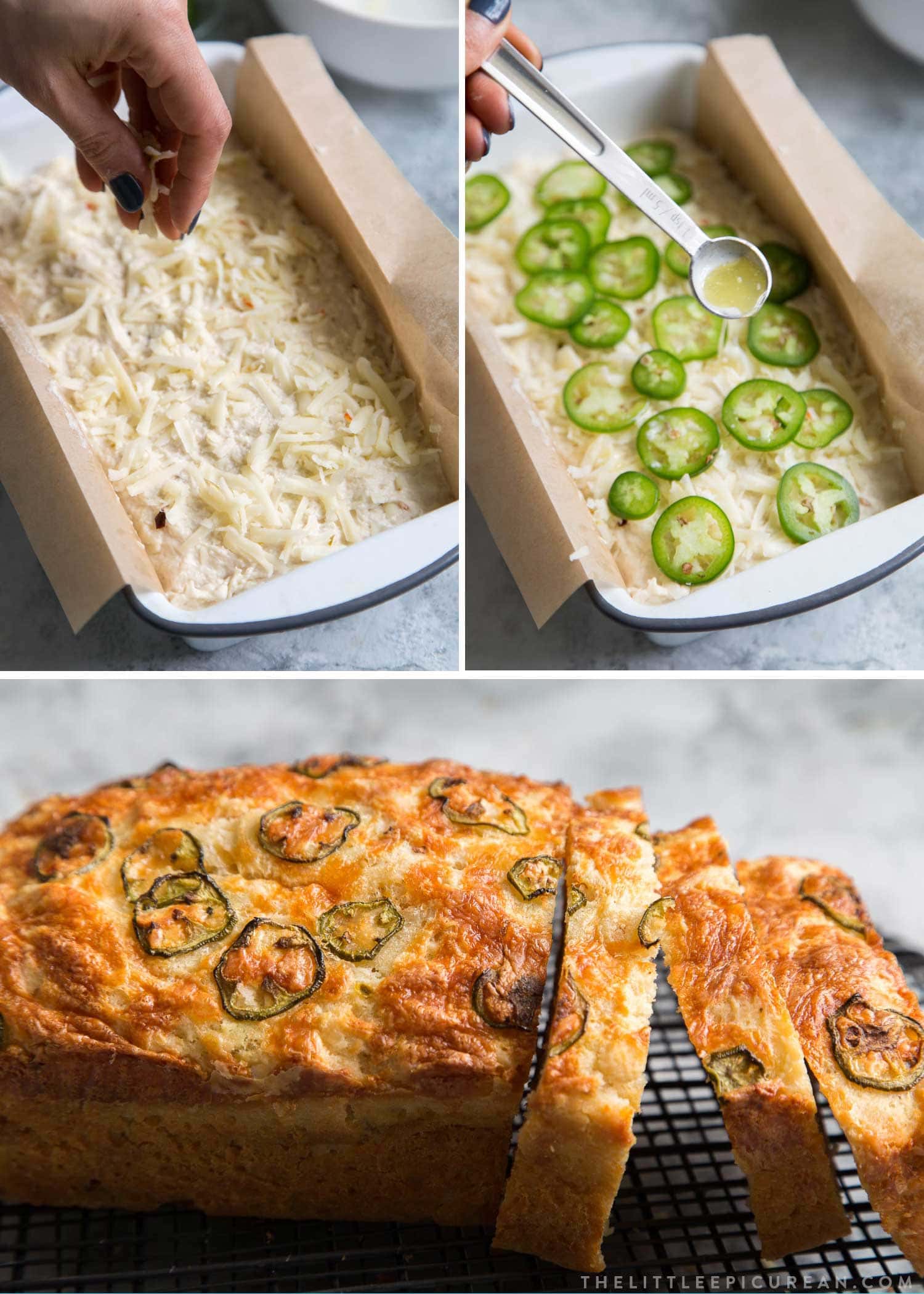 What makes this beer bread spicy?
Red pepper flakes! All the spice is from the red pepper flakes (also called crushed red pepper) that are mixed into the batter.
To indicate the spice in this bread, it's topped with sliced jalapeño. Jalapeño spice level varies. Add as much or little to your liking.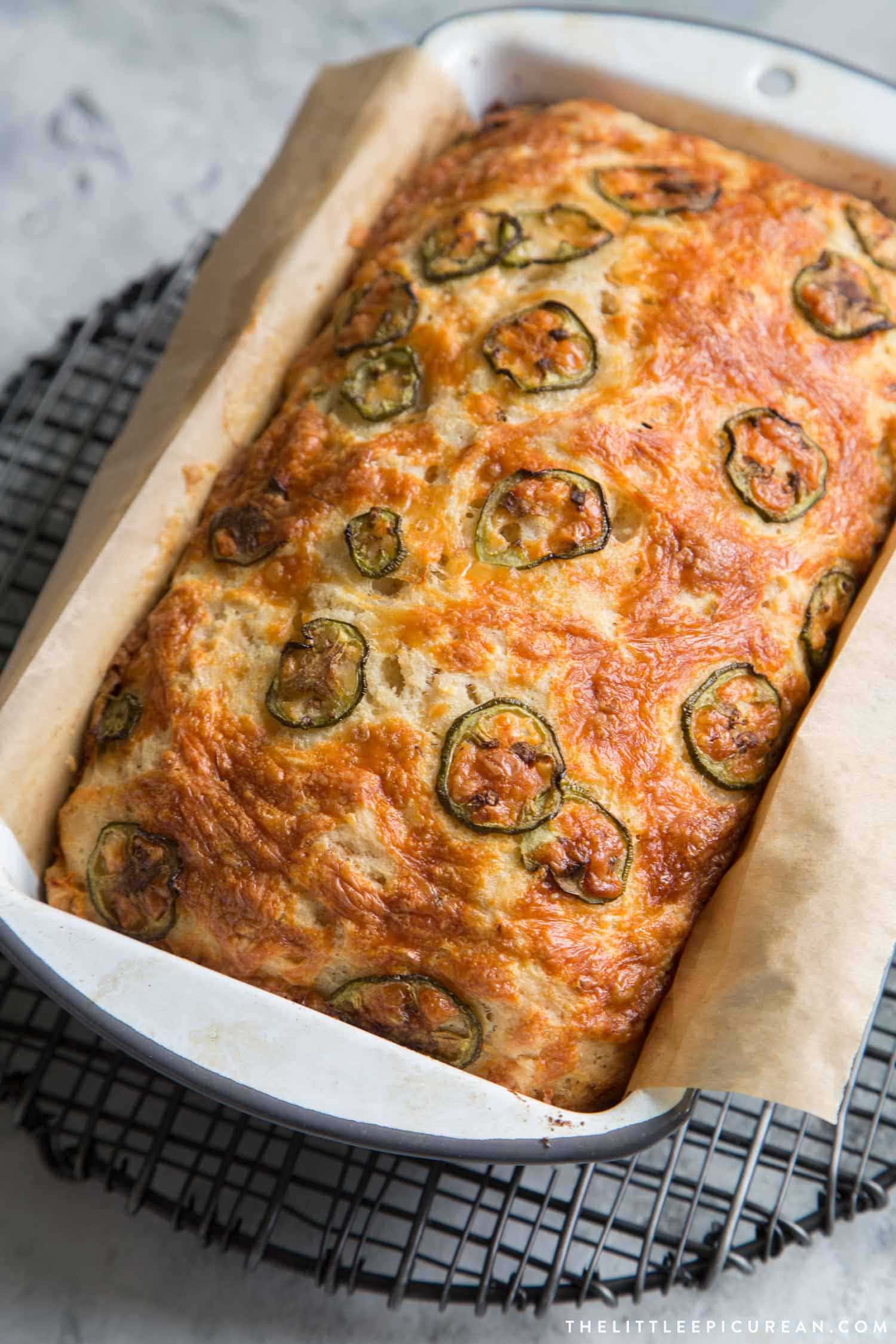 Cheese options for beer bread
See that nice rich golden crust? That beautiful color is thanks to the combination of shredded cheese and melted butter.
This recipe uses shredded pepper jack cheese. Pepper jack is a semi-soft cheese that is easy to shred and grate.
Pepper jack is Monterey jack cheese flavored with sweet peppers, jalapeño, chilis, garlic, and herbs.
Don't have pepper jack cheese? Substitute in mild cheddar, colby-jack, havarti, or Swiss cheese. To make up for the garlic and herbs, add powdered garlic and dried rosemary to taste.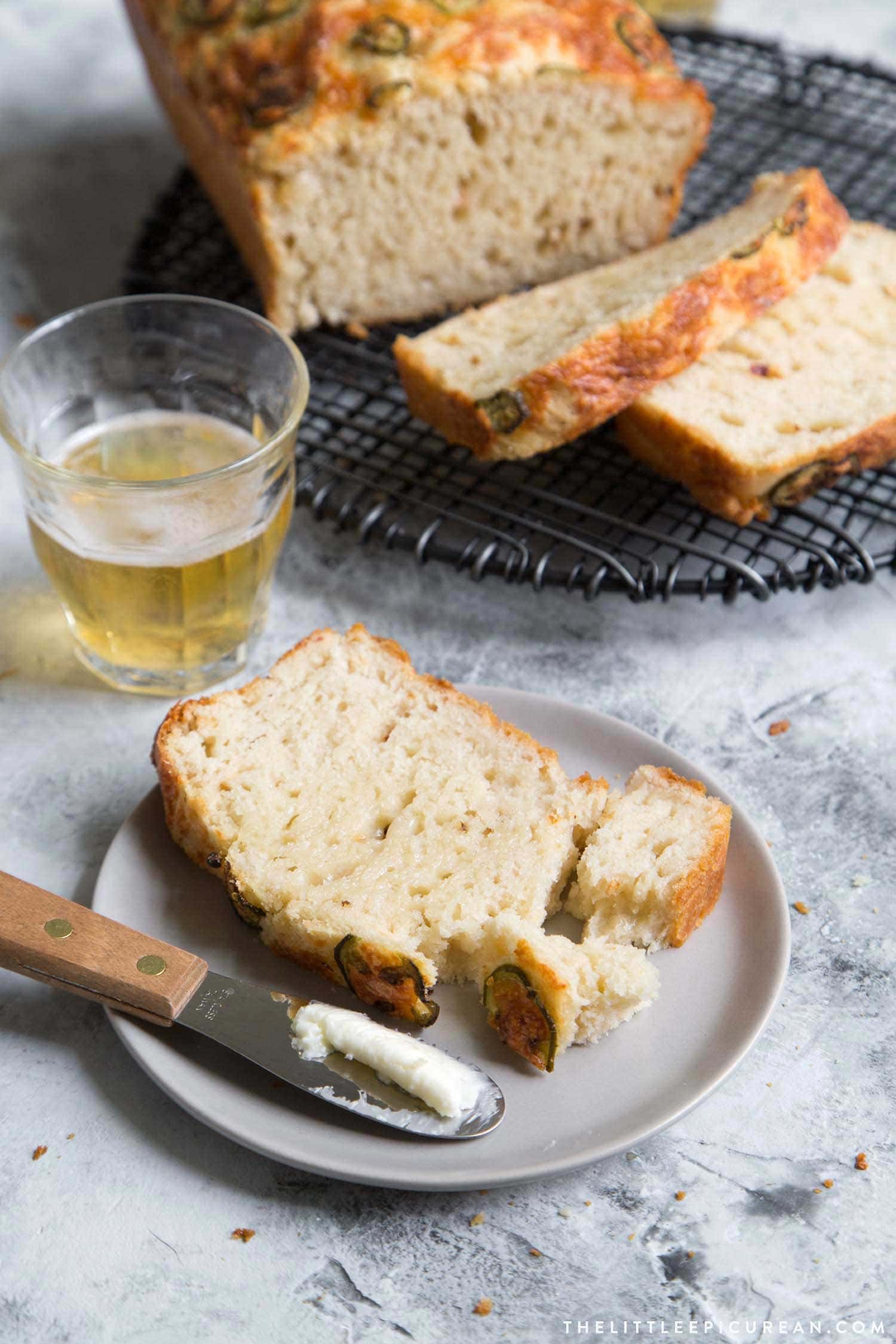 This spicy beer bread smells amazing fresh from the oven. It's best to enjoy a slice of bread warm with a little salted butter.
This beer bread has a nice crunchy crust with a soft, pillowy interior. You may have to fight for the end pieces. Everyone goes for those pieces first!
Most breads require cooling before slicing. This spicy beer bread is different. This bread should be enjoyed while it's still warm.
As such, I suggest using a serrated knife (bread knife) to slice the bread. Use a sawing motion to gently cut the warm bread. Warm bread is soft and tender. The bread knife will ensure the soft bread does not get crushed.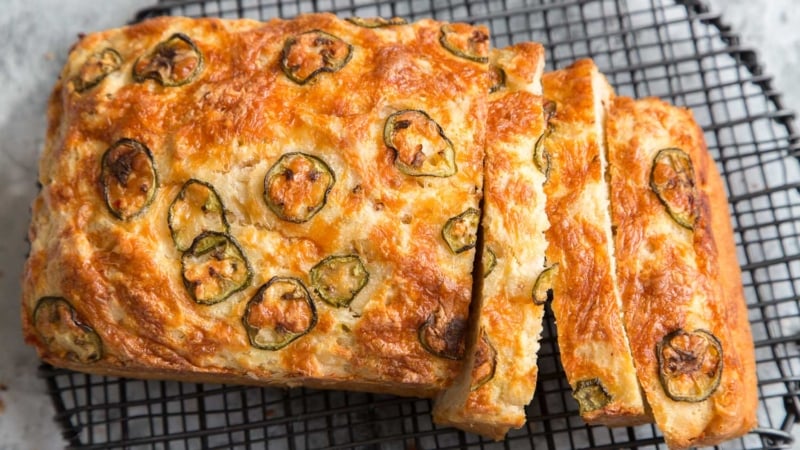 Spicy Beer Bread
This spicy beer bread features pale lager mixed with pepper jack cheese, red pepper flakes, and sliced jalapeños. It's got a nice crunchy crust and a soft interior. Yield: 9×5-inch loaf
Ingredients
3 ½

cups

all-purpose flour

4

teaspoons

baking powder

1 ½

teaspoon

kosher salt

1 ½

cup

pale lager*

⅓

cup

whole milk

5

Tablespoon

unsalted butter,

melted

1

cup

(105 g) shredded pepper jack cheese

½

teaspoon

crushed red pepper

1

jalapeño,

sliced thin (remove seeds, if desired)
Instructions
Preheat oven to 350°F.  Grease a 9×5-inch loaf pan and set aside.

In a large bowl, whisk together flour, baking powder, and salt. Slowly pour in beer and milk. Stir until well combined. Stir in 3 tablespoons of melted butter.

Reserve and set aside about 2 tablespoons of shredded cheese. Fold remaining cheese and crushed red pepper (red pepper flakes) into batter.

Batter will be thick. Spread batter into prepared loaf pan. Sprinkle reserved cheese over batter. Top with jalapeño slices. Drizzle remaining 2 tablespoons of melted butter over batter.

Bake for 50-60 minutes until bread is golden brown and toothpick inserted in center of bread comes out clean. Allow to cool in pan for 5 minutes before unmolding.

Serve bread warm or at room temperature. Use a serrated knife (bread knife) to slice bread.

Notes
I used a German pilsner beer known nutty and honey flavors. Any light or amber colored beer will work for this recipe. 
In place of pepper jack cheese, you can substitute: mild cheddar, colby-jack, havarti, or Swiss cheese