This soft and fluffy ube chiffon cake is flavored by a mixture of dehydrated purple yam powder, ube halaya, and coconut milk.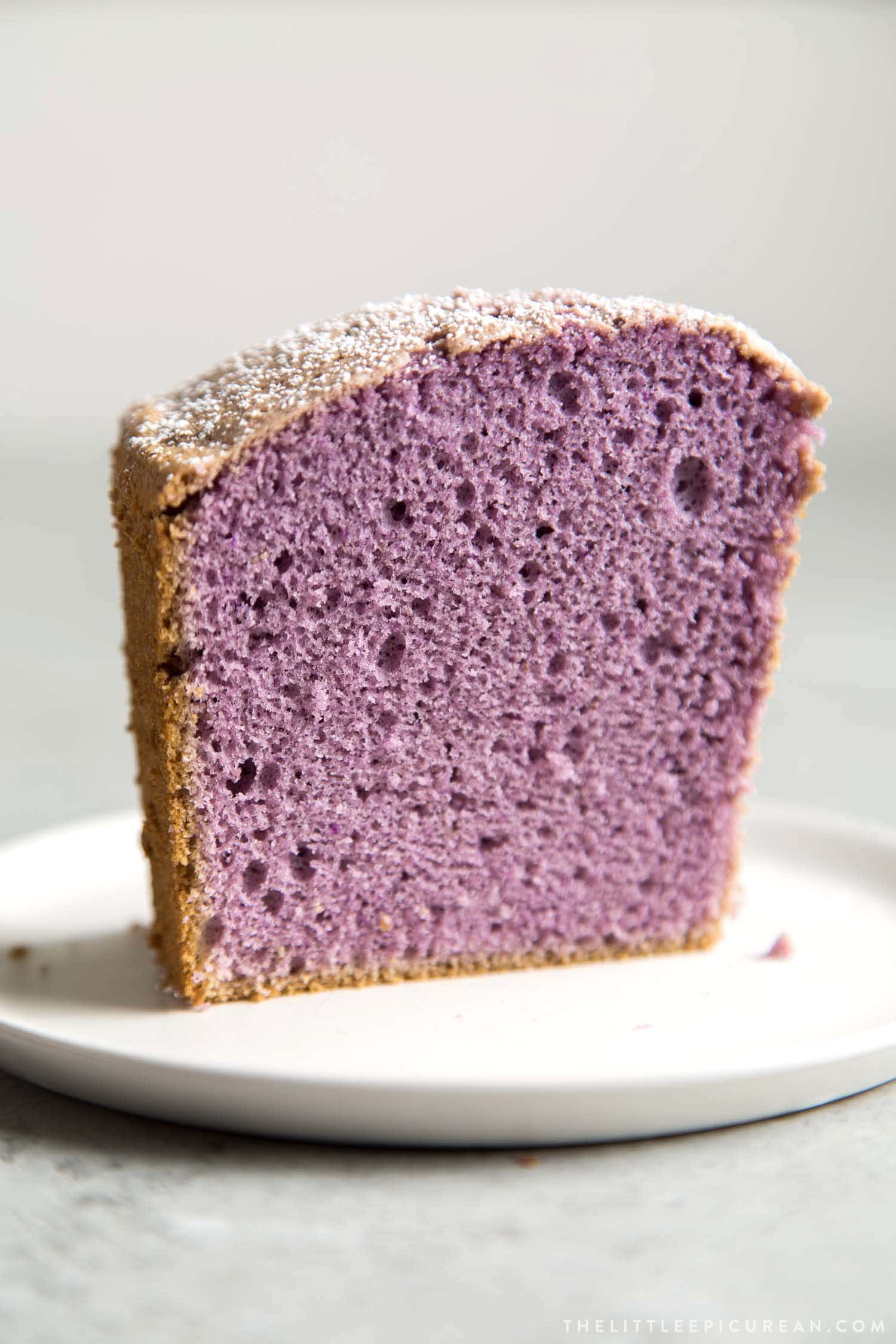 Chiffon cake and angel food cake often get lumped into the same category. While they are both baked in the same pan and both get their airy texture from egg whites, their similarities end there.
There is more freedom for flavor creativity with chiffon cake.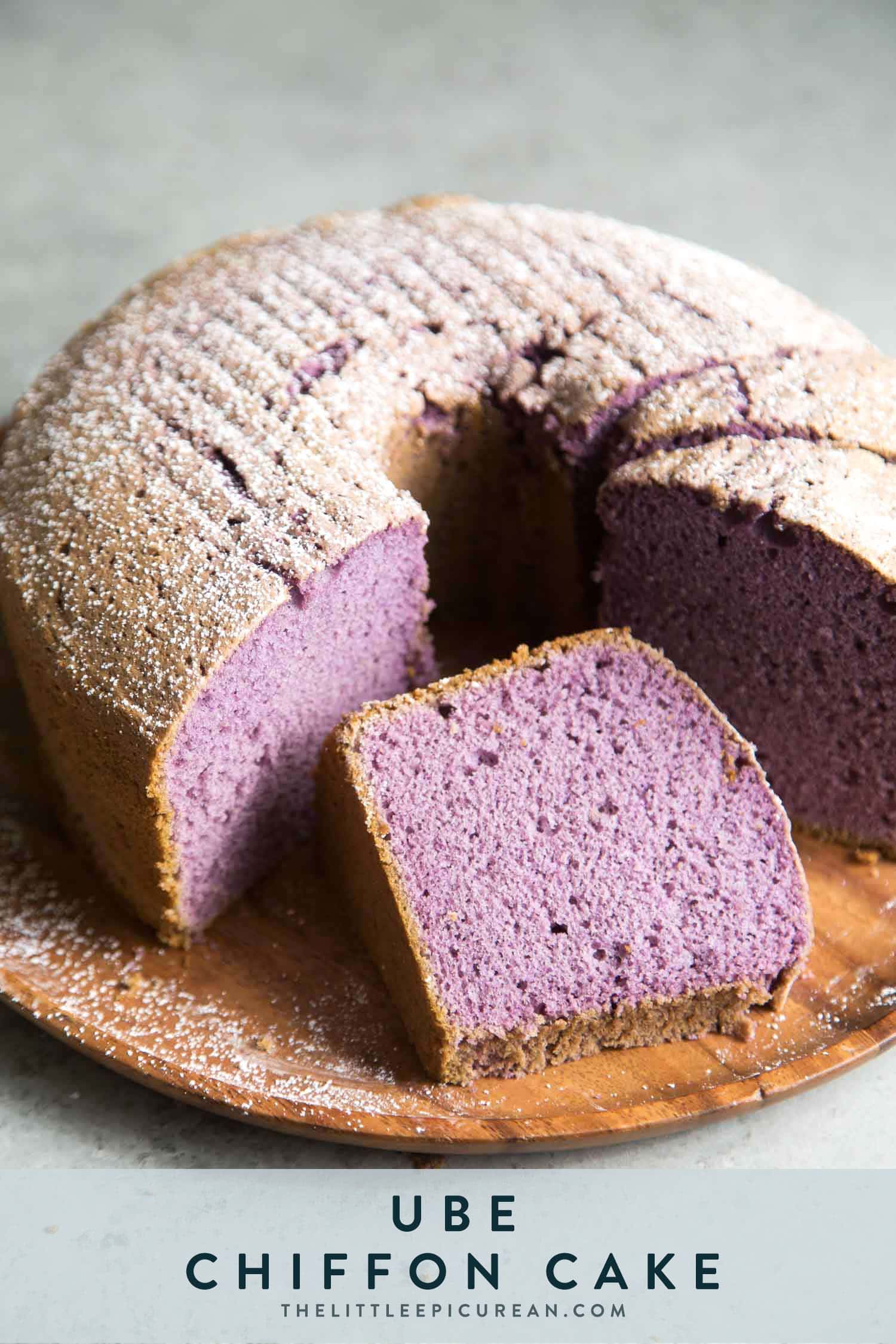 Ube Chiffon Cake
Chiffon cakes are generally made with flour, eggs, sugar, and oil. The whipped egg whites provides the cake with much of its leavening, with the help of a tiny bit of baking powder.
Inspired by taisan, the popular sweet Filipino chiffon cake, I set out to an ube version!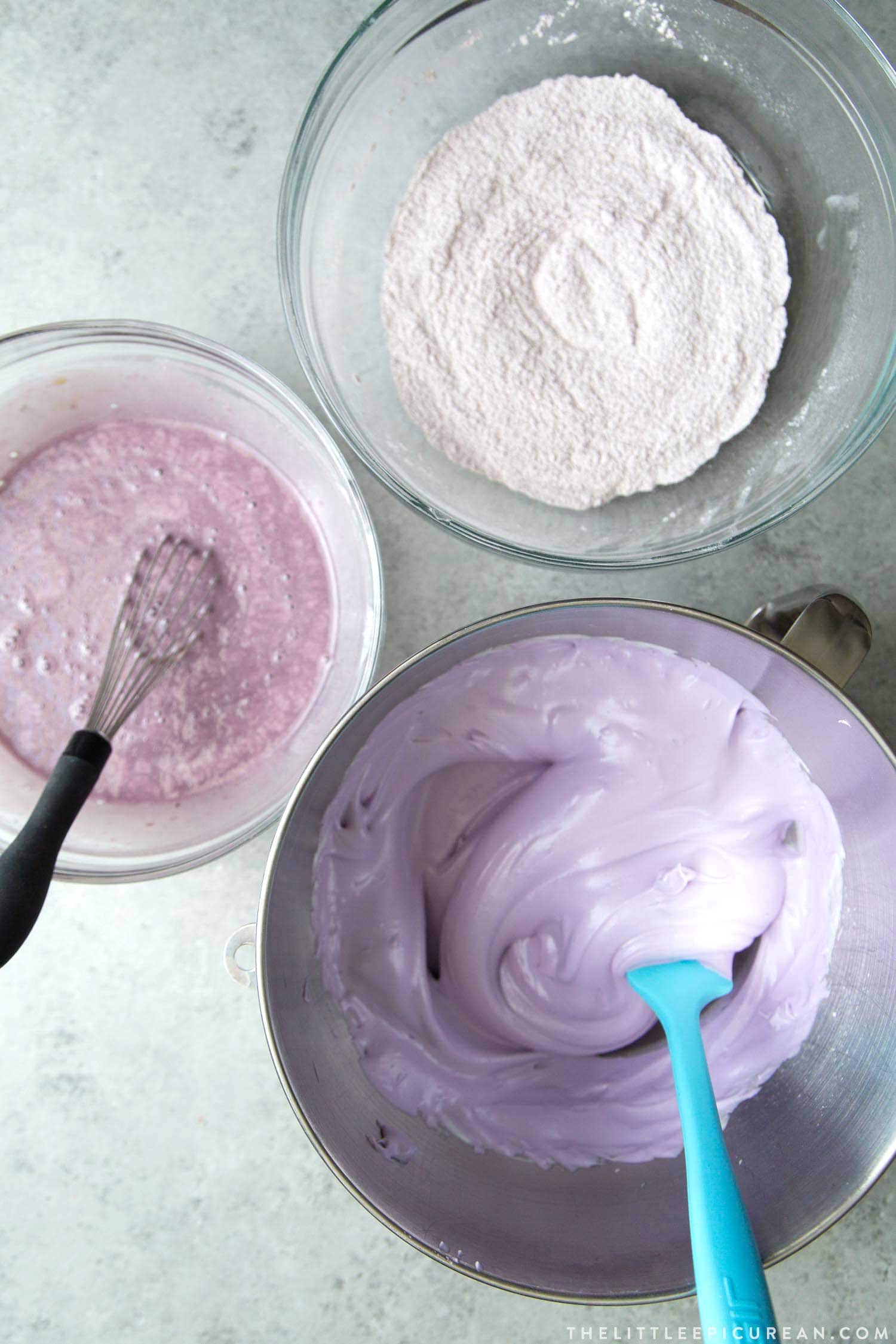 What is ube? Why is this cake purple?
Ube is purple yam. It is a popular tuber found in the Philippines and various parts of Southeast Asia and Africa. It's a relative of the sweet potato.
Ube is NOT taro root. Although they are often mistaken for one another, they are not interchangeable.
Using fresh ube or ube powder alone will not intensely color this cake. Unfortunately, much of the color is artificial. I used ube extract to give this color it's iconic purple hue.
Ube Powder
Fresh ube is difficult to find in the United States. For the sake of ease, powdered purple yam is a great substitute!
Powdered purple yam is simply dehydrated purple yam. Make sure you purchase the package that is 100% pure purple yam. Some varieties include powdered milk or sugar.
Ube Halaya
Ube halaya is also known as ube jam or halayang ube. It is a cooked dish made from boiled mashed purple yam, milk (usually sweetened condensed milk and coconut milk, butter, and a generous among of sugar.
It is generally served cold as a dessert or used as a filling for other desserts and baked goods.
While it is easy to make from scratch at home, I prefer to simply buy the jarred versions sold at Asian supermarkets.
Ube Extract
Sorry to disappoint you. But, in order to achieve that distinct "ube flavor," you need to use ube extract flavoring.
I guarantee that Filipino bake shops here in America as well as those in the Philippines use extract or artificial coloring to get that popular purple color.
I use this McCormick ube flavor extract. While this extract is available for sale online, I suggest picking it up in store at Filipino markets or Asian supermarkets. It is generally cheaper to buy in person.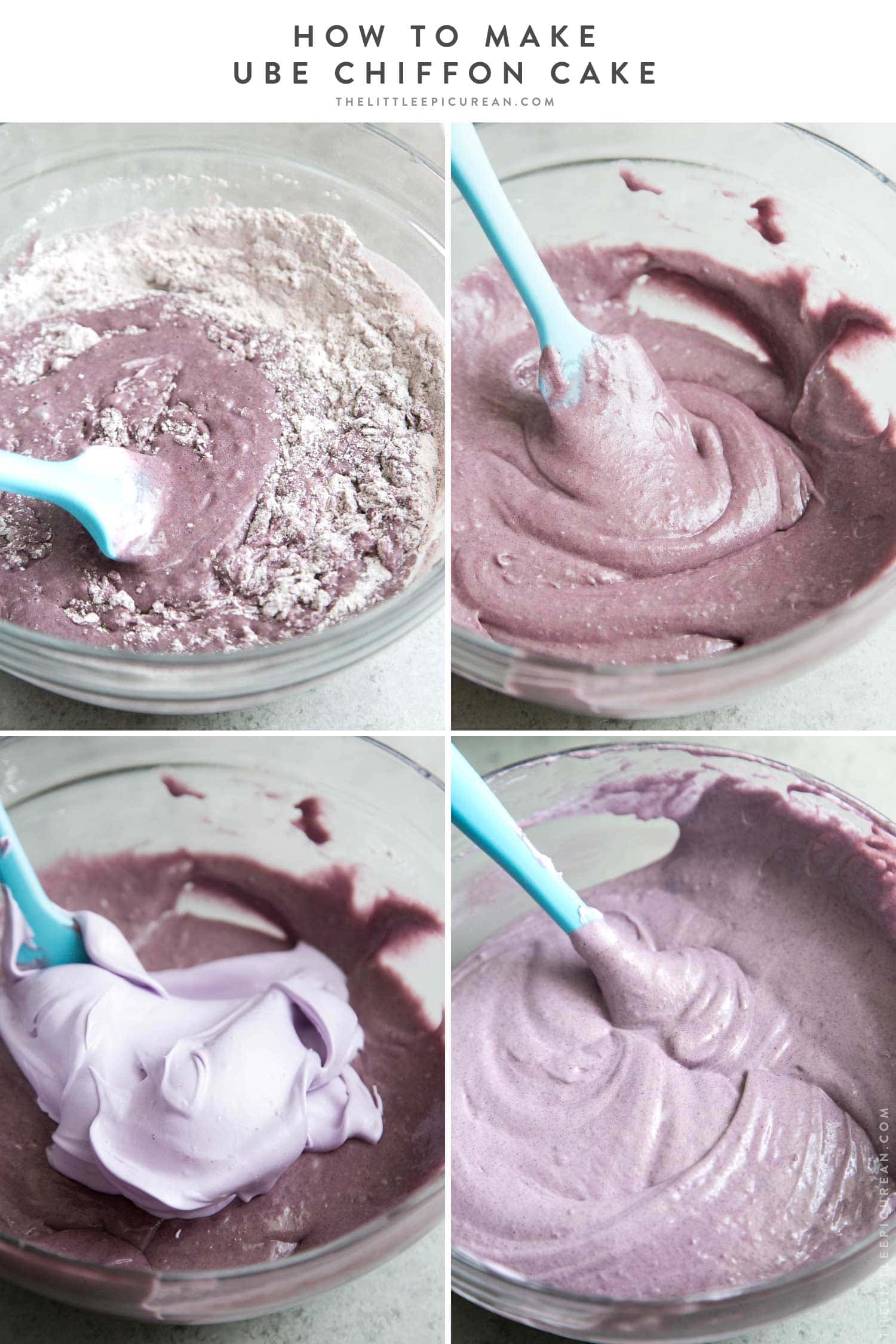 TIPS ON WHIPPING EGG WHITES:
Make sure the bowl is clean! Ensure there are no traces of oil or fat, which will prevent egg whites from trapping air and whipping correctly.
Egg whites whip stronger bonds at room temperature. (However, it is much easier to separate eggs while cold.)
Start whipping egg whites at the lowest (slowest) speed until the mixture if foamy like freshly poured beer.
After whites are foamy, increase speed and slowly add granulated sugar about one tablespoon at a time. Once all the sugar has been added, increase speed until whites have reached stiff peaks.
Add the ube extract at the very end of whipping.
WHY ADD CREAM OF TARTAR TO EGG WHITES?
Cream of tartar, also known as tartaric acid or potassium hydrogen tartrate, aids in strengthening the bonds of whipped egg whites.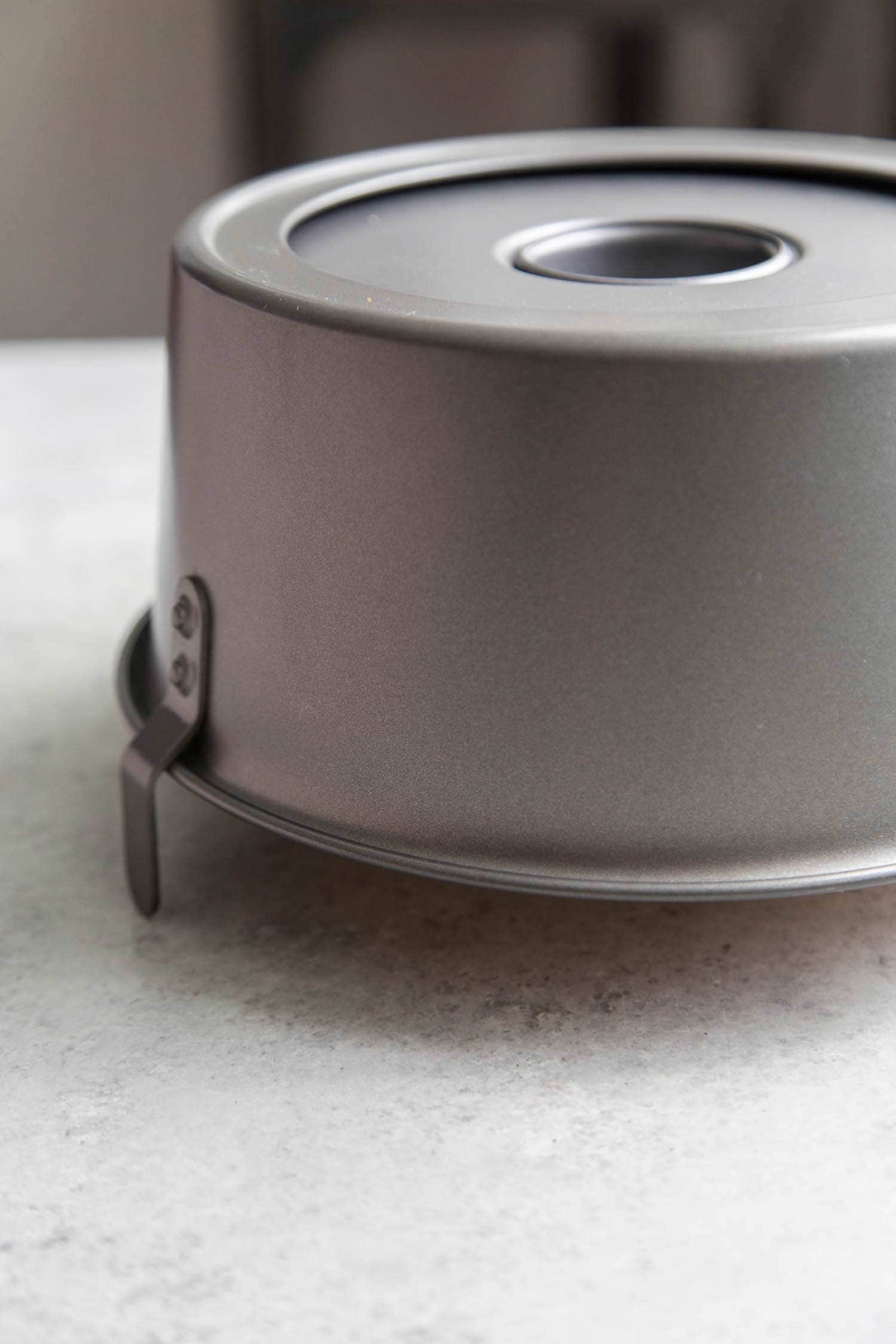 Nonstick versus aluminum tube cake pan:
Aluminum pans (especially those are NOT non-stick) are preferably for angel food cake and chiffon cakes. These pans allow the cake to stick and rise along the sides.
Nonstick pans will prevent the chiffon cake from rising to its full height. The non-stick coating doesn't give the cake batter anything to grip on.
Regardless of which type of pan you have, I recommend a two piece pan to allow for easy unmolding. Also, a pan with feet it helpful for inverting the cake for cooling upside down.
That being said, I don't own an aluminum tube pan. I have this professional two piece 9.5 inch angel food cake pan by Chicago Metallic. It's made from aluminized steel, but it has a non-stick coating.
I tested the recipe several times using this non-stick pan. It works. Perhaps it would rise higher and fluffier in an aluminum pan, but I'm satisfied with my current results.
I have recently purchased this commercial aluminum two piece angel food cake pan. In a few weeks, I will update this post with my findings.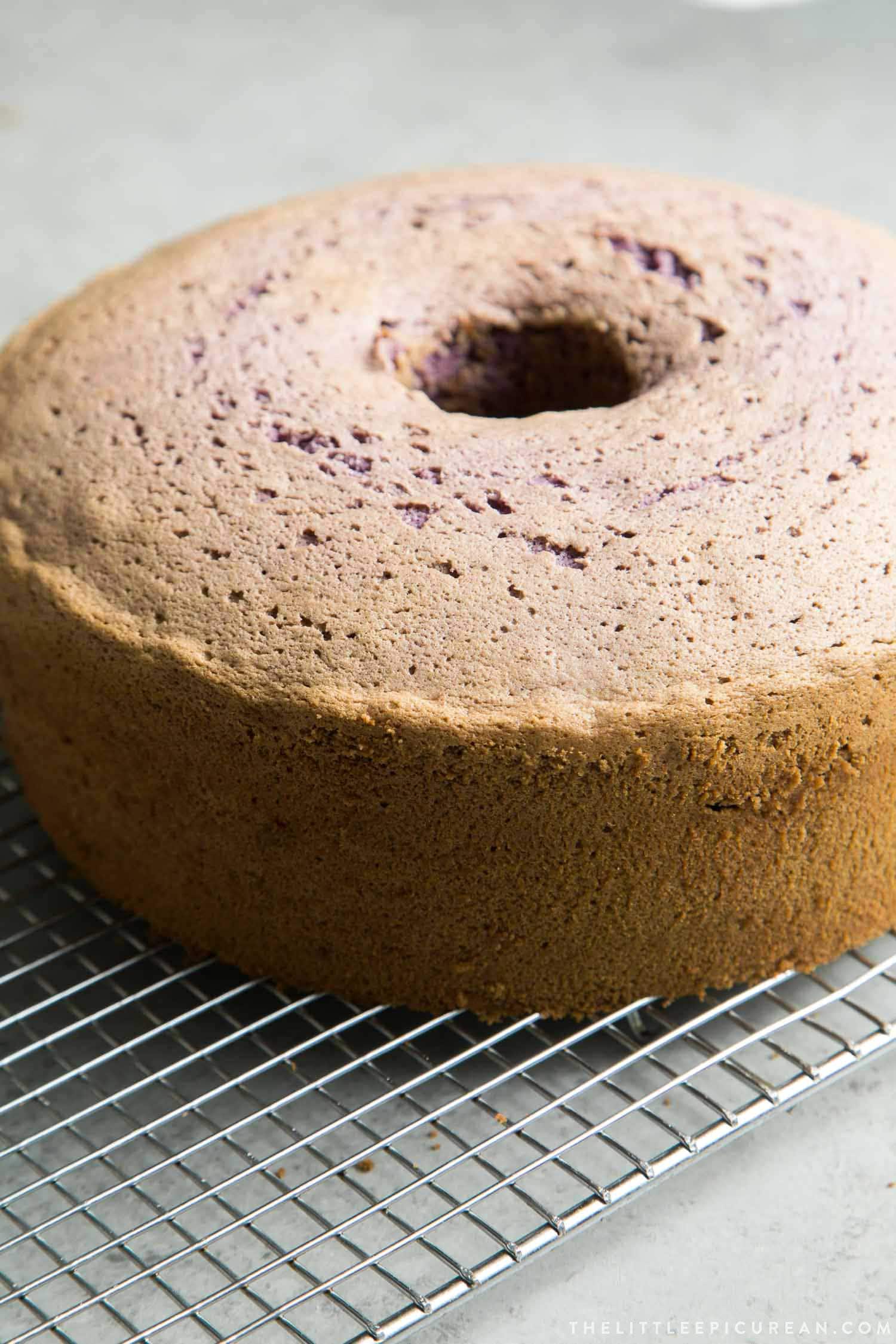 Cooling Chiffon Cake:
Invert the cake pan as soon as it is taken out of the oven! Chiffon cakes need to cool upside down with airflow underneath. This prevents the cake from collapsing as it cools to room temperature.
Practice patience and allow the cake to cool before unmolding or slicing.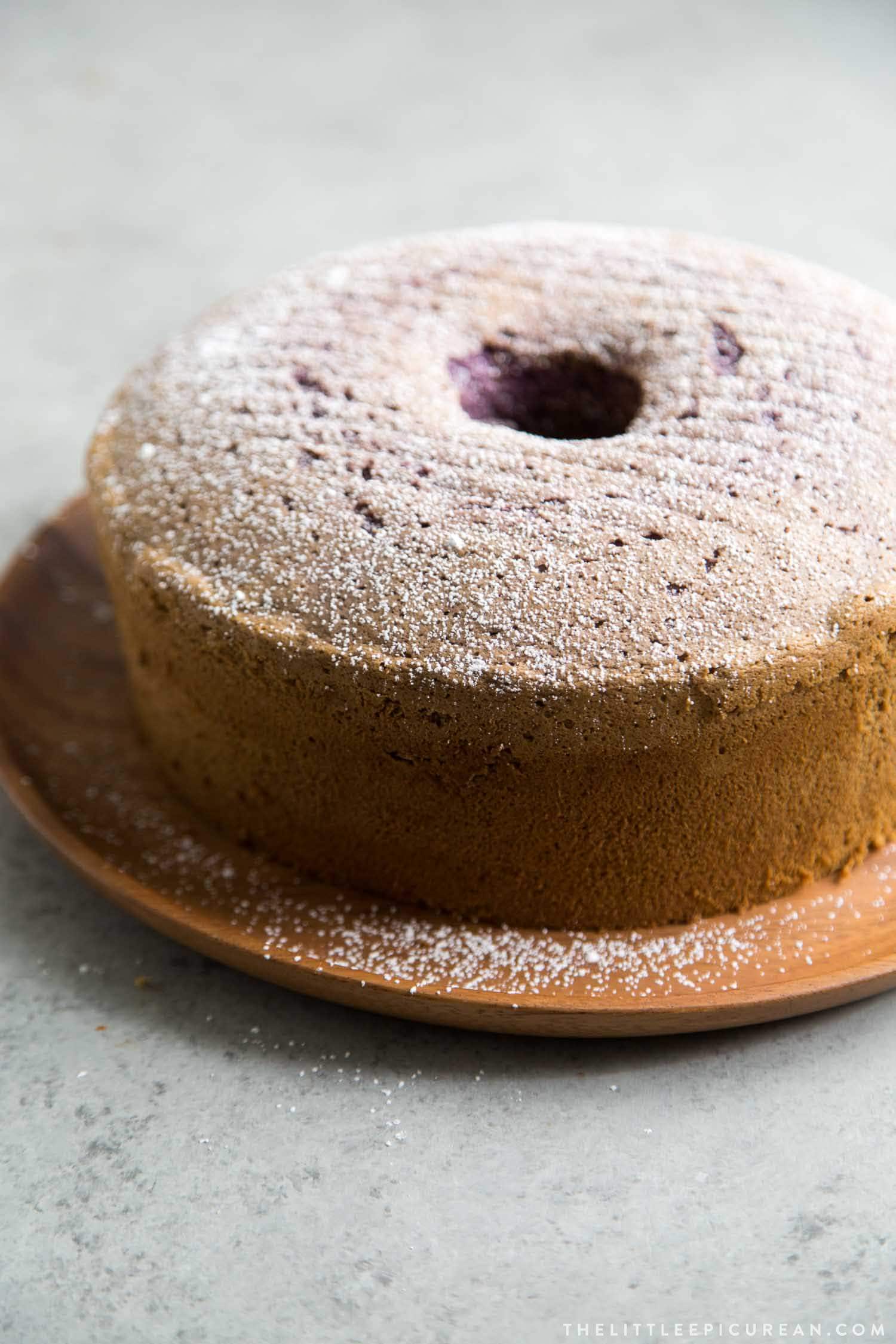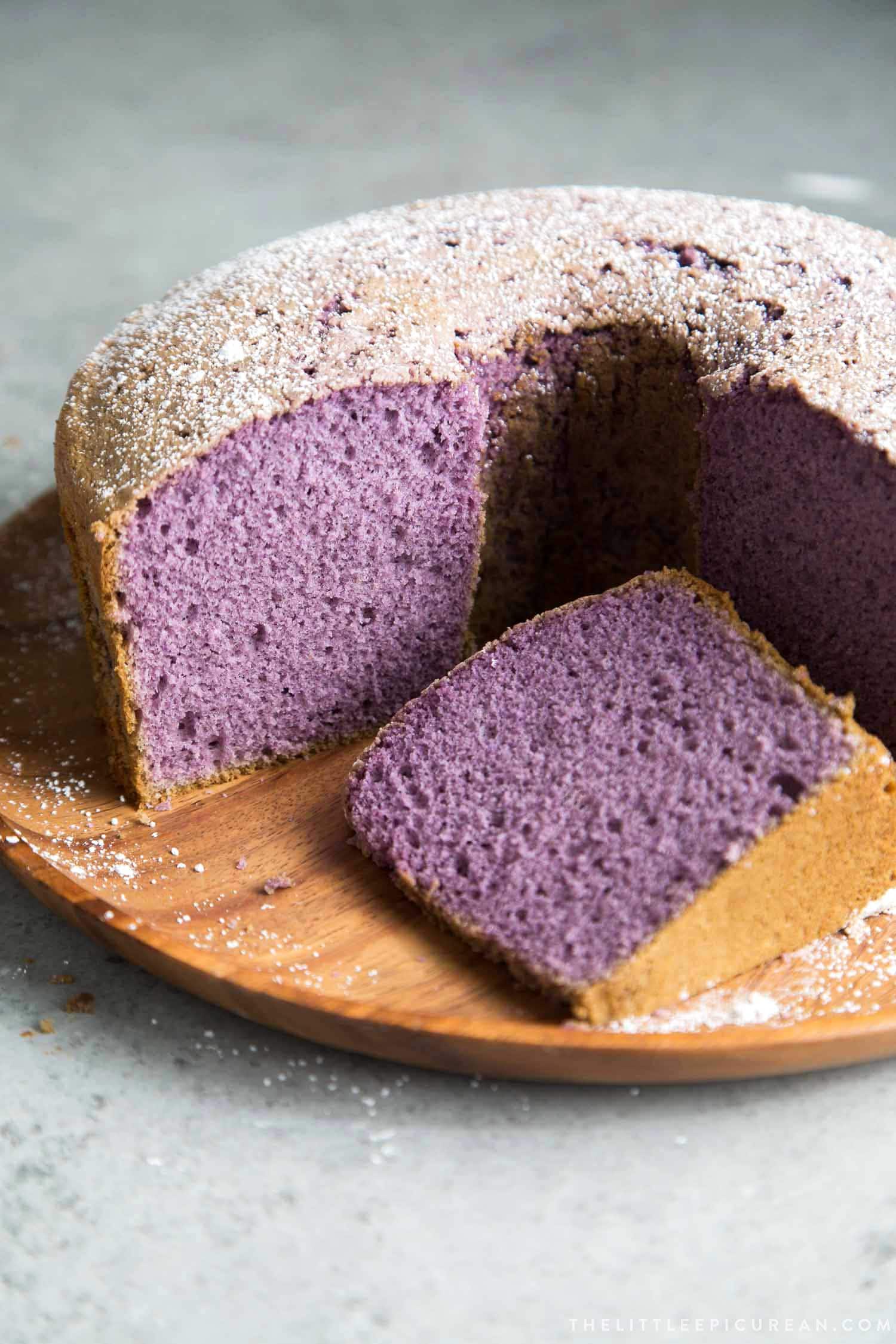 The resulting ube chiffon cake is so light and fluffy. The use of coconut milk in the batter really helps to bring out the ube notes.
This cake can be kept in an airtight container for up to four days. After that, it will start to dry out and get stale.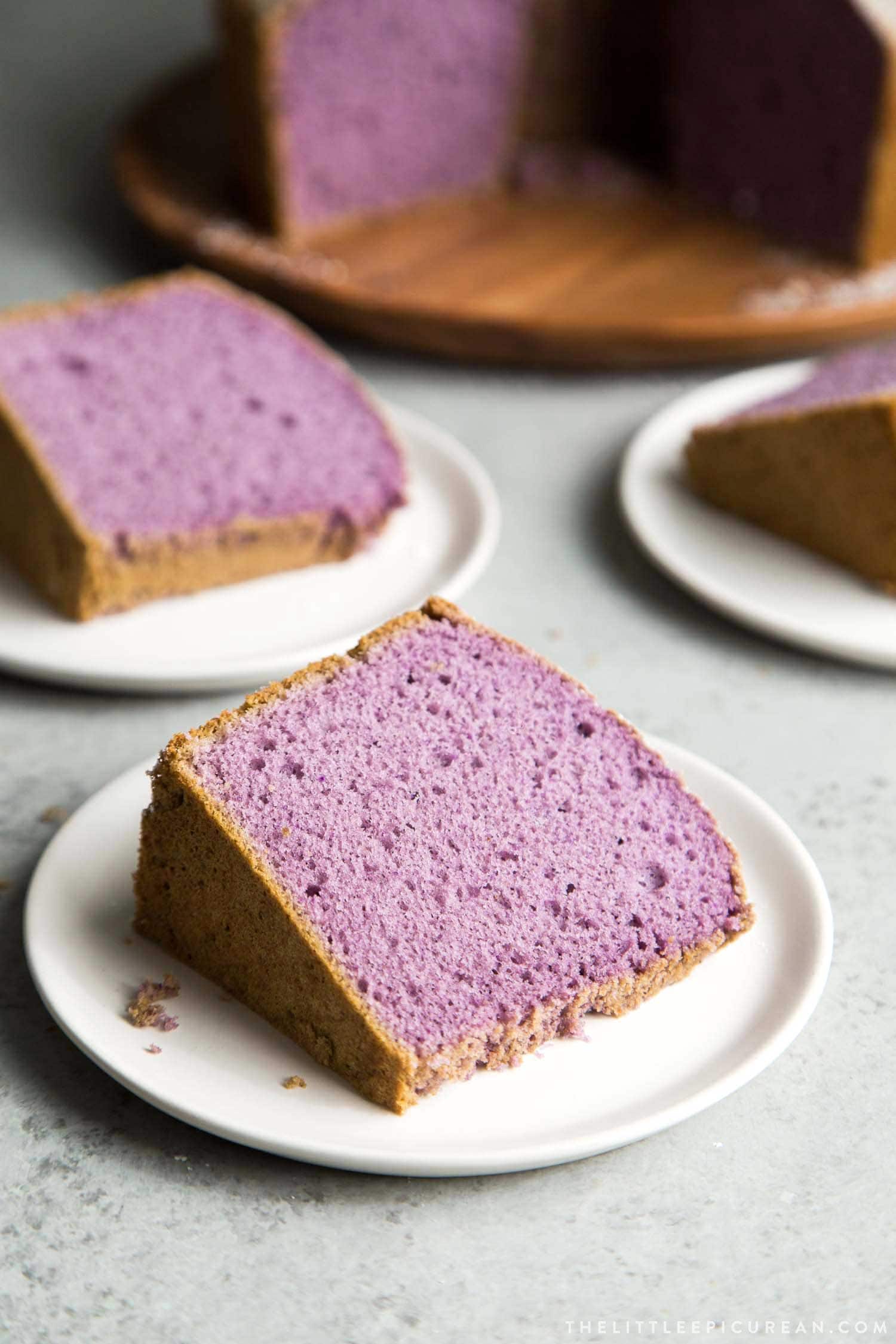 The ube chiffon cake can be enjoyed as is. It is also wonderful with a dollop of sweetened whipped cream or a scoop of ice cream! I enjoy it best with coffee or tea.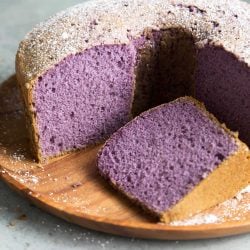 Ube Chiffon Cake
This soft and fluffy ube chiffon cake is flavored by a mixture of dehydrated purple yam powder, ube halaya, and coconut milk.
Ingredients
5

large eggs,

separated

1 ½

cup

(192 g) cake flour

⅓

cup

(68 g) ube powder,

dehydrated purple yam powder

1

teaspoon

baking powder

1

teaspoon

kosher salt

1 ¼

cup

(248 g) granulated sugar,

divided

¼

cup

ube halaya,

homemade or store-bought

⅔

cup

canned coconut milk,

full-fat, unsweetened, well-shaken

½

cup

grapeseed oil,

or other neutral flavored oil

¼

teaspoon

cream of tartar

2

teaspoon

ube extract
Instructions
In a large bowl, whisk together cake flour, ube powder, baking powder and salt. Set aside.

In another bowl, whisk together egg yolks, half of the sugar, ube halaya, coconut milk, and oil. Mix until smooth.

Add wet mixture to dry flour mixture. Mix until thick and smooth. Set aside.

In a clean bowl, whip egg whites on low speed until foamy. Add cream of tartar and continue to whip on low speed. Add remaining sugar one tablespoon at a time while mixing. Once all the sugar has been adding, increase to medium-high speed and whip to almost stiff peaks.

Add ube extract and whip to stiff peaks.

Add whipped egg whites to cake batter in three additions. Using a sturdy spatula, gently fold in 1/3 of egg whites into cake batter. Mix until just combined.

*DO NOT OVERMIX, otherwise the egg whites will deflate.

Pour batter into an ungreased angel food cake pan. Bake for 45-50 minutes until toothpick inserted near center of cake comes out clean and top of cake springs back when touched.

Immediately invert cake pan. Allow chiffon cake to cool in pan for about 90 minutes, or until cake is room temperature.

Run a knife or a mini offset spatula around the perimeter of cake to dislodge and unmold. Remove cake from pan. Transfer to serving plate. If desired, dust with sifted powdered sugar.