These sweet blueberry rolls feature soft pillowy enriched dough paired with juicy blueberries and a sweet maple glaze.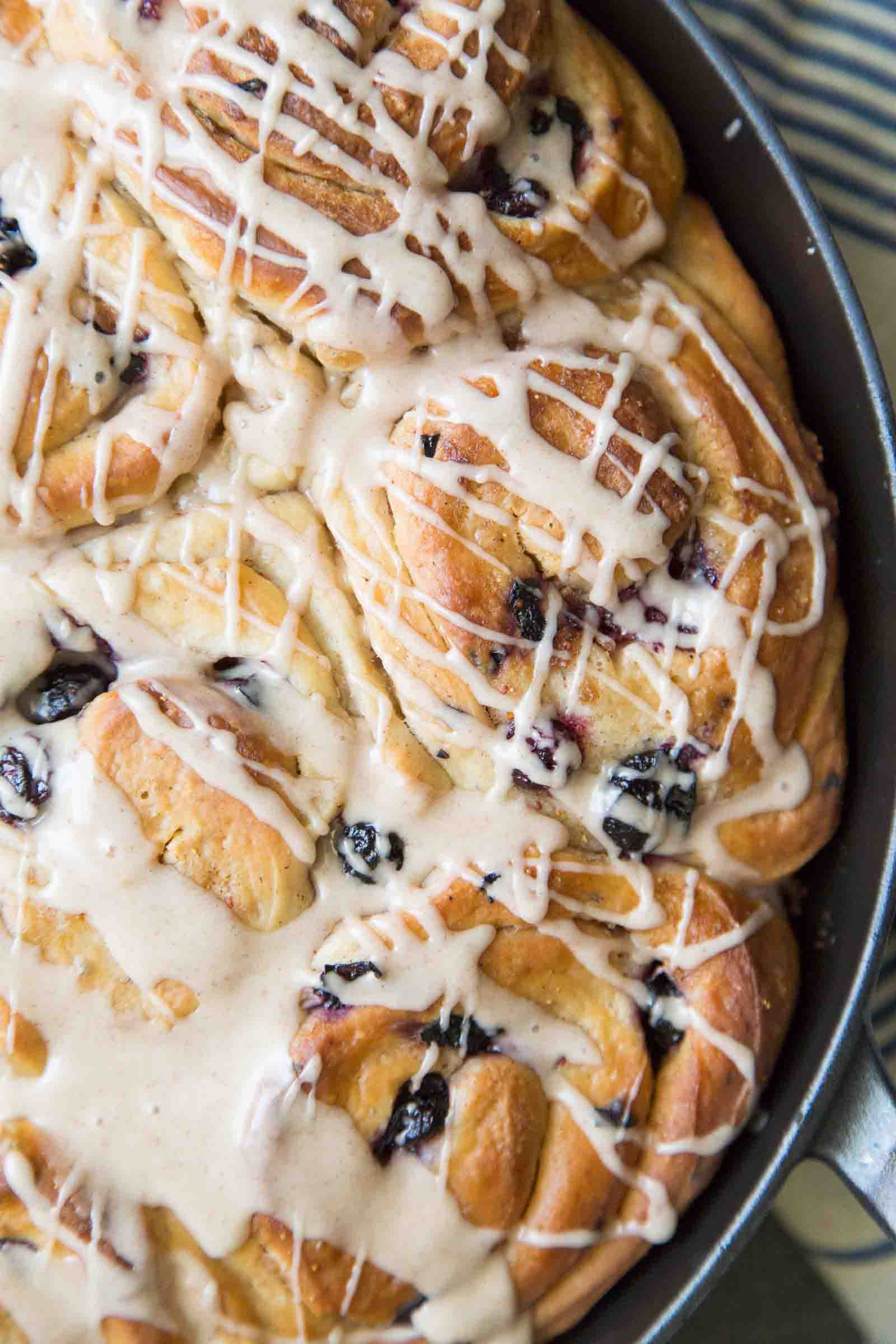 Summer is here. That means berries and stone fruit galore!
Let's kick off the season by baking with fresh blueberries. Not a fan of blueberries? Substitute in other soft fruits like raspberries, strawberries, or blackberries.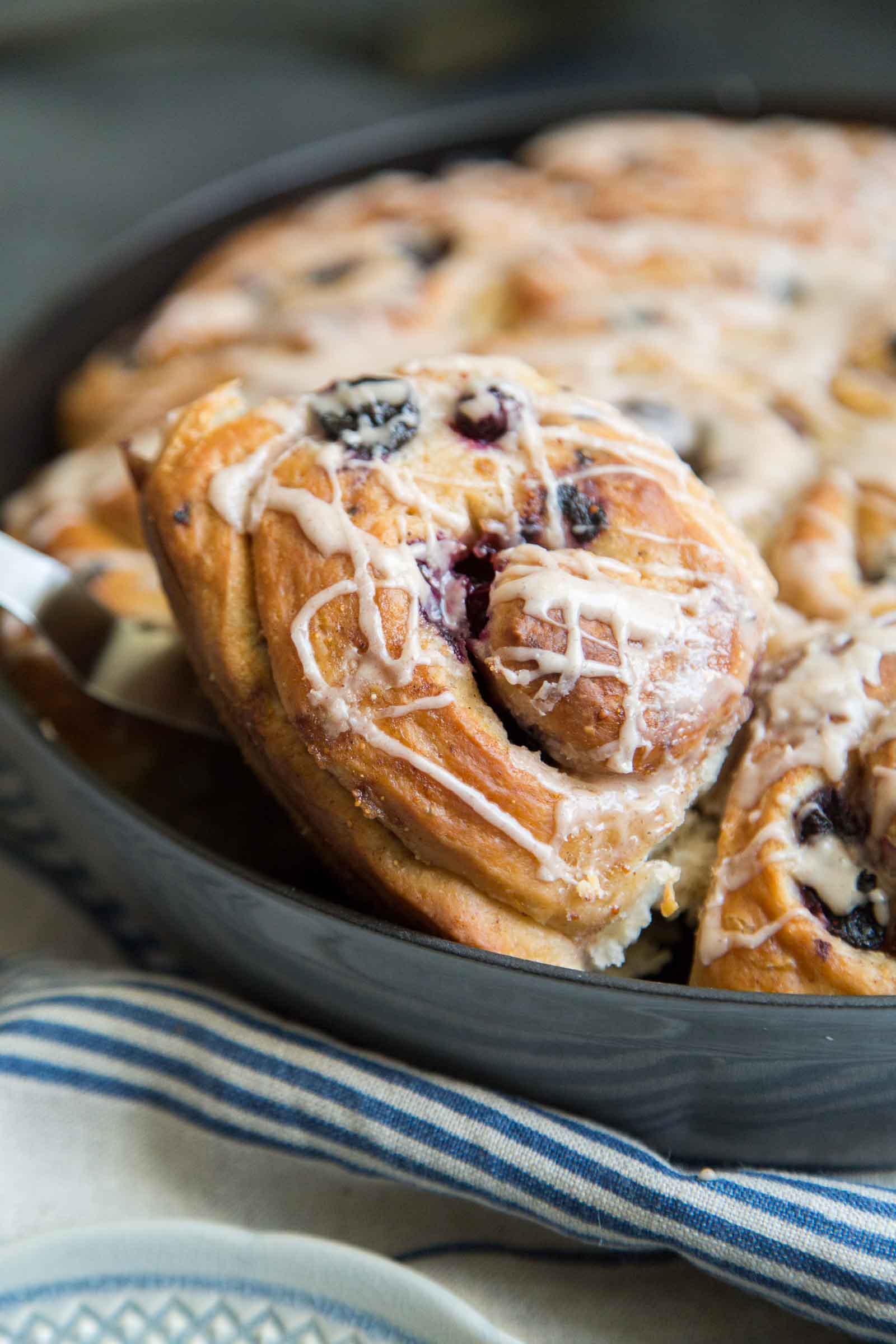 Sweet Blueberry Rolls with Maple Glaze
These sweet rolls start off like any standard cinnamon roll dough recipe. However, like my funfetti cinnamon rolls, this dough has mix-ins.
Fresh blueberries, ground cinnamon, and ground nutmeg folded into the dough. This provides additional flavor as well as interesting pops of color.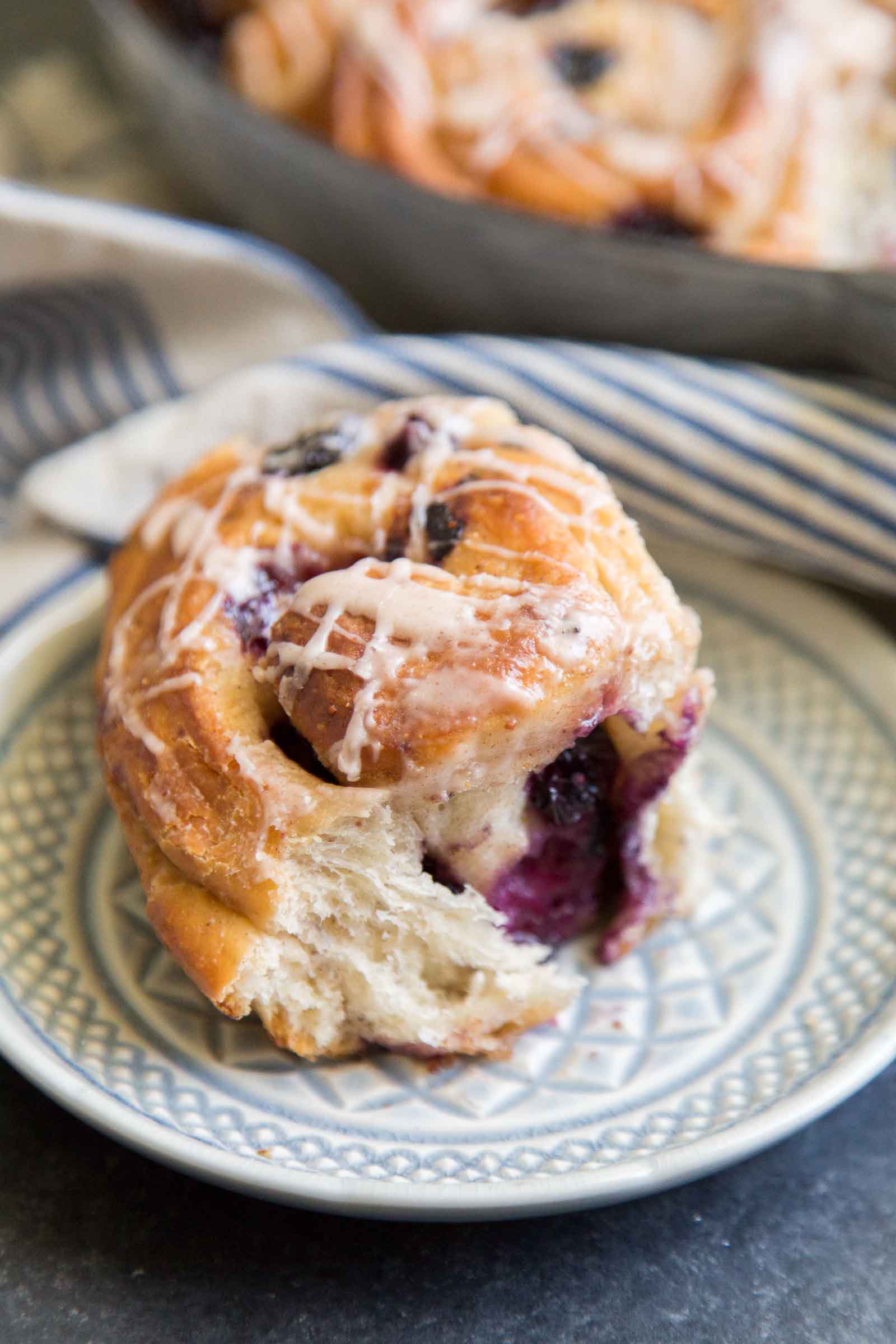 Can you sub in frozen blueberries?
Yes, frozen blueberries may be used in place of fresh blueberries.
However, you will have to adjust the dough resting and rising time. The frozen blueberries will significantly lower the temperature of the dough, causing it to rise slower.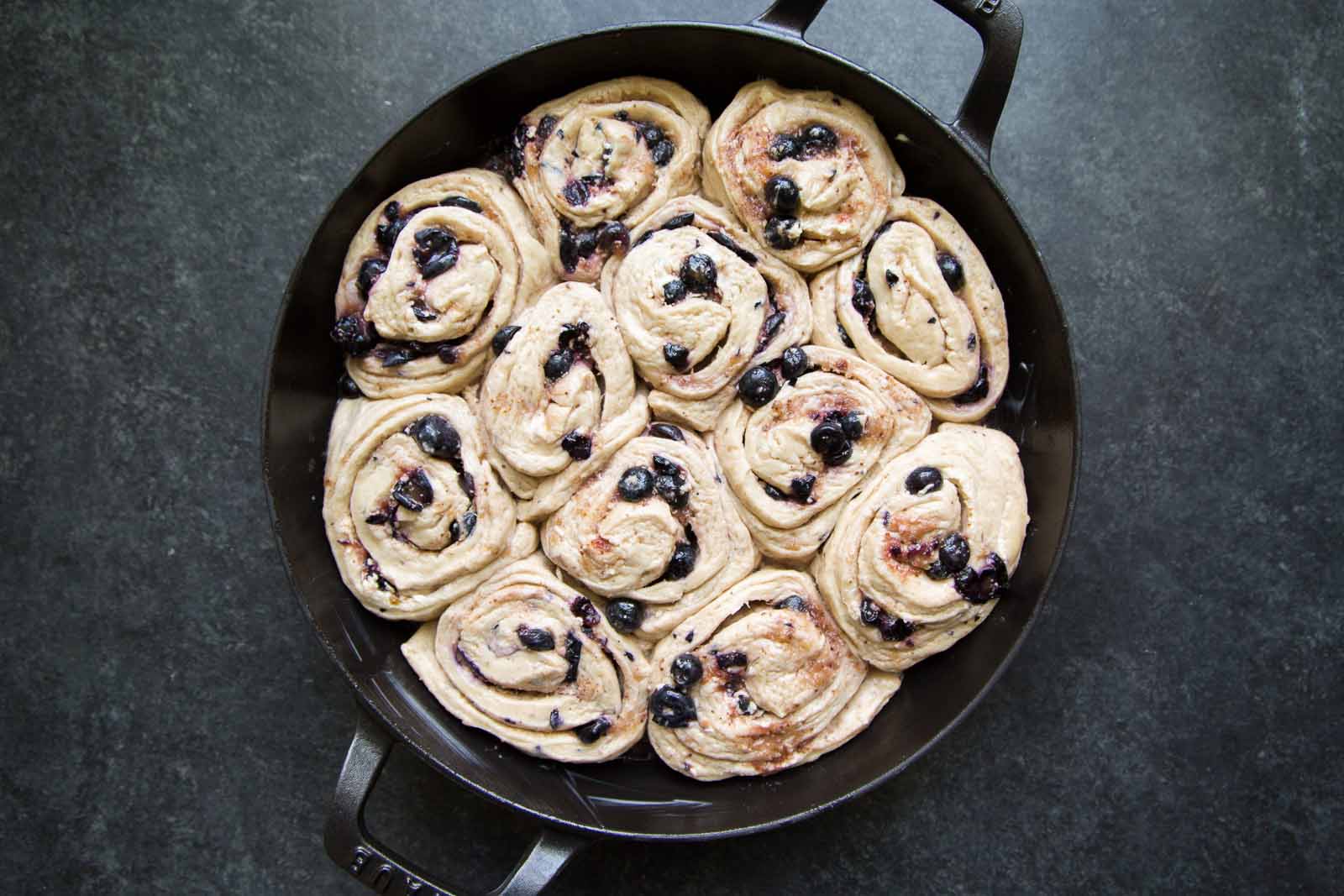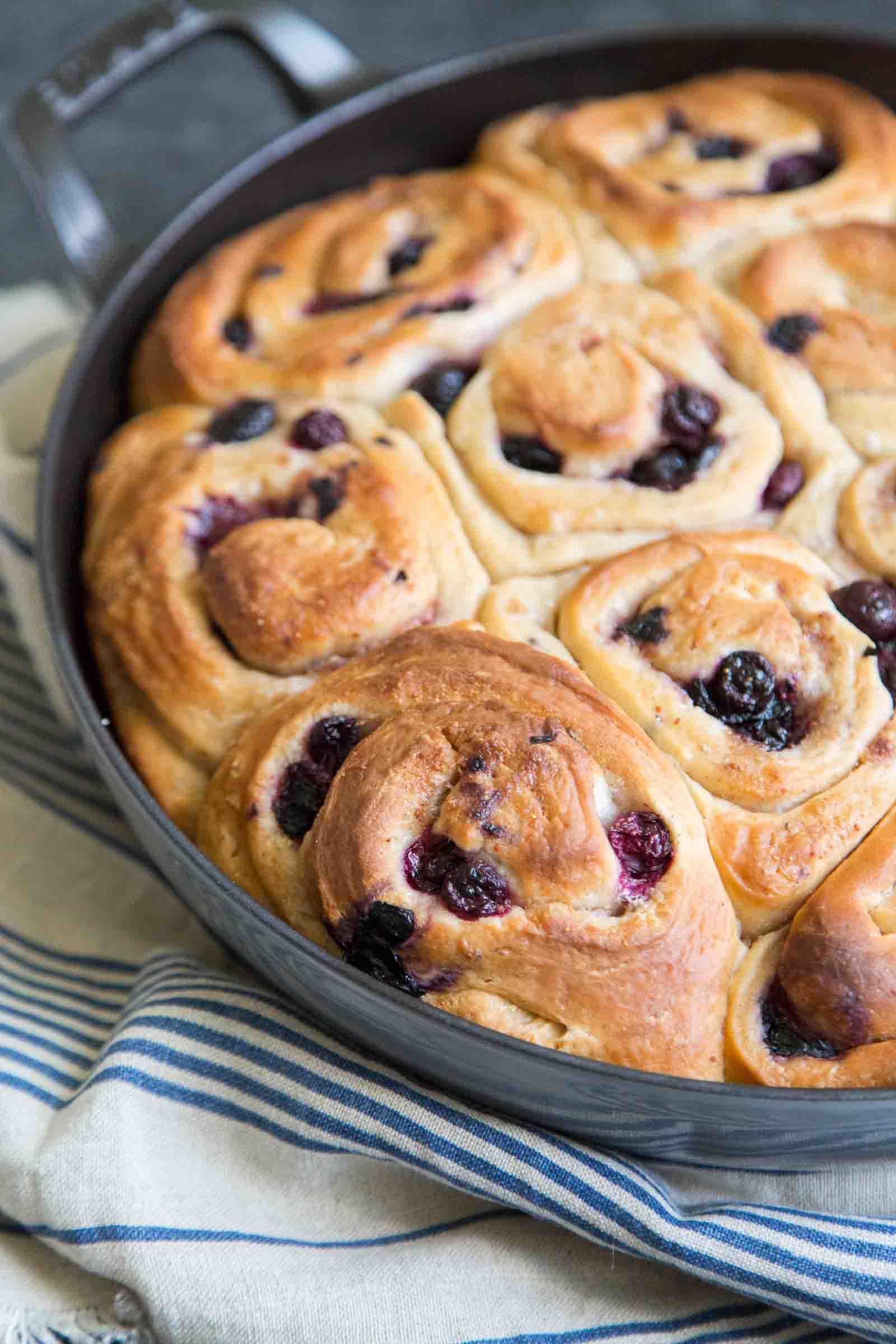 I don't have an oven safe skillet. What other bake ware can be used?
I used this oven safe 3.5 quart Staub skillet. This version comes with a glass lid. Since the lid is see-through, you are able to see when the dough has puffed and is ready for the oven.
A standard 9 or 10-inch cast iron skillet pan is also an excellent choice. They hold temperature well and are iron safe.
You can also use a standard 9×13-inch oven safe casserole dish or a rectangular baking pan.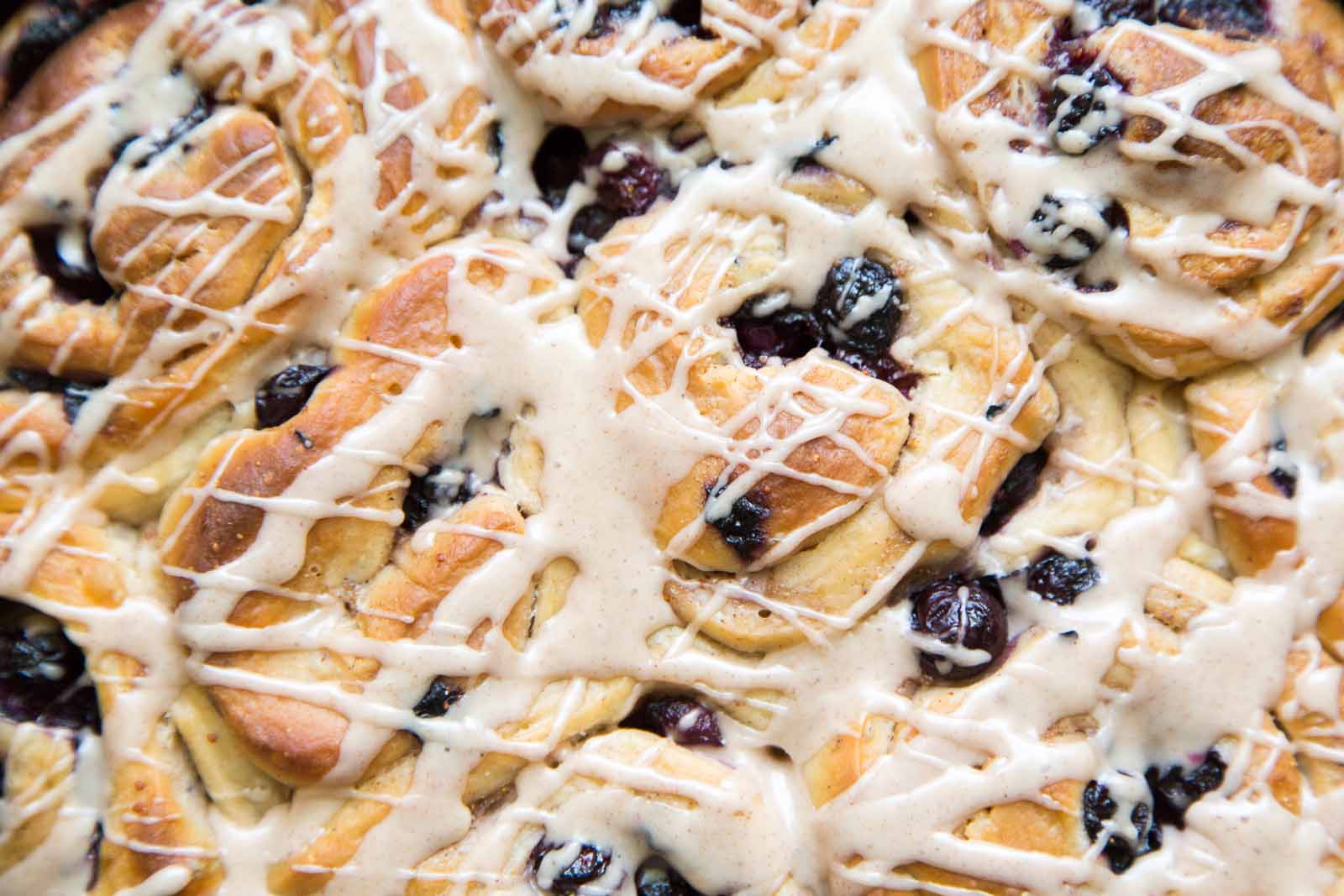 Sweet Maple Glaze
Yes, you've seen this glaze before. It's the same glaze used in this apple slab pie, apple walnut oatmeal cookies, and this cinnamon swirl bread.
To call this sweet maple glaze my favorite is an understatement. I love it! And, I'm certain you will, too.
The combination of dark maple syrup and this maple extract from Boyajian (sold at King Arthur Flour and Williams-Sonoma) is the secret to achieving that distinct maple taste.
Reheating Notes:
To keep the sweet blueberry moist, place a glass of water in the microwave along with the bread roll. Microwave for 30 seconds, or until the bread is hot.
Microwaves work by heating the water molecules in food through increased friction. Simply, heating a piece of bread as is will cause the bread to dry out. The addition of the glass of water helps to keep the bread moist.
Blueberry Rolls
These sweet blueberry rolls feature soft pillowy enriched dough paired with juicy blueberries and a sweet maple glaze.
Ingredients
Dough:
1

cup

whole milk,

warmed to 110 degrees F

2 1/4

teaspoon

dry active yeast

1/4

cup

granulated sugar

2

large eggs,

room temp

4 1/2

cup

all-purpose flour

1

teaspoon

fine sea salt

1/4

teaspoon

ground nutmeg

1/2

teaspoon

ground cinnamon

1/4

cup

fresh blueberries

6

Tablespoon

unsalted butter,

softened
Filling:
5

Tablespoon

granulated sugar

1

teaspoon

ground cinnamon

1/4

teaspoon

ground nutmeg

1/4

teaspoon

kosher salt

4

Tablespoon

unsalted butter,

softened to mayonnaise-like consistency

1 1/2

cup

fresh blueberries
Glaze:
1 1/2

cup

confectioners' sugar

4

Tablespoon

dark maple syrup

1/4

teaspoon

maple syrup

1

Tablespoon

warm water
Instructions
Dough:
The bowl of a stand mixer, sprinkle yeast over warm milk. Add 1 teaspoon of sugar and stir to combine. Let sit for 5-7 minutes to allow mixture to bubble and activate.

Add in remaining sugar and eggs. Whisk to combine.

In a separate bowl, whisk together together flour, salt, nutmeg, and cinnamon. Add 2 cups of flour mixture to mixing bowl.

Using the dough hook attachment, mix on low speed for 2-3 minutes. Add another cup of flour. Continue to knead of low speed. Toss blueberries in half of remaining flour mixture. Add to mixing bowl.

With the mixer running on low speed, add softened butter 1 tablespoon at a time. Add remaining flour mixture. Increase speed to medium and knead until dough is smooth and cleans the sides of the bowl.

Transfer dough to a lightly greased large bowl. Cover and let dough rest at room temperature for 1 hour, or until dough has doubled in volume.

Punch down risen dough. Transfer to a lightly floured work surface. Roll dough to into a 20x14-inch rectangle.
Filling:
In a small bowl, mix together sugar, cinnamon, nutmeg, and kosher salt. Stir in softened butter until mixture resembles paste.

Spread filling over rolled dough. Distribute blueberries over dough. Press blueberries into the dough.
Assembly:
Starting at the longer end, roll dough into a log. Slice log into 12 equal parts. Place rolls in a greased 3.5 quart oven safe skillet (or 9 or 10-inch cast iron pan), or in a greased 9 x 12 (or 9x13)-inch baking pan. Cover and let rolls rest for 35-45 minutes at room temperature and allow rolls to rise.

Preheat oven to 350°F. Once rolls are puffy, remove cover. Bake for 30-35 minutes until rolls are golden brown on top and the internal temperature of rolls registers at least 185°F. Allow rolls to rest for 5 minutes to slightly cool.
Maple Glaze:
In a small bowl, mix together confectioners sugar, maple syrup, maple extract, and warm warm. Stir until smooth. Drizzle over baked cinnamon swirl bread.

Enjoy blueberry rolls warm or at room temperature.