Impress friends and family with these easy Halloween cupcakes! This post features 10 simple and easy ways to decorate festive spooky cupcakes using a variety of store-bought candies.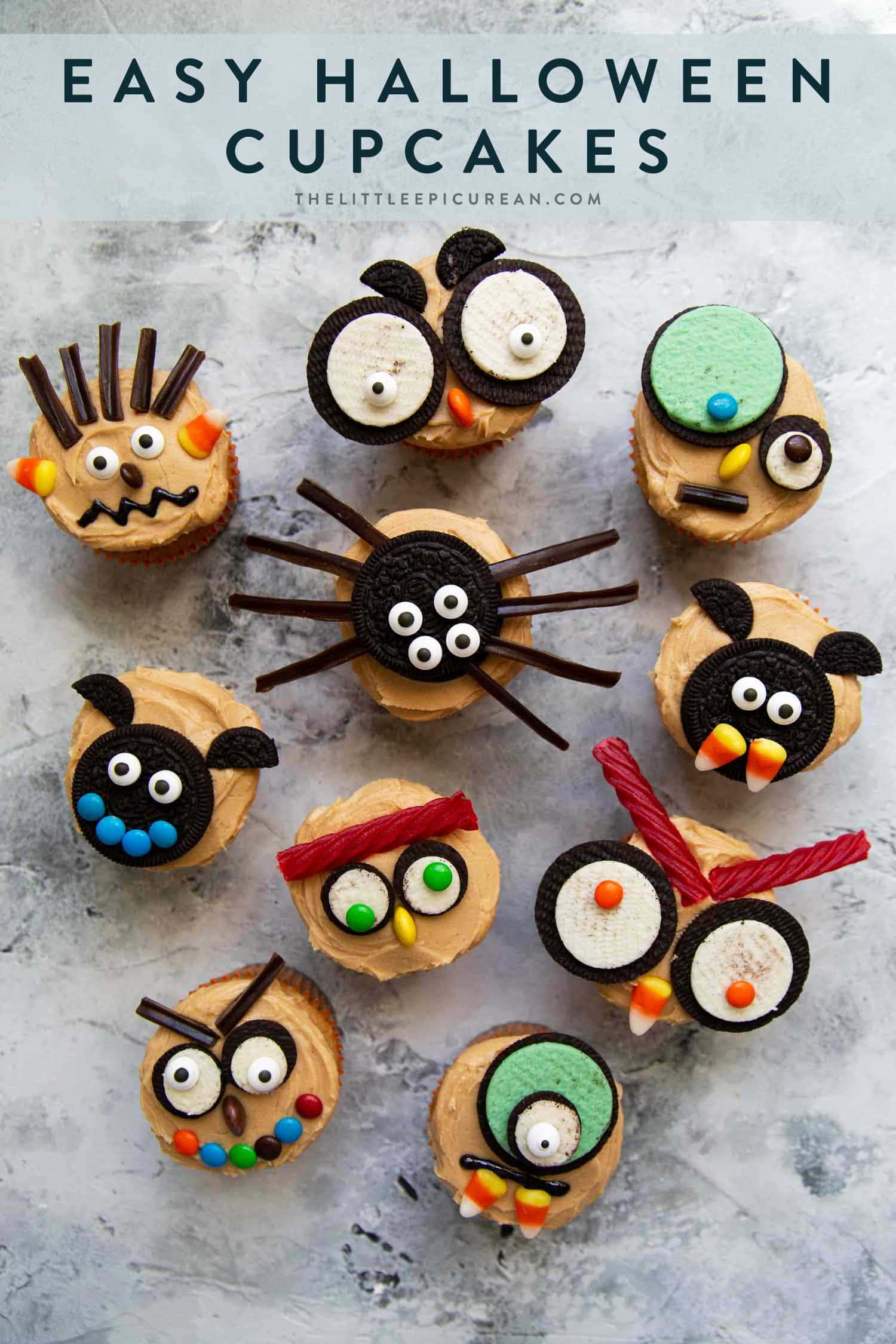 What's more fun than eating cupcakes?
Decorating cupcakes! Or at least, I think so.
Regardless of whether you are hosting young ones or old ones or everyone else in between, a cupcake decorating station is bound to be a hit at any Halloween party.
While any cupcake will do (store-bought, box mix, or homemade), I highly suggest trying the recipe for these Peanut Butter Cupcakes featured at the end of this post.
It's a tasty yet sturdy cupcake that holds up well with the heavy toppings. It's paired with an equally delicious peanut butter buttercream that is the perfect canvas for your work of art.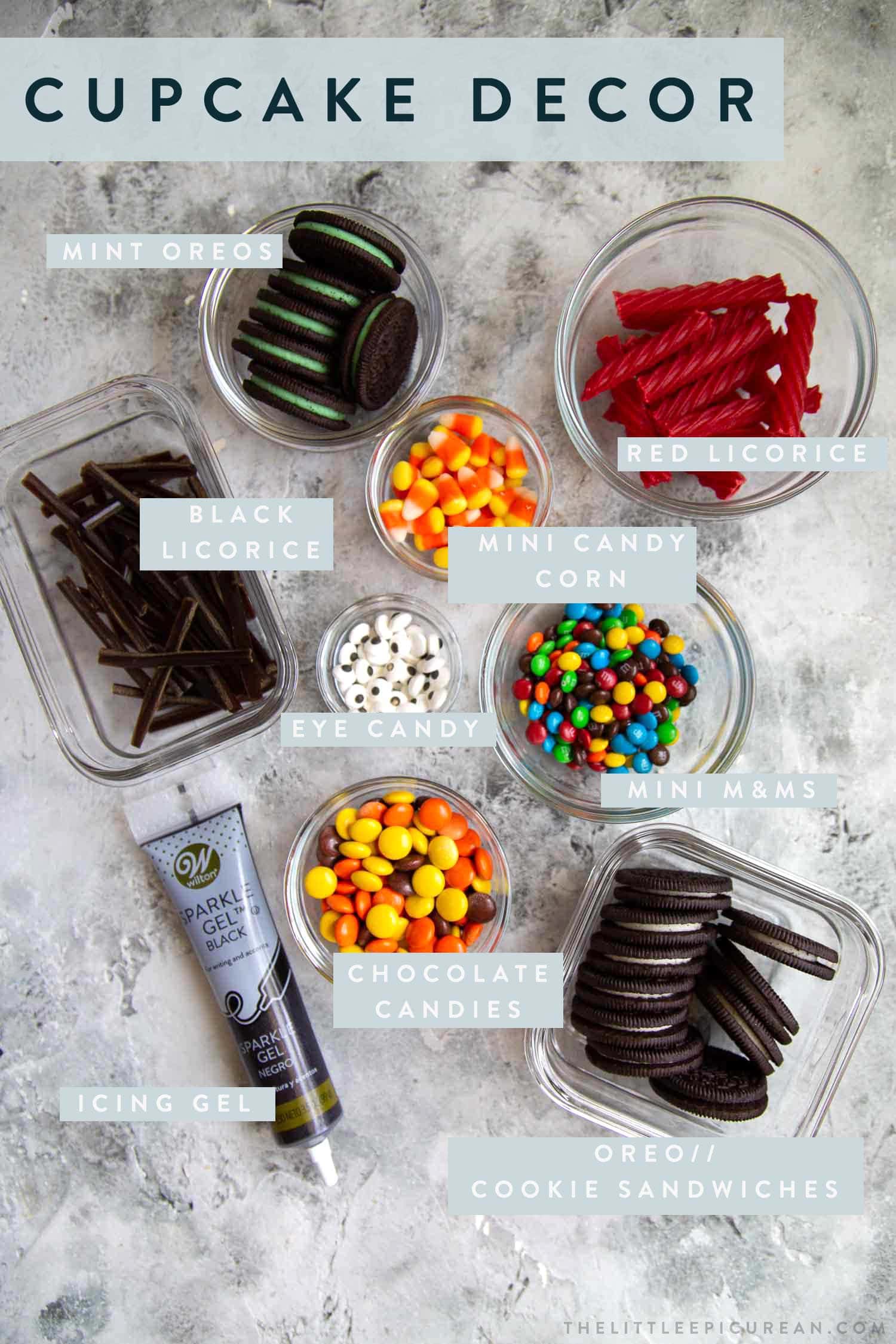 Assorted Candies for Cupcake Decoration:
Oreos or Filled Cookie Sandwiches
Mini Candy Corn
Red and Black Licorice
Eye Candy
Candy Coated Chocolates (mini and regular size)
Black Icing Gel
Filled Cookie Sandwiches
Use Oreo or any generic filled cookie sandwiches. Either way, you'll have a ton of different flavors and colors to choose from.
Oreo has an ever growing variety: chocolate, golden, milk, lemon, birthday cake, candy corn, etc.
Mini Candy Corn
I prefer to use "mini" candy corn. Their small size makes them more versatile for decorating.
Red and Black Licorice
There are so many licorice options to choose from. Classic favorites like Red Vines and Twizzlers have all sorts of new flavors and colors available.
Not a licorice fan? Substitute in Sour Punch which comes in several flavors and shapes (straws, ropes, twists, etc).
Eye Candies
There are many varieties of eye candies available. I used these standard white Candy Eyeballs. These Halloween Spooky Candy Eyeballs come in yellow and green.
Wilton also sells an assorted set with large eyeballs, eyes with lashes, and a variety of eyeball sizes available for purchase through Amazon.
For gory eyeballs, this Halloween Candy Eyeball set is a great option.
Candy Coated Chocolates
Use M&M's, Reese's Pieces candy, or any generic candy coated chocolate. I prefer to have a selection of standard sized candies for eye balls and noses. The mini versions are excellent for smaller details like smiley faces.
Black Gel Icing
I purchased this black sparkle gel from Target. Many supermarkets carry similar gels or frostings in tubes.
Asides from piping out details like mouths or eye brows, the gel works like a glue. Use it to adhere candy eyes or candy corn to other pieces.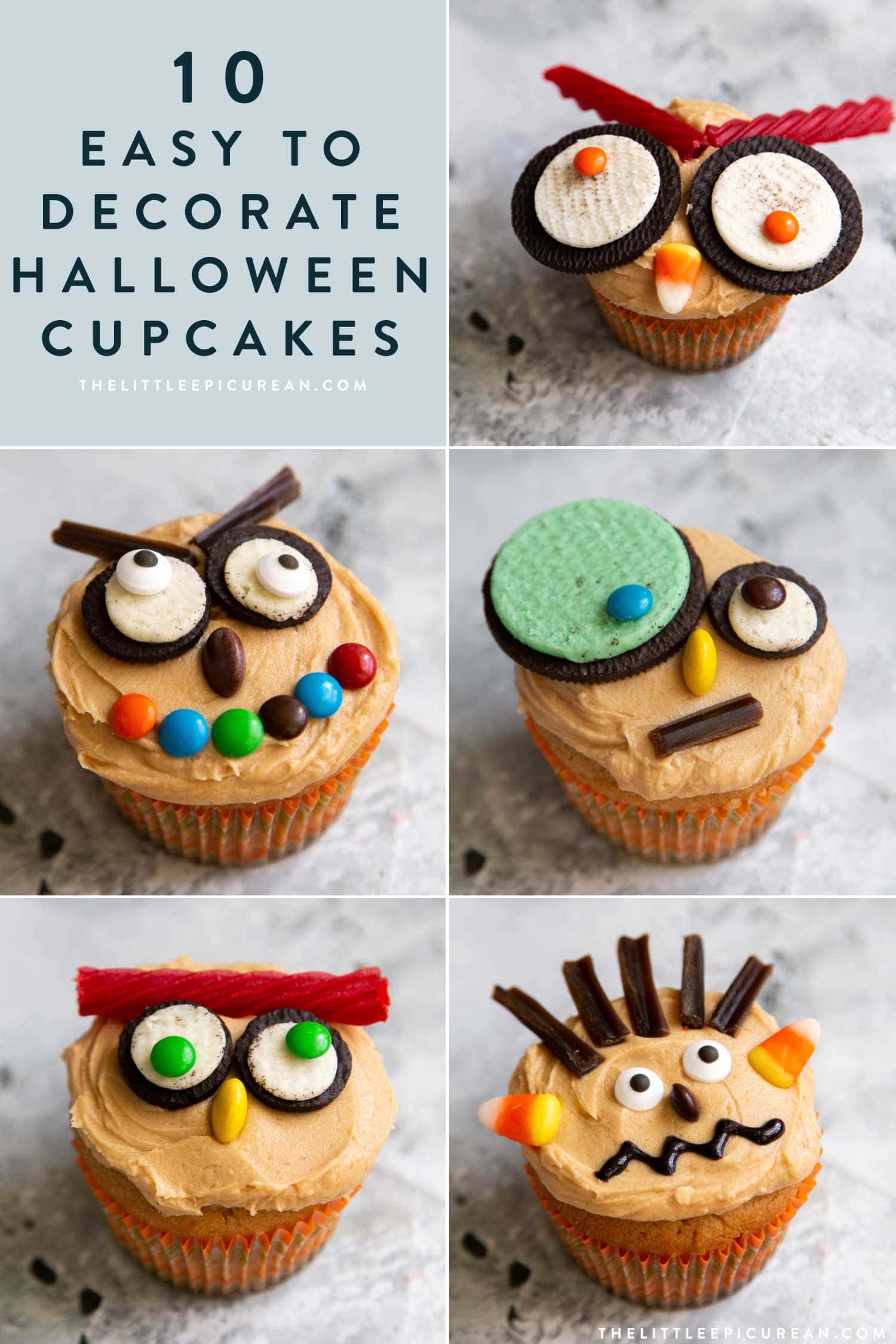 10 Easy Ways to Decorate Halloween Cupcakes!
The photograph above showcases a small sampling of the different easy Halloween cupcakes you can decorate using store-bought candies.
This is a fun activity for all ages, not just kids!
Place some frosted cupcakes and a variety of candies and toppings out in front of a group of "adults." In a few minutes, everyone's imaginations will run wild.
You'll end up with a variety of creative, awesome monster Halloween cupcakes!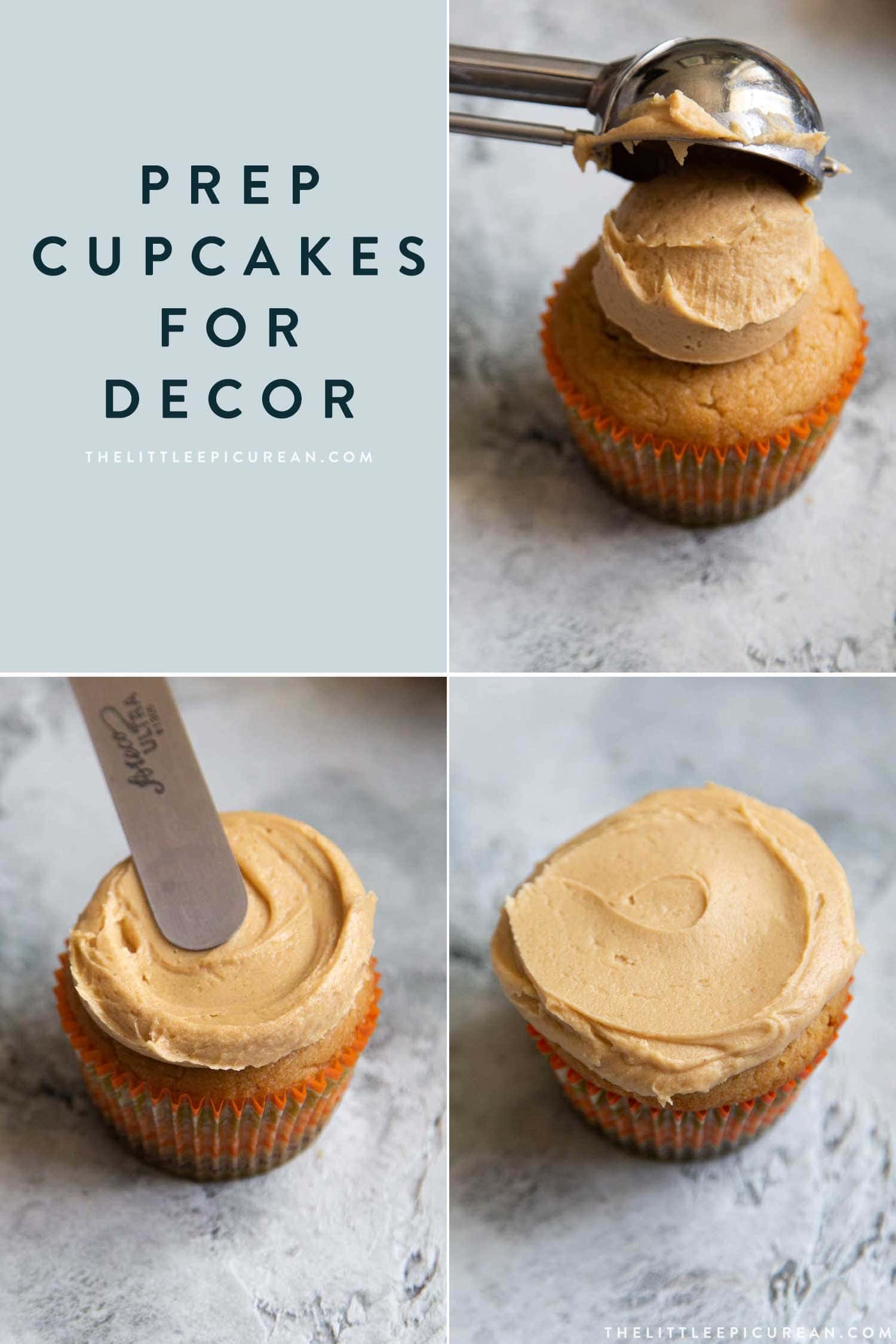 Prepare Cupcakes for Decor:
Portion out buttercream over cooled cupcakes using a #40 scoop (1 1/2 tablespoon).
Use a mini offset spatula or the back of a spoon to spread buttercream over cupcake in an even layer.
Cupcakes are ready for decorating! Add sprinkles, chopped nuts, or decorate using with a variety of candies as shown in this post.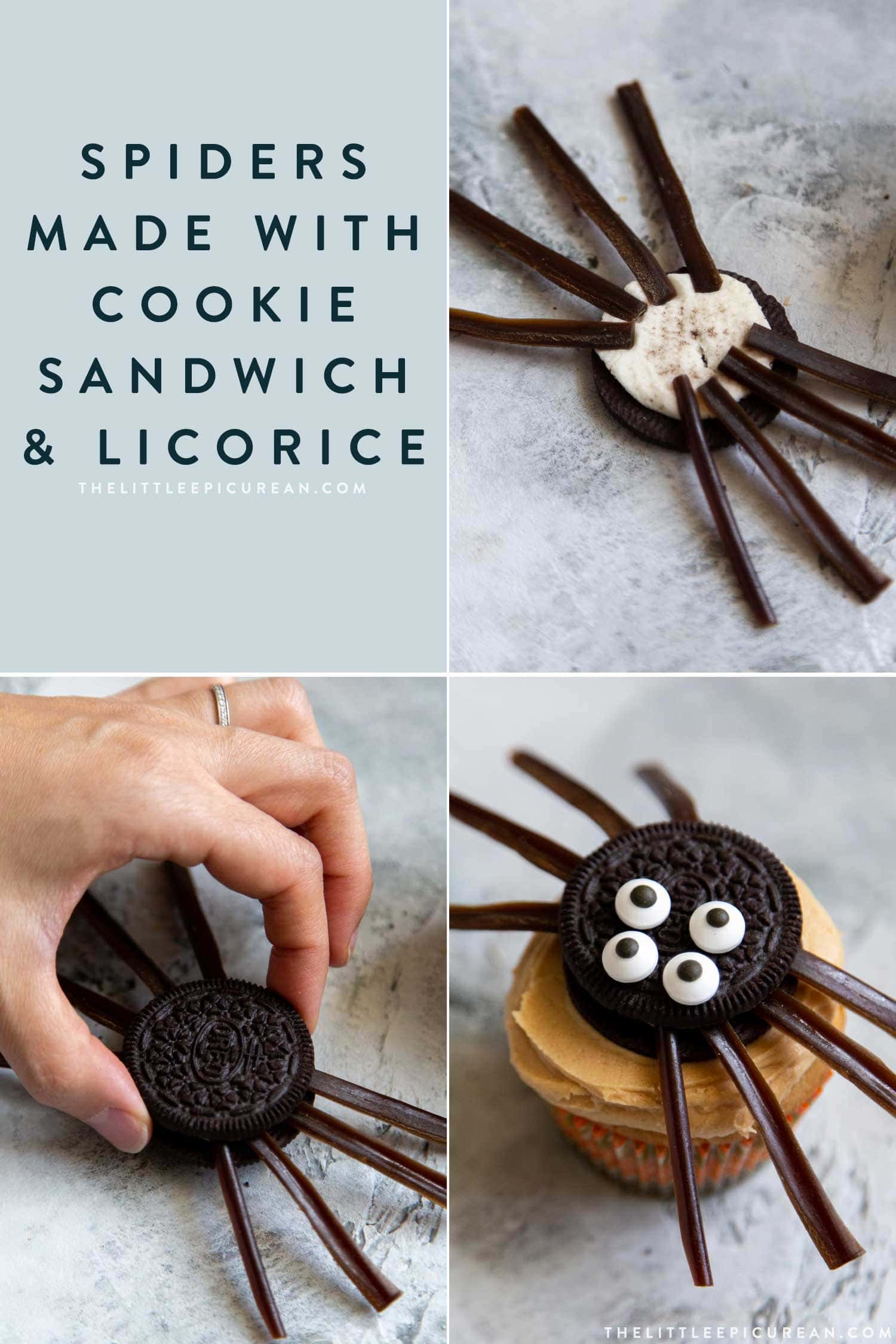 How to Make Edible Spider Cupcake Decor:
Open cookie sandwich exposing filling. Take 8 pieces of black licorice and arrange the "spider legs" on top of filling.
Re-attach cookie top. If cookie is not sticking to the filling, add a dollop of buttercream to help cookie attach.
Use buttercream or gel icing to attach candy eyes to top of cookie sandwich. Place assemble spider on top of frosted cupcake!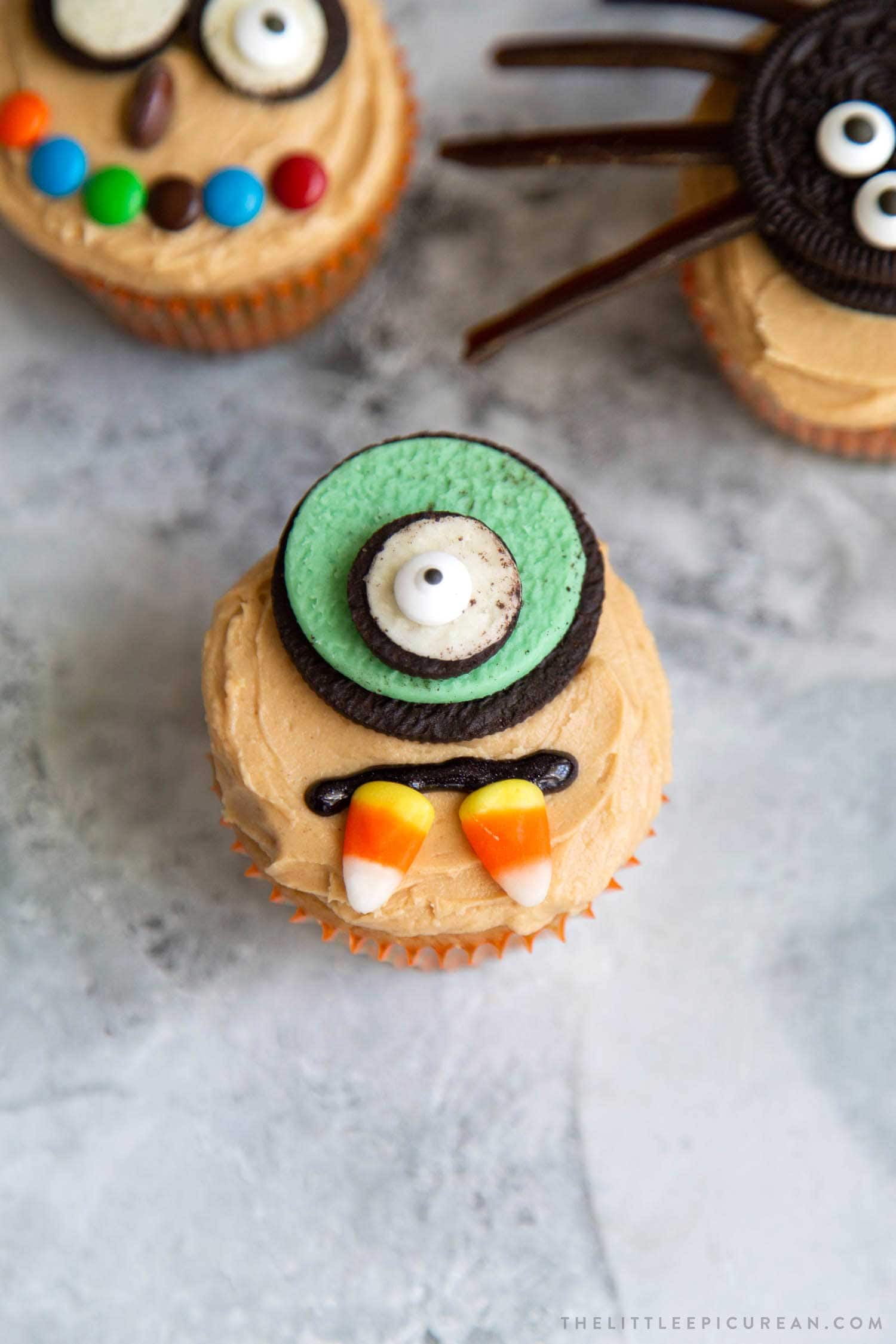 One Eyed Monster
This monster has an eye made from one Mint Oreo, one Mini Oreo, and a candy eye. It's mouth is drawn on with black gel icing. Two upside mini candy corns create his teeth or fangs.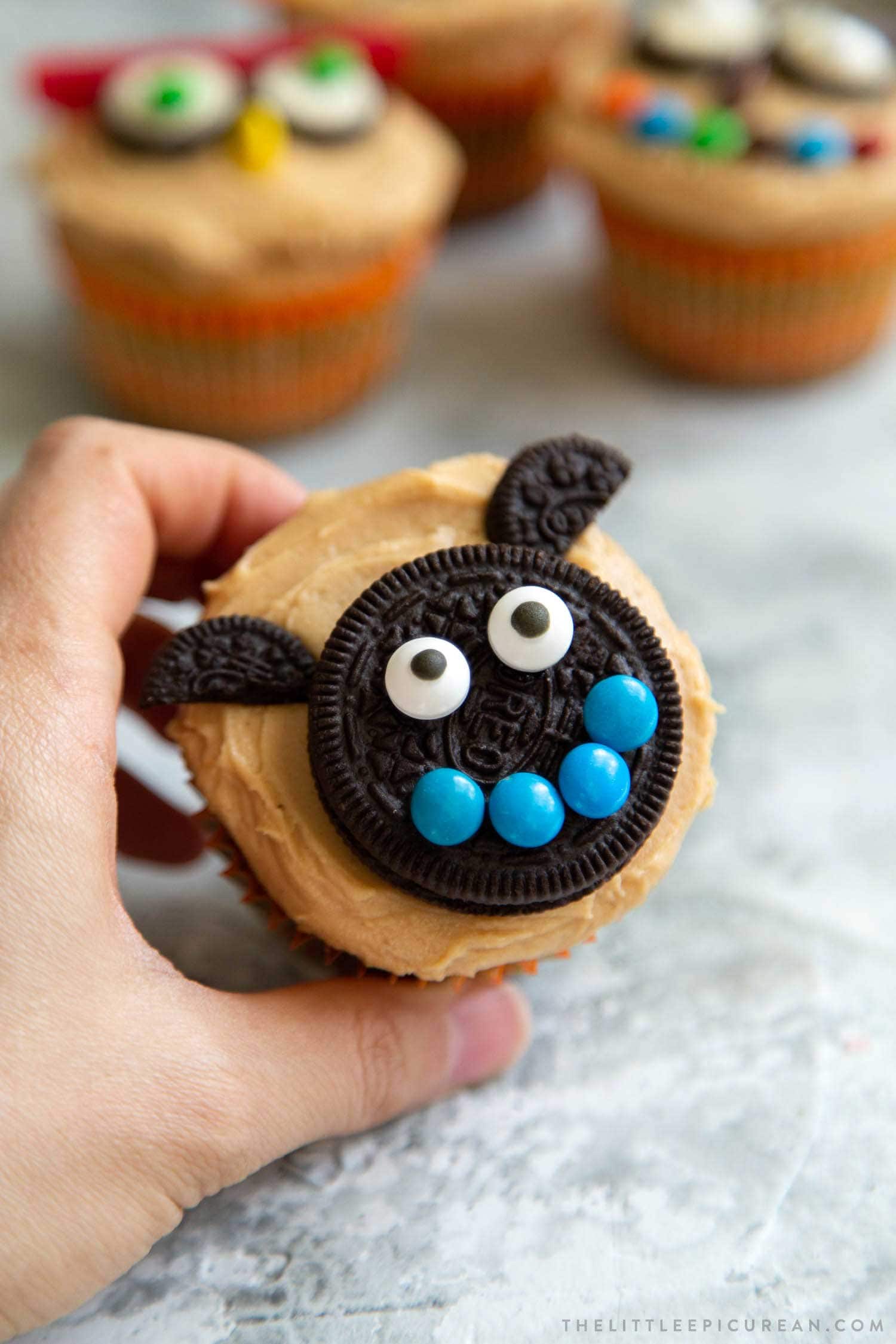 Smiling Bat
The bat's body is made using a standard cookie sandwich. The candy eyes and Mini blue M&M's are attached with black gel icing. The bat's little wings are made from a Mini Oreo cookie cut in half.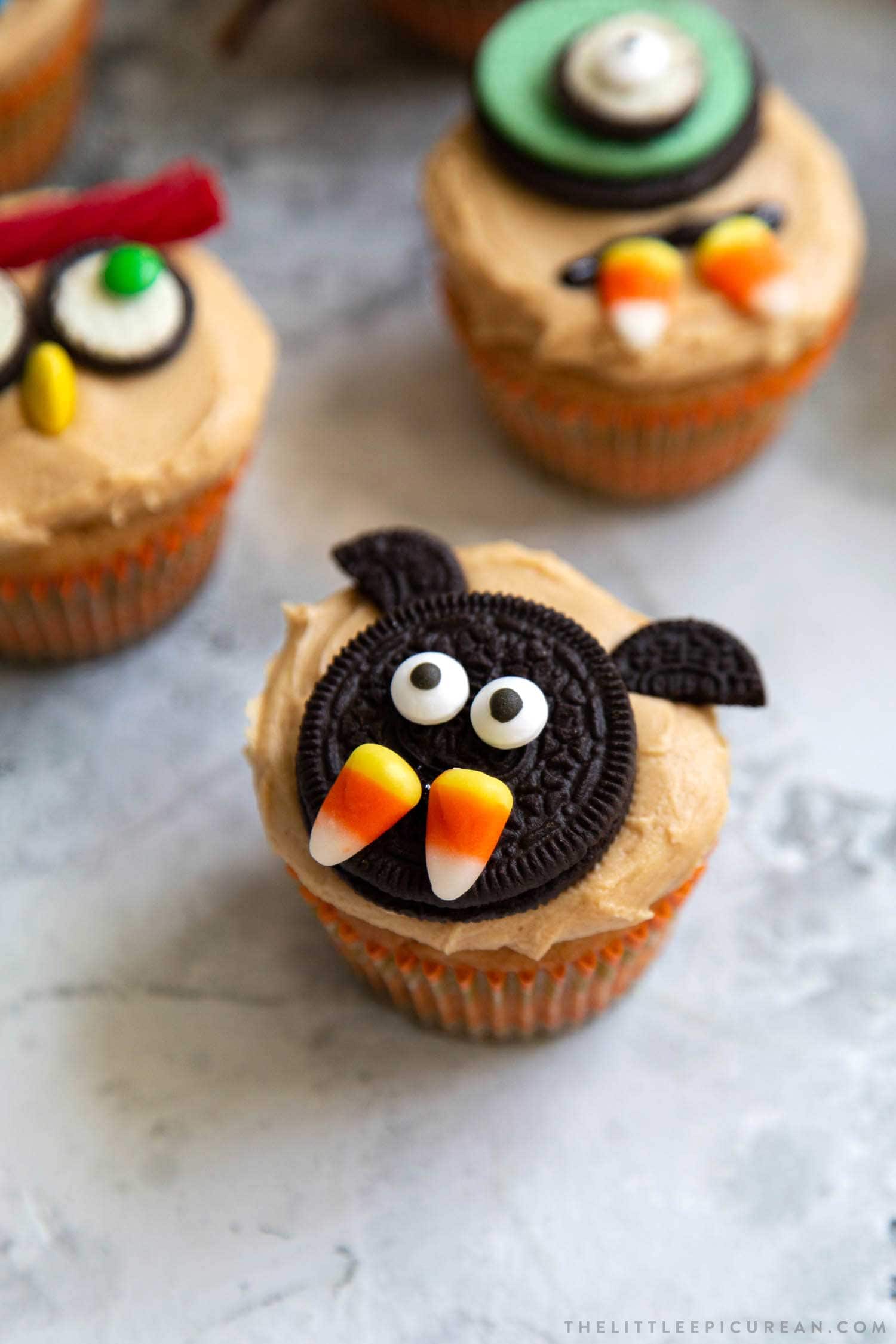 Bat with Candy Corn Fangs
This bat second variation uses candy corn fangs instead of the Mini M&M smile. The fangs are attached using black gel icing.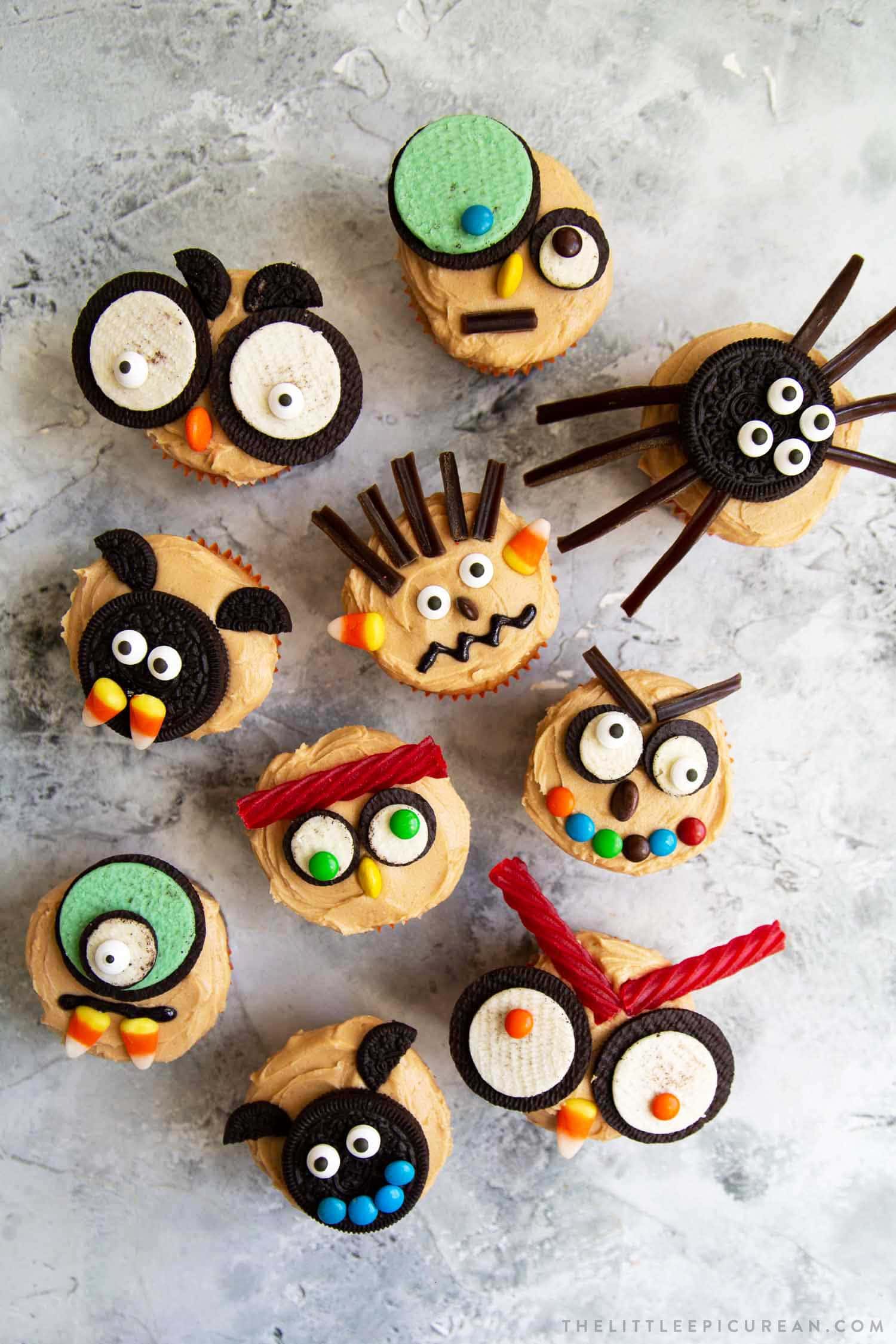 10 Easy Halloween Cupcake Decor Ideas:
(from left to right)
Surprised Big Eyes Owl
Crazy Eyes Monster
Spider
Flying Bat with Candy Corn Fangs
Crazy Scarecrow
One Eyed Monster with Candy Corn Fangs
Confused Owl
Crazy Smiling Scarecrow
Flying Smiling Bat
Angry Big Eyes Owl
I hope this inspires you to make your own Monster Halloween Cupcakes!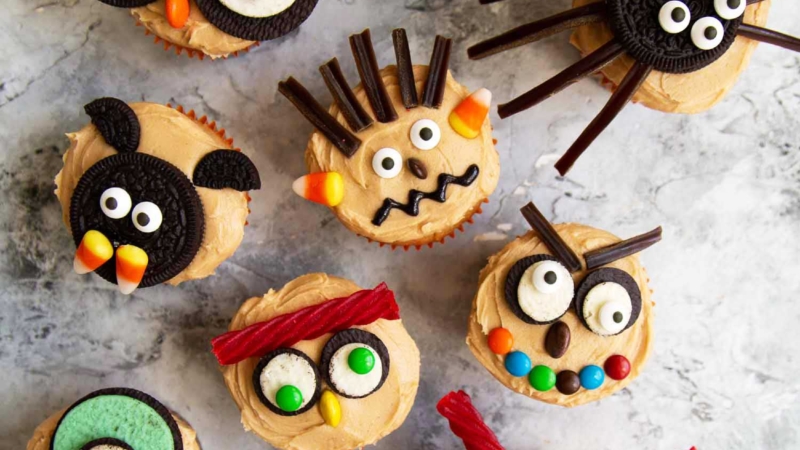 Peanut Butter Cupcakes
Easy to make peanut butter cupcakes topped with smooth and creamy peanut butter buttercream. For the ultimate peanut fan, sprinkle these cupcakes with chopped peanuts!
Ingredients
Peanut Butter Cupcakes:
1 ¼

cup

(165 g) all-purpose flour

1

teaspoon

baking powder

¼

teaspoon

kosher salt

¼

cup

(57 g) unsalted butter,

softened, room temp

¼

cup

(50 g) grape seed oil,

or vegetable oil

½

cup

(130 g) smooth peanut butter

*

⅔

cup

(142 g) light brown sugar,

packed

⅓

cup

(68 g) granulated sugar

1

large egg,

room temp

¼

cup

(57 g) whole milk

½

cup

(120 g) sour cream

1

teaspoon

pure vanilla extract
Peanut Butter Buttercream:
½

cup

(113 g) unsalted butter,

softened, room temp

1

cup

(260 g) smooth peanut butter

*

2 ¼

cup

( 255 g) confectioners sugar

2

Tablespoon

whole milk

1

teaspoon

pure vanilla extract

¼

teaspoon

kosher salt
Instructions
Peanut Butter Cupcakes:
Preheat oven to 350°F. Line muffin tin with cupcake paper liners. Set aside.

In a large bowl, whisk together flour, baking powder, and salt. Set aside.

In the bowl of a stand mixer fitted with a paddle attachment (or using an electric hand mixer), beat together butter, oil, and peanut butter until combined. Add brown sugar and sugar. Beat until smooth. Scrape down sides of bowl as needed. Add egg. Beat until incorporated.

In a small bowl, whisk together milk, sour cream, and vanilla.

Alternate adding dry and wet ingredients. Add 1/3 of flour mixture. Mix on low speed. Add 1/2 of wet ingredients. Mix until combined. Repeat adding dry and wet, finishing with the last 1/3 of flour mixture. Scrape down sides of bowl as needed. Mix until just combined and there are no longer and dry streaks of flour.

Divide batter among 12 cupcakes, filling liners about 2/3 full. Bake for 20-22 minutes, until toothpick inserted in center of cupcake comes out clean. Cool cupcakes in tin for 5 minutes. Remove cupcakes from tin and cool to room temperature on wire racks.
Peanut Butter Buttercream:
In the bowl of a stand mixer fitted with paddle attachment (or using an electric hand mixer), heat butter until smooth. Add peanut butter and beat until well combined.

Add confectioners sugar, milk, vanilla, and salt. Beat until buttercream is smooth. Scrape down sides of bowl to ensure thorough mixing.

*If buttercream is too thick, add additional tablespoon of milk until desired consistency is achieved.
Assembly:
Use a #40 scoop (1½ Tbsp) to portion out buttercream. Add a scoop atop each cooled cupcake. Use a mini offset spatula or the back of a spoon to spread buttercream over cupcake.

Decorate cupcakes as desired.
Notes
This recipe works best with store-bought homogenous (no-stir) smooth peanut butter. Examples: Skippy, Jif, etc. 
Cupcakes can be baked a day in advance. Cool to room temperature and store in an airtight container.
Frosted cupcakes can be stored in an airtight container in the fridge for up to three days. Bring to room temperature before serving. 
Ready for more festive Halloween treats?
Chocolate Marshmallow Spider Web Cake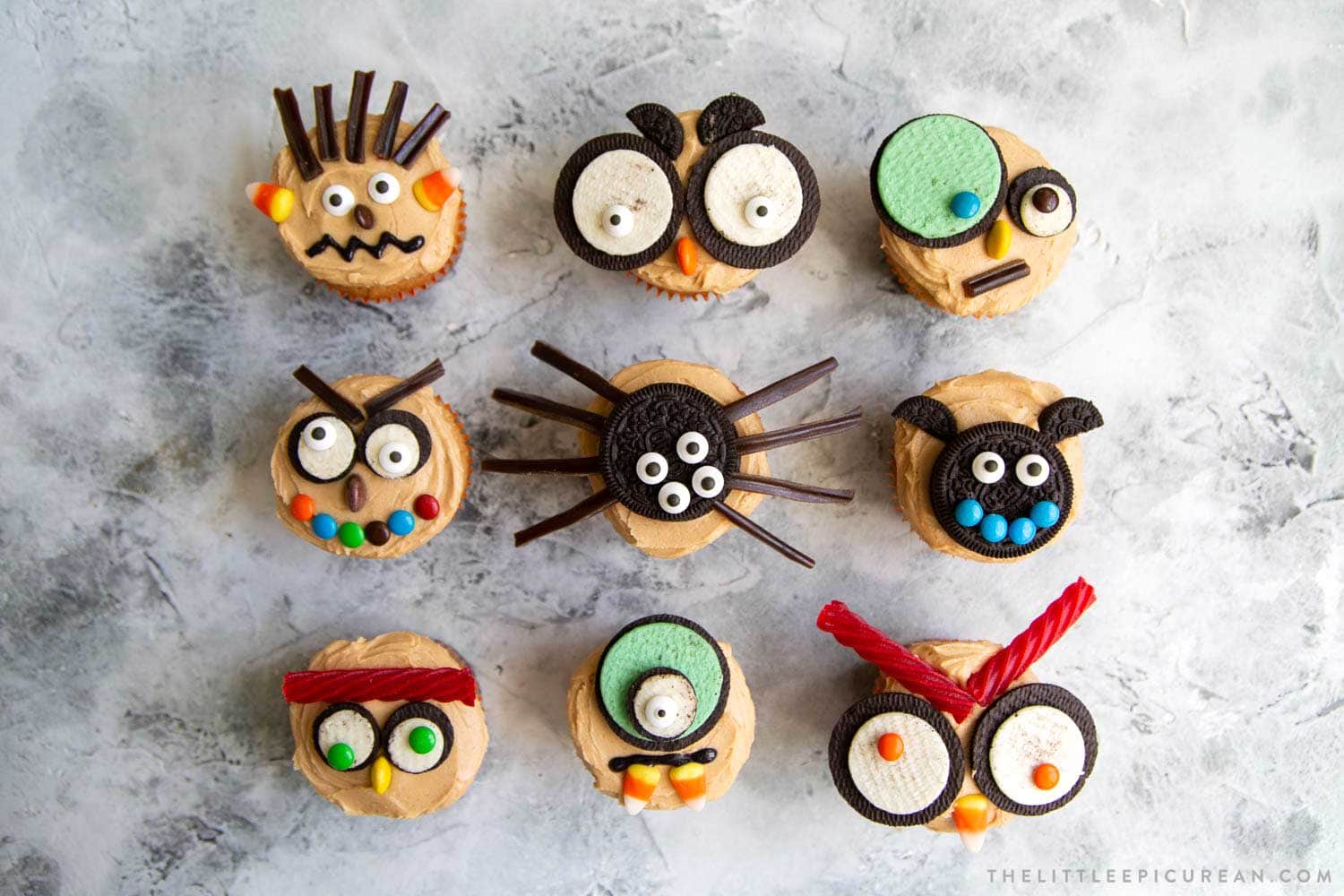 Affiliate Disclosure: The Little Epicurean is a participant in the Amazon Services LLC Associates Program, as affiliate advertising program. This post may contain affiliate links. I may earn a small commission, at no cost to you, if you make a purchase through these links.