Let your creative side run wild with these easy to make Monster Marshmallow Cereal Treats!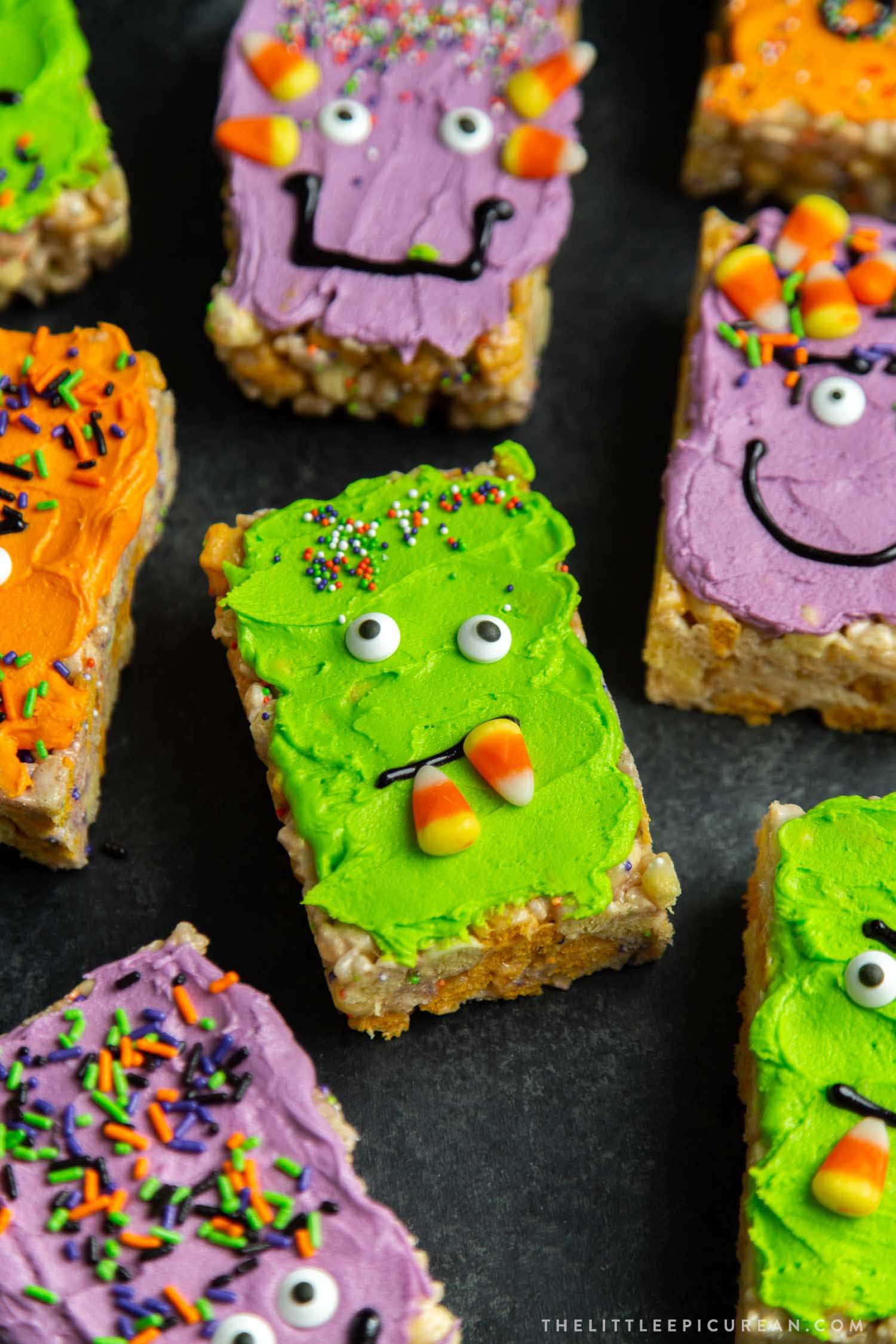 I load Monster Mash into my weekly playlist rotation as soon as I flip the calendar to October.
Something about that song just puts me in the festive Halloween spirit.
I start loading up on candies, buying (unnecessary) Halloween decor, and filling our coffee table with an assortment of mini pumpkins and colorful gourds.
This year, I'm using up the candy early and making these Monster Marshmallow Cereal Treats!
Halloween Marshmallow Cereal Treats
When it comes to desserts, you can't beat the simple classics.
Who doesn't remember snacking on marshmallow cereal treats as a kid?
It's an easy no-bake dessert that anyone can make!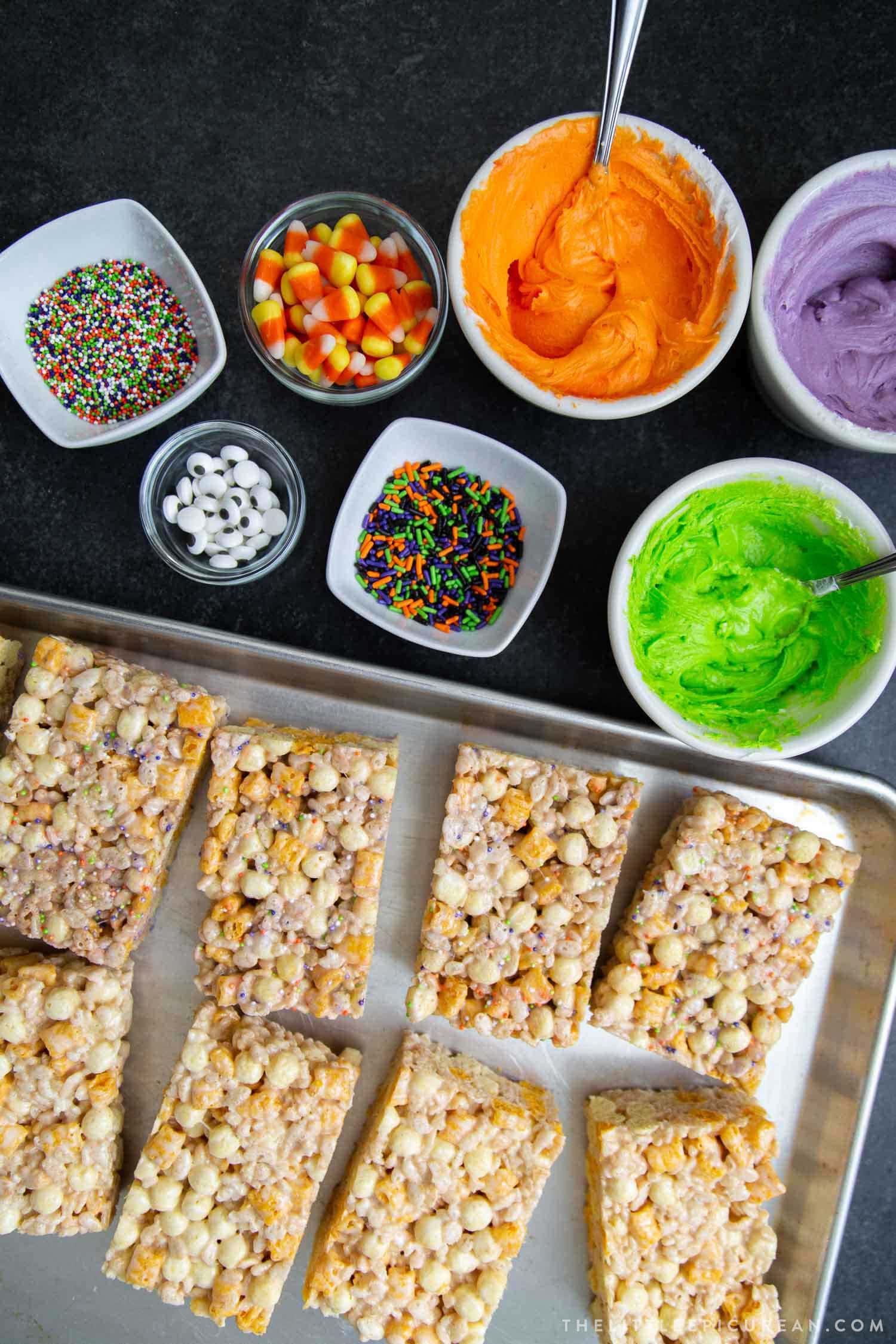 Cereal Choices
Traditionally, these treats are made with crispy rice cereal. But, why limit yourself? Use whatever breakfast cereal you want!
Go for the super sweet stuff like Cinnamon Cinnamon Toast or Fruit Loops. Or, choose Kix or Cherrios for more of a blank canvas.
Since it's Halloween, let's go a little wild. I used a combination of Rice Krispies (toasted rice cereal), Kix, and Cap'n Crunch.
For more color and spunk, you can also fold sprinkles into the cereal mix. The top row of cereal marshmallow treats photographed above include round sprinkles, also called nonpareils.
Assorted Decoration Ideas:
Buttercream Frosting in Various Colors
Mini Candy Corn
Variety of Sprinkles
Eye Candy
Black Icing Gel
Buttercream Frosting
Instead of dipping the cereal treat bars into chocolate, I opted for an easy buttercream frosting.
This frosting is similar to the ones used for soft frosted sugar cookies. It's a simple mixture of butter, milk, and powdered sugar.
I recommend using soft gel paste food coloring. They provide richer, more vibrant colors without adding too much moisture.
To achieve the buttercream colors in this post, I used AmeriColor's electric soft gel paste series. I used the colors: electric green, electric orange, and electric purple.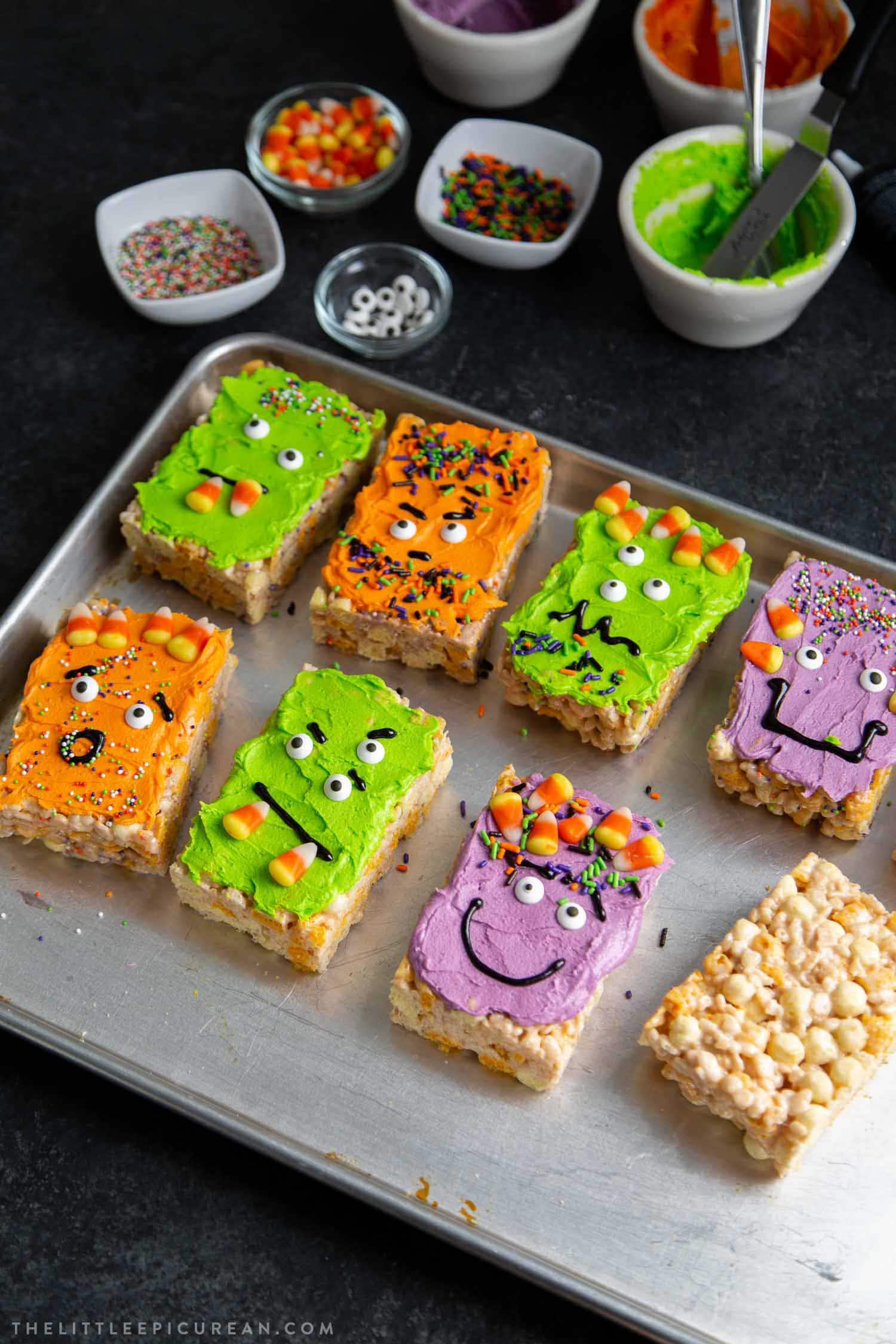 Mini Candy Corn
I prefer to use "mini" candy corn. Their small size makes them for versatile for decorating.
Sprinkles
Sky's the limit when it comes to sprinkles! There are so many options to choose from.
I used jimmies (the traditional rod shaped ones) and nonpareils (tiny round balls).
Feel free to use different colored sanding sugars, coarse sugars, or confetti quins.
Eye Candies
There are many varieties of eye candies available. I used these stand white Candy Eyeballs from Wilton.
In addition, Wilton also sells different assorted set with various sized eyeballs, eyes with lashes, and various eye colors.
Black Icing Gel
I purchased this black sparkle gel from Target. Many supermarkets carry similar gels or frostings in tubes.
It's great for piping out little details like mouths and eye brows. The gel can also work as a glue to adhere candy eyes or candy corn if the frosting dries out.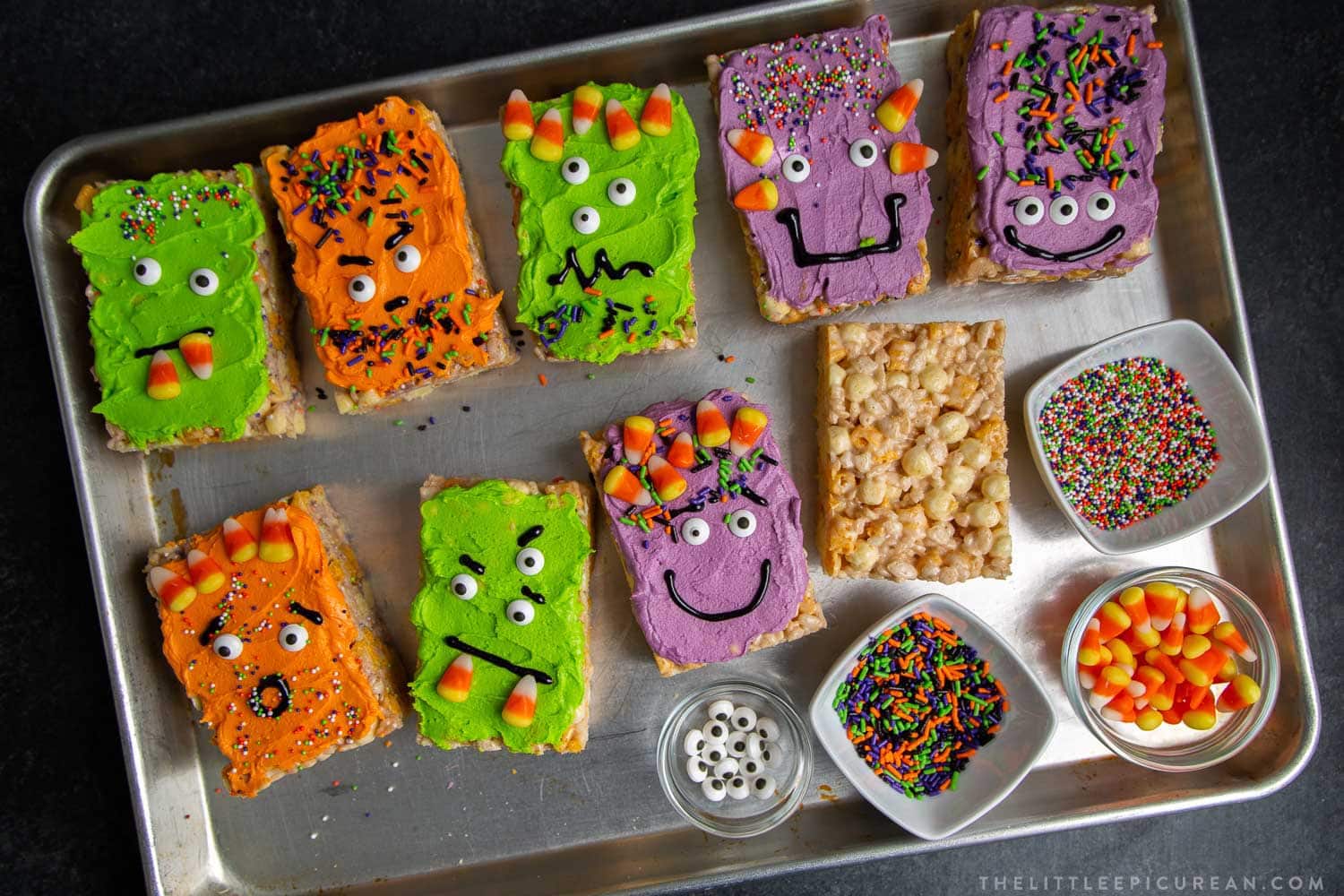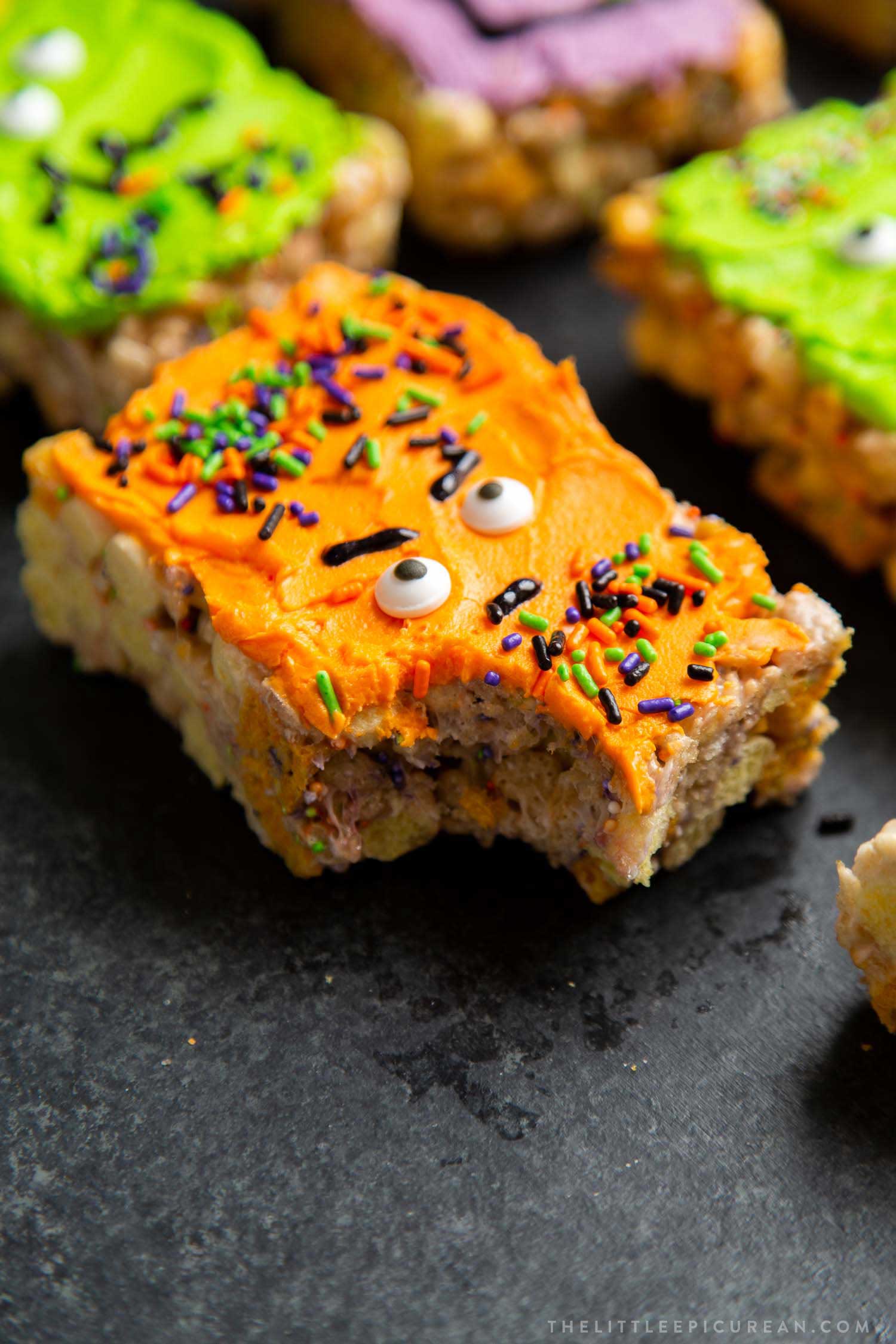 Frosting and Decorating Notes:
The marshmallow cereal treats can be made several days in advance. Store in an airtight container to prevent treats from turning stale.
Cover buttercream frosting with plastic wrap. Allow plastic wrap to directly touch buttercream.
Exposure to air will dry out buttercream frosting. If frosting does start to harden, simply beat until smooth.
Spread buttercream frosting on cereal treat bars just before decorating. When frosting is soft and fresh, the sprinkles and decor will easily stick.
Overtime, the frosting will harden creating a thin outer shell, allowing you to stack decorated treats.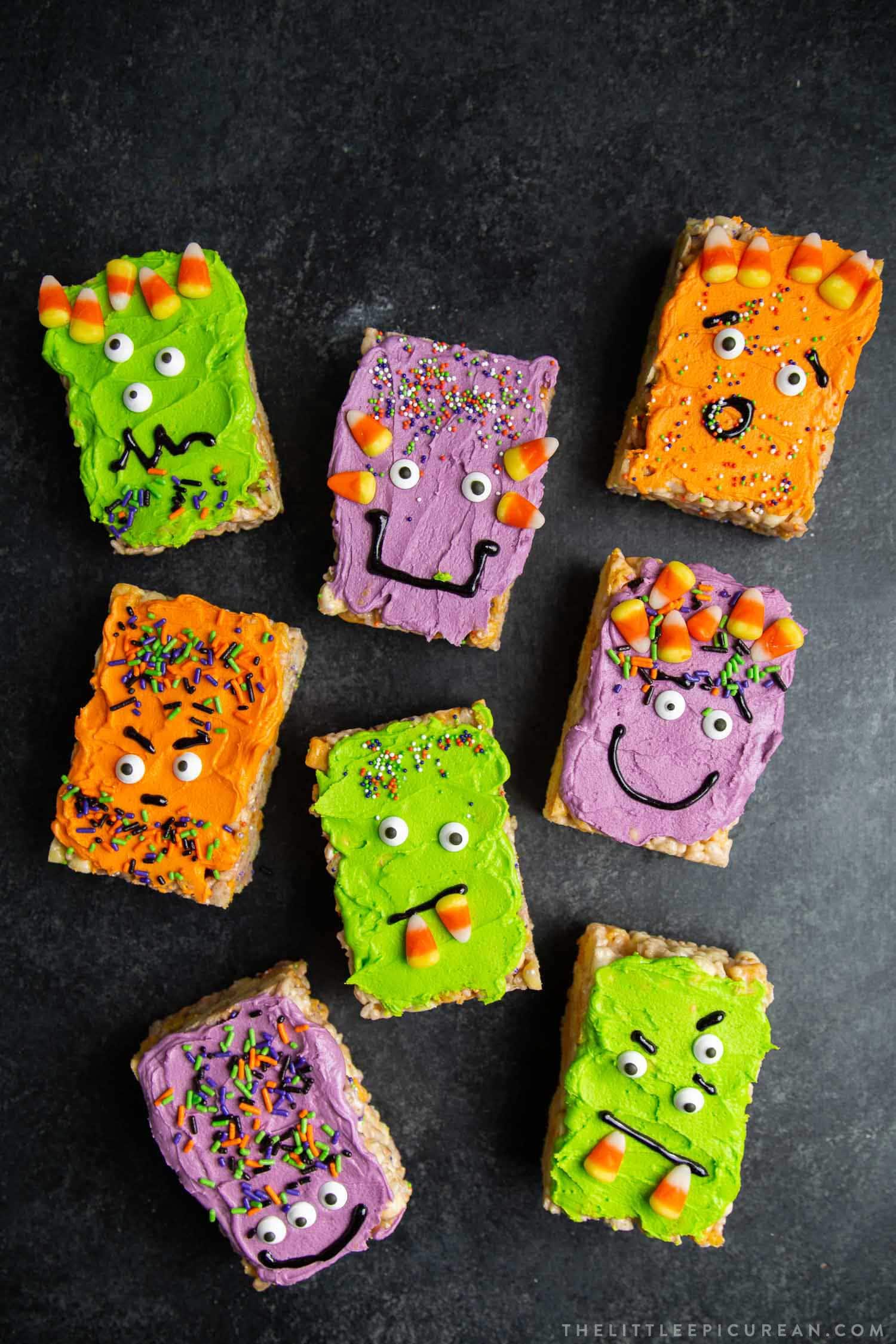 Want more Halloween inspired treats? Here are some favorites: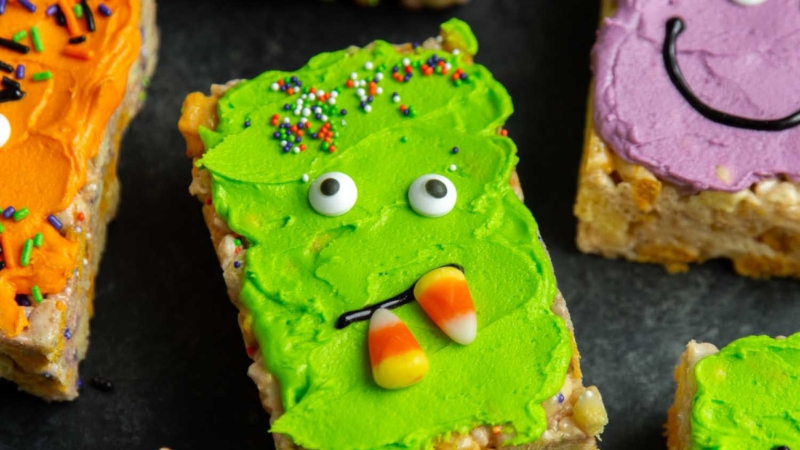 Monster Marshmallow Cereal Treats
Let your creative side run wild with these easy to make Monster Marshmallow Cereal Treats! Yield: 8-inch square pan
Ingredients
6

Tablespoon

(85 g) unsalted butter

10

oz

bag small marshmallows

¼

teaspoon

kosher salt

5

cups

cereal of choice,

or assorted cereals*

3

Tablespoons

festive nonpareils (sprinkles),

optional
Frosting:
½

cup

(113 g ) unsalted butter,

room temp, softened

2

cups

(227 g) powdered sugar

2

Tablespoon

milk,

or heavy cream

1

teaspoon

vanilla

pinch

kosher salt

food coloring,

as desired
Decor:
assorted sprinkles

candy eyes

mini candy corn

black gel icing
Instructions
Line an 8-inch square baking pan with parchment paper, allowing excess paper to hang over the sides. This will help in unmolding the marshmallow treats. Set aside.

In a large sauce pot, melt butter over medium heat. (*IF desired, brown melted butter.) Add marshmallows and salt. Stir to combine until marshmallows are smooth and melted. Remove from heat.

Add in cereal. Gently fold to combine until cereal is completed coated in marshmallow. Add sprinkles, if desired. Stir until well distributed.

Transfer marshmallow cereal mixture to prepared baking pan. Press mixture into an even layer. Allow to cool to room temperature.

Unmold cereal treats from pan. Slice into 6 equal rectangles, or desired serving sizes. Decorate with frosting, sprinkles, and candies as desired.
Frosting:
In the bowl of a stand mixer fitted with paddle attachment (or using an electric hand mixer, beat butter until creamy. With the mixer running on low, gradually add powdered sugar. Add milk, vanilla, and salt. Beat until well combined.

Divide frosting into three bowls. Add gel paste food coloring as desired.
Notes
I used a combination of Rice Krispies (toasted rice cereal), Kix, and Cap'n Crunch cereals. Other cereals to consider: Fruit Loops, Apple Jacks, Cherrios, Trix.
Frosting is enough for two 8-inch square pans. 
Storage:
Frosted marshmallow cereal treats will keep well in an airtight container at room temperature for up to 3 days. 
Affiliate Disclosure: The Little Epicurean is a participant in the Amazon Services LLC Associates Program, as affiliate advertising program. This post may contain affiliate links. I may earn a small commission, at no cost to you, if you make a purchase through these links.