These butter pecan blondies translate the flavors of butter pecan ice cream into a baked treat.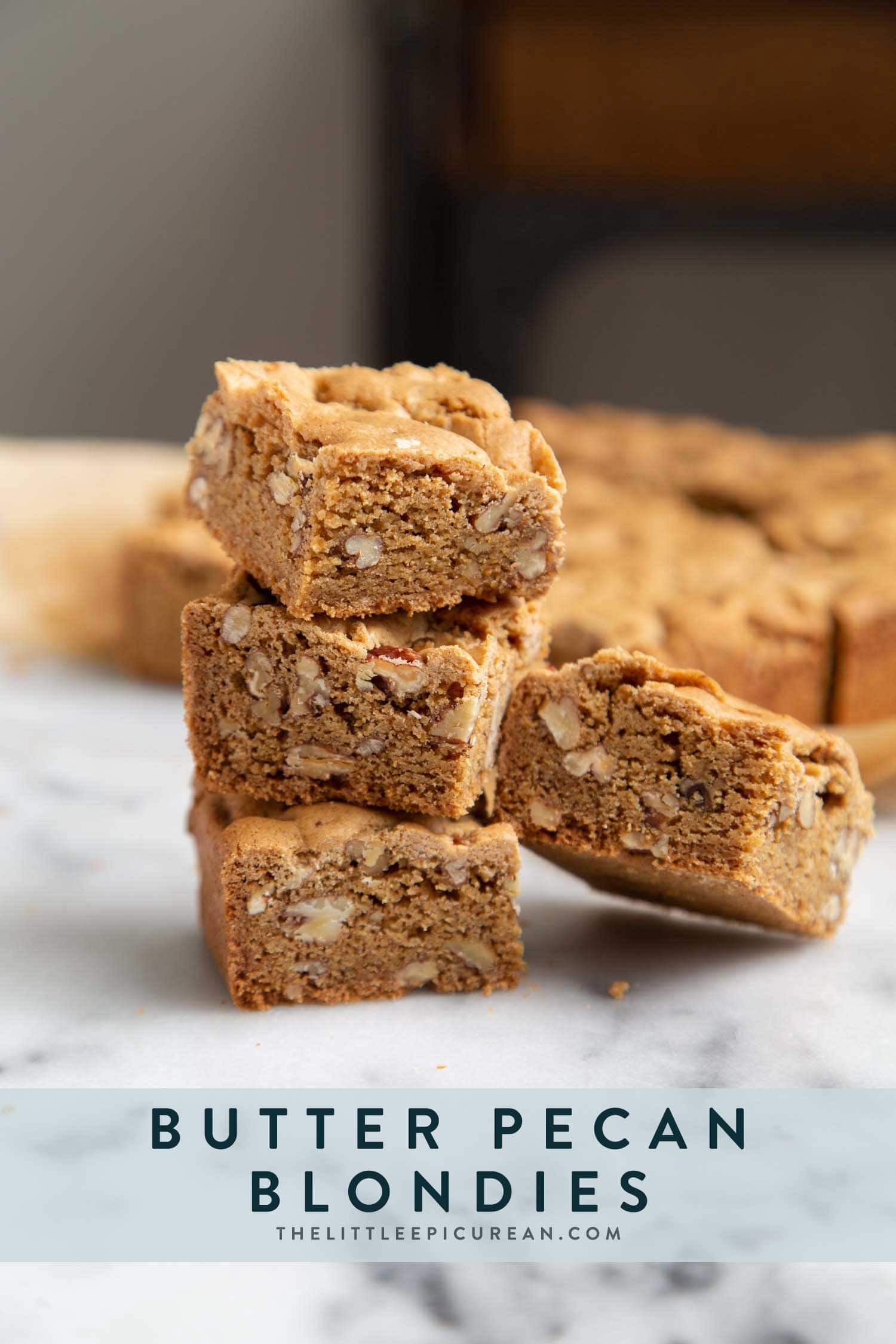 Butter Pecan Blondies
What's not to love about butter pecan ice cream? It's sweet and creamy with bits of rich crunchy pecans. Some versions even have a little drizzle of caramel swirled throughout.
Let's take those iconic flavors and stick it in blondie bars!
These butter pecan blondies are a rich and indulgent treat. They're a great alternative to brownies or for those that refrain from eating chocolate!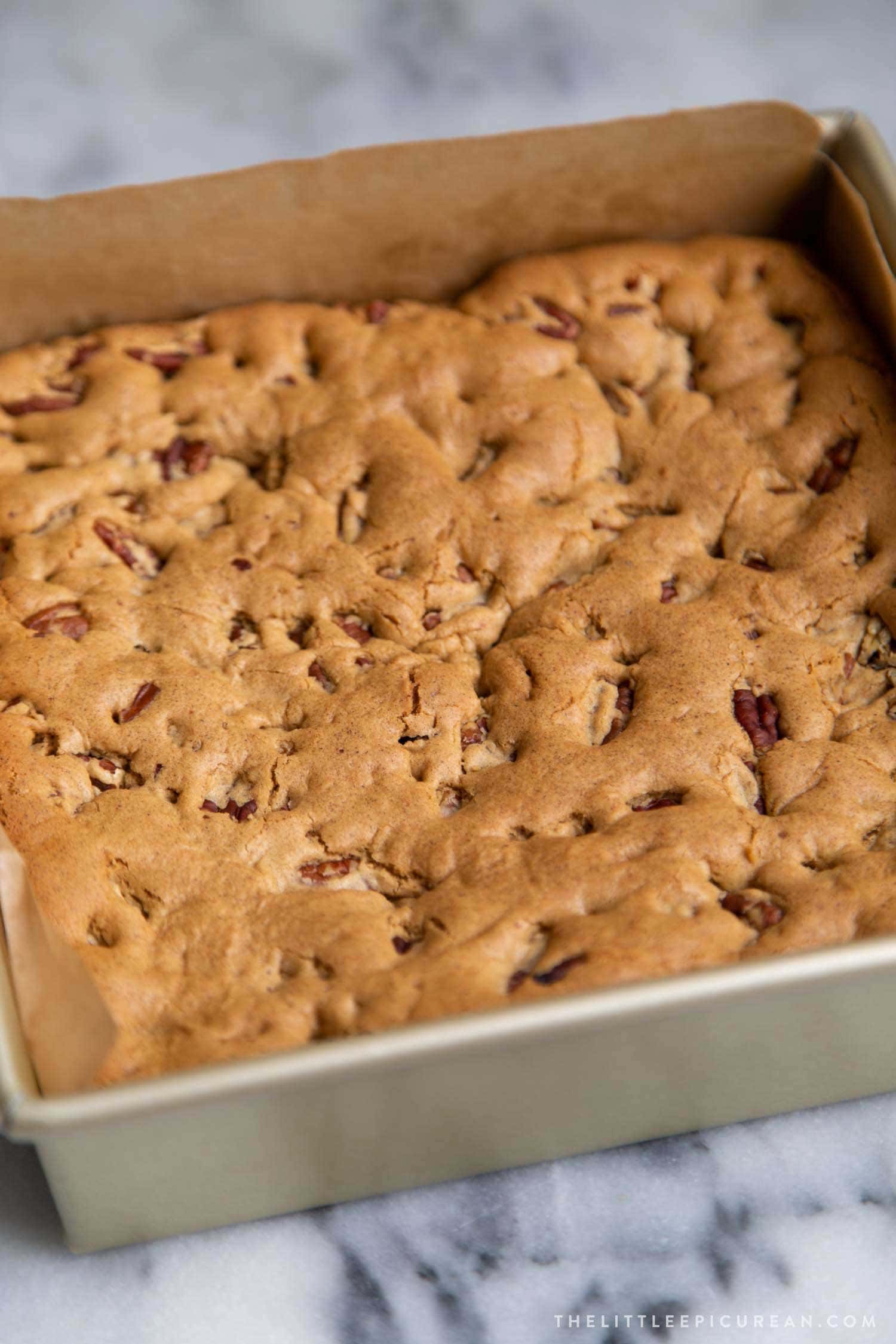 What is brown butter?
Butter is comprised of water, butterfat, and milk solids. To make brown butter, unsalted butter is melted.
As the melted butter is heated, the water evaporates and the milk solids separate from the butterfat (creating clarified butter).
As you continue to heat this mixture, the milk solids "cook" in the fat, thus turning brown. These little golden brown specks are like liquid gold. They create this rich, nutty, deep flavor that heightens and intensifies all baked goods.
Brown butter is the magical ingredient that makes these chocolate chunk cookies amazing, this nutty espresso cake so darn addicting, and this brown butter spaghetti with kale and butternut squash so rich!
Why does this recipe use brown butter?
Brown butter highlights the warm, nutty notes of these blondies. I've tested the recipe using standard unsalted butter. The results did not compare to the rich flavors of the brown butter version.
The brown butter makes the pecans taste nuttier, the brown sugar taste of rich molasses, and it makes the finished blondies smell absolutely insane.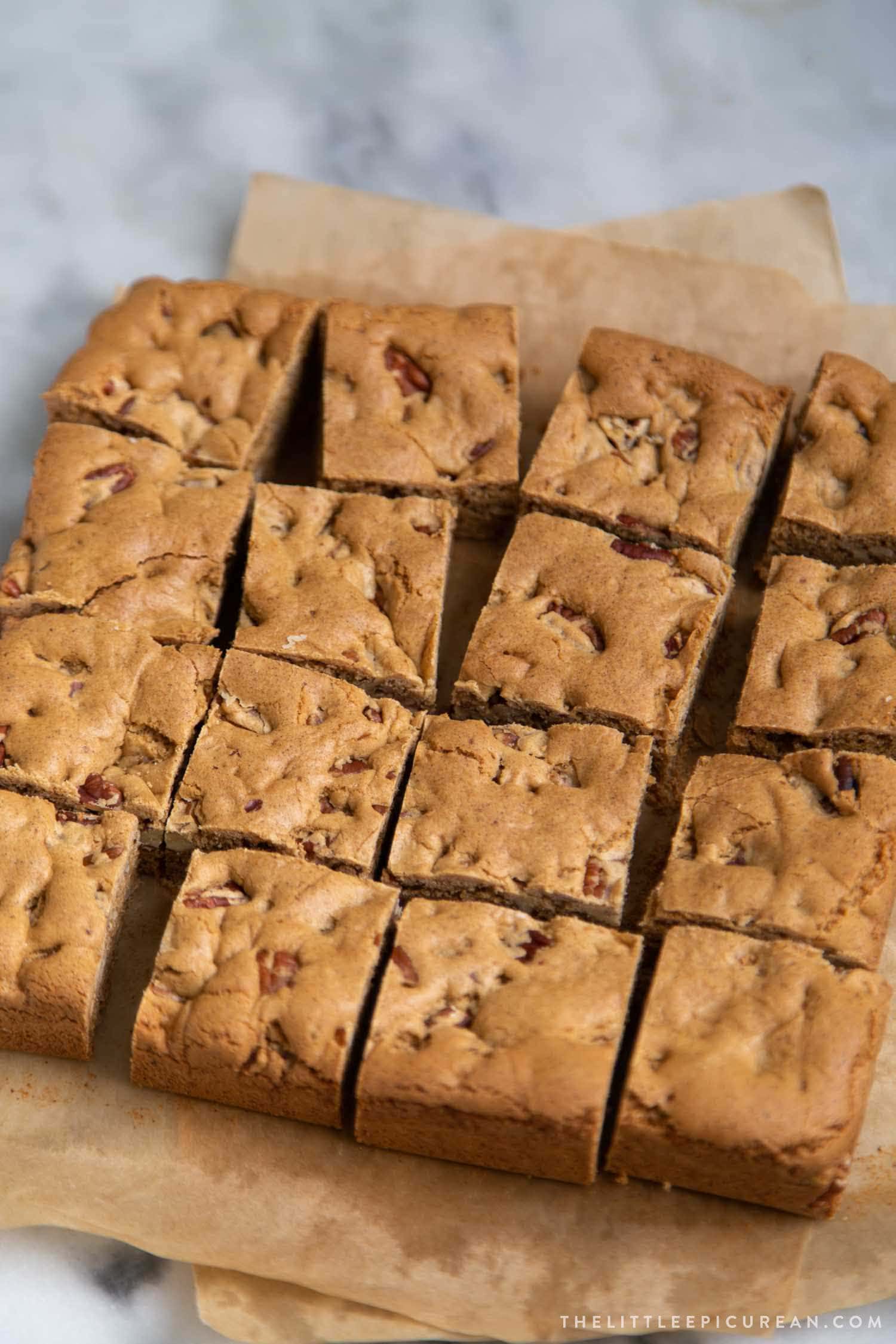 Underbaked vs Overbaked Blondies:
When it comes to cookies, brownies, and blondies it is better to err on the side of just slightly under-baked.
Keep in the mind, once you pull the pan for the oven, the blondies will continue to be heated within the pan while it cools.
There is a VERY FINE LINE between underbaked and overbooked.
Totally underbaked means the blondies haven't even thoroughly cooked. Perhaps it's still a little raw in the center. Don't eat that.
On the other hand, overbaked blondies lead to dense, rock hard pieces.
Let your nose and your touch be your guide.
Can you smell the brown buttery goodness radiating from the oven?
Are the edges of the blondies set and pulling away from the sides of the pan?
If you touch the center of the blondies, is it firm?
To ensure even baking, make sure to rotate your pan midway through baking.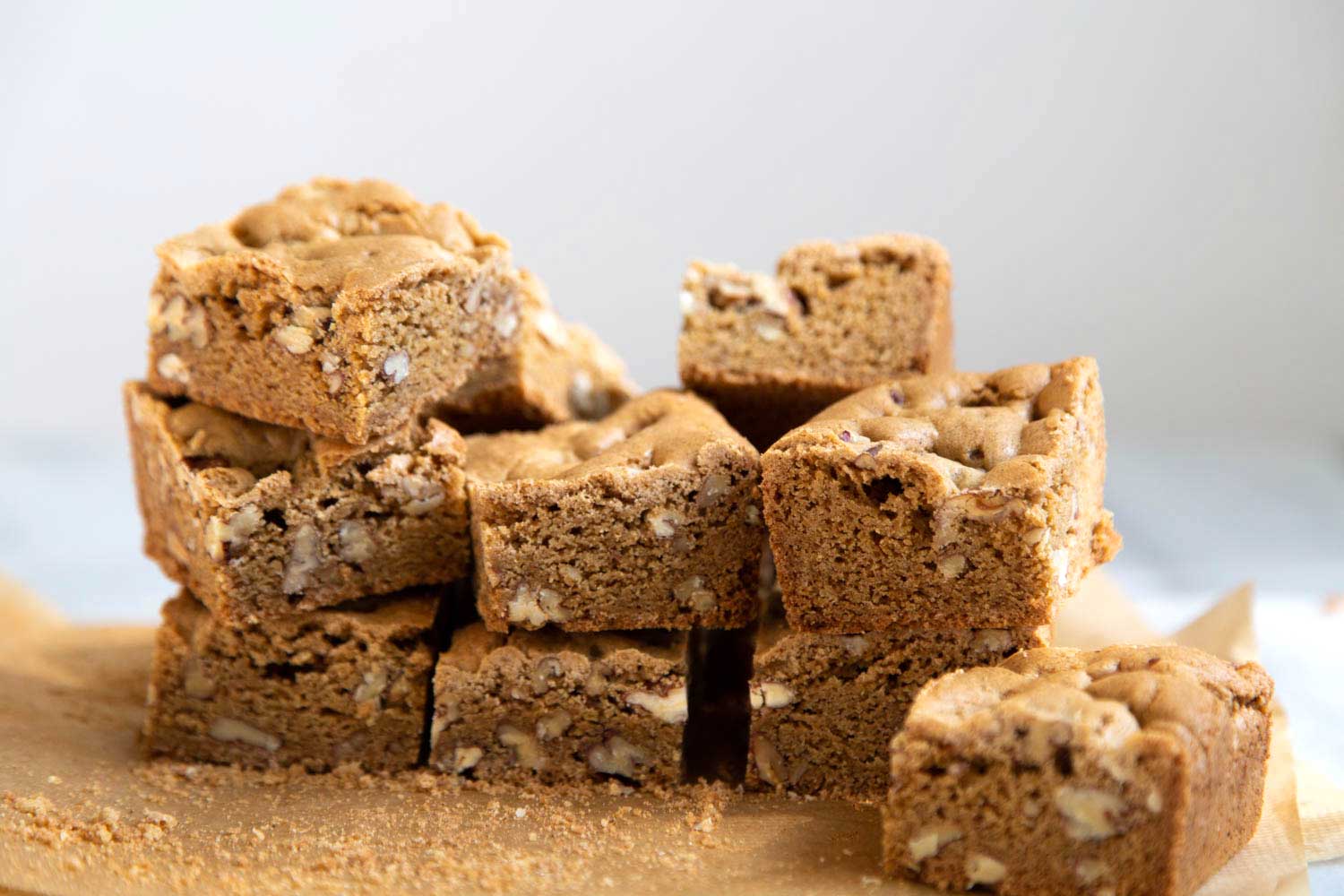 Why toast the pecans before adding to batter?
It may seem like an unnecessary step. But, it's vital!
Why toast nuts before adding to batter before baking?
Toasting nuts (separately from cake batter, muffin batter, cookie batter, etc) brings the nut's oils to the surface. This makes the nut crunchier. The heat also enhances the nut's flavors.
If you use nuts straight from the bag, they're a bit bland. Toss those bland nuts into a batter and you'll still end up with bland nuts after baking.
The nuts will not brown or toast in the batter. As such, they need to be pre-toasted ahead of time. It's worth the effort. I promise!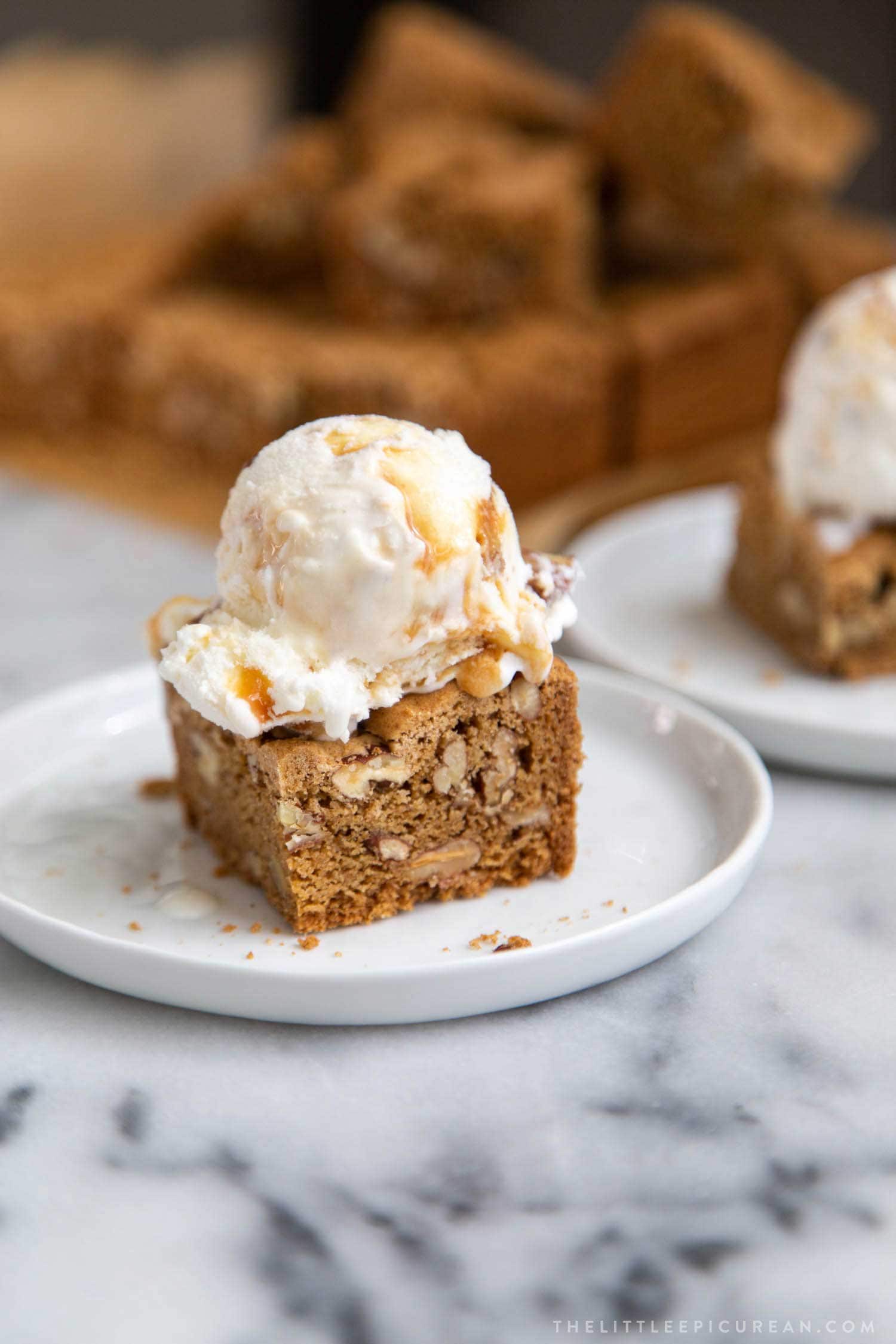 For the ultimate butter pecan fan, served these blondies warm with a scoop of butter pecan ice cream!
The contrasting temperatures and textures is amazing, delicious, and oh so heavenly.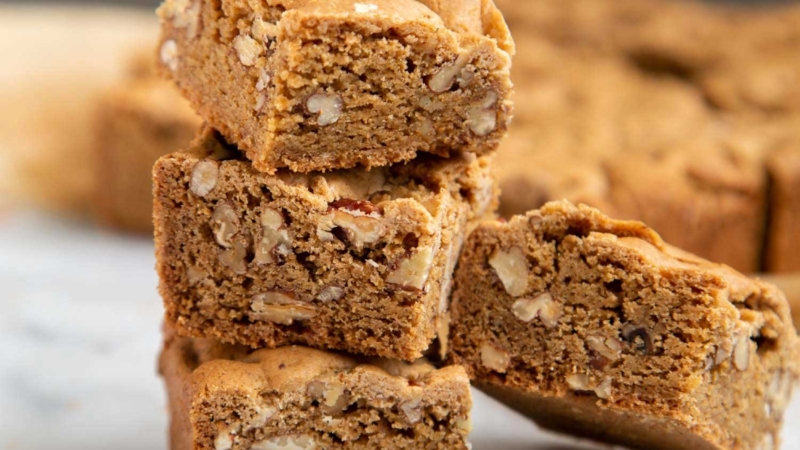 Butter Pecan Blondies
These butter pecan blondies translate the flavors of butter pecan ice cream into a baked treat.Yield: 8-inch square pan
Ingredients
1 ½

cup

pecans

½

cup

(113 g) unsalted butter,

sliced into tablespoons

1

cup

(250 g) dark brown sugar,

packed

½

teaspoon

kosher salt

1

Tablespoon

grapeseed oil,

or vegetable oil

1

large egg,

room temp

1

teaspoon

pure vanilla extract

1 ½

cup

(190 g) all-purpose flour

½

teaspoon

baking soda

½

teaspoon

baking powder
Instructions
Preheat oven to 350° F. Line bakng sheet with parchment paper. Spread pecans in an even layer on baking sheet. Bake for 8-10 minutes until nuts are fragrant and toasted. Once cooled to room temperature, roughly chop nuts. Set aside.

IIn a heavy bottomed sauce pan, melt butter over medium heat. Once the butter has melted, continue to cook. Swirl pan occasionally to ensure even heating. Mixture will bubble and foam as it cooks. The bubbling will be vigorous at the beginning but it will subside. Continue to cook until butter smells nutty. The mild solids in the butter will turn rich brown in color. Remove from heat and pour into a heat-safe bowl. Be sure to scrape out as much of the browned milk solids bits. Let butter cool for 10 minutes.

Line an 8-inch square baking pan with parchment paper, allowing for an overhang on all four sides (this will aid in unmolding after baking). Lightly grease and set aside.

In a large bowl, combine brown sugar, salt, cooled brown butter, and oil. Beat together until sugar is well moistened. Add egg and vanilla. Continue to mix until smooth and creamy.

In another bowl, whisk together flour, baking soda, and baking powder. Add flour mixture to butter mixture and beat to combine. Batter will be rather thick. Fold in cooled chopped pecans until well distributed.

Transfer batter to prepared pan and press down into even layer. Bake for 25-30 minutes until toothpick inserted in center of pan comes out clean. Allow to cool in pan for 15 minutes. Lift out blondies using parchment overhang. Transfer to cooling rack to cool completely.

Alternatively, store blondies in the fridge until chilled. Once cool, slice into desired serving pieces.
Notes
Butter pecan blondies can be stored at room temperature in an airtight container for up to three days. For longer storage, keep in an airtight container in the fridge for up to a week. Warm to room temperature before eating.