Chocolate pumpkin cake is perfect for any Halloween celebration! Two layers of chocolate pumpkin cake frosted with pumpkin spice buttercream and finished with a rich chocolate glaze.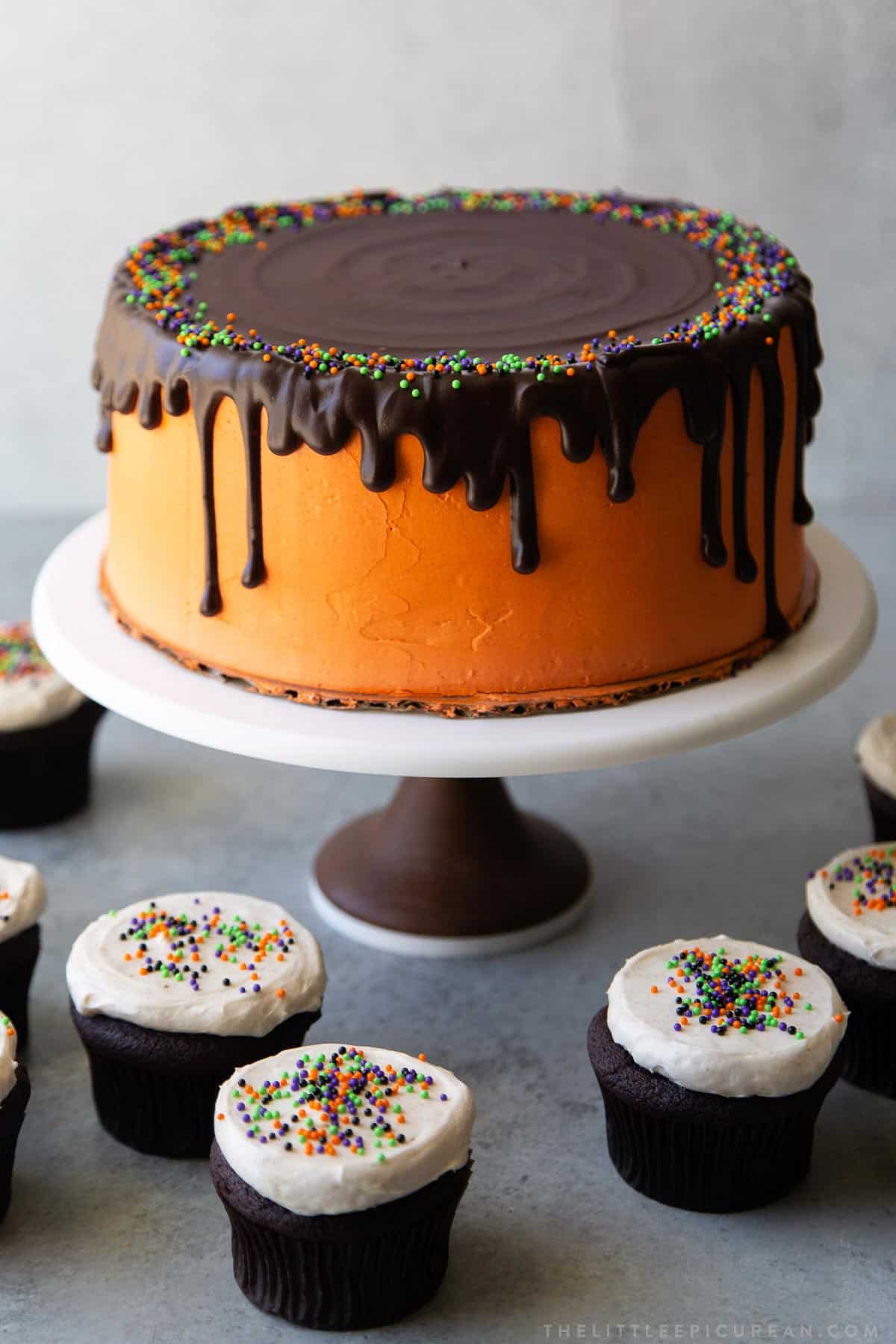 Chocolate Pumpkin Cake with Chocolate Drip
It's time. We waited all year for all the festive holiday desserts to make their grand appearance!
Kick off the autumn season and bring on the Halloween spirit with this easy to make chocolate pumpkin cake.
This isn't your typical pumpkin cake. It is much better because it's loaded with chocolate!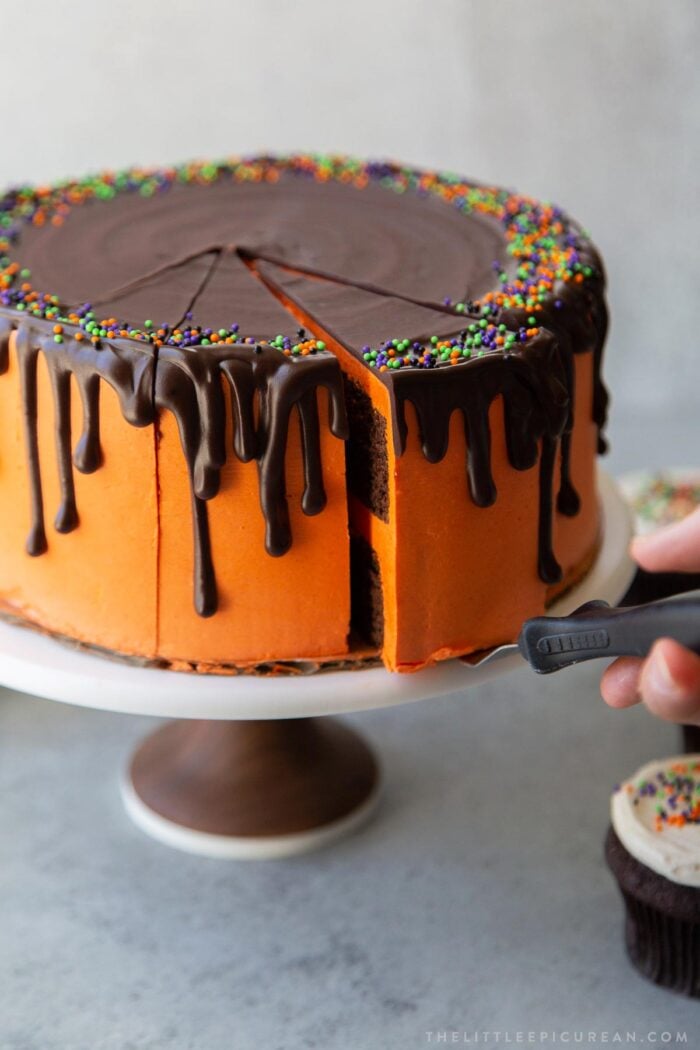 It's a chocolate cake batter with the addition of pumpkin puree. The puree makes the cake very moist, similar to the effects of adding applesauce to baked good. Puree is an excellent way to achieve moisture with adding more fats such as oil or butter.
At first, the pumpkin flavor is quite subtle. It's a pumpkin cake for those that aren't the biggest fans of pumpkin.
Fans of pumpkin spice lattes will love the buttercream frosting. It's flavored with warm pumpkin spices and a touch of vanilla.
Tools and Equipment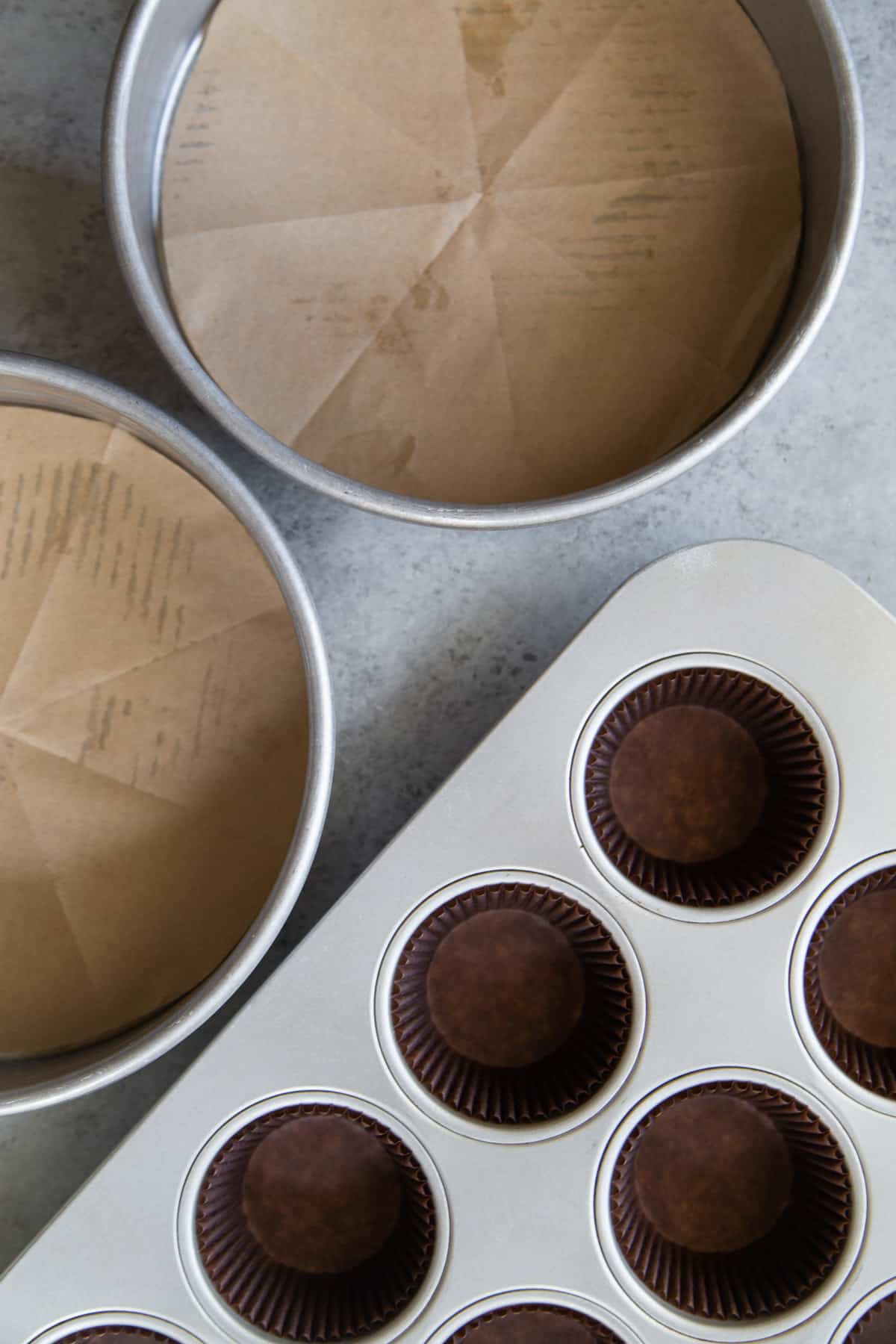 This recipe makes a two layer 8-inch round cake AND a dozen standard cupcakes. It's perfect for parties and gatherings!
Two 8-inch round cake pans
Standard 12 cavity muffin tin
Stand mixer or electric hand mixer
Mini offset spatula
Rotating cake turntable
Kitchen thermometer
Ingredients and Substitutions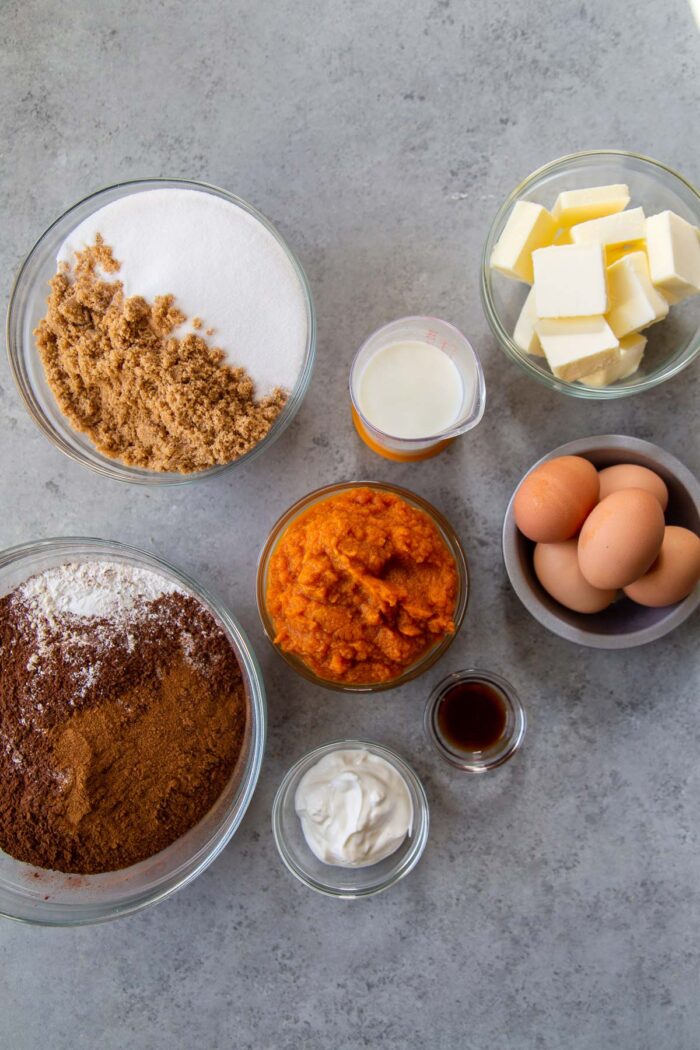 The following ingredients have the most frequently asked questions covered.
Unsweetened Cocoa Powder: There are several choices of cocoa powder to choose from- natural cocoa, Dutch-processed, or black cocoa. For this recipe, I suggest using natural cocoa powder.
Instant Espresso Powder: This optional ingredient helps to intensify the chocolate flavor of the cake. Omit, if you don't have it, or want the pumpkin flavors to be more present.
Buttermilk: Use low-fat buttermilk. It's a sweet and tangy milk that has a similar texture to heavy cream. If you don't have buttermilk, use 1/2 cup milk mixed with 1/2 tablespoon of vinegar or lemon juice.
Canned Pumpkin Puree: Recipe works best with canned pure pumpkin puree. Read the label! Don't get pumpkin pie puree. I don't recommend homemade pumpkin puree because it tends to have more liquid.
Pumpkin Spice Mix: Also labeled as "pumpkin pie spice mix," is a combination of cinnamon, cloves, nutmeg, and allspice. Use a store-bought mix or whip together your own.
Orange Food Gel Coloring: Highly recommend using food gel paste color. Refrain from using standard liquid food color. It adds too much moisture which could cause the buttercream to separate.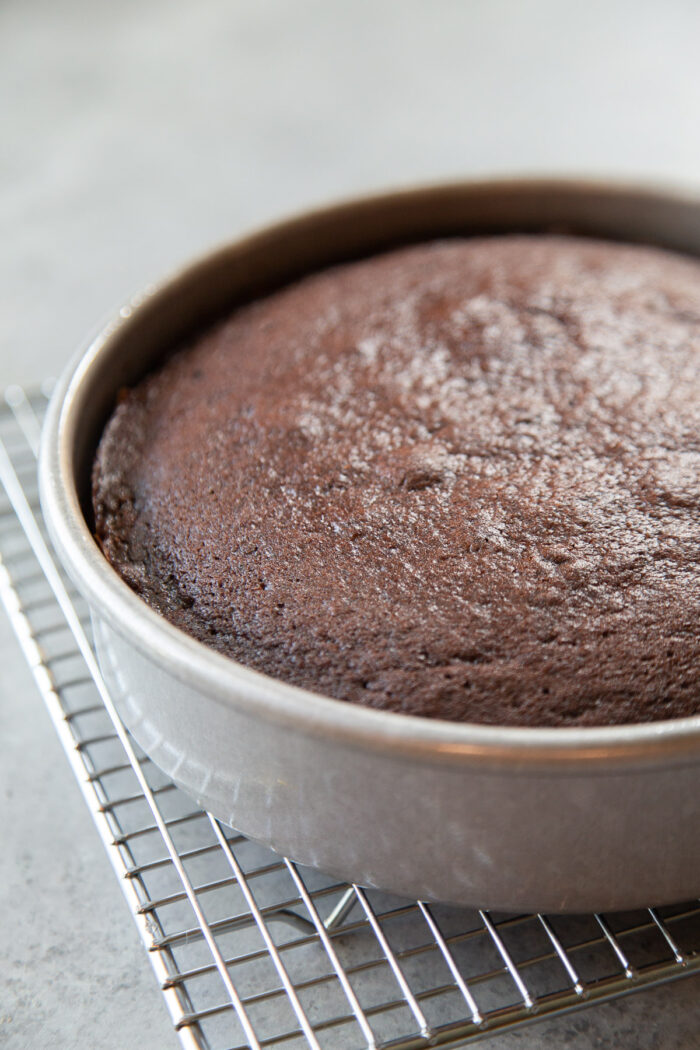 Swiss Buttercream
Silky smooth Swiss buttercream is used to frost and sweetened the chocolate pumpkin cake. Swiss buttercream does require a bit more effort than the standard American buttercream.
However, Swiss buttercream is much lighter in texture and far less sweet than American buttercream.
Swiss buttercream is a stable buttercream made by mixing softened butter into Swiss meringue.
This version is flavored with a mixture of pumpkin pie spice mix and vanilla extract. Use store-bought spice mix or whip together your own.
Baking Tip
DIY Pumpkin Spice Mix
Assemble Pumpkin Layer Cake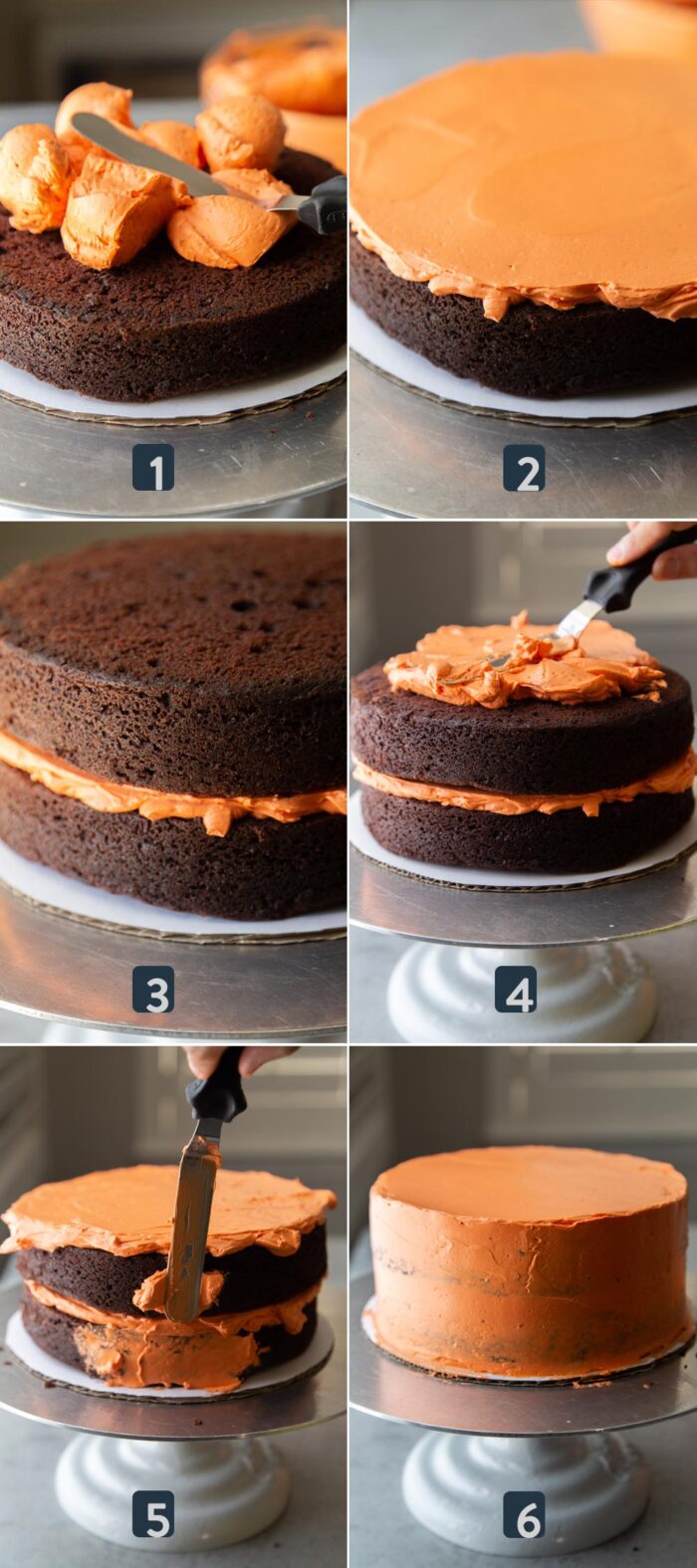 Level cake rounds. Place one cake layer on cake cardboard round. Add buttercream.
Use a mini offset spatula to spread buttercream into an even layer.
Add second cake layer. Press firmly down to ensure cake attaches to buttercream layer below.
Spread thin layer of buttercream over top of second cake layer.
Spread a thin layer of buttercream to crumb coat the assembled two layer cake.
Place in the fridge for about 15-30 minutes to allow buttercream to harden.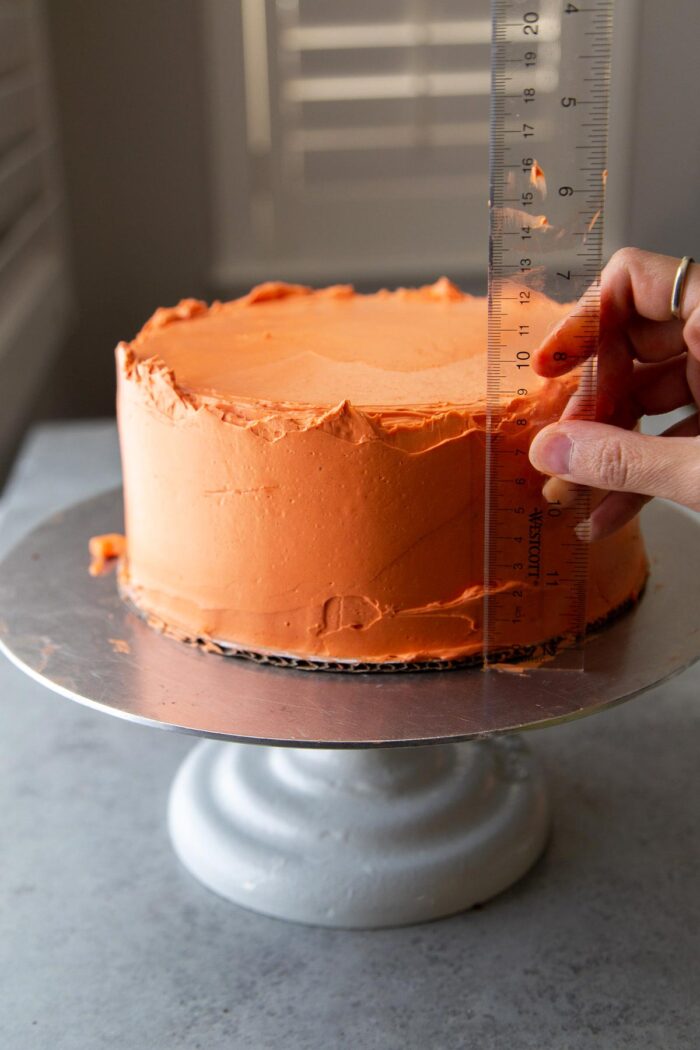 Tips for Coloring Frosting
Coloring buttercream frosting can be a little tricky. For the best results, use food gel coloring.
Gel food color or gel paste food color is more concentrated in color than liquid food coloring. The gel color will not affect the texture or consistency of the frosting.
Unlike, standard liquid food coloring which could add too much moisture causing the buttercream to separate.
I used this orange color by the brand AmeriColor.
For all natural food coloring, try freeze dried pumpkin or freeze dried sweet potato. Simply process the freeze dried pumpkin to a fine powder. Mix with the frosting until thoroughly incorporated.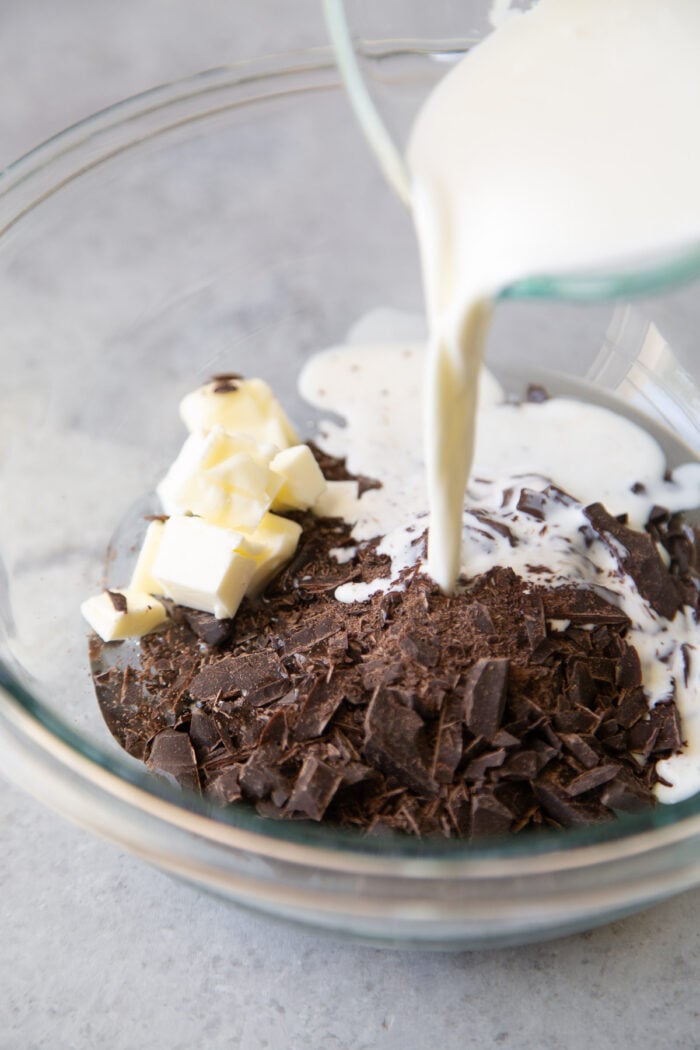 Ganache Chocolate Drip
Ganache is a mixture of scalded heavy cream combined with chopped chocolate. There are many variations of ganache ranging in different consistencies. Ingredient proportions determines the ganache consistency.
This cake uses a loose ganache that is perfect for creating "chocolate drips."
Add chopped dark chocolate, unsalted butter, and light corn syrup in a heat safe bowl. Pour just boiled heavy cream over the chocolate. Let the mixture sit. Then, use a spatula to gently stir mixture until smooth.
Allow mixture to sit cool for 5-10 minutes to thicken. Then, pour or spoon over the assembled chilled cake.
Use any kind of dark chocolate or semi-sweet chocolate. Light corn syrup adds shine and ensure the chocolate doesn't harden.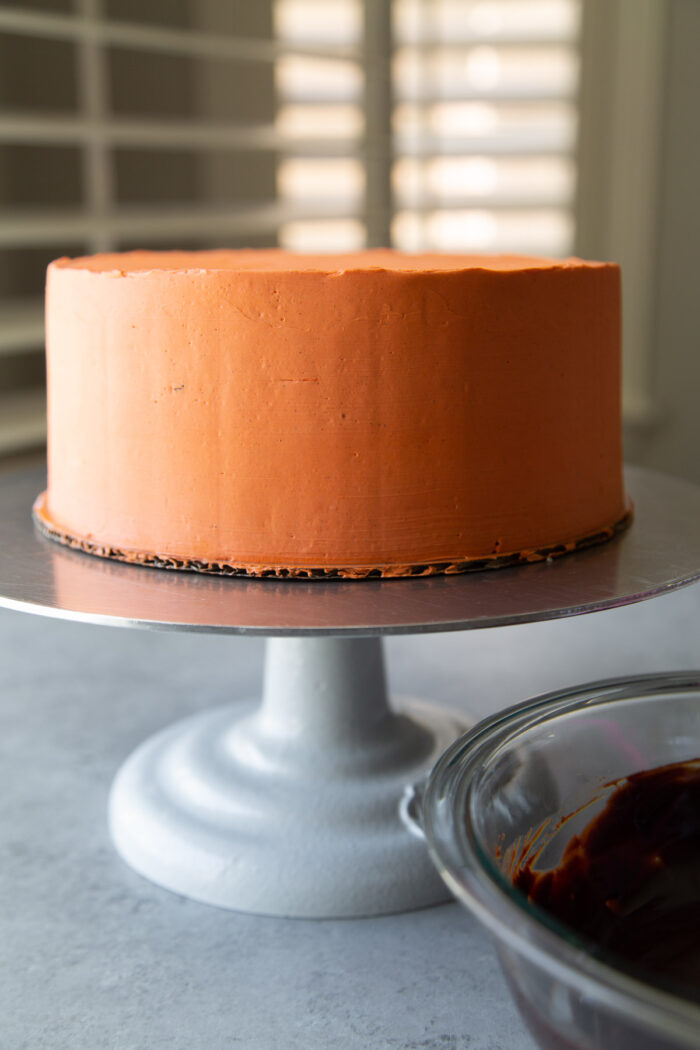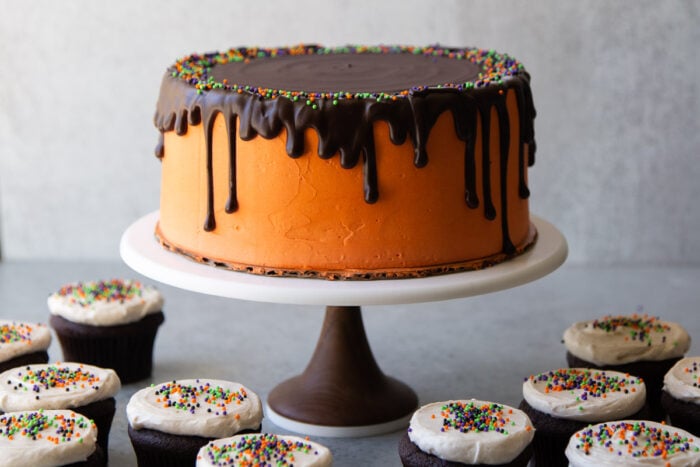 More Autumn Inspired Cake Recipes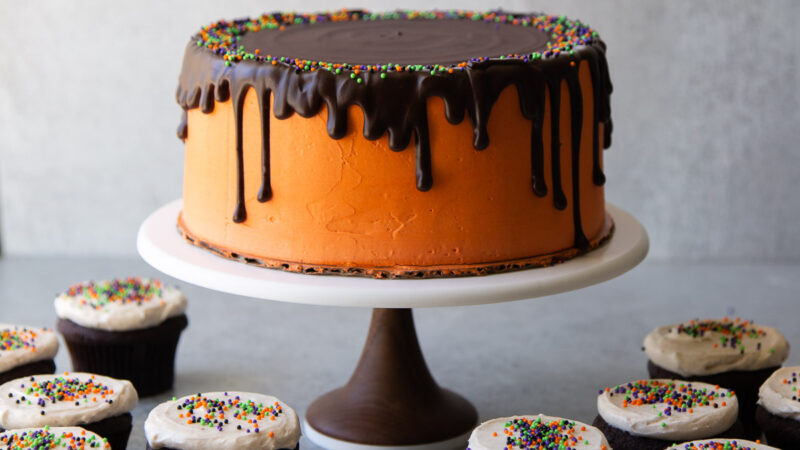 Chocolate Pumpkin Cake
Chocolate pumpkin cake is perfect for any Halloween celebration! Two layers of chocolate pumpkin cake frosted with pumpkin spice buttercream and finished with a rich chocolate glaze. Yield: makes two 8-inch cake layers and 12 cupcakes
Ingredients
Cake:
2 ½

cups

all-purpose flour

(325 g)

1

cup

unsweetened cocoa powder

(80 g)

1

Tablespoon

baking powder

1 ½

teaspoons

baking soda

¼

teaspoon

fine sea salt

2

teaspoons

ground cinnamon

½

teaspoon

instant espresso powder optional

½

cup

buttermilk

¼

cup

sour cream

(58 g)

1-15

oz

can pumpkin puree

2

teaspoons

vanilla paste or pure vanilla extract

1

cup

+ 2 Tablespoons unsalted butter

(254 g), softened, room temp

1 ½

cup

light brown sugar

(300 g), packed

1 ½

cup

granulated sugar

(300 g)

5

large eggs,

room temp
Pumpkin Spice Frosting:
6

large egg whites

1 ½

cup

granulated sugar

(300 g)

2

cups

unsalted butter

(454 g)

¼

teaspoon

fine sea salt

1/2

teaspoon

pumpkin pie spice mix

1

teaspoon

vanilla paste

5 drops of orange gel paste coloring
Chocolate Glaze:
4

oz

dark chocolate, chopped

1

Tablespoon

unsalted butter

3

Tablespoons

light corn syrup

1/2

cup

heavy cream
Instructions
Cake:
Preheat oven to 350 degrees F. Line two 8-inch cake pans with parchment paper and grease lightly. Line 12 muffins tins.

Sift together dry ingredients: flour, cocoa powder, baking powder, baking soda, salt, cinnamon and espresso powder. Set aside.

In a medium bowl, whisk together buttermilk, sour cream, pumpkin puree and vanilla. Set aside.


Using a stand mixer, cream together butter and sugars with a paddle attachment. Add eggs one at a time, making sure to scrape down bowl between eggs.


In three additions, alternate adding dry mixture and wet mixture to butter. Scrape down bowl occasionally to make sure all ingredients are fully incorporated.


Fill muffins tins 2/3 full with batter. Divide remaining batter between the 2-8in round pans. Bake cupcakes for 20-25 minutes, or until toothpick inserted in the center comes out clean. Bake cake rounds for 30-35 minutes, or until toothpick inserted in the center comes out clean. Let cake rest for a couple minutes in pan before unmolding and allowing to cool completely.
Frosting:
In the bowl of a stand mixer, whisk together egg whites and sugar. Place bowl over a pot of simmering water to create a double boiler. Make sure water does not touch the bottom of the bowl. Whisk sugar egg mixture until it reaches a temperature of 160° F. 

*Alternatively, if you don't have a thermometer, heat until all the sugar has melted. You can test this by dipping your pointer finger into the warm mixture and rubbing it against your thumb. The mixture should be smooth. You should not be able to feel the granules of sugar.

Return bowl to the stand mixer. With a whisk attachment, beat mixture at medium speed until it cools to room temperature. Reduce speed to low and add butter one tablespoon at a time. Once all the butter has been incorporated, add salt, spice mix, and vanilla. Increase speed to medium-high and continue to beat until buttercream is light and fluffy.
Glaze:
Place chocolate, butter, and corn syrup in a medium bowl.

Bring heavy cream to a boil and pour over chocolate. Let sit for 1 minute. Using a rubber spatula, gently stir until smooth. Stir in small circles in the same spot and gradually increase size of circle. Let glaze sit for 5 minutes until it slightly thickens.

Pour glaze over the chilled frosted cake and allow glaze drop over the sides. Let chill in the fridge for 15-30 minutes to set up before serving.