This Espresso Chocolate Cake has four layers of dark chocolate cake frosted with espresso buttercream and topped with melted chocolate.
When things go awry, I bake a cake and I usually feel better. But this time, I couldn't. I desperately wanted to make this espresso chocolate cake. I couldn't bake anything because my oven was the problem.
It's been a while since I last shared a cake recipe. I had major issues with my oven these last few weeks. I knew something was wonky when the oven couldn't regulate its temperature.
I'd set it to 350 and it wouldn't stop heating until way past 500 degrees F. (Note: you should have an oven thermometer so you can monitor the temperature.) That went on a week or so.
And then, catastrophe finally ensued. The oven refused to turn off and the entire kitchen reeked of gas. We had to shut off the gas and I couldn't use the oven for weeks while we waited for replacement parts to be shipped.
Luckily, everything has been solved and my oven is back to normal (for now). We can sit back, relax, and enjoy the long weekend with a few slices of this espresso chocolate cake.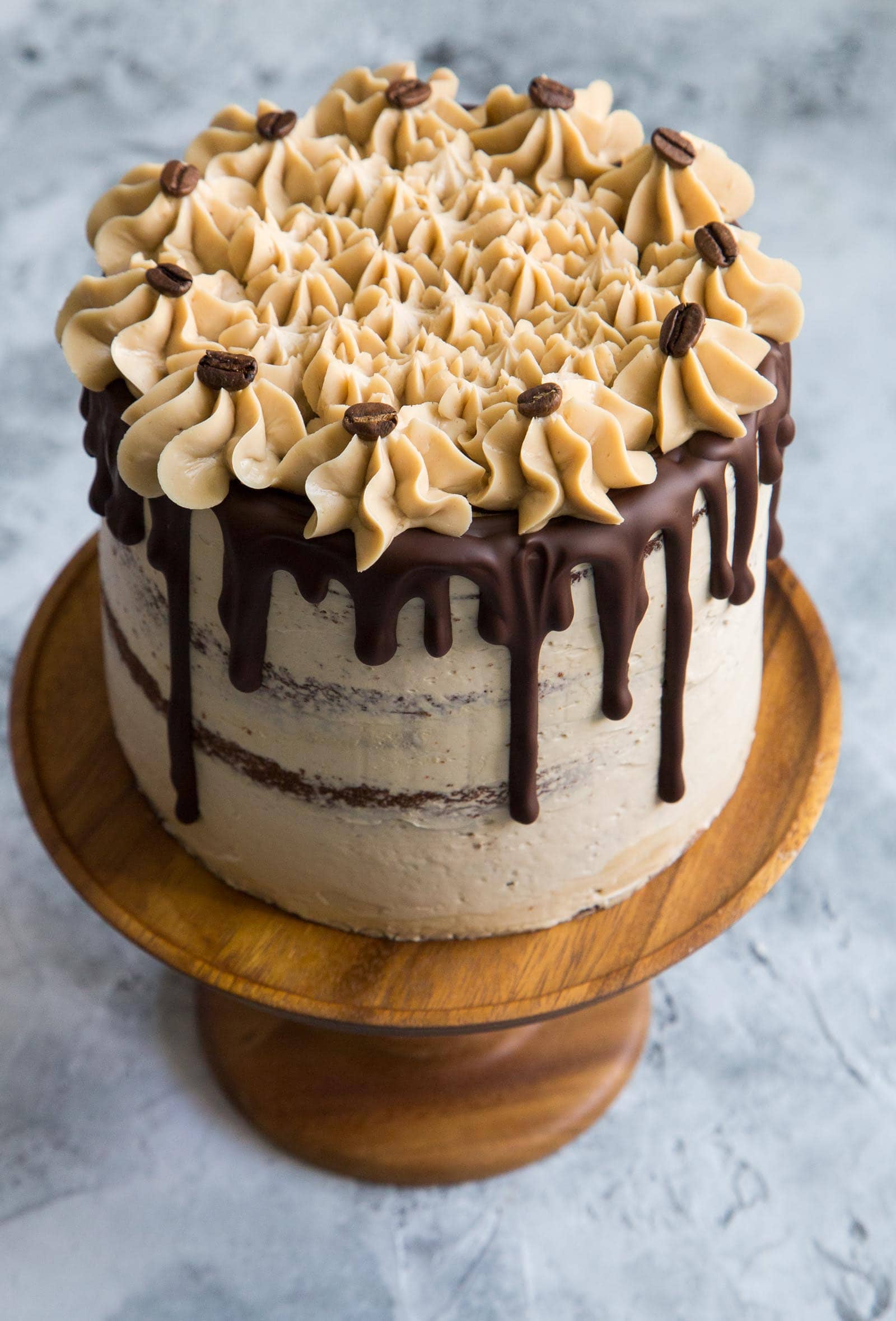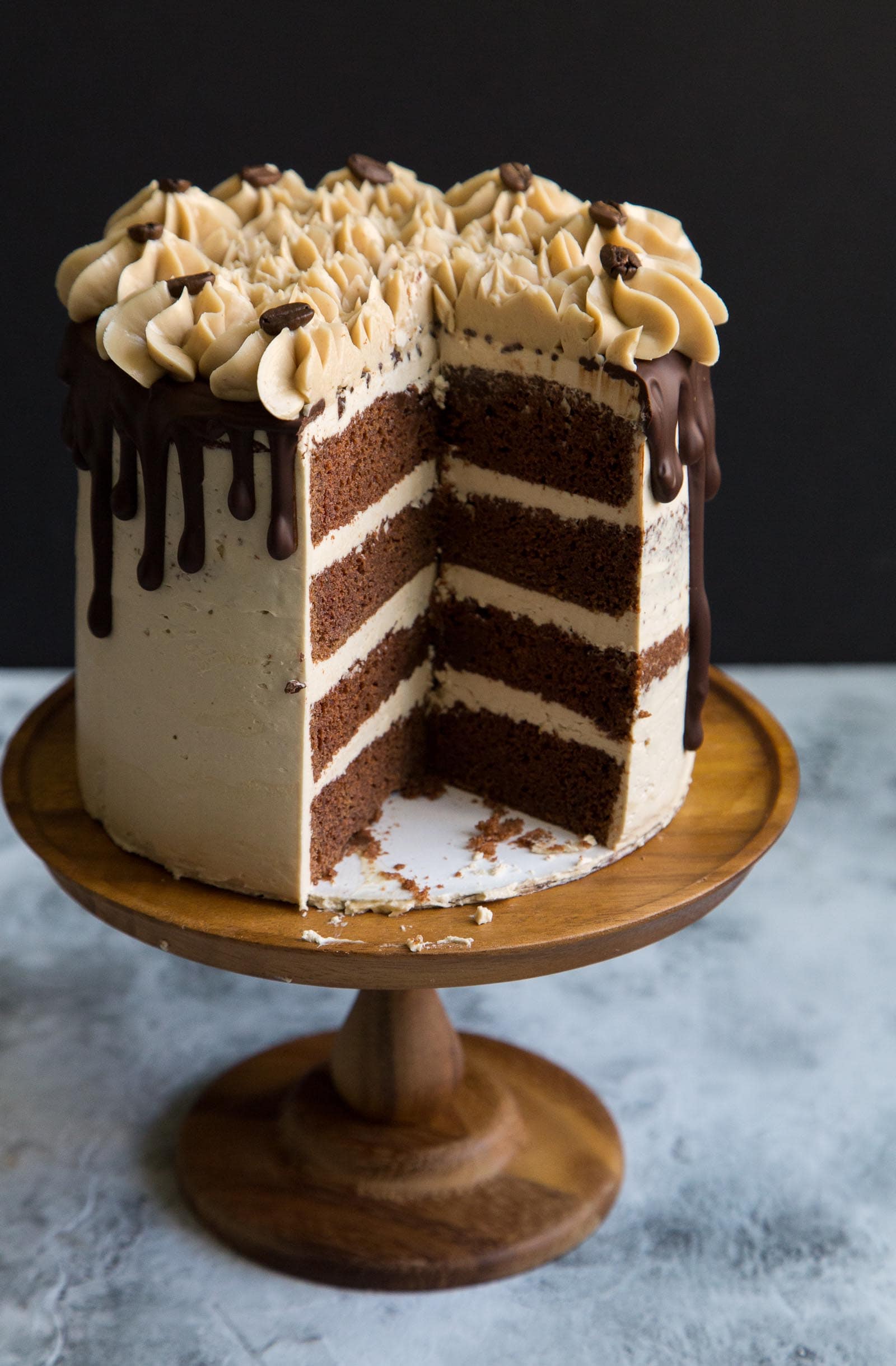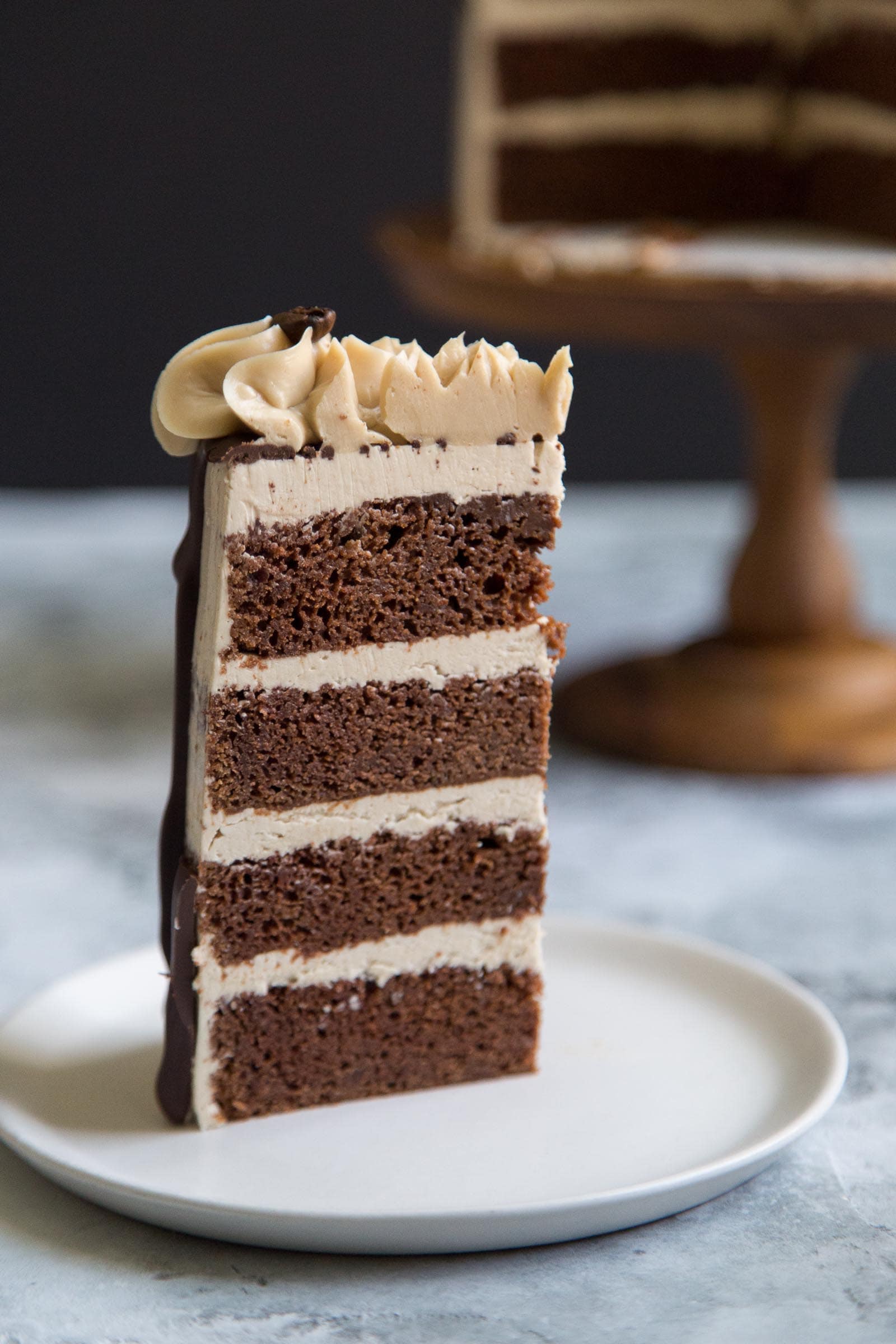 Espresso Chocolate Cake
Four layers of dark chocolate cake frosted with espresso Swiss buttercream, all topped with melted dark chocolate. It's just the kind of cake I want (need) with my afternoon iced coffee.
It's perfect for any season and suitable for all sorts of occasions, even random weekdays.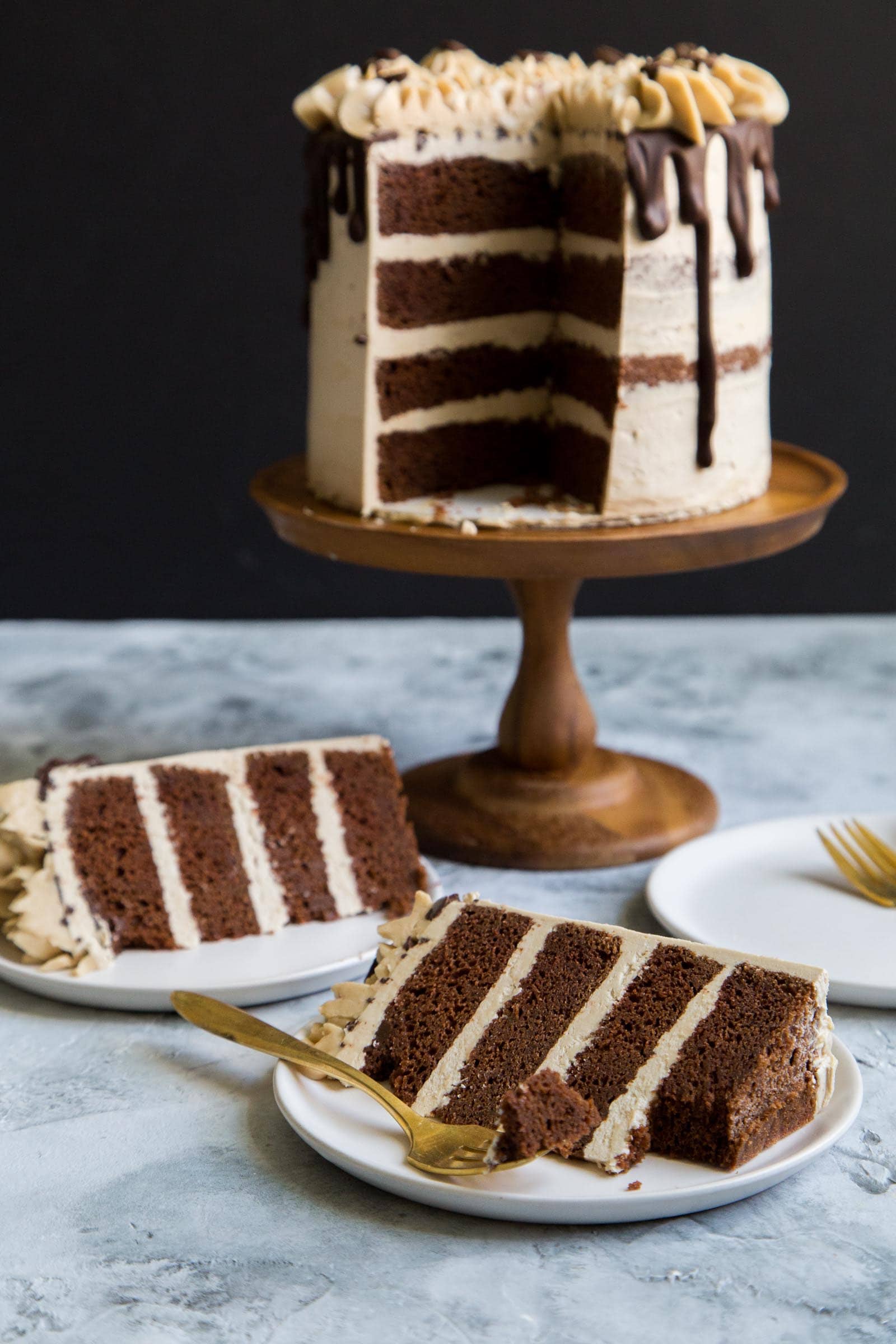 I used my go-to chocolate cake recipe. It's the same one used in this caramel fig chocolate cake.  It's my favorite chocolate cake recipe because it can be made ahead of time and stored in the freezer for a couple weeks.
Because the recipe uses coconut oil instead of butter, the texture of the cake remains nice and soft. The flavor from the coconut oil is mild and subtle. If anything, it adds a bit of mystery to the assembled cake.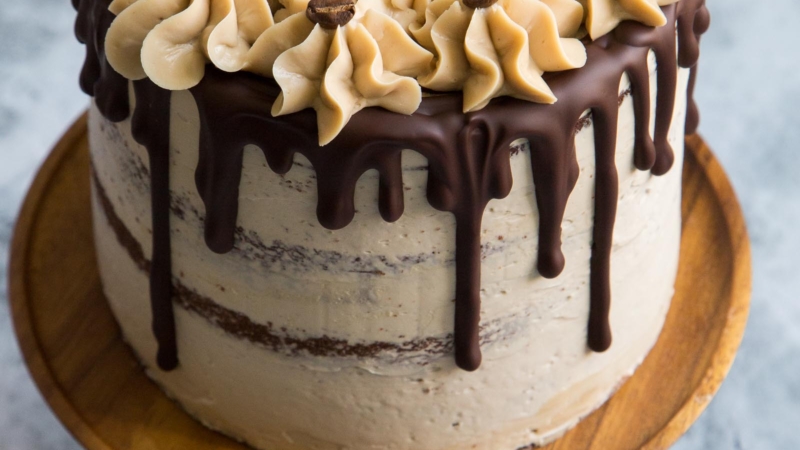 Espresso Chocolate Cake
Ingredients
Chocolate Cake:
2

cups

all-purpose flour

½

cup

unsweetened cocoa powder

1

teaspoon

baking powder

1

teaspoon

baking soda

1

teaspoon

fine sea salt

½

cup

coconut oil

1

Tablespoon

instant espresso powder

1 ¼

cup

granulated sugar

1

teaspoon

vanilla extract

2

large

eggs, room temperature

⅔

cup

whole milk, room temperature

1

cup

sour cream, room temperature
Espresso Swiss Buttercream:
6

large

egg whites

(about 3/4 cup)

1 ½

cups

granulated sugar

2 cups

(16 oz)

unsalted butter, cut into tablespoons, softened

1/8

teaspoon

fine sea salt

2 ½

teaspoon

instant espresso powder
Other components:
4 oz

72% dark chocolate, melted

coffee beans, to garnish
Instructions
Chocolate Cake
Preheat oven to 350ºF. Line two 6-inch round cake pans with parchment paper. Lightly grease and set aside.

Whisk together flour, cocoa powder, baking powder, baking soda, and salt. Set aside.

In the bowl of a stand mixer fitted with a paddle attachment, mix together coconut oil, sugar, espresso powder, eggs, and vanilla until well combined. On low speed alternate adding dry flour mixture and milk. Add about 1/3 of flour, following with 1/2 of milk. Add another 1/3 of flour and remaining milk. Scrape down bowl as needed to ensure thorough mixing. Add sour cream and remaining flour. Mix on low speed until there are no longer any streaks of dry flour.

Divide batter between prepared cake pans. Level batter. Bake for 28-30 minutes until toothpick inserted in center of cake comes out clean. Allow cake to cool in pan for 5 minutes before unmolding. Allow cakes to cool to room temperature on wire rack.
Espresso Swiss Buttercream
In the bowl of a stand mixer, whisk together egg whites and sugar. Place bowl of a pot of simmer water to create a double boiler. Make sure simmering water does not touch the bowl. Heat sugar egg mixture until it reaches a temperature of 160ºF, whisking often to ensure even heating. Alternatively, if you don't have a thermometer, heat until all the sugar has melted. You can test this by rubbing mixture between your fingers. The mixture should be smooth. You should not be able to feel the granules of sugar.

Return bowl to stand mixer. Using a whisk attachment, beat mixture at medium speed until it has cooled to 75ºF (about room temperature). Add in espresso powder and salt. Reduce speed to low and add butter one tablespoon at a time. Once all the butter has been added, increase speed to medium-high and continue to beat until buttercream is light and fluffy.
Assembly
Once cake is cooled, slice each cake into two equal layers. To build the cake, place one layer on a serving platter or cake turntable. Spread a layer of espresso buttercream. Place another cake layer on top and repeat until you have the fourth cake layer on top. Spread a thin layer of buttercream around the sides of the cake to seal in the crumbs (crumb coat). Place in the fridge and allow to chill for 15 minutes to set the buttercream.

If desired, coat cake with another layer of buttercream. Drizzle melted chocolate along sides of the cake. Place remaining buttercream in a pipping bag fitted with a large star tip. Pipe large stars on top surface of cake. Decorate with coffee beans.

Keep cake chilled until ready to serve. Allow cake to warm to room temperature before eating.
Notes
Chocolate cake can be baked in advance. Cool to room temperature, then tightly wrap in plastic wrap. Keep cake in the freezer for up to two weeks. To defrost frozen cake, allow to thaw at room temperature overnight.