Chocolate Pumpkin Cake: four layers of moist pumpkin cake filled with chocolate caramel cream cheese frosting and chopped dark chocolate.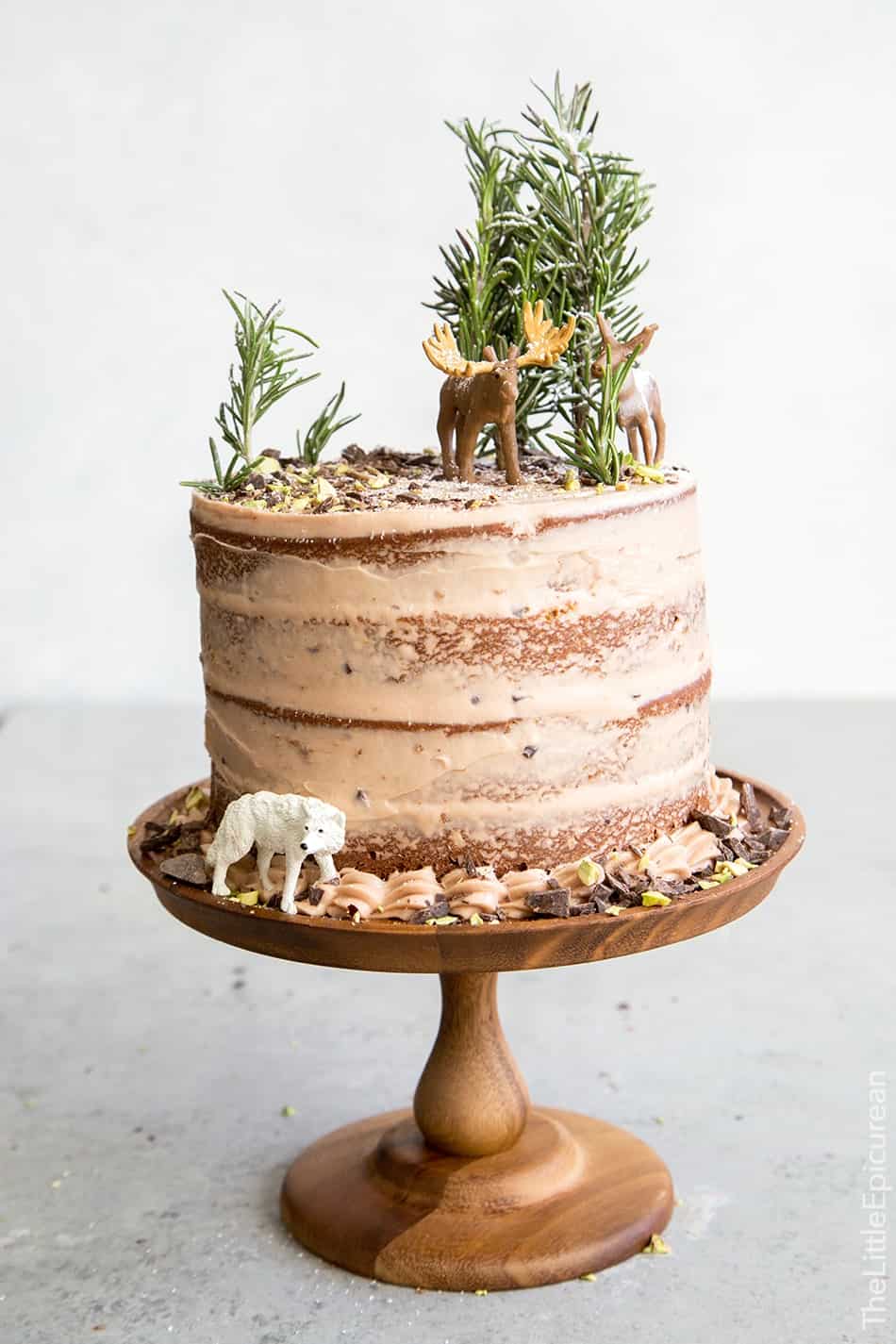 One month! One month down and 100 years to go. Alex and I celebrated one month of marriage by feasting on this chocolate pumpkin cake (which I'm aptly called the forest cake).
The flavors of this cake is a slight variation on the top tier of our wedding cake. I'm not planning on making a cake to celebrate every month,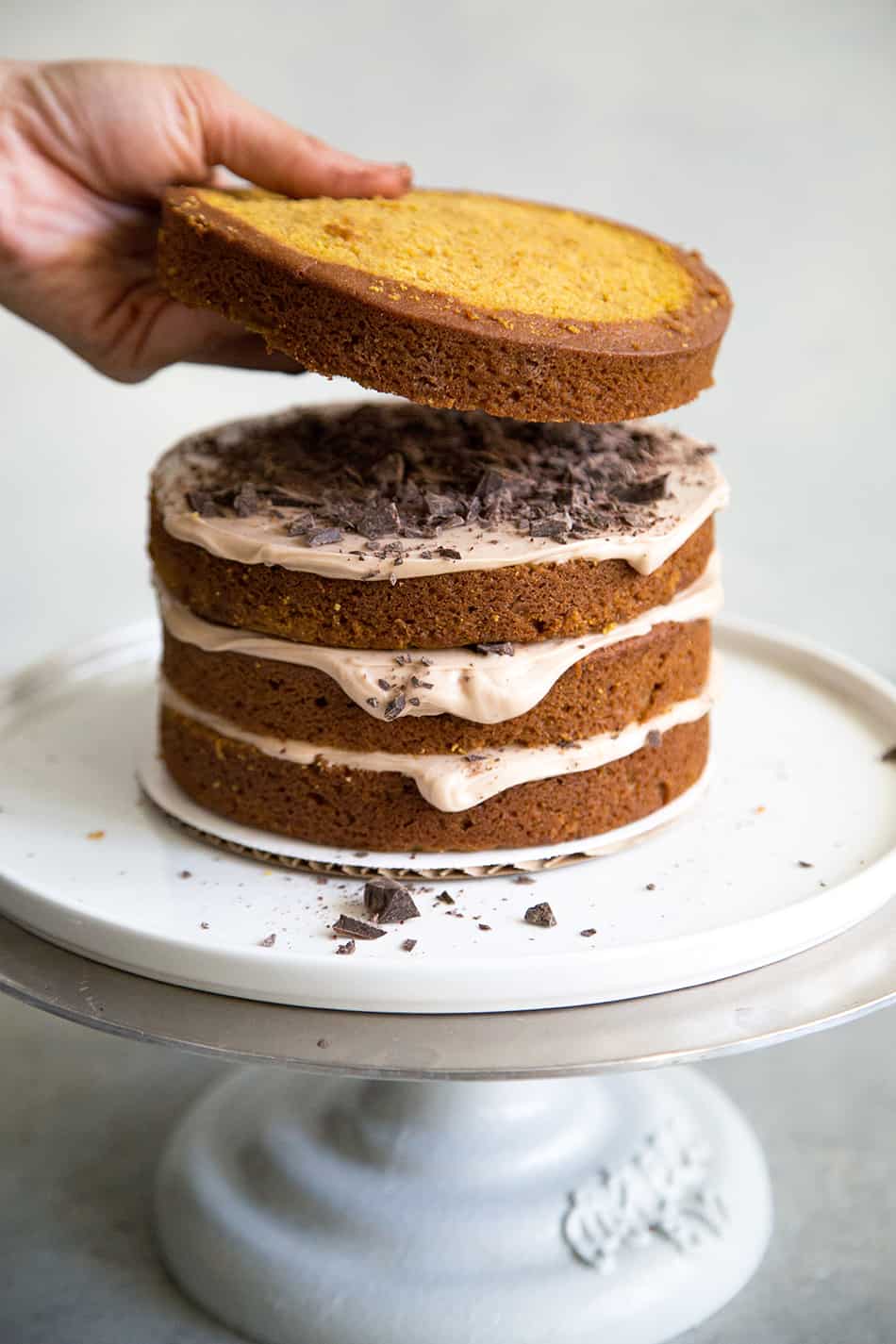 Chocolate Pumpkin Cake
I love this pumpkin cake recipe. I've made it over a dozen times and I have several pumpkin cake variations on the blog (cinnamon maple pumpkin cake, butterscotch pumpkin cake).
Thanks to the powers of pumpkin puree, this cake is super moist. To pumpkin-hating friends: this tastes NOTHING like pumpkin pie.
On its own, pumpkin doesn't really taste like much. (It's the eggy custard flavors and the pumpkin pie spice mix of ginger, nutmeg, etc that my pumpkin-hating friends don't like.)
The coconut oil in the batter really helps to round out and balance the cake. Coconut oil further helps to moisten the cake, but it also lends this subtle richness and tropical-ness that makes this cake so addicting.
The addition of chopped dark chocolate in between the chocolate caramel cream cheese frosting helps to make this cake taste SO AWESOME.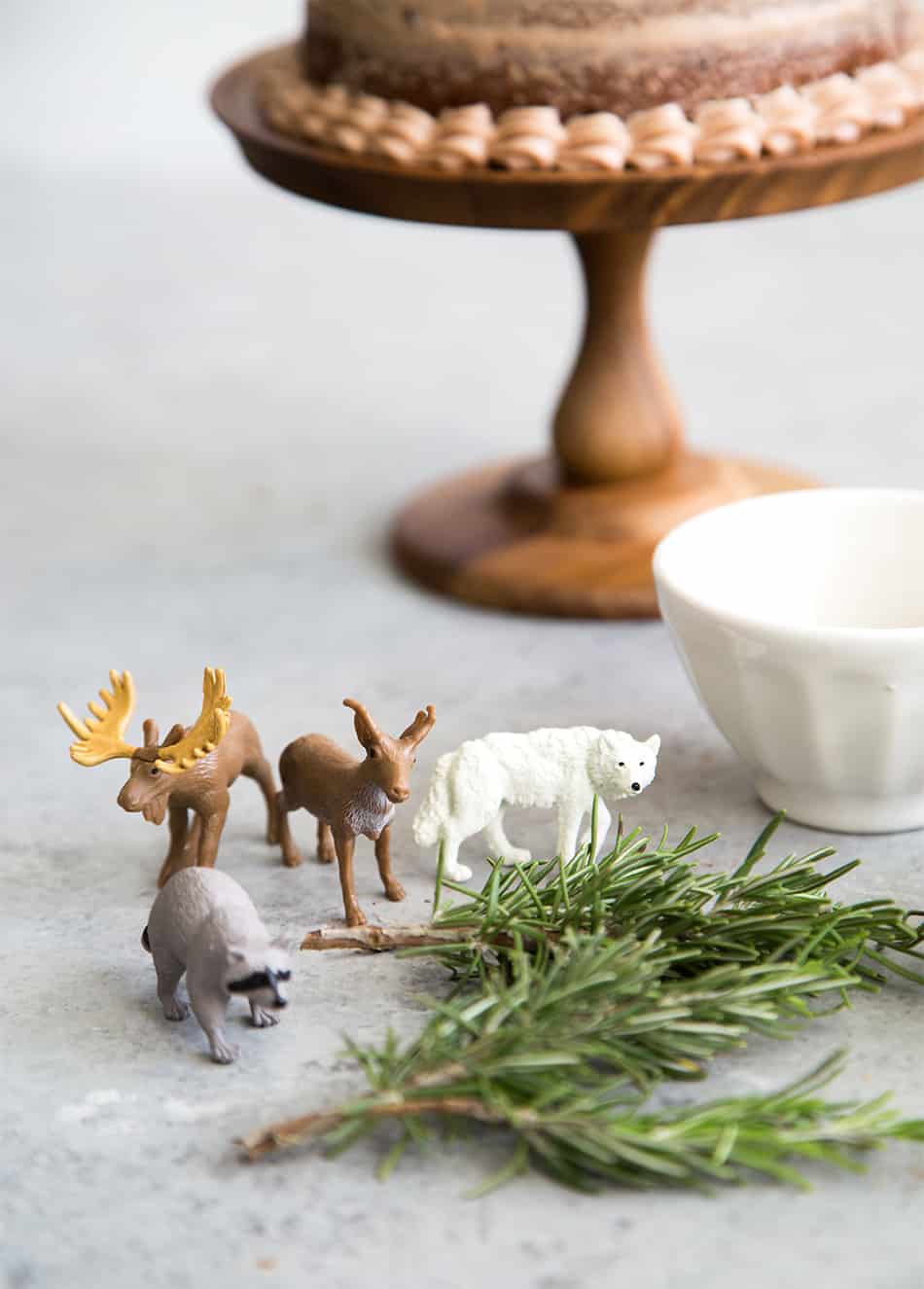 Fun cake decor:
I found these super cute animal friends at Hobby Lobby while shopping for holiday decor. It was an impulse buy that turned out to be quite useful.
You can find the exact same set online through Amazon.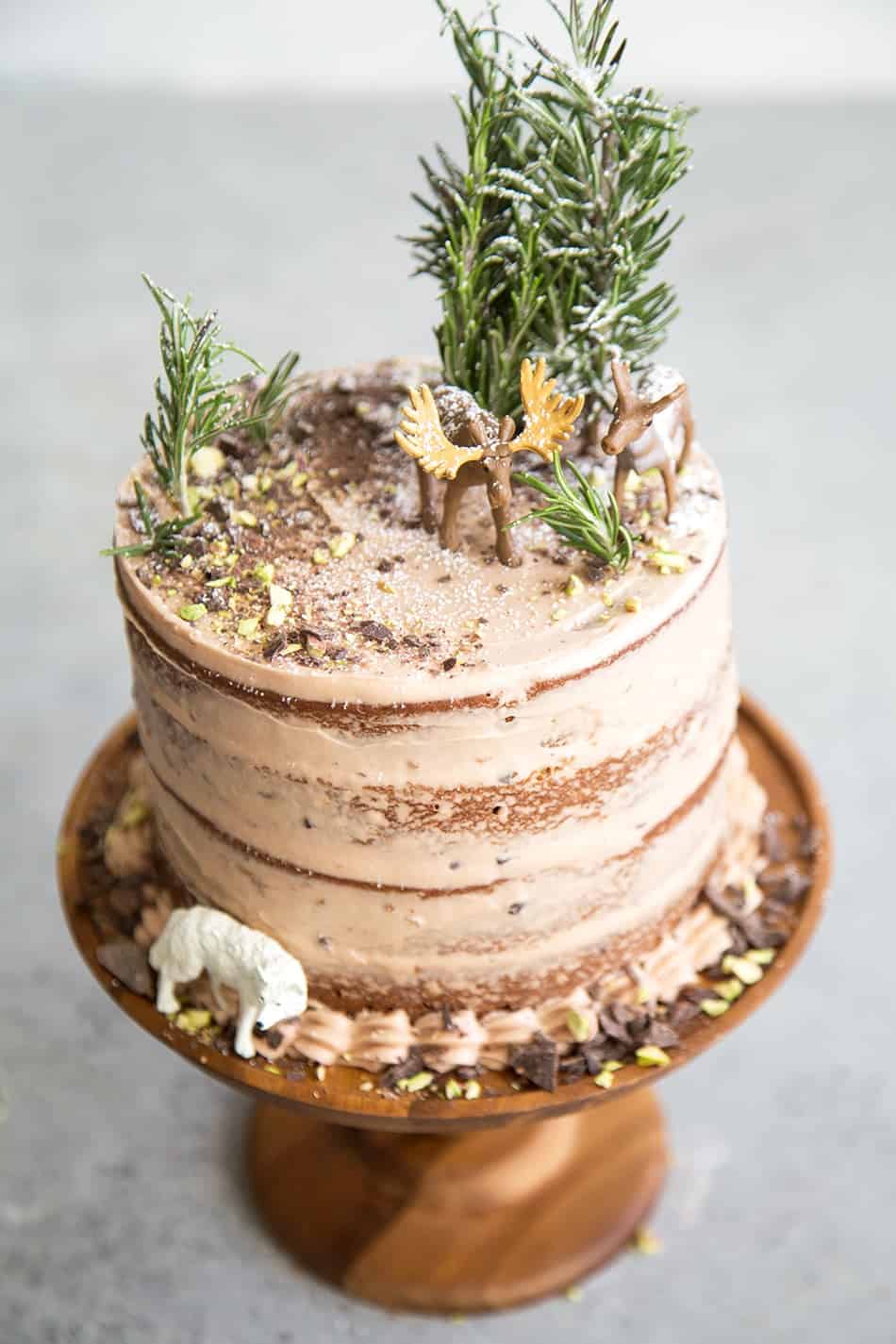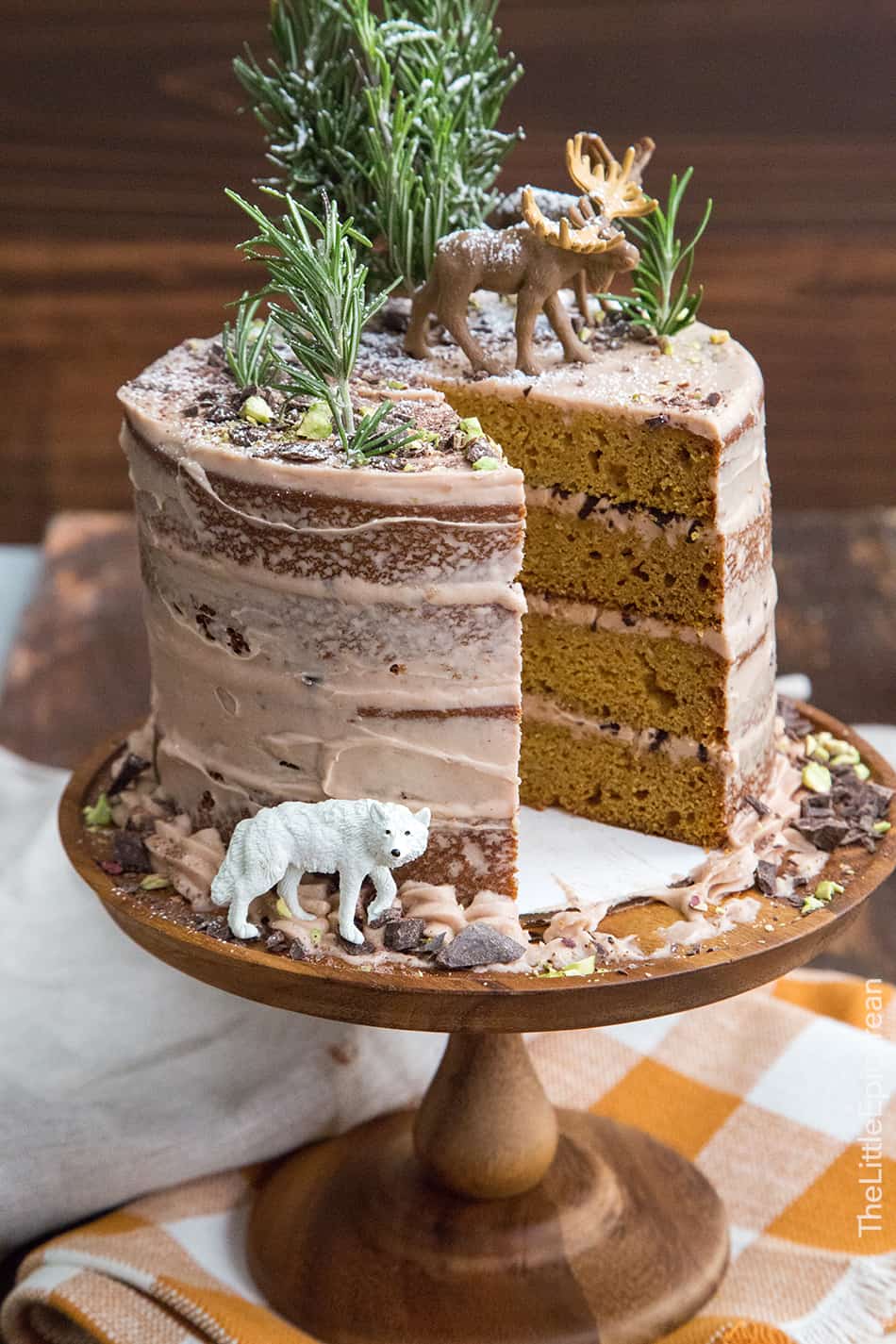 To add crunch and texture (but mainly to mimic dirt), I added roughly chopped chocolate and chopped pistachios.
I had so much fun making this cake that I felt obligated to use two different backgrounds: my usual neutral backdrop and this woodsy, cabin, lumberjack setting.
I feel like I should have worn my red flannel button-down shirt and took a photo of myself holding the cake. Perhaps next time I'll use a small saw knife or a mini axe to slice the cake!
I'll definitely be making more scene cakes like this. Maybe an underwater adventure cake or a vegetable garden with rabbits and friends or a desert scene! I'm getting too excited and way ahead of myself.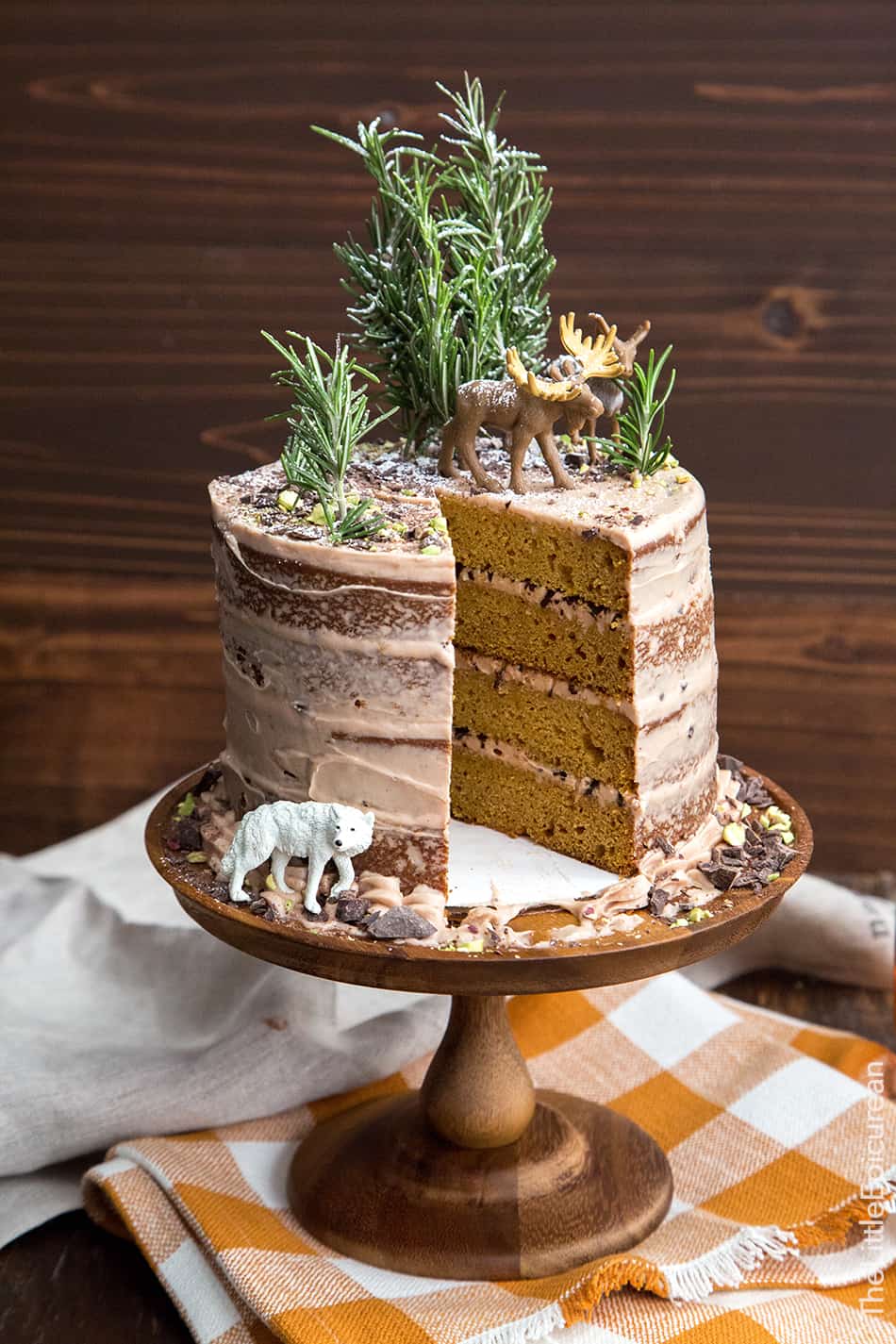 Happy One Month, Alex! And here's to many, many, many more! xo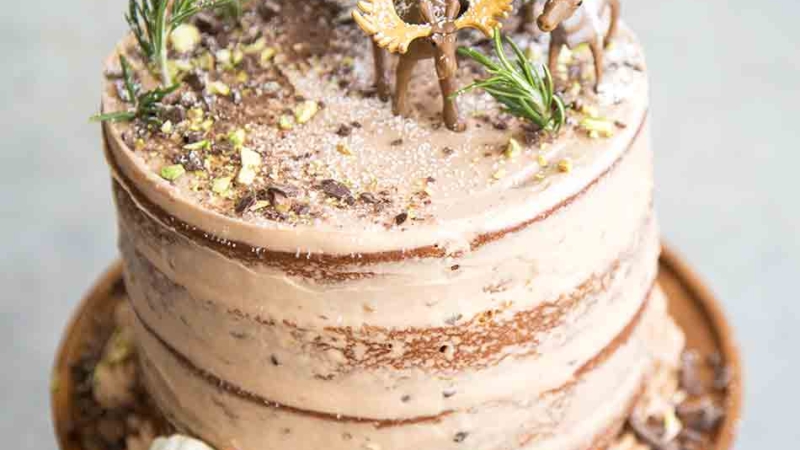 Forest Chocolate Caramel Pumpkin Cake
Yield: 6-inch cake
Ingredients
Pumpkin Cake:
2

cups

all-purpose flour

1

teaspoon

baking powder

1

teaspoon

baking soda

1 ½

teaspoon

ground cinnamon

1

teaspoon

fine sea salt

¾

cup

coconut oil

1

cup

canned pumpkin puree

1 ¼

cup

granulated sugar

3

large eggs, room temperature

⅓

cup

whole milk, room temperature
Chocolate Caramel Cream Cheese Frosting:
8

oz

cream cheese, room temperature

4

oz

unsalted butter, softened

3

cups

powdered sugar

1

Tablespoon

unsweetened cocoa powder

2

Tablespoons

sea salt caramel (store-bought or homemade)*

pinch

of fine sea salt

chocolate dark chocolate, as needed for layers
Decor:
fresh rosemary sprigs

chopped chocolate

chopped pistachios

powdered sugar, sifted
Instructions
Pumpkin Cake:
Preheat oven to 350° F. Butter two 6-inch round cake pans and line with parchment paper. Set aside.

In a medium bowl, whisk together flour, baking powder, baking soda, ground cinnamon and salt. Set aside.

In the bowl of a stand mixer fitted with a paddle attachment, cream together coconut oil and pumpkin puree. Add sugar and eggs. Mix until smooth. Scrape down bowl as needed

Add half of dry flour mixture. Mix on low speed until almost combined. Add milk. Mix on slow speed and then add remaining dry flour mixture. Mix until there are no longer any dry streaks of flour. Scrape down bowl as needed to ensure thorough mixing.

Divide cake batter between the two prepared cake pans. Level batter using a mini offset spatula. Bake for 35-40 minutes until toothpick inserted in center of cake comes out clean. Allow to cool in pan for 5 minutes before unmolding. Allow cakes to cool to room temperature on wire rack.
Chocolate Caramel Cream Cheese Frosting:
Using a hand mixer (or stand mixer), beat cream cheese until smooth. Add butter and continue to beat until mixture is smooth. Scrape down bowl as needed.

Sift together powdered sugar and cocoa powder. Add to mixing bowl and combine together at low speed. Add caramel and pinch of salt. Mix until frosting is smooth.
Assembly:
Slice each cooled pumpkin cake into two layers. Place one cake round on cake board (or serving plate). Spread a layer of frosting over cake layer. Sprinkle a handful of chopped dark chocolate over frosting.

Place second cake layer on top. Gently press cake layer down to secure. Spread a layer of frosting and add another layer of chopped chocolate. Continue to repeat until fourth cake layer of added on top.

Spread frosting all over cake to seal in the crumbs (crumb coat). Let chill in the refrigerator for at least 15 minutes. If desired, add another layer of buttercream to coat cake. If desired, pipe border along the bottom of the cake. Otherwise, continue to chill cake until ready to serve.

Decorate cake before serving. Use fresh rosemary sprigs, chopped pistachios, and chopped chocolate to garnish the top of cake. Add additional chopped pistachios and chopped chocolate along the bottom of the cake. Place animal toy figurines, if desired. As a final touch, dust cake with powdered sugar to resemble snow.
Notes
All images and text ©The Little Epicurean