Classic gingerbread cookies recipe. Use this dough to make all sorts of gingerbread cookie cutouts!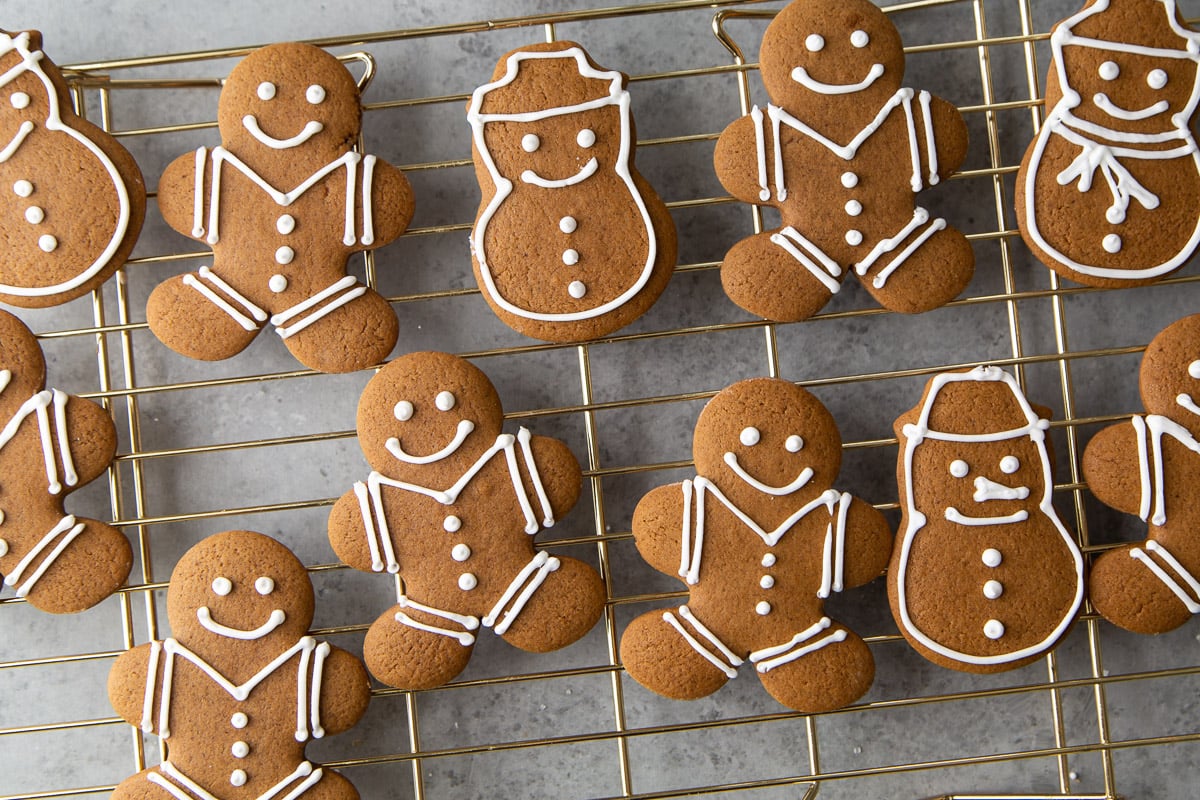 "I thought maybe we could make gingerbread houses, and eat cookie dough, and go ice skating, and maybe even hold hands." -Buddy from Elf
Buddy sure knows how to have a great time.  Elf is my favorite holiday movie.  Followed closely by Home Alone, Christmas Vacation, and Love, Actually.
I watched Elf last night for the hundredth time. Nothing puts me in the holiday spirit more than that movie.  And starting today I am going to be a holiday cookie baking machine.
I confess. I'm guilty of being lazy and falling into the trap of buying those pre-made gingerbread house kits.  They're so tempting and alluring with the cute pictures of finished houses on the front.
Plus, having all the candy decorations and royal icing included in the kit makes it seem like a more practical choice.
Well, it stops this year.  This year I'm going to make my own gingerbread houses from scratch.
But before I can do that, I have to test out gingerbread cookie recipes for taste and stability.
The gingerbread cookies from the kits don't taste very good.  They look, smell, and oddly enough taste like cardboard. No matter how much icing and sugar I slather on those pre-made cookies, it still doesn't taste good.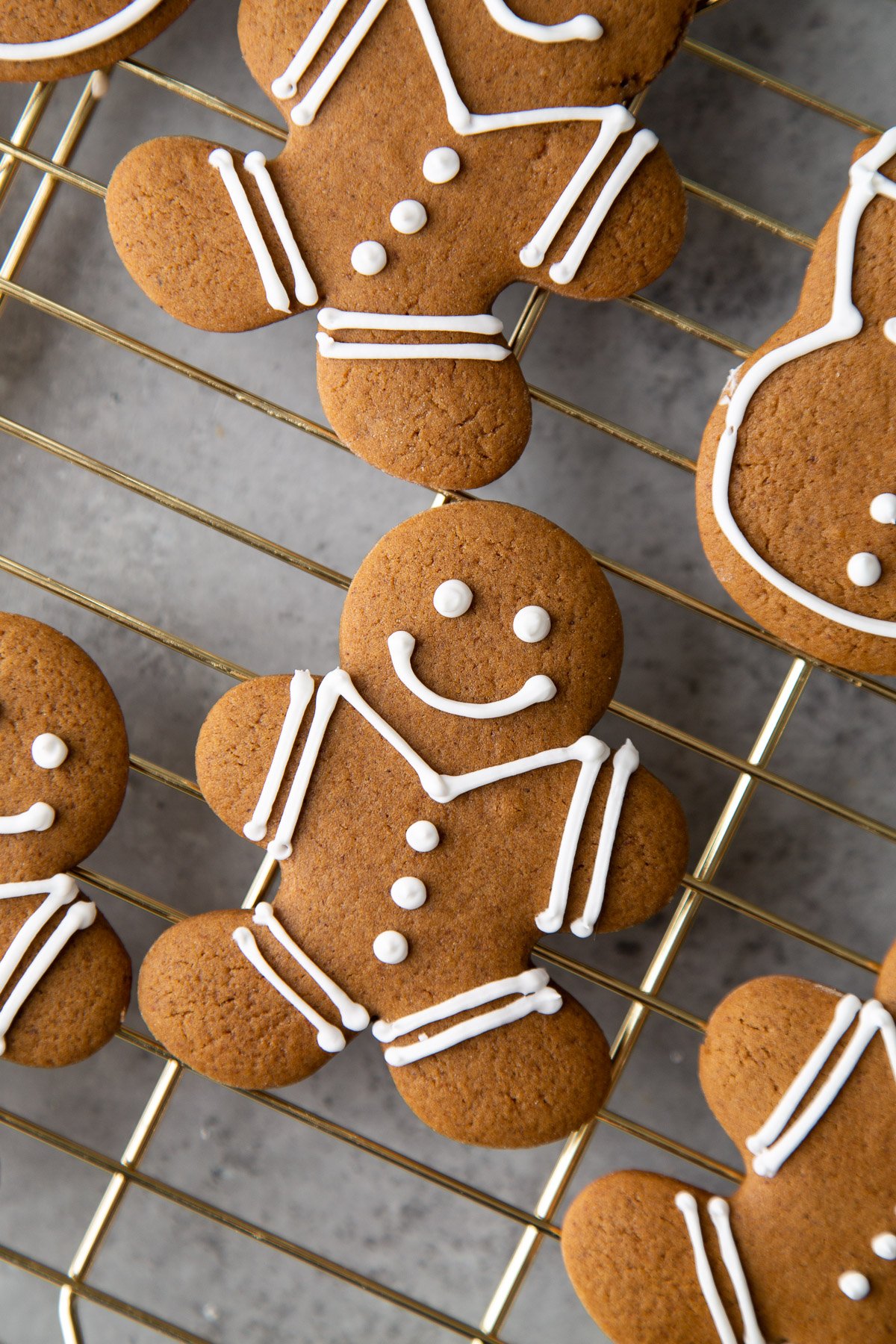 Out of three different recipes I tasted, this one was my favorite.  It tastes great fresh from the oven.  It is not too gingery, but a nice mellow combination of spices.
Most of the flavor comes from the molasses and the dark brown sugar.  This is also a stable cookie that only gets stronger as it cools and sits out.
This is the dough I plan on my making my houses with.   The dough is very simple to make and can be prepared in advance.
Cut out your desired shapes and freeze them on a parchment line sheet tray.  Let the cookies freeze for an hour and then transfer them to an airtight container.  Pop them into the oven straight from the freezer when you are ready to bake.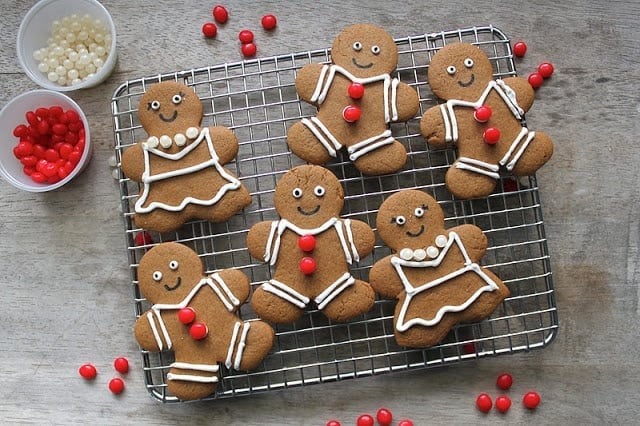 Gingerbread Cookies
Ingredients
Gingerbread Cookies
3

cups

all-purpose flour

1/2

teaspoon

baking soda

1/4

teaspoon

baking powder

1 1/2

teaspoons

ground ginger

2

teaspoons

ground cinnamon

1/2

teaspoon

ground cloves

1/2

teaspoon

ground nutmeg

1

teaspoon

fine sea salt

1/2

cup

unsalted butter, room temp

1/2

cup

dark brown sugar, packed

1

large egg, room temp

1/2

cup

unsulfured molasses
Royal Icing
2 1/2

Tablespoons

meringue powder

2

cups

confectioners' sugar, sifted

3

Tablespoons

water
Instructions
Gingerbread Cookies
Whisk together flour, baking soda, baking powder, ground ginger, cinnamon, cloves, nutmeg and salt. Set aside.

In the bowl of a stand mixer, cream together butter and brown sugar until fluffy. Add egg and molasses.


On low speed, add flour mixture. Mix until just combined. Divide the dough in half. Wrap each in plastic and refrigerate until cold, about 30 minutes to an hour.


Preheat oven to 350 degrees F.


On a lightly floured surface, roll out dough to 1/4-inch thickness. Cut out desired shapes with cookie cutter. Space 2 inches apart on parchment lined baking sheet. Chill in refrigerator or freezer until firm, about 15 minutes in refrigerator.

Depending on size and shape of cookies, bake for 10-15 minutes until cookies are crisp but not dark. Let cookies cool slightly on baking sheet before transferring to wire racks. Do not let your cookies cool completely on the baking sheets. They will get soggy. (NOTE: my 3 1/2 inch gingerbread people cutouts took 13 minutes to bake)

Once cookies have fully cooled, decorate with royal icing, sanding sugars and sprinkles.

Royal Icing
Whisk together meringue powder and sifted confectioner's sugar.

In the bowl of a stand mixer with a paddle attachment, add whisked ingredients and water. Paddle on low-medium speed for a couple minutes until icing is smooth and shiny.

Use immediately. Store extra icing in an airtight container with a moistened paper towel directly on top of the icing to keep icing fresh. Store in the refrigerator. (makes about 1 cup)