This jackfruit upside down cake replaces pineapples for a Filipino twist on a classic American dessert.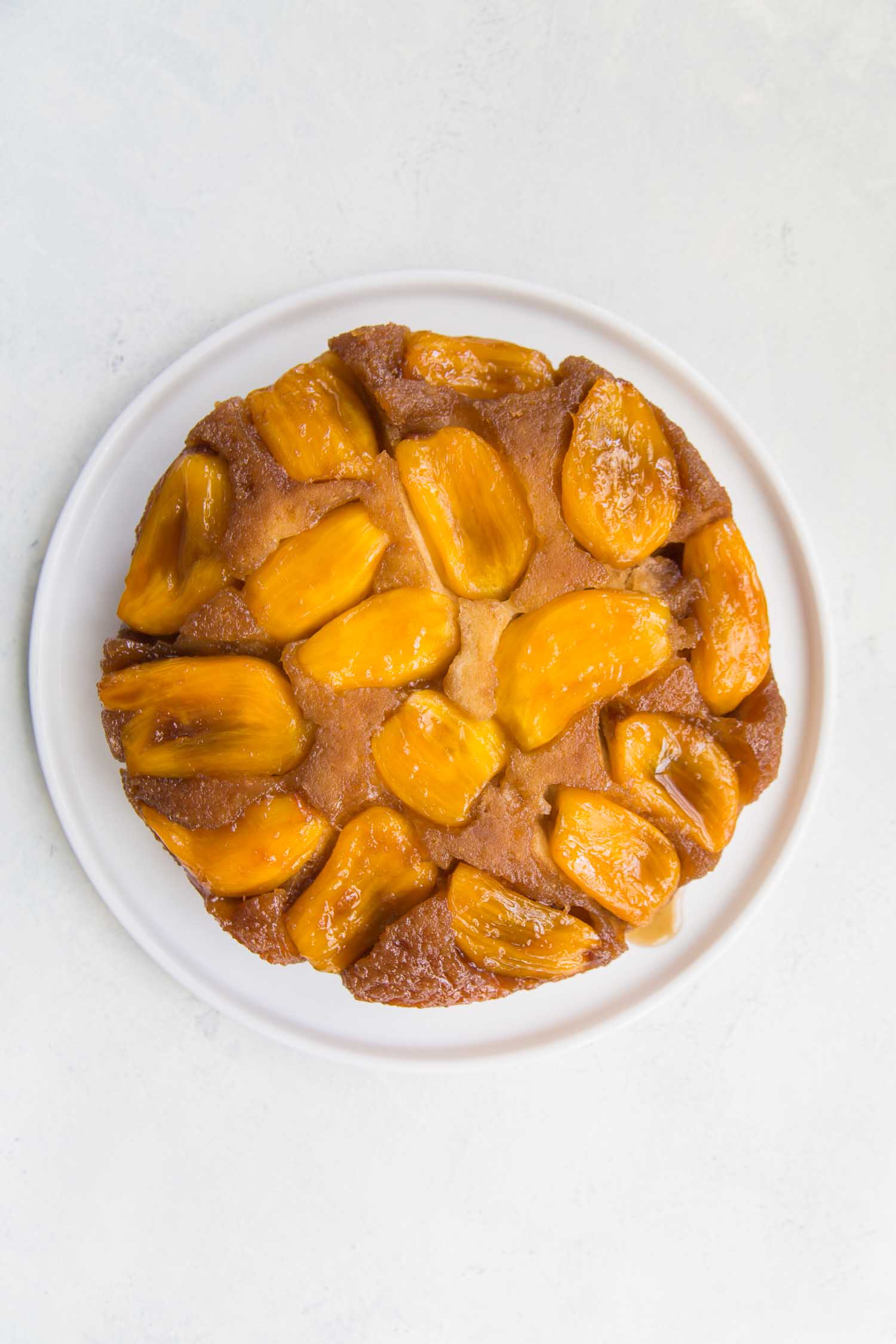 Jackfruit is a popular and versatile fruit consumed throughout Asia, especially in the South and Southeast Asian countries.
Jackfruit is a heavy, giant spiked shelled fruit. It may be daunting to buy a fresh one because of its sheer massive size. Also, because opening the jackfruit can be a laborious process.
How do you open fresh jackfruit?
You'll need a sharp knife and a neutral flavored oil (I prefer grapeseed oil). The inside flesh of jackfruit is super sticky. The knife (as well as your hands) needs to be oiled to make for easy cutting.
There are several ways to cut out the jackfruit flesh. Similar to how people have their preferences for peeling and slicing apples, you'll have to find a method that works for you.
I suggest these videos for further detailed instructions: Sweet Simple Vegan's how to cut a jackfruit and Wendi Phan's how to open/eat a jackfruit.
As a child, I learned from watching my parents and relatives. I would pull up a stool in the kitchen and watch wide-eyed, waiting for them to give me pieces of the seeded jackfruit flesh.
NOTE: Keep the jackfruit seeds! Cooked jackfruit seeds tastes like a mixture of chestnuts and Brazil nuts. They're delicious!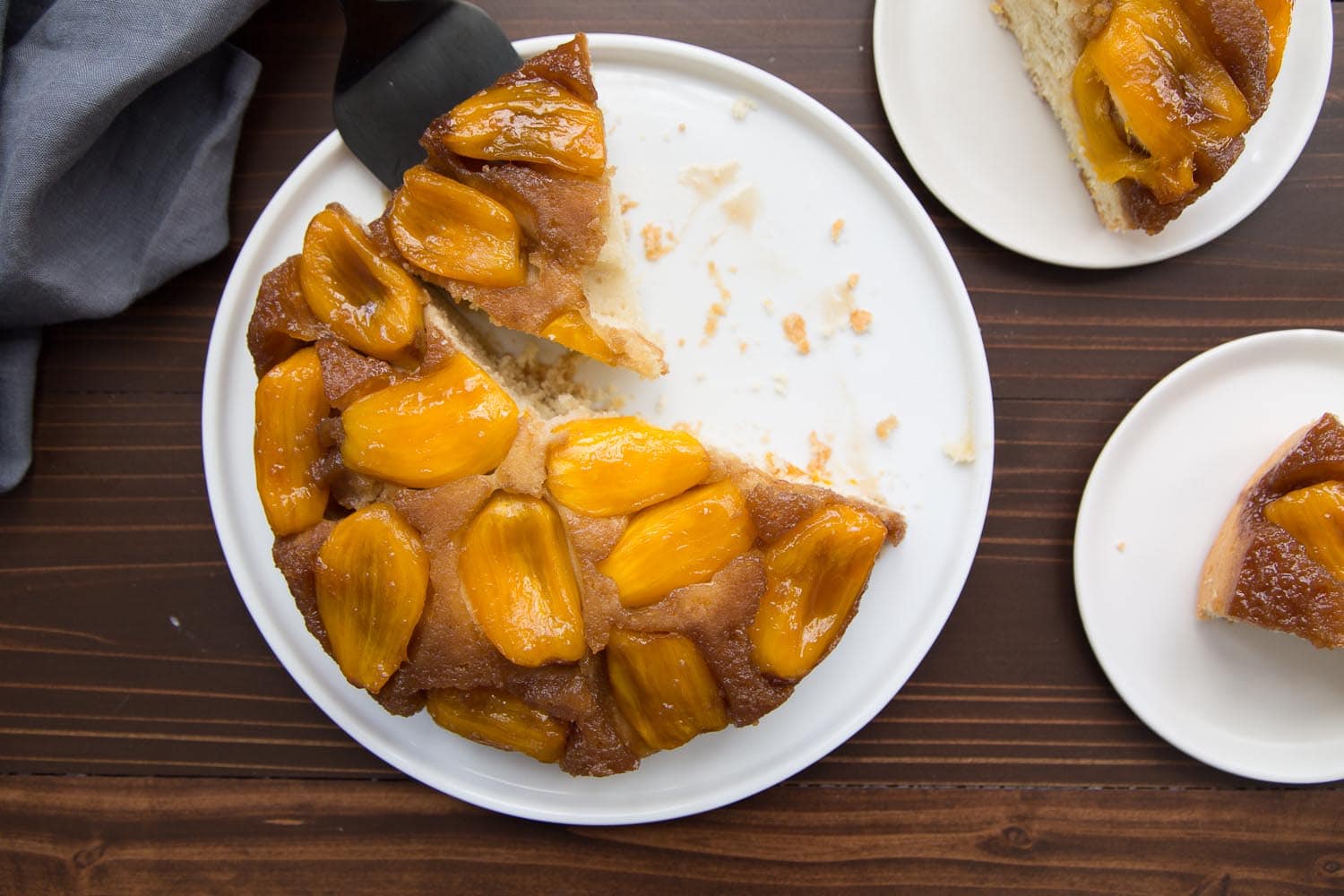 Jackfruit Upside Down Cake
Jackfruit is finally having its moment in the spotlight.
With unripe jackfruit (young jackfruit) becoming a popular vegetarian "meat" substitute, jackfruit of all sorts (fresh, canned, dried) is more readily available.
Filipino desserts commonly use jackfruit. Halo-Halo (Filipino shave ice sundae) and turon (Filipino fried banana rolls) feature this delicious sweet fruit.
I've been eating jackfruit my entire life and I'm bummed it took me this long to realize the potential of jackfruit in baked goods. Where was jackfruit upside down cake during my childhood?!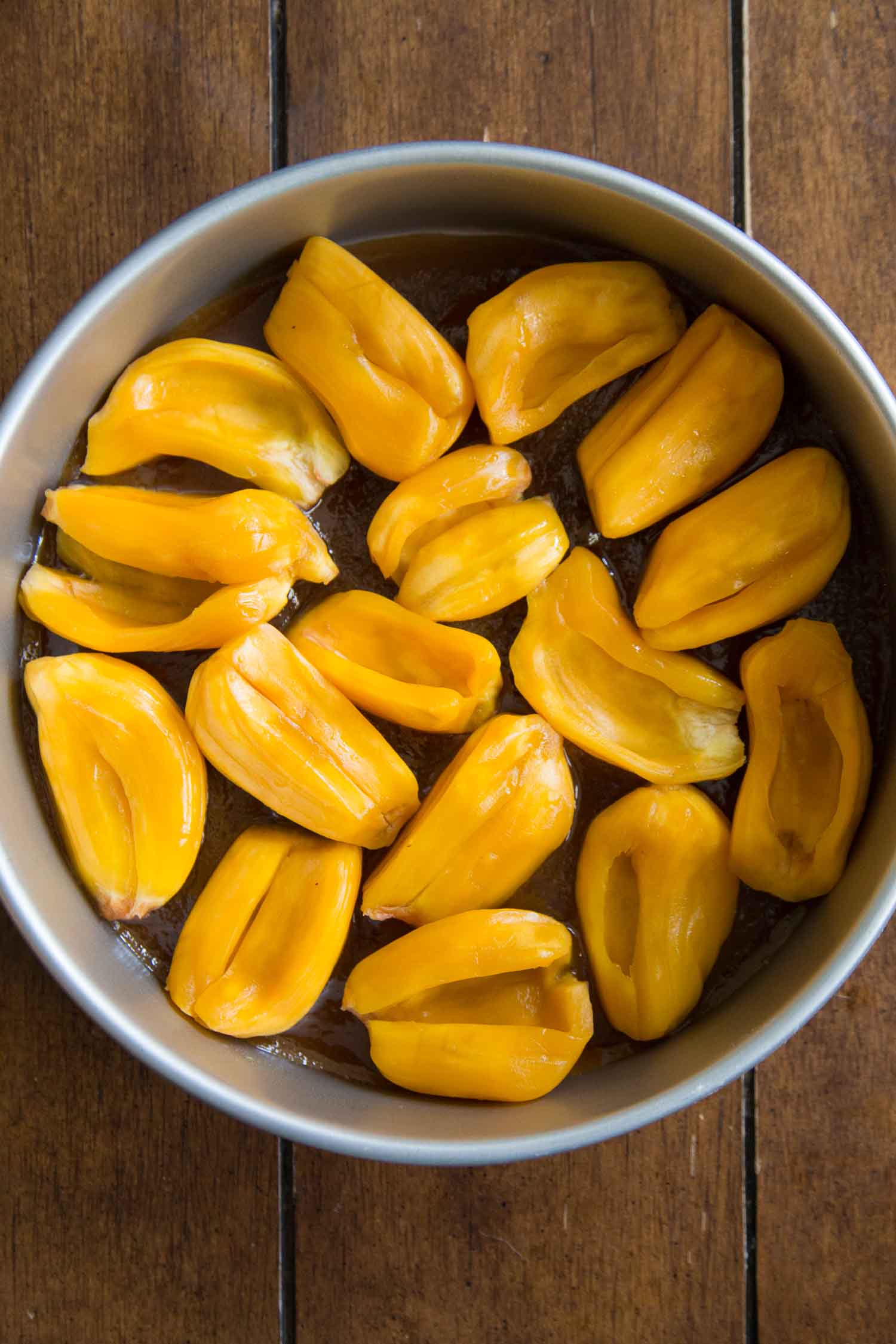 Other fruits to use for upside down cake?
Upside down cake is commonly made with pineapples. Bananas, apples, and pears are also frequently used.
What do these fruits have in common? They all taste wonderful with caramel.
Caramel sauce (a cooked mixture of butter and sugar) lines the bottom of the cake pan. Fresh or canned jackfruit flesh is arranged on top.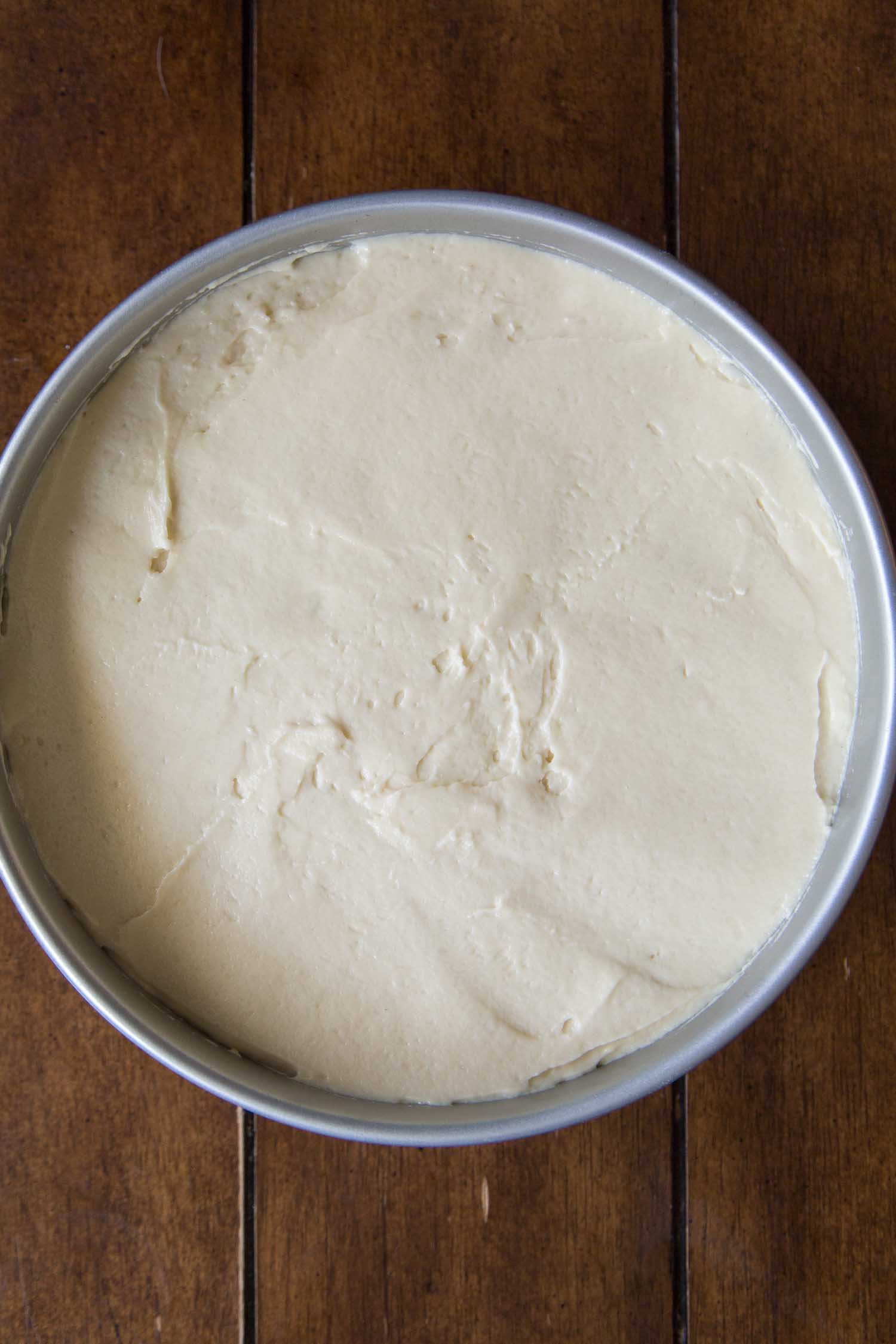 Cake Batter
The fresh fruit is covered with a thick cake batter.
For best results, mix the cake batter using a stand mixer fitted with a paddle attachment or an electric hand mixer. I do not recommend mixing this by hand.
The recipe below uses canned coconut milk. This helps to add another dimension of tropical flavor. However, feel free to substitute in regular cow's milk.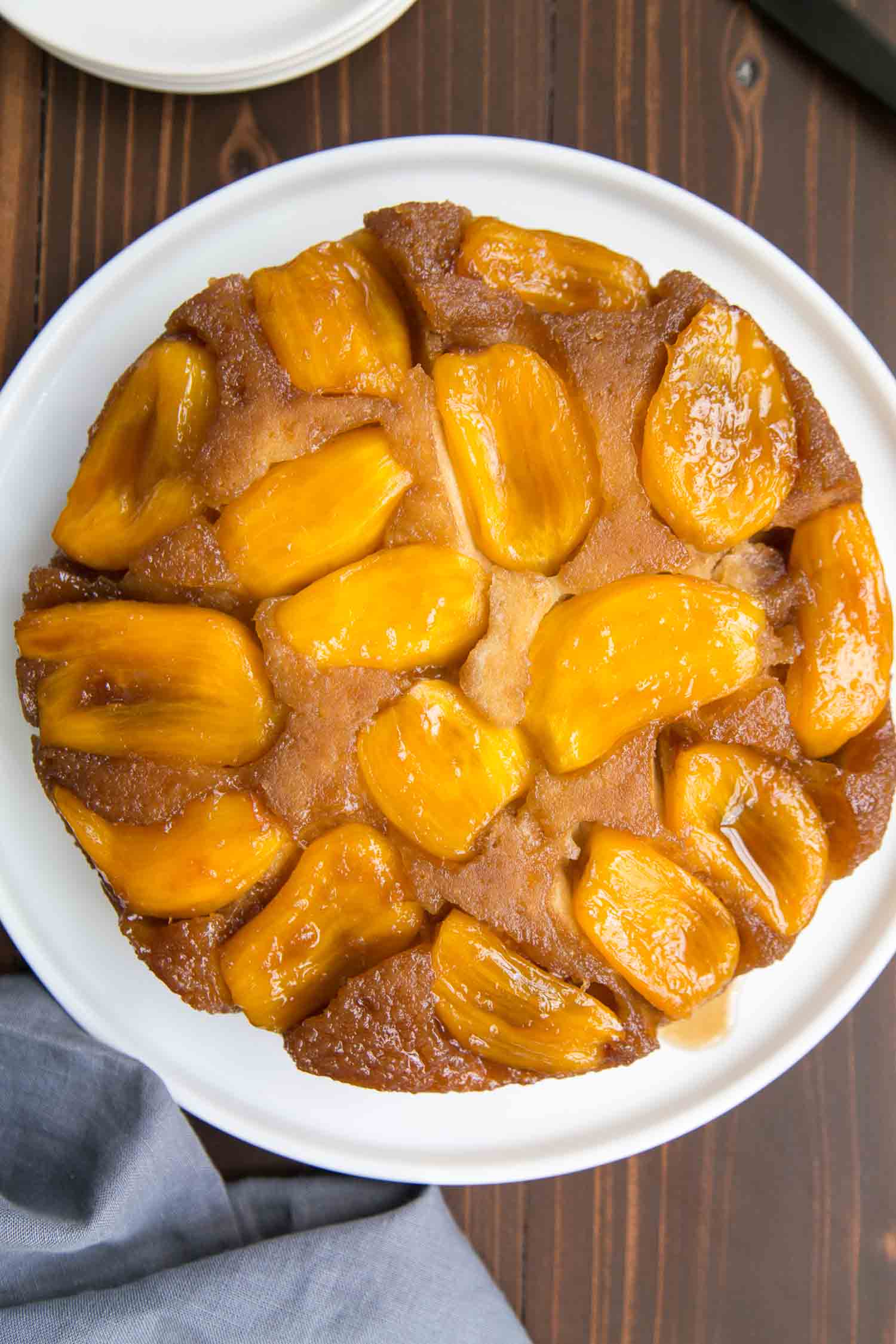 What does ripe jackfruit taste like?
The bright golden yellow fruit is soft and sweet. It tastes like mixture of banana, mango, and cantaloupe rolled into one bite.
Ripe jackfruit is very fragrant. If you have fresh jackfruit sitting in the kitchen (or chilling in the fridge), you will definitely smell it's aroma.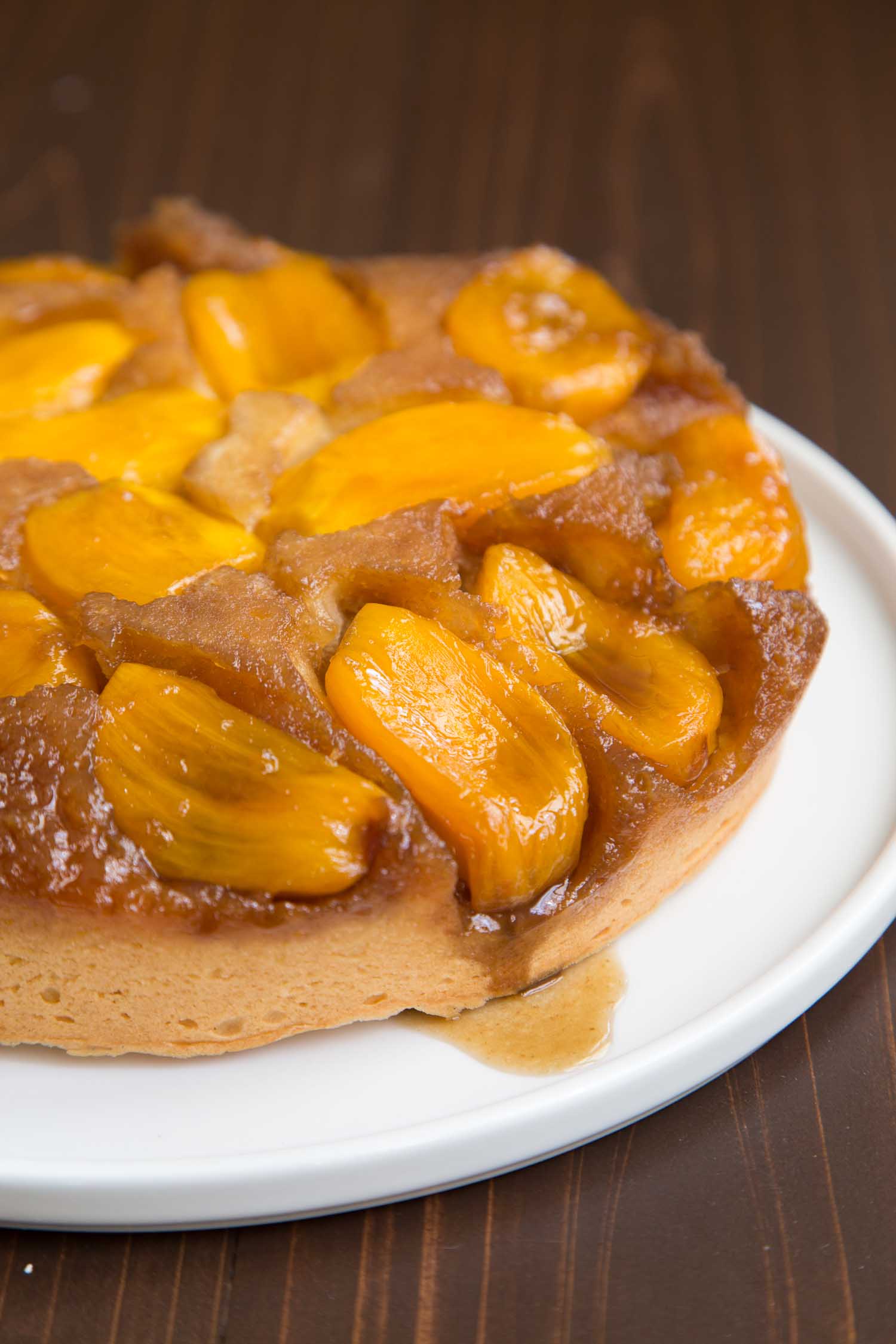 If you've never had this tropical fruit, this jackfruit upside down cake is a great introduction. The sweetness of the jackfruit is intensified by the caramel sauce, while the cake mellows it out.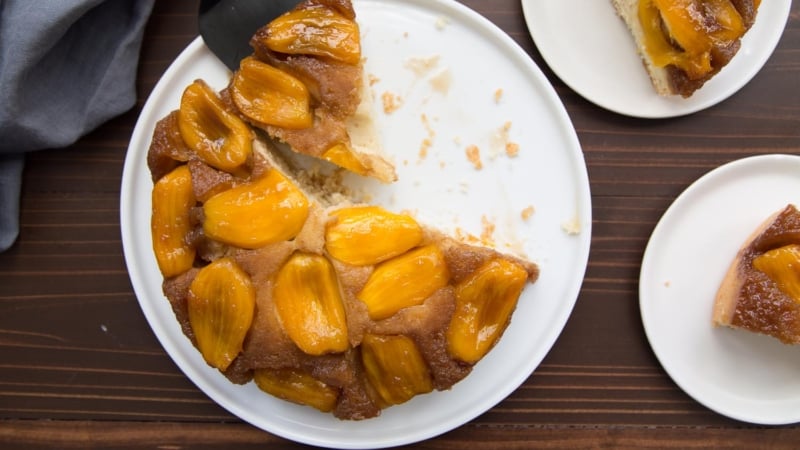 Jackfruit Upside Down Cake
This jackfruit upside down cake replaces pineapples for a Filipino twist on a classic American dessert.
Yield: 8-inch cake
Ingredients
Jackfruit Caramel Layer:
1/4

cup

unsalted butter

1/2

cup

light brown sugar, packed

pinch of fine sea salt

fresh jackfruit, as needed*
Cake:
1/4

cup

unsalted butter, softened

3/4

cup

granulated sugar

1

large egg

1

teaspoon

pure vanilla extract

1/2

teaspon

fine sea salt

2

teaspoon

baking powder

1 1/2

cups

all-purpose flour

1/2

cup

canned coconut milk
Instructions
Jackfruit Caramel Layer:
Preheat oven to 375 degrees F. Butter 8-inch round cake pan.

Melt together butter, brown sugar, and salt in a heavy bottomed saucepot over medium heat. Bring to a boil and remove from heat. Pour mixture into prepared cake pan.

Arrange jackfruit pieces, cut side up, on top of caramel mixture. Set aside.
Cake:
In the bowl of stand mixer fitted with paddle attachment (or using an electric hand mixer), cream together butter and sugar. Add egg and vanilla and mix until smooth. Scrape down bowl as needed.

In another bowl whisk together salt, baking powder, and flour. Add dry mixture to mixing bowl in two additions, alternating with coconut milk. Mix until just combined, and there are no longer any dry streaks of flour. Batter will be thick.

Spoon batter into jackfruit lined cake pan. Use the back of spoon or a mini offset spatula to spread batter into an even layer.

Bake for 35-40 minutes until toothpick inserted in center of cake comes out clean. Remove cake from oven and allow it sit for 5 minutes. Run a mini offset spatula or knife along the perimeter of cake to loosen from pan. Place serving plate over cake tin. Invert to release cake. Allow cake to cool for 15 minutes before slicing

Serve cake warm or at room temperature. Store any leftover cake in an airtight container in the fridge for up to 4 days.
Notes
Cake can also be baked in a 9-inch round cake pan (bake for 30-35 minutes) or a 8-inch or 9-inch square pan.
This recipe uses fresh jackfruit. If you sub in canned jackfruit, the resulting cake will be much sweeter.
Cake batter recipe adapted from King Arthur Flour