This Savory Dutch Baby Pancake is topped with zucchini, mushroom, Italian chicken sausage, and a generous sprinkling of shredded cheese. It can be enjoyed for any meal and is wonderful with a side salad.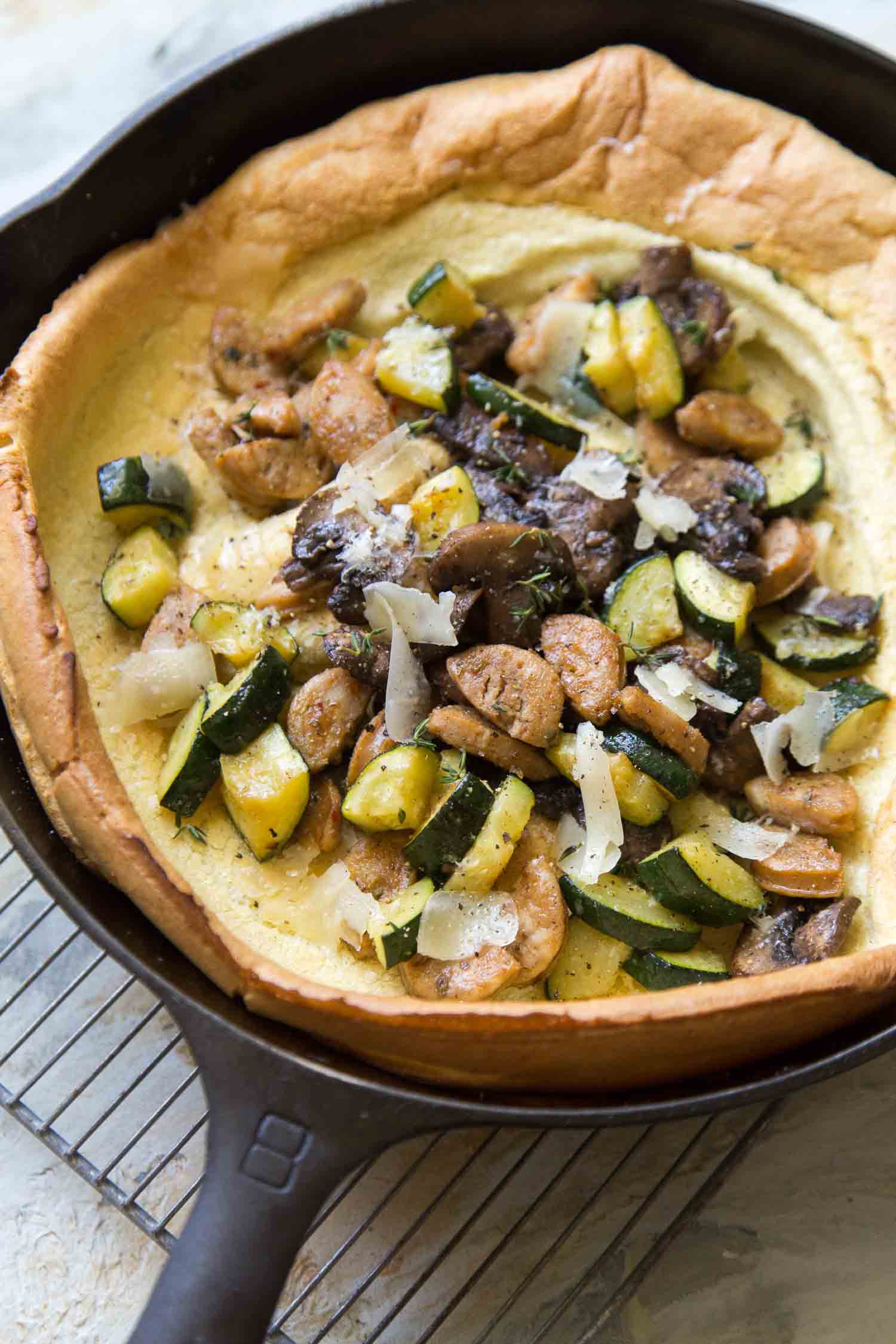 Tilikum Place Cafe in Seattle is the hot spot to go for a real savory Dutch baby pancake. I first learned about this place from an old Anthony Bourdain The Layover episode (from 2013!).
I still think about the fluffy, cheesy, wonderful goodness I tasted there a year ago. It was filled to the brim with cheese and broccoli. Their pancake batter cooks up super fluffy like a magical hybrid crepe-souffle.
This savory Dutch baby pancake recipe is nothing like the one at Tilikim. I have to yet to figure out how they get their baked pancake so fluffy.
This version is just as tasty, but it's on the healthier, lighter side. (Which is a good thing, because that means you'll have room for dessert.)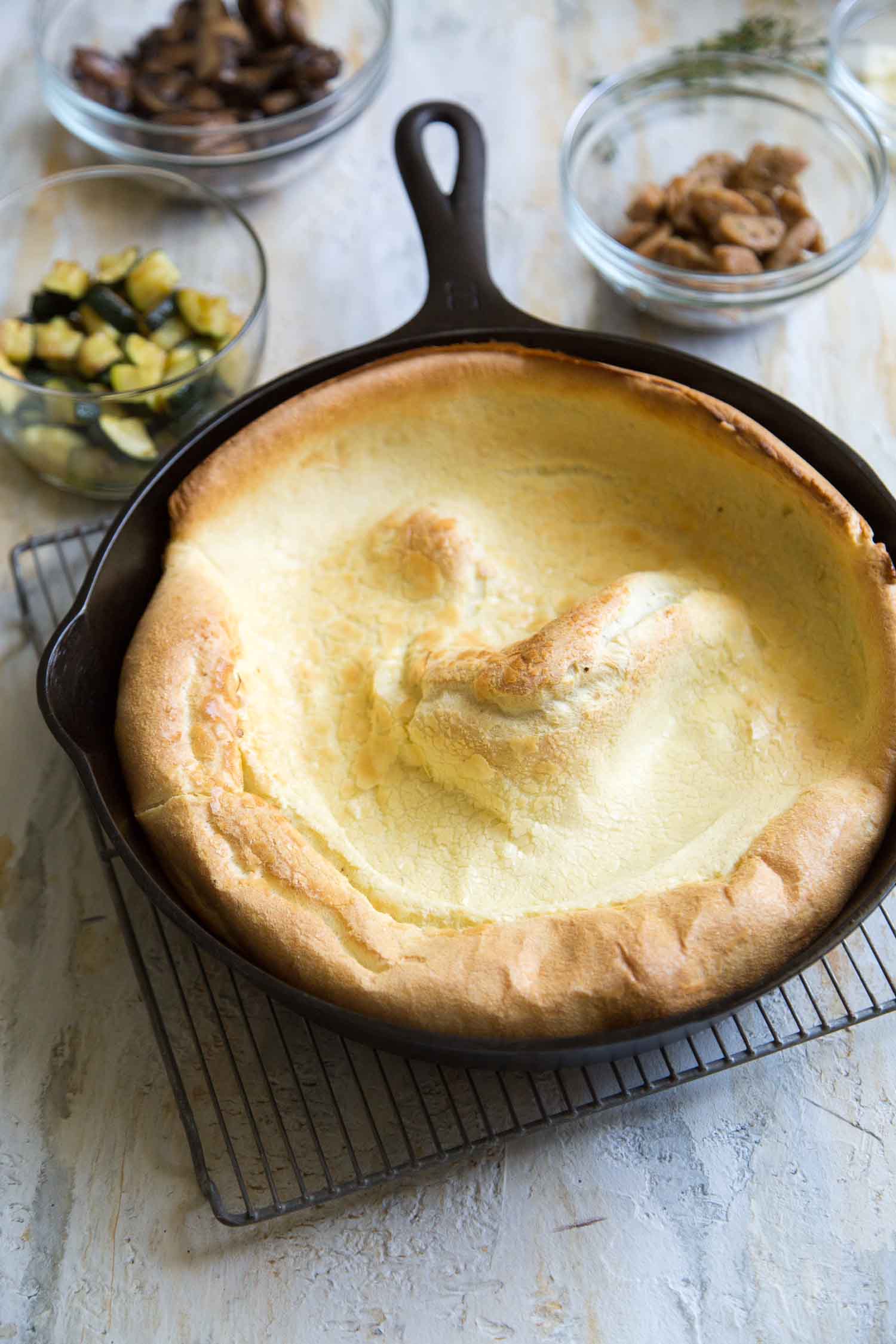 What is a Dutch Baby Pancake?
Dutch baby pancakes are known by numerous names: German pancake, Dutch pancake, Bismarck pancake, or Dutch puff. Texturally, Dutch baby pancakes are very similar to popover and Yorkshire pudding. It is simply made by combining eggs, milk, flour, and butter. It can be made sweet or savory.
Sweet versions are traditionally served with lemon wedges and powdered sugar. Other sweet toppings include jams, fresh or cooked fruits, and ice cream. Savory Dutch baby pancakes are often flavored with cheeses, spices, and herbs.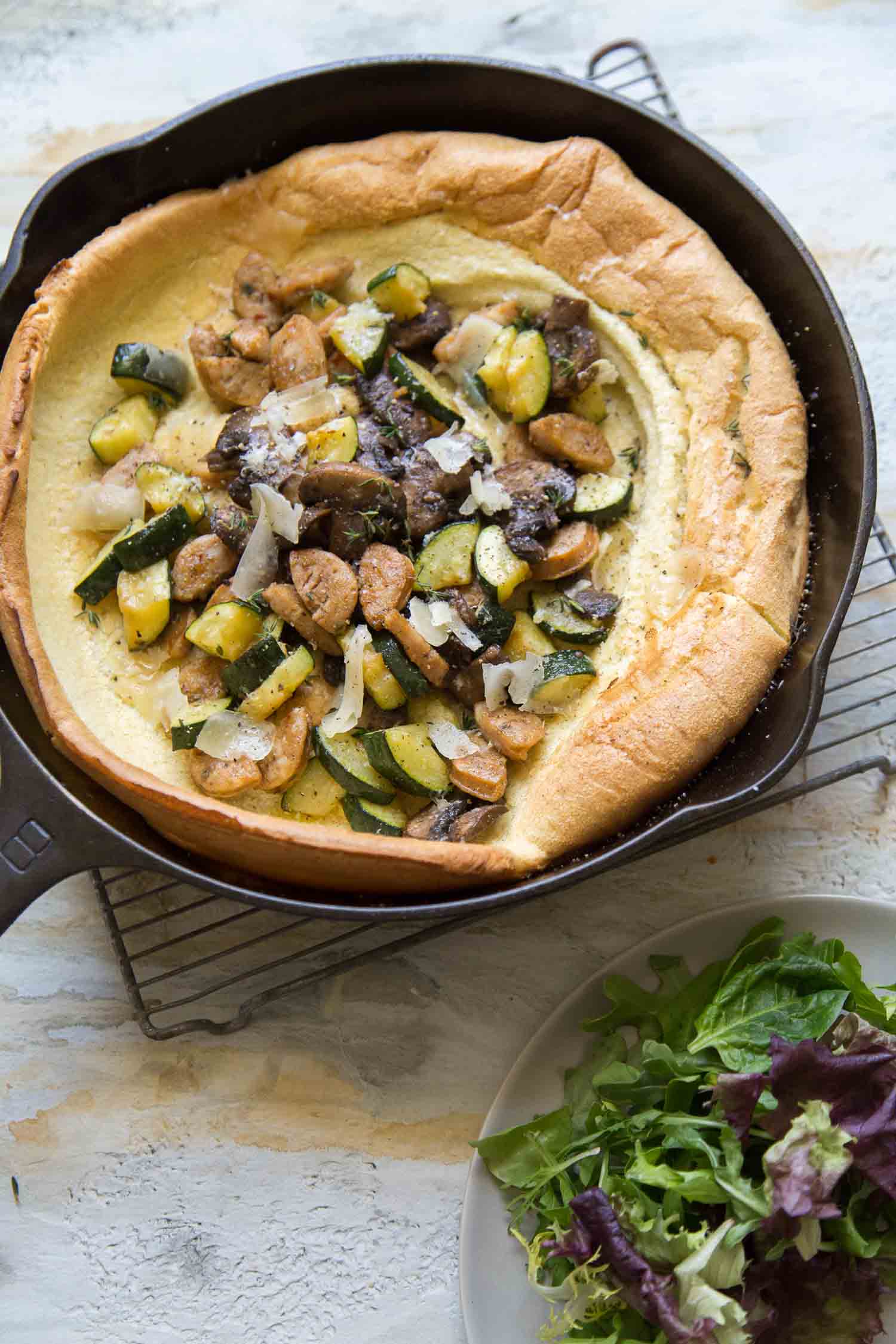 The batter for Dutch baby pancakes are super simple to make. While you can mix the batter by hand, the use of a blender (or hand held immersion blender) definitely speeds up the process. Eggs, milk, and butter are blended together with flour.
This savory Dutch baby pancake batter also includes black pepper and grated romano cheese. The batter is mixed until smooth and then poured into a hot cast iron skillet and immediately thrown into the hot oven.
two very important steps in making dutch baby pancakes
Remember to warm up the skillet before adding in the batter. (And while we're on the subject of the skillet- make sure the skillet is OVEN SAFE. Cast iron is your best bet, but there are several other oven safe skillet options.)
Preheat the oven! For this recipe, the oven starts off at 450°F for the initial rise of the pancake and then the temperature is reduced to 350°F to finish cooking the pancake.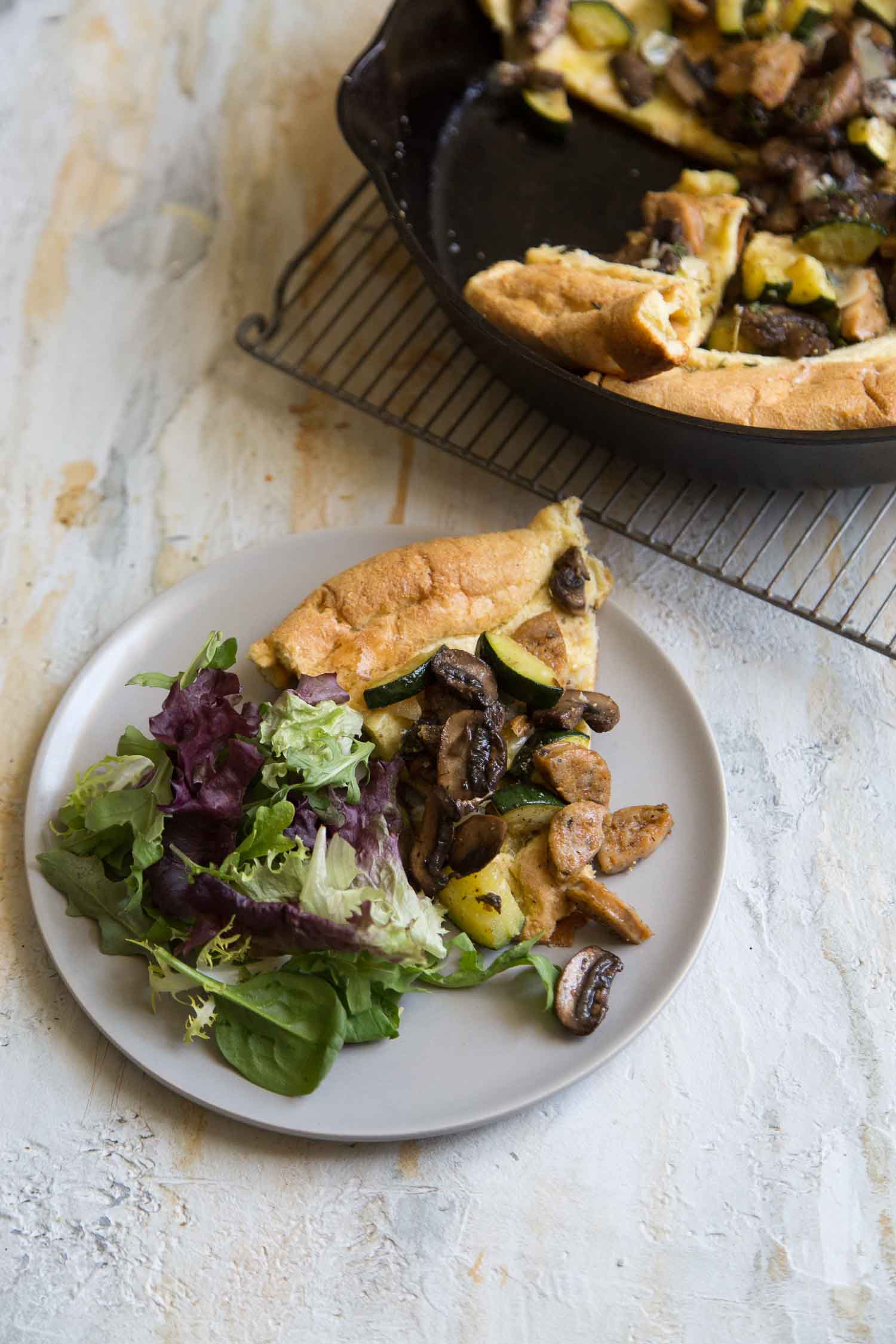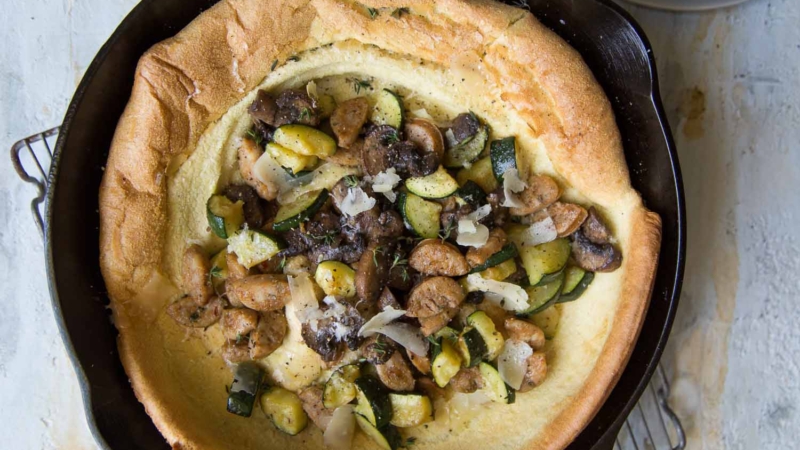 Savory Dutch Baby Pancakes
Savory version of Dutch baby pancakes. This one is topped with zucchini, mushroom, Italian sausage, and a generous sprinkling of shredded cheese.Yield: 9-inch skillet
Ingredients
½

cup

whole milk

3

large eggs

½

teaspoon

kosher salt

½

teaspoon

black pepper

2

Tablespoons

unsalted butter, melted and cooled

2

Tablespoons

grated parmesan cheese, or cheese of choice

½

cup

all-purpose flour

1

Tablespoon

unsalted butter, for greasing pan
Toppings:
1

medium

zucchini, quartered

8

oz

cremini mushrooms, sliced

4

oz

Italian chicken sausage, sliced

shaved cheese, to garnish

fresh thyme, to garnish
Instructions
Preheat oven to 450°F. Using a blender (or hand immersion blender), combine milk, eggs, salt, pepper, and meted butter until smooth. Add cheese and flour. Blend together until there are no longer and dry streaks of flour. Scrape down the sides of the blender as needed to ensure thorough mixing.

Set 9-inch cast iron skillet (or other oven safe pan) over medium heat. Add butter and melt until mixture starts to foam, or bubble. Pour in batter and immediately place in the oven. Bake for 10 minutes. Reduce oven temperature to 350°F and continue to bake for another 12-15 minutes until the pancake starts to pull away from the sides of the pan.

Remove from the oven and top with cooked veggies and sausage. Garnish with additional shaved cheese and herbs. Serve immediately.
Toppings:
Zucchini: Set skillet over medium heat. Add 2 teaspoons oil. Add zucchinis and saute for 3-5 minutes until zucchini is tender. Season with salt and pepper. Transfer to bowl.

Mushrooms: Add another 2 teaspoons of oil to skillet. Add mushrooms and saute for 5-7 minutes. Mushrooms will expel a lot of moisture. Continue to cook until mushrooms are tender and most of the moisture has cooked off. Season with salt and pepper and transfer to another a bowl.

Italian Chicken Sausage: Add 1 teaspoon of oil to skillet. Add sliced chicken sausage. Cook until browned and warmed throughout. Transfer to another bowl.
Notes
Other suggested toppings:
cherry tomatoes, sun dried tomatoes, roasted eggplants, caramelized onions