This isn't your traditional banana bread. Chocolate hazelnut banana bread is studded with dark chocolate chunks and toasted hazelnut pieces.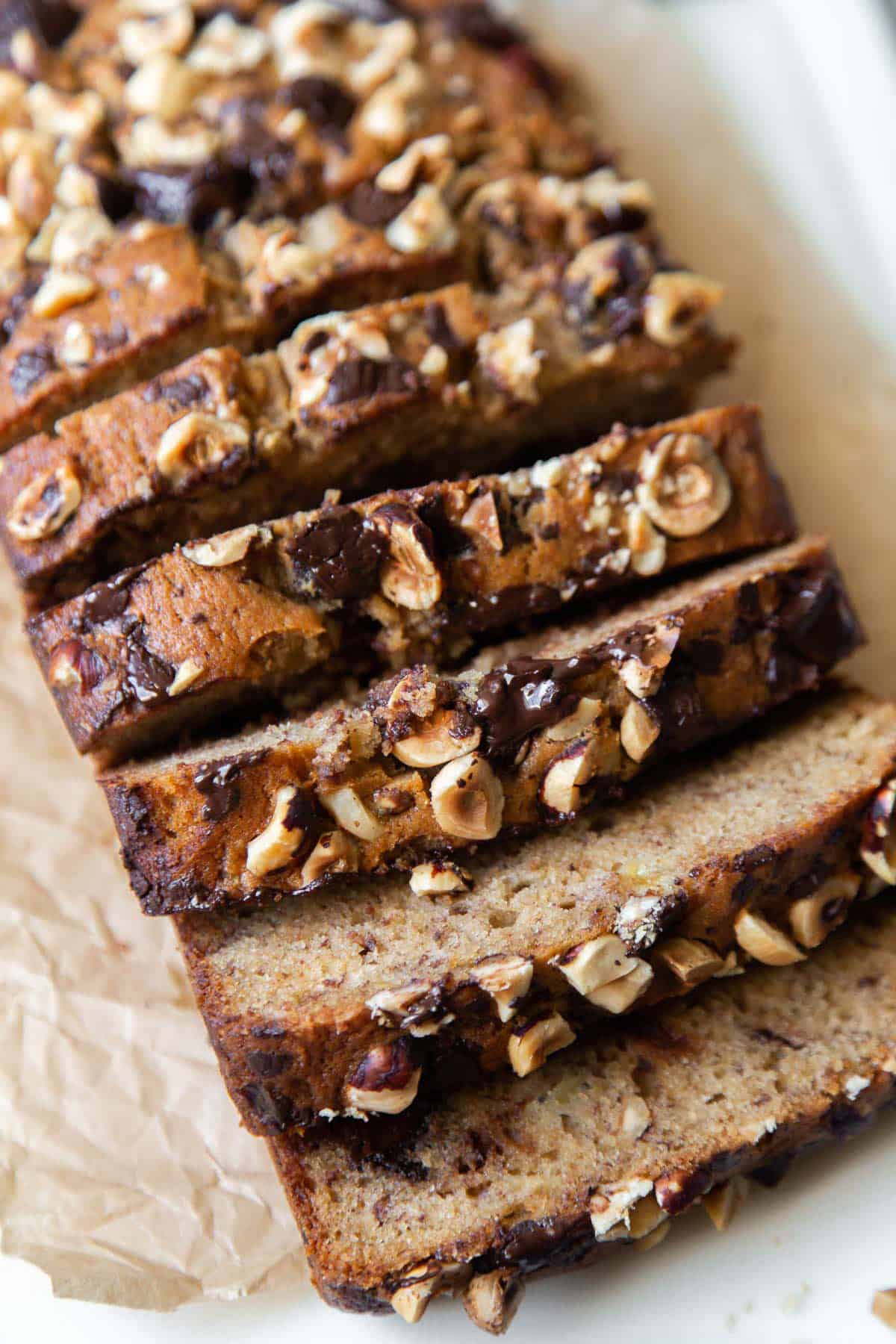 Who can deny banana bread? It is a dependable quick bread that everyone loves.
And, when you mix in a chopped chocolate bar into the batter… well, it's even more difficult to decline a slice!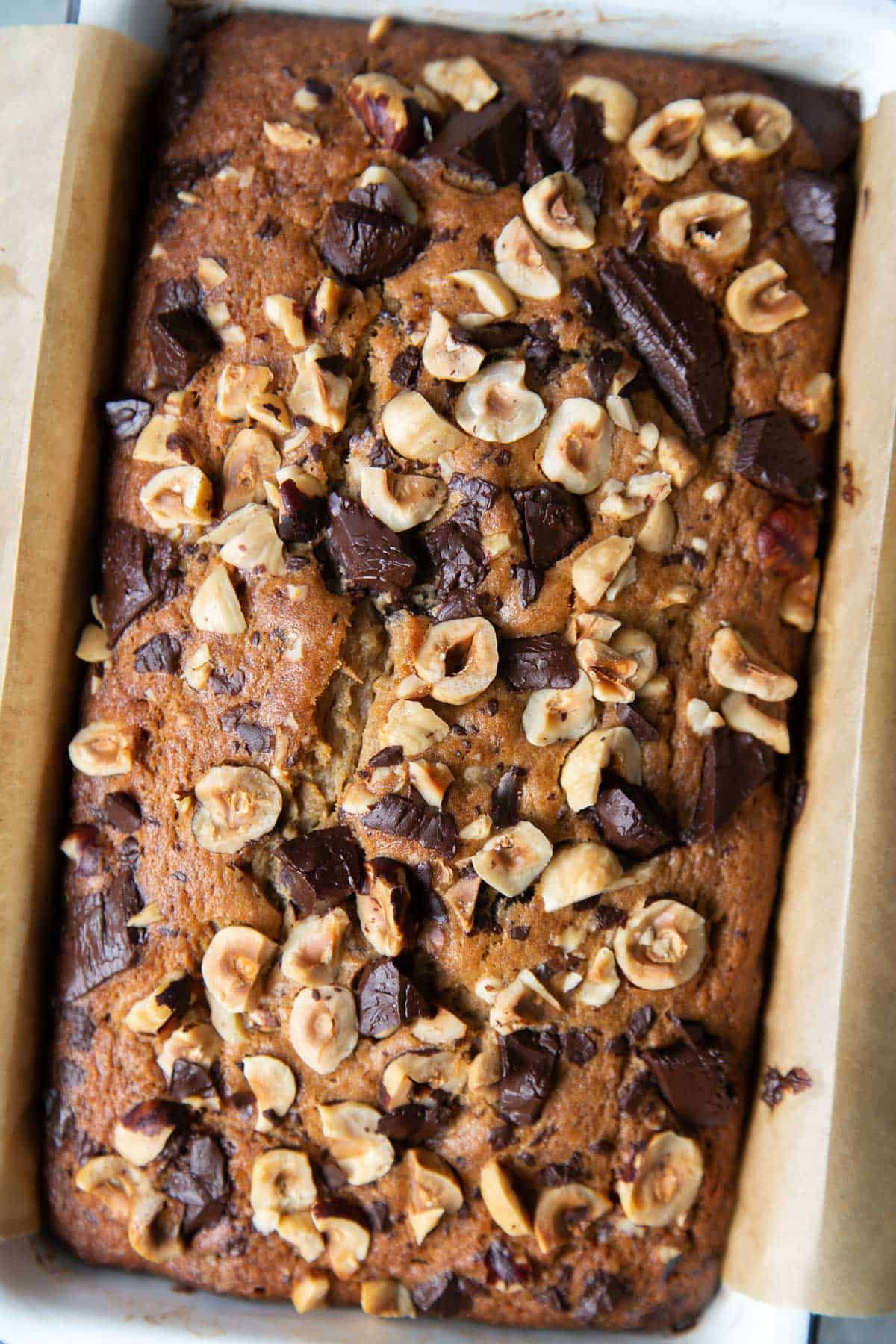 Chocolate Hazelnut Banana Bread
Chocolate and banana are best friends. They're reliable old pals that can pick you up whenever you're feeling down.
Banana chocolate chip cookies, tahini chocolate banana cake, and chocolate dipped frozen bananas are perfect examples of this delicious combination.
How do you make chocolate and banana taste even better? Add roasted hazelnuts!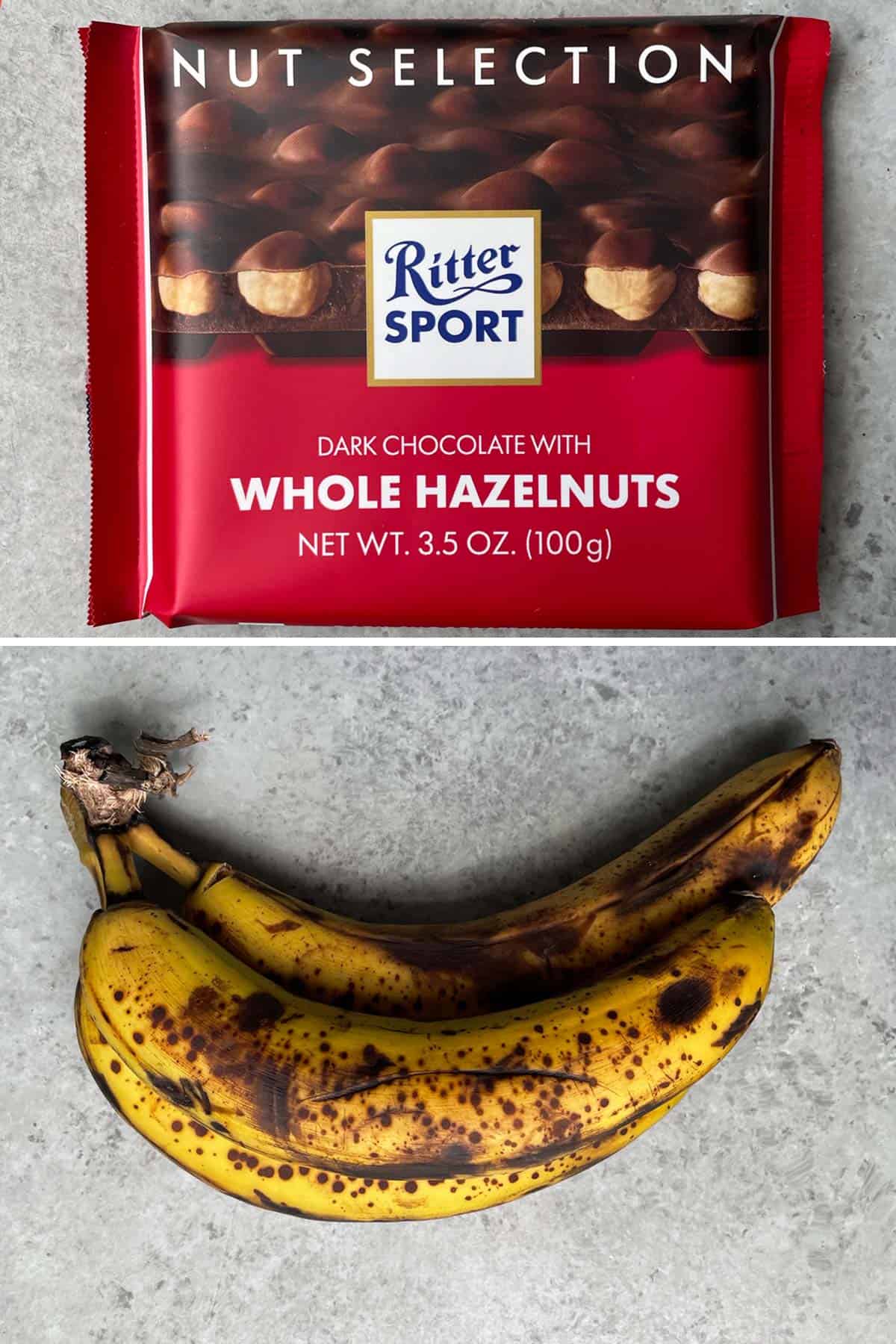 Adding contracting texture is the quickest way to take something from good to phenomenal.
Mixing in toasted nuts to baked goods not only adds textural variety. Nuts contribute rich, warm flavors.
Typical bananas breads usually use walnuts or pecans. This version goes beyond the norm with hazelnuts (aka filberts).
Dark Chocolate Hazelnut Bar
Hazelnuts are wonderfully delicious. However, it's a nuisance toasting and skinning them.
Skip the trouble of roasting your own hazelnuts. Instead, purchase a hazelnut chocolate bar!
I recommend the Ritter Sport dark chocolate hazelnut bar photographed above. It's a great choice because it's made with WHOLE hazelnuts.
You have control over how large or small you want the chocolate and hazelnut pieces to be in the banana bread.
Be sure to use high quality chocolate. If you prefer sweeter milk chocolate, I recommend this milk chocolate bar and this milk chocolate hazelnut bar.
The Importance of Ripe Bananas
As you can see in the image above, I used very ripe, heavily spotted bananas.
Don't be afraid of pushing the boundaries with ripe bananas. The fruit is still good for baking even when the skins have turned black.
Remember- the riper the banana, the more sugar and less starch in the fruit. As bananas ripen, the fruit gets sfoters and considerably more sweeter in flavor.
The sweeter and more flavorful the banana, the better is it for making delicious, irresistible banana bread.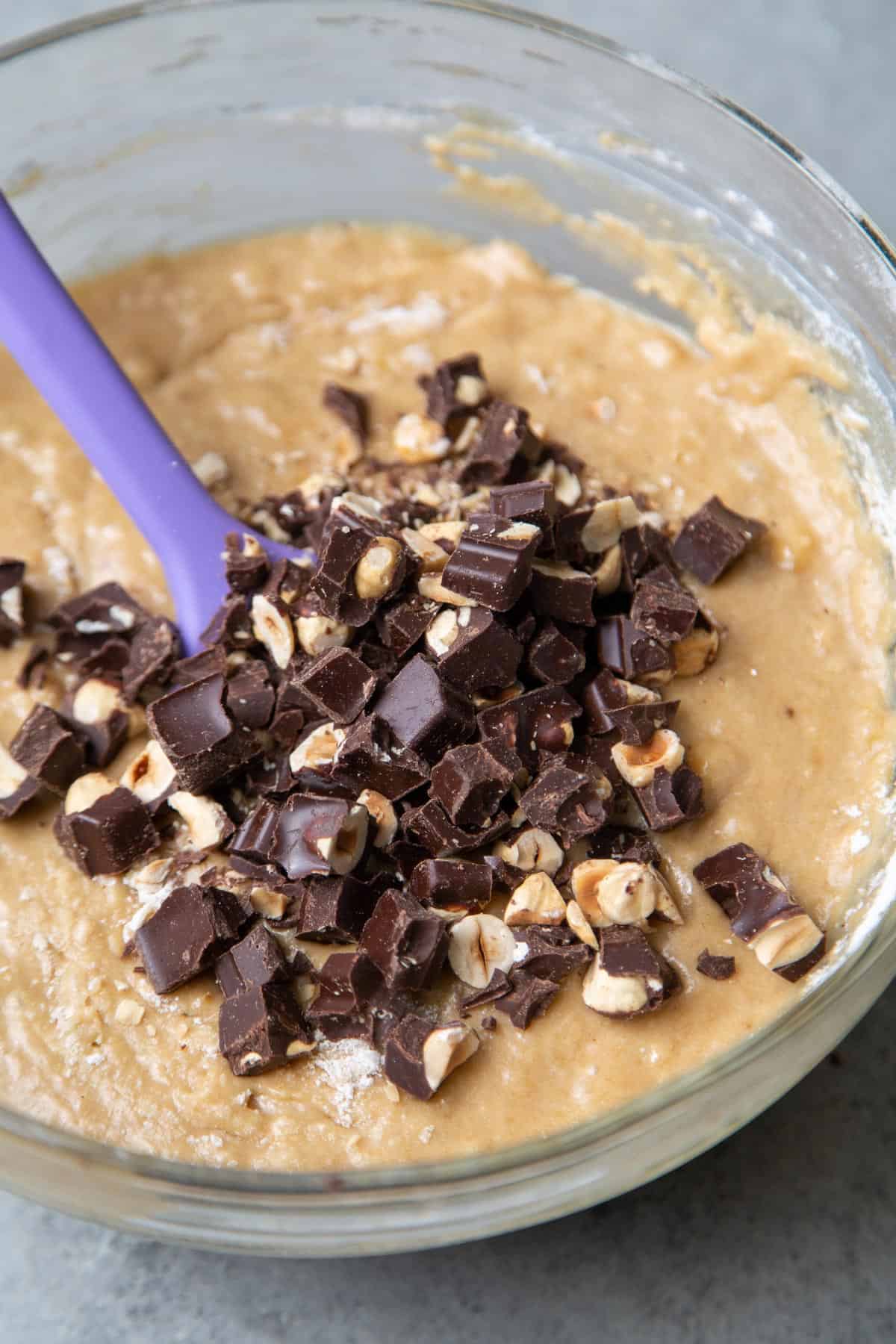 No Mixer Needed Banana Bread
This hazelnut banana bread does not require a mixer. All you need is a large bowl and sturdy spatula.
Easily mix banana bread batter together by hand. However, be careful not to over mix!
Yes, it is possible to over mix quick bread batter. Overmixing will result in dense, gummy banana bread.
Simply mix until there are no longer any dry streaks of flour. Don't worry if the batter is a little lumpy.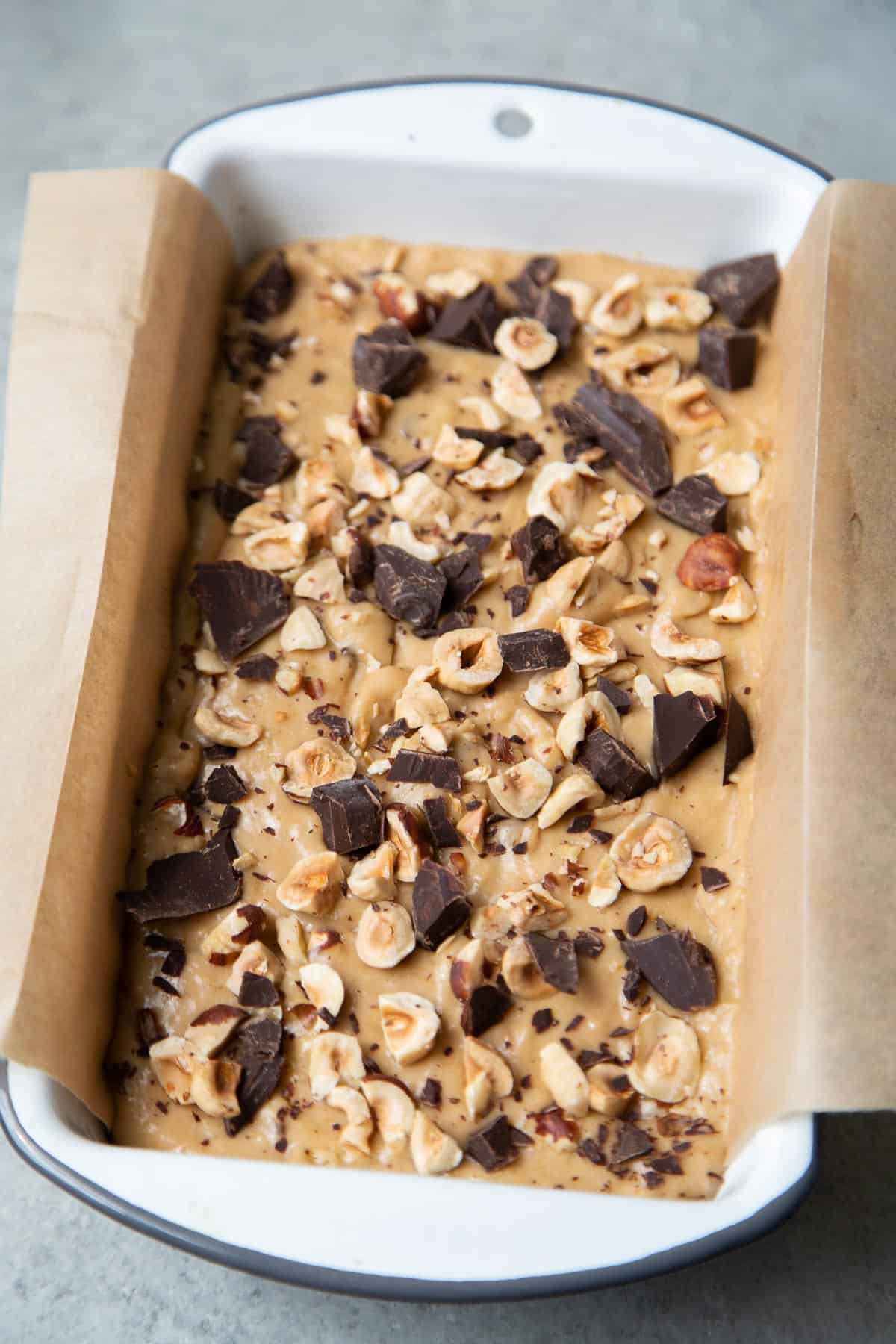 Garnish with more chocolate and hazelnut
Spread banana bread batter into a well greased or lined 9×5-inch loaf pan.
This step is optional, but highly recommended. Garnish the bread batter with a generous sprinkling of chopped dark chocolate and chopped roasted hazelnuts.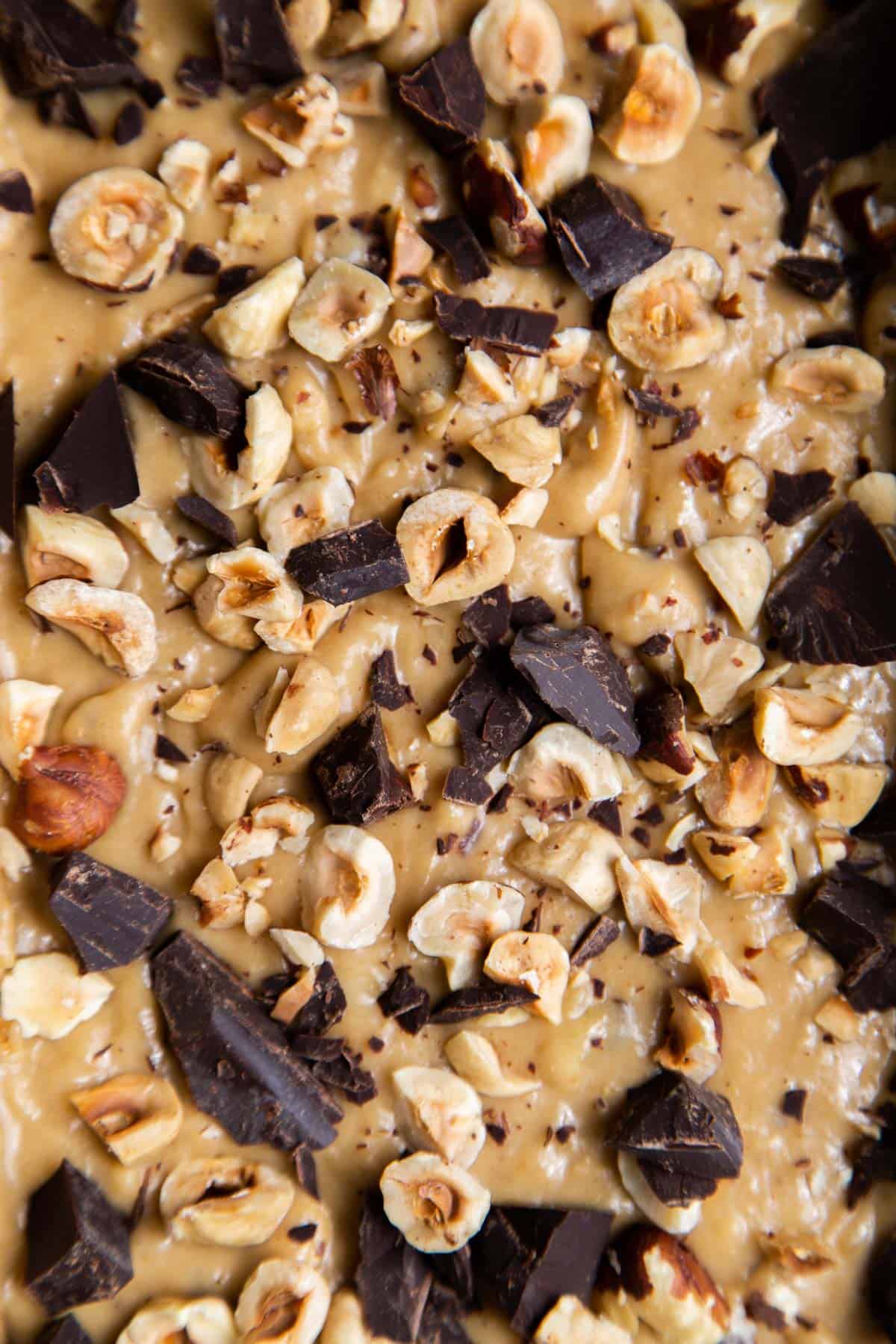 The garnishing add more drama to banana bread.
It adds texture, while also giving you a preview of what's inside!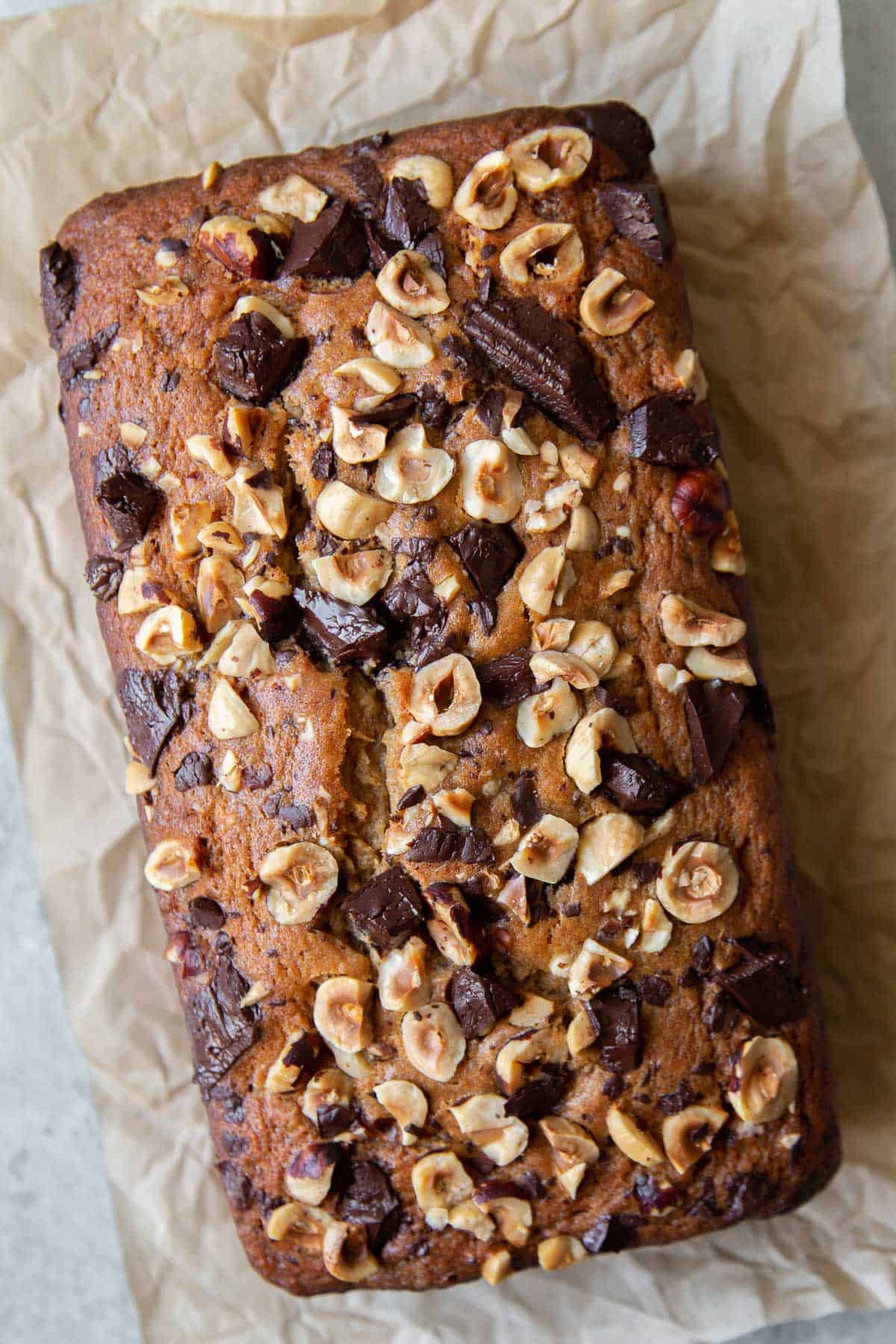 Tip for slicing banana bread with nuts
First of all, patience is very important. Do not slice into hot banana bread.
The bread needs time to cool and regain it's structure.
To speed up the process, lay the banana bread on its side to allow steam to escape from the top and bottom of the bread quicker.
Use a serrated knife for best results. Slice cooled hazelnut banana bread in a gentle sawing motion.
A serrated knife will ensure nice, clean slices. It is slice through the nuts without breading the integrity of the banana bread.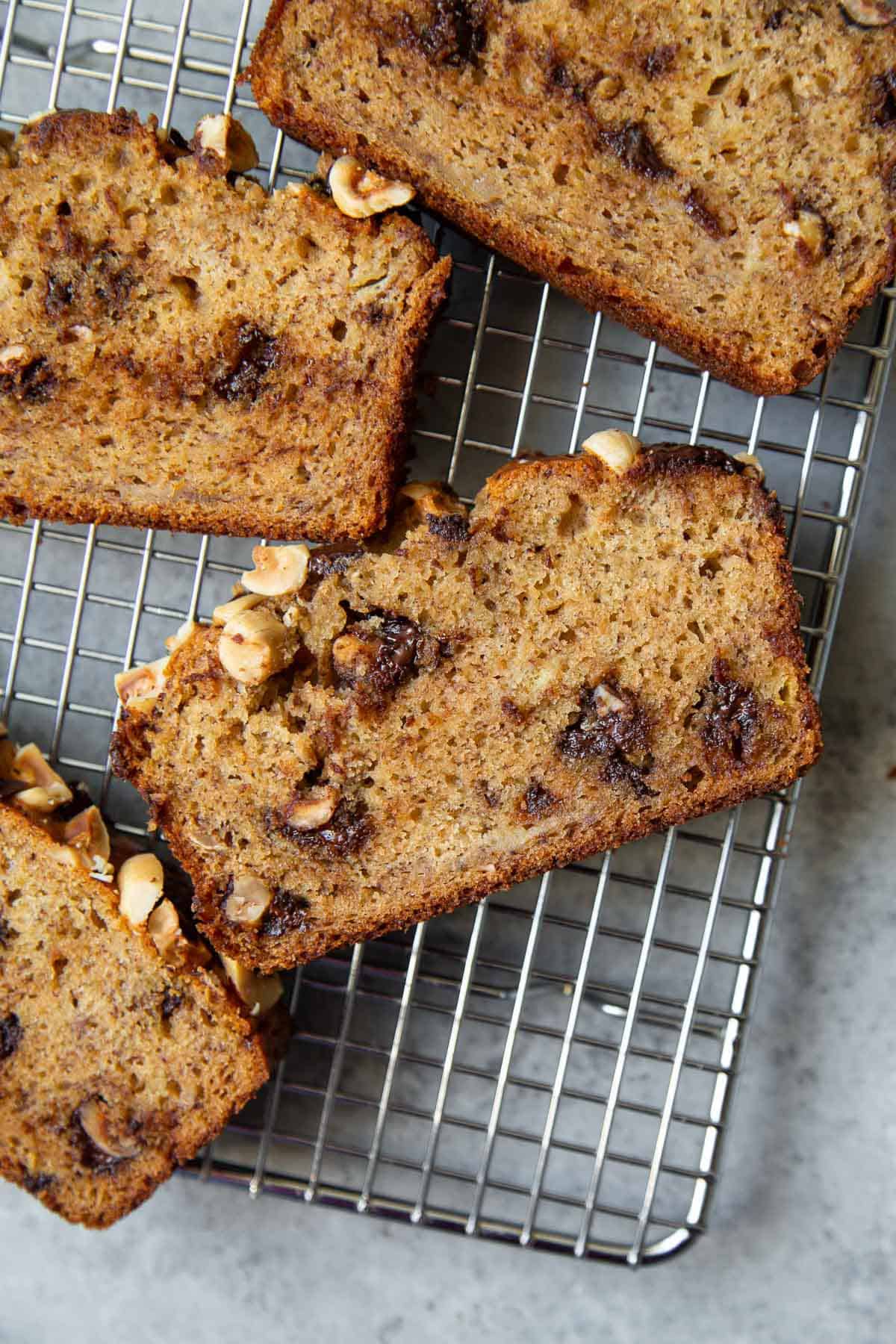 Storage and Leftovers
Banana bread may be left at room temperature. Keep in an airtight container for up to two days.
Keep in the fridge for longer storage, up to four days.
Enjoy the bread at room temperature, chilled, or reheat in a toaster oven.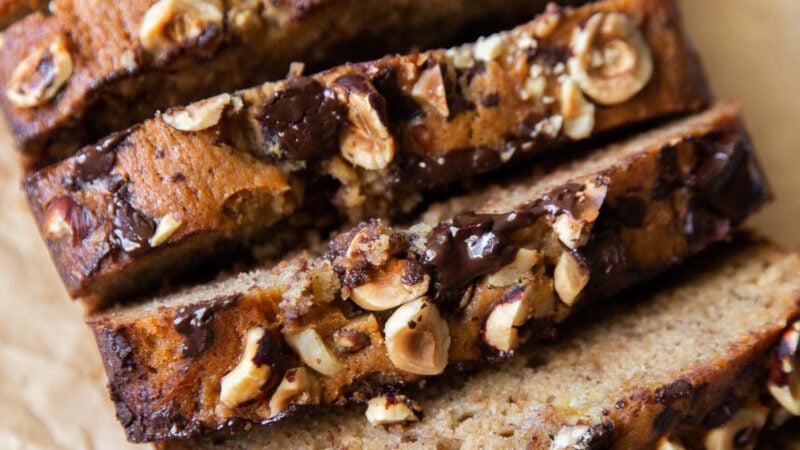 Chocolate Hazelnut Banana Bread
This isn't your traditional banana bread. Chocolate hazelnut banana bread is studded with dark chocolate chunks and toasted hazelnut pieces. Yield: one 9x5inch loaf
Ingredients
1 ½

cup

all-purpose flour

(195 g)

1

teaspoon

baking powder

½

teaspoon

baking soda

½

teaspoon

kosher salt

½

cup

unsalted butter

(113 g), melted

¾

cup

light brown sugar

(150 g), packed

2

large eggs

room temp

1

teaspoon

pure vanilla vanilla extract

2

medium bananas

(250-280 g)*, mashed, very ripe

¼

cup

sour cream

(60 g)

3.5

oz

package Ritter Sport Dark Chocolate with Whole Hazelnuts,

roughly chopped

chopped dark chocolate,

optional for topping

chopped hazelnuts,

optional for topping
Instructions
Preheat oven 350°F.  Grease loaf pan and set aside.

Whisk together flour, baking powder, baking salt and salt. Set aside.

In the bowl of a stand mixer with the paddle attachment, combined brown sugar and melted butter. Add eggs and vanilla. Mix until well incorporated.

Add in banana puree. Mix until thoroughly distributed. *The batter may look curdled.

Add dry flour mixture in two additions, alternating with wet mixture. Begin and finish with the dry. Mix until just combined, until there are no longer any dry streaks of flour. Fold in chopped chocolate hazelnut mixture.

Transfer mixture to prepared loft pan, making sure the surface is even and level. If desired, top with chopped chocolate and chocolate hazelnut.

Bake for 50-60 minutes until toothpick inserted in center comes out clean. Rotate pan halfway through baking. If banana bread gets too brown, make a foil tent to cover bread. Let bread cool in pan for 10 minutes before unmolding and cooling to room temperature on rack. Wait until banana bread is at room temperature before slicing with serrated knife.
Notes
Cool banana bread to room temperature before slicing. Slicing warm (or hot) banana bread will cause the loaf to fall apart and it will result with "gummy" bread.
Slice with a serrated knife for clean cuts. 
This recipe has been tested several times using 2 medium sized bananas. This recipe is ideal for mashed bananas within

250-280 grams.