This isn't your usual banana bread. This version includes chocolate and hazelnuts for additional sweetness and crunch!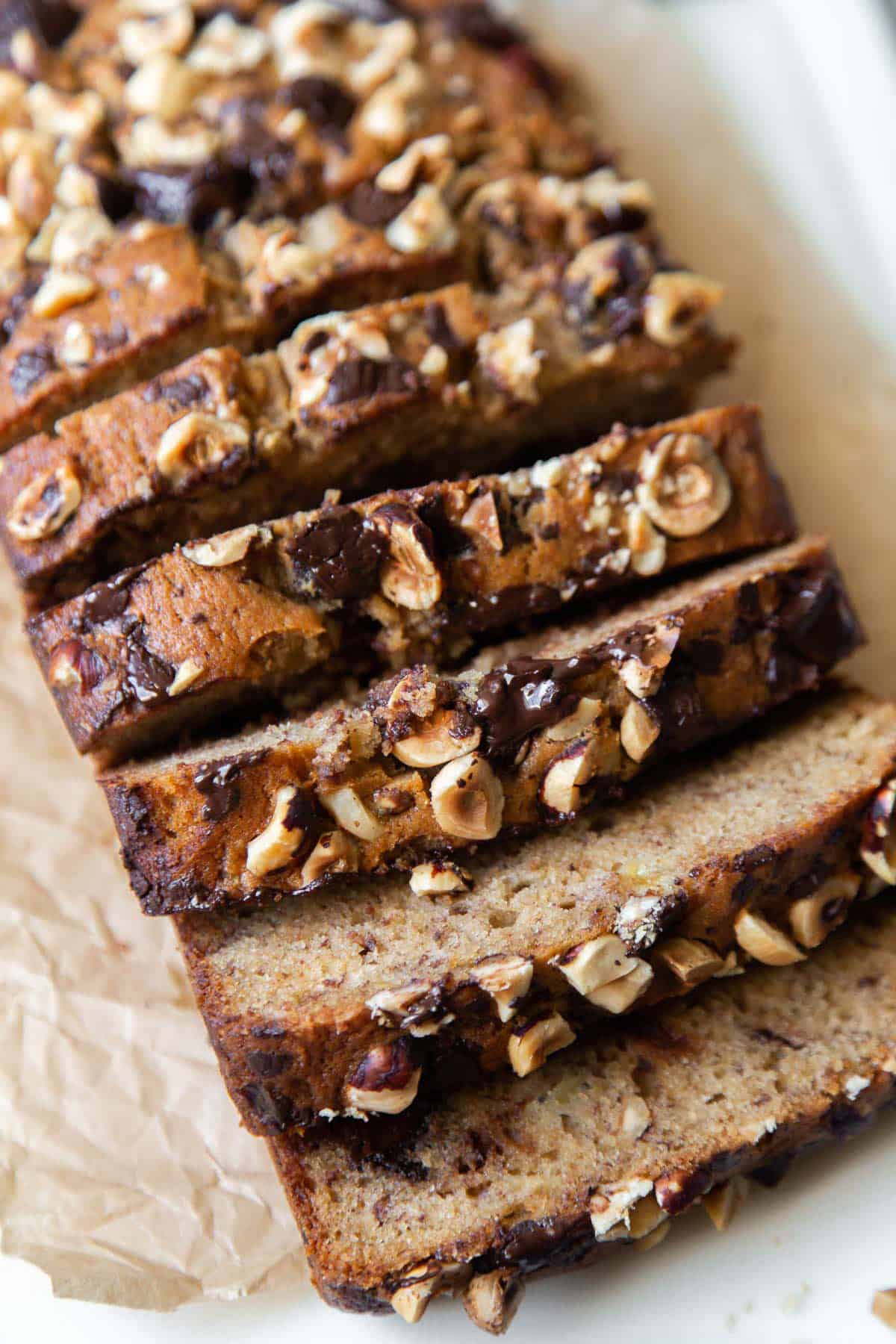 Banana bread is just one of things that's hard to say no to.  And when you mix in a chocolate bar, it doesn't make it any easier to decline.
I love yeast-free quick breads.  They are like best friends– always dependable, reliable and there to pick you up whenever you're feeling down.  They mix and bake fast enough to satisfy any sweet craving.
Like I've mentioned in previous posts, I like contrasting textures in my food.  That's why I love adding toasted nuts to baked goods.  My typical banana breads have the usual walnuts or pecans because they are the easiest nuts to add.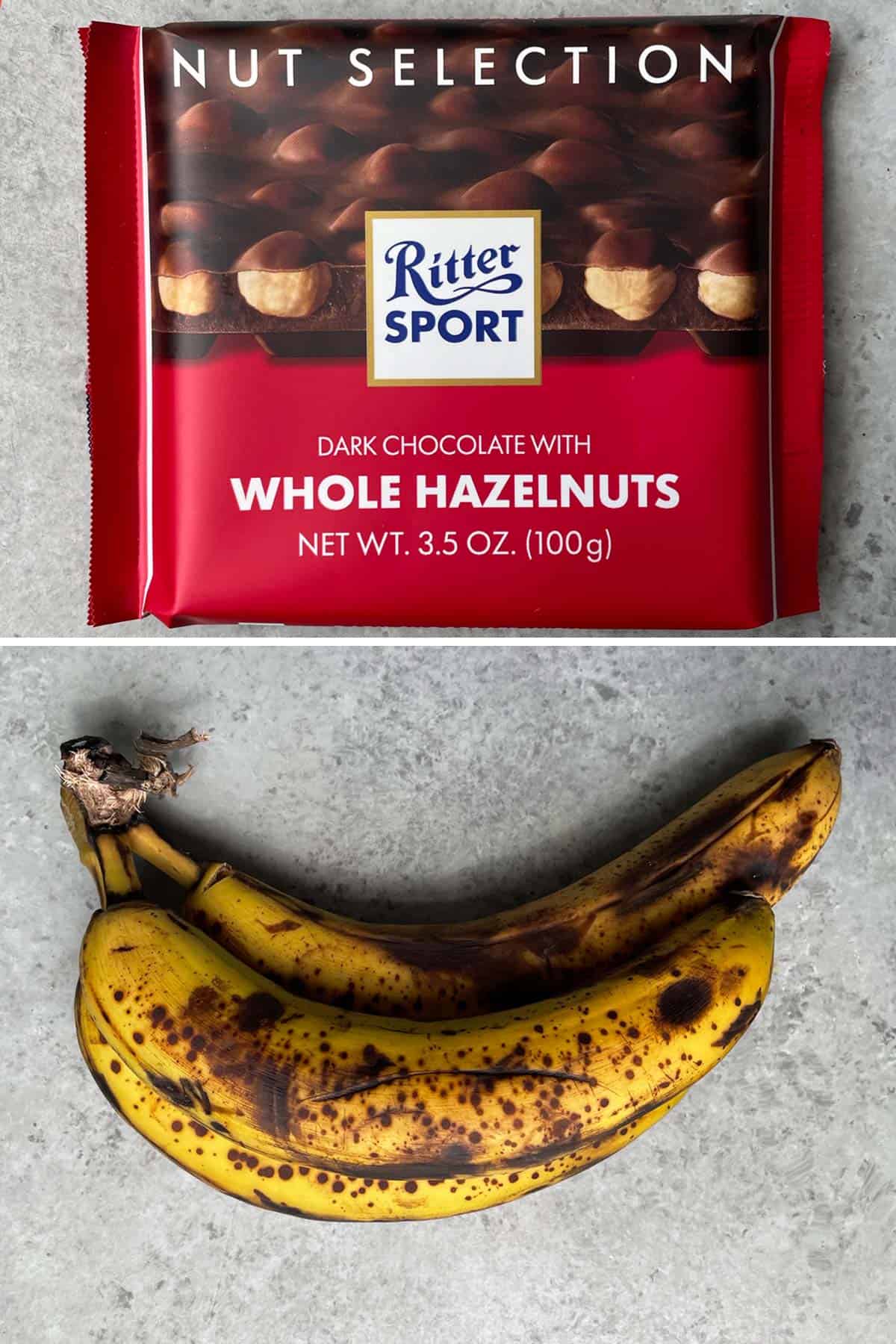 I love hazelnuts, but they can be such a pain.  I can only seem to find hazelnuts with the skins still on them.  So when I want to add hazelnuts, I have to blanch the nuts to remove the skins, then toast them, and wait for them to cool before finally chopping them and adding it to the recipe.  Not only can removing the skins be time consuming, it can also get pretty messy because the skins get quite static.
I was rummaging through the pantry and found a bar of Ritter Sport chocolate.  Ritter has a large variety of chocolates available and this one happens to be my favorite.  Just as I was about to open the package and devour it before my boyfriend returns home– it hit me.
There are skinned, toasted hazelnuts trapped inside this delicious chocolate bar.  I can use it to bake!
And thus, my chocolate hazelnut banana bread was born.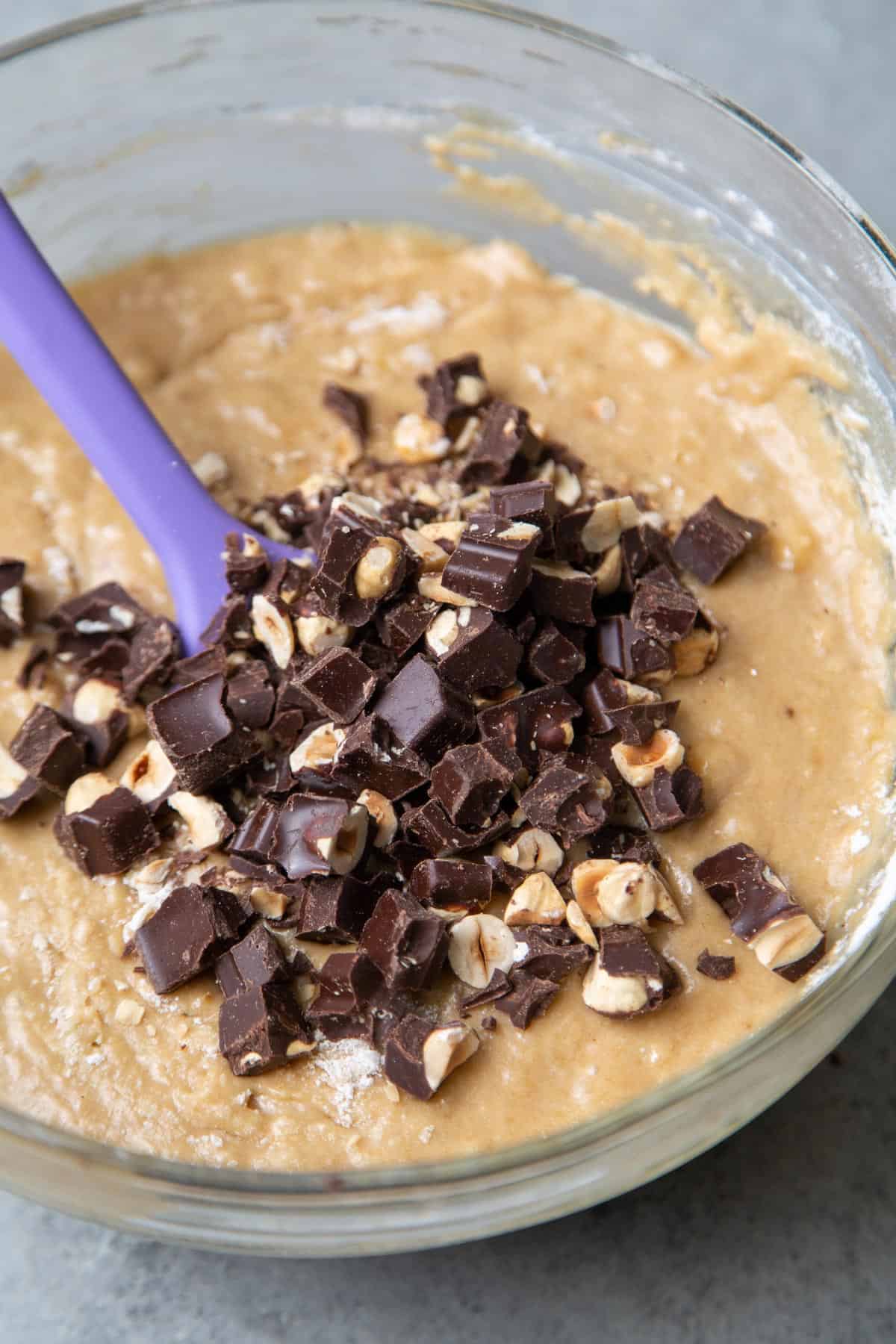 Ever since reading Joanne Chang's Flour cookbook and Christina Tosi's Momofuku Milk Bar cookbook, I have become obsessed with testing how far I could let my bananas ripen.
As you can see from the photo above,  I used very ripe and heavily spotted bananas.  Even when the skins have turned black, the fruit is still very good for baking.  The more ripe the banana, the more sugar and the less starch in the fruit.  As this happens the banana gets softer and considerably more sweeter.
The sweeter and more flavorful the banana, the better is it for making delicious, irresistible banana bread.
Choco-Hazelnut Banana Bread
Ingredients
1

cup

all-purpose flour

1/2

cup

whole wheat flour

1

teaspoon

baking soda

1/2

teaspoon

baking powder

1/2

teaspoon

fine sea salt

1/2

cup

unsalted butter, room temp

3/4

cup

light brown sugar, packed

1/2

cup

granulated sugar

2

large eggs, room temp

2

ripe bananas, mashed

1/4

cup

sour cream

2

Tablespoons

whole milk

1

teaspoon

vanilla extract

3.5

oz

package Ritter Sport Dark Chocolate with Whole Hazelnuts, roughly chopped
Instructions
Preheat oven 350 degrees F. Grease loaf pan and set aside.

Whisk together flour, whole wheat flour, baking soda, baking powder and salt. Set aside.

In the bowl of a stand mixer with the paddle attachment, cream butter until light and fluffy. Add brown sugar and sugar and mix until incorporated. Add eggs one at a time. Add banana puree. Mix until combined

In a small bowl, mix together sour cream, milk and vanilla extract. Set aside.

Add dry mixture in three additions, alternating with wet mixture. Begin and finish with the dry. Mix until just combined. Add chopped chocolate and hazelnuts. Mix until chocolate has been distributed

Transfer mixture to prepared loft pan, making sure the surface is even and level. Bake for 50-60 minutes until toothpick inserted in center comes out clean. Rotate pan halfway through baking. If banana bread gets too brown, make a foil tent to cover bread. Let bread cool in pan for 10 minutes before unmolding and cooling to room temperature on rack. Wait until banana bread is at room temperature before slicing with serrated knife.