These green velvet donuts are a festive St. Patrick's Day take on the red velvet cake.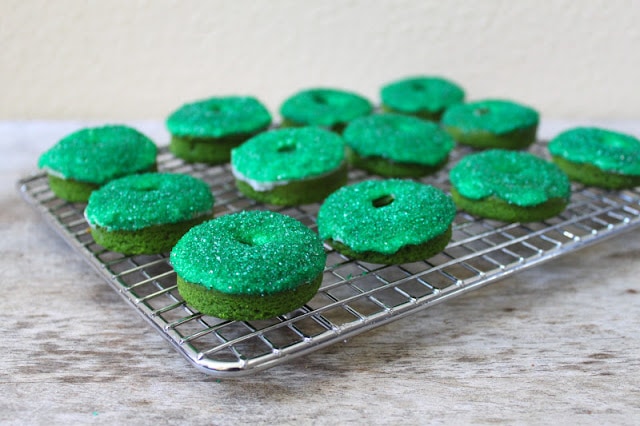 In honor of Saint Patrick's Day I decided to whip up a quick batch of something green and festive.
I read somewhere that originally the color blue was associated with Saint Patrick.  He used the three leafed shamrock to explain the Holy Trinity to non-believers.  Eventually over time, shamrocks and the color green became synonymous with the Irish holiday.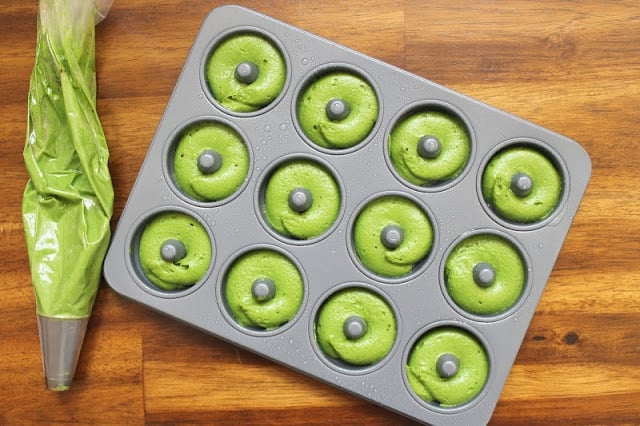 To be honest, I'm not really sure who St. Patrick was or what we're supposed to celebrate.  But any day that promotes people to be happy, joyous, and encourages gatherings is fine by me.
When I was younger, arriving to school without wearing green was unacceptable.  Even wearing the tiniest shamrock sticker could save you in the playground.  St. Patrick's Day was basically a day of pinching, devouring green sugar cookies, and searching for four-leafed clovers during recess.
Then as soon as you hit 21, this day becomes associated with corned beef, cabbage, and heavy drinking; Its all about the bar/pub crawls and the all day happy hours.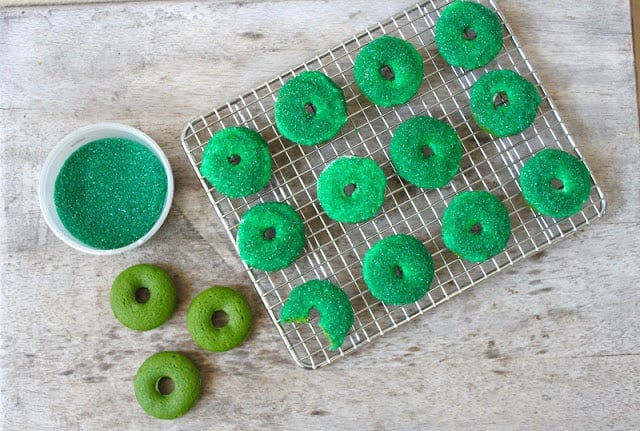 Rather than drinking pints of alcohol, I'll be partaking in the consumption of a lot of green sugar.  I'll be taking these delicious little Green Velvet Donuts to parties this weekend.  This is simply a red velvet cake that has been dyed green.
When I lived in Chicago, I was so eager to see the Chicago River dyed green for this holiday.  Its funny how the ordinary can become so extraordinary with just a little change of color.
No matter how you celebrate this Saturday, I hope its a good one.
Happy Saint Patrick's Day!
Green Velvet Donuts
Yield: makes two 8-inch cakes, 2 dozen cupcakes, or 5 dozen mini donuts
Ingredients
Green Velvet Donuts:
1

cup

all-purpose flour

1 1/2

cup

cake flour

2

Tablespoons

Dutch-processed cocoa powder

1

Tablespoon

baking powder

1/2

teaspoon

baking soda

1/2

teaspoon

fine sea salt

1

cup

buttermilk, room temp

1

Tablespoon

distilled white vinegar

1 1/2

teaspoon

vanilla extract

1

cup

unsalted butter, room temp

1 1/2

cups

granulated sugar

2

large eggs, room temp

green food gel paste, as needed for desired color
Cream Cheese Glaze:
3

oz

cream cheese, room temp

2

Tablespoon

unsalted butter, room temp

1/4

cup

confectioners' sugar, sifted

2

Tablespoon

whole milk

1/2

teaspoon

vanilla extract
Instructions
Green Velvet Donuts:
Preheat oven to 350 degrees F. Lightly grease mini donut pans, or butter and flour cake pans, or line muffin tins.

Whisk together flour, cake flour, cocoa powder, baking soda, and salt. Sift all dry ingredients. Set aside.


In a bowl, whisk together buttermilk, vinegar, and vanilla. Set aside.


In the bowl of a stand mixer with a paddle attachment, cream butter and sugar until pale and fluffy. Add eggs one at a time, beating well after each addition.


On low speed, add dry mixture in three additions, alternating with wet ingredients. Add desired amount of green food gel paste. After all ingredients have been added, continue to mix on high speed until batter is smooth.


If making donuts, transfer batter to piping bag with small tip. Pipe batter to fill donut cavity until half full. Bake for 10-15 minutes until donut springs back when touched. If making cakes, divide batter between two pans. Bake for 30 minutes until toothpick inserted in center of cake comes out clean

Cream Cheese Glaze:
Cream together cream cheese and butter until well combined. Add confectioners' sugar. Add milk and vanilla. Beat until smooth. Add more sugar to have thicker glaze, add more milk for thinner glaze.

Dip donuts into glaze. Decorate with green sprinkles. Let sit until glaze sets.