Homemade fresh fettuccine pasta is easier than you think! It's far less complicated than bread dough.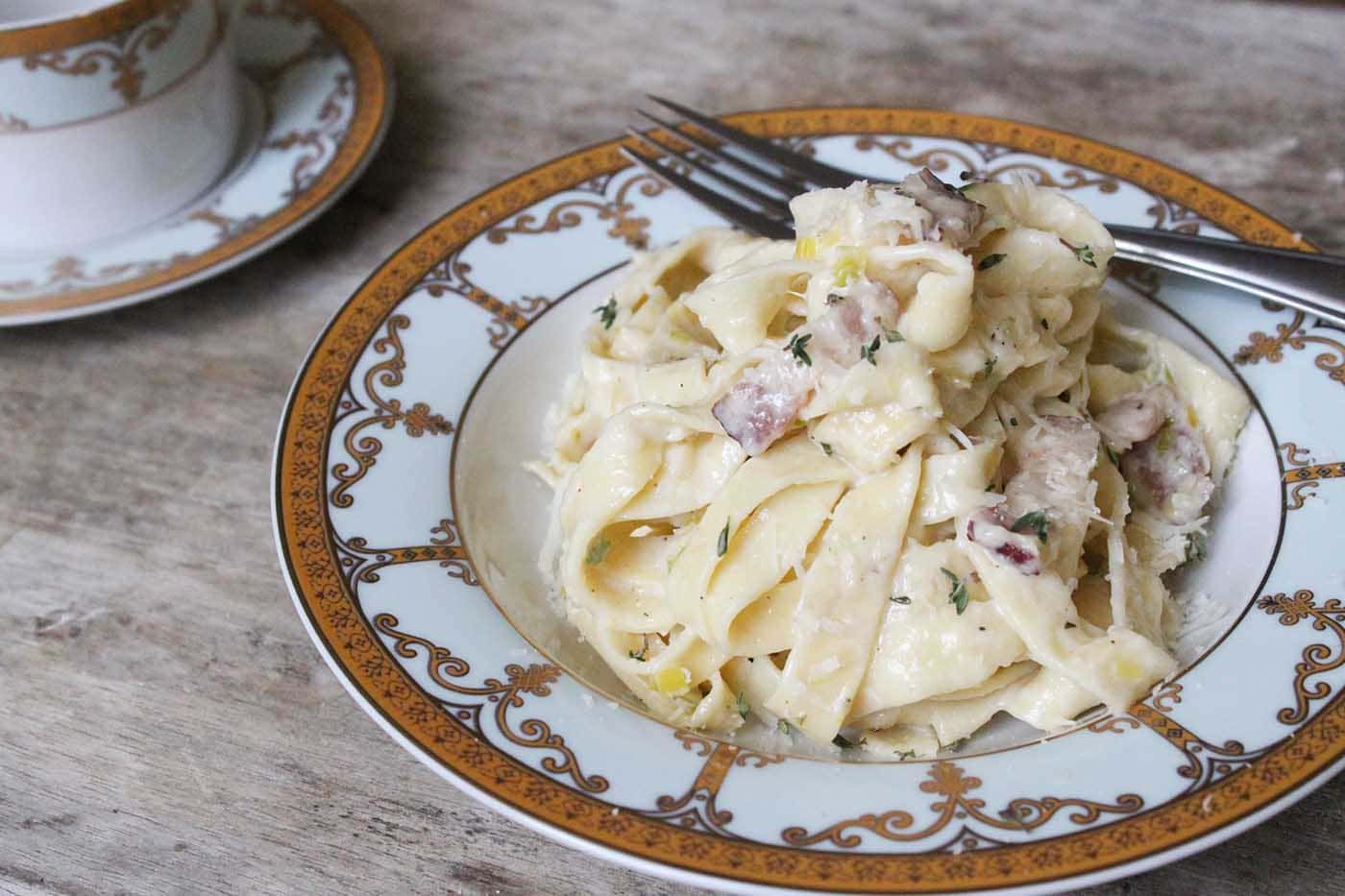 I watched The Lady and the Tramp the other night with my pup Charlie.
I love that famous spaghetti kiss scene.  It left me craving fresh pasta, specifically fresh fettuccine!
Also recently, I have fallen in love with leeks. Thanks to my chef boyfriend, I am no longer afraid of the vegetable. I see them often at the market, but I found them intimidating because of their giant green leaves. I would look at the leeks and wonder how the heck I would cook them. Do you use the green parts or the stem? Recipes say to use the only the whites and pale green parts of the stem, but why do markets sell them with the unusable leafy parts? I think it could be a ploy to charge the customer more. But it also does look a whole lot prettier with the greens on.
Leeks taste like a cross between onions and green onions. I love the mellow onion flavor without the sharpness of regular onions. Leeks are so versatile and easy to cook. It also doesn't make your eyes tear up like onions. Its my favorite vegetable of the moment.
This pasta dish takes the best parts of a Carbonara sauce without having to deal with the eggs. The bacon and leeks are both bold enough to stand out in the creamy sauce. Fresh fettuccine with bacon and leeks is a great dish to transition into spring.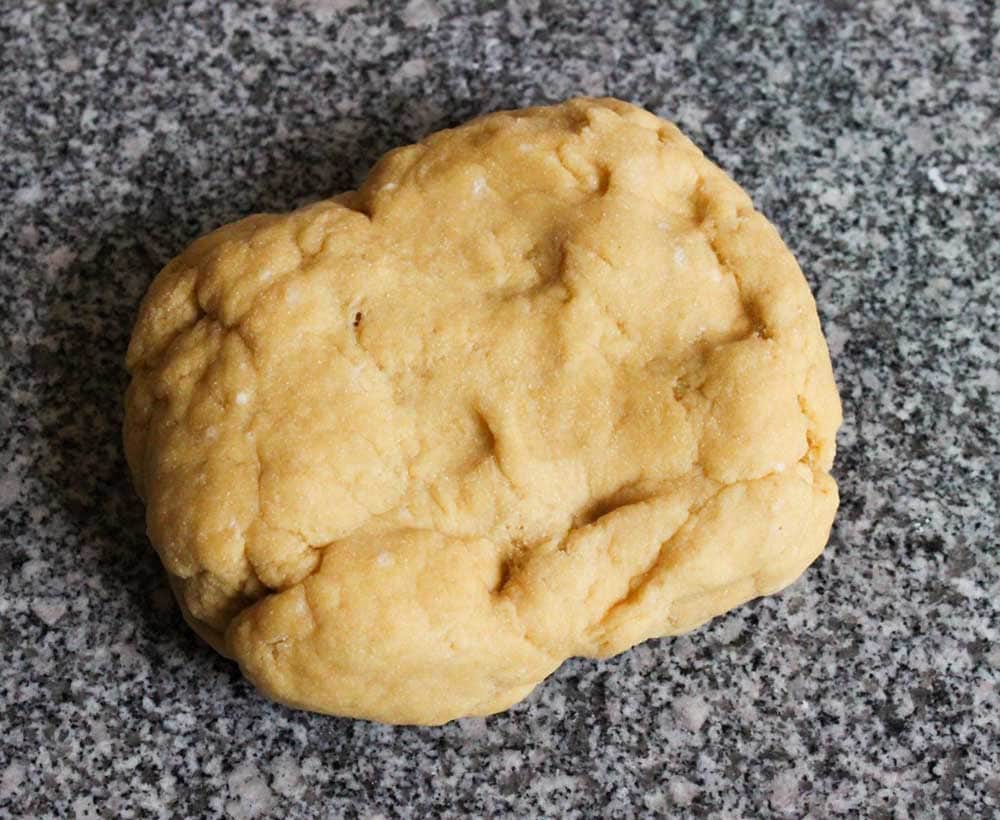 Homemade Fettuccine Pasta
Making pasta from scratch is easier than you'd think. Its far less complicated than bread dough. It may be a little time-consuming the first time you make it, but it is definitely simple and oh so satisfying.
Place all the ingredients in the bowl of a stand mixer. Let the machine do its magic and when you are done kneading the dough, it should look like the photo above. Wrap the dough in plastic and let it rest at room temperature for about an hour. Then cut the dough into 8 roughly equal parts using a bench scraper, knife, or your hands.
You can roll the pasta out by hand or make life really easy and use a pasta roller attachment like this one. You can also use one of those old school pasta machines that you crank by hand. Or if you are really fancy, stores like Sur la Table and Williams-Sonoma have those expensive pasta extruder machines.
Flatten the cut pieces of dough one at time and pass them through the roller at the widest setting a few times. Slowly decrease the setting until you get the thickness of pasta you desire. On my KitchenAid pasta roller I started with #1 and stopped at #5.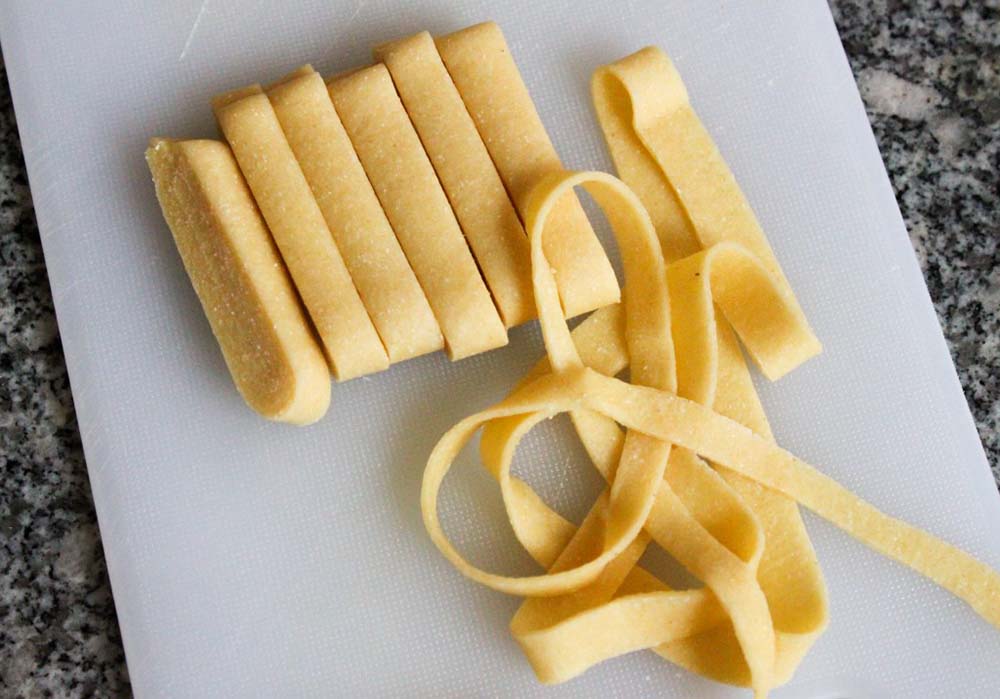 I don't have a fettuccine cutter attachment, so I cut the noodles by hand. Take the long flattened dough and fold it a couple of times. Be sure to sprinkle semolina flour or all-purpose flour before folding to ensure the dough doesn't stick together. Using a sharp chef's knife, cut the pasta into your desired width. I cut mine a little bigger than 1/4 inch.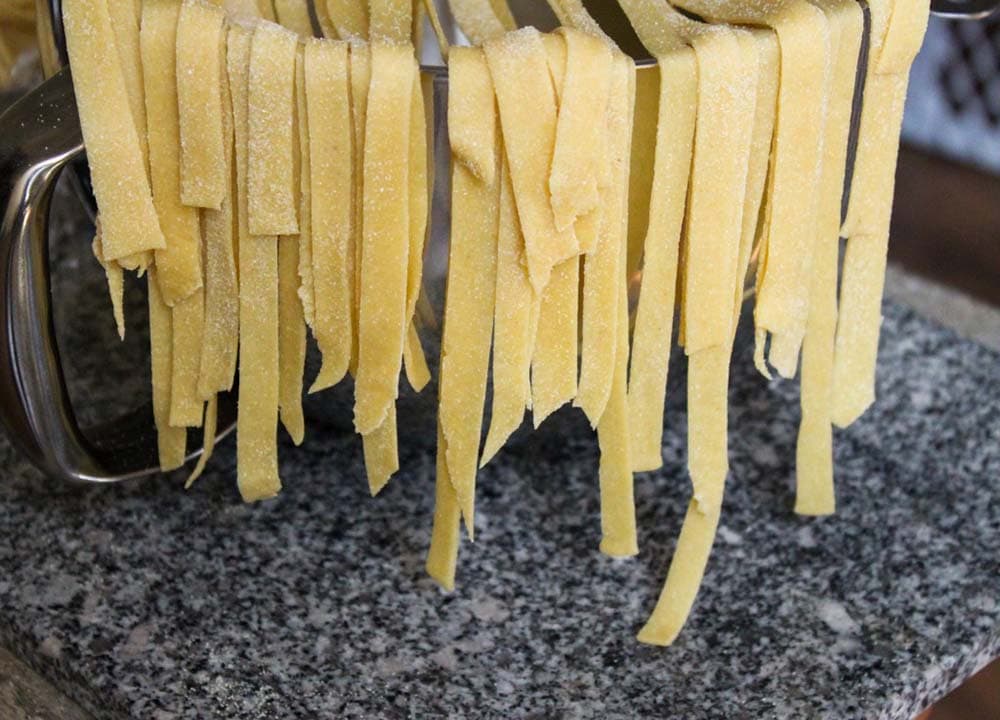 Unroll the cut pasta and let them dry slightly by hanging them, about 10-15 minutes. I draped them over an empty mixing bowl. You can also use the back of a chair or a kitchen towel rack.
And voilà! You have yourself fresh homemade pasta! Use the fresh pasta immediately or freeze in a ziplock bag for future use.
Best thing about making your own pasta- you can make the noodles as long as you want so you can share a bowl with your significant other and totally recreate that spaghetti kiss scene!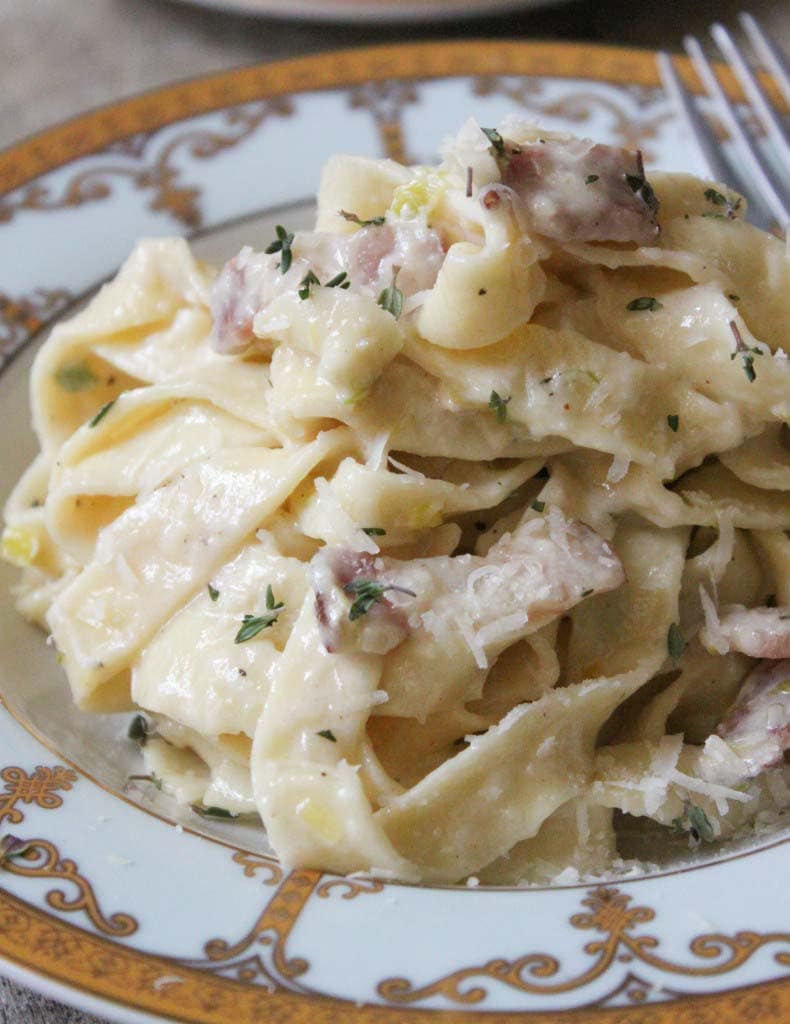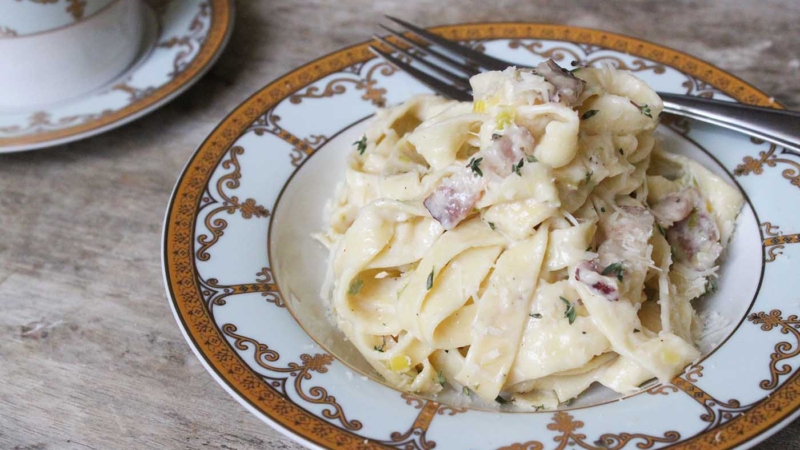 Fresh Fettuccine with Bacon and Leeks
Yield: makes 2 pound pasta, serves 5-6
Ingredients
Homemade Fettuccine: (makes 2 pounds)
2

cups

all-purpose flour

2

cups

semolina flour

3/4

teaspoon

fine sea salt

5

large eggs, room temperature, lightly whisked
Bacon and Leek Cream Sauce:
2

Tablespoons

olive oil

1

Tablespoon

unsalted butter

3

slices

thick cut bacon, cut into 1/2-inch wide strips

1

medium-large leek, halved lengthwise, sliced crosswise, use only white and light greens parts, about 1 cup total

salt and black pepper, to taste

1

cup

heavy cream

1/4

cup

reserved pasta water

2

teaspoons

fresh thyme leaves, chopped

1

pound fresh pasta dough (half of recipe)

1

cup

Grana Padano cheese, finely grated
Instructions
Homemade Fettuccine:
In the bowl of a stand mixer, whisk together all-purpose four, semolina, and salt. Attach dough hook to stand mixer. On low speed, slowly add whisked eggs a little bit at a time. Once all eggs have been incorporated, increase speed to medium and knead until dough is a smooth, cohesive mass. Knead/mix for about 5-6 minutes. If dough is too tough or dry, add 1/2 Tbsp of water at a time until smooth. (I used 1 1/2 Tbsp)

Keep dough in mixing bowl and cover with plastic wrap. Let sit and rest at room temperature for one hour.


Transfer dough to lightly floured surface and divide dough into 8 equal parts. Working with one piece at a time, flatten dough into a rectangle. Lightly dust the dough and the pasta roller mixer attachment (or pasta machine).


With the roller on the widest setting, pass the pasta through the machine's rollers a couple times. Begin to adjust the pasta machine setting to be thinner, passing the dough through once or twice at each setting. Keep the machine running at low-medium or medium speed.

*If rolling the pasta by hand: flatten dough into rectangle with your hands. Place dough on lightly floured work surface, begin rolling dough with a floured rolling-pin. Be sure to constantly move the dough by lifting it to make sure it is not sticking to the surface. Continue to roll and thin out dough to your desired thickness.


Once the pasta is at your desired thickness ( I took mine down to the 5th setting), cut into your desired shapes. I cut 1/4" inch wide strips to make the fettuccine. You can cut by hand or use a pasta attachment cutter. Once you have cut the pasta, drape over a clean large sauce pot or the back of a chair to dry the pasta for 5-10 minutes before cooking.

To cook the pasta, fill a large sauce pot with salted water. I've been told to salt the water until it tastes like sea water, but the amount of salt is up to you. Cover the pot and wait for the water to boil.

Gently drop in pasta into the boiling water. Stir the pasta only once or twice. Do not over the pot. Let the pasta come back to a rolling boil. Cook for 2-4 minutes until pasta is al dente, or firm to the bite.

Before you drain the pasta, reserve 1 cup of pasta water. Drain pasta. Transfer pasta to clean large bowl. Dress with sauce right away.
Bacon and Leek Cream Sauce:
In a 10-inch skillet, heat olive oil and butter. Over medium heat, add bacon and cook until fat is rendered. Add sliced leeks, salt and pepper. Cook until leeks have softened and lightly browned.


Add cream, thyme, and 1/4 cup reserved pasta water. Whisk together. Bring to a boil, then reduce heat and let simmer until thickened. Salt and pepper to taste.

Add in cooked pasta and grated cheese. Toss until sauce is evenly distributed. Serve warm and garnish with grated cheese and thyme leaves, as desired.