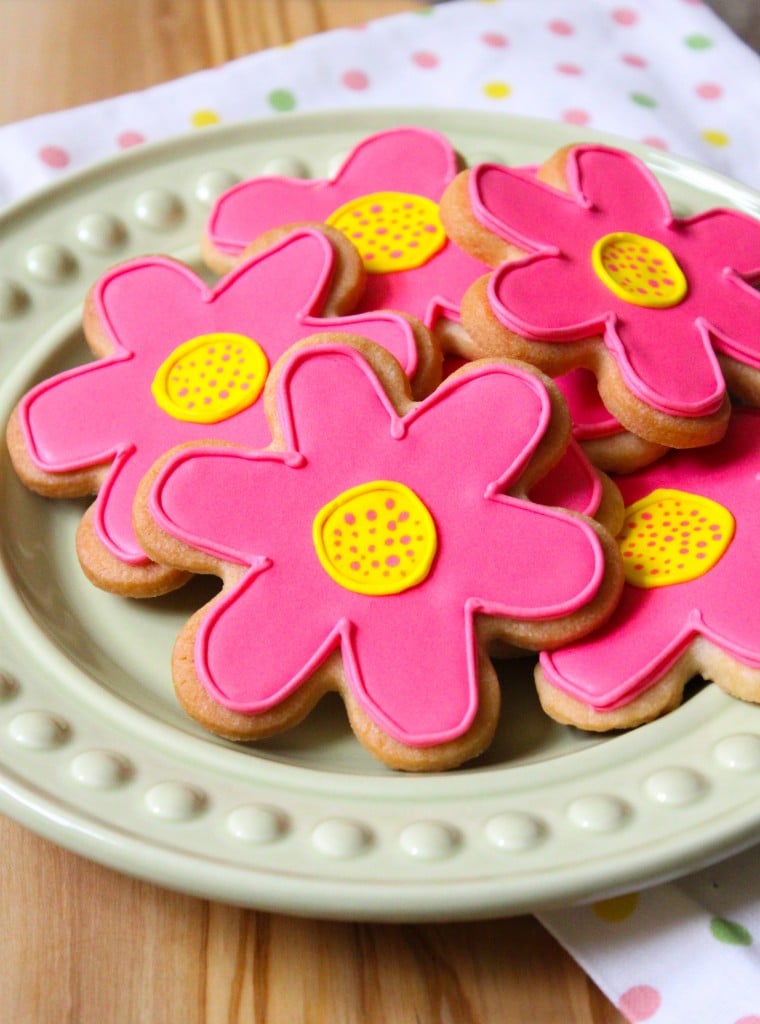 Spring is fast approaching and I can't wait.  This Sunday marks the start of daylight savings time.  I'm ready for longer days, itching to feel the warmth of the sun, and excited to have more time to spend running around with my dog.
For me, the new year doesn't necessary start with the changing of the calendars on January 1st.  It begins with spring.  Spring is a renaissance, a rebirth of all sorts, a new start filled with new beginnings and new chances.  I feel like anything is possible during spring.  There is so much promise for the upcoming months and the summer ahead.
This particular spring will be quite an exciting and adventurous one for me and my family.  These spring sugar cookies represent the blooming of something new.  No, I'm not getting married yet.  No, there isn't a baby on the way.  But we are building something together that will truly be beautiful and amazing.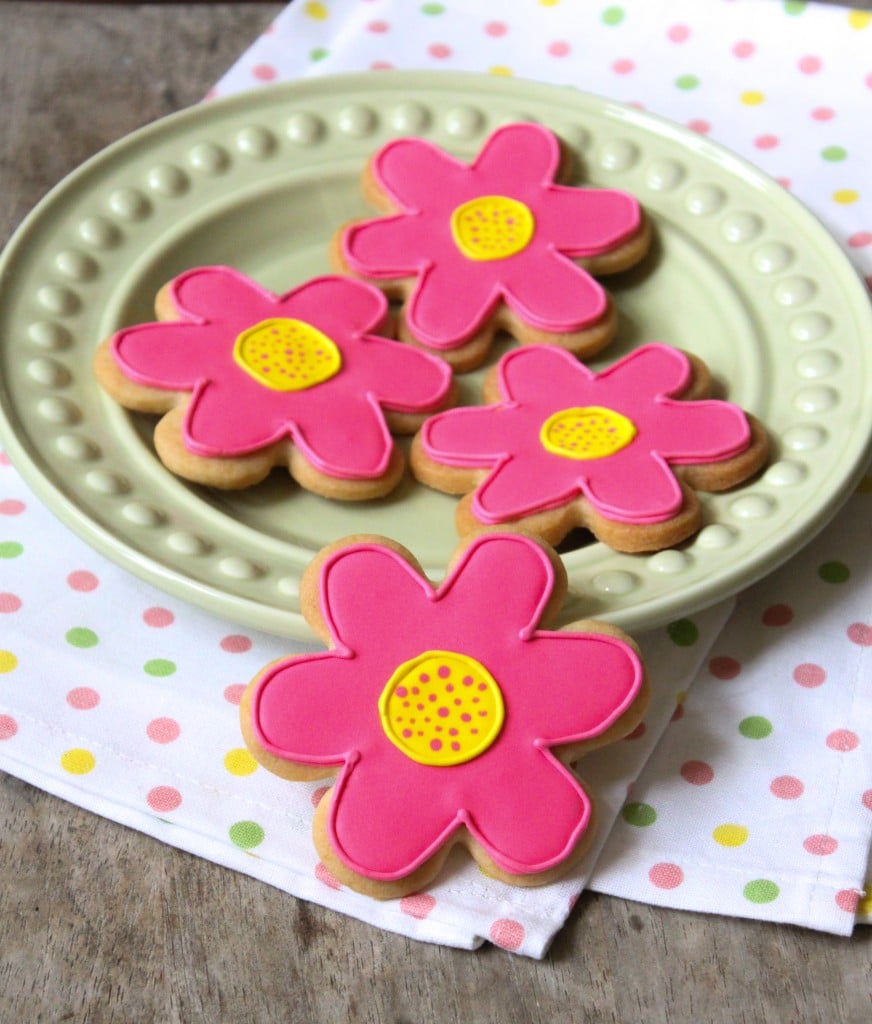 I don't have much experience decorating sugar cookies.  Last year I made lemon honey cookies in the shape of hearts, and last Christmas I made some gingerbread men.  In the mist of my early spring cleaning, I came across a box full of cookie cutters.  I have no idea how I accumulated so many cutters, or how I forgot that I had stashed them away.  I saw it as a sign to start using them.
Sugar cookies taste delicious on their own but its so fun to decorate them.  Plus, there is no rule on decorating.  You can be as simple or elaborate as you want.  There are numerous blogs that showcase wonderfully, beautiful decorated sugar cookies.  If you need any help or inspiration for sugar cookies, Bake at 350 is one of my favorite sites.  She has the prettiest cookies that I wouldn't dare bite into.  She is very talented.  I can only hope that one day I'll be able to inspire others like her.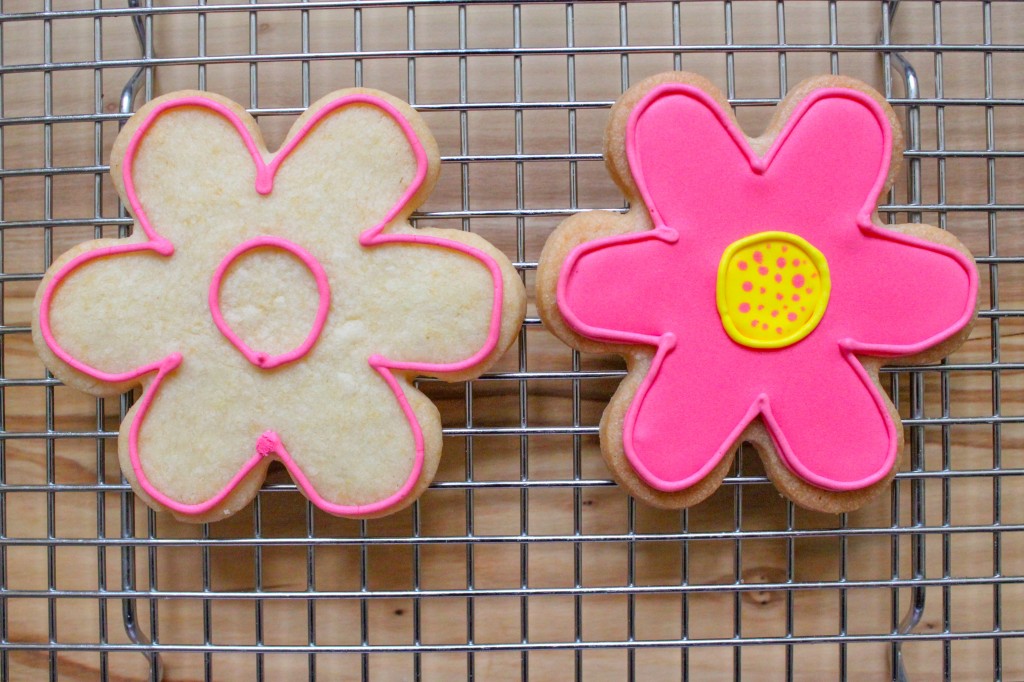 I decorated these cookies with royal icing.  I followed the directions on the back of the meringue powder container and it turned out really well.  After you cookies have cooled, its time to decorate!  I started by piping a general outline using a #2 piping tip.  (#0 and #1 also work well)  By the time you have outlined all your cookies, the first outlined cookie should be dry and ready for flooding.
Once the outlines are dry, thin some royal icing using warm water.  Add a teaspoon at a time to your royal icing until it is loose and pourable.  I like using a squeeze bottle, but you can also use a piping bag.  Flood the inside of the outlines with the thinned out royal icing.  The icing should naturally flow to the edges of the outlines.  If it needs a little help, you can use a clean toothpick to drag it out.  Once the flood work has dried, about 30minutes to 1 hour, I like to pipe another border on top to enhance the shape and colors.
Royal Icing
Ingredients
1/4 cup meringue powder
1/2 cup warm water
4 cups powdered sugar, sifted
1/2 tsp vanilla extract
1 Tbsp light corn syrup
Method
1. In the bowl of a stand mixer fitted with a paddle attachment, mix together meringue powder and water on low speed until frothy and soft peaks.  Make sure the powder has been dissolved.  If necessary, scrape bowl down a couples of times to ensure the powder gets mixed in.
2. Add sifted powdered sugar 1 cup at a time.  Add vanilla and corn syrup.  Mix at medium speed until fluffy and dense, about sift peaks.  At this point, the royal icing is perfect for outlining.
3. Color using gel paste.  I prefer AmeriColor food gel pastes.  I used electric pink and electric yellow to get my vibrant colors.
4. Cover royal icing with plastic wrap, letting the plastic wrap touch the surface.  Store in refrigerator until needed.  Stir vigorously just before using.
Vanilla Sugar Cookies, adapted from The Art of the Cookie
recipes follows