These spring sugar cookies feature flower shaped vanilla sugar cookies decorated with vibrantly colored royal icing. These are perfect for Mother's Day!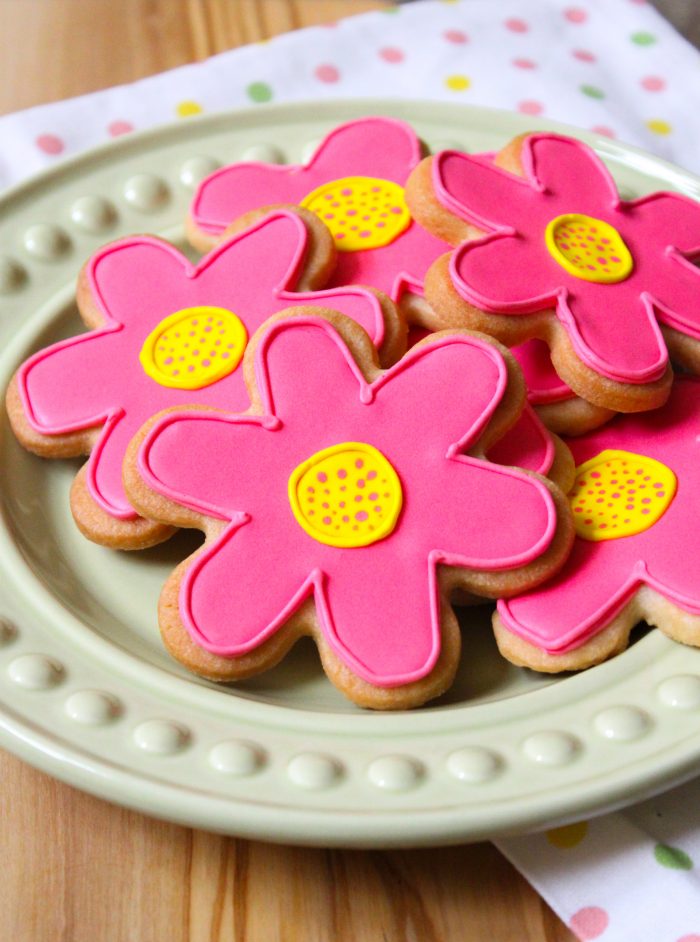 Spring is fast approaching and I can't wait. This Sunday marks the start of daylight savings time. I'm ready for longer days, itching to feel the warmth of the sun, and excited to have more time to spend running around with my dog.
For me, the new year doesn't necessary start with the changing of the calendars on January 1st. It begins with spring.
Spring is a renaissance, a rebirth of all sorts, a new start filled with new beginnings and new chances. I feel like anything is possible during spring. There is so much promise for the upcoming months and the summer ahead.
Flower Sugar Cookies with Royal Icing
Sugar cookies taste delicious on their own but its so fun to decorate them. Plus, there is no rule on decorating. You can be as simple or elaborate as you want.
There are numerous blogs that showcase wonderfully, beautiful decorated sugar cookies. If you need any help or inspiration for sugar cookies, Bake at 350 is one of my favorite cookie blogs.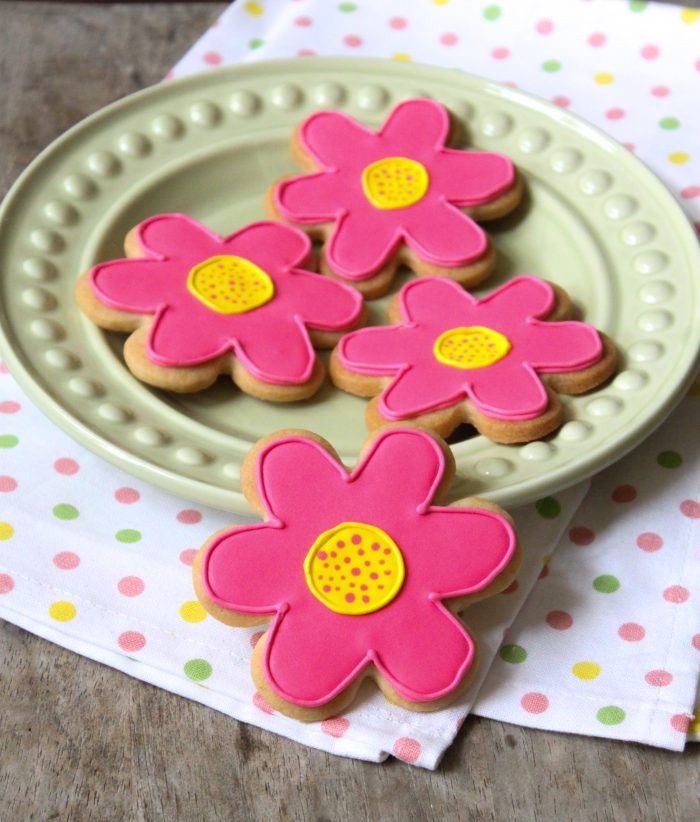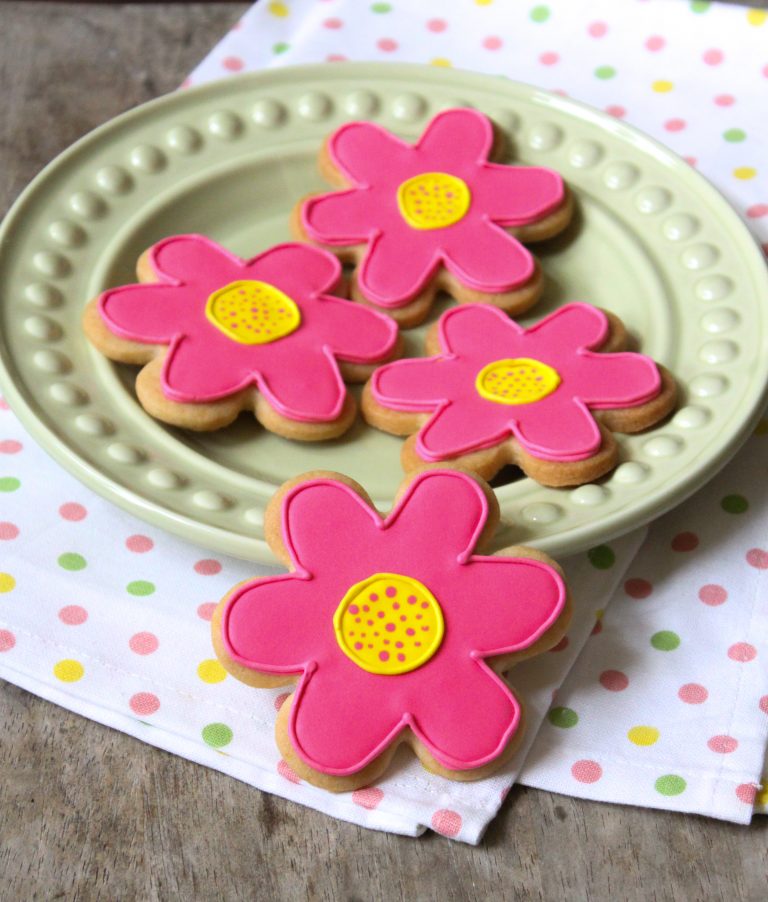 I decorated these cookies with royal icing. Traditional royal icing is made with raw egg whites and confectioners' sugar. I prefer the more modern method that uses store-bought meringue powder.
Meringue powder is a mixture of egg white powder, cornstarch, and stabilizers. It's safer and easier to use than raw egg whites!
NOTE: Meringue powder can also be used to make meringue topping and other frostings!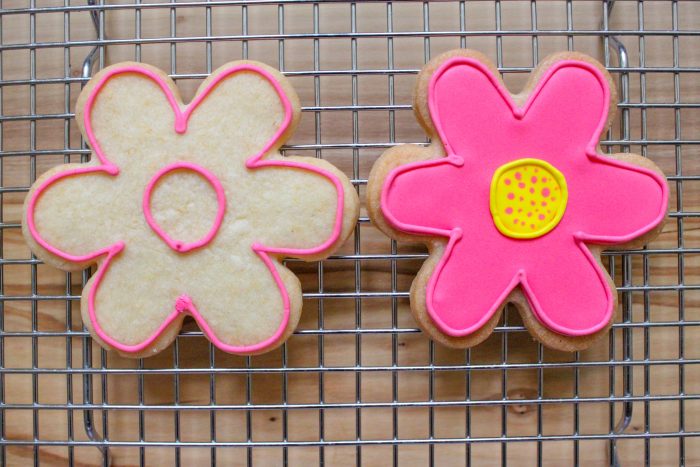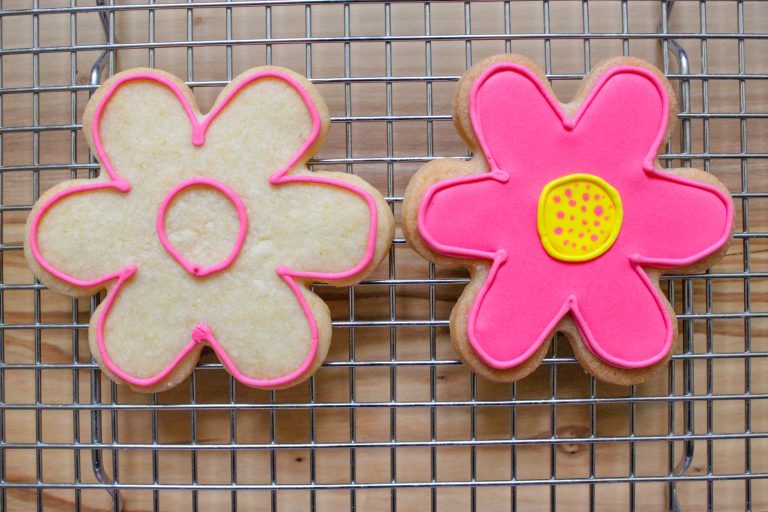 Outline and Flood Sugar Cookies
After you cookies have cooled, its time to decorate!
I started by piping a general outline using a #2 piping tip. (#0 and #1 also work well) By the time you have outlined all your cookies, the first outlined cookie should be dry and ready for flooding.
Once the outlines are dry, thin some royal icing using warm water. You will use this thinner royal icing to "flood" in the sugar cookies.
 Add a teaspoon at a time to your royal icing until it is loose and pourable.  I like using a squeeze bottle, but you can also use a piping bag.  
Flood the inside of the outlines with the thinned out royal icing.  The icing should naturally flow to the edges of the outlines.  If it needs a little help, you can use a clean toothpick to drag it out.  
Once the flood work has dried, about 30minutes to 1 hour, I like to pipe another border on top to enhance the shape and colors.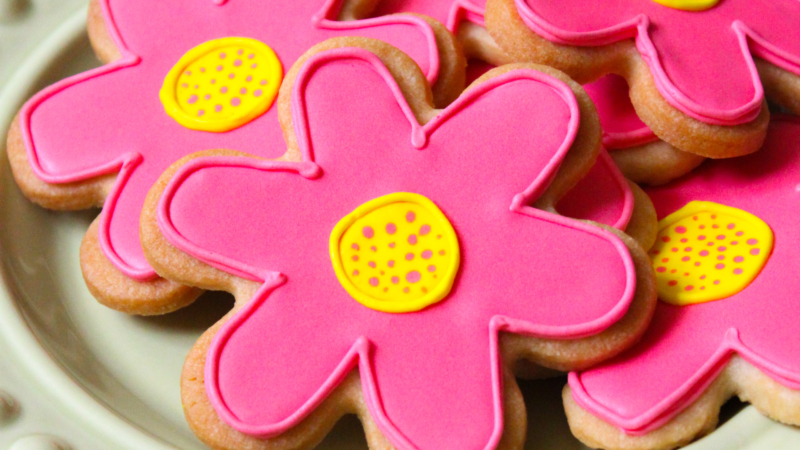 Sugar Cookies with Royal Icing
Ingredients
Sugar Cookies:
3

cups

all-purpose flour

¾

tsp

baking powder

½

tsp

baking soda

½

tsp

kosher salt

1

cup

unsalted butter

room temp, softened

¾

cup

granulated sugar

1

large egg

room temp

1½

tsp

pure vanilla extract

2

Tbsp

milk
Royal Icing:
¼

cup

meringue powder

½

cup

warm water

4

cups

confectioners' sugar

½

tsp

pure vanilla extract

1

Tbsp

light corn syrup
Instructions
Cookies:
Whisk together flour, baking powder, baking soda, and salt.

In the bowl of a stand mixer fitted with a paddle attachment, cream together butter and sugar. Add egg and vanilla extract. Mix until well combined.

Add half of flour mixture to mixing bowl. Mix on slow speed for about 10 seconds. Add milk and mix for another few seconds. Then, add remaining half of flour mixture. Mix on low speed until just combined. Scape down sides of bowl as needed to ensure thorough mixing.

Divide dough into two equal parts. Cover with plastic wrap and chill in the refrigerator for at least one hour, or overnight.

Preheat oven to 350°F. Line baking sheet trays with parchment paper or baking silicone mat. Set aside.

Work with one piece of dough at a time. Let cookie dough rest at room temperature for 15-20 minutes to gently warm up and softened. On a lightly floured work surface, roll dough to about ¼-inch thick. Cut out desired shapes using a floured cookie cutter. Transfer cut outs to prepared sheet trays.

Bake for 13-15 minutes until the edges are golden. Let cookies cool on baking sheet for a few minutes before transferring to wire racks to cool to room temperature.
Royal Icing:
In the bowl of a stand mixer fitted with a paddle attachment, mix together meringue powder and water on low speed until frothy and soft peaks. Make sure the powder has been dissolved. If necessary, scrape bowl down a couples of times to ensure the powder gets mixed in.

2. Add sifted powdered sugar 1 cup at a time. Add vanilla and corn syrup. Mix at medium speed until fluffy and dense, about sift peaks. *At this point, the royal icing is perfect for outlining.

Color using gel paste.  *I prefer AmeriColor food gel pastes.  I used electric pink and electric yellow to get my vibrant colors.

Cover royal icing with plastic wrap, letting the plastic wrap touch the surface. Keep in the refrigerator until ready to use. Stir vigorously just before using.