No chill sugar cookies Christmas trees decorated with royal icing and an assortment of sprinkles.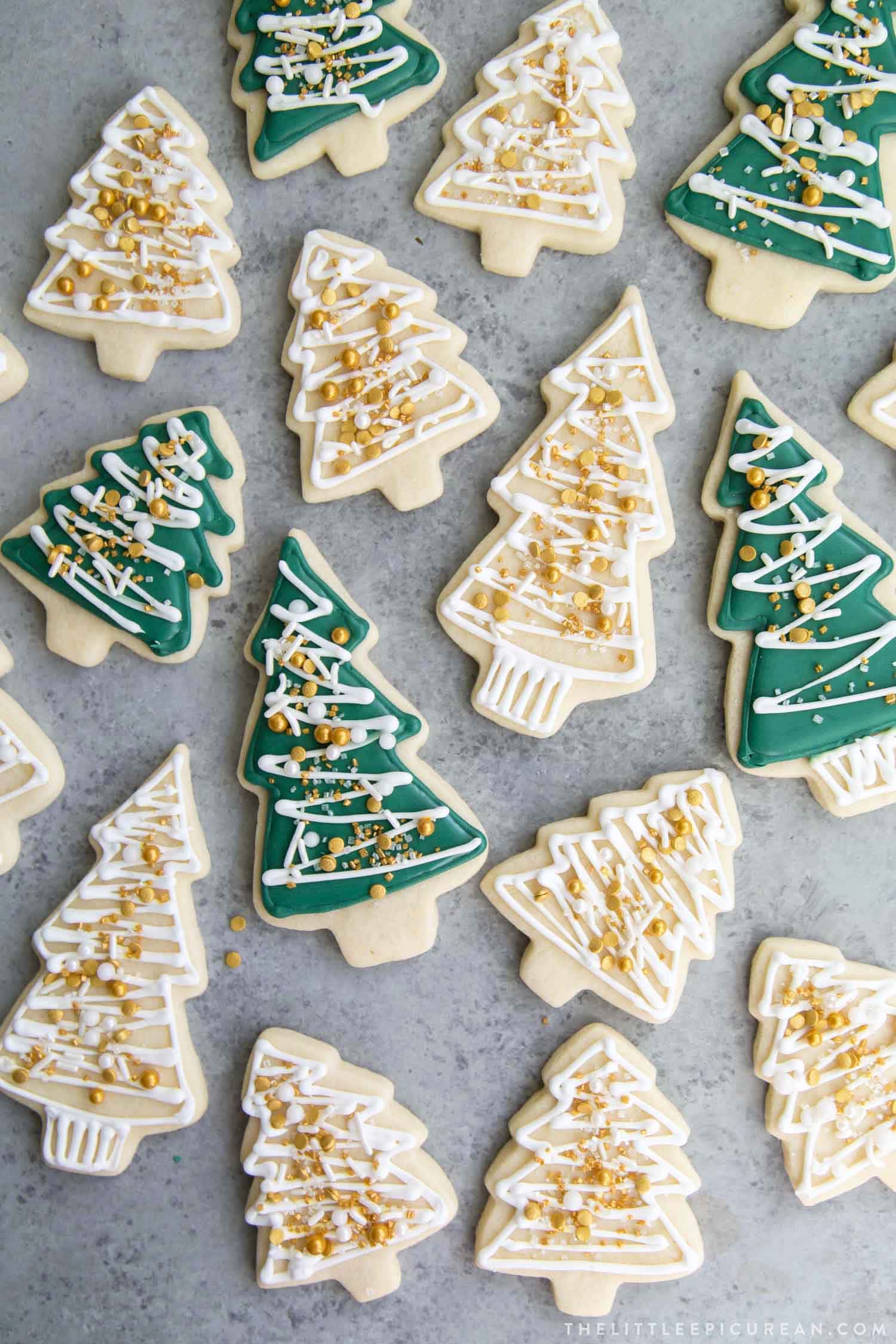 O Christmas, O Christmas tree, how lovely are thy branches…
The holiday season is upon us. Do you have a ton of things left on your to do list?
If cookies are on you list, that's one thing I can help you with!
These no chill sugar cookies are the easiest and quickest cookies to make.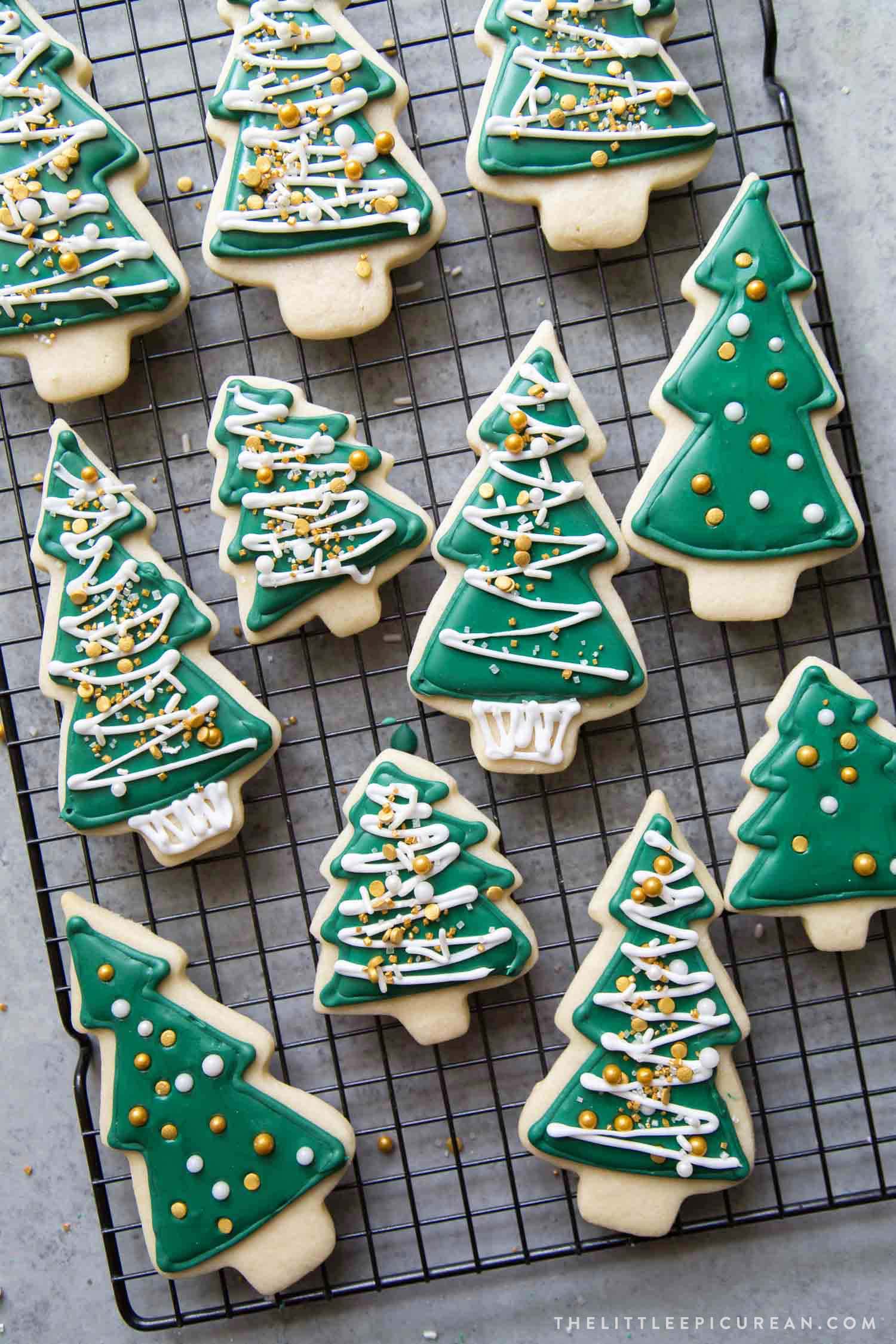 Christmas Tree Sugar Cookies
Most sugar cookie dough require refrigeration before shaping and baking. When you don't have time for that, no chill sugar cookie dough to the rescue!
This cookie dough whips up in a flash. Immediately roll out the dough after mixing. And, start stamping out your desired shapes.
No resting or chilling necessary!
Best of all, these cookies only take 6 to 8 minutes to bake. THAT'S IT!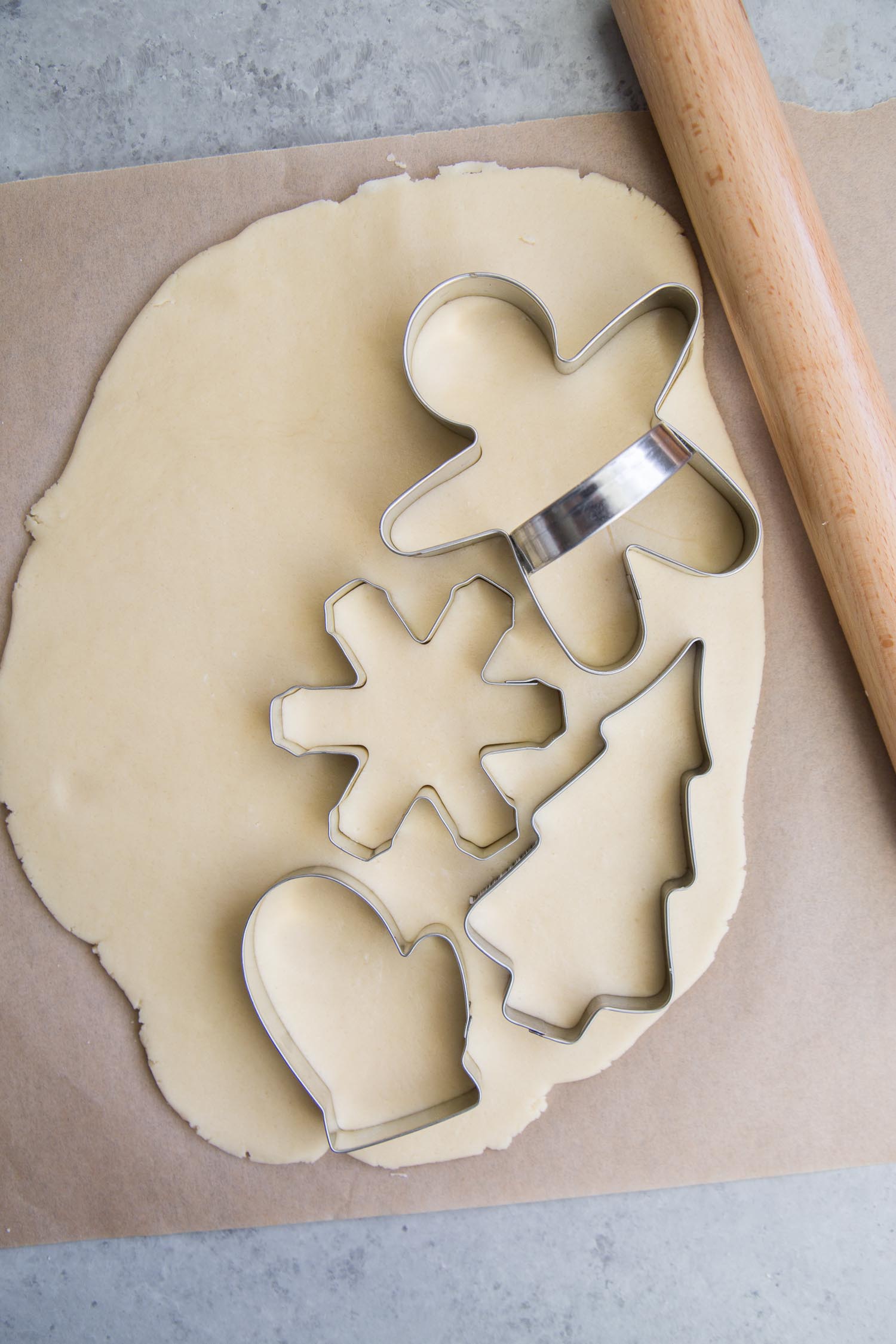 Tools and Equipment Needed for Sugar Cookies
baking sheets lined with parchment or nonstick silicone baking mats
stand mixer or electric hand mixer
rolling pin
Christmas tree cutters (or desired cookie cutter shapes)
Wire cooling rack
There are several shapes and sizes of Christmas tree cookie cutters available.
I recommend this 4-inch tree cookie cutter. This is a great four piece Christmas tree set.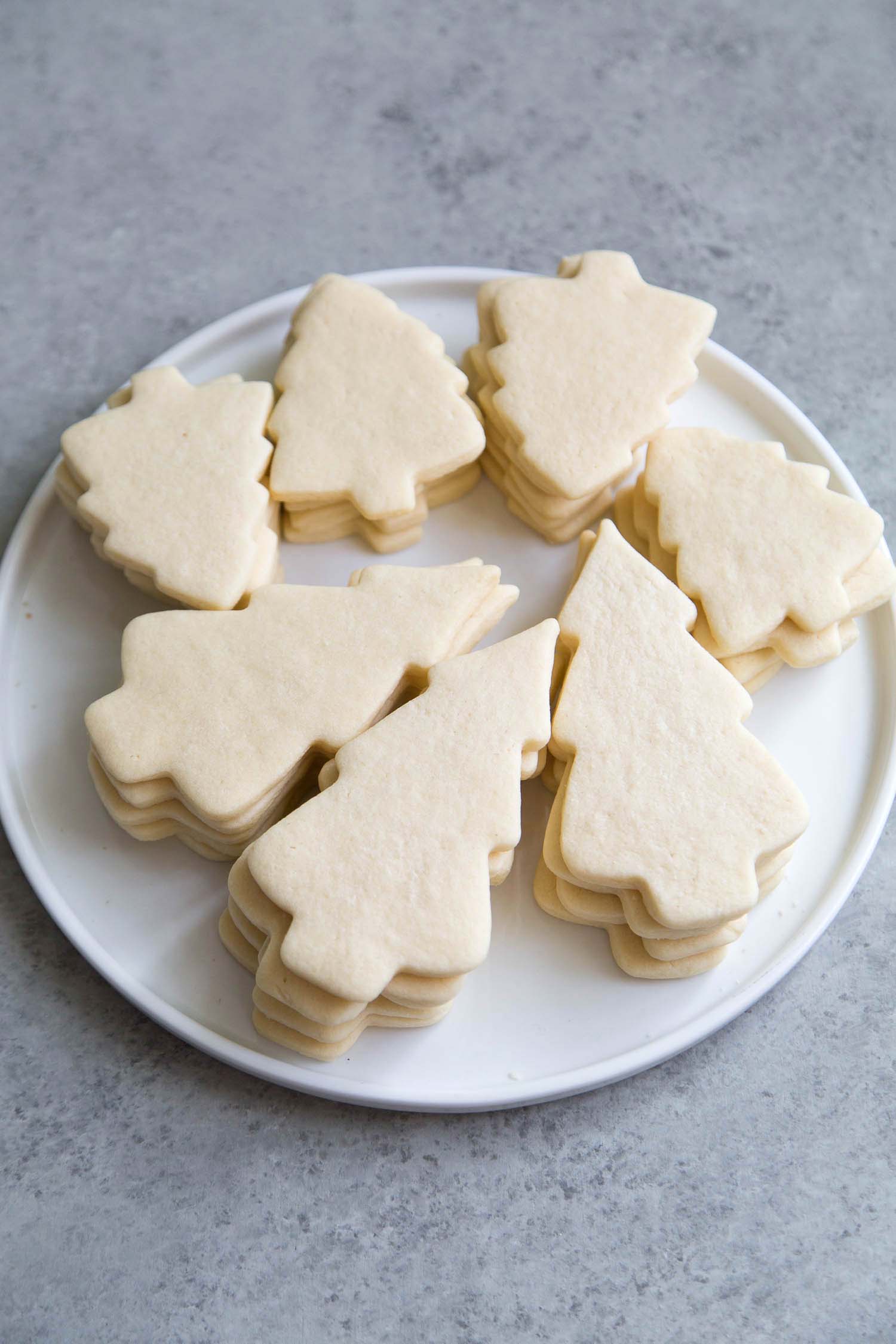 Bake Cookies Ahead of Time
The cookies can be baked ahead of time, up to 3 days in advanced.
Store them in an airtight container until you're ready to decorate.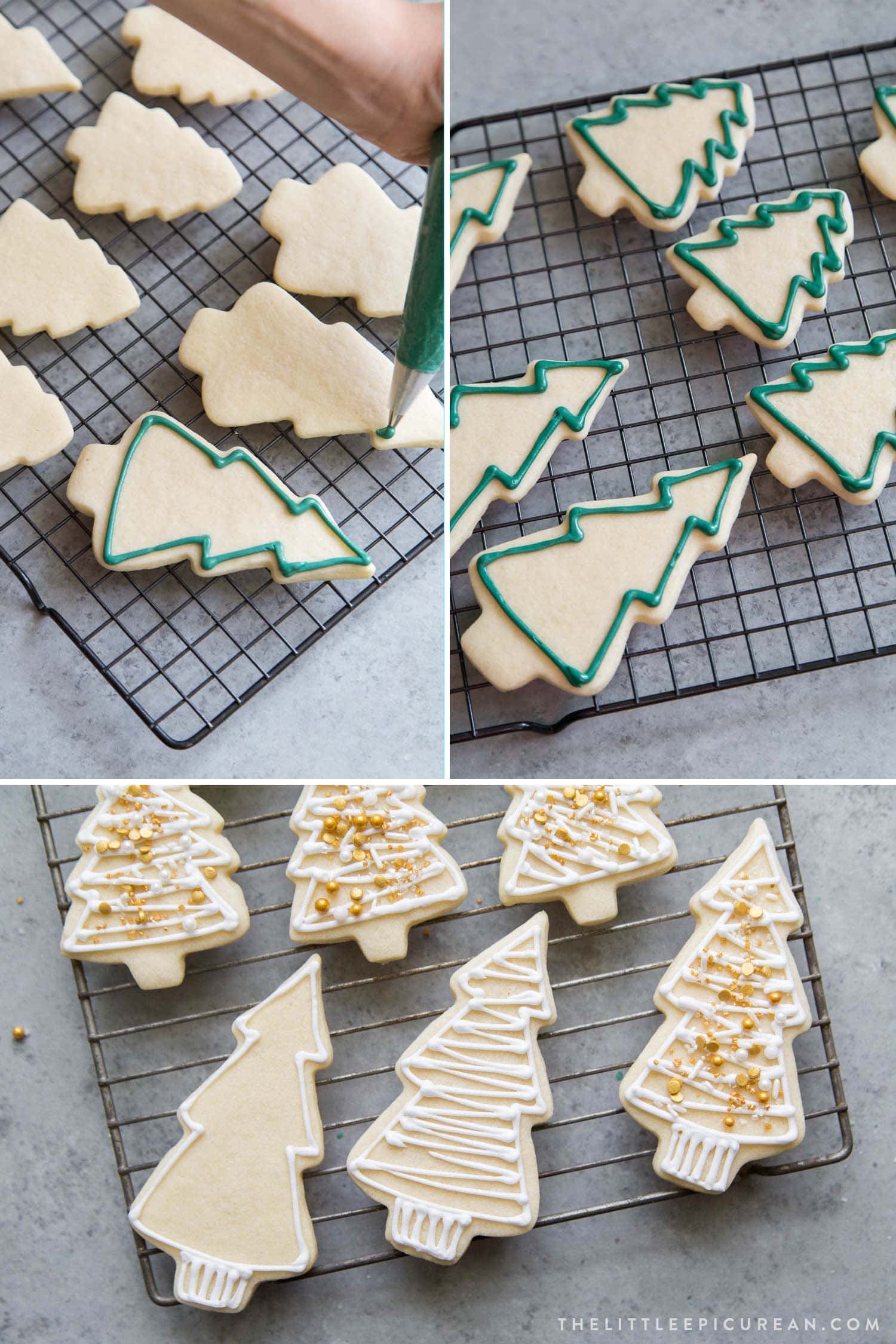 Tools for Decorating Christmas Tree Sugar Cookies
piping bag with small round piping tip
royal icing
gel paste food colors
variety of sprinkles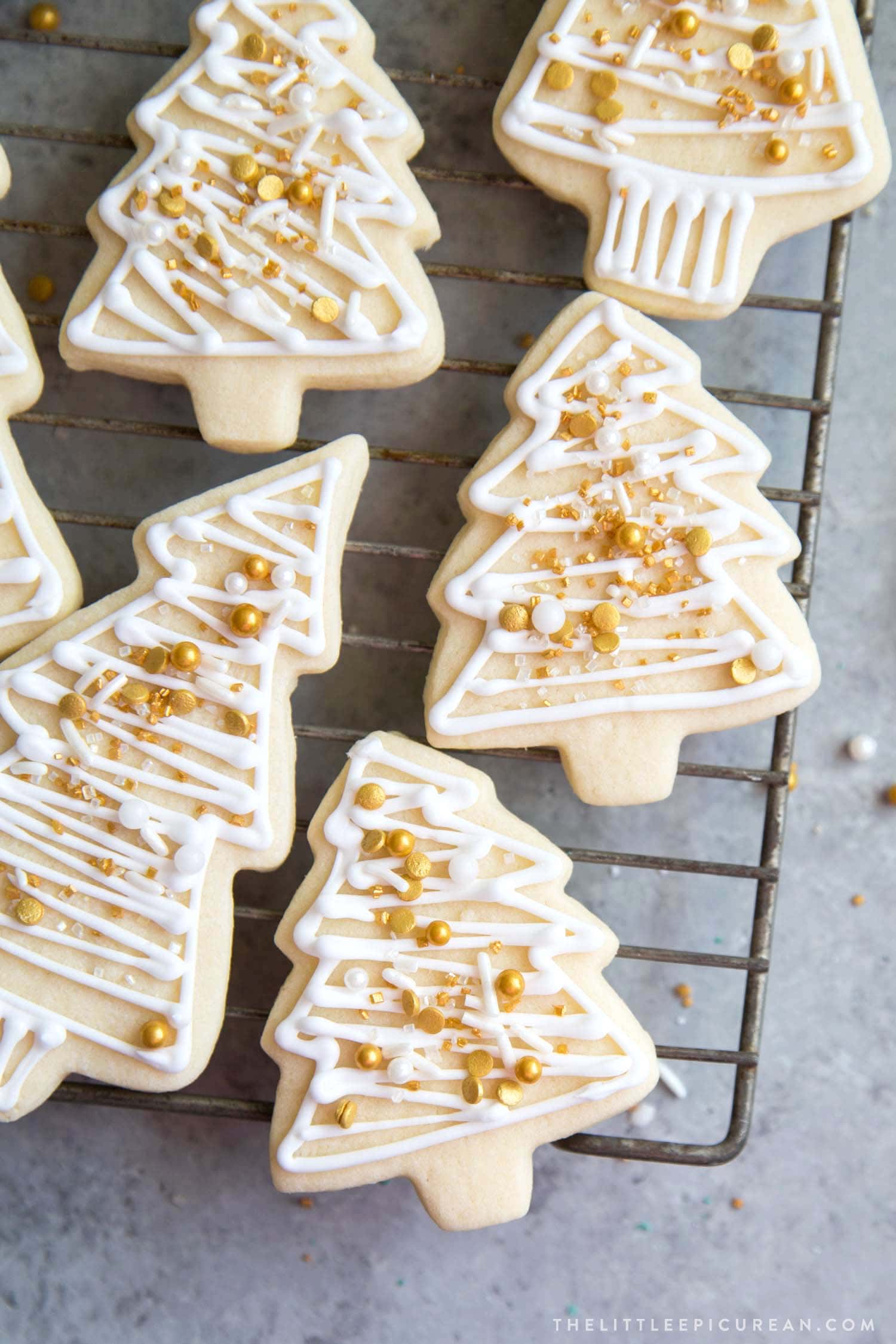 Obviously these sugar cookies don't need any additional frosting or decor. The plain cookies are perfect little treats on their own. They're flavored with a touch of vanilla and almond extract.
However, if you'd like go all out and decorate them (perhaps as a fun activity with the family), I suggest using royal icing and a variety of sprinkles.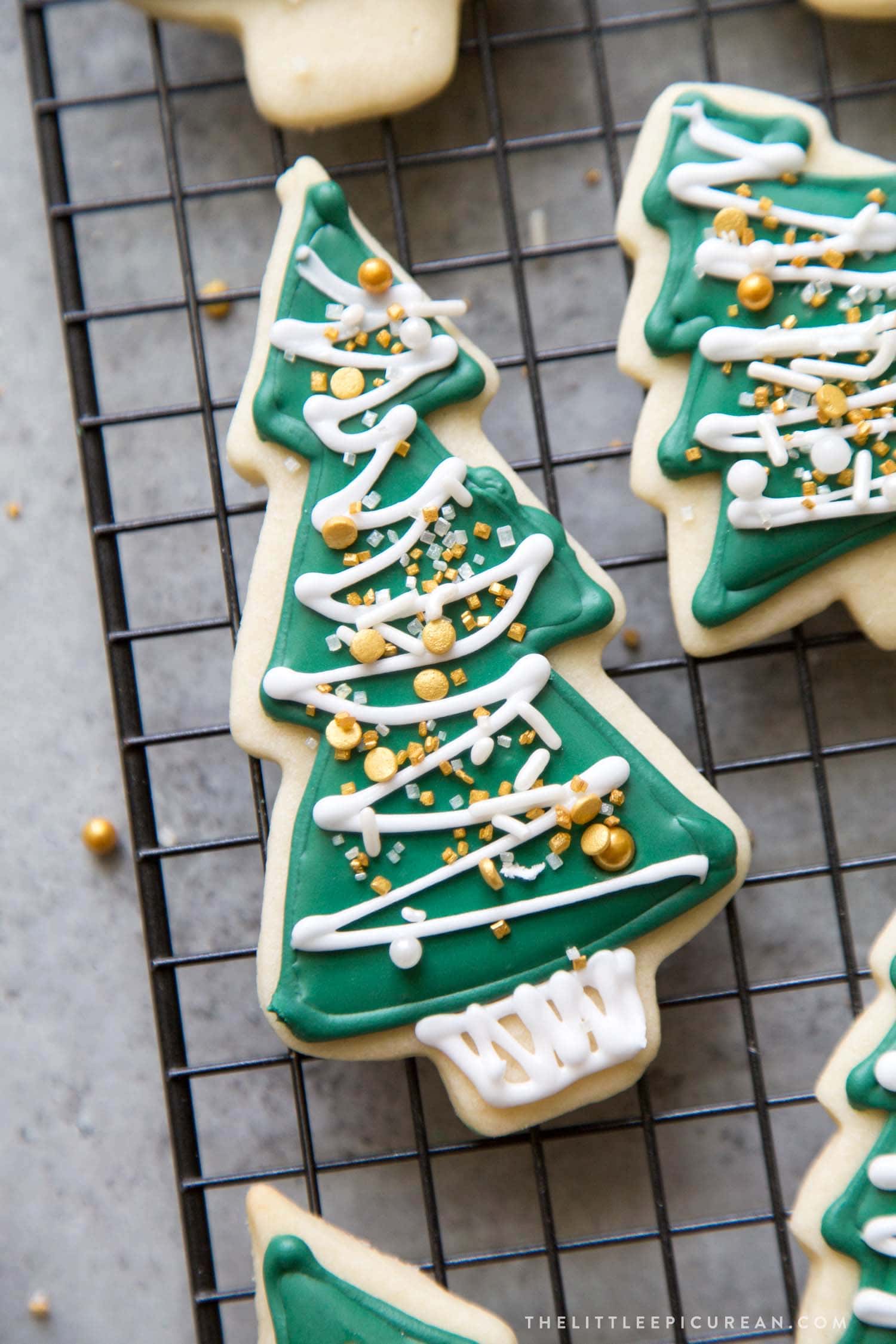 Royal Icing made with Meringue Powder
There are countless royal icing recipes out there. Some use egg whites, others use dried egg white powder.
I'm a big fan of meringue powder.
What is meringue powder?
Meringue powder is an egg white substitute made from a mixture of cornstarch, dried egg whites, sugar, and stabilizers. It's great for whipping together meringue, frosting, and royal icing.
I prefer meringue powder over egg whites. It's much easier to use. No need to separate eggs and no need to worry about using safe, pasteurized egg whites.
Meringue powder can be purchased online through retailers like Amazon, or at craft shops like Michaels or HobbyLobby.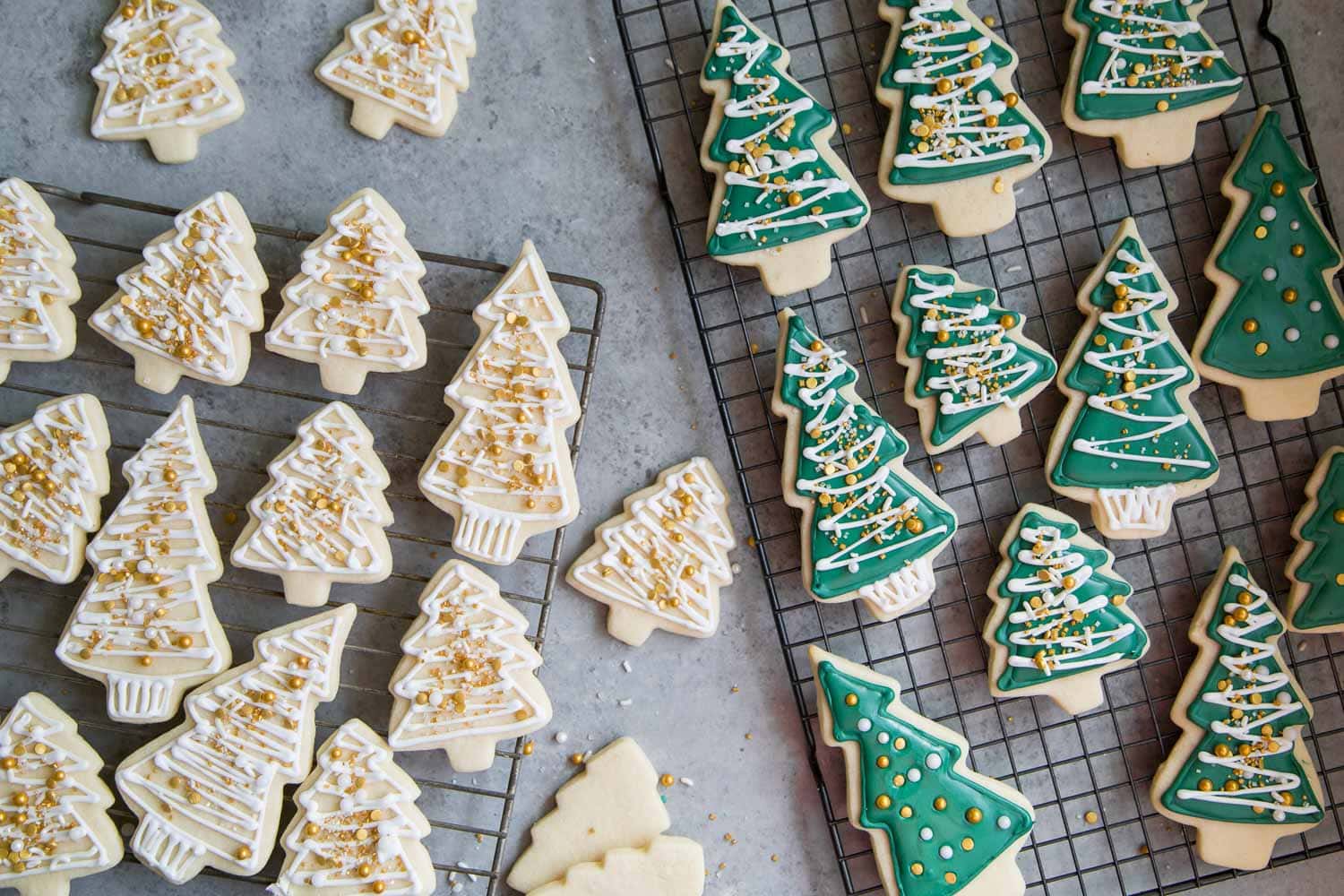 The frosted and decorated sugar cookies will keep in an airtight container at room temperature for 3 days. The moisture from the royal icing actually helps to keep the cookies soft.
Once the holidays are over, switch over to heart and flower cutters and get ready for Valentine's Day cookies!
Want more easy Christmas cookies?
A homemade version of those popular Danish butter cookies sold in blue tins!
Add these decorated sugar cookies to your holiday traditions! Learn how to decorate using royal icing, cookie icing, sprinkles, and Candy Melts.
Soft and chewy peppermint patty cookies. Small peppermint patties stuffed into chocolate cookie dough make for the ultimate sweet treat.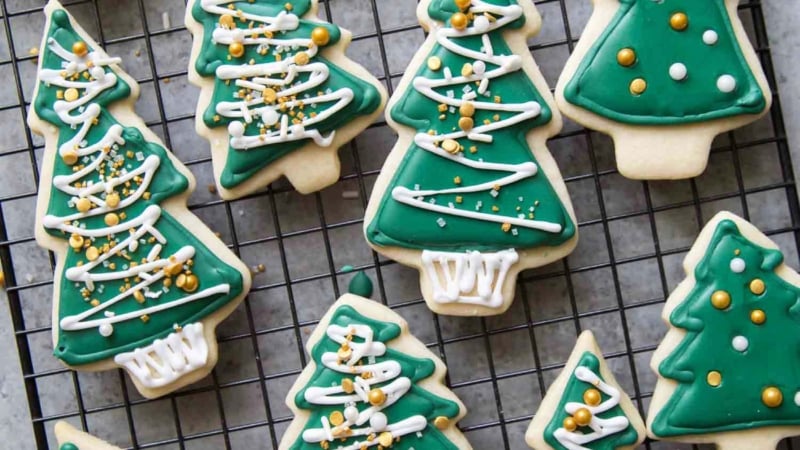 No Chill Sugar Cookies
No chill sugar cookies Christmas trees decorated with royal icing and an assortment of sprinkles.Yield: makes about 2 ½ dozen 3-inch cookies
Ingredients
Sugar Cookies:
3

cups

all-purpose flour

2

teaspoons

baking powder

¼

teaspoon

kosher salt

1

cup

unsalted butter,

softened, room temp

1

cup

granulated sugar

½

teaspoon

almond extract

½

teaspoon

vanilla extract

1

large egg
Royal Icing:
¾

cup

warm water

5

Tablespoons

meringue powder

2 ¼

pounds

powdered sugar

1

teaspoon

vanilla extract

gel paste colors,

see notes

assorted sprinkles
Instructions
Sugar Cookies:
In a large bowl, whisk together flour, baking powder, and salt. Set aside.

In the bowl of a stand mixer fitted with a paddle attachment, cream butter. Once smooth, add sugar and extracts. Mix on low speed until combined. Add egg and continue to mix. Scrape down bowl as needed to ensure thorough mixing.

Add flour in two additions. Continue mixing on low speed until dough forms. Divide dough into two equal parts. Work with one piece of a dough at a time. Roll dough to a thickness of about ¼-inch on a lightly floured work surface. Stamp out desired cookie shapes. Gather scraps and re-roll dough as necessary. 

Place cookie cutouts on a prepared baking sheets. Bake for 6-8 minutes until the edges of the cookies are set. Allow cookies to cool in pan for 3-5 minutes until cookies have firmed up enough to move. Transfer cookies to wire rack to cool to room temperature.
Royal Icing:
In the bowl of a stand mixer, whisk together warm water and meringue powder. Let mixture sit undisturbed for 3 minutes.

Using a paddle attachment, mix on low speed. Add powdered sugar in three additions. Add vanilla extract. Mix on low speed until icing holds a ribbonlike trail on the surface of the mixture when you raise the paddle.

Divide icing into smaller bowl. Color icing as desired using gel food coloring, powdered food coloring, or liquid food coloring.

Save any remaining royal icing by covering surface of icing with a damp paper towel.
Assembly:
If using piping tips, place tips inside piping bags (pastry bags). Partially fill bags with desired royal icing colors.

Start by piping a general outline of shape. Pipe any additional designs as desired. Immediately top with sprinkles. Allow icing to set before stacking cookies.

Iced cookies can be stored at room temperature for up to 3 days.
Notes
Instead of almond extract, you may substitute for lemon extract or simply use more vanilla extract