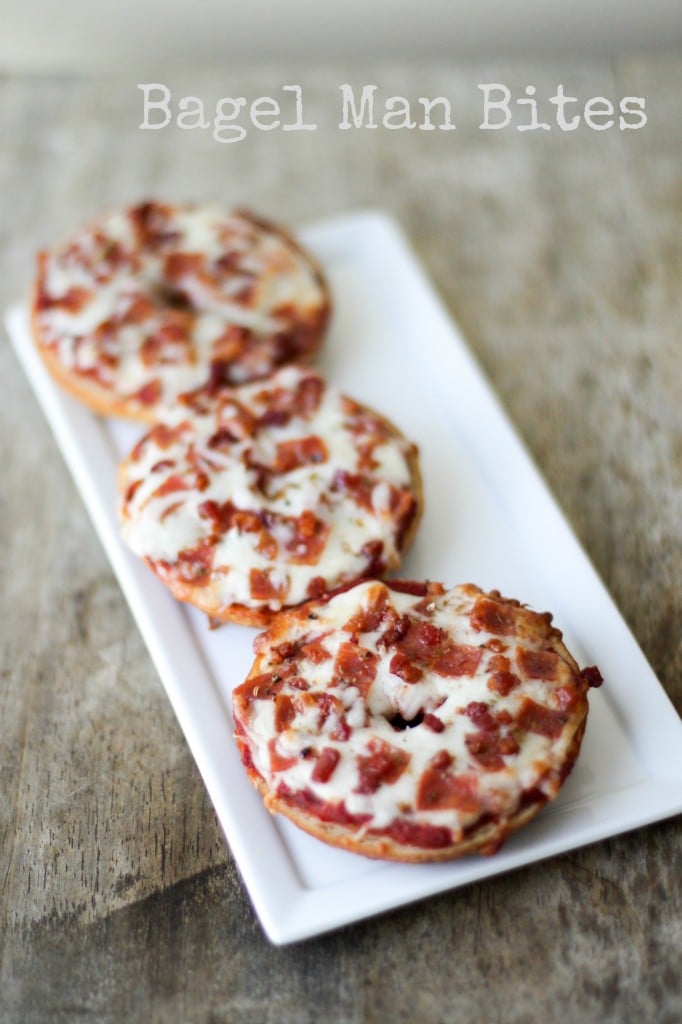 "Pizza in the morning, pizza in the evening, pizza at suppertime!  When pizza's on a bagel, you can eat pizza anytime!"
Do you remember the Bagel Bites commercials that ran during the early 90s?!  I sure do.  Those commercials were always played during my favorite cartoons and shows; perfect for convincing my brother and I to beg my mother to buy us a box.
As easy as it is to just walk over to the market and purchase a frozen box, I feel a lot better making it myself.  It's a pizza on a bagel, can't be that hard to replicate.  Bagel Bites are a little embarrassing to buy at the market (along with Kids Cuisine) if you don't have children.  Plus, they are a little too small for me.  I get that they are bite-sized, but I feel like a giant when I eat them now.  I want a pizza bagel that will make me feel dainty and petite.  To remedy that, my BFF that I mentioned in my homemade bagel post, totally gave me the idea to make bagel man bites. Yes, bagel MAN bites.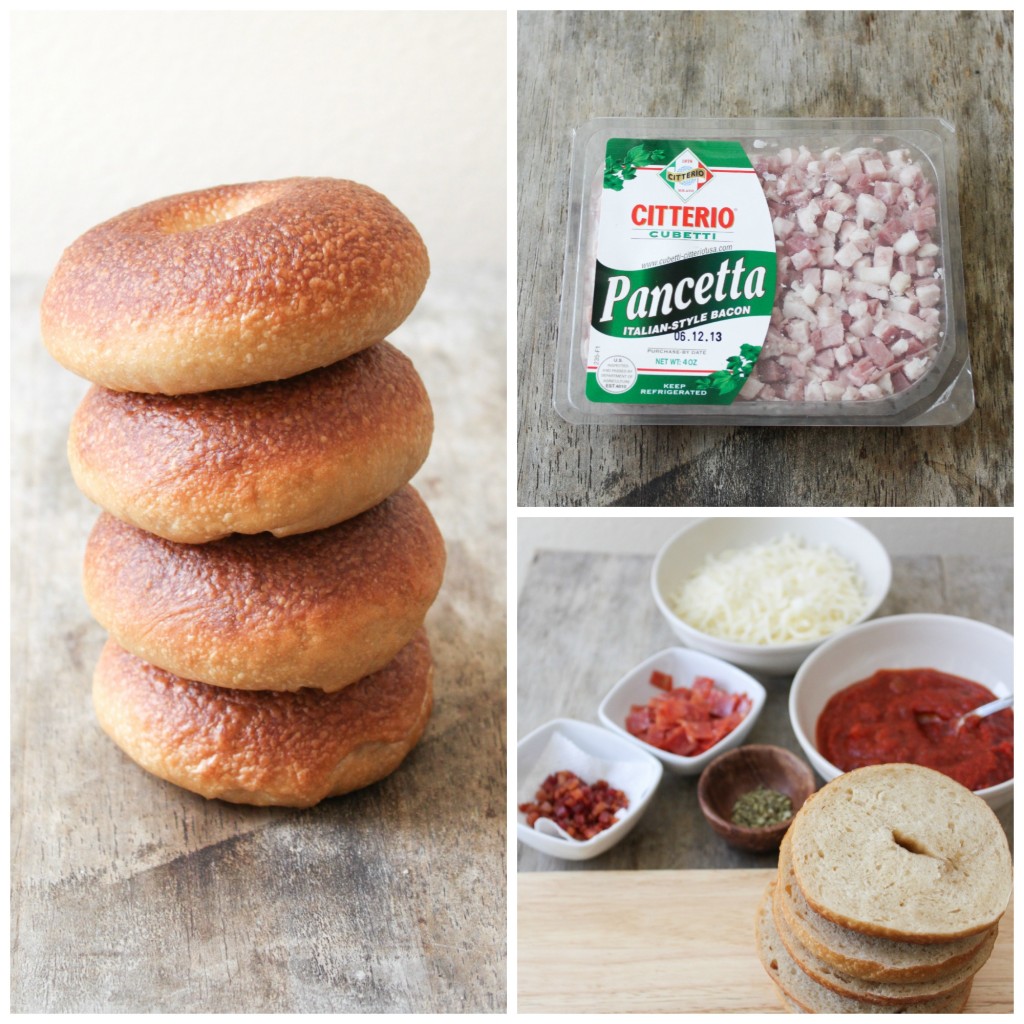 This is the next big thing in snacks and late night food–bagel MAN bites.  Just like the original Bagel Bites, you can make these ahead of time and keep them stashed in the freezer whenever hunger strikes.  You don't have to eat a dozen to fill your belly, one or two should be enough.
You can sprinkle these bagels with whatever toppings you desire.  If you don't like marinara sauce, try pesto or garlic infused olive oil.  Since the bagels are vegan, you can totally use vegan cheese and tofu sausage to cater to hipsters and those with restricted diets. I prefer the traditional pepperoni and mozzarella cheese pizza.  However, to make these a little sophisticated, I added a little pancetta. Pancetta is unsmoked bacon.  You get the salty pork taste without the smokey flavor that is synonymous with bacon.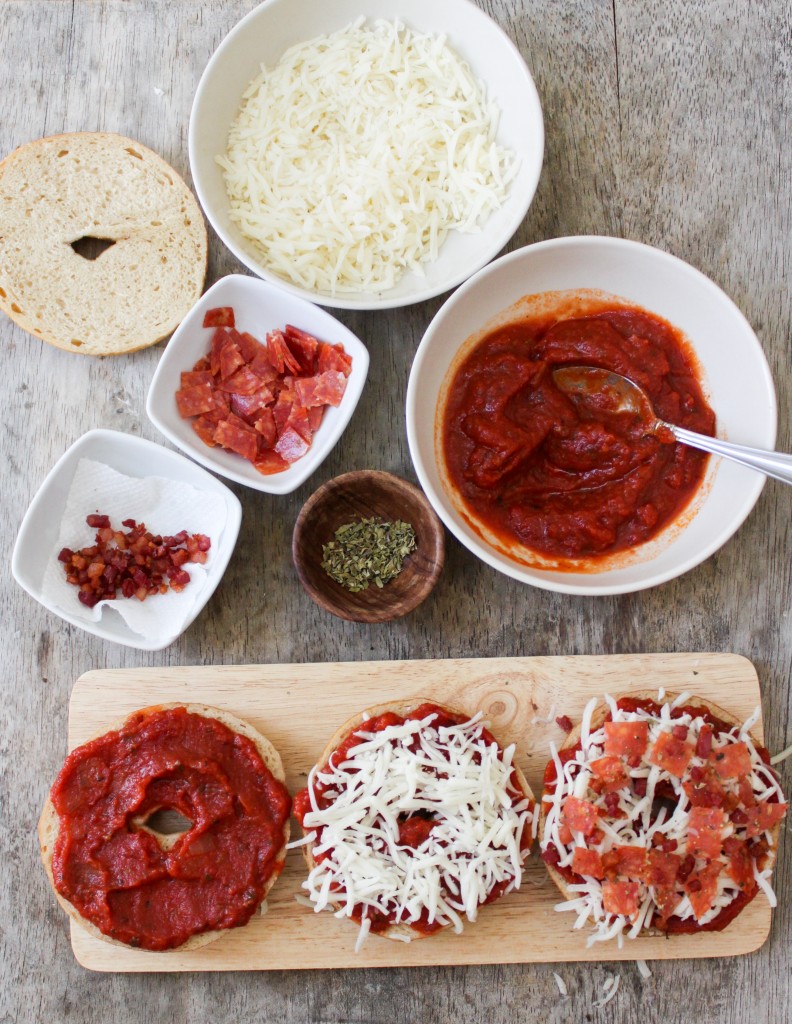 I had quite a lot of fun making these. This would be a fun activity for a children's sleepover party or birthday party.  It also works for adults as a nice do-it-yourself pizza bar at cocktail parties, get togethers, or game night.
The best thing about bagels is that you can enjoy them whenever you'd like.  I don't feel guilty popping these in the oven in the morning and eating them for breakfast. Just like the commercials says I "CAN eat pizza anytime!"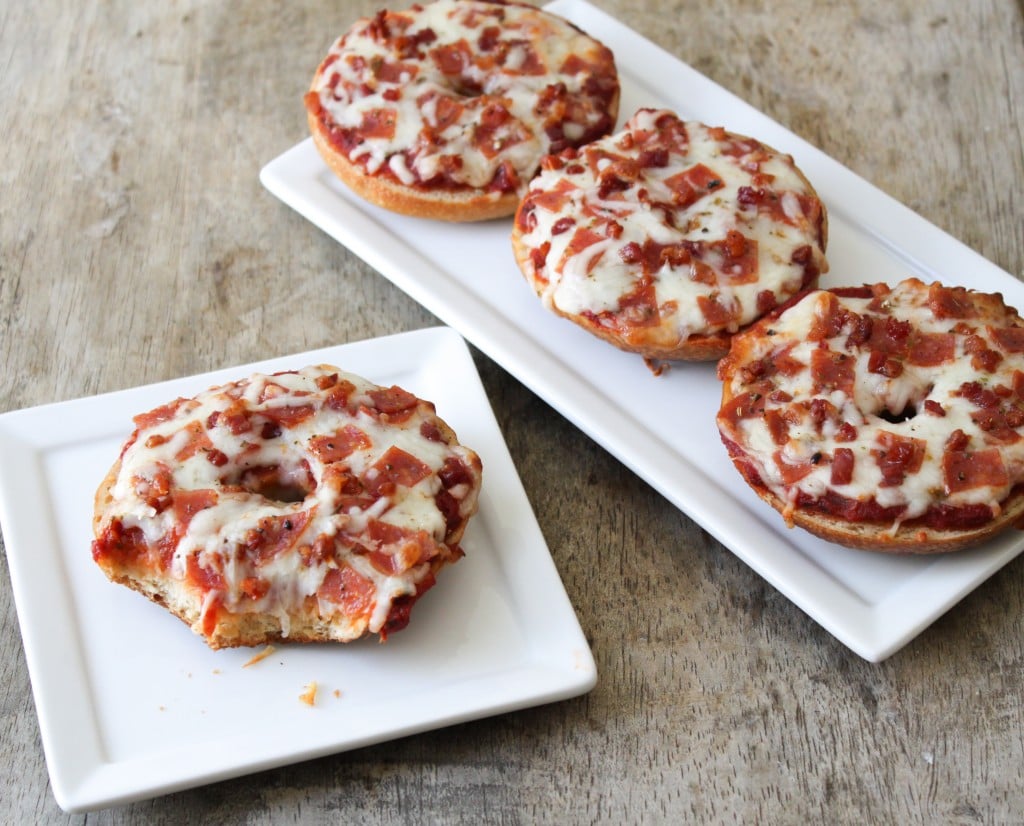 Bagel Man Bites
Ingredients:
Homemade Bagels, recipe 

here

pizza/marinara sauce of your choice
shredded mozzarella cheese
sliced pepperoni, cut into small squares
pancetta, cooked, see photo in post for explanation
dried oregano
freshly ground black pepper
Directions:
Preheat oven to 400 degrees F. Adjust oven rack to top third of oven. Line baking sheet with parchment paper. Set aside.
Slice bagels in half. Spread marinara sauce on cut side of bagel. Sprinkle mozzarella cheese on top. Arrange pepperoni and pancetta on top of cheese. Sprinkle lightly with oregano and black pepper. Add a little more cheese on top. Place on prepared parchment paper. Repeat with remaining bagels.
Bake in preheated oven for 10-15 minutes or until cheese has melted.
To freeze bagels, place them on a parchment lined baking sheet. Place in freezer for 1-2 hours until solid. Remove frozen bagel man bites from parchment. Stack in airtight freezer bag (try to remove as much as possible from bag). Keep in freezer for up to one month. To reheat, preheat oven to 350 degrees F. Bake until cheese melts.