The addition of lemon juice and lemon zest makes these strawberry popsicles are so light and refreshing!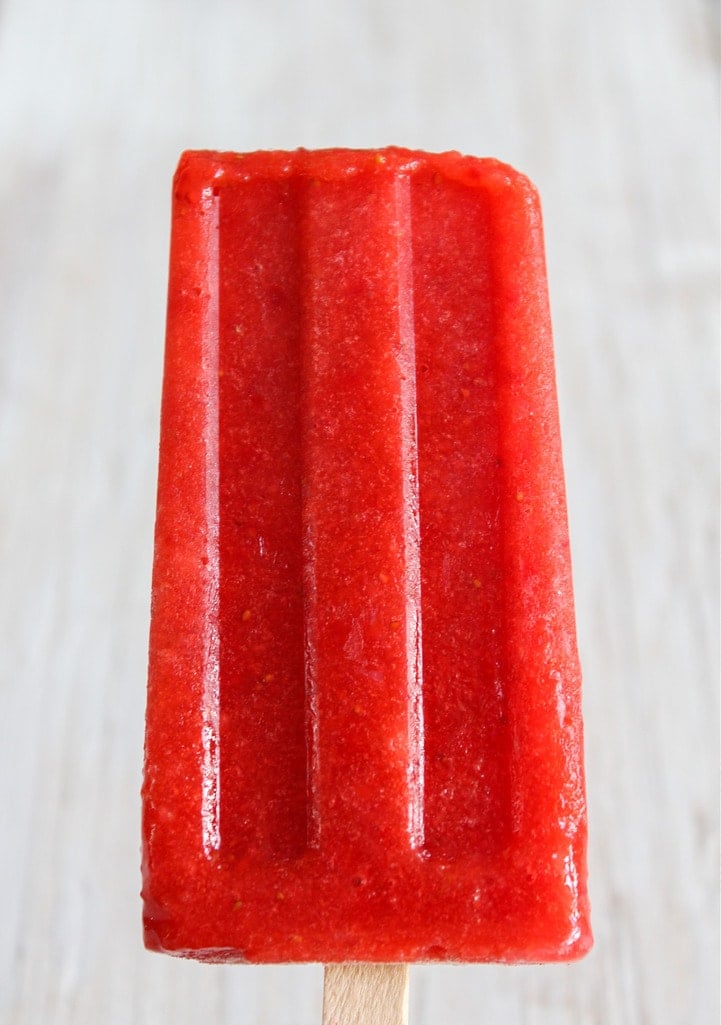 Hot days require cool treats.
It's already the end of May. Where does the time go?!
It has been HOT this week. I'm too cheap to turn on the air-conditioner. I hate seeing my electricity bills during the summer. Around mid-July or early August, I eventually cave in when the kitchen feels like a sauna. The air-conditioner will have to wait until them to make its appearance.
Strawberry Popsicles
Instead I'm keeping cool with all these frozen goodies. I recently purchased a new popsicle mold and I LOVE it. I don't know why I never got one before. I'm so glad I did. These popsicle molds will work hard this summer.
The lemon really helps to bring the strawberry flavor to life. Its best to use super ripe, fresh strawberries so you don't have to add more sugar.
Luckily, I have lots of sweet strawberries that I bought up at the farms in Oxnard (see Strawberry Yogurt Mousse Cake, Strawberry Pie, and Strawberry Cupcakes for more strawberry recipes.)
I've also noticed a recent trend with fancy artisanal frozen pops with interesting flavor combinations and unique fruits. Regardless of whether it's a trend or not, popsicles are a mainstay that will be forever ingrained with hot summer days.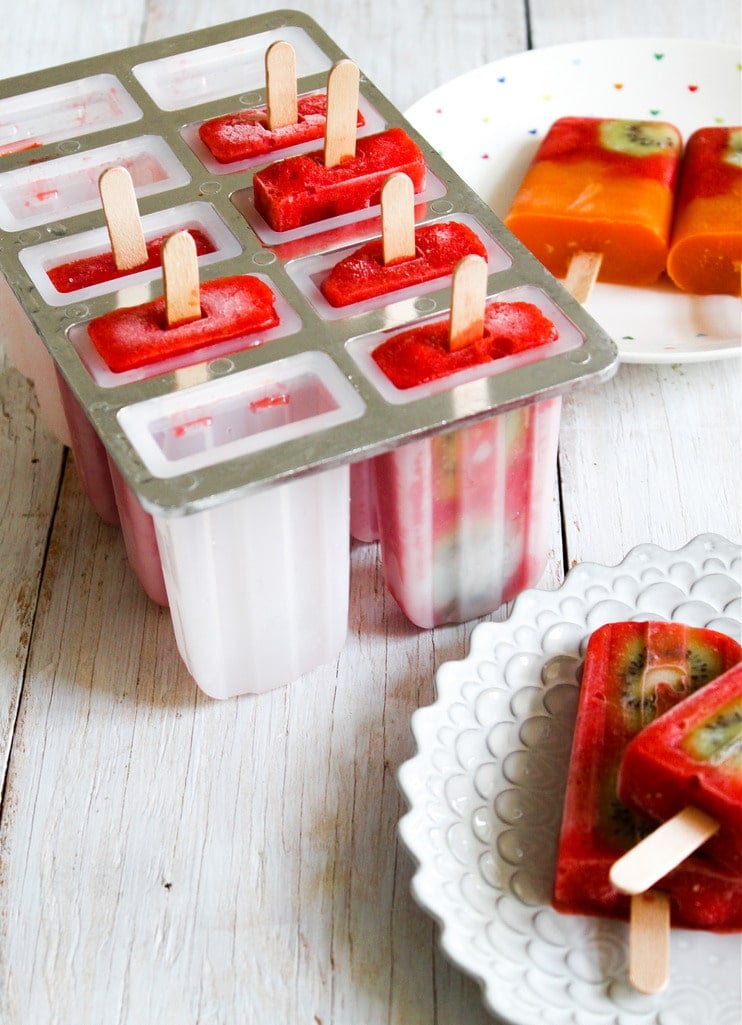 More summer popsicles featuring fresh fruits:
Take advantage of summer's bounty. Use fresh fruits to make healthier-ish frozen treats.
For healthier options I suggest: kiwi coconut chia popsicles, blackberry swirl pineapple popsicles, and cherry pineapple popsicles.
For a more indulgent, boozy treat try these: strawberry jalapeno margarita pops, passion fruit rose pops, or raspberry peach sangria popsicles!
Strawberry Popsicles
Yield: makes 12 popsicles
Ingredients
2

pints

fresh strawberries (about 1 1/2 pounds), hulled and sliced

3

Tablespoons

granulated sugar (or more/less depending on sweetness of strawberries)

2

Tablespoons

fresh lemon juice

finely grated zest from half a lemon

optional: sliced kiwis, carrot-orange juice
Instructions
In a bowl, combine sliced strawberries and sugar. Let sit for 10-15 minutes to allow strawberries to expel juice.

In a food processor (or blender), combine strawberry-sugar mixture, lemon juice and lemon zest. Process until smooth.

Pour strawberry puree into molds with wooden sticks and place in freezer.

Freeze for at least 3 hours until popsicle is solid. To remove popsicles from mold, submerge mold into room temperature or slightly warm water for a couple of minutes. Remove from water and pull popsicles out.

* If using kiwis, place a couple of sliced kiwis up against the inside of the mold. The kiwi should adhere to the sides. Then pour strawberry puree and freeze.

* If adding carrot-orange juice, add after filling mold halfway with strawberry puree. Then freeze as normal.