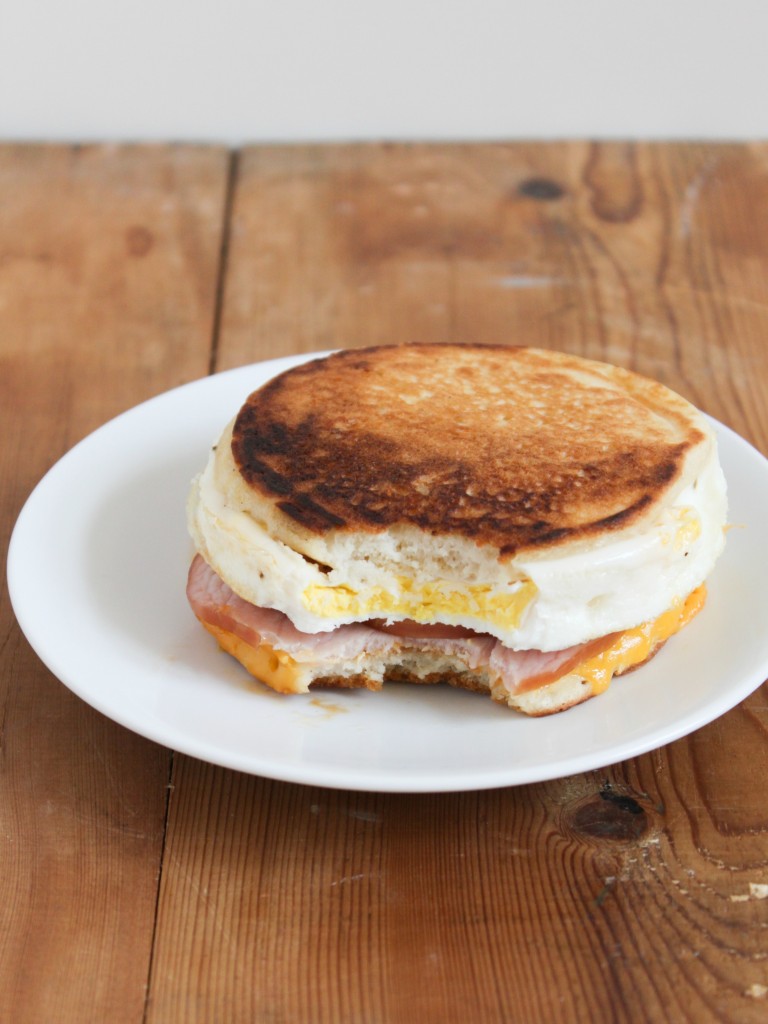 I get a little flash of envy when back to school season starts.  I haven't been a student for quite some time and I miss all the hustle and bustle of the new school year.  I miss the smell of new textbooks, packing my backpack with all my supplies, seeing old friends and making new ones.  These feelings are heightened when I see young college freshman eagerly shopping for their dorm rooms.
If I was a college student, this breakfast sandwich maker would definitely be on my shopping list.  I would have loved to have this machine when I was living in my college dorms.  A warm breakfast sandwich beats cold cereal any day.  Thanks to the generous people at Hamilton Beach, I am giving away one Breakfast Sandwich Maker for free! (More details on that found at the end of the post.)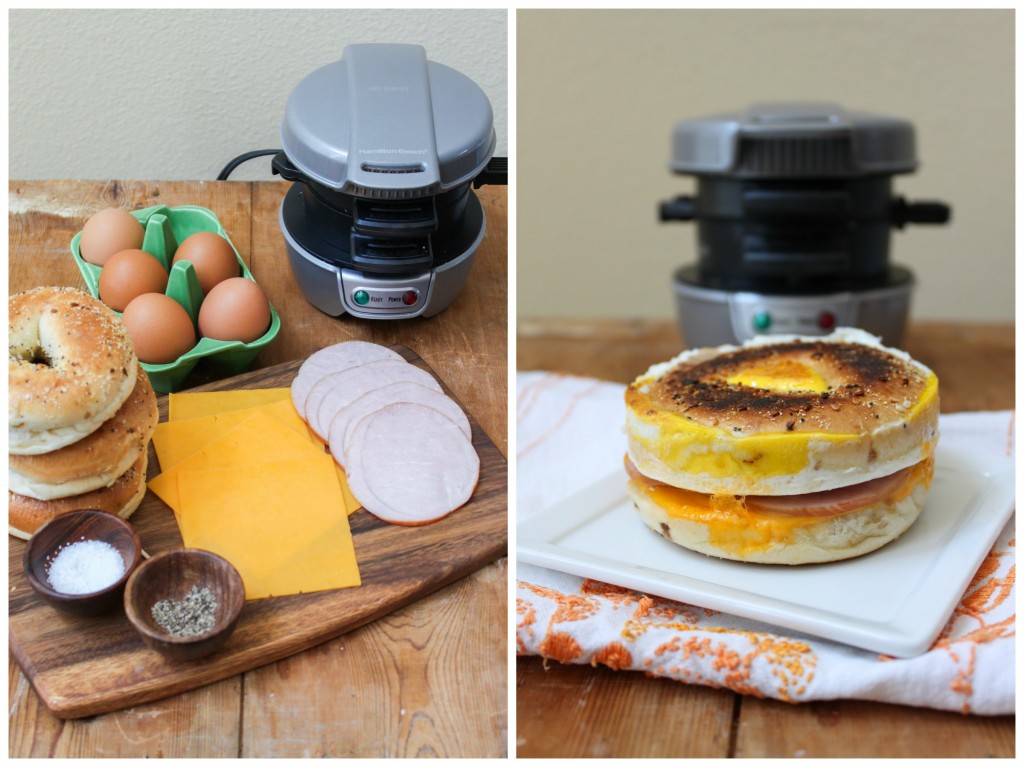 Breakfast is the most important meal of the day, but it's also the most hectic part of the day.  Who really has the time to make a hot breakfast?
And more importantly, let's think about all the appliances you'd need to make a breakfast sandwich.  A toaster for the sliced bread, a small pan for the egg, and of course a stove to cook it on.  I don't know about you, but my college dorm was tiny and definitely did not have a stove.  If I wanted something warm, like oatmeal, I only had a microwave or water heater to rely on.
This nifty new gadget is perfect for people on the go (and people who love breakfast sandwiches).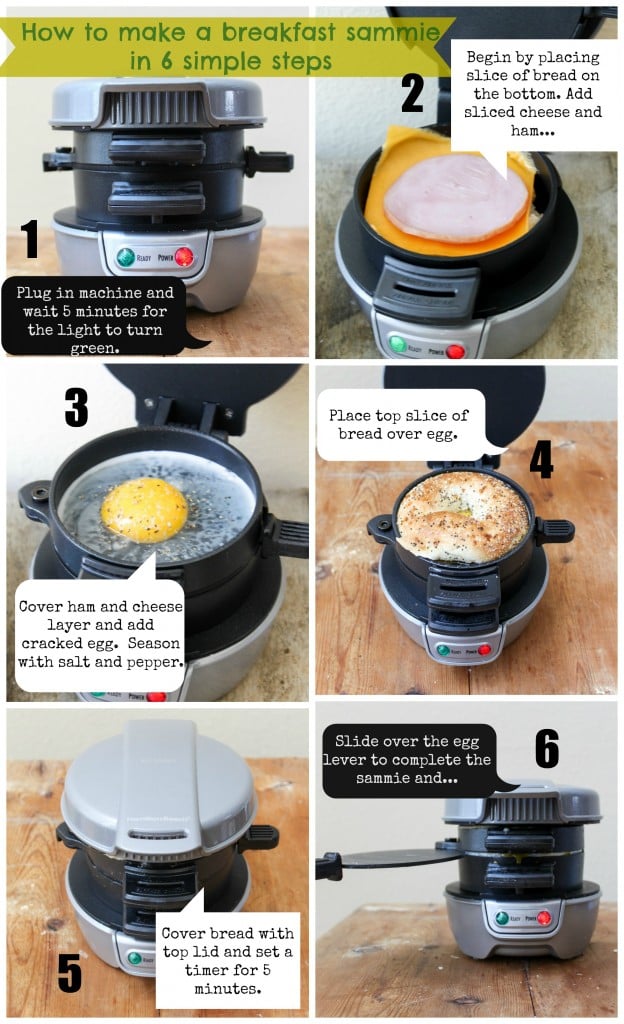 It takes about 5 minutes for the machine to warm up and another 5 minutes to cook the sandwich.  I can manage with 10 minutes.  10 minutes without any clean-up, no dishes to wash, no pans to clean.  In 10 minutes, you have a hot sandwich to take on the go.  Build the sandwich and set a timer so you have 5 minutes to finish getting dressed and ready.  No need to stand there and watch to make sure you don't burn the toast or over-cook the eggs.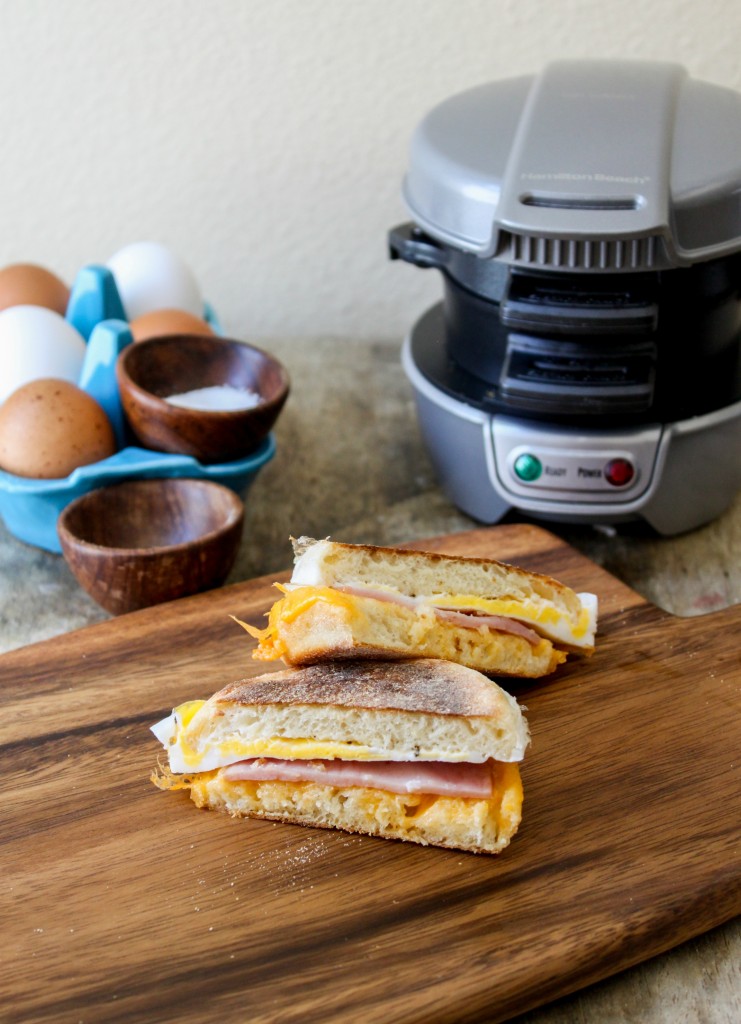 As you can see, I have made various sandwiches using different breads- bagel, English muffin, and mini pancakes.  Don't be restricted to the traditional ham and cheese sandwich, you can be as creative as you want and incorporate all sorts of ingredients.   If you run out of ideas, Hamilton Beach also has a list of fun recipes from Herb Goat Cheese, Spinach and Red Pepper Egg Muffin to Pepperoni and Veggie Mini Pizza.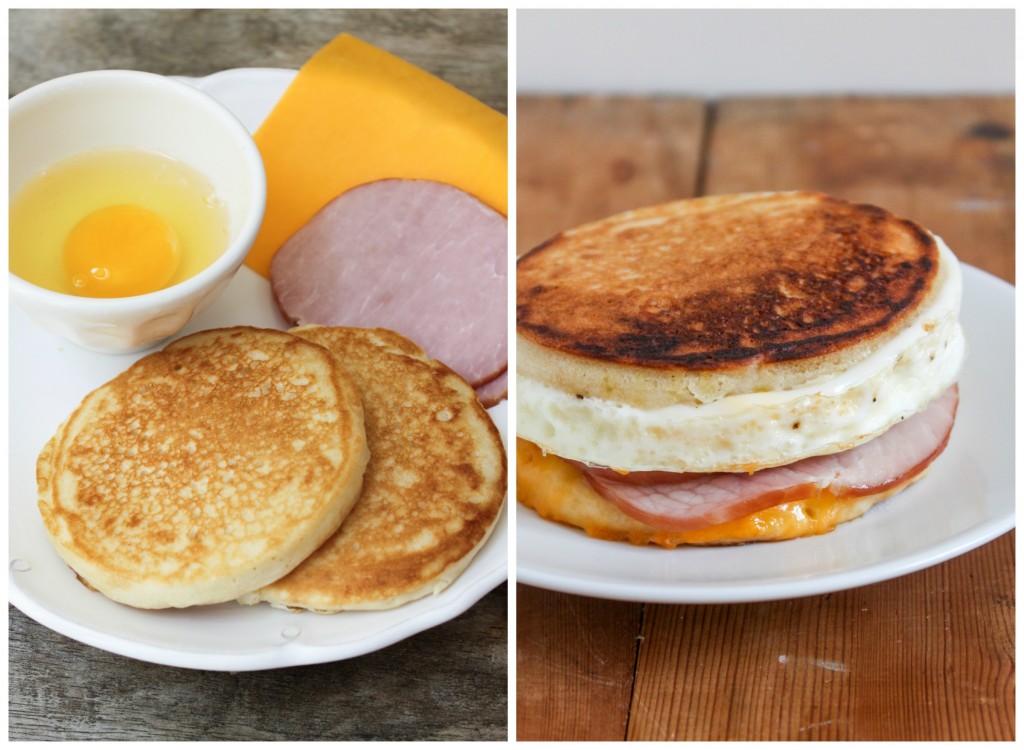 To enter the giveaway: Leave a comment with your favorite food to eat for breakfast.  Comments are moderated and may not show up right away. One comment per person, please. Giveaway only open to U.S. residents, 18 years of age or older at time of entry.
Winner must be willing to provide a valid shipping address (no P.O. Box) in order to receive prize.
Comments will close at 11:59 PM (PST) on Friday, August 23.  The winner will be chosen at random and notified over the weekend.  If the winner does not respond within 48 hours, winner forfeits prize and another winner will be chosen at random.
Be sure to leave a valid email address or I won't be able to contact you if you win.  Once the winner has been chosen, I will then notify Hamilton Beach and they will mail you your very own Hamilton Beach Breakfast Sandwich Maker!
____
Disclosure: Hamilton Beach is providing the Breakfast Sandwich Maker for this giveaway.  I was not compensated for this post or for hosting this giveaway.  All opinions are entirely my own.