Soft and chewy strawberry kiss cookies flavored with freeze dried strawberries and topped with strawberry ice cream cone Hershey's kisses.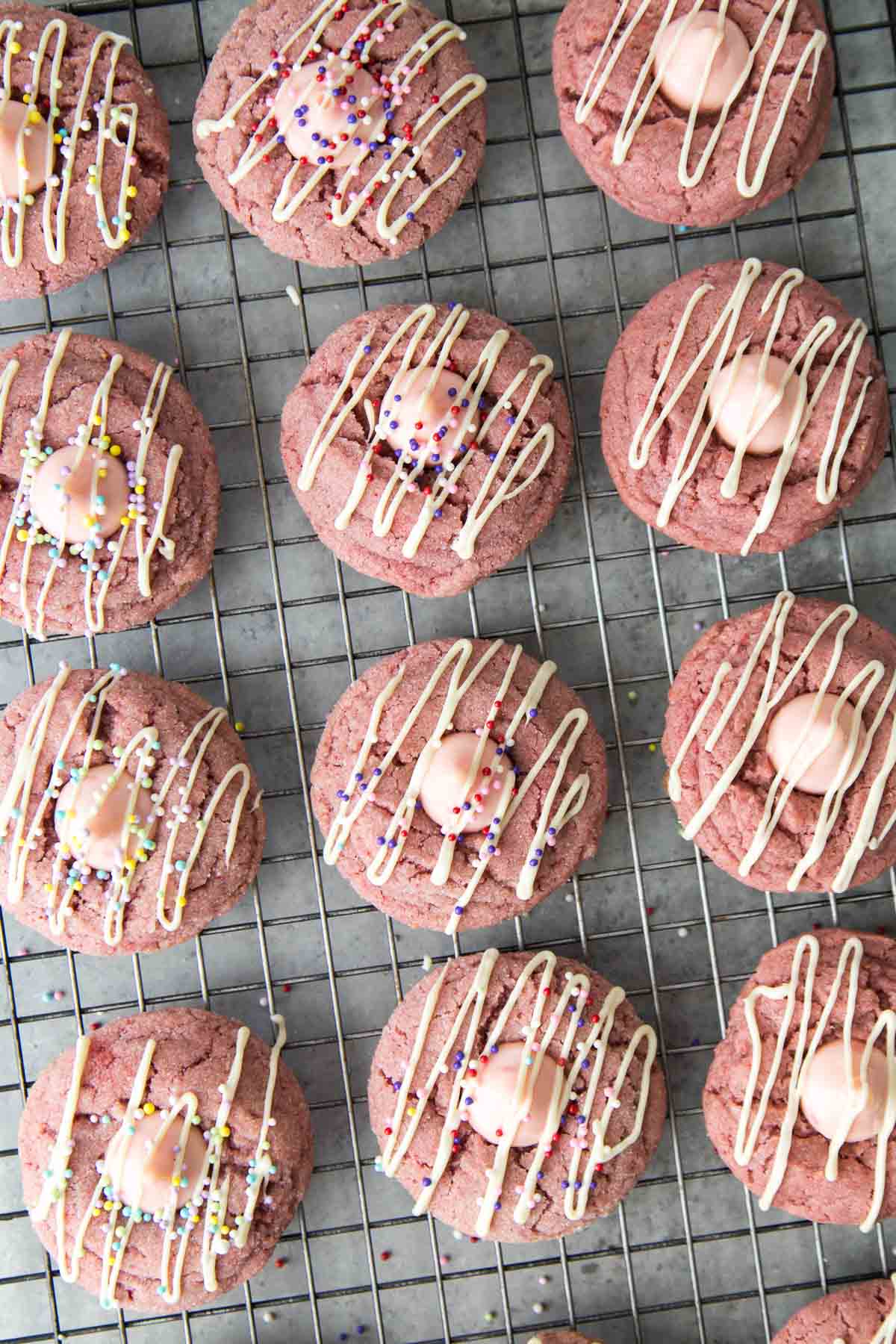 My childhood was filled with classic peanut butter blossom cookies.
Those sweet peanut butter cookies topped with a Hershey chocolate kiss in the center.
It was one of my favorites because it was a treat within a treat! You get a cookie and a piece of chocolate together!
Same goes for these chocolate peanut butter cookies with mini Reese's cup centers or peanut butter thumbprints with raspberry jam filling.
Here's another treat within a treat kind of cookie: strawberry cookies topped with strawberry kisses!
Strawberry Cookies
These strawberries cookies are naturally colored and flavored using freeze dried strawberries.
*If you want a richer or more vibrant pink color, go ahead and add a touch of pink food gel coloring.
Each cookie is topped with a chocolate kiss. I'm using the limited edition strawberry ice cream cone kiss photographed below.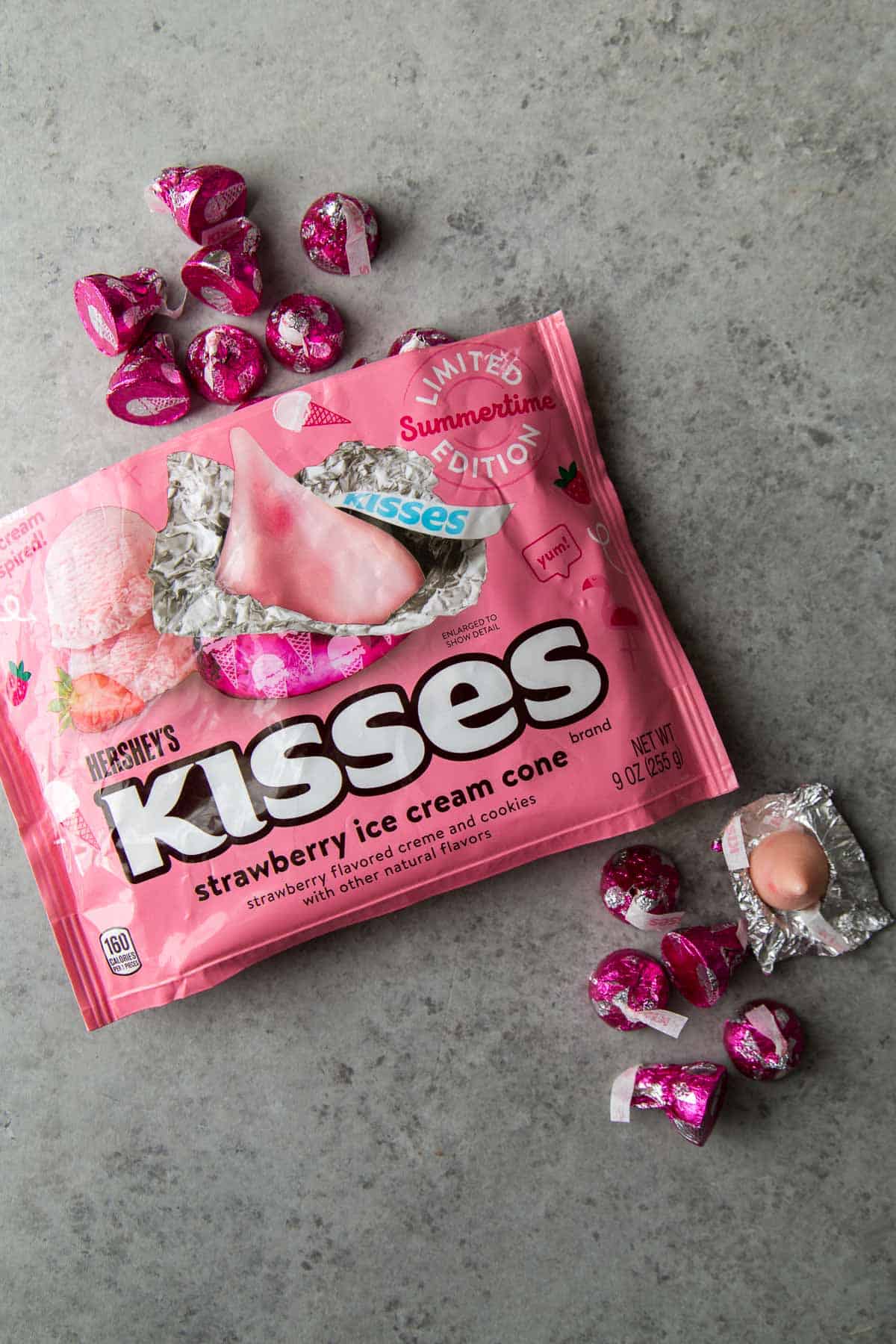 This strawberry ice cream cone flavor is available during the spring and summer months. (I purchased mine from Target.)
If this flavor is unavailable, I suggest these other options: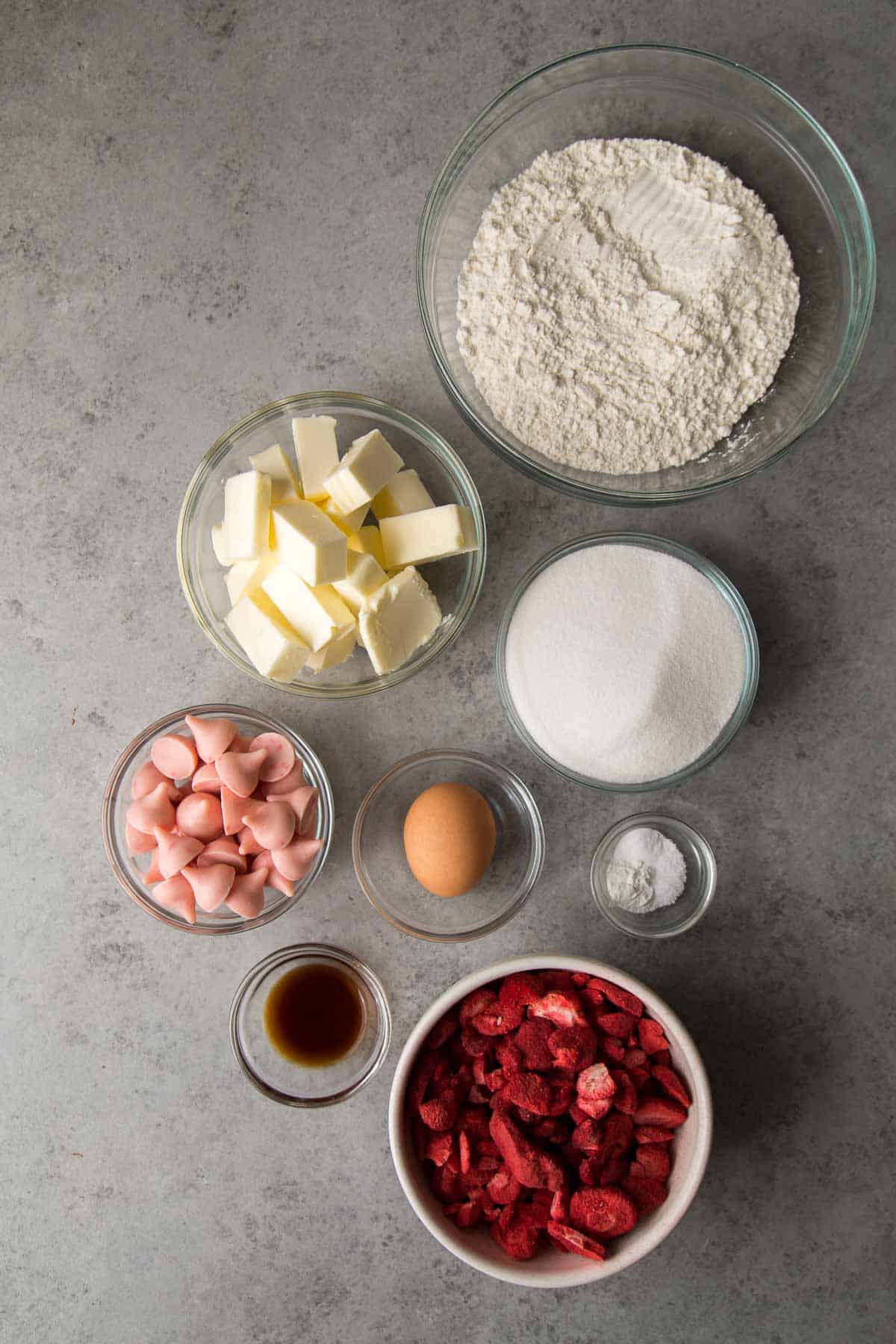 Strawberry Cookie Dough Ingredients
It's a straight forward sugar cookie recipe. You'll need the usual cookie ingredients: flour, leavenings, butter, sugar, and egg.
Freeze dried strawberries is the one standout ingredient you may not be familiar with.
What does "freeze dried" mean?
Freeze drying is process that removes nearly all the moisture from the food item.
The food item is placed on large racks inside of a vacuum chamber. The temperature inside the chamber is lowered below freezing. Then, the temperature is slowly raised.
Freeze drying removes about 98-99 percent of moisture content.
Freeze dried fruits are different from dried fruits (like raisins, dried cranberries, or prunes).
Dried fruits have a moisture content of 15-20%. Where as freeze dried fruits have 1-2% moisture. Do not use these two interchangeably!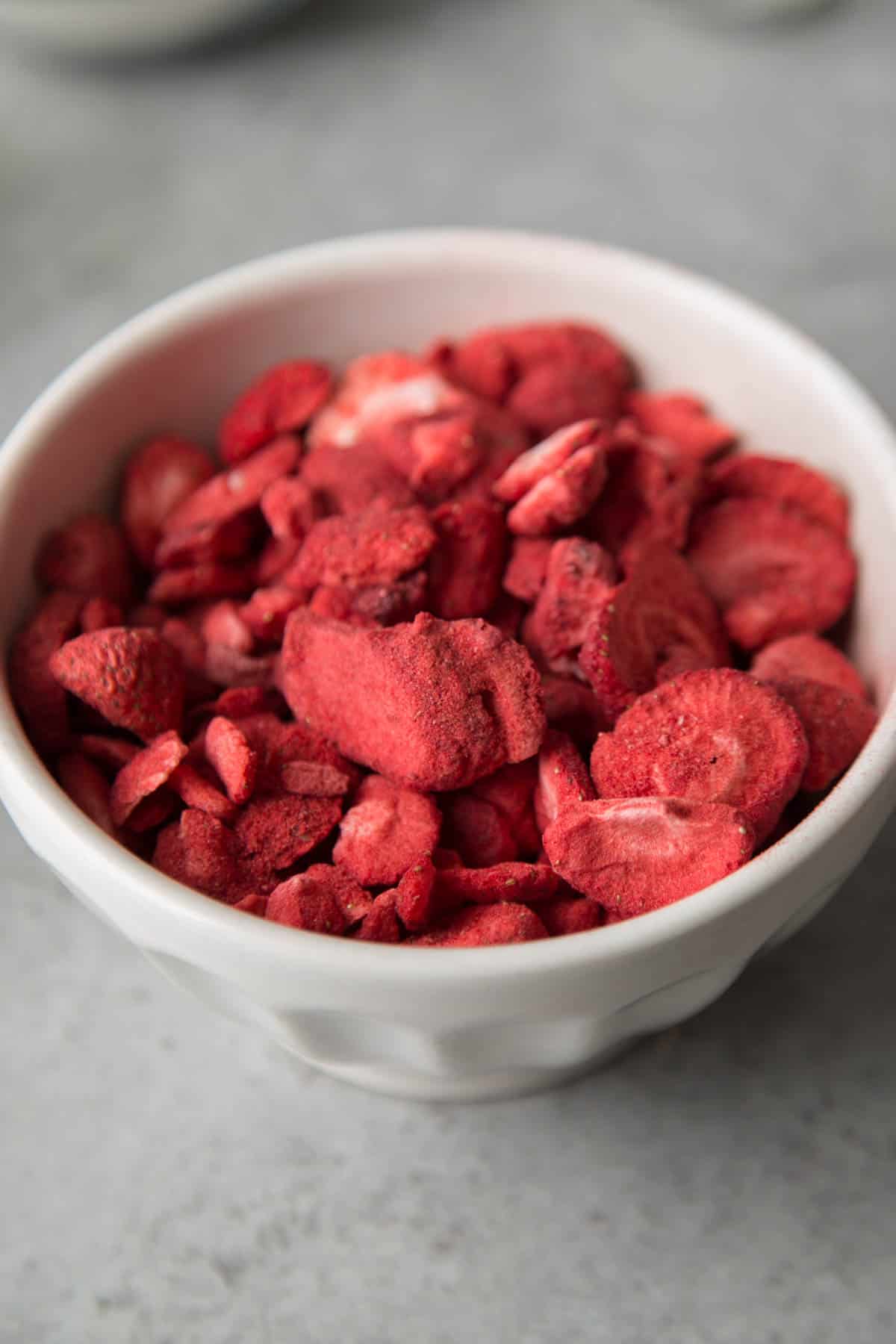 Freeze dried strawberries are available in various stages: whole strawberries, sliced strawberries, or ground (in powder form).
You can easily find freeze dried strawberries at your local supermarket (stocked alongside nuts and dried fruits). Trader Joe's, Target, and Walmart carry a variety of freeze dried fruit options, as well.
Use a food processor to pulverize freeze dried sliced strawberries into a powder.
That powder is mixed with butter and sugar to color and flavor the cookie dough.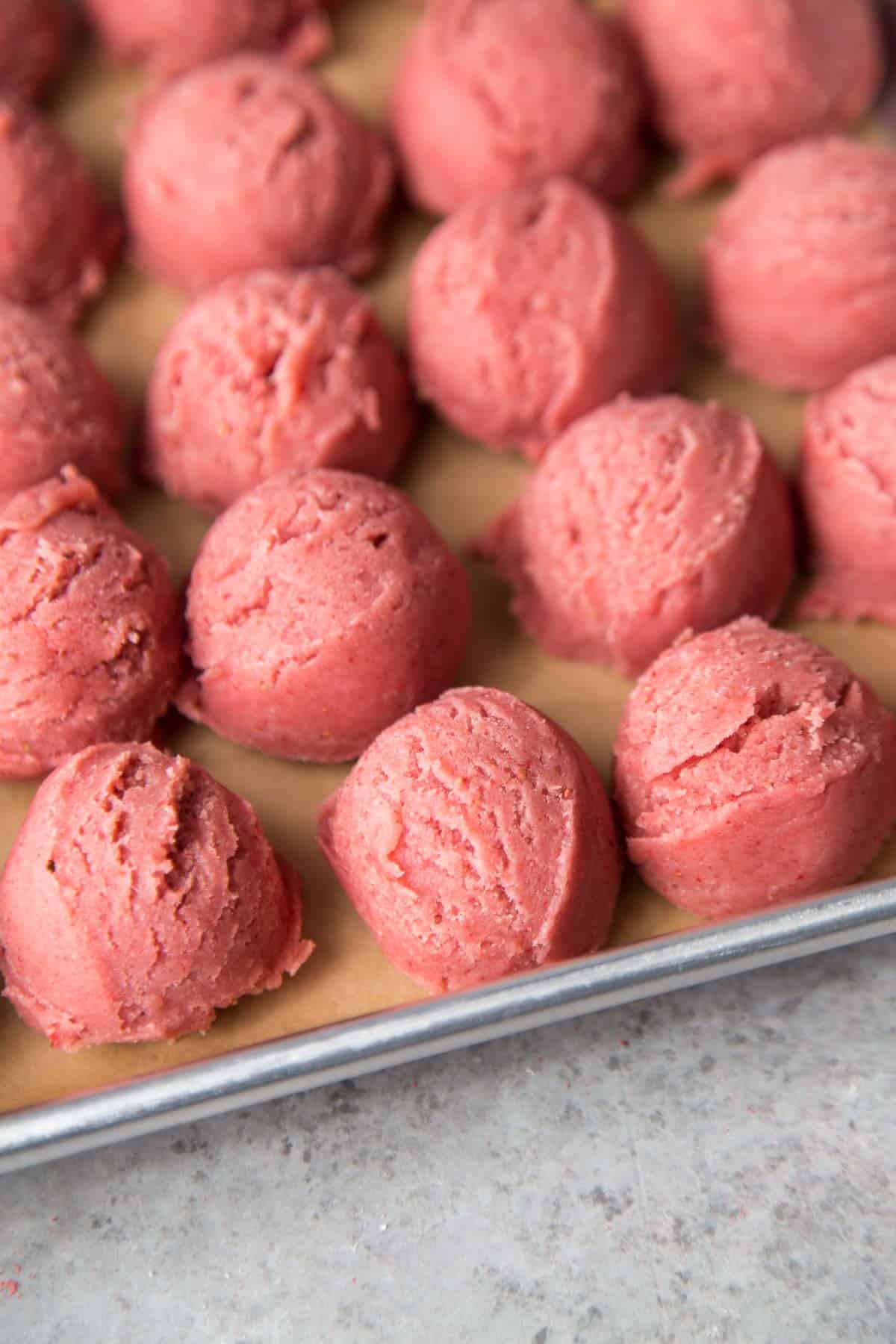 Portion Cookie Dough
Evenly portioned cookie dough is important! Aim to have similarly sized cookie portions.
Similarly sized dough will bake at the same rate.
Imagine baking a giant baseball size cookie dough beside a small golf-ball size cookie dough on the same baking sheet.
The golf-ball size cookie will obviously cook faster.
The small cookie will dry out and burn long before the giant cookie is finished baking.
Use a 1 1/2 tablespoon scoop (#40 scoop) or this OXO medium cookie scoop to evenly portion out the cookie dough.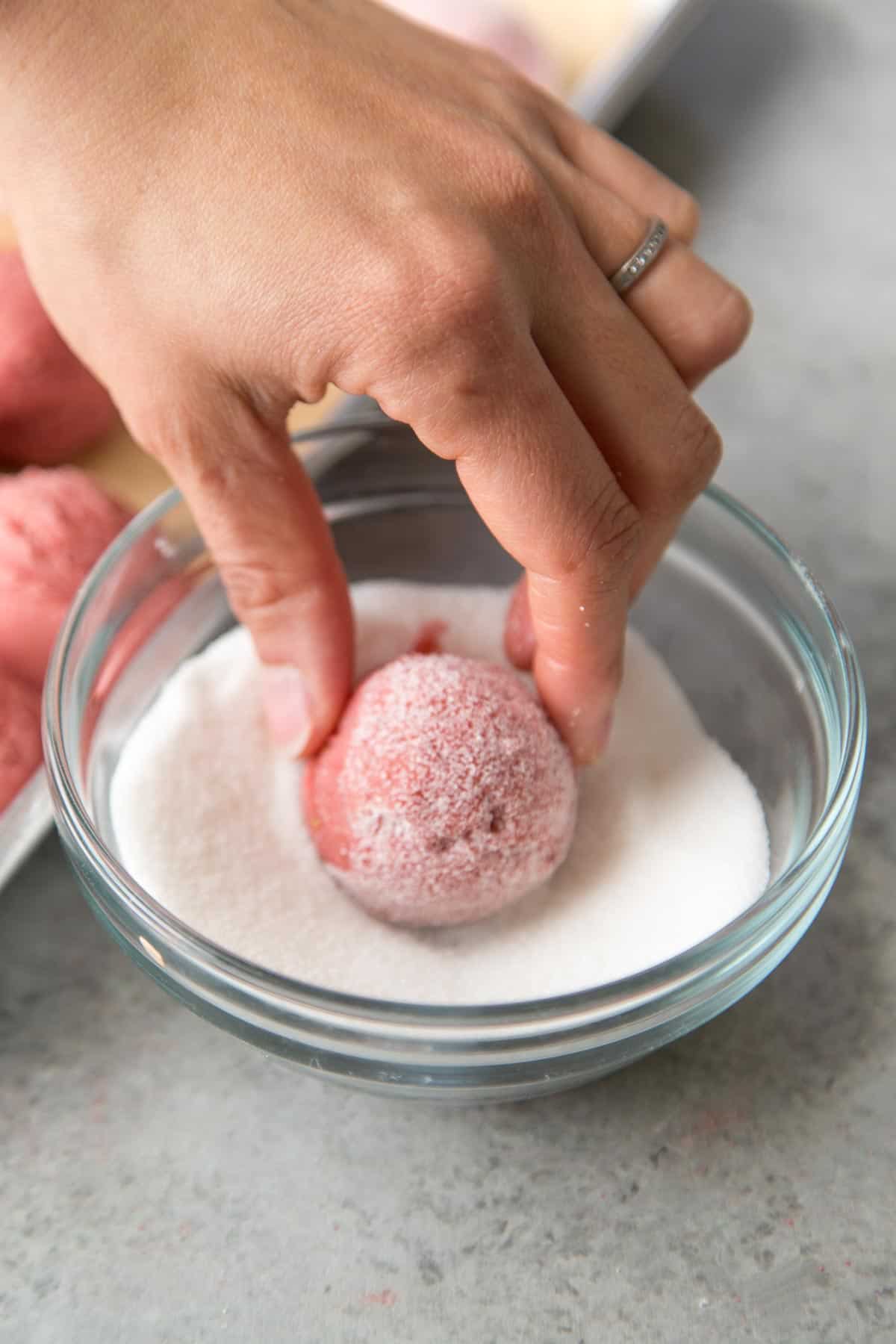 No Chill Cookie Dough
No need to chill or rest the cookie dough.
Roll the portioned out cookie balls in granulated sugar. Then, bake!
For even more strawberry flavor, try rolling the dough in strawberry sugar.
To make strawberry sugar, process some freeze dried strawberries with granulated sugar.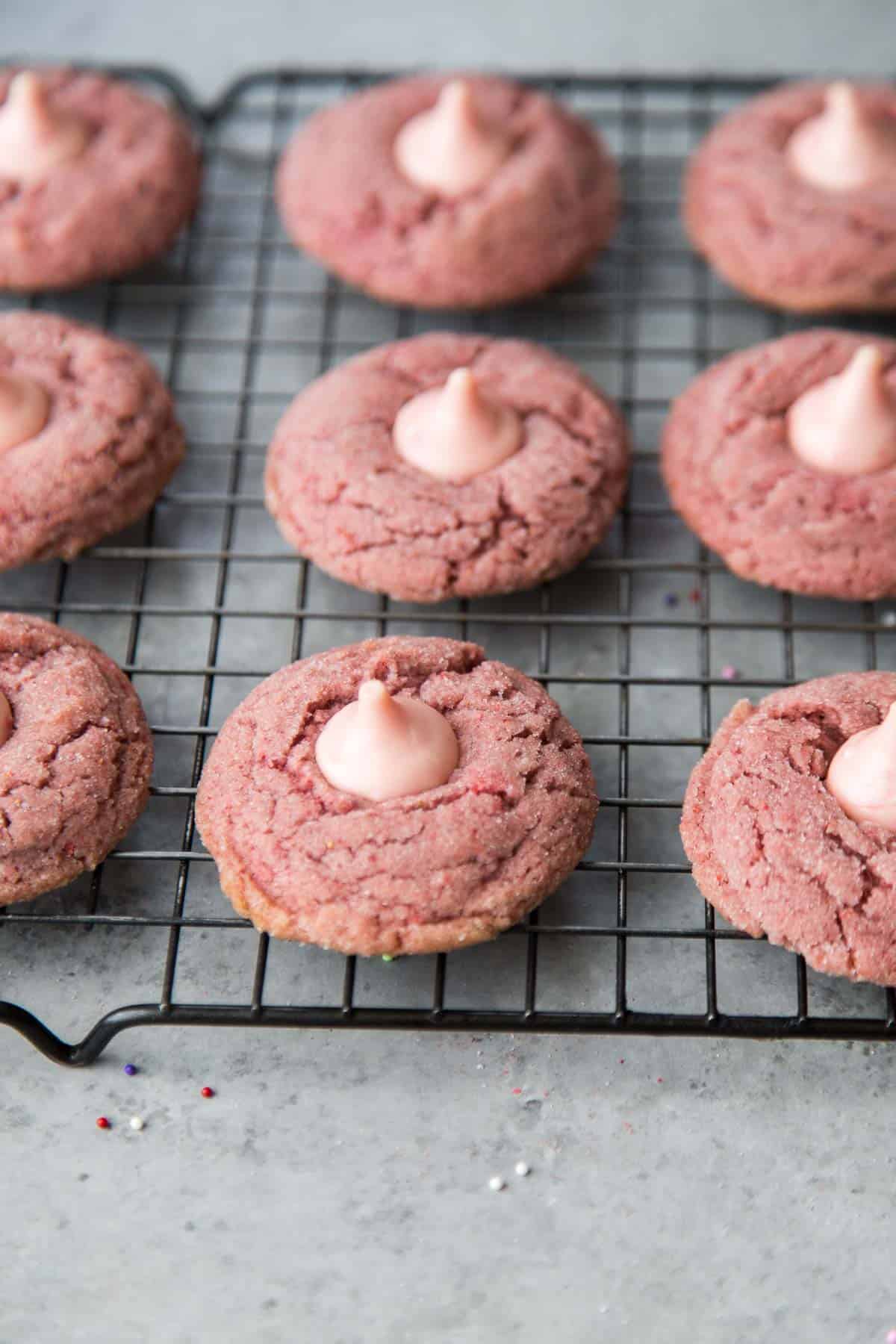 Baking Notes
These strawberry kiss cookies require a tiny bit of prep before hand!
Unwrap 26 strawberry kisses. Place on a freeze safe container (such as bowl, cookie sheet, or cake pan). Store in the freezer while you prepare the other ingredients.
It's important to freeze the chocolate kisses. This will prevent them from melting into a puddle in the oven.
Bake the cookie dough mounds for 10 minutes. By this stage, the cookie dough will have slightly flattened out.
At this point, add a frozen strawberry kiss at the center of each cookie. Pop back in the oven for another 2 to 3 minutes.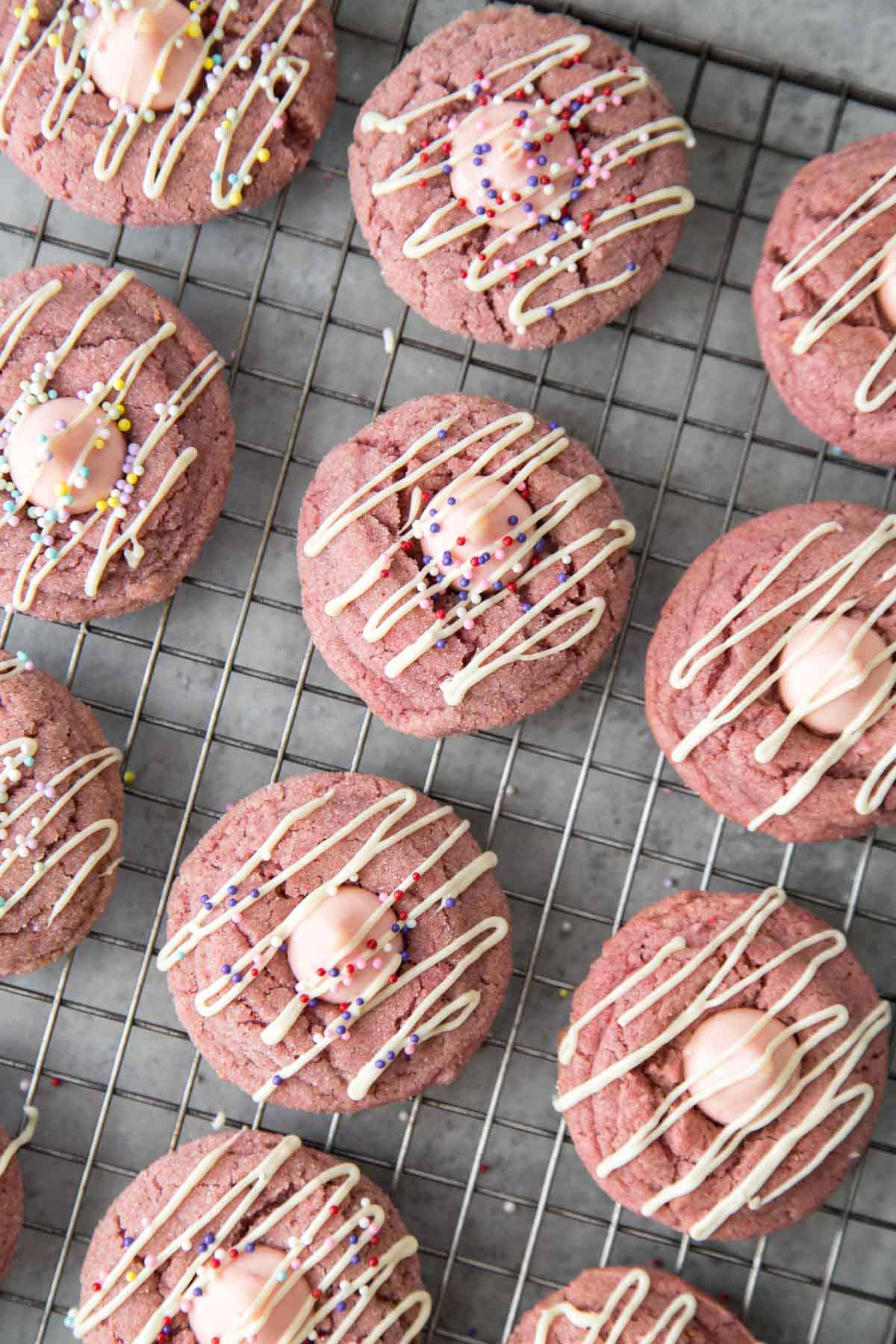 Cookie Embellishments and Decor
Decorating the baked cookies are totally optional!
No need to take this extra step. However, it does help to make the cookies more attractive.
I added a white chocolate drizzle and a pinch of colorful nonpareil sprinkles.
The sprinkles can turn these from Valentine's Day strawberry cookies to Easter themed cookies.
Baking 101
What are nonpareil sprinkles?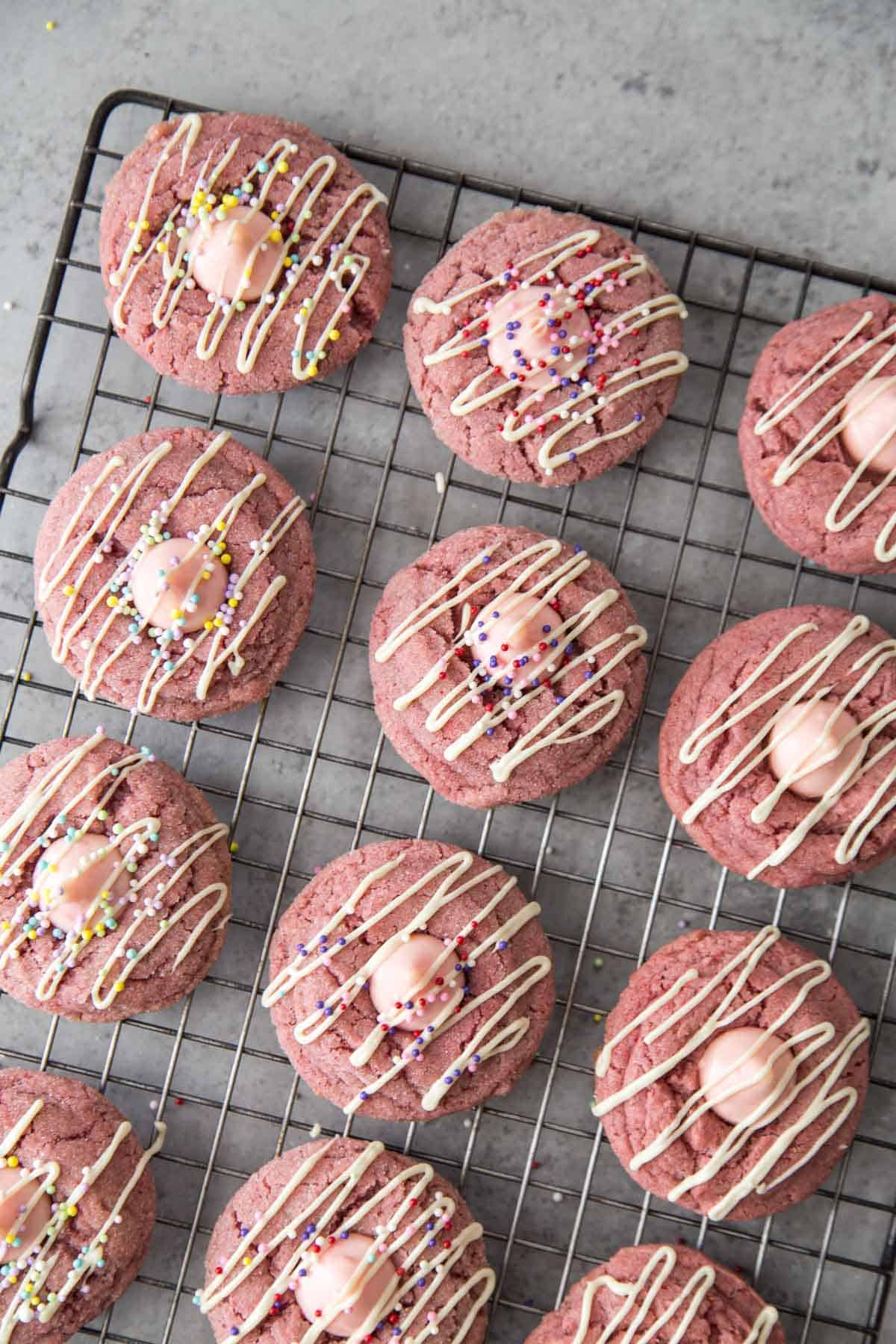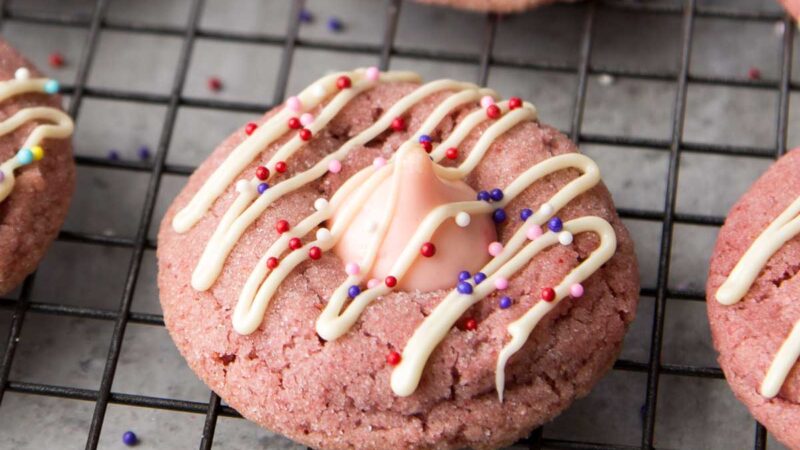 Strawberry Kiss Cookies
Soft and chewy strawberry kiss cookies flavored with freeze dried strawberries and topped with strawberry ice cream cone Hershey's kisses. Yield: 26 cookies
Equipment
food processor or spice grinder

Stand mixer or electric hand mixer

#40 scoop (1½ Tablespoon)
Ingredients
Cookie Dough:
1

oz

bag freeze dried strawberries

(28 g)

1 ¼

cup

granulated sugar

(250 g)

1

cup

unsalted butter

(226 g), room temp, softened

1

large egg

room temp

2

teaspoon

pure vanilla extract

2 ¼

cup

all-purpose flour

(293 g)

½

teaspoon

baking powder

½

teaspoon

baking soda

½

teaspoon

kosher salt

½

cup

granulated sugar

(100 g), for rolling
Topping:
26

pieces

strawberry flavored Hersey's Kisses*

½

cup

white chocolate chips,

melted, for drizzling

nonpareil sprinkles of choice
Instructions
Unwrap strawberry kisses. Place in freezer safe container (such as bowl or baking sheet). Keep in the freezer while you prepare cookie dough.

Preheat oven to 350°F. Line baking sheets with parchment paper or reusable baking silicone mats. Set aside.

Add freeze dried strawberries and about 2 tablespoons of sugar in a food processor. Process strawberries to a fine powder. Set aside.

In the bowl of a stand mixer fitted with a paddle attachment (or using an electric hand mixer), cream together butter, remaining sugar, and freeze dried strawberry mixture until smooth, about 3 minutes. Scape down sides of bowl as needed.

Add egg and vanilla extract. Mix on medium speed until fully incorporated.

In a medium bowl, whisk together flour, baking powder, baking soda, and salt. Add dry mixture to mixing bowl. Mix on low speed until dough comes together. Scrape down sides of bowl as needed to ensure thorough mixing. Be careful not to over-mix or overwork the dough.

Use a 1 ½ Tablespoon scoop (#40 scoop) to portion out the cookie dough.

Roll cookie dough in granulated sugar. Place sugared cookie dough balls 2-inches apart on prepared baking sheet. Bake for 10 minutes, until the cookie has spread and the edges of the cookies are almost set.

Remove from oven and place a frozen strawberry kiss in the center of each cookie. Return to oven and bake for another 2 minutes.

Remove from oven. Leave cookies in pan for 5 minutes. Then, unmold and transfer cookies to wire rack to cool.

Optional Chocolate Drizzle: place white chocolate chips in a small microwave safe bowl. Microwave for 15 second intervals on 50% power. Stir well and continue to microwave in 15 second intervals until chocolate chips are smooth and melted.

Use a spoon to drizzle chocolate over cookies. Alternatively, place melted chocolate in a small piping bag, snip off small tip, and drizzle over cookies.

Immediately top white chocolate with nonpareils.
Notes
Ingredient Notes:
I used Hershey's Kisses Candy Strawberry Ice Cream Cone flavor. This seasonal flavor is available during spring and summer months. See blog post for other flavors available year round.
Freeze dried strawberry packages from Target, Walmart and Trader Joe's come in 1.0 to 1.2 oz packages. Use the entire package.
Other Options:
Cookie dough can be baked with or without being rolled in sugar.
Omit chocolate kiss, if desired. Increase baking time to 12 minutes instead of 10 minutes in original instructions. Omit step 9.
Storage & Leftovers: Store cooled cookies in an airtight container for up to 5 days.