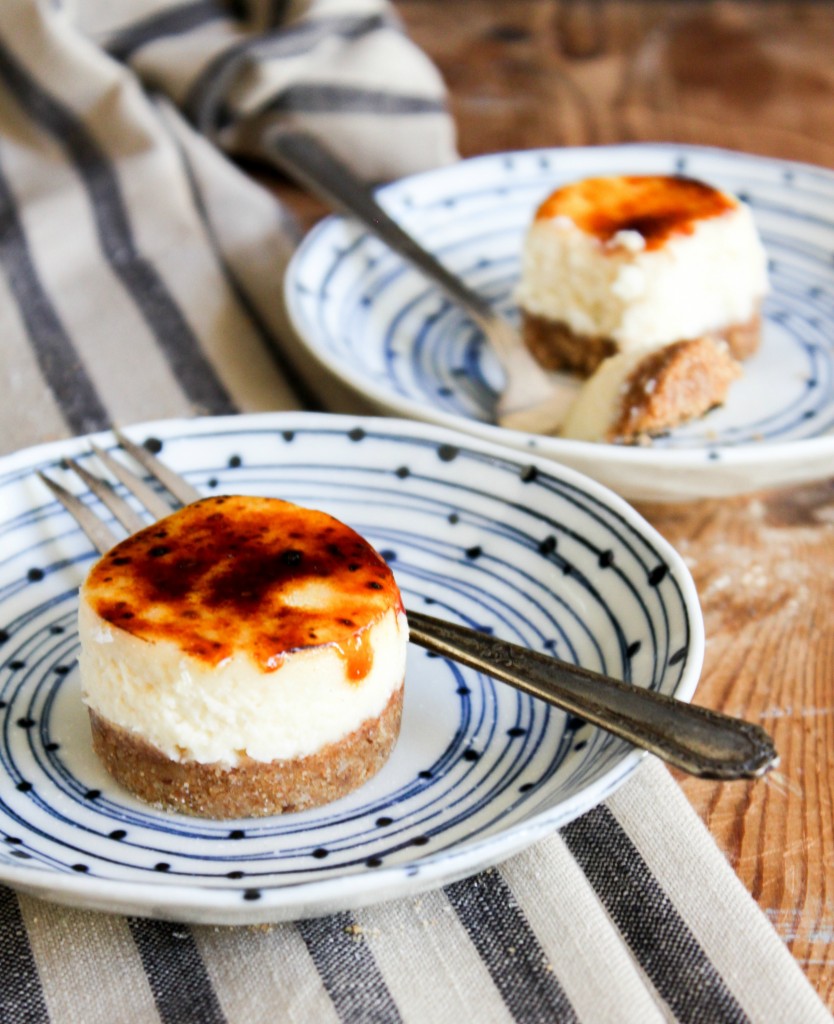 I was doing so well.  I was eating right, training for my upcoming marathon, and practicing yoga every morning for the last two weeks.  And then, cheesecake happened.  Mini Cheesecake Brûlée, to be exact.
Sunday morning, I opened the fridge and realized I had a pound of cream cheese waiting to be used.  I couldn't just let it go to waste, so I searched for my mini cheesecake pans.  I had hoped that small bite sized treats would keep me from overindulging.  Fail.  That proved to be useless, I ended up eating 3 pieces (and then I lost count).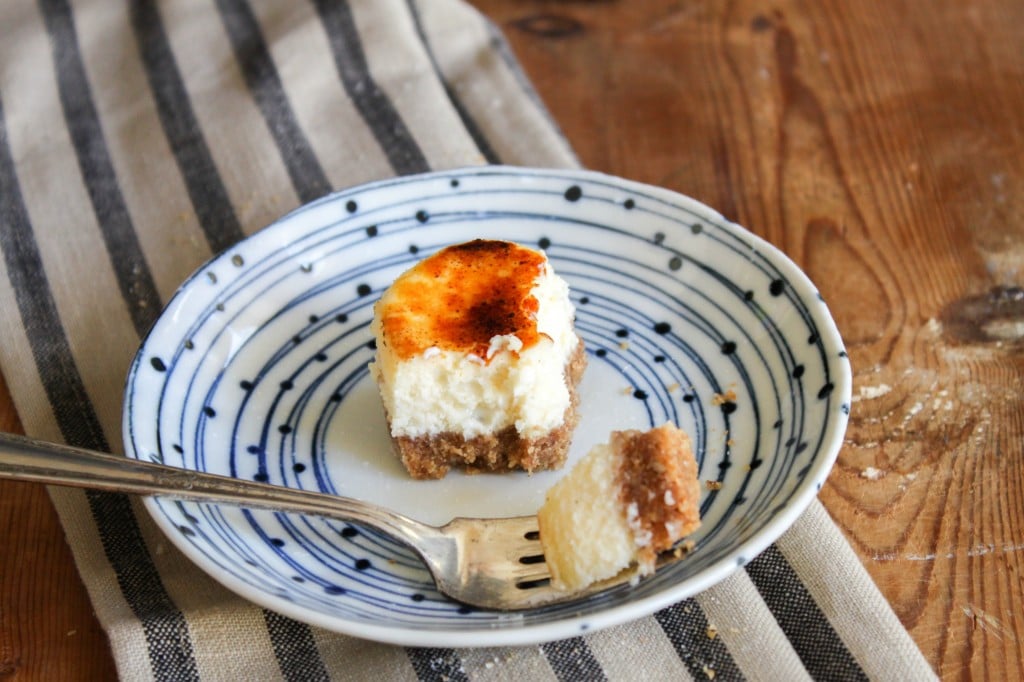 Cheesecake and crème brûlée are two quintessential desserts that everyone should know how to make.  They are both very simple and sure crowd pleasers .
Cheesecake is so popular and so loved that there is a famous chain restaurant named after it.  There are all sorts of cheesecakes for every taste, season, and occasion.  Vanilla bean cheesecake with fresh berries during the summer, pumpkin cheesecake in the fall, white chocolate peppermint cheesecake for the holidays, and chocolate cheesecake every day of the year!
In culinary school, crème brûlée was always refered to as the "perfect" dessert because of its simplicity and its varying textures and flavors.  It has everything you could want in a dessert.  The cream filling is smooth, silky, and sweet.  The brunt sugar crust is crisp with a light bitterness to complement the sweet filling.  Crème brûlée is a timeless dessert that has become a standard at restaurants and is often associated with special occasions and romantic dinners.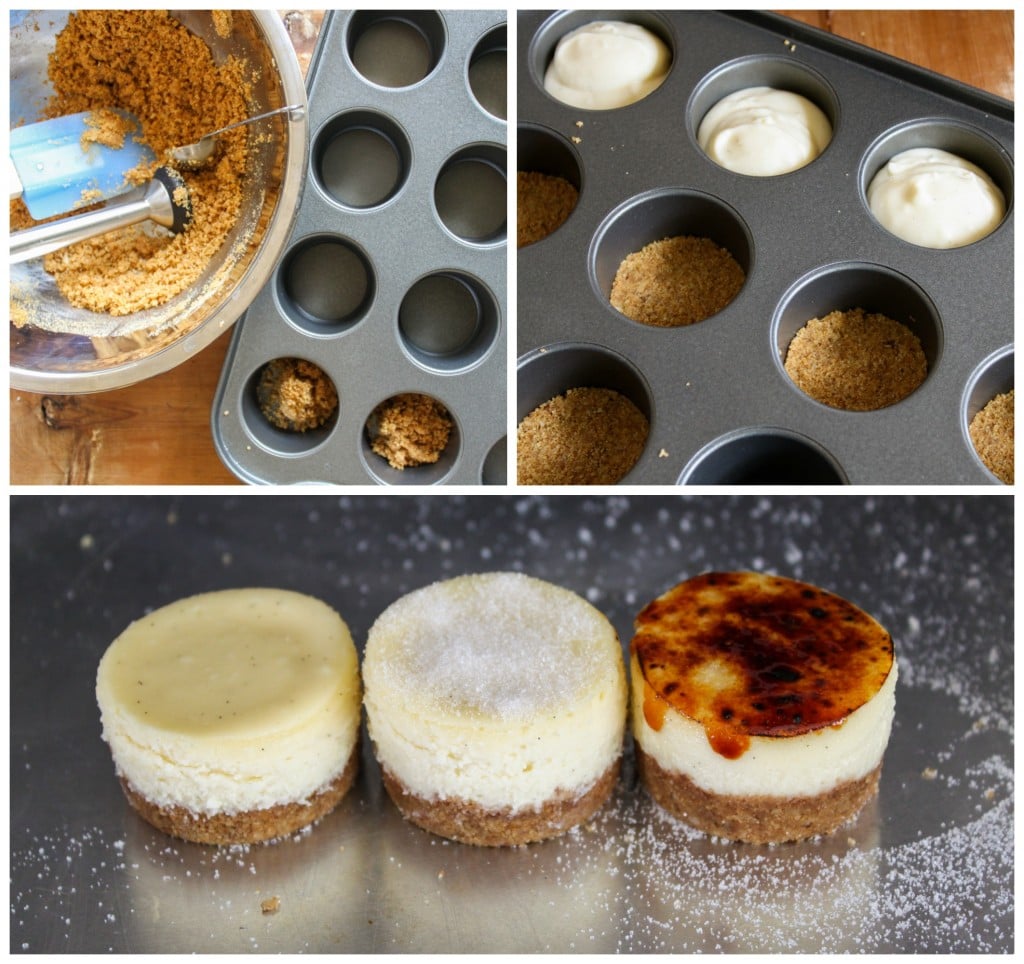 And when you put cheesecake and crème brûlée together, the results are amazing, delicious, and addicting.
I have this habit of adding nuts to graham cracker crusts.  It adds a nice nuttiness and greater depth of flavor that you can't get from crackers and butter alone. I used my favorite vanilla cheesecake base to fill the molds.  When baking cheesecake, its best to cook it slow at a low temperature.  This prevents the tops of the cheesecake from cracking.
I apologize in advance if you are trying to watch what you eat and are cutting back on sugars.  I am sorry for tempting you with this mouth-watering, hip-widening, indulgent dessert. But trust me when I say, it is SO worth it.
Happy Monday!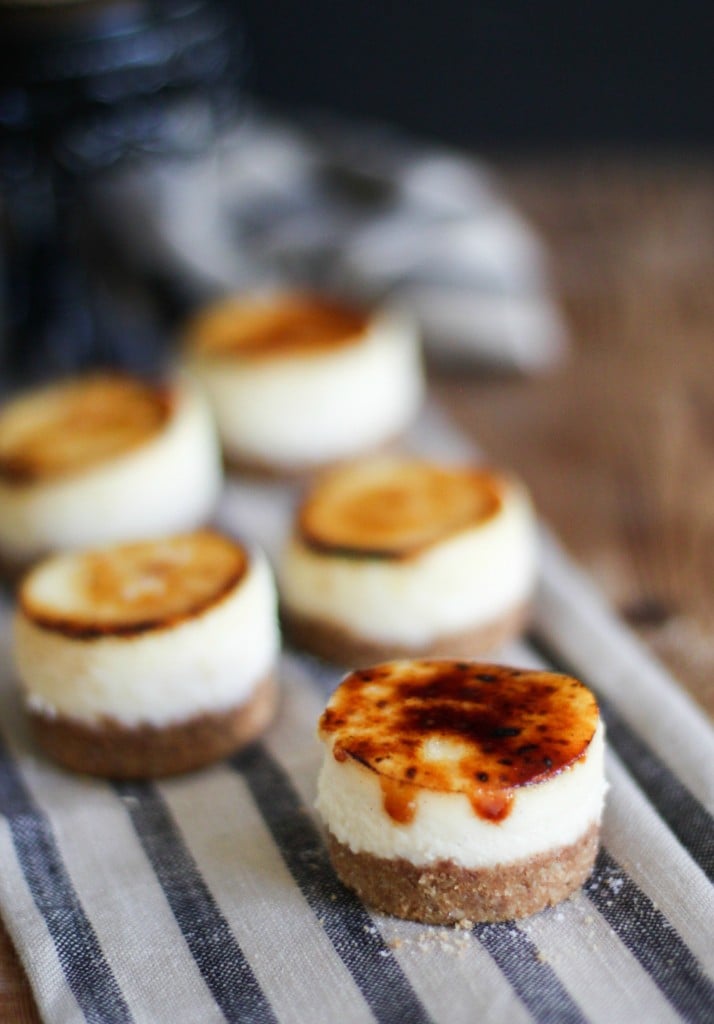 Mini Cheesecake Brulee
Yield: makes 20 mini cheesecakes
Ingredients:
12 full graham crackers, about 1 1/2 cup ground
1/3 cup pecans, lightly toasted, ground
1/3 cup unsalted butter, melted, slightly cooled
16 oz cream cheese, softened, room temperature
1/4 cup sour cream, room temperature
3/4 cup granulated sugar
2 large eggs, room temperature
1 large yolk, room temperature
2 tsp vanilla paste, or vanilla extract
1/4 tsp fine sea salt
granulated sugar, as needed to brûlée tops
Directions:
In a food processor, pulse together graham crackers and pecans until finely ground. Transfer to a medium bowl and add melted butter. Fold to combine. Divide among mini cheesecake molds. I used a rounded tablespoon of crust for each cheesecake. Use a spoon or tamper to pack crust into mold. Set aside.
Preheat oven to 325 degrees F.
In the bowl of a stand mixer fitted with a paddle attachment, add cream cheese and sour cream. Beat on low speed until smooth. Slowly add sugar while the machine is still on low. Add eggs and yolk, one at a time. Scrape down bowl as needed to ensure throughout mixing. Add vanilla paste and sea salt and mix until combined. Evenly divide cheesecake filling among molds.
Bake for 15-18 minutes. Cheesecake may puff up slightly, but will flatten out once cooled. Let baked cheesecake cool to room temperature, then transfer to fridge to chill. Let cheesecake chill for at least 30 minutes.
Remove from molds and sprinkle tops generously with granulated sugar. Using a kitchen torch, gently burn the sugar. Serve and enjoy!