This Basque cake is filled with a thin layer of strawberry jam and a generous portion of vanilla pastry cream. It is a rich and buttery cake with a variety of textures!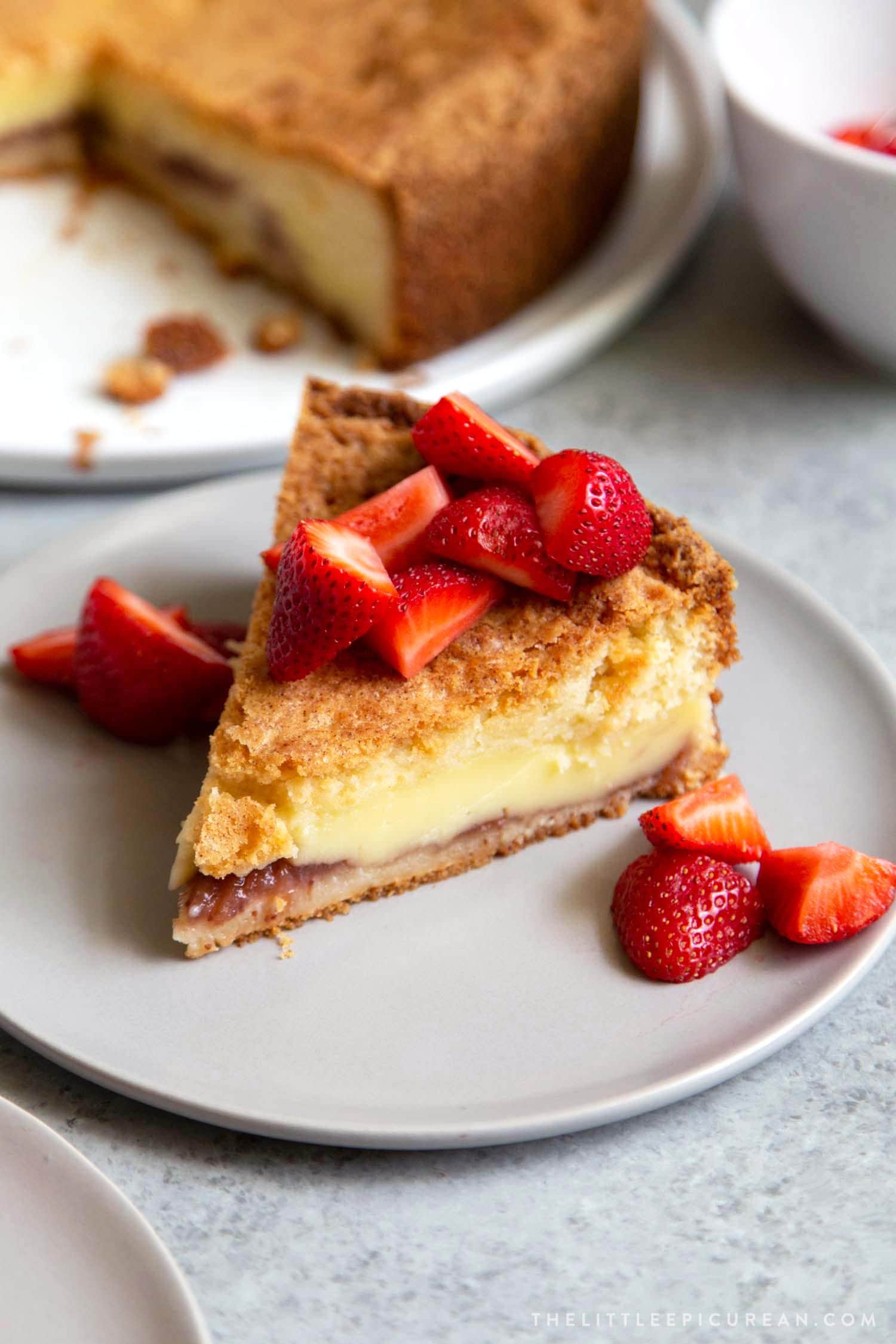 We were exposed to all sorts of traditional cakes and pastries as well as modern innovative desserts in culinary school. Out of our entire curriculum, Basque cake was hands down my most favorite.
This cake left such an impression on me. From such simple ingredients, one can create such a flavorful memorable dessert.
My husband requests this cake for his birthday every year. I don't always make it, but this year I did!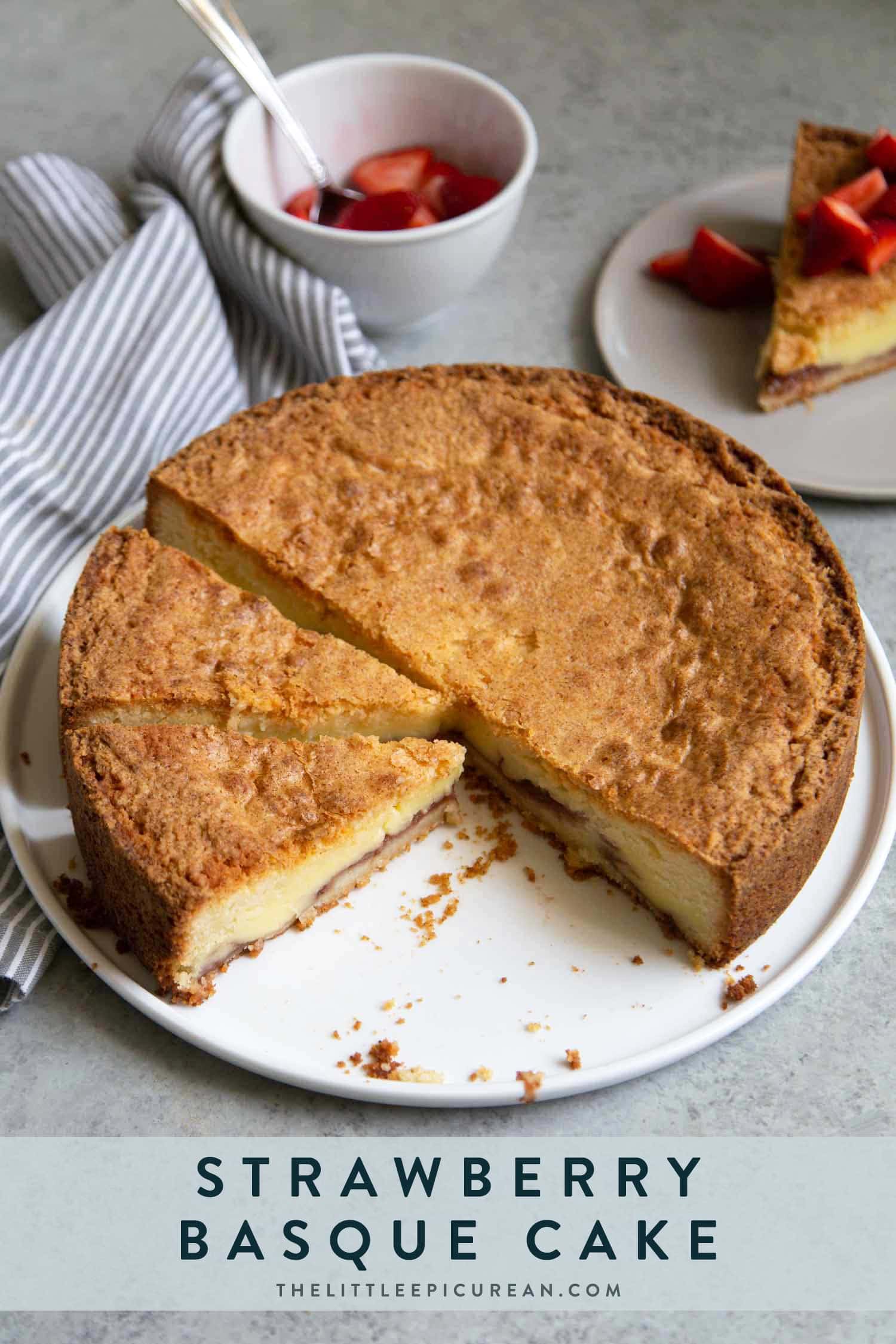 What is Basque Cake?
Basque cake originates from the Basque region sandwiched between the borders of France and Spain.
There are many variations of Basque cake (gâteau Basque). Do a quick Google image search and you'll find an assortment of different looking Basque cakes.
Some are made with a shortbread pastry crust. Others are tall and crumbly, while others are short and dense. Some have designs baked on top, and others are covered with sliced nuts or powdered sugar.
The recipe used here is my personal favorite. It's an adaption of the one I learned in culinary school. This version most resembles a rich pound cake filled with silky custard center.
Regardless of the many variations, all Basque cakes do share a few similarities.
They contain pastry cream (or custard) in the filling
It's rich and buttery! And, definitely meant to be shared.
The cake needs to be cooled completely before slicing into.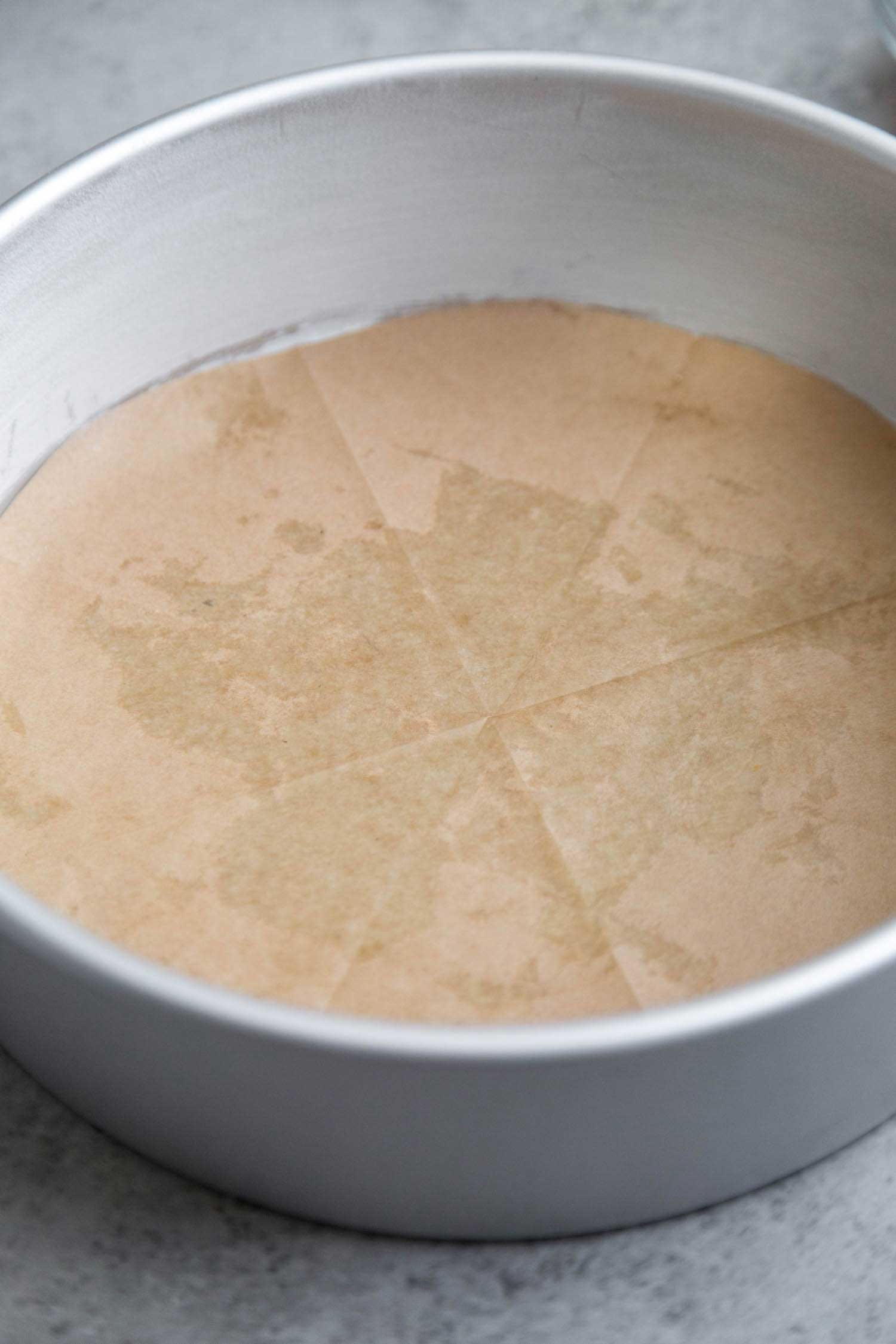 Preparing the Cake Pan for Batter:
This is a step you must not skip. Greasing or buttering the cake pan allows for easy removable of the baked cake. Even if you use a nonstick cake pan, I still suggest greasing the pan.
The flour gives the raw cake batter something to grip to as it rises in the oven. The flour also helps the cake rise evenly.
For this particular cake recipe, the butter and flouring of the cake pan creates that nice buttery crunchy crust all along the outside of the Basque cake.
Lastly, don't forget to line the bottom of the cake pan with parchment paper! This ensures the bottom of the cake doesn't stick to the pan after baking.
How to butter and flour cake pan?
There are many ways to grease a cake pan. These include:
baking spray/nonstick cooking spray
melted butter or softened butter
shortening
oil
butter wrapper paper!
Butter wrapper paper is my go-to choice. Yes, I'm referring to the wrapper butter is packaged in.
This Basque cake recipe requires 2 cups (1 pound) of unsalted butter. That's 4 sticks of standard 1/2 cup sticks of butter. Allow the sticks of butter to sit at room temperature until softened.
Remove butter from wrapper. The wrapper will have small remnants and traces of butterfat. Use that wrapper to grease the entire inside of the cake pan. EASY!
Add about a tablespoon of all-purpose flour into greased cake pan. Shake the flour across the interior of the pan to distribute the flour. This means tilting and swirling the pan to get all the edges covered.
Once the pan has a nice coat of flour, invert pan and tap out any excess flour. You will be left with a thin layer of flour. Now, you may proceed with the rest of the recipe.
I don't have a 10-inch cake pan. What other pans can I use?
This recipe works best in a round 10-inch cake pan (at least 2-inch high).
However, it will also work in a 9-inch cake pan with a depth of at least 3-inches or it can baked in two 6-inch cake pans with a depth of at least 3-inches.
DO NOT USE a 10-inch tube pan or bundt pan. The cake will not be bake properly.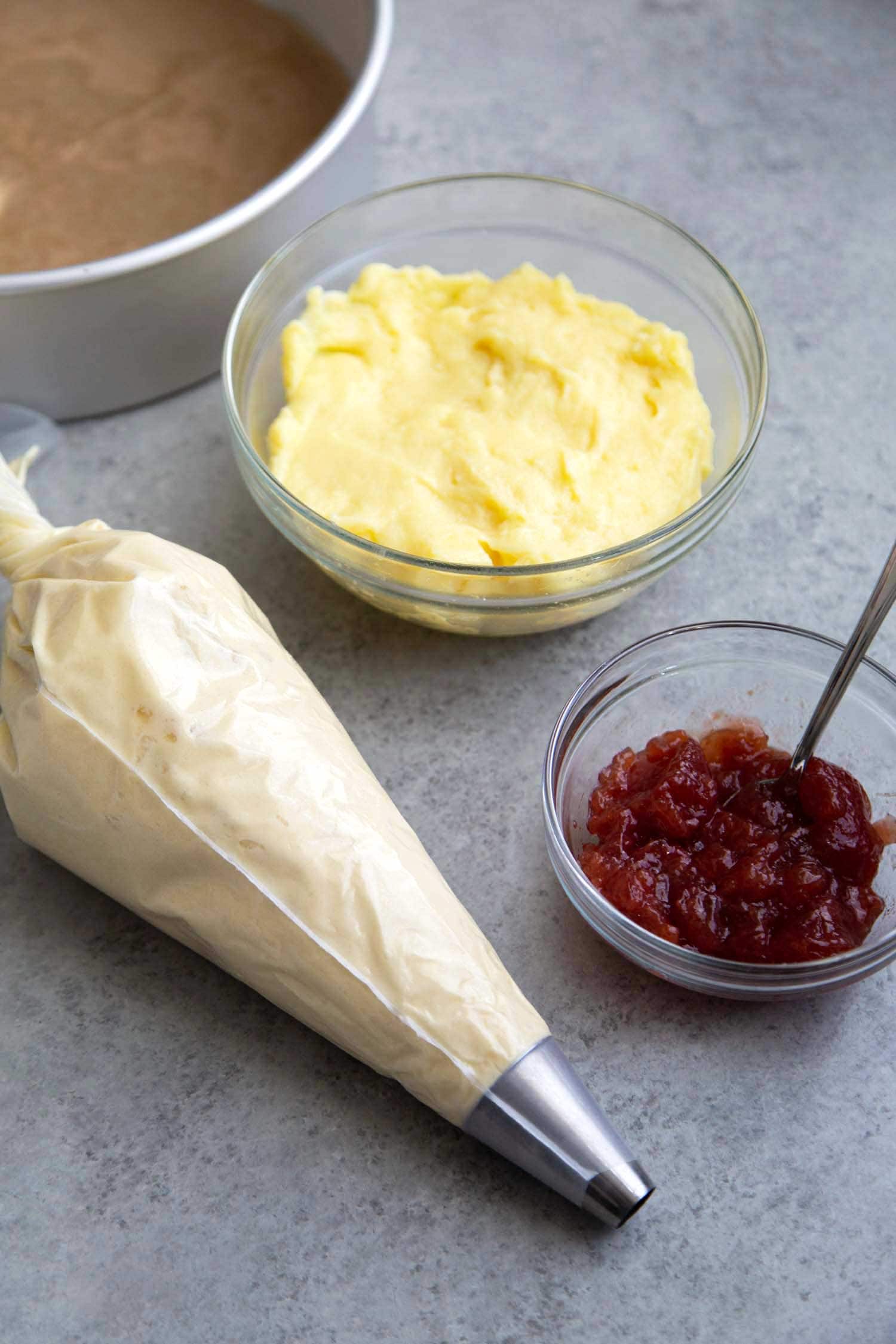 The components of this Basque cake include:
Cake batter
Vanilla pastry cream (custard)
Strawberry Jam
The cake batter best resembles pound cake batter. It's rather thick and almost paste-like.
Pastry cream gives the interior of the cake that silky luscious center. It's almost like eating a custard within a cake.
The pastry cream (custard) is often spiked with rum or liqueur of choice. I have omitted it here.
Traditionally Basque cake is made with cherry jam or brandied cherries. The fruit jam may be omitted, or substituted with another fruit jam (blueberry, apricot, etc).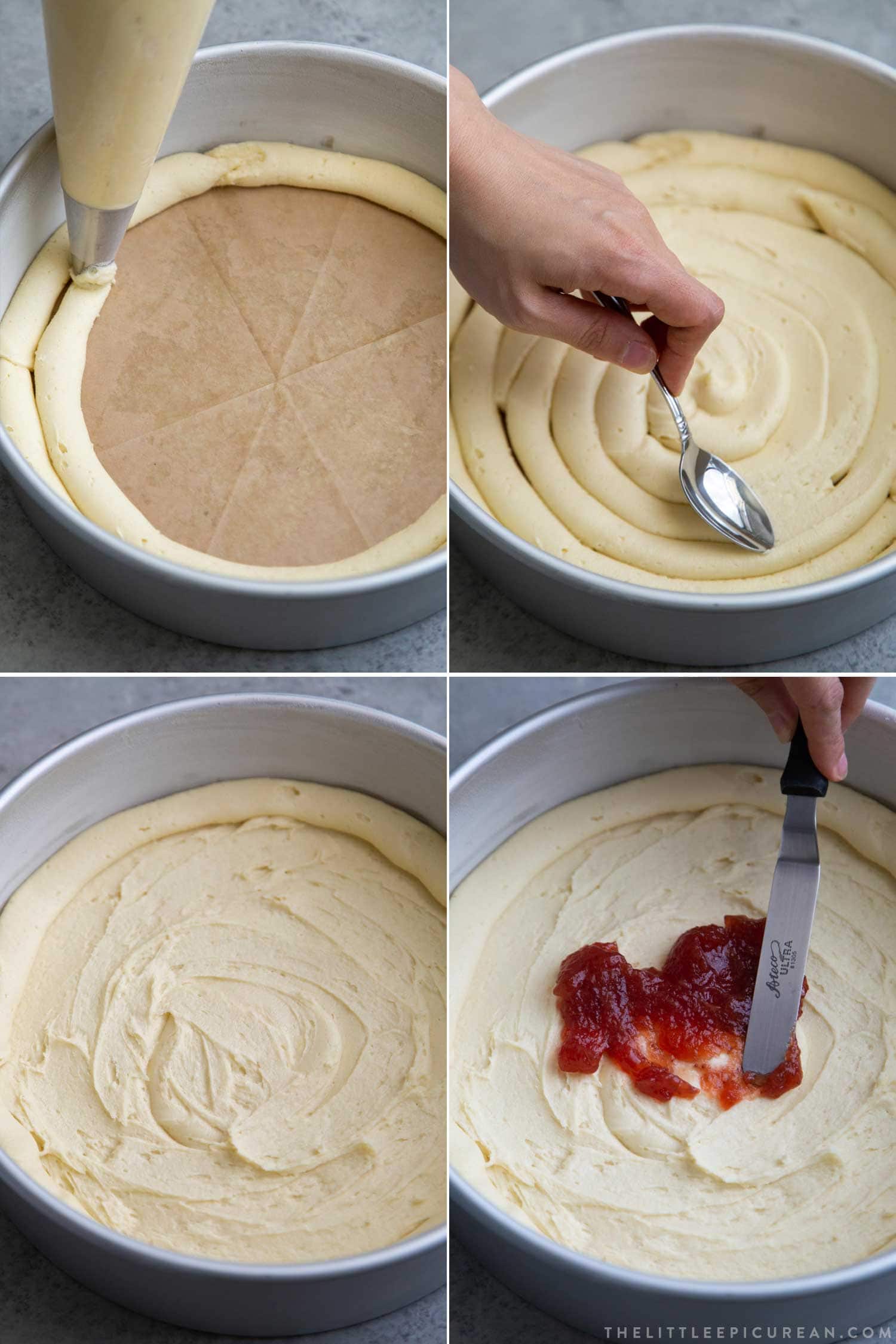 Assembling Basque Cake:
Transfer cake batter to a piping bag fitted with a 15mm round tip. Pipe the cake batter along the interior of prepared cake pan in a spiral shape.
Use the back of a spoon or a mini offset spatula to spread batter into an even layer and cover any holes.
Pipe a border along the edge of the cake pan. This will prevent the jam and pastry cream from escaping.
Use the back of a spoon or a mini offset spatula to evenly spread jam over cake batter.
Add pastry cream over jam.
Spread pastry cream into an even layer. Pipe remaining cake batter over pastry cream. (You will use up every last bit of cake batter.)
Use back of spoon or mini offset spatula to level cake batter and ensure the pastry cream is completely covered.
Bake assembled cake in a 350 degree F oven for about an hour. Allow cake to cool in pan for 20 minutes before unmolding. Then, allow cake to fully cool to room temperature on wire rack.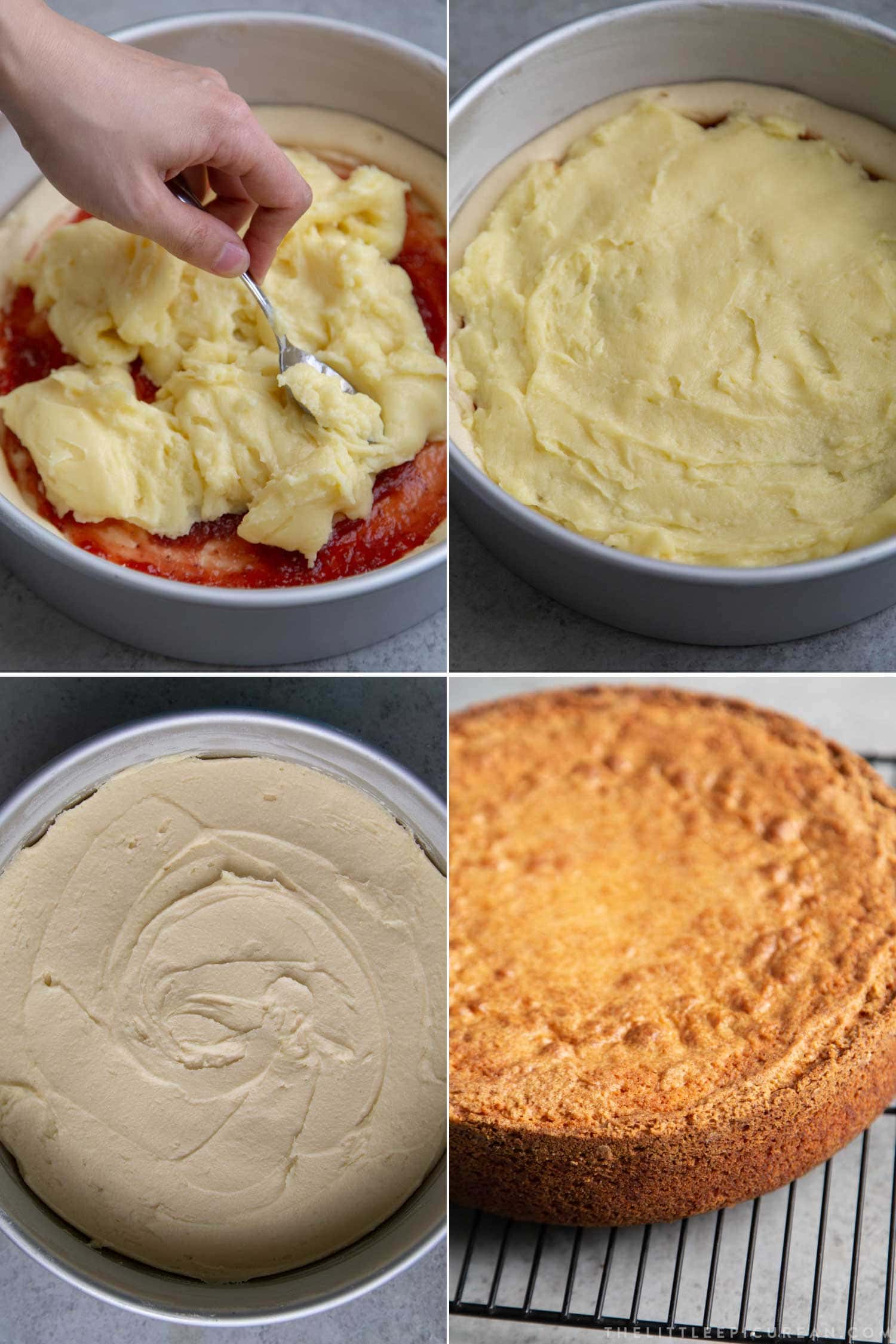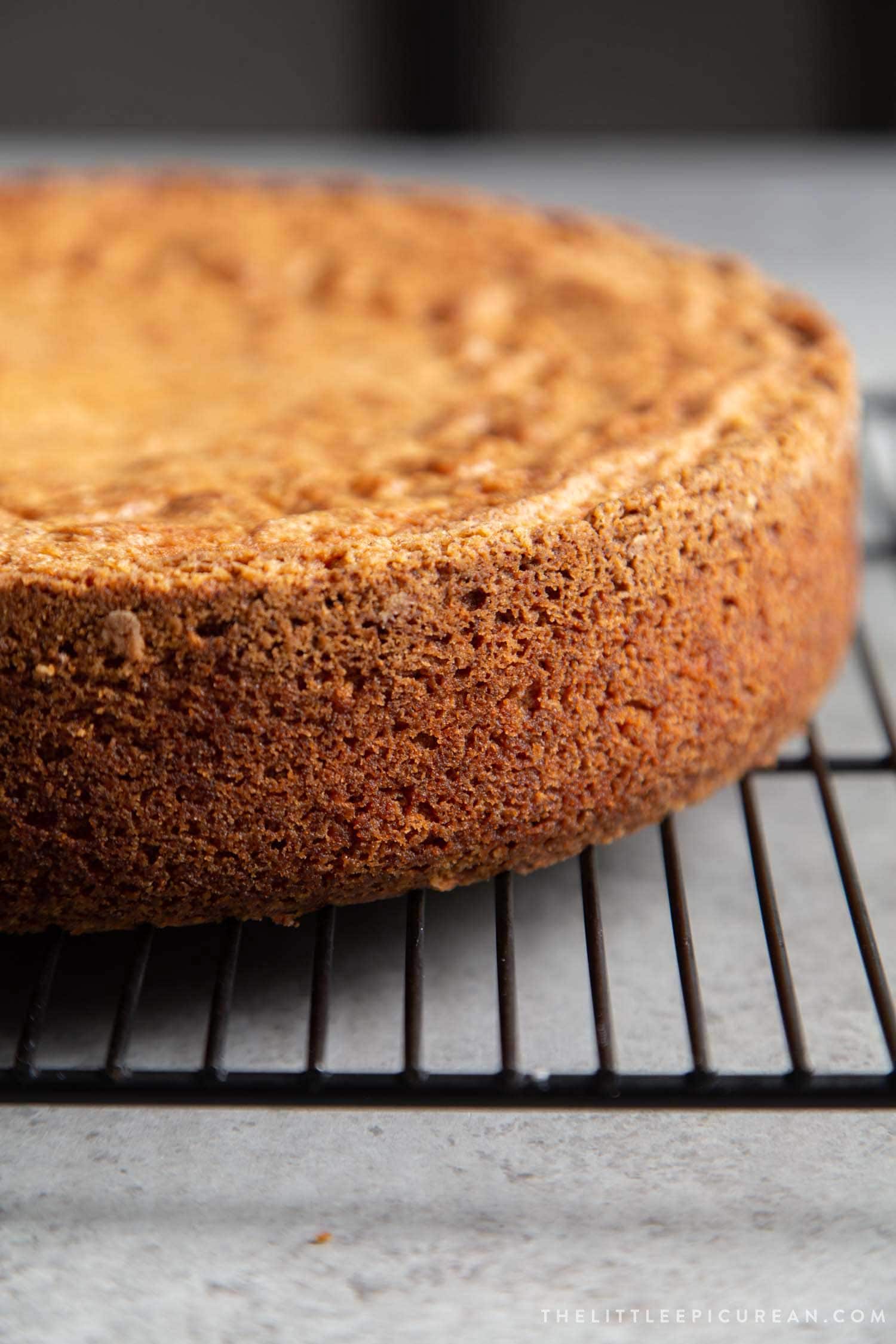 The most difficult part of making Basque Cake
No, it's not making the pastry cream or mixing together the cake batter. The most difficult and painful part of the Basque cake making process is waiting for the cake to cool after baking.
Allow the cake to completely cool before slicing. While warm, the cake is fragile. As the cake cools, its structure will strengthen. Best of all, the cooling time allows the crust to crisp up.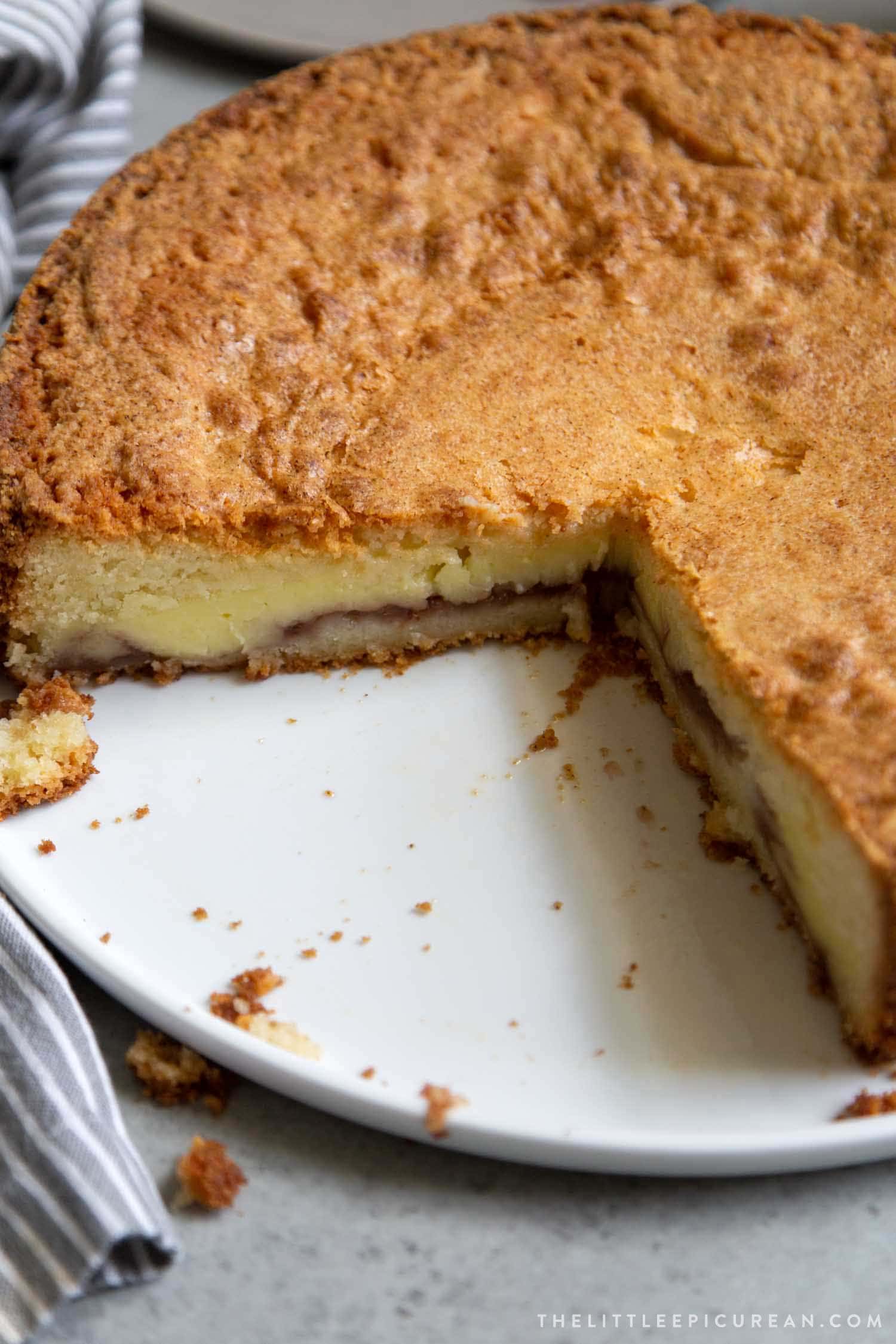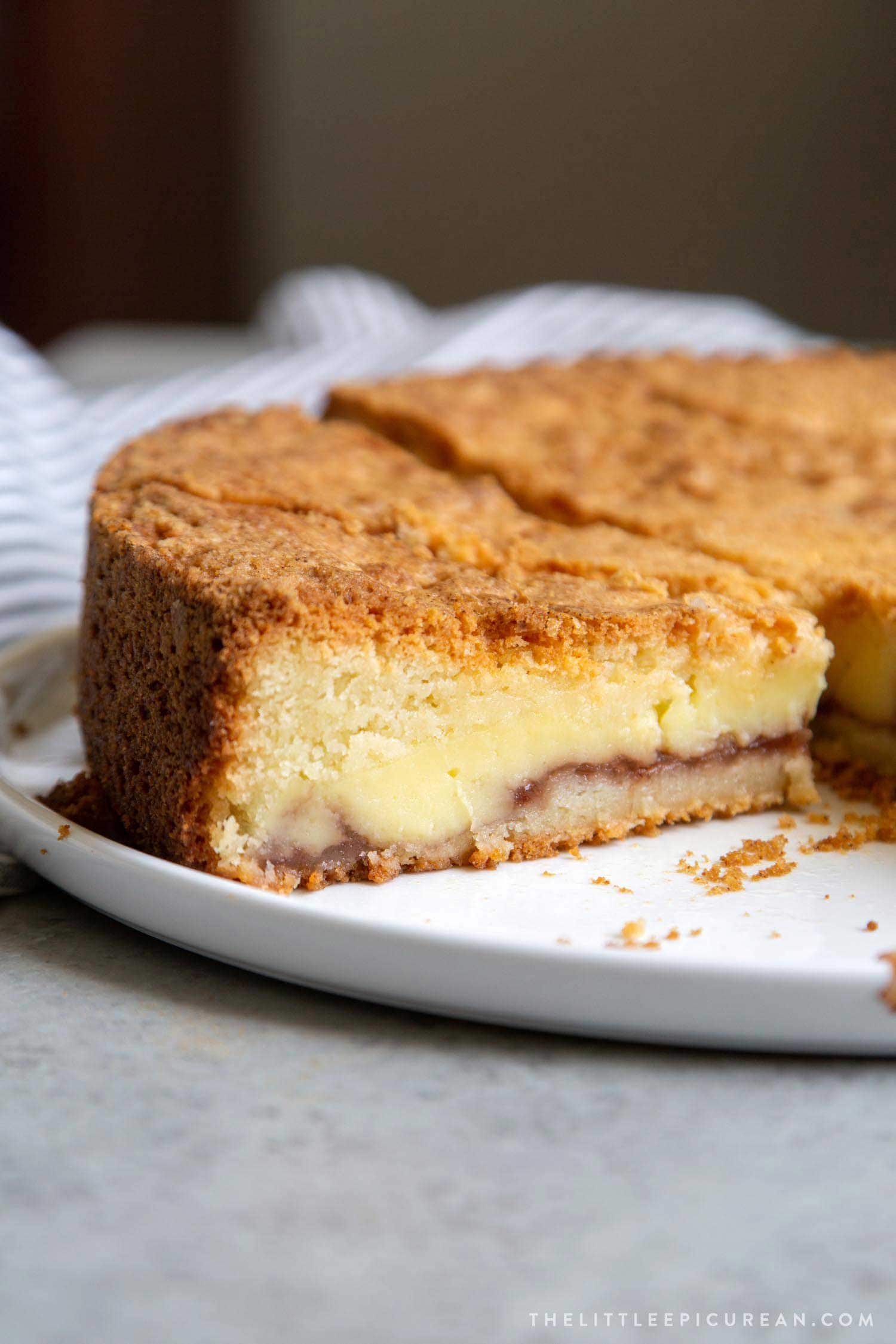 Notes on Pastry Cream:
Use a stainless steel sauce pan/pot to cook the pastry cream. Do not use an aluminum pan. The pan will react with the pastry cream causing it to turn slightly green or gray in color.
It is best to cook egg based recipes low and slow. This is to prevent the eggs from curdling. But, also to prevent unwanted "eggy" flavor that comes from high heat.
Once the pastry cream is cooked, it needs to immediately be cooled down to inhibit the growth of bacteria. Cool the pastry cream in an ice water bath, or follow the steps in the recipe to quickly freeze shock the pastry cream in the freezer.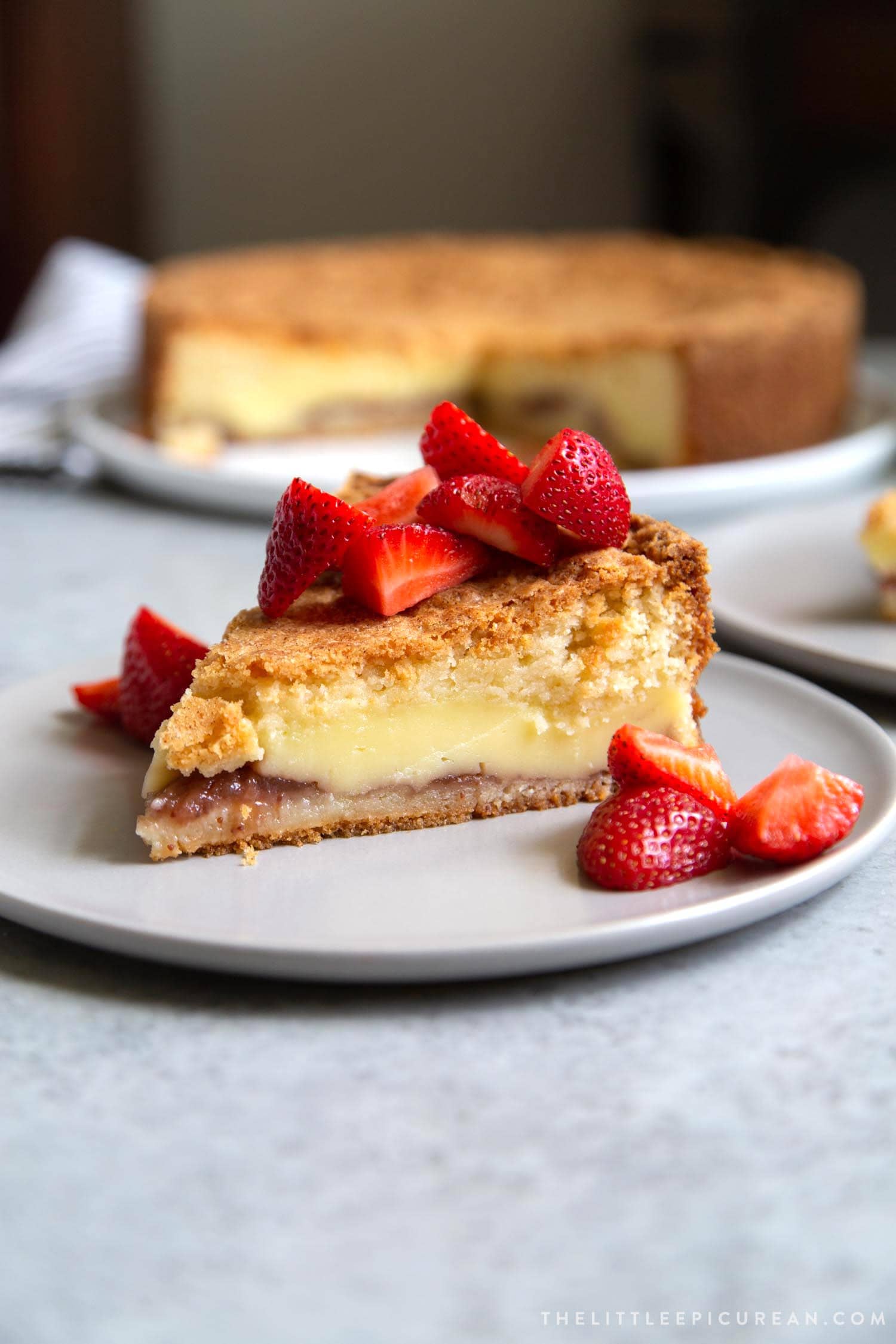 How Does Basque Cake Taste?
It's rich and decadent and so delicious. Whoever said that vanilla is boring, has obviously never had a proper Basque cake!
This cake proves that you can create such powerful flavors using the simplest ingredients (butter, sugar, eggs, and vanilla).
My husband calls the cake a "buttery vanilla bomb." It's a butter cookie meets custard in a cake form.
Because this cake is so rich, I suggest serving it with fresh strawberries to balance it out. Other in season fruits would work as well! Peaches, nectarines, or blackberries are great alternatives.
Strawberry Basque Cake
Basque Cake topped with fresh strawberries. Basque Cake is a buttery cake with strawberry jam and pastry cream filling.Yield: 10-inch round cake
Ingredients
Pastry Cream:
2

cups

whole milk

¾

cup

(150 g) granulated sugar

¼

cup

(36 g) cornstarch

3

large egg yolks

2

Tablespoons

(28 g) unsalted butter

¼

teaspoon

kosher salt

1

teaspoon

pure vanilla extract

*
Cake Batter:
2

cups

(454 g) unsalted butter,

softened, room temp

2 ¼

cups

(454 g) granualted sugar

1 ½

teaspoon

pure vanilla extract

*

3

large eggs,

room temp

2 ¾

cups

(360 g) all-purpose flour

2

teaspoon

baking powder

½

teaspoon

kosher salt
Other:
6

Tablespoon

strawberry jam

fresh sliced strawberries,

for serving
Instructions
Pastry Cream:
Line a quarter sheet baking tray with plastic wrap, making sure the sides of the tray are covered. Set aside.

Pour 1 ½ cup milk into a medium sized heavy bottomed saucepot. Add 2 tablespoons of sugar. Whisk and place over medium-high heat. Bring to a boil. Stir occasionally to ensure milk does not burn along sides or bottom of the pot.

Meanwhile, in a medium bowl, whisk together cornstarch and remaining sugar. Add yolks and remaining ½ cup of milk. Whisk together until smooth.

Once milk has come to a boil, reduce heat. Slowly add about ¼ cup of hot milk into egg mixture. Immediately whisk to distribute heat. Continue to add small portions of the hot milk into the egg mixture, whisking to distribute heat. Do this until only a few tablespoons of milk remain in the saucepot.

Pour all of the egg-milk mixture back into the saucepot. Set pot over medium heat. Stir constantly until mixture thickens. Keep stirring and let the custard come to a boil for 20-30 seconds to cook out unwanted cornstarch flavor. Remove from heat.

Stir in butter and salt until melted and incorporated. Next, add vanilla and stir to combine.

Immediately pour the hot pastry cream into the preared plastic wrapped sheet pan. Spread evenly. Cover pastry cream with plastic wrap, allowing wrap to touch surface of pastry cream. Freeze for 10-15 minutes to quickly cool pastry cream. Remove from freezer and continue to cool in refrigerator until ready to use.
Cake:
Preheat oven to 350°F. Butter and flour round 10-inch cake pan. Tap out any excess flour. Line bottom of cake pan with parchment paper. Set aside.

In the bowl of a stand mixer fitted with a paddle attachment, cream together softened butter and sugar until smooth. Scrape down bowl as needed to ensure thorough mixing.

Add vanilla. With the mixer running on medium speed, add eggs one at a time. Ensure each egg is incorporated into batter before adding the next. Scrape down sides of bowl.

In a medium bowl, whisk together flour, baking powder, and salt. Add half of flour mixture to mixing bowl. Mix on the lowest speed until almost combined. Add remaining flour mixture and mix on low until there are no longer and dry streaks of flour. Alternatively, the flour can be folded in by hand.
Assembly:
Transfer half of batter to a piping bag fitted with a 15mm round tip. Pipe a spiral of cake batter into prepared cake pan, covering the bottom of cake pan. Use the back of a spoon or a mini offset spatula to smooth out the batter or cover any gaps, if necessary.

Pipe a ring of batter along the edges of cake to create a border. Spread strawberry jam within boundaries of cake batter ring.

Refresh pastry cream by giving it a good whisk. Spread pastry cream in an even layer over strawberry jam.

Fill piping bag with remaining cake batter. Once again, pipe a spiral of cake batter. Make sure to completely cover and encase the pastry cream. Use the back of a spoon or a mini offset spatula to smooth out batter or cover any gaps, if necessary.

*You will use up every last bit of cake batter.

Bake for 50-60 minutes until top of cake is golden brown, the edges of the cake are set and are beginning to pull away from the pan, and most importantly, the center of cake no longer jiggles. Allow cake to cool in pan for 20-30 minutes. Run a dull knife or mini offset along the perimeter of cake to loosen from pan. Invert and unmold cake. Turn cake upright and place on a wire rack. Allow cake to completely cool to room temperature, about 2-3 hours.

Slice cake once cool. Serve cake warm, room temperature, or chilled. Serve cake slices with fresh strawberries.
Notes
Leftovers and Storage:
Baked cake be left unsliced (whole) at room temperature for up to 24 hours. Once sliced, store cake in the fridge in airtight container for up to three days. 
Equipment Notes:
Ingredient Notes:
Vanilla paste will provide more flavor and punch. 
Not all kosher salt is created equal. Some are saltier than others. I use Diamond Crystal Kosher Salt for all my recipes. 
I use all-purpose flour with 11.4% protein content.