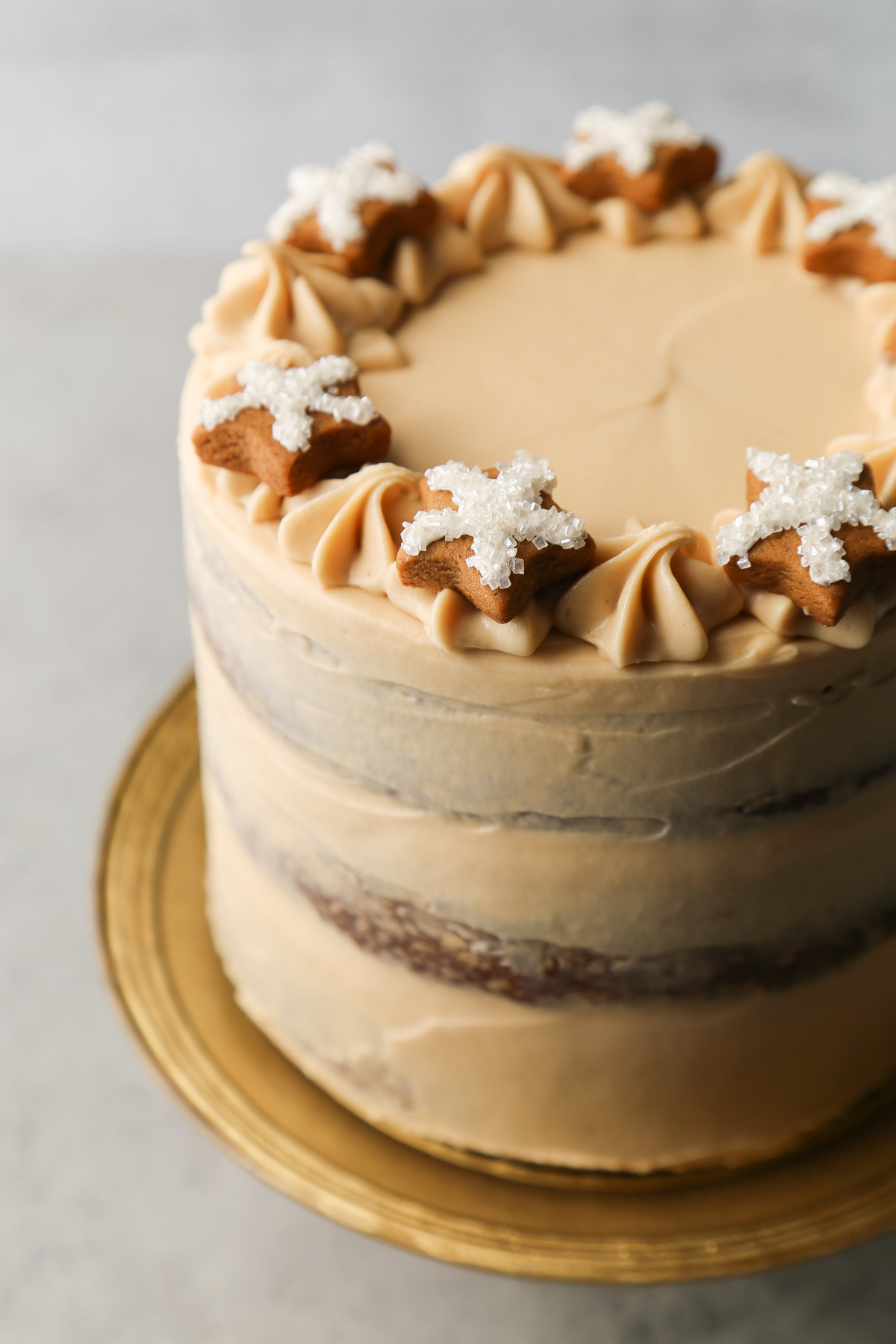 I dream about cakes.  Chocolate chip cookie dough cake covered in a rich dark chocolate ganache served with a heaping scoop of slow churned vanilla bean ice cream.  Earl Gray infused white cake with a light Swiss buttercream topped with candied lavender bits.  Caramelized pineapple cake and coconut rum whipped cream.  Now you can understand why I'm often so hungry when I wake up.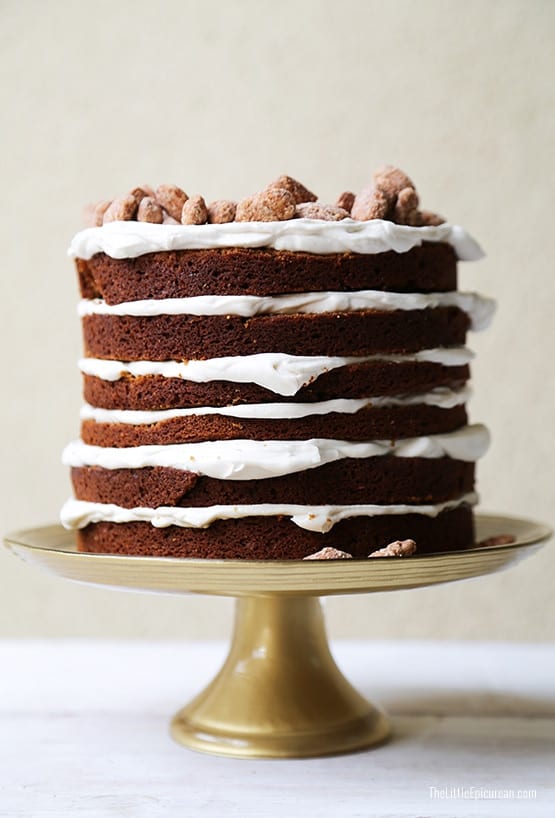 When I dream about cake making, I'm in a large pristine kitchen, I'm dancing and singing along to my favorite songs, and of course, tasting everything.  Surprisingly, my other dreams consist of secret agent work, spies, and lots of action and adventure.  The boyfriend is often jealous that I dream up such awesome stuff.  He dreams about folding laundry and finishing household chores. (boring!)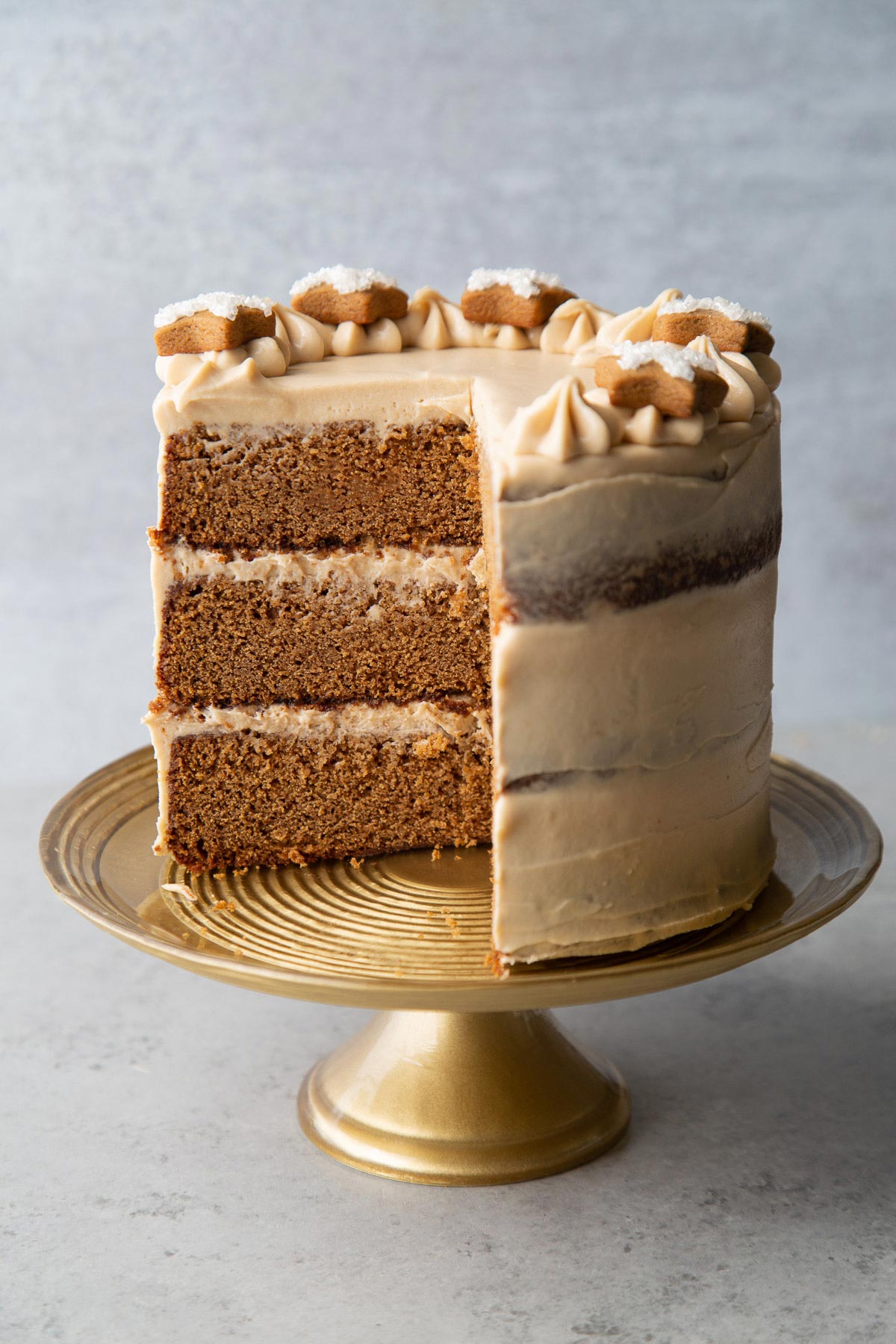 This is one of the cakes I have dreamed about- only on a much smaller scale.  If I were to actually bring to life the cakes from my dreams, well… I would need more butter  and another fridge just dedicated to cakes.
Hello, gingerbread layer cake with maple whipped cream and crunchy cinnamon sugar almonds.  It's so nice to finally meet you.
Gingerbread Layer Cake
Ingredients:
Gingerbread Cake:
2 1/2 cups all-purpose flour
1 tsp ground cinnamon
1 tsp ground ginger
1/2 tsp ground nutmeg
1 tsp espresso powder
1 tsp baking soda
3/4 tsp kosher salt
3/4 cup unsalted butter, room temperature
1/2 cup granulated sugar
1/2 cup light brown sugar
2 large eggs, room temperature
1/2 cup molasses
1/2 cup warm water
Maple Whipped Cream:
2/3 cup sour cream, cold
1 3/4 cup heavy cream, cold
1/3 cup light brown sugar, packed
1/2 cup confectioners' sugar (powdered sugar), sifted
1/2 tsp maple extract
Cinnamon Sugar Almonds:
as needed, purchased from Trader Joe's
Directions:
Gingerbread Cake:
Preheat oven to 350 degrees F. Butter 3 x 6-inch cake pans. Line with parchment paper. Set aside.
In a medium bowl, whisk together flour, cinnamon, ginger, nutmeg, espresso powder, baking soda, and salt. Set aside.
In the bowl of a stand mixer fitted with a paddle attachment, cream butter. Add sugar and brown sugar and mix until smooth. Scrape down bowl as needed to ensure thorough mixing.
Add eggs and molasses and mix until combined.
Add 1/3 of dry ingredients and mix on low speed. Add 1/2 of water and mix. Repeat with another 1/3 of dry ingredients and remaining water. End with last 1/3 of dry ingredients. Mix until combined.
Divide batter among prepared cake pans. Smooth top. Bake for 30-35 minutes, until toothpick inserted in center of cake comes out clean. Rotate halfway thru baking.
Remove cakes from pan and allow to cool to room temperature on a wire rack.
Once cooled, slice each cake in half to end up with 6 layers.
Maple Whipped Cream:
In the bowl of a stand mixer fitted with a whisk attachment, combine sour cream and heavy cream. Mix on medium speed.
Once mixture starts to thicken, slowly add brown sugar and sifted confectioners' sugar. Add maple extract. Whisk until almost stiff peaks.