Ginger grapefruit layer cake filled with orange marmalade and frosted with Swiss buttercream.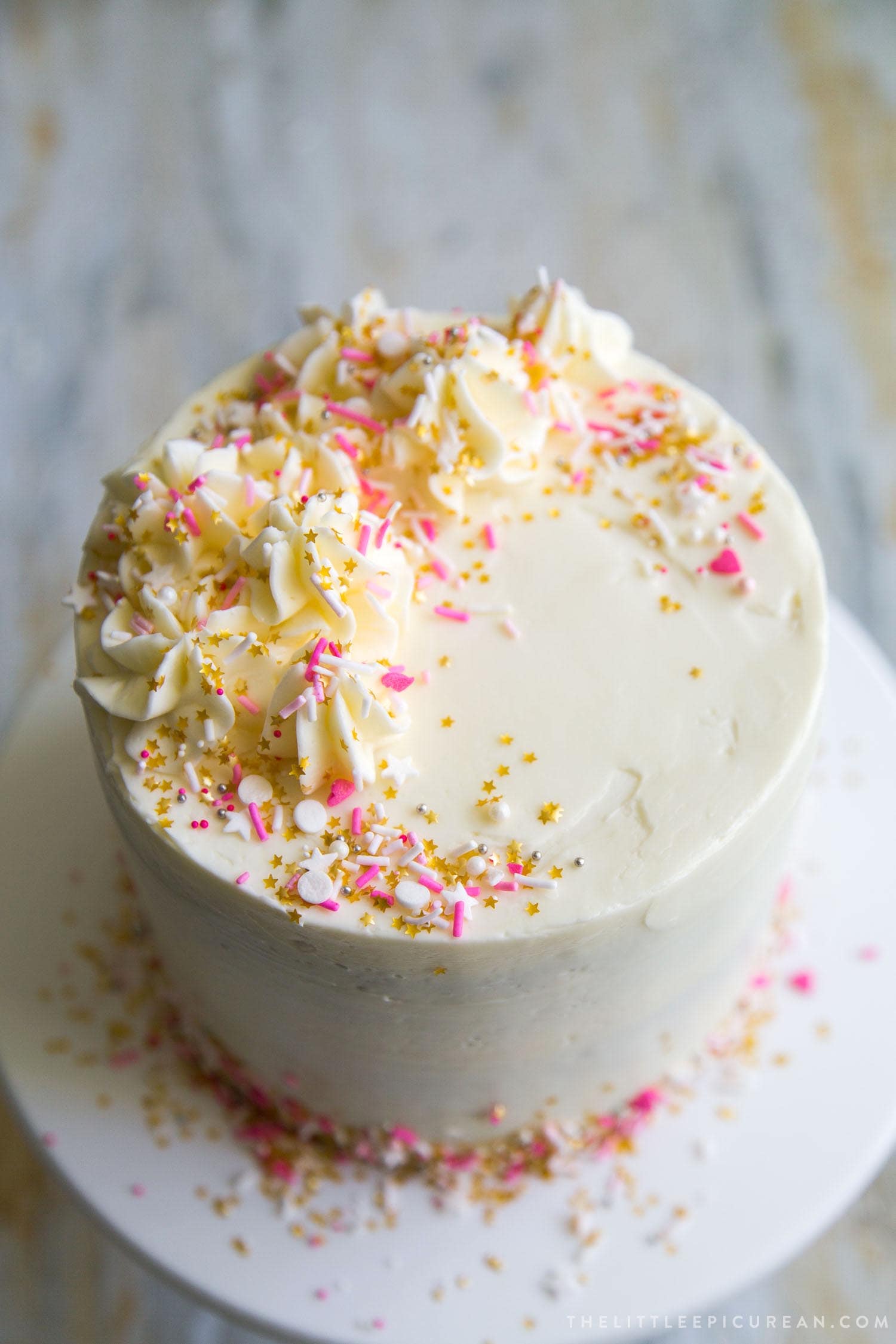 Search for grapefruit cakes online and you'll find a ton of quick breads and tea cakes. It took some serious digging to find a decent grapefruit layer cake. And then I stumbled upon this gem from King Arthur Flour.
I made the cake recipe as is and then tweaked it to my preferences the second time around.
The resulting ginger grapefruit layer cake is bright and tasty. It's a cake that'll bring you much needed sunshine on those cold winter days.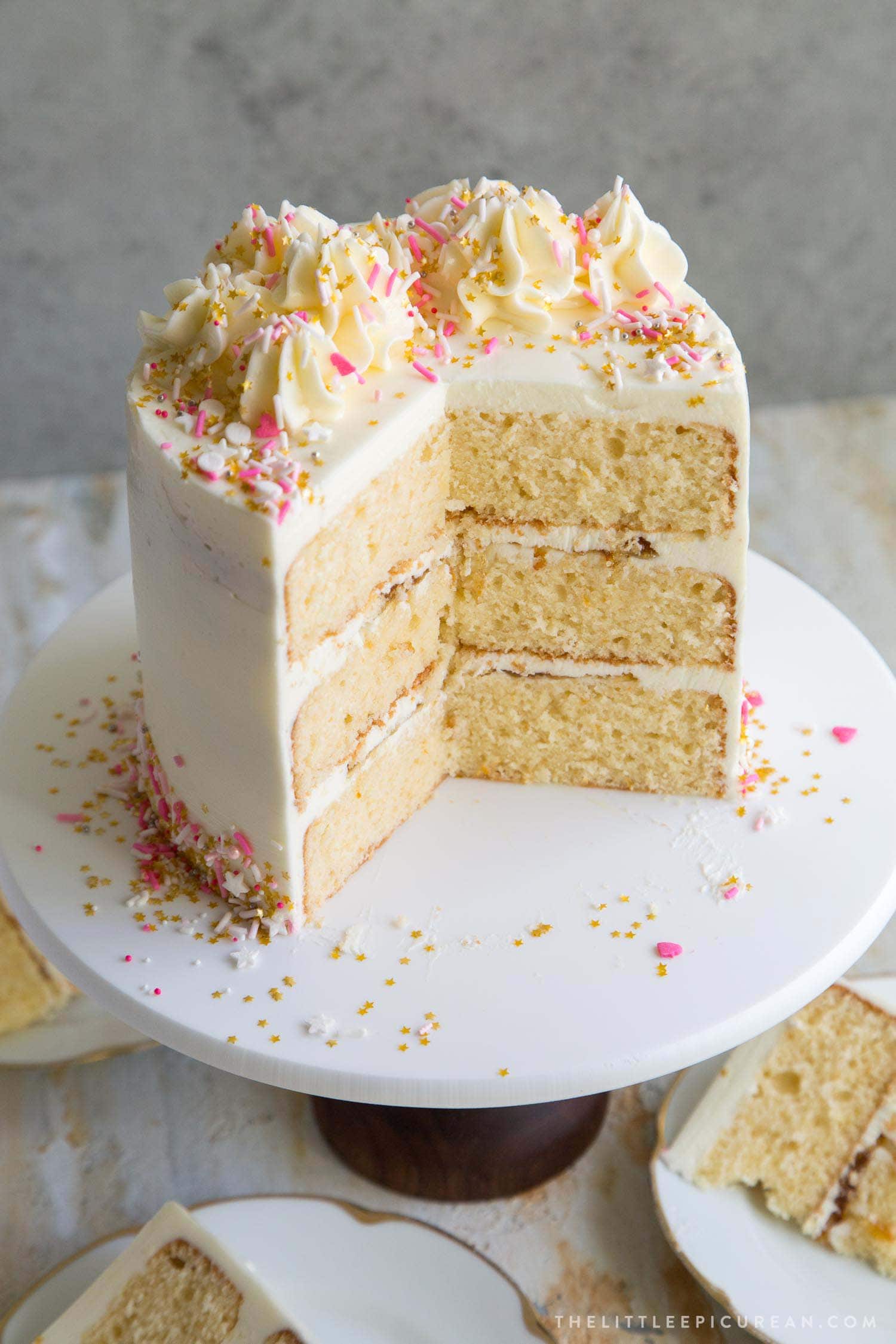 Ginger Grapefruit Cake with Swiss Buttercream
In order to extract all that bright grapefruit flavor, both the zest and freshly squeezed juice is added into the cake batter. The oils within the zest bring a ton of flavor.
However, be careful not to zest too much of the skin or you will reach the pith (the spongey white tissue). That part is rather bitter and unpleasant.
Ginger and grapefruit made a wonderful flavor pairing. The zing of the freshly grated ginger helps to highlight the floral sweet notes of the grapefruit.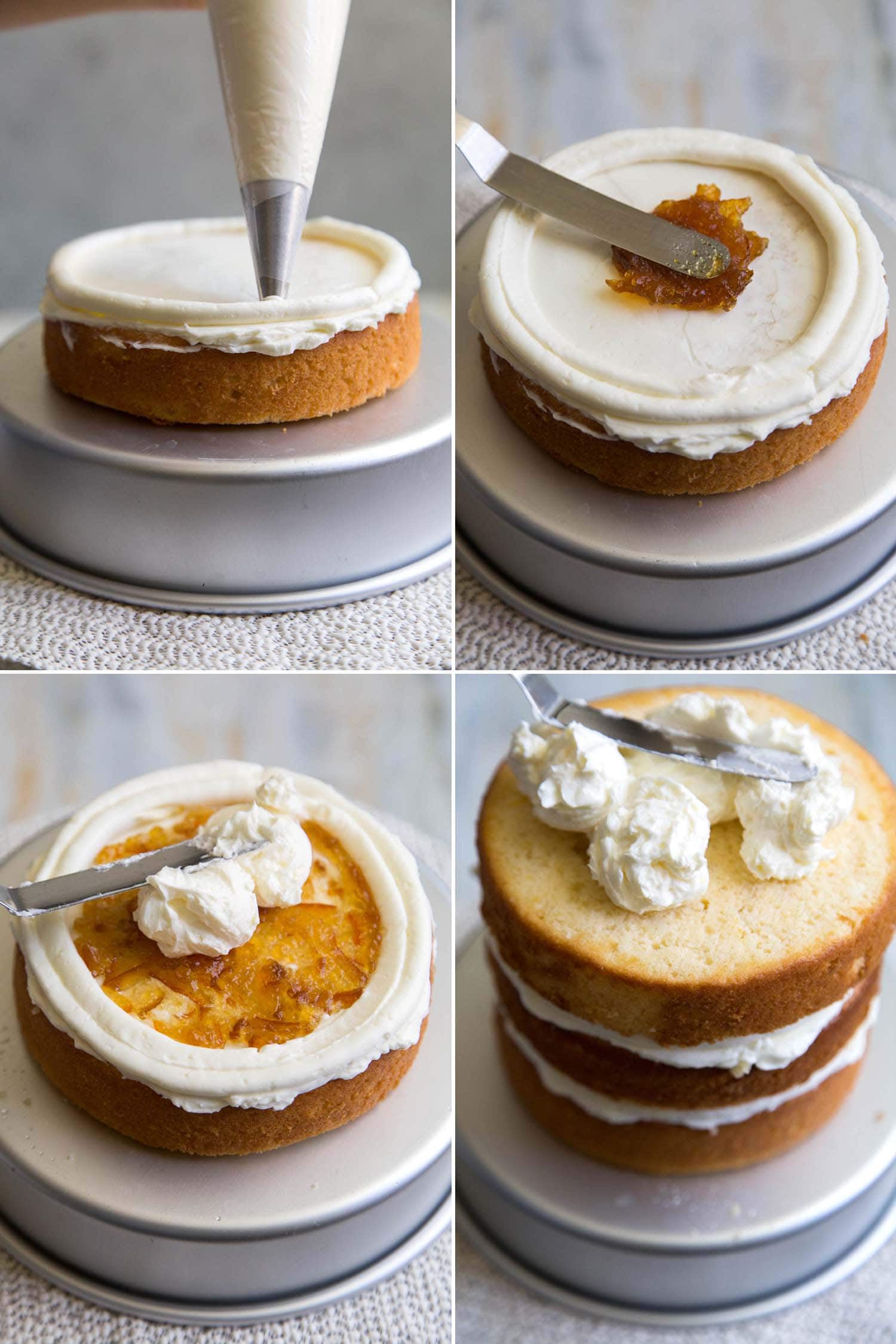 Assembly Filled Layer Cake
This recipe makes three 6-inch grapefruit cake layers. The batter can also be baked into two 8-inch or 9-inch pans, as well.
Once the cake layers are cooled, they are lightly soaked with a sweet ginger syrup. A thin layer of Swiss buttercream is spread on top. Follow by a layer of orange marmalade.
The orange marmalade adds a slightly bitter contrast to balance out the sweet cake and sweet buttercream. If you happen to have grapefruit marmalade, substitute that instead for the ultimate grapefruit cake!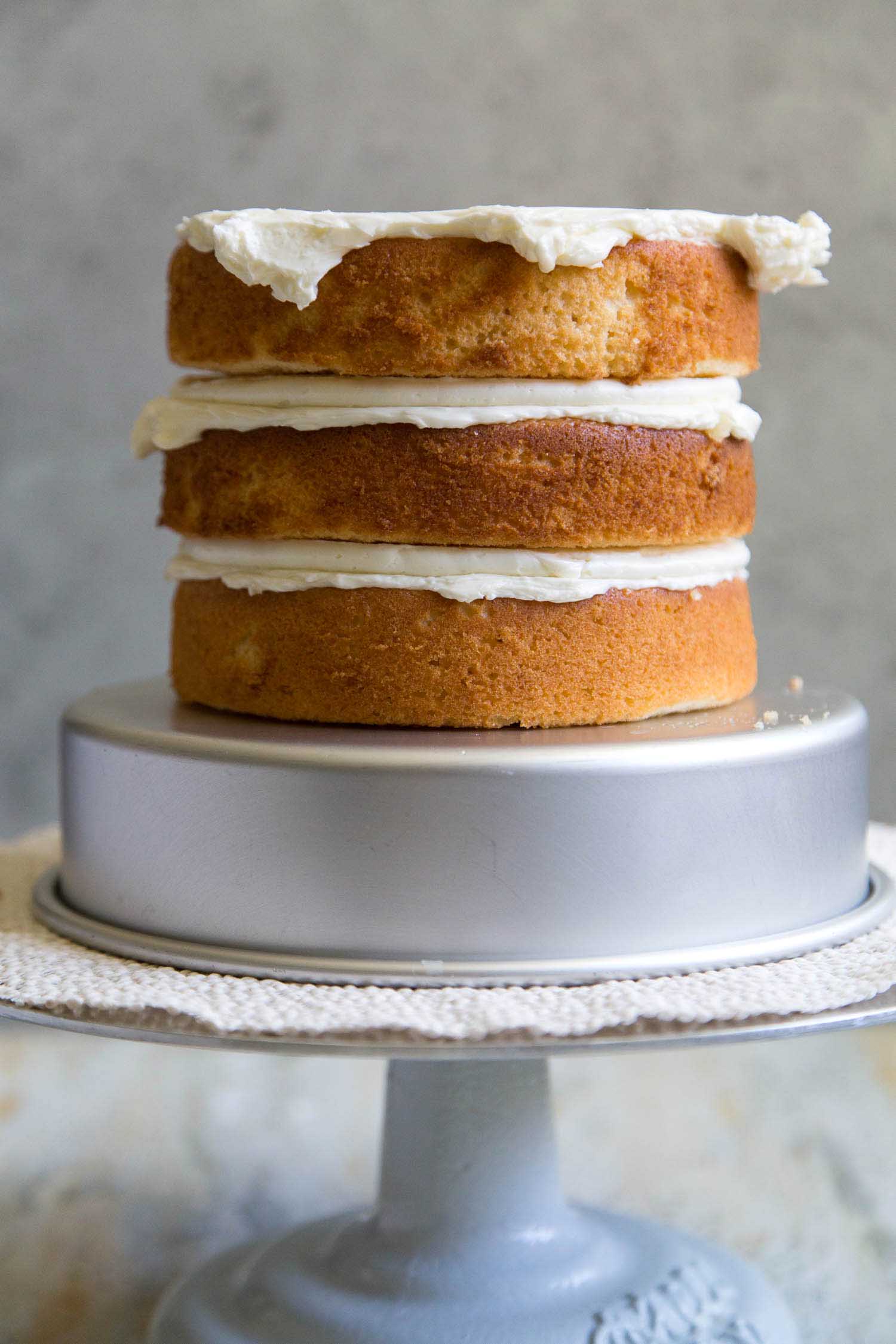 Assembling layer cakes
Instead of using these cardboard cake rounds, I build the cake on top of an inverted cake pan. It allow for easy transport in and out of the fridge. Alternatively, use a round plate or serving dish.
I use this cast iron revolving cake stand. I've had the same one for almost 10 years and it's still going strong. If you are serious about cake making, I highly recommend getting one.
For the finishing touch, I decorated the frosted cake with a variety of fun festive sprinkles. Since Valentine's Day is around the corner, I opted for pinks and whites.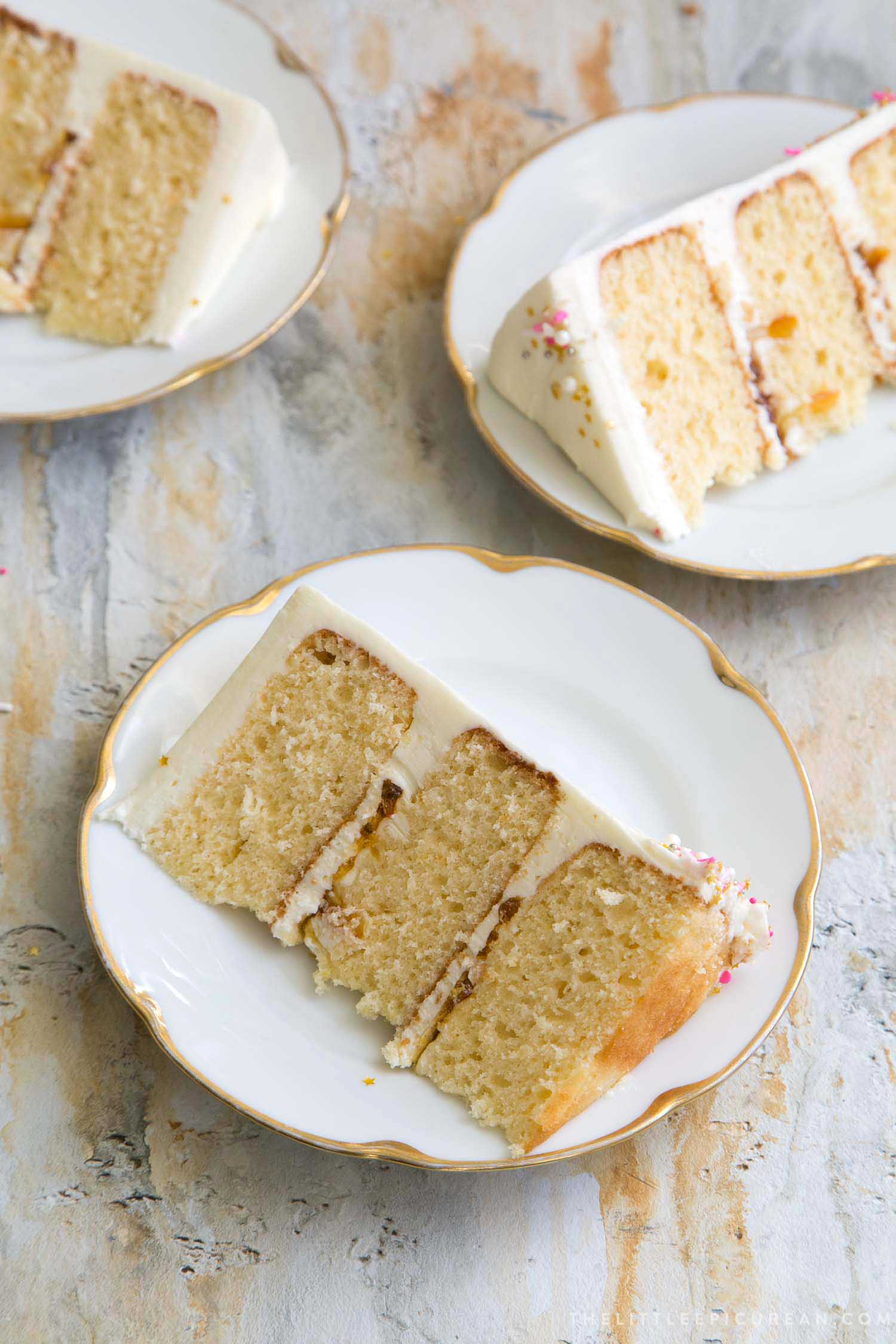 Storage and Leftovers
Store uncut assembled cake in the fridge until ready to serve.
Cover exposed sliced cake with plastic wrap, wax paper, or parchment paper to prevent cake from drying out.
Place cake slices in an airtight container in the fridge for up to 3 days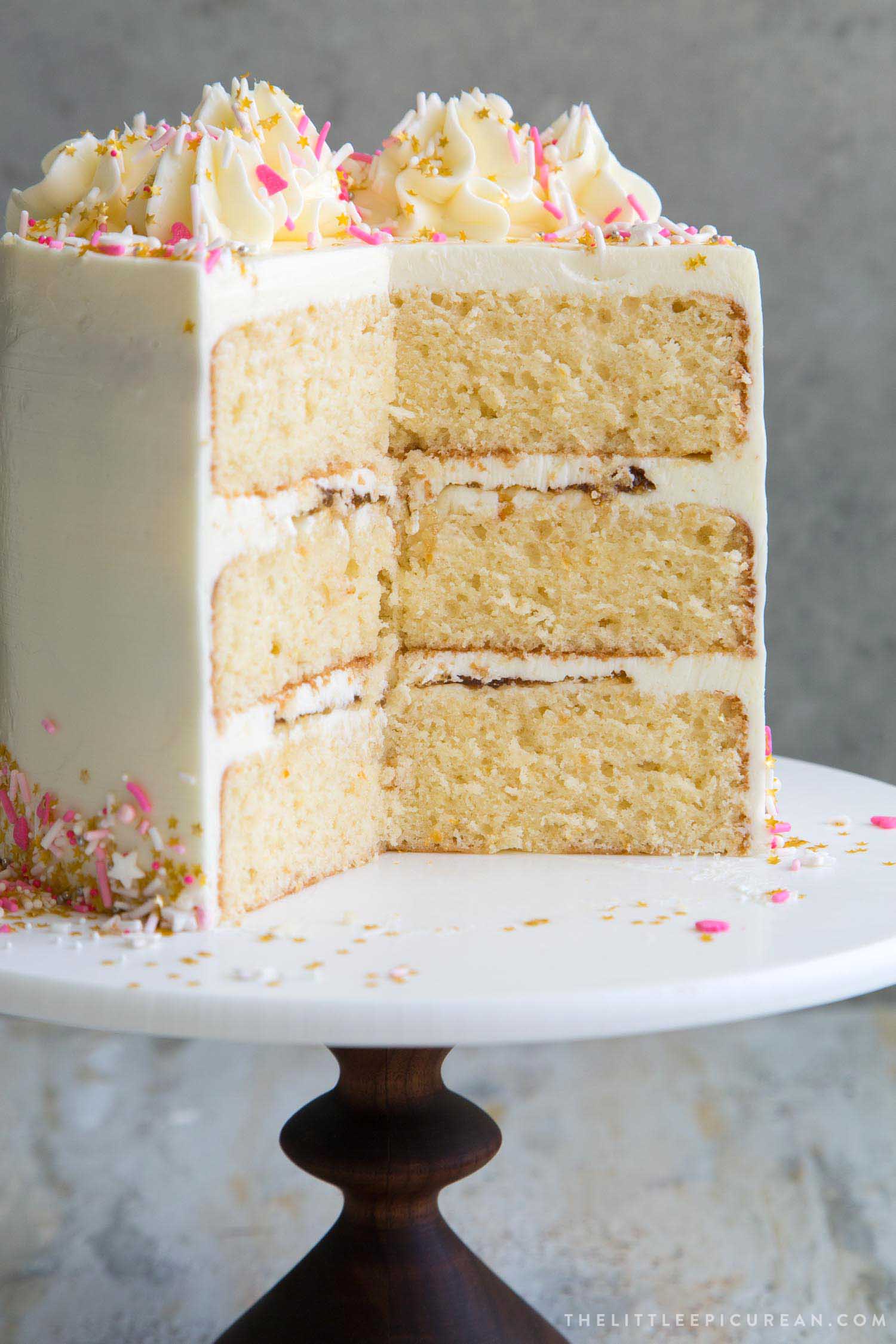 Ready for more fruit forward cakes? Try these favorite recipes:
Passion Fruit Cake:  three layers of vanilla cake soaked in passion fruit juice and two layers of passion fruit curd frosted with vanilla Swiss buttercream
Jackfruit Upside Down Cake: replaces pineapples for a Filipino twist on a classic American dessert
Mango Coconut Sheet Cake: vanilla sponge cake soaked with coconut milk and topped with fresh mango and dried shredded coconut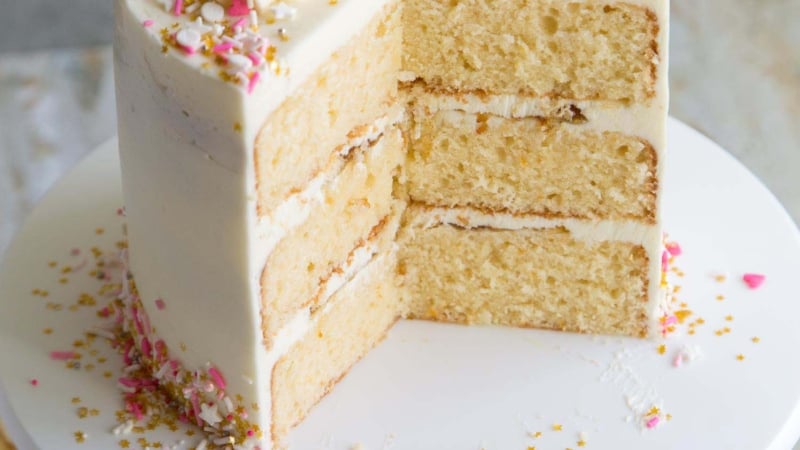 Ginger Grapefruit Layer Cake
This ginger grapefruit layer cake is filled with orange marmalade and frosted with Swiss buttercream. 
Yield: 6-inch cake
Ingredients
Ginger Grapefruit Cake:
1 ¼

cup

granulated sugar

1

Tablespoon

finely grated grapefruit zest

1

teaspoon

grated fresh ginger

4

large eggs,

separated

½

cup

grape seed oil,

or vegetable oil

⅓

cup

sour cream

½

cup

fresh squeezed grapefruit juice

2

cups

all-purpose flour

1 ½

teaspoon

baking powder

½

teaspoon

kosher salt

⅛

teaspoon

cream of tartar
Ginger Syrup:
2

oz

ginger slices

1

cup

water

½

cup

granulated sugar

1

teaspoon

light corn syrup
Swiss Buttercream:
½

cup

egg whites

1 ½

cup

granulated sugar

2

cup

unsalted butter

½

teaspoon

kosher salt

1

teaspoon

pure vanilla extract
Other:
3

Tablespoon

orange marmalade,

for filling

assorted sprinkles,

for decor
Instructions
Cake:
Preheat oven to 350°F. Grease three 6-inch round cake pans and line with parchment paper. Set aside.

In a medium bowl, whisk together sugar, grapefruit zest, and ginger. Set aside.

The bowl of a stand mixer fitted with a paddle attachment (or using an electric hand mixer), beat together egg yolks and oil until slightly thickened. Add sugar mixture. Mix until well blended.

Add sour cream and grapefruit juice. Mix until fully incorporated.

In a large bowl, whisk together flour, baking powder, and salt. Add flour mixture in two additions to mixing bowl. Use a large spatula to gently fold flour into wet ingredients.

In separate clean bowl, use an electric hand mixer to beat egg whites until foamy. Add cream of tartar and continue to beat to soft peaks. Add whipped egg whites to mixing bowl in three additions. Use the large spatula to gently fold and incorporate whites into batter. The batter will loosen as the egg whites are added. Be careful not to overmix as the egg whites will deflate. Mix just until there are no longer and streaks of white.

Divide batter among prepared cake pans (about 300 grams batter per pan). Level batter as needed. Bake for 28-30 minutes until toothpick inserted in center of cake comes out clean, and cake starts to pull away from the sides of the pan. 

Allow cake to cool in pan for 10 minutes. Run mini offset spatula or butterknife around perimeter of cake to ensure easily unmolding. Invert cake and transfer to wire rack to cool to room temperature.

Cake layers must be completely cool before frosting.

NOTE: Cake can be baked up to 2 days before frosting. Wrap cooled cake in plastic wrap at room temperature until ready to assemble.
Ginger Syrup:
In a heavy bottomed sauce pot, combine ginger, sugar, water, and corn syrup. Bring to a boil. Reduce heat and let simmer for 15 minutes. Remove from heat and allow syrup to steep for 30 minutes.

Strain out ginger. Cool to room temperature and store in the fridge until ready to use.
NOTE: Ginger syrup will keep in an airtight container in the fridge for several weeks.
Swiss Buttercream:
In the bowl of a stand mixer, whisk together egg whites and sugar. Place over a double boiler (bain-maire*) and continue to whisk until mixture temperature registers 160°F. 

Alternatively, if you don't have a thermometer, heat the mixture until all the sugar has melted. Test this by dipped your pointer finger into warm mixture and rubbing it together with your thumb. The mixture should be smooth. You should not be able to feel the granules of sugar.

Return bowl to stand mixer. With a whisk or paddle attachment, beat mixture at medium-high speed until mixture cools to slightly warmer than room temperature (about 75-80°F). Reduce speed to medium and add softened butter one tablespoon at a time.

Once all the butter has been added, increase speed to medium-high and beat until buttercream is light and fluffy. Add salt and vanilla. Mix until incorporated.
Assembly:
Fit a decorating bag (piping bag) with a small round tip. Fill the bag with about ½ cup of buttercream. Set aside.

If necessary, level cake layers. Place one cake round on a cake turntable. Brush or lightly drizzle ginger syrup over cake. Spread a thin layer of buttercream on top using a small offset spatula.

Using the filled piping bag, pipe a small border of buttercream along the perimeter of the cake round. This will serve as a barrier when orange marmalade is added.

Add about 1 ½ Tablespoon of orange marmalade to fill the buttercream boundaries. Spread another thin layer of buttercream to cover marmalade. Place second cake layer on top. Repeat soaking cake, adding buttercream, and marmalade. 

Place the final third layer on top. This layer does not have ginger syrup or marmalade.

Spread buttercream around the cake to create a "crumb coat" layer to seal in any crumbs. Chill cake in the fridge for 15-20 minutes to set frosting. If desired, generously coat the chilled cake with additional buttercream.
Notes
Do not use ground ginger. Freshly grated ginger will be quite moist. The flavors are fresher and cleaner than the dried ground ginger. 
To set up a bain-marie: fill a pot with 1-inch of water and bring to a simmer. Set mixing bowl over pot. Select a mixing bowl large enough that when placed on top of pot, the mixing bowl does not touch the water. 
Ginger Syrup is optional. Corn syrup in ginger syrup helps to prevent crystallization. 
cake recipe adapted from KAF Citrus Surprise Grapefruit Cake