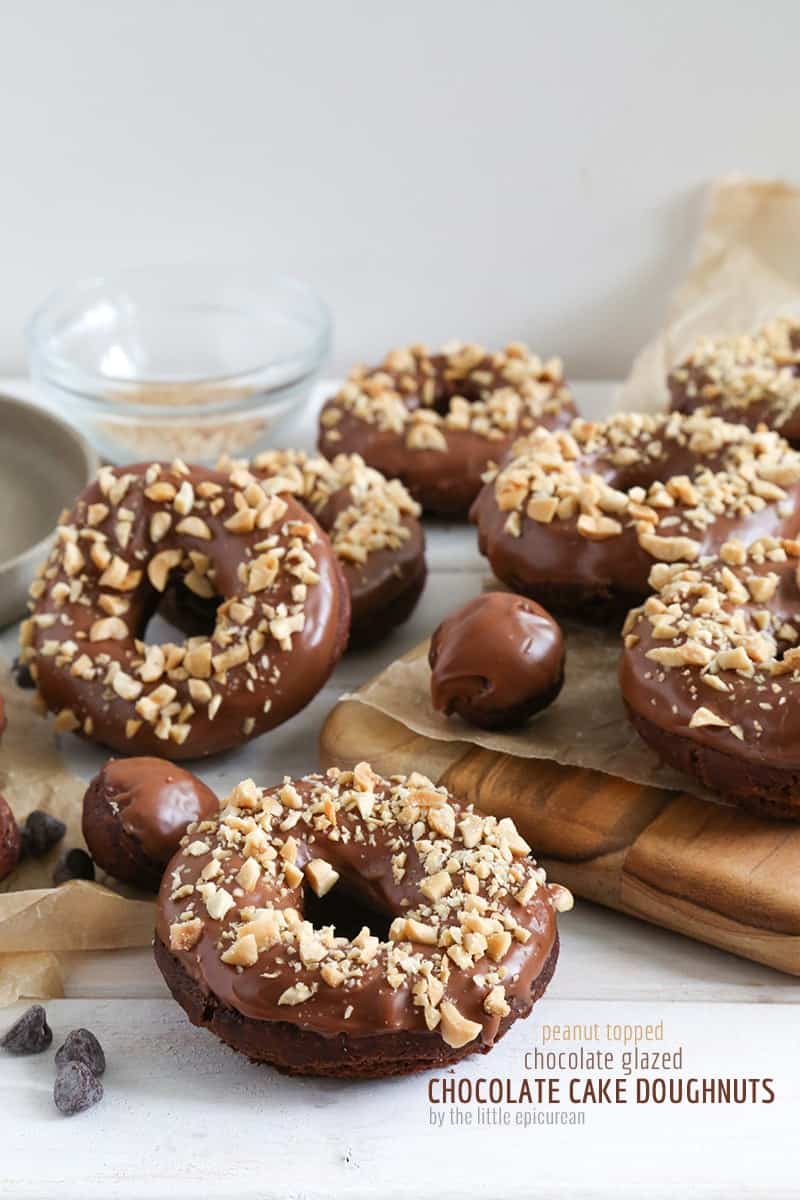 Over the course of this year, you will witness how much I love doughnuts.  Now that I am no longer afraid of frying, watch out for doughnut mania.
While I love, love, love doughnuts; give me simple sugar glazed yeast doughnuts, day old crumb doughnuts, or powdered sugar crusted doughnut holes, I'll devour them all…except one doughnut.  Chocolate Chocolate Peanut Doughnuts, also called Double Chocolate Peanut Doughnuts.
Don't get me wrong.  I can't live without chocolate.  And I'd probably go insane without peanut butter.  Thought of never having a Reese's cup, or peanut butter fudge brownies would make life utterly depressing.
But for some unexplainable reason, I don't like chocolate chocolate peanut doughnuts.  However, they are Alex's favorite- like his absolute, hands-down favorite doughnut.  In the four plus years that we've been together, every time we go out to get doughnuts, he always goes for the same one.  And if that particular donut shop happens to be out of chocolate chocolate peanut during that visit, I'll hear him sigh a little and pick another chocolate doughnut.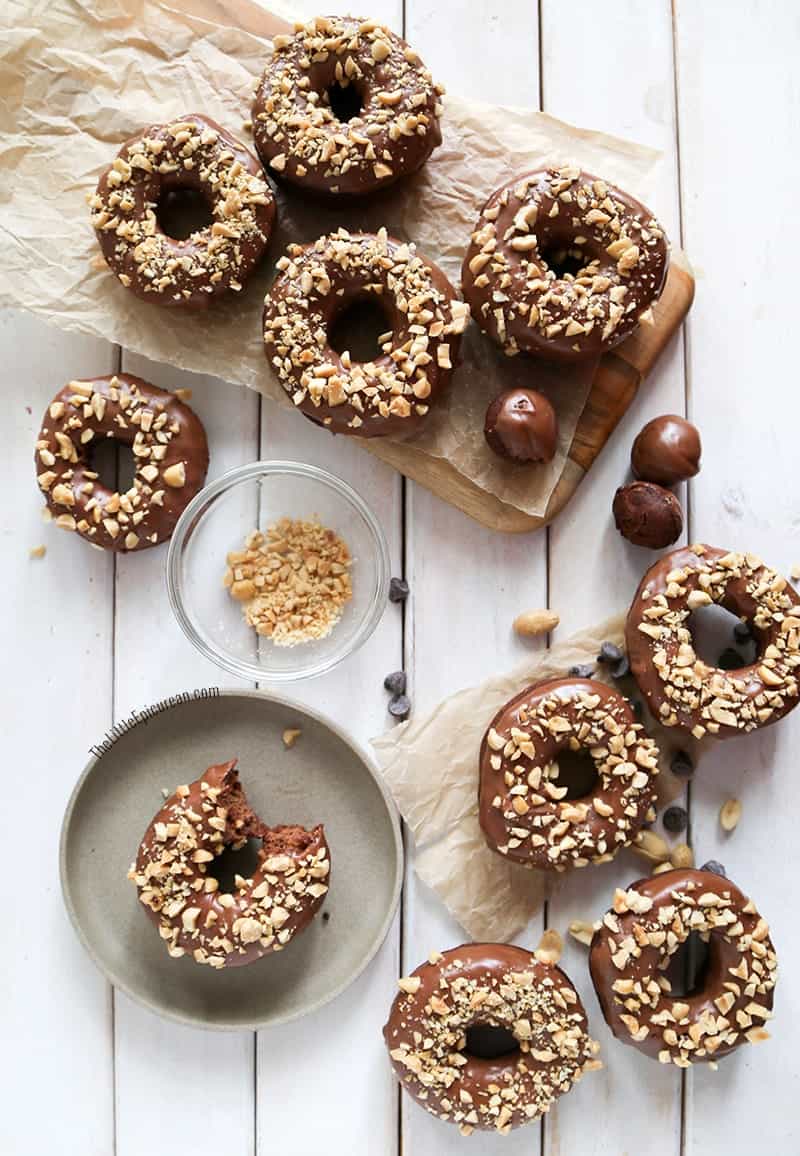 I had intended to make green tea doughnuts.  Mainly because I LOVE green tea and I also thought it'd be an interesting green dessert for St. Patrick's Day.  But on that particular Sunday morning when doughnut making was planned, I made Alex's chocolate chocolate peanut dough instead.
Why?  Because I knew it would make him happy.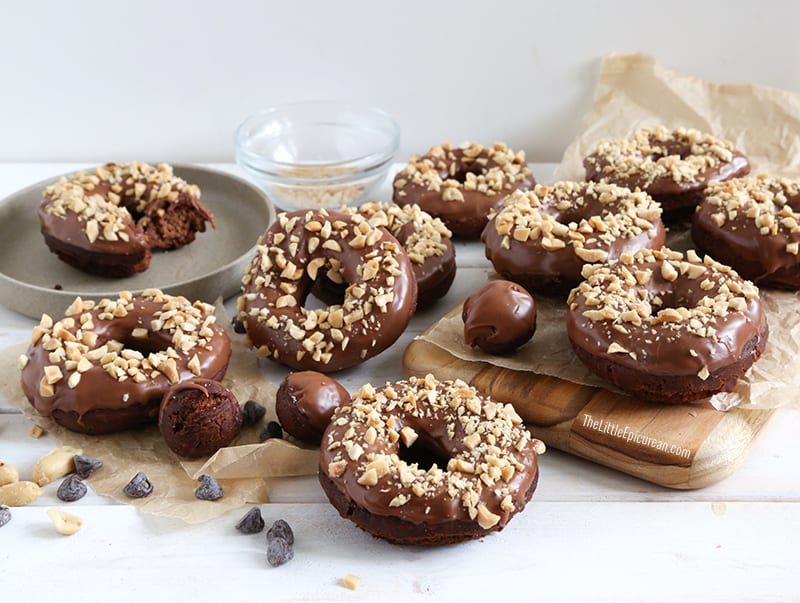 He does all sorts of things to make me happy: wash the dishes, take out the trash, vacuum the stairs, let me pick where to eat, let me pick what to watch on tv, etc.  Without fail, he'll bring me a glass of water when he finds me working on my computer when he returns from work.  (Especially because he knows that I probably haven't had enough water for the day.)  He saves me the pineapple flavored multi-vitamin gummy because they're my favorite.  When there is only one string cheese left in the fridge, he'll have a glass of milk instead, just in case I come home wanting a snack.  At the end of every day, he listens to be jabber on for hours about anything and everything on my mind from "omg I can't sleep because tonight's episode of The Following was too intense!" to "can you name 8 vegetables that start with the letter B?"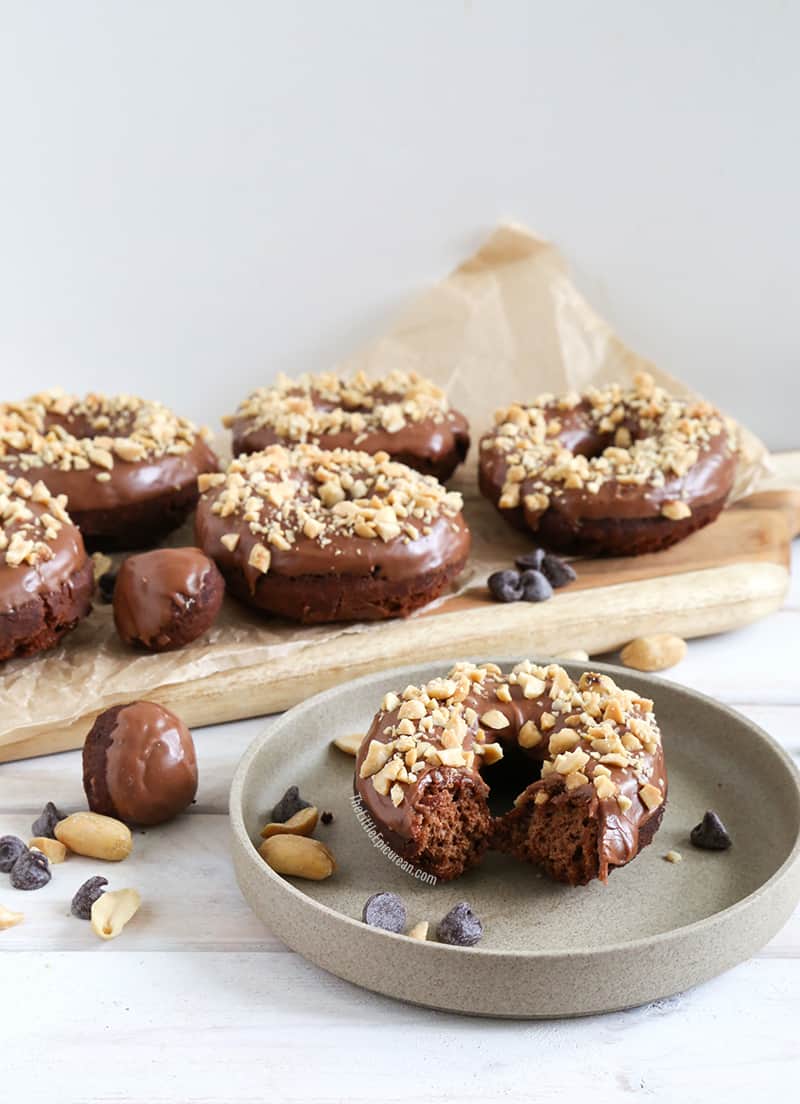 I always say food is the best way to show someone you care.  Whether its making my mom her beloved eggs benedict or baking my dad a dozen cinnamon rolls, I cook because that's how I like to show people I love them.
Chocolate Chocolate Peanut Doughnuts
Ingredients
Chocolate Cake Doughnuts
2

cups

cake flour

1/2

cup

unsweetened cocoa powder

1

teaspoon

baking powder

1

teaspoon

kosher salt

1/2

cup

granulated sugar

2

Tablespoons

vegetable shortening

2

large egg yolks

1

teaspoon

vanilla extract

2/3

cup

whole milk

vegetable oil, as needed for frying
Chocolate Glaze:
2/3

cup

semi-sweet (or dark) chocolate, chopped and melted

4 1/2

cups

powdered sugar, sifted

2

teaspoon

light corn syrup

1/4

teaspoon

fine sea salt

1/2

teaspoon

vanilla extract

1/3

cup

hot water
Toppings:
roughly chopped dry roasted peanuts, as needed
Instructions
Chocolate Cake Doughnuts:
Whisk together cake flour, cocoa powder, baking powder, and salt in a medium bowl. Set aside.

In the bowl of a stand mixer fitted with a paddle attachment, mix together sugar and shortening on low speed. Mix until mixture resembles coarse sand. Add yolks and vanilla extract. Mix until creamy. Scrape down bowl as needed to ensure thorough mixing.

Add 1/3 of dry mixture into mixing bowl. Follow with 1/2 of milk. Mix. Add another 1/3 of dry mixture, mix and then add remaining 1/2 of milk. Mix and end with dry mixture.

The dough will be quite sticky. Once combined, transfer dough to a clean bowl. Cover directly with plastic wrap. Refrigerator for one hour (up to overnight).

Fill a large pot with about 3 inches of vegetable oil. Using a candy thermometer, bring oil to 370 degrees F over medium heat.

Remove dough from fridge and transfer to generously floured surface. Dough will be sticky! Sprinkle cake flour as needed to ensure dough doesn't stick to surface. Pat dough into an even layer about 1/2-inch thick.

Dip 2-1/2 inch round cutter in flour each time before cutting dough. Cut smaller doughnut hole in center. Fold and press dough scraps together to cut out more doughnuts.

Brush off any excess flour off the doughnuts before adding them to the hot oil. Depending on the size of your pot, add 3-5 doughnuts to the pot at a time. Be sure not to overcrowd the doughnuts. Set a timer for 1 minutes and 30 seconds. By this time, the doughnuts should have floated to the top. Turn over doughnuts and cook other side for another 90 seconds. Once golden brown all over, remove doughnuts from oil and let drain on paper towels or over a wire rack.

Allow doughnuts to cool before dipping in chocolate glaze.
Chocolate Glaze:
Melt chopped chocolate over a double boiler (bain-marie) or gently in the microwave at half-power. Once chocolate is smooth and melted, set aside.

In a medium bowl, combine sifted powdered sugar, corn syrup, salt, vanilla, and water. Use a whisk or hand mixer to blend ingredients together until smooth. Add melted chocolate and stir to combine. If icing is too thick, add hot water 1 teaspoon at a time until desired thickness is achieved.

Assembly:
Dip one side of cooled doughnut into chocolate glaze. Place dipped doughnut on wire rack, iced side up. Sprinkle chopped peanuts over chocolate glaze. Let glazed doughnuts sit until chocolate has set, about 10-15 minutes. Consume and enjoy promptly!