Perfect treat for peanut chocolate fans! Chocolate cake donuts dipped in chocolate glazed topped with chopped peanuts.
Simple glazed yeast donuts are by far my favorite.
This recipe was created for my husband and his love for chocolate chocolate peanut doughnuts, also known as double chocolate peanut donuts.
Double Chocolate Donuts with Peanuts
There is a chocolate donut recipe for every kind of chocolate craving. This version is deep fried. It takes a little bit more prep and work, but so satisfying once you have that hot fresh donut in hand!
If you prefer baked donuts, have at look at these options:
Old Fashioned Cake Donut
This dough recipe does not contain yeast.
However, the dough does need to be chilled in the fridge for an hour (or overnight) before rolling and frying.
They key to fluffy cake donuts is FRESH baking powder. Baking powder is responsible for the dough's leavening.
As such, it is vital to check your baking powder's expiration date (also note when your first opened the package). Over time, baking powder will lose its leavening powers.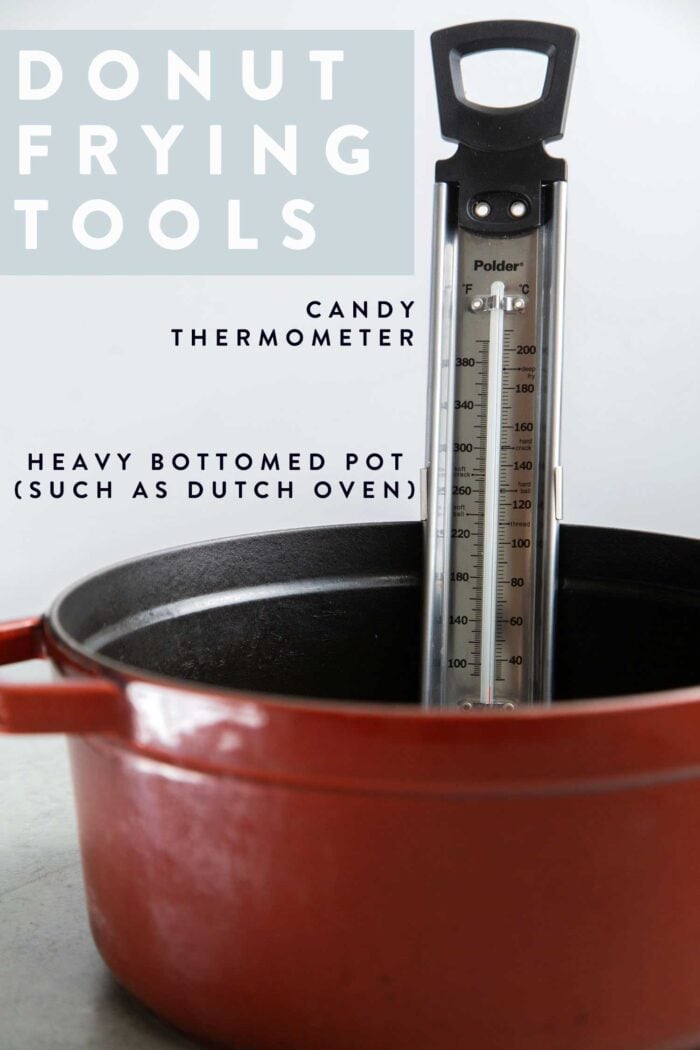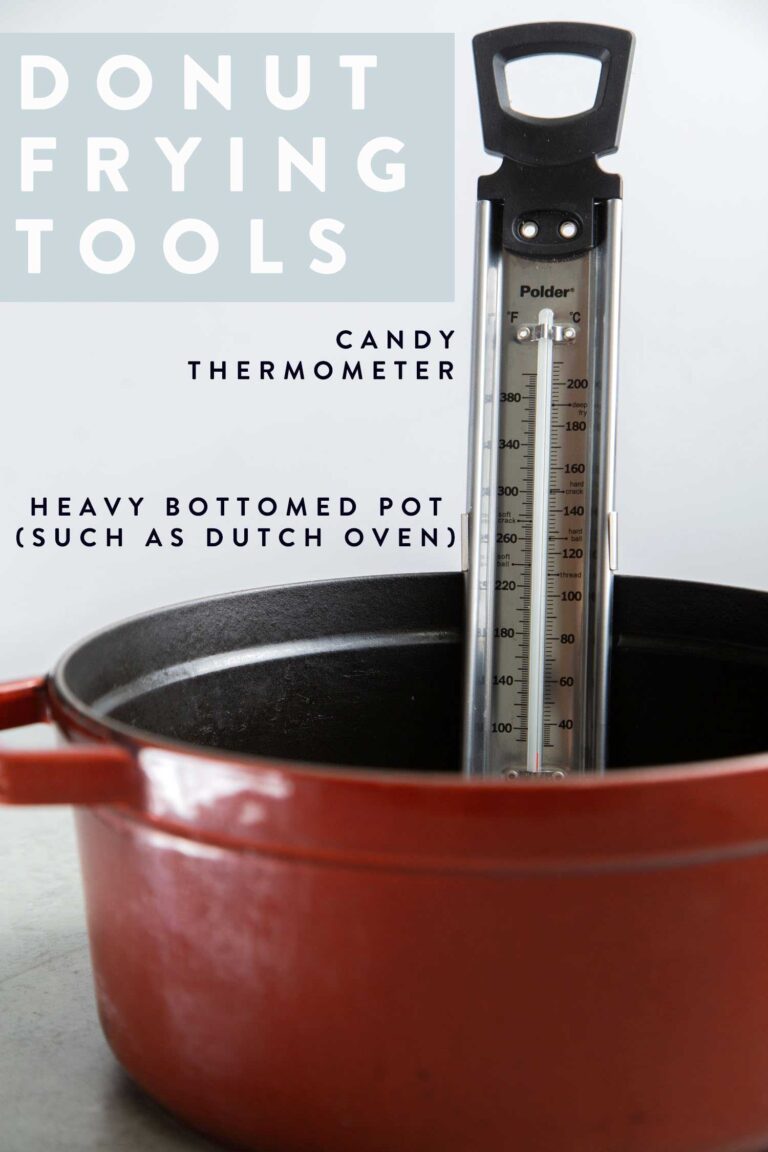 Special Tools for Frying
Thermometer
Oil temperature is very important when frying. Even consistent oil temperature will produce properly cooked donuts. Attach a candy thermometer (or deep fry thermometer) to the pot to maintain the oil temperature.
As more raw donuts are placed the oil, the temperature will decrease. Adjust the heat accordingly to maintain consistent temperatures.
Heavy Bottomed Pot
I used this 5.5 quart Staub. This particular pot works over fire, electric, or induction burners. This pot is well insulated and does a great job maintaining cooking temperature.
However, any heavy bottomed pot will do. It doesn't have to be a fancy Dutch oven pot. Just make sure the pot has a thick bottom to prevent oil from scorching or overheating.
Timer
These donuts take about 90 seconds to cook on each side. Use a kitchen timer or use your smartphone's timer to ensure even cooking.
Fish spatula for donuts? YES! It's a great kitchen gadget with uses beyond fish.
The stainless steel fish spatula is perfect for lowering the raw dough into the hot oil. It's also great for flipping the donuts, as well as removing the cooked donuts from the hot oil. 
Asian markets often sell very inexpensive fish spatulas and spider strainers. 
Doughnut Storage and Leftovers
As with all fried foods, these chocolate peanut doughnuts are best served the day they are fried.
Ideally, enjoy these donuts within hours of frying.
If you have leftovers, store the donuts in a breathable box (like a cardboard bakery box or a container with the lid slightly ajar).
This will prevent the donuts from losing their crisp (and turning soggy).