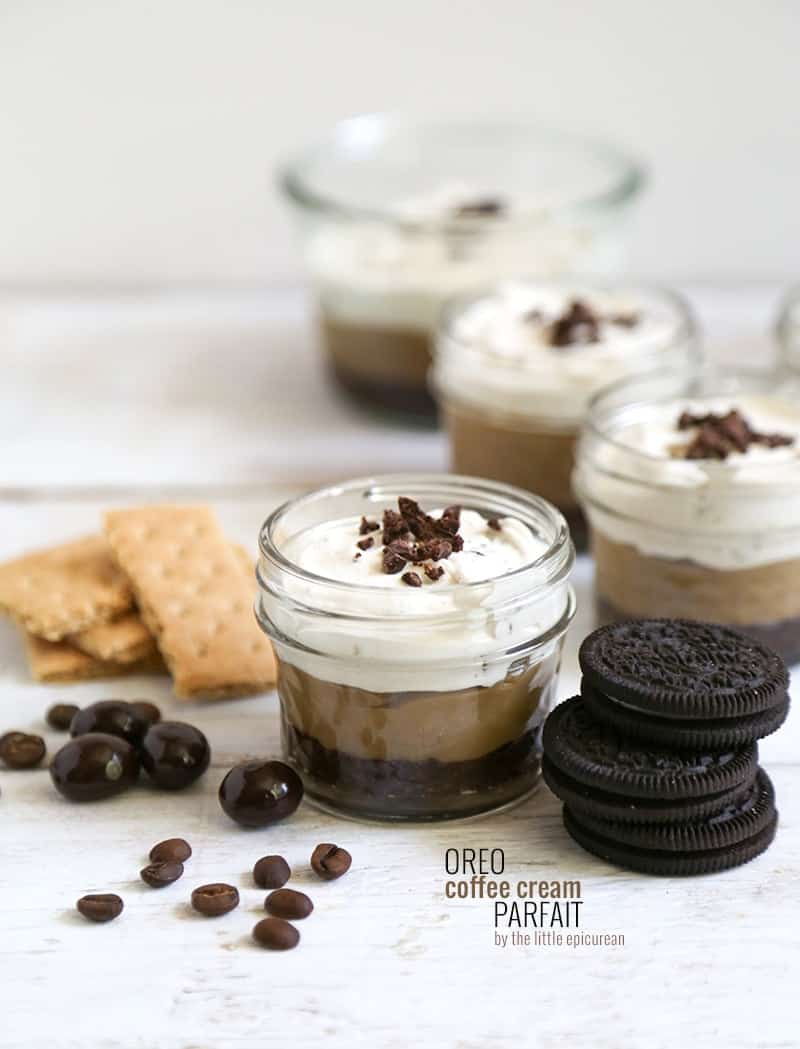 Spring has officially sprung!  According to the calendar, yesterday marked the first day of spring.  Although, here in Los Angeles, it feels like winter never even happened.
Besides the awesome, perfect weather, another thing I absolutely love about LA is the city's abundance of excellent coffee.  I'm not talking about Starbucks or Coffee Bean (although I'm not opposed to grabbing coffee at those places), I'm talking about all the speciality, handcrafted, artisanal coffee shops.
Home Brewed Bar with their cold brewed coffees, Jameson Brown Coffee Roasters who roast all their beans in-house, and my favorites: Intelligentsia, Taza, Copa Vida, Lamille.  Its a never-ending list that continues to grow.  Throughout Los Angeles and its surrounding neighborhoods, a good shot of espresso is always nearby.
I'm such a coffee addict that drinking coffee is not enough.  I have to eat it as well.  Who ever came up with that saying "you can't have your cake and eat it too" obviously isn't very creative or resourceful.  I say you can have it all!  I'm gonna drink my coffee and eat it too!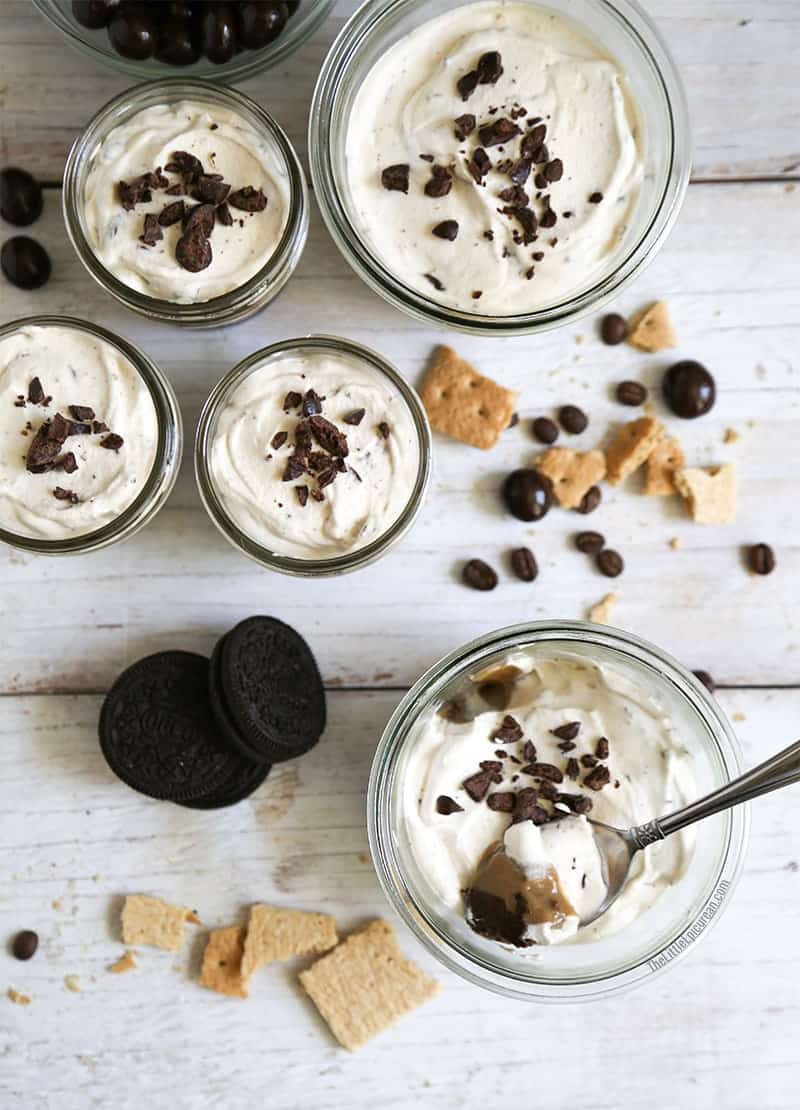 I'm very excited about this new dessert.  It kind of just came about one afternoon.  I was originally going to make the coffee mousse tart from Martha Stewart's Pies and Tart, but had a change of heart when I was cleaning my prop closet and rediscovered all my canning jars.
The crust is made from a combination of graham crackers and Oreo cookies.  I had a couple extra uneaten Oreos from another project.  I couldn't just let them go to waste so I just included them.
Good thing I save them.  They add a nice creaminess to the crust.  The coffee cream is spiked with a little Kahlua coffee liqueur.  No explanation needed.  And the whipped cream has chunks of chopped chocolate covered espresso beans.
Put these components together and you've got yourself one heck of a delicious and satisfying dessert.  (Note to friends and family: I will be making this dessert at least 3 times this summer.)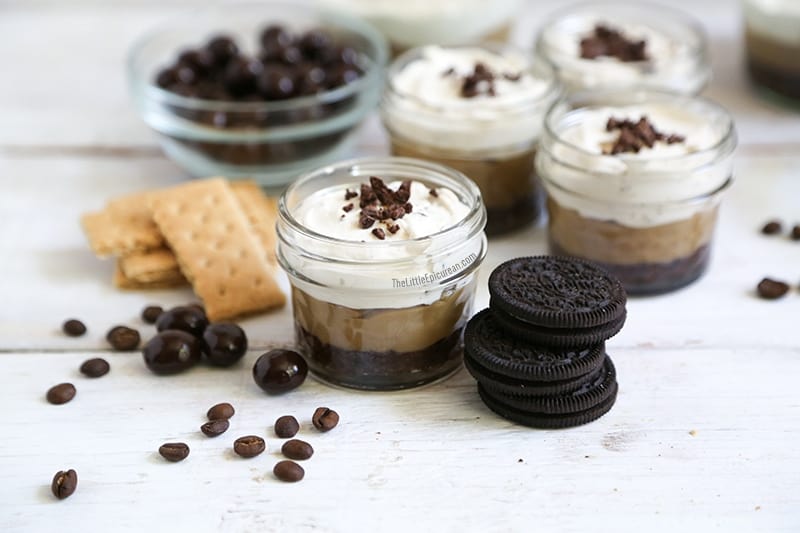 Remember when desserts in jars was all the craze?  There were all sorts of cookbooks and magazines dedicated to the art of making pies, cheesecakes, cupcakes, and every other dessert in a cute little jars.
Asides from being cute, I love making desserts in jars because it makes transporting and serving a breeze.  (See: Irish coffee mousse, yogurt quinoa parfait, and tiramisu in a jar.)
Oreo Coffee Cream Parfait
Yield: four 4 oz jars and four 12.5 oz jars
Ingredients
Crust:
1

cup

ground graham cracker

1/2

cup

ground Oreos (5 cookie sandwiches)

3

Tablespoons

unsweetened cocoa powder

1

Tablespoon

granulated sugar

1/3

cup

unsalted butter, melted
Coffee Cream:
2 1/2

cup

whole milk

2

Tablespoon

instant espresso powder

3/4

cup

granulated sugar

1/4

cup

cornstarch

1/2

teaspoon

fine sea salt

4

large egg yolk

1/4

cup

coffee liqueur

4

Tablespoon

unsalted butter
Coffee Whipped Cream:
1 1/2

cup

heavy cream, chilled

1

Tablespoon

powdered sugar

1

teaspoon

instant espresso powder

1/3

cup

chocolate covered espresso beans, roughly chopped

additional chopped chocolate espresso beans, to garnish
Instructions
Crust:
In a food processor, pulse together graham crackers and Oreo cookies until finely ground. Transfer to a clean bowl and mix in cocoa powder and sugar. Add melted butter and stir graham cracker mixture is moist.

Divide mixture between serving jars. (*1 Tbsp for 4 oz jar and 3 Tbsp for 12.5 oz jar) Use a muddler or a tart dough tamper to evenly press the crust into the bottom of the jar. Keep chilled in the fridge while you prepare mousse.

Coffee Cream:
Line a baking pan with plastic wrap, making sure all the sides of the tray are covered. Set aside.

In a medium saucepan, mix together milk and instant espresso powder. Set over medium heat.


In a small bowl, whisk together sugar, cornstarch, and salt. Add mixture to milk. Stir constantly until milk mixture comes to a boil and has thickened. Remove from heat.


In a large bowl, whisk egg yolks. As you whisk yolks, slowly pour in heated milk mixture. Continue to whisk until all the milk has been added to the yolks. Pour yolk-milk mixture back to the saucepan. Set over medium heat and stir constantly until mixture comes to a boil.


If desired, strain mixture through a fine sieve and into a clean bowl. Otherwise, simply transfer mixture to a clean bowl. Add coffee liqueur. Add butter 1 tablespoon at a time. Stir until butter is incorporated before adding the next tablespoon. Stir coffee cream until all of the butter has been incorporated.


Pour the hot cream into the prepared plastic wrapped sheet pan. Spread evenly. Cover with plastic wrap, allowing plastic wrap to touch custard. Freeze for 10-15 minutes until the cream has cooled to room temperature. Remove from freezer and distribute among crust lined jars. Place plastic wrap directly on top of cream. Let chill in the fridge for at least an hour to set.

Coffee Whipped Cream:
1. Combine chilled heavy cream, powdered sugar, and instant espresso powder. Whisk to medium-stiff peaks. Fold in chopped espresso beans. Spread whipped cream over coffee cream. Sprinkle with additional chopped chocolate covered espresso beans for garnish. Serve immediately or cover jar and keep chilled until ready to serve. Keeps for 3 days.