Easy Homemade Oreos! Make your own chocolate cookies with vanilla cream filling.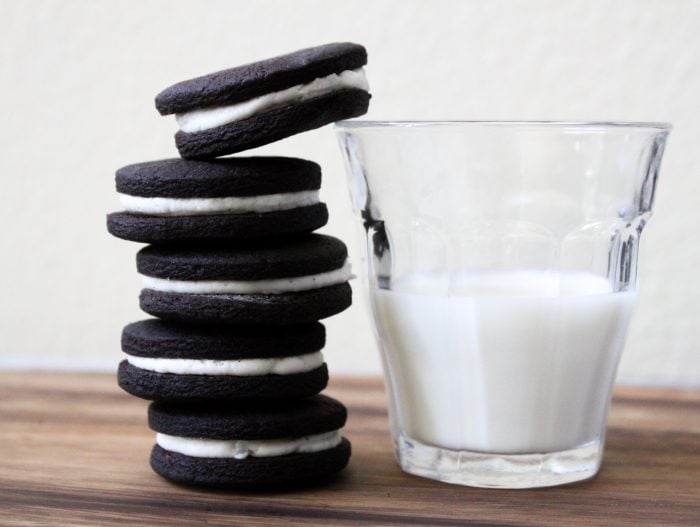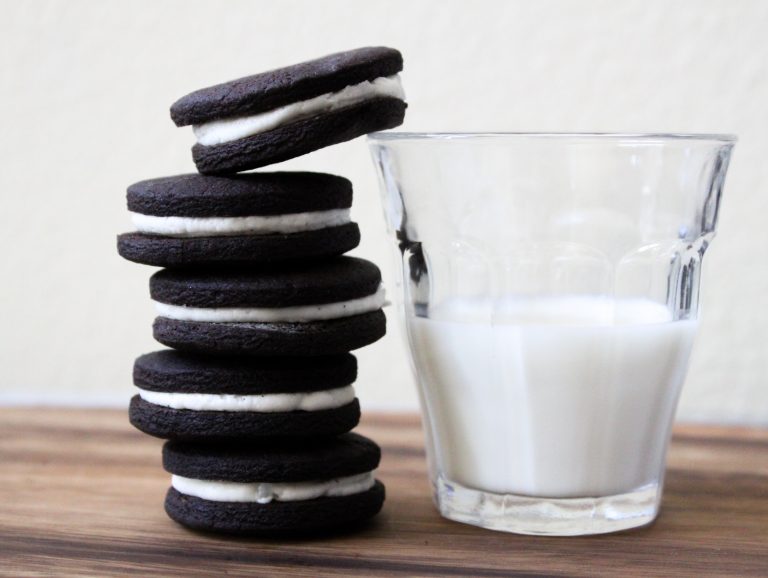 As promised, homemade oreos.
Have you seen the new mega stuffed oreos? I was shocked, too. I thought the double stuffed was more than enough.
If the cream filling is what you're after, this homemade version is for you. Your dreams of ridiculously stuffed oreos are about to come true.
I have always been a fan of Oreos. What's not to love? You can dunk them in milk, twist them apart and just eat the filling (or just the cookie if you're weird like that), crush them into cake batter or make dirt for gummy worms to live in.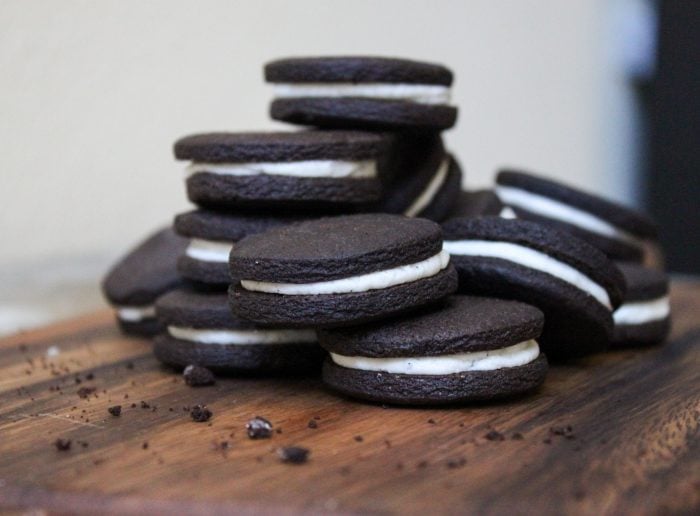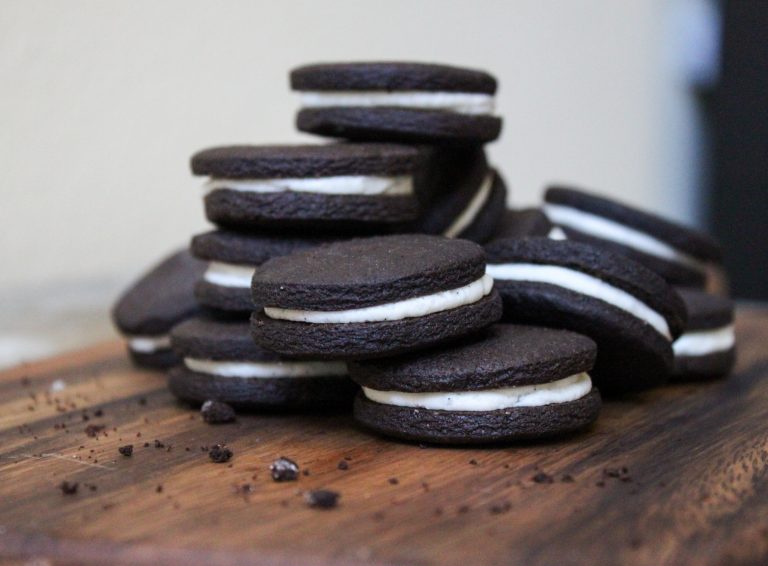 Now that I've become more health conscious, I can't help but wonder what oreos are actually made of? I don't want to be surprised or scared.
My homemade version are a more natural alternative with no hydrogenated oils or preservatives. No preservatives means you have a limited amount of time to eat them all. I suggest sharing only with those you actually like and love.
My cream filling uses vanilla bean paste. If you haven't noticed from most of my recipes, I love vanilla bean paste.
It tastes amazing. You can use a little bit to get subtle hints and rounded notes of vanilla or add a lot for a big punch of pronounced flavor.
It is far better than pure vanilla extract and a much cheaper alternative to real vanilla beans. Plus, it makes desserts and baked goods look more exotic and inviting with the speckles of vanilla bean all over.
* I used the same cookie recipe for Thins Mints. Be adventurous. Use half the cookie dough to make thin mints and the other half to make oreos. You can thank me later.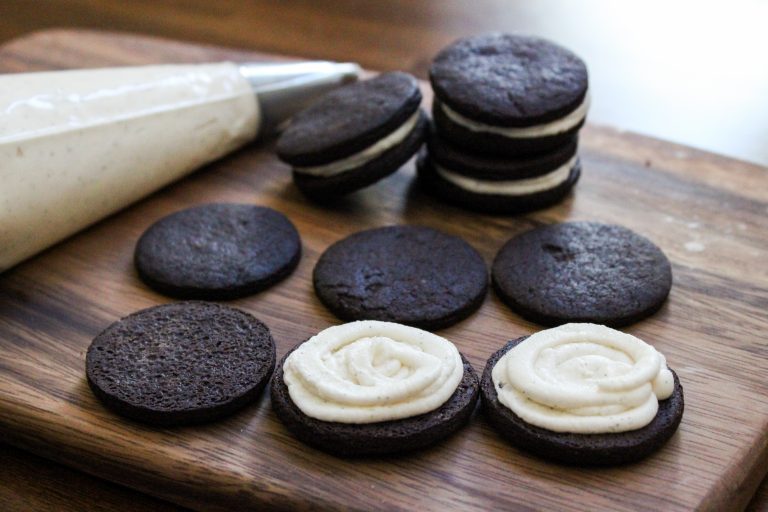 Homemade Oreos
Chocolate cookies sandwiched with vanilla cream filling.
Servings:
30
cookie sandwiches
Ingredients
Chocolate Cookie:
1 ½

cup

all-purpose flour

½

cup

unsweetened dark cocoa powder

¾

teaspoon

kosher salt

½

teaspoon

baking powder

½

teaspoon

baking soda

¾

cup

granulated sugar

½

cup

refined coconut oil

2

Tablespoon

whole milk

1

large egg,

room temp

2

teaspoon

vanilla bean paste,

or pure vanilla extract
Vanilla Cream Filling:
½

cup

unsalted butter,

softened, room temp

3

Tablespoon

refined coconut oil

1 ½

cup

confectioners' sugar

2

teaspoon

vanilla bean paste,

or pure vanilla extract

¼

teaspoon

kosher salt
Instructions
Chocolate Cookie:
In a medium bowl, whisk together flour, cocoa powder, salt, baking powder, and baking soda. Set aside.

In the bowl of a stand mixer with a paddle attachment, beat together sugar and coconut oil on medium-high speed. Beat until mixture if fluffy. Reduce speed to low and add milk, egg, and vanilla paste.

With the mixer still on low, slowly add the prepared flour mixture. Mix until just combined. Divide dough into two equal parts. Flatten the two halves and wrap tightly in plastic wrap. Chill in the refrigerator for 30-45 minutes until dough is cold and firm.

Preheat oven to 350 degrees. Line baking sheets with parchment paper and set aside.

Work with one dough at at time. On a lightly floured work surface, roll dough to 1/4". Using a 1 3/4" round cutter, punch out cookies. Transfer to prepared baking sheet. Space cookies about 1/2" apart from each other. Bake in preheat oven for 15 minutes, rotating sheets halfway through baking. Let cookies cool in the pan for a couple minutes before transferring to a wire rack to cool completely.
Vanilla Cream Filling:
In the bowl of a stand mixer with a paddle attachment, cream together butter and coconut oil until homogenous.

Add powdered sugar and beat on medium speed until incorporated.  Add vanilla paste and salt.  Beat until smooth.  Transfer to piping bag or use a small offset spatula to spread onto cooled chocolate cookies. Sandwich cookies together, one plain and one with filling.
Notes
*Finished cookies keep best in the fridge, but can last at room temperature for 2 days in a sealed container.  Eat chilled or let come to room temperature.
ADAPTED FROM AMERICA'S TEST KITCHEN DIY COOKBOOK