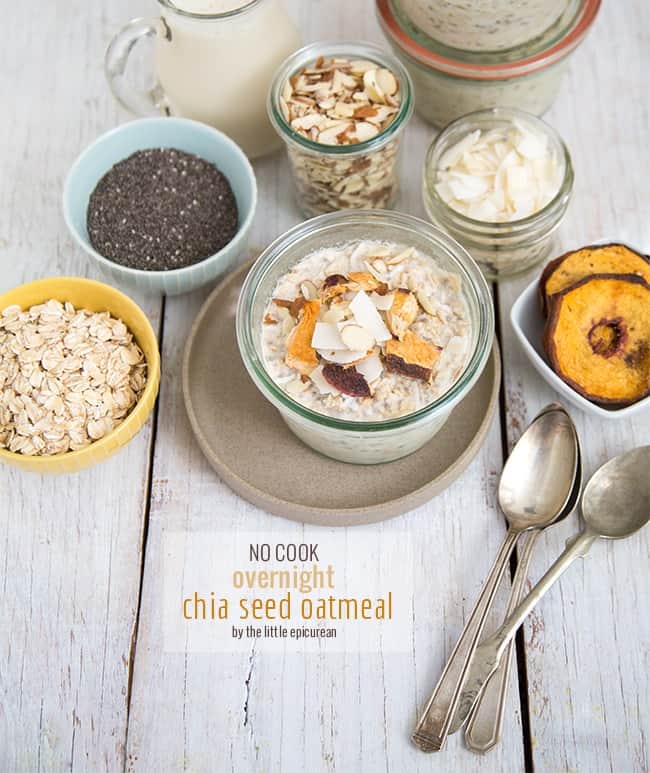 Ch-ch-ch-chia!
As a kid I begged my parents for a Chia Pet.  I also wanted that pet rock.  Come to think of it, I probably wanted everything I saw advertisements for on Nickelodeon.  But seriously, what kid in the 80s and early 90s didn't want a Chia Pet?  I thought it was so cool, mainly because I didn't have one.
Chia seeds have gone a long way from being a silly component of a toy to one of today's most popular super foods.  Did the creators of the Chia Pet know that chia seeds were packed full of nutrients and vitamins?  I wonder how many parents from the 80s got angry with their children for eating the chia seeds for the Chia Pet?  Because… little kids like to eat everything… like glue, paper, boogers.
Asides from dessert, breakfast is my favorite meal of the day.  Upon waking up, my body desperately needs fuel.  Some mornings I move at the speed of light, and then other mornings I'm slower than a snail stuck on piece of gum on the concrete.  For those slow-poke mornings, this no cooked overnight chia seed oatmeal is my hero.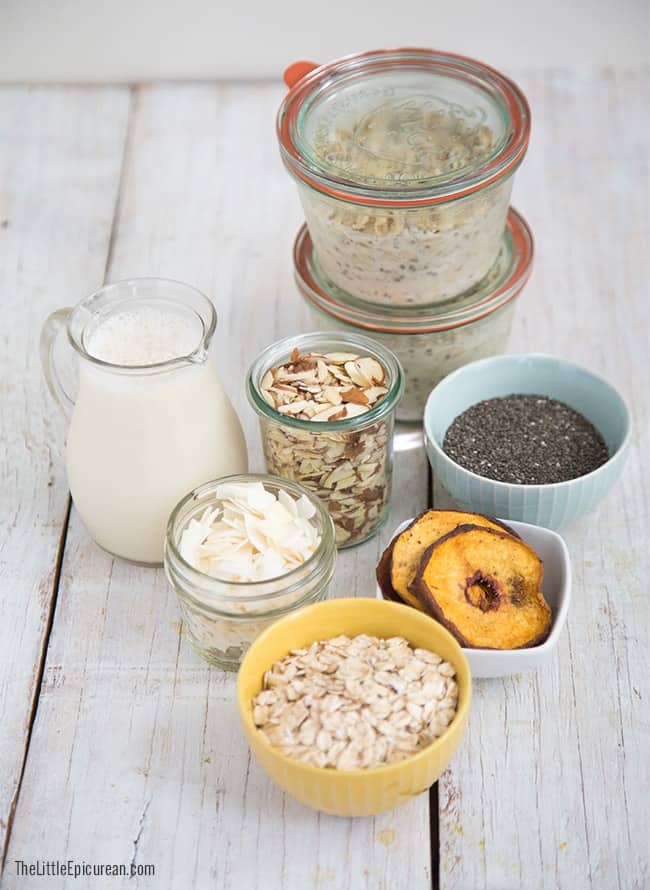 Alex calls this oatmeal the "lazy man's breakfast for the man with an active lifestyle."  Once in a while we like to make a double batch of this Sunday night so the two of us will have breakfast ready for the rest of the week.  Rolled oats are full of fiber, keeping me full until lunchtime.  Chia seeds are also a great source of fiber.  It also contains protein, calcium, manganese, and a bunch of other good stuff.  (No wonder it's a super food!)
Don't worry if the oatmeal looks watery at first.  Chia seeds absorb a lot of moisture, about 9 times its volume.  When soaked in liquid, the seeds plump up and become slippery and jellylike.
Oatmeal is a blank canvas.  You can customize it to your liking.  I used almond milk, but any milk will do- coconut milk, soy milk, hemp milk, hazelnut milk, etc.  I topped my chia seed oatmeal with toasted coconut flakes, sliced almonds, and dried peaches.   But just like the milk, your options are endless.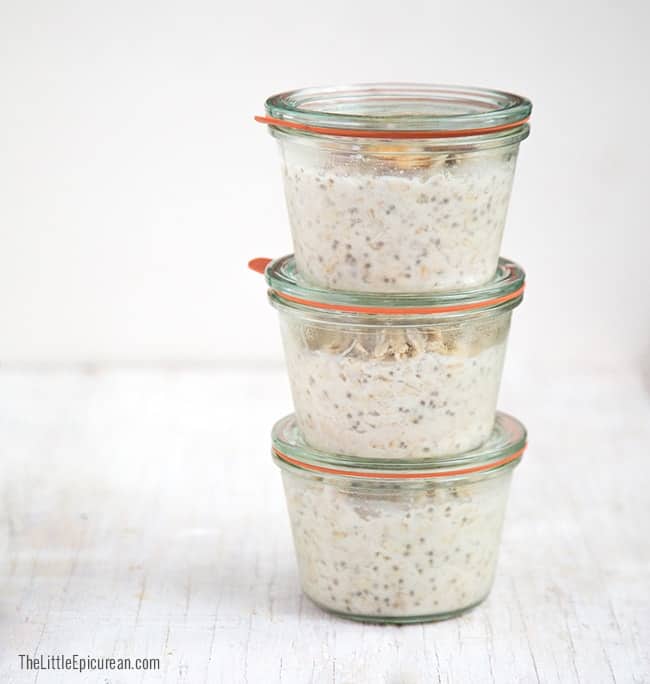 I like to pack my chia seed oatmeal in these glass jars.  They stack well in the fridge and are perfectly portioned.  Looking back, I think this chia seed oatmeal beats Chia Pet any day.  It's tasty, portable, and good for you!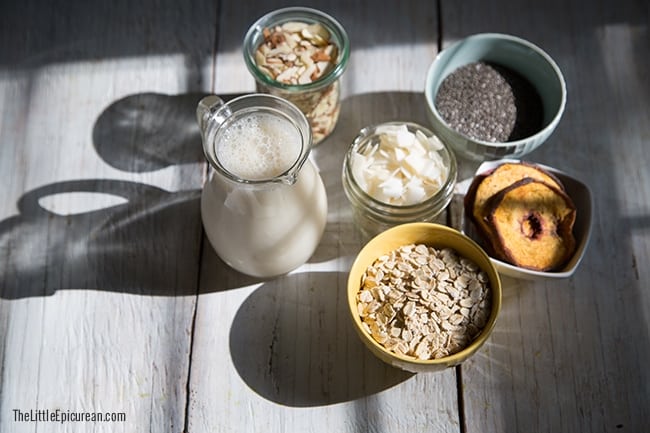 Are we friends on Instagram?  The other day when I was testing out this recipe, I posted a similar photo on Instagram.  I'm no professional photographer by any means.  I'm mostly self taught and I continue to learn a little bit every day.  Lately, I've been obsessed with light and shadows.  Just wanted to share my favorite of the photo of the week!
No Cook Chia Seed Oatmeal
Ingredients:
2 cups rolled oats
1 1/2 Tbsp chia seeds
2 3/4 cup almond milk (or milk alternative of choice)
6 Tbsp sweetened shredded dried coconut
pinch of salt
Toppings as desired:
toasted shredded coconut
fresh berries
toasted nuts
dried fruits
honey, agave, or other sweeteners
Directions:
In a large bowl, combine rolled oats, chia seeds, shredded coconut, and milk.  Fold to combine until ingredients are evenly distributed.  Cover and let sit for 10 minutes to allow chia and oats to absorb liquids.
Transfer moistened ingredients to desired serving containers. Cover and keep in the fridge overnight.  Serve chilled straight from the fridge.  Add toppings as desired.  Keeps well in fridge for up to 4 days.