Lemon chamomile pound cake is perfect for brunch or afternoon tea. It's buttery, tangy, and a little floral.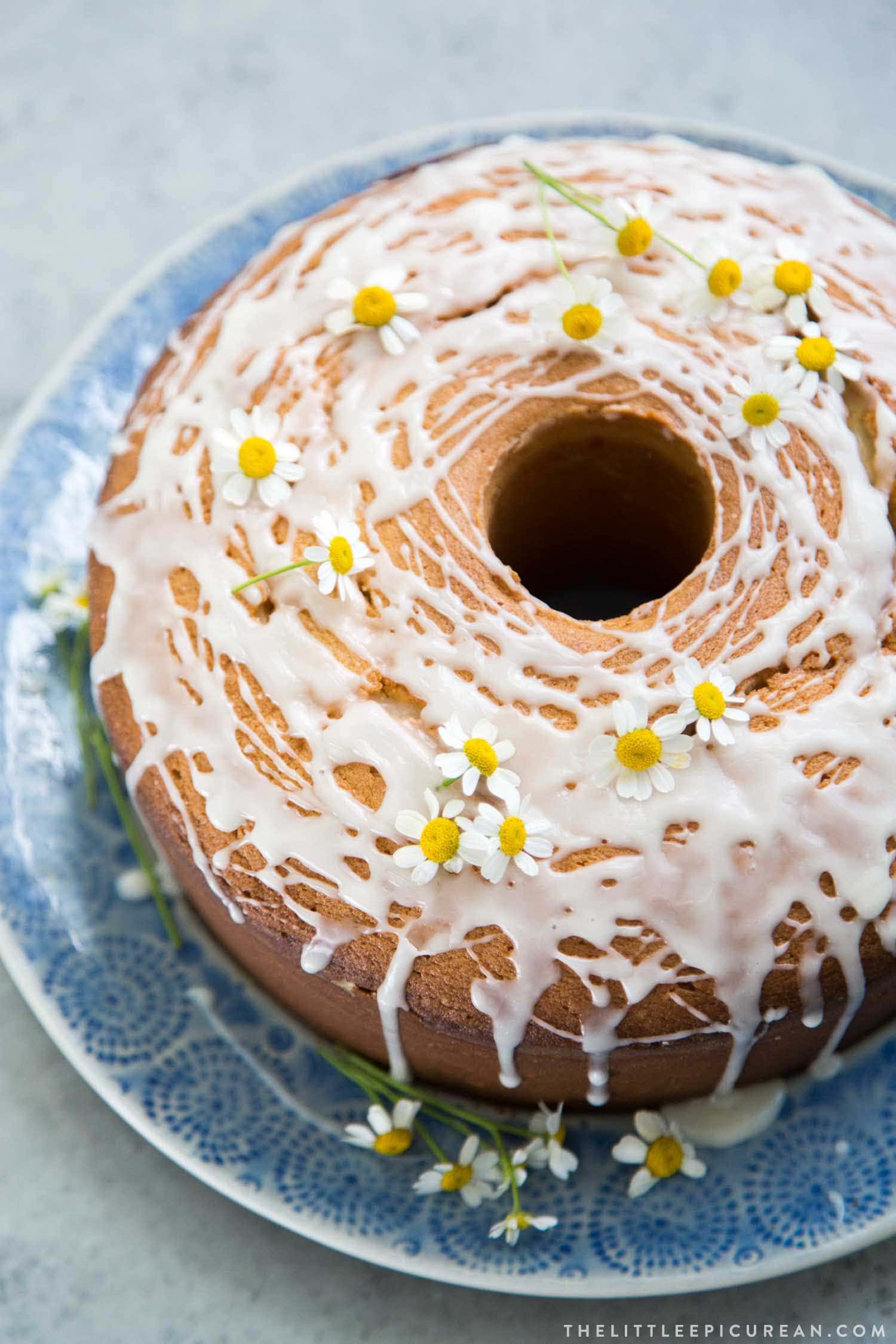 Pound cakes are often hit or miss. Most of the time, these butter cakes are too dense, rather bland, and not worth the calories.
As the name suggests, pound cake is traditionally make with a pound of each ingredient. Those ingredients being: flour, butter, sugar, and eggs.
Veering from the common pound cake flavored with vanilla, my adapted version incorporates honey and chamomile tea!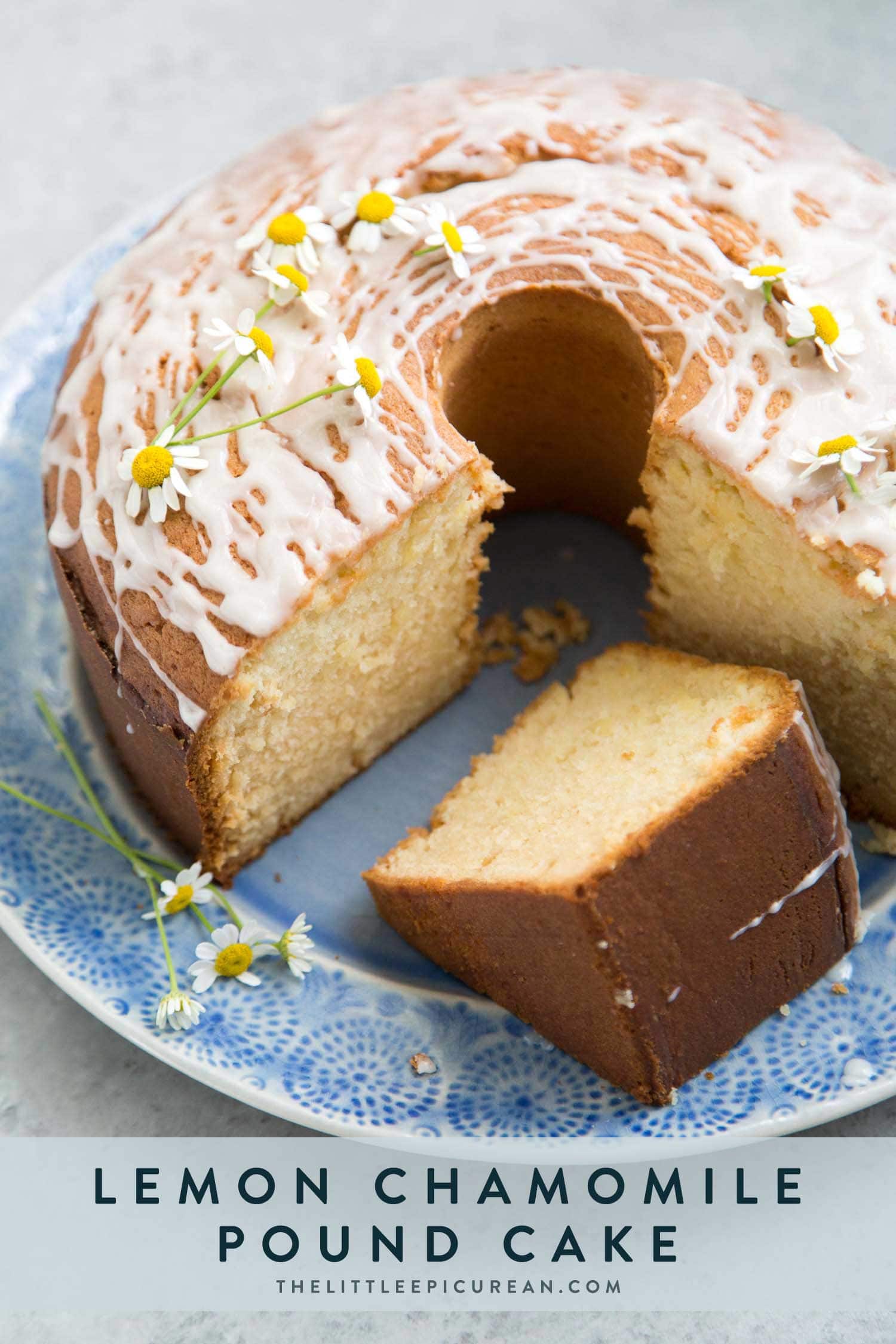 Pound Cake Ingredient Notes
Cream Cheese : The addition of fats like cream cheese and sour cream helps to liven up the rather dense and rich pound cake. The tangy notes of cream cheese also balances the sweetness of the sugar and honey in this recipe.
Chamomile Tea : Also spelled camomile. It is a herbal tea with delicate floral and honey notes. Purchase tea bags or loose leaf tea.
Lemon : For best flavor, use fresh squeezed lemon juice. Wash and scrub lemons well to remove wax food coating before zesting the skin.
Honey : There are many different types and varieties of honey. Some varieties are stronger in flavor, some are sweeter, some are darker in color. I suggest using a mild, light flavored honey such as Alfalfa, Clover, or Orange Blossom honey.
Cake Flour : This flour has a low protein content compared to all-purpose flour and bread flour. In a pinch, you may sub in all-purpose flour. Or, make your own cake flour by mixing 315 grams all-purpose flour with 45 grams cornstarch.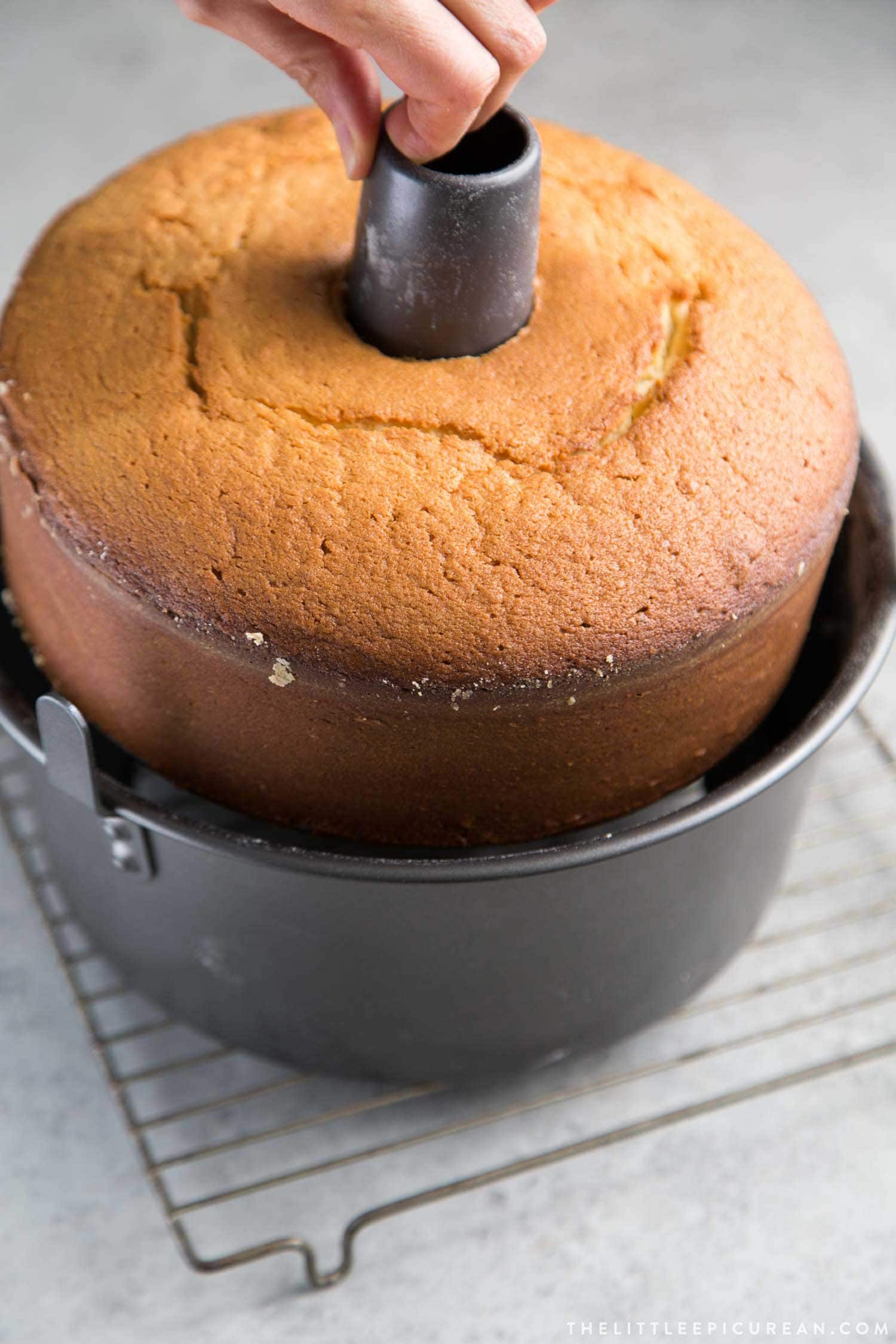 Recommended Baking Pans
I highly recommend using an angel food cake pan for this chamomile pound cake recipe. This is the 16 cup two piece Angel Food Cake Pan photographed above.
The removable bottom of the angel food pan allows for easy unmolding. Simply run an offset spatula or knife around the pan to ensure the cake is no longer attached. Then, pull center column to detach the cake.
As much as I love the decorative details of bundt cake pans, they can be a pain to unmold. For this recipe, stick with a angel food cake pan.
Alternatively, the batter can also be baked in multiple bread loaf pans or multiple round cake pans.
How to Add Chamomile Flavor to Baked Goods
Flavor is transported through fat. For this recipe, chamomile tea is steeped in melted butter.
This technique is an easy way to incorporate flavor. However, it is time consuming.
The chamomile tea is steeped in melted butter for one hour. And then, the butter is cooled in the fridge to harden. I suggest doing this ahead of time, preferably the day before you plan on baking.
Why steep? Why not just add the tea leaves into the batter?
When it comes herbs and teas, I prefer to steep. It's a great way to infuse flavor and aroma.
The same technique is used to add flavor in this Rosemary Lemon Cake and Chai Layer Cake.
Most teas are meant for steeping. With the exception of matcha which is powdered green tea. On rare occasions, I will grind the tea leaves into a powder that is mixed with the cake batter.
However, for this recipe, it is better to simply steep the chamomile. Chamomile tea powder will be too strong and far too floral.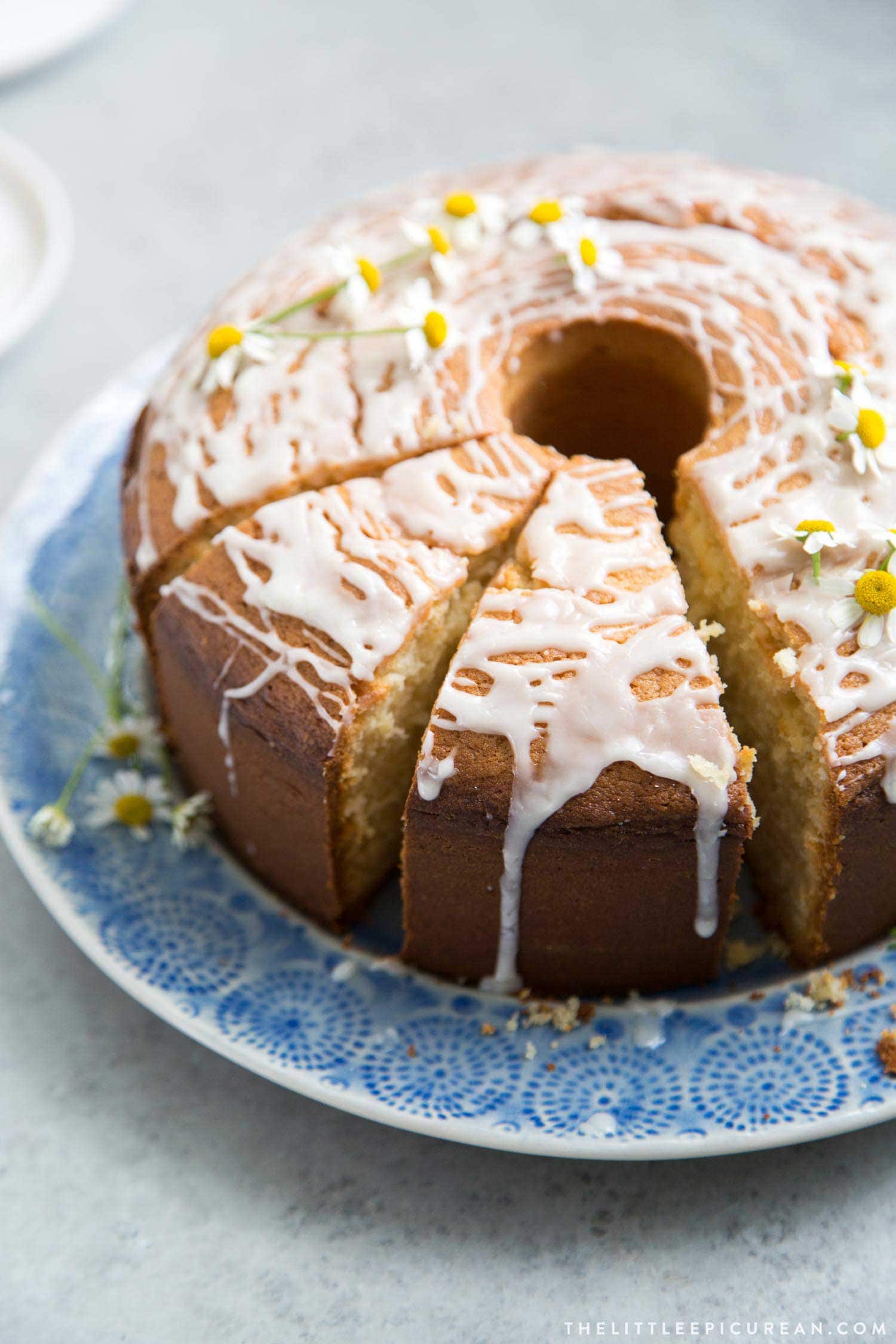 Why Ingredient Temperature Matters
Bring all ingredients to room temperature before mixing. Baking a science. It requires precision and patience.
Begin by removing the cream cheese from the refrigerator. I suggest letting the cream cheese sit out at room temperature at least an hour.
The chamomile infused butter and eggs should be ready for use after about 20 minutes at room temperature.
Room temperature butter and cream cheese will cream together better. This results in a smoother batter.
But more importantly, room temperature butter and eggs facilitates more efficient leavening when used in creaming method based recipes.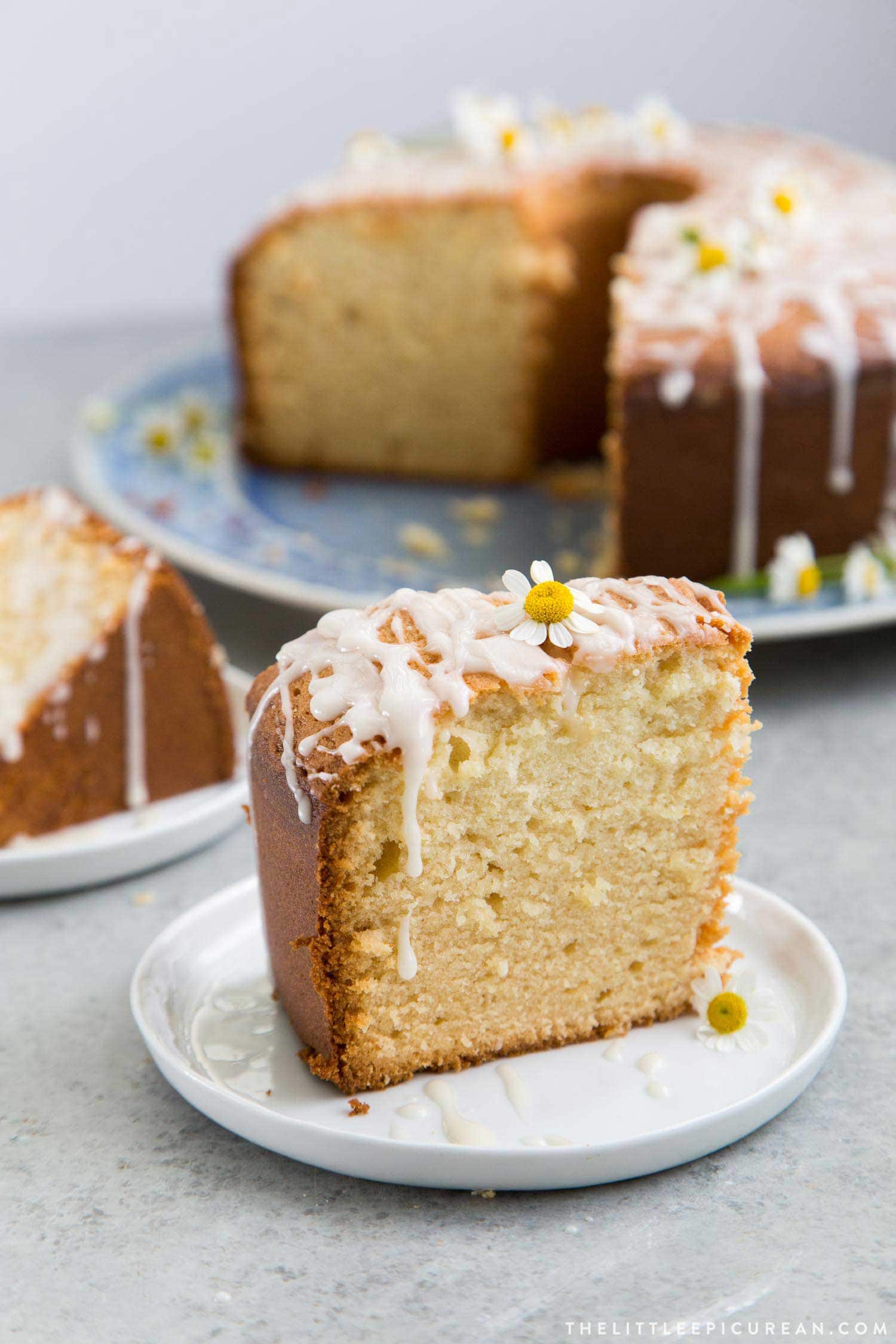 What is the creaming method?
There are several ways to mix together batters.
Store-bought cake mixes use the "all-in" or one bowl approach in which all the ingredients are simply mixed together all at once.
Foaming technique is used for angel food cake recipes. Some cake recipes use the reverse creaming method.This pound cake uses the traditional creaming method. It's the most commonly used mixing process.
Butter and sugar are beat together until light and fluffy. Eggs are slowly added a one a time. And then, the liquids and dry mixture follow.
Creaming method traps air during mixing, allowing the batter to rise and expand during baking. Room temperature ingredients allows for more efficient trapping of air.
This lemon chamomile pound cake recipe contains no baking powder or baking soda. All the leavening is provided by the mixing of butter and sugar.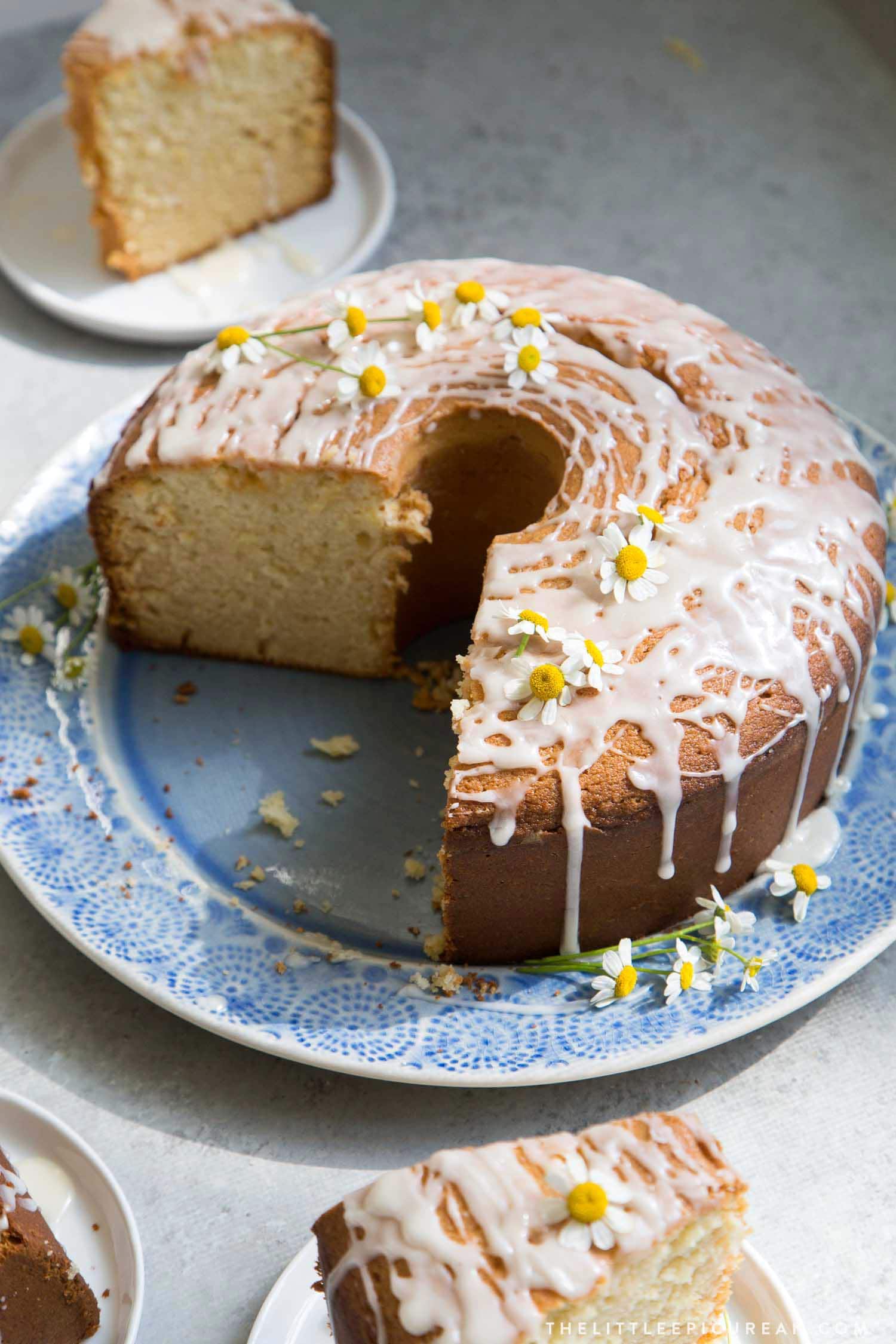 Are chamomile flowers edible?
Yes, certain chamomile flowers are safe to eat. However, be sure to use chamomile flowers free from pesticides and herbicides.
Chamomile flowers from most supermarkets and florists are sprayed with pesticides. Buy chamomile flowers that are specifically grown for consumption.
More Pound Cake Recipes
Lemon Chamomile Pound Cake
It's buttery, tangy, and a little floral. This lemon chamomile pound cake is a perfect accompaniment to your coffee or tea.
Ingredients
Pound Cake:
1 ½

cup

unsalted butter

(340 g) room temp

6

chamomile tea bags

8

oz

cream cheese

(225 g) room temp

2 ½

cup

granulated sugar

(495 g)

1 ½

teaspoon

finely grated lemon zest

¼

cup

honey

(84 g)

6

large eggs,

room temp

2

Tablespoon

fresh squeezed lemon juice

2

teaspoon

pure vanilla extract

2

teaspoon

kosher salt

3

cups

cake flour

(375 g)
Glaze:
3

oz

hot water

1

chamomile tea bag

1 ¼

cup

confectioners' sugar

(150 g)

pinch

kosher salt

½

Tablespoon

honey

(10 g)

½

Tablespoon

fresh squeezed lemon juice

¼

teaspoon

pure vanilla extract
Instructions
Pound Cake:
Slice butter into tablespoons. Place in a heavy bottomed sauce pot over medium heat. Gently melt butter. Once melted, add chamomile tea bags. Cover with lid and remove from heat. Let steep for 30 minutes.

Remove lid and set pot over medium heat to gently melt any hardened butter. Once melted, cover with lid, remove from heat and let steep from another 30 minutes. Reheat once more to gently melt any hardened bits. Strain out tea. Squeeze out as much liquids from the tea as possible. 

Transfer to an airtight container and let chill in the fridge until solid. Overnight is best.

Preheat oven to 325°F. Butter and flour 16 cup angel food cake pan. Tap out any excess flour. Set aside.

In the bowl of stand mixer fitted with a paddle attachment, beat together butter, cream cream, sugar, honey, and lemon zest at medium speed until light and fluffy, about 6-8 minutes. Scrape down bowl as needed to ensure thorough mixing.

Add in eggs one at a time, ensuring each egg is thoroughly incorporated before adding the next. Scrape down sides of bowl as needed. Add lemon juice, vanilla extract, and salt. Mix until well blended.

Using a sturdy spatula, fold in cake flour until just combined (just until there are no longer any dry streaks of flour).

Pour batter into prepared angel food cake pan. Smooth and level top using a spatula.

Bake for 85-95 minutes, rotating midway through baking, until toothpick inserted near center of cake comes out clean and top of cake is golden brown. The top will be slightly cracked. Allow cake to cool in pan for 10-15 minutes. Use a mini offset spatula or knife to loosen cake edges from pan. Unmold pound cake. Gently run mini offset spatula along the bottom of mold to dislodge. Place cake on wire rack to cook to room temperature.
Glaze:
Steep chamomile tea in freshly boiled hot water for 8 minutes. Strain out tea, squeezing as much liquid as possible. Discard tea bag.

In a medium bowl, combine confections' sugar, salt, honey, lemon juice, vanilla extract, and 2 Tbsp of hot chamomile tea. Stir until smooth. If mixture is too thick, add more chamomile tea ½ tbsp at a time until desired consistency is achieved.

Drizzle glaze over cooled pound cake as desired.
Notes
The baking time in the recipe refers to this 16 cup angel food cake pan. If using a different pan, adjust baking time accordingly. 
If decorating with chamomile flowers, be sure to use flowers free from pesticides and herbicides. 
Store leftover cake in an airtight container for up to three days. 
Recipe adapted from Ultimate Southern Cream Cheese Pound Cake