Lemon olive oil cake with mixed betters is a simple and easy summertime cake. The clean flavors of the olive oil cake allow the fresh berries to shine.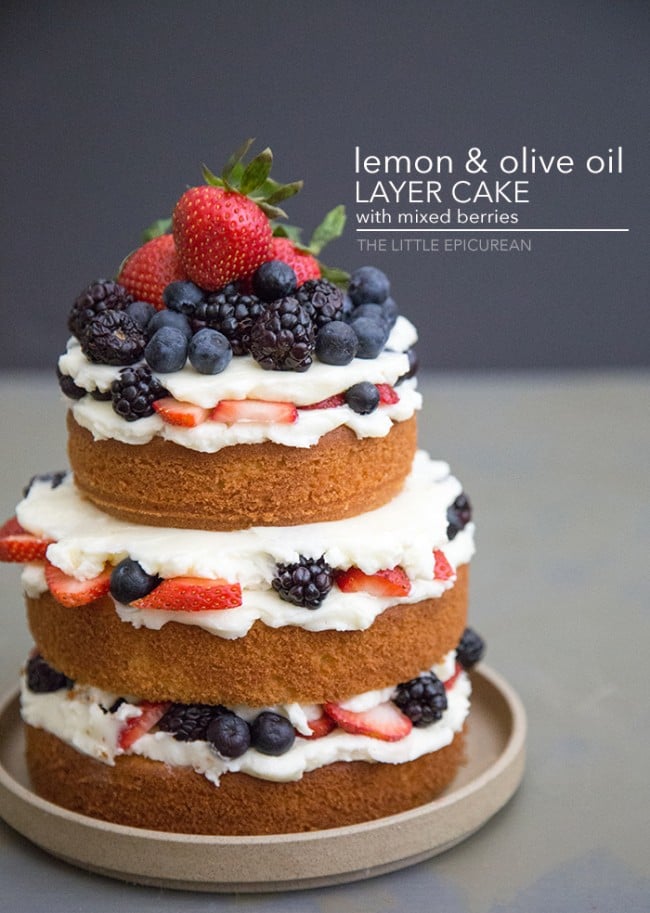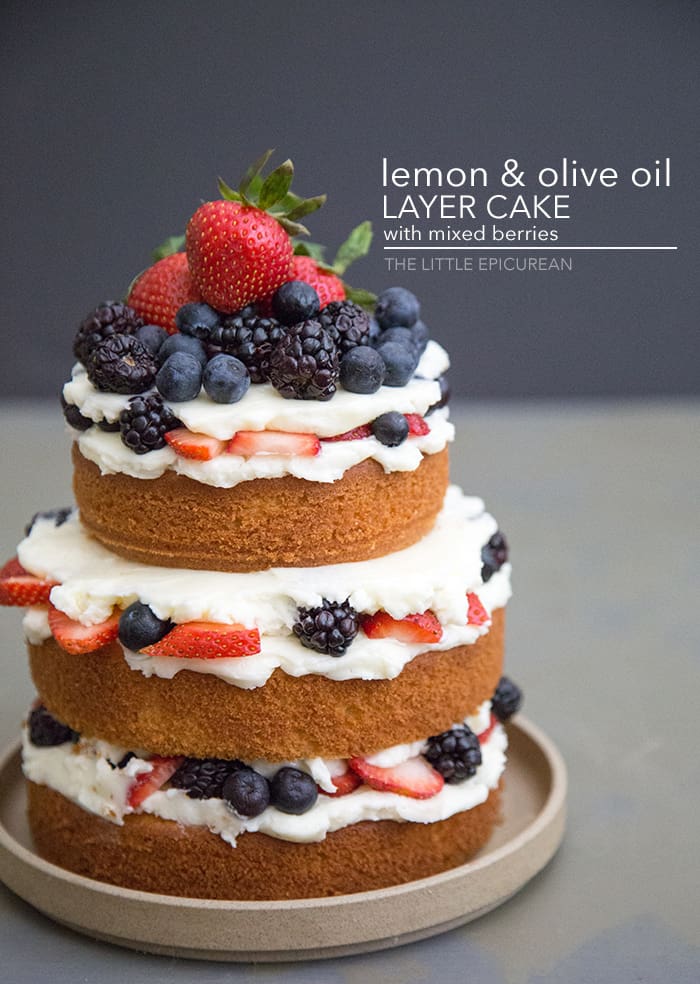 Olive Oil Cake
Adding oil to cake batter is nothing new.  
Plenty of cake recipes use vegetable oil to make otherwise dry cakes super moist. Instead of the usual oil, let's use heart healthy delicious olive oil.
But before I mislead you, I need to preface by saying that I hardly think this olive oil cake is that nutritionally sound… it is a cake topped with buttercream, after all!
What kind of olive oil to use for cake?
It is important to use olive oil that tastes good on its own. The oil provides a decent amount of flavor and aroma to the cake.
Don't use any olive oil that smells stale or tastes sour. Oil is no longer good to use once it smells waxy like crayons.
Choose an olive oil that has a fruity yet clean aroma.
This olive oil brownie recipe details how to choose the right olive oil.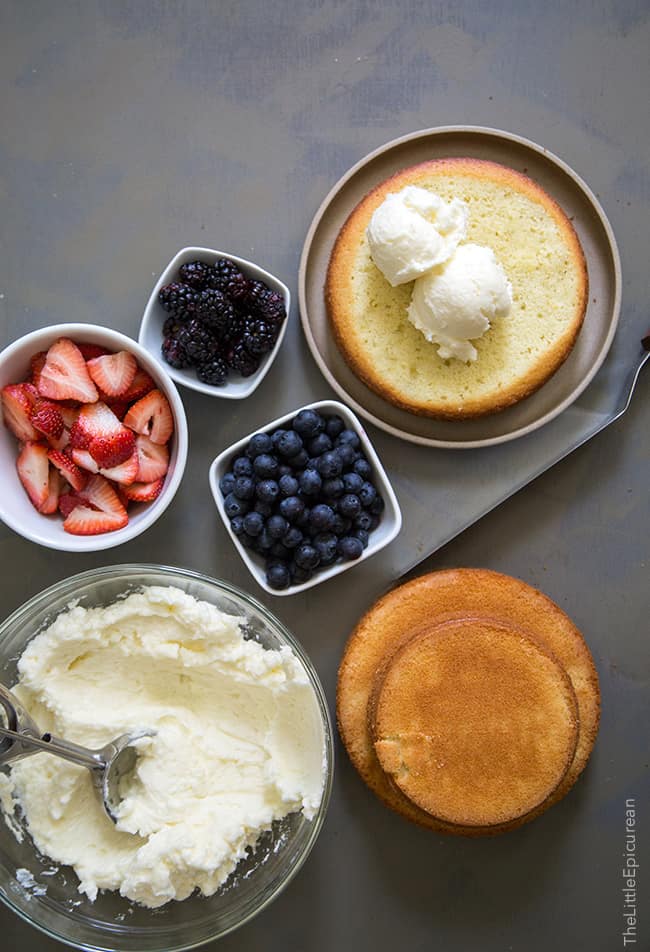 Cake Components
Lemon olive oil cake
Swiss buttercream
Fresh berries
Cake: Citrus notes work really well with olive oil. Last year, I made this blood orange olive oil cake.
This time, I swapped out the oranges with lemons. The bright and fresh lemon notes are totally meant for summertime.
Olive oil cake tastes great on its own. You don't really need to add any frosting or embellishments.  It's quite perfect just the way it is.  
However, with berry season in full swing, I couldn't help adding a ton of berries to this cake.
Swiss Meringue Buttercream: SMB is light, silky, and airy.
Swiss buttercream is made by mixing softened butter into Swiss meringue.
This buttercream frosting can be made in advance. Simply store in an airtight container in the fridge for up to three days.
Leave cold buttercream out at room temperature for several hours to soften. Then, revitalize using a sturdy whisk or beat with a paddle attachment until smooth and fluffy.
For even longer storage, freeze the buttercream for up to two months.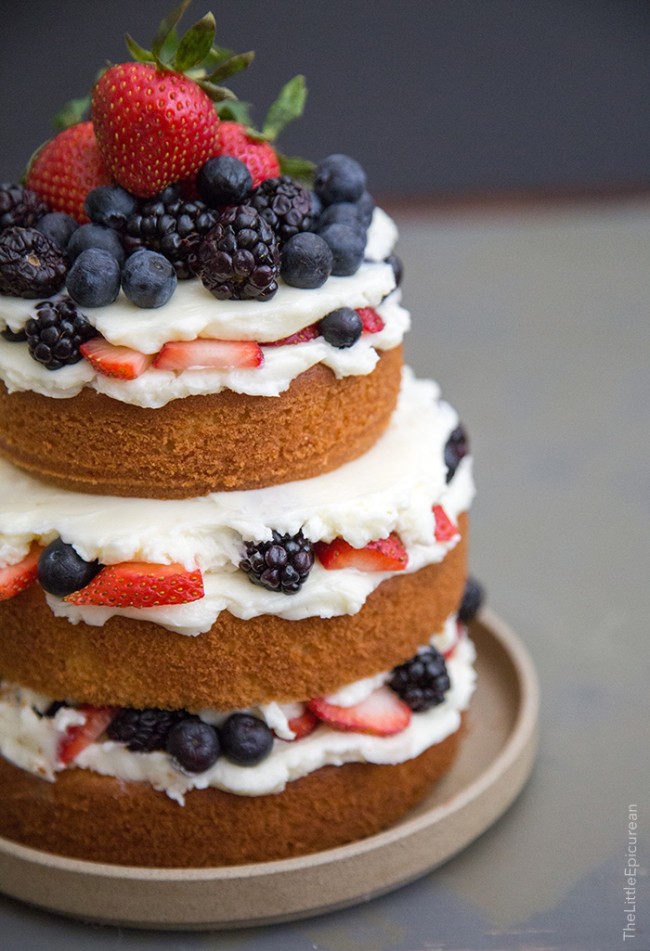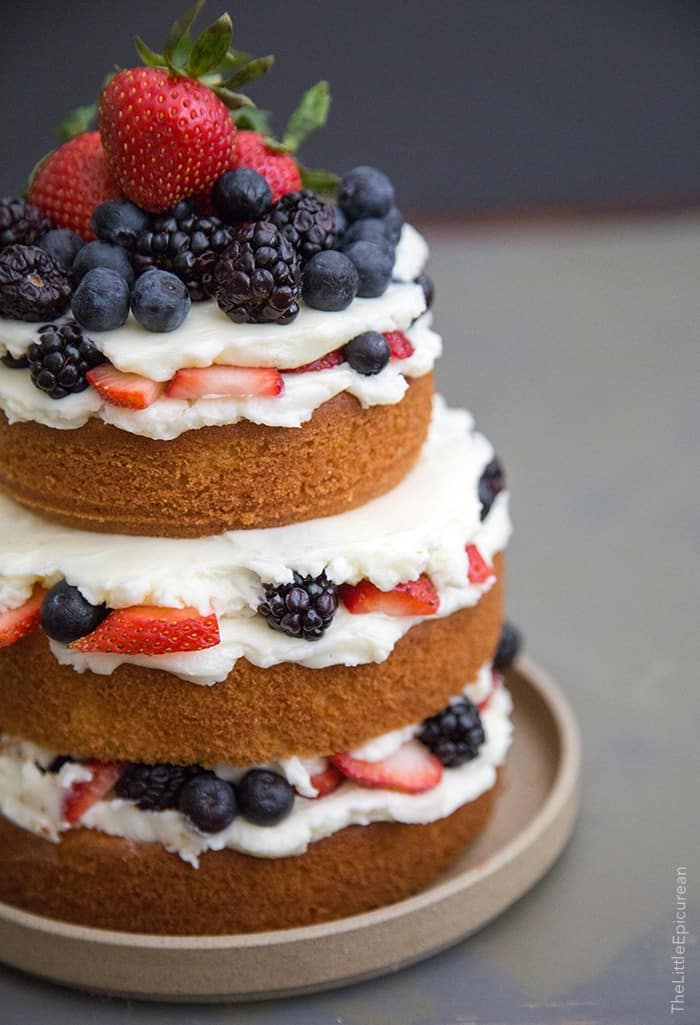 Fresh Fruit: I used a mixture of fresh berries (blueberries, blackberries, and sliced strawberries).
Feel free to use your choice of soft fruit. Berries, segmented citrus, or sliced stone fruit are great options!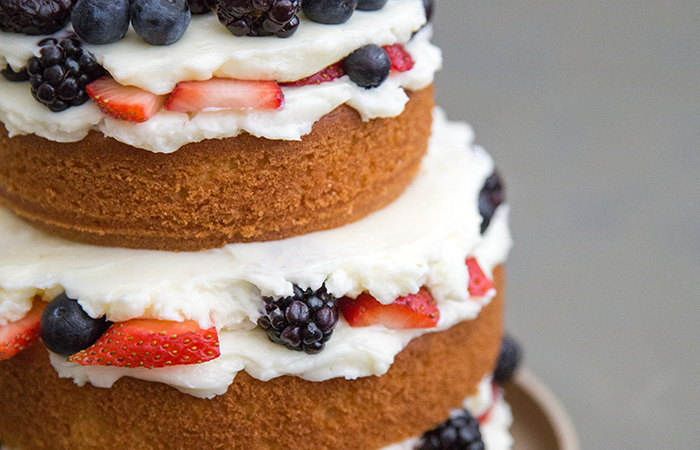 Lemon Olive Oil Cake with Mixed Berries
A beautiful and easy summertime cake. The clean flavors of the olive oil cake allow the fresh berries to shine. The Swiss buttercream adds a nice creaminess to this simple cake.Yield: two 6-inch cakes & one 4-inch cake, or two 8-inch cakes
Ingredients
Olive Oil Cake:
1 ¾

cup

all-purpose flour

2

teaspoon

baking powder

½

teaspoon

fine sea salt

½

cup

unsalted butter, melted

¾

cup

extra virgin olive oil

¼

cup

whole milk

4

large eggs, room temperature

1

cup

granulated sugar

zest of half a lemon

fresh berries, as needed
Swiss Buttercream:
6

large egg whites (about 1 cup)

1 ½

cup

granulated sugar

2

cups

(1 pound) unsalted butter, cut into tablespoons, softened

pinch fine sea salt
Instructions
Olive Oil Cake:
Preheat oven to 350°F. Line two- 6" cake plans and one- 4" cake pan with parchment paper.  Lightly grease with butter.  Set aside. Alternatively, use two-8" cake pans.

Sift together flour, baking powder and salt. Set aside.

In a small bowl, whisk together melted butter, olive oil, and milk. Set aside.

In the bowl of stand mixer fitted with a paddle attachment, beat eggs, sugar, and lemon zest until mixture is pale in color and slightly thickened (about 2 minute). Scrape down the bowl as necessary to ensure thorough mixing.

Alternate adding the flour mixture and wet mixture, beginning and ending with the flour mixture. Mix on low speed until combined.

Divide batter between prepared cake pans. Level batter using a spoon or mini offset spatula. Bake for 30-35 minutes until cakes are golden brown, and toothpick inserted in center of cake comes out clean. Let cool in pan for 5-10 minutes before unmolding. Cool to room temperature on a wire rack.
Swiss Buttercream:
In the bowl of a stand mixer, whisk together egg whites and sugar. Place over a double boiler and continue to whisk until the temperature of the mixture is 120°F.  See notes for alternative without thermometer.*

Return bowl to stand mixer. With a whisk or paddle attachment, beat mixture at medium-high speed until it cools to a little warmer than room temperature. Reduce speed to medium and add butter one tablespoon at a time

Once all the butter is in, increase speed to medium-high and continue to beat until buttercream is light and fluffy.
Notes
*Swiss Buttercream: Alternatively, if you don't have a thermometer, heat the mixture until all the sugar has melted. You can test this by dipping your pointer finger into the warm mixture and rubbing it together with your thumb. The mixture should be smooth.  You should not be able to feel the granules of sugar.