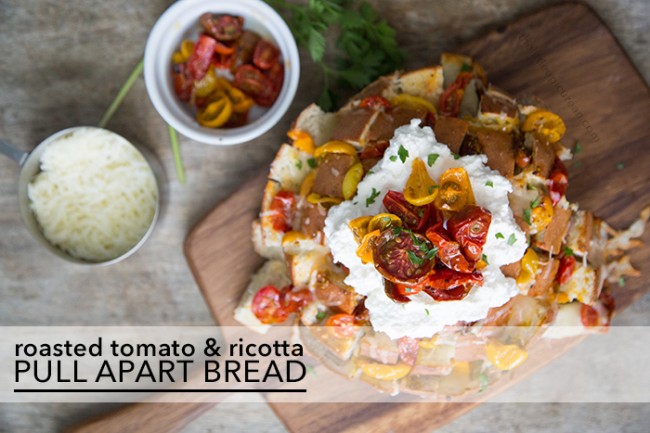 I take snack time seriously.  Last Sunday was a big episode for Game of Thrones.  (But come to think of it, every episode is BIG and important.)  But this particular Sunday was highly anticipated because of the battle scene regarding Tyrion's life and innocence.  Anyway, such a TV moment, requires an equally amazing snack.
Originally I was going to make this homemade ricotta with roasted tomato crostini that I was obsessed with last summer.  While I had the tomatoes baking in the oven, I took that time to reorganize the kitchen pantry.  Good thing I did, because a found a no-knead bread mix tucked away on one of the shelves.  Then an idea struck me.  Roasted tomato and ricotta pull apart bread!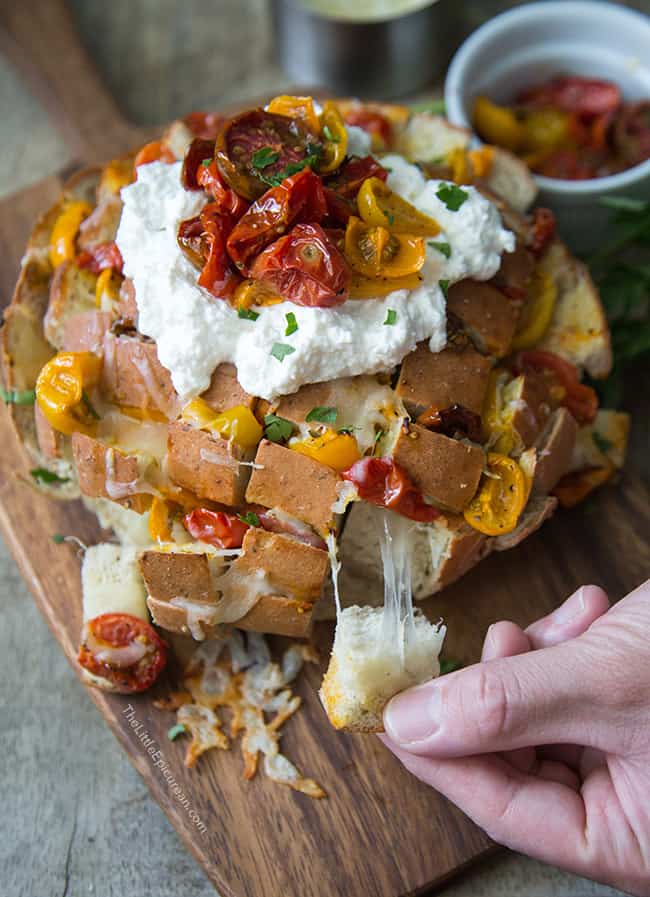 Whenever I happen to have tomatoes at home, I roast them.  I love roasted tomatoes with fresh ricotta.  They go together like peanut butter and jelly.  They're just meant to be.  This flavor combination goes great in any application: pasta, salad, soup , and of course, in an ooey gooey pull apart bread loaf.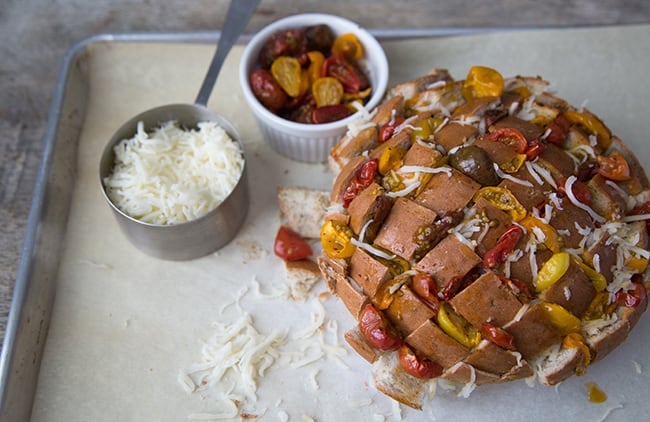 I used Fleischmann's Simply Homemade No-knead Bread Mix in Italian Herb.  It makes bread baking so unbelievable easy.  (A while back I had a bread baker's giveaway which included a variety of these no-knead breads.)  On lazy Sundays, I don't want to do too much work in the kitchen.  For moments like this, bread mixes are the way to go!  However, if you want to save even more time, any store bought hearty bread loaf should work fine.  The same goes for the ricotta cheese, try the homemade version here or purchase it at the store.  I prefer whole milk ricotta cheese because its far richer and creamier, and in my opinion a whole lot tastier. Yum!
When cutting the bread loaf, slice in a criss-cross pattern, creating about 1/2-inch cubes.  Be careful not to slice all the way to the bottom of the bread loaf.  You'll want to stop about 1-inch from the bottom to keep the bread intact.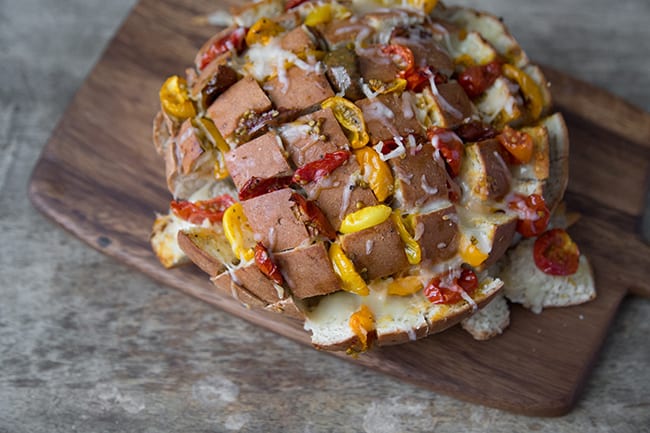 Once the bread is sliced, take shredded mozzarella cheese and roasted tomatoes and start tucking them between the bread cubes.  In a 350 degree F oven, bake the bread for about 10 minutes until the bread is toasty and the cheese has melted.  Remove from the oven and spread ricotta cheese over the top of the bread.  Enjoy immediately!
(Did you watch last night's GOT episode?! This series always has me at the edge of my seat.  I have the first four books in the series.  I can't wait for the fifth book to be released!)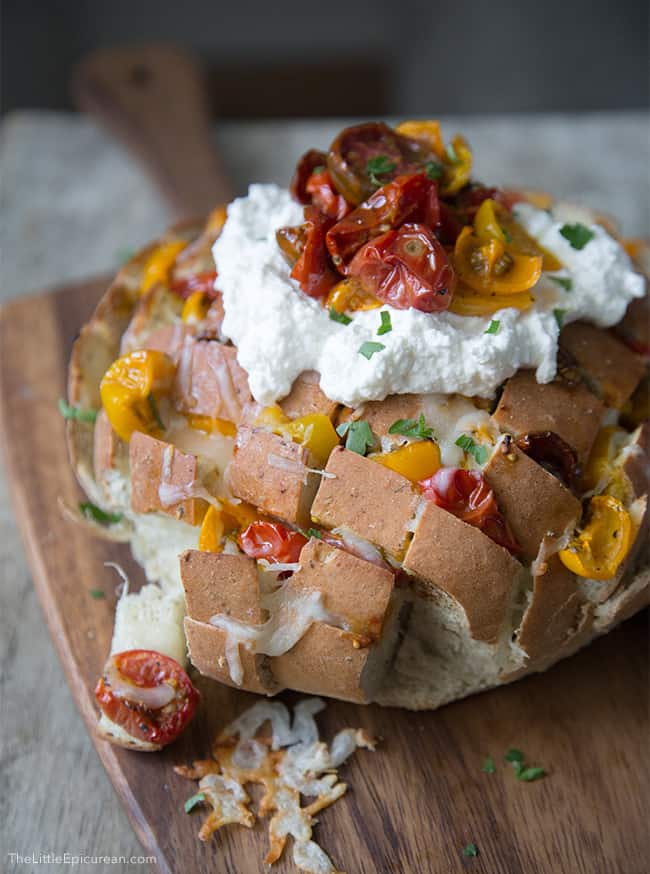 Roasted Tomato and Ricotta Pull Apart Bread
Yield: serves 4-6 as an appetizer
Prep Time: 10 minutes
Cook Time: 40 minutes
Total Time: 50 minutes
Ingredients:
Roasted Tomato:
1 pound cherry, grape, or any mini variety tomato
2 tsp olive oil
salt and pepper, to season
Pull Apart Bread:
1 loaf bread
1 cup shredded mozzarella cheese
roasted tomatoes
1/3 cup ricotta cheese
kosher salt and black pepper, to season
chopped Italian parsley, to garnish
Directions:
Roasted Tomato:
Preheat oven to 375 degrees F.  Slice tomatoes in half, or quarter if tomatoes are larger. In a bowl, toss tomatoes with oil and salt and pepper.
Arrange tomatoes on a parchment lined baking sheet.  Bake for 25-30 minutes until tomatoes are soft and skins are wrinkly.  Let cool.
Pull Apart Bread:
Preheat oven to 350 degrees F.  Line baking sheet with parchment paper.  Set aside.
Slice a criss-cross pattern into top of bread loaf, creating about 1/2-inch cubes.  Do not slice all the way through the bread, stop at about 1-inch from the bottom of the bread.  Place cut bread on prepared baking sheet.
Reserve about 1/4 cup mozzarella cheese.  Take the remaining 3/4 cup cheese and tuck in between the bread seams.
Reserve about a handful of tomatoes.  Take cooled roasted tomatoes and also tuck in between the bread cubes. Sprinkle reserved cheese over bread.
Bake bread for 8-10 minutes until cheese has melted and bread has been warmed up.  Remove from oven and spread ricotta cheese over bread.  Take reserved roasted tomatoes and place over ricotta cheese.  Serve immediately.