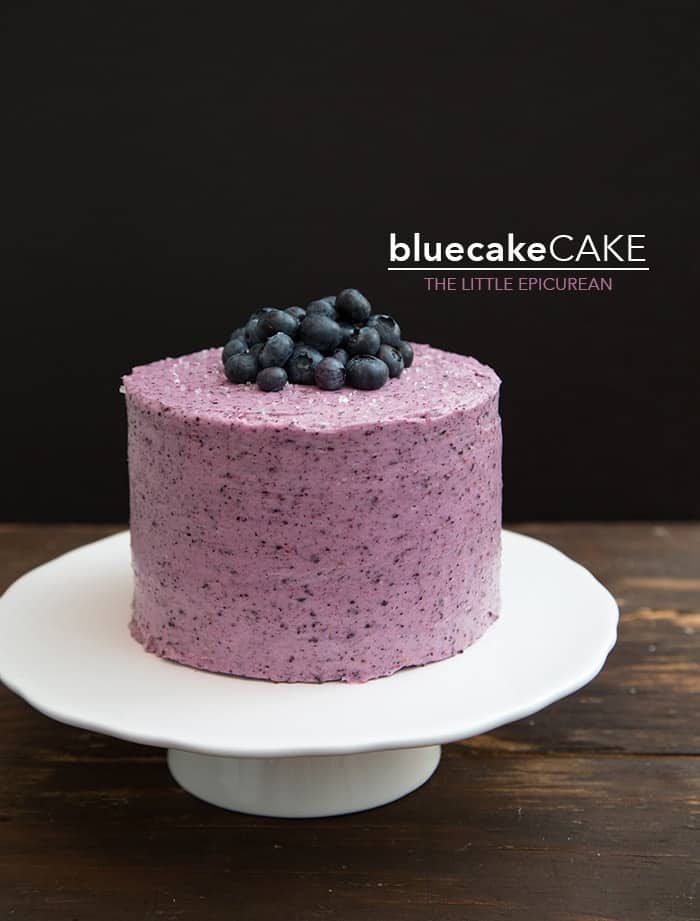 Once upon a time, I made these blueberry-blackberry cupcakes.  Three years later, these cupcakes remain a popular post on my blog that continues to bring in comments, likes, and emails.  It's the first post I wrote where I felt that people (besides my mom, Alex's mom, and my best friends) were looking at my work.  Asides from my rainbow cake, those blueberry cupcakes have generated the most interaction between me and you.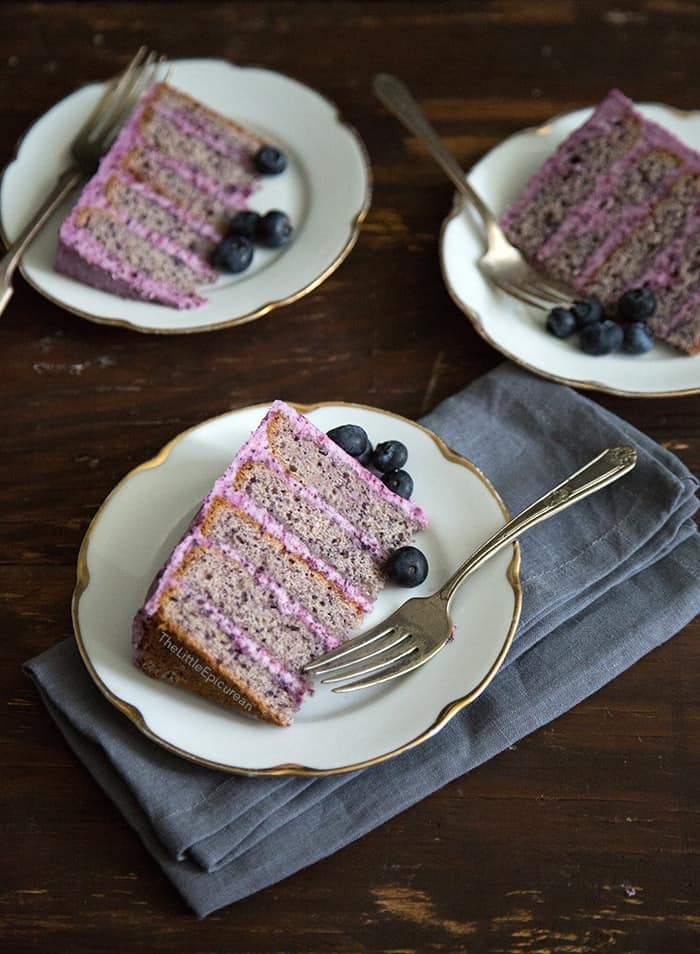 I received many emails regarding those cupcakes.  My favorite came from a mother that sent me photos of the hundred or so blueberry cupcakes she made for her daughter's wedding.  It's moments like that, that keep me testing recipes and blogging.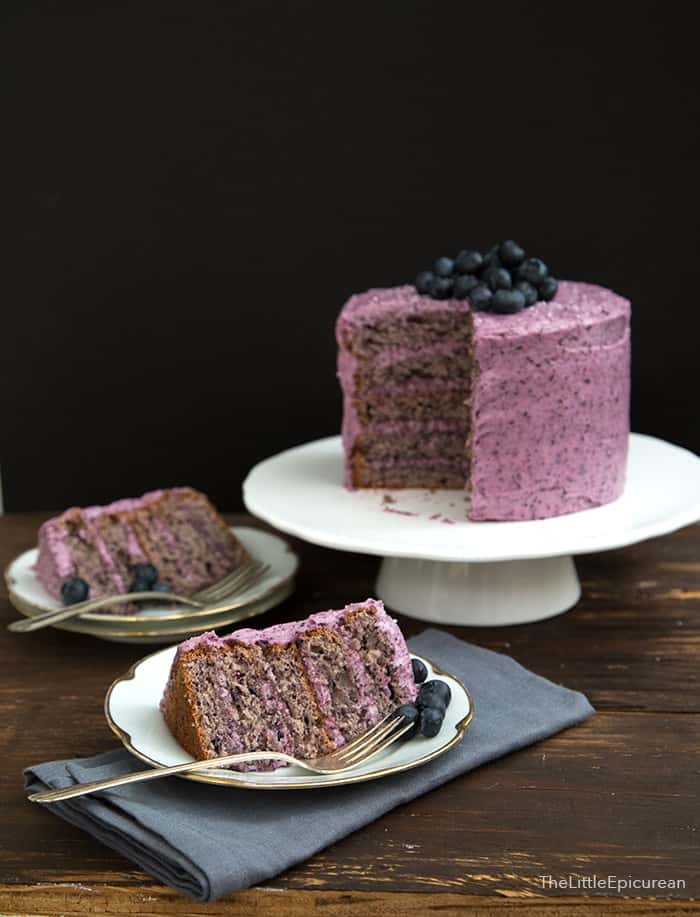 With berry season upon us, I can't help but take advantage of all fresh berries available.  I redid those popular blueberry cakes into a layered cake.  I used the same blueberry cream cheese frosting that is oh so addicting.  If I didn't use all the frosting on the cake, I would totally smear this stuff all over my morning bagel.
The secret to this cake is the use of freeze dried blueberries.  It provides the frosting with that natural blue-violet hue that is hard to replicate with imitation food coloring.  I used a combination of fresh blueberries and freeze dried blueberries to create the very flavorful blueberry cake.
I love, love, love this cake.  I can't find the words to explain how delicious it tastes.  After photographing the cake, I had to wrap up 2/3's of it to give away.  If left alone with this blueberry cake, who knows how much of it I'll eat in one sitting.  It's much safer for Alex and me to have only a small amount around.  Less cake means less exercise and cardio- which makes me a whole lot happier.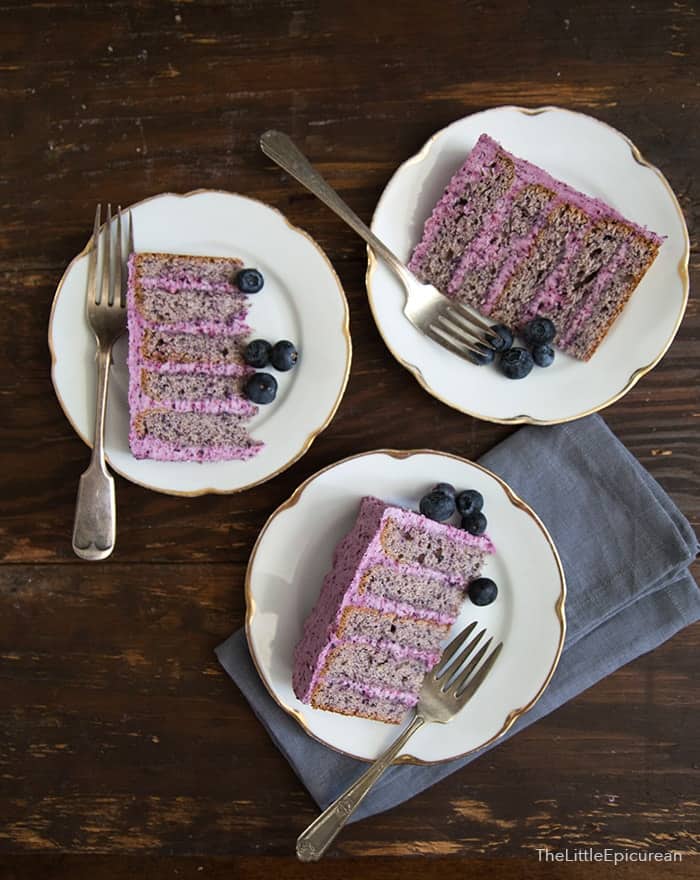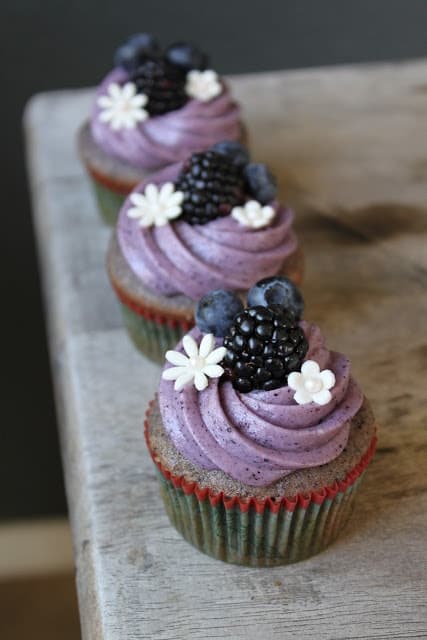 Blueberry Cake with Blueberry Cream Cheese Frosting
This blueberry cake gets its natural violet color from freeze dried blueberries. This cake is sure to wow even your most jaded guest.
Yield: 4 x 6-inch cake rounds
Ingredients:
Blueberry Cake:
3 1/2 cups all-purpose flour
1 Tbsp baking powder
1/2 tsp fine sea salt

1.2 oz package freeze dried blueberries, unsweetened, ground*

8 oz unsalted butter, room temperature
1 1/3 cups granulated sugar
2/3 cup light brown sugar, packed
1 tsp lemon zest
4 large eggs, room temperature
6 oz buttermilk, room temperature
7 oz blueberries, pureed and strained
1 tsp vanilla paste
Blueberry Cream Cheese Frosting:
1 cup unsalted butter, room temperature
8 oz cream cheese
1 1/2 tsp vanilla paste

1.2 oz package freeze dried blueberries, unsweetened, ground*

4 cups powdered sugar, sifted
1/4 tsp fine sea salt
Directions:
Blueberry Cake:
Preheat oven to 350 degrees F. Line 4 6-inch cake rounds with parchment paper.  Lightly butter cake rounds and set aside.
In a small bowl, whisk together flour, baking powder, salt and blueberry powder. Set aside.
Cream together butter, sugar, and brown sugar in a stand mixer fitted with a paddle attachment.  Add lemon zest.  Add eggs one at a time and mix until fully incorporated.
In a measuring cup, combine buttermilk, blueberry puree, and vanilla paste.
Alternate adding flour mixture and buttermilk mixture into creamed butter.  Mix until just incorporated.  Scrape down bowl as needed to ensure thorough mixing.
Divide batter into prepared cake rounds.  Level batter using a mini offset spatula or the back of spoon.  Bake for 30-35 minutes until toothpick inserted in center of cake comes out clean.
Blueberry Frosting:
Cream together butter and cream cheese in a stand mixer fitted with a paddle attachment.  Scrape down bowl as necessary to ensure mixture is smooth.
Add vanilla paste, blueberry powder, powdered sugar and salt.  Mix until throughly blended and smooth.
Note: Use a food processor to grind freeze dried blueberries into a fine powder.