Pie season is upon us! Bust out your pie tins and get ready for ginger blueberry pie!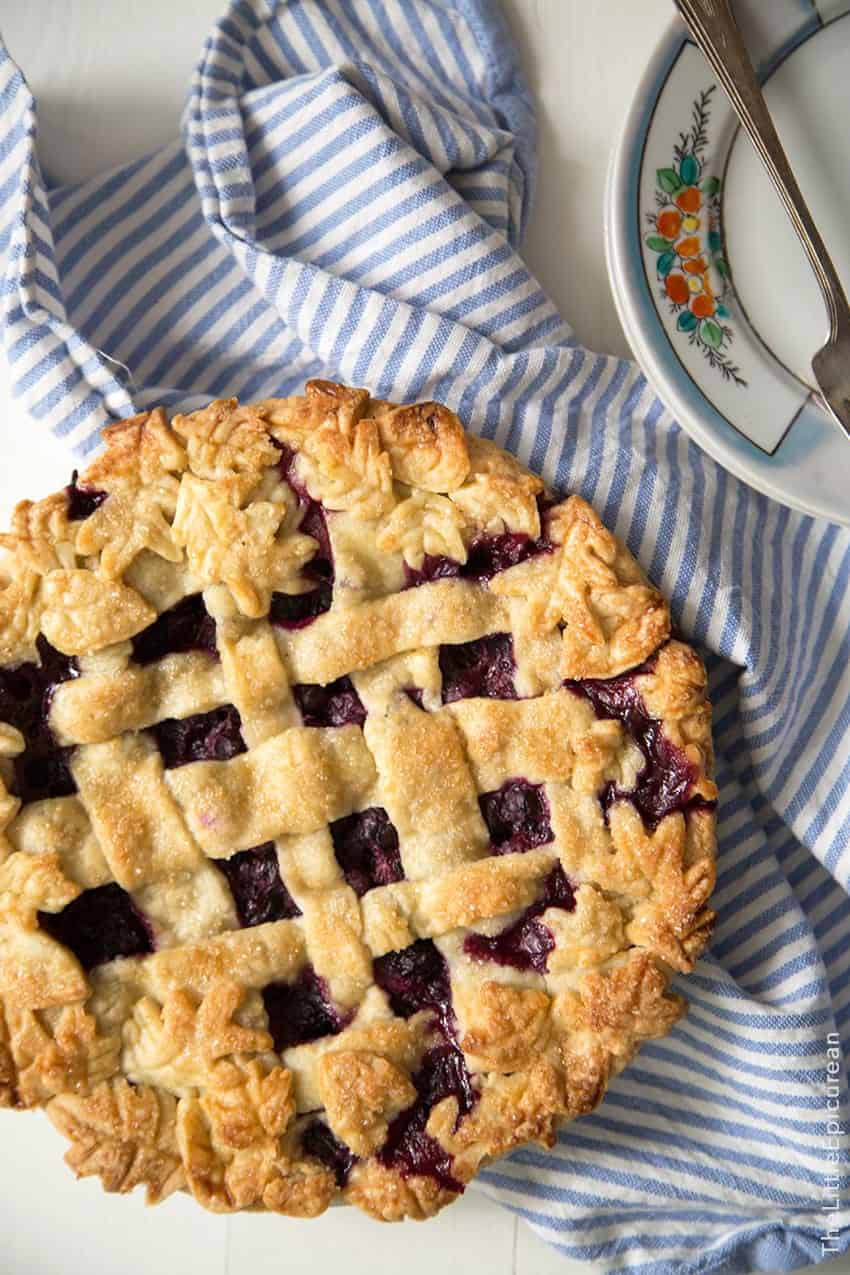 The other week, I had a tasty blueberry rhubarb pie from The Pie Hole.
The "bluebarb" pie I had was excellent. I loved the sweet blueberries mixed with the tart freshness of the rhubarb.
After I devoured the slice, I immediately wanted to create something similar.
Rhubarb season may be over… but I can still make blueberry pie variation!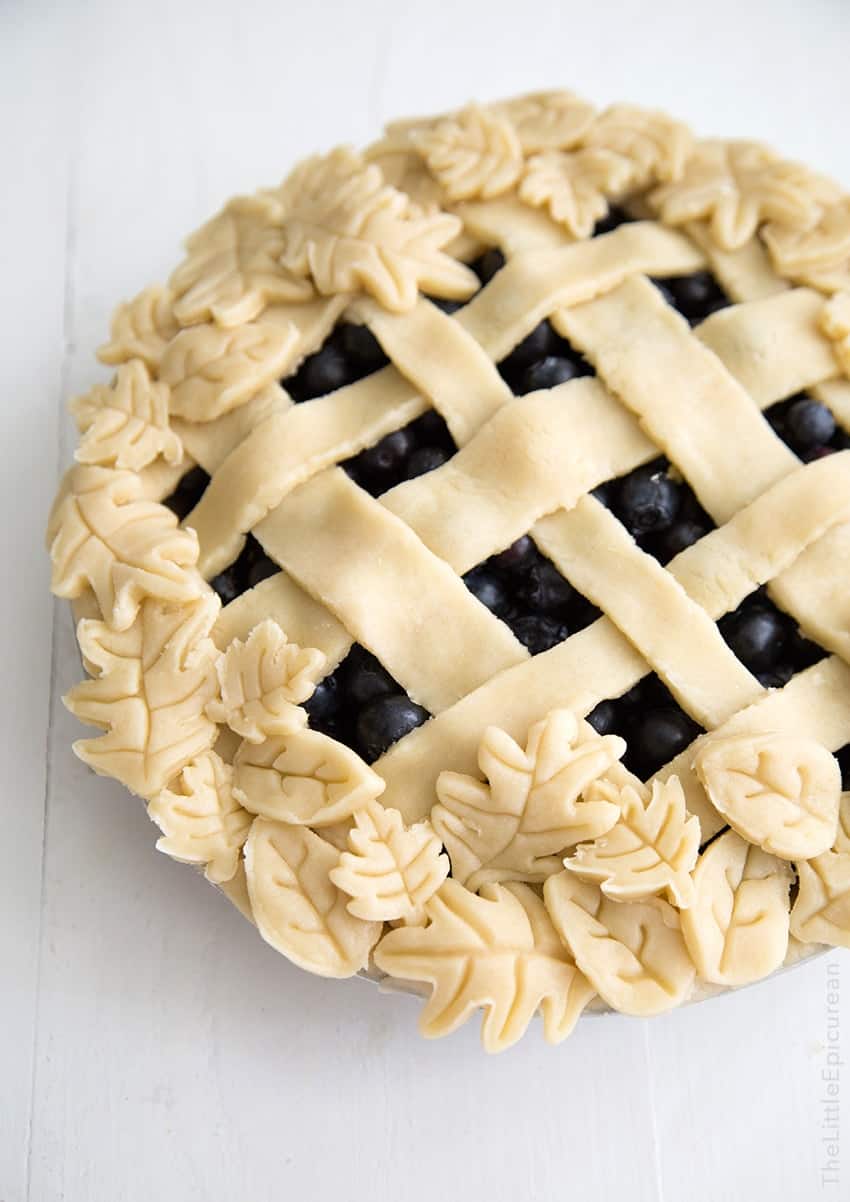 Blueberry Pie
Blueberry pie is the easiest fruit pie to make. No peeling involved, no seeds to discard.
I used a variety of leaf designs to line the perimeter of the pie and used a simple lattice for the middle.
Pies are so much prettier before baking. It's always a surprise to see how the pie designs will hold up during baking!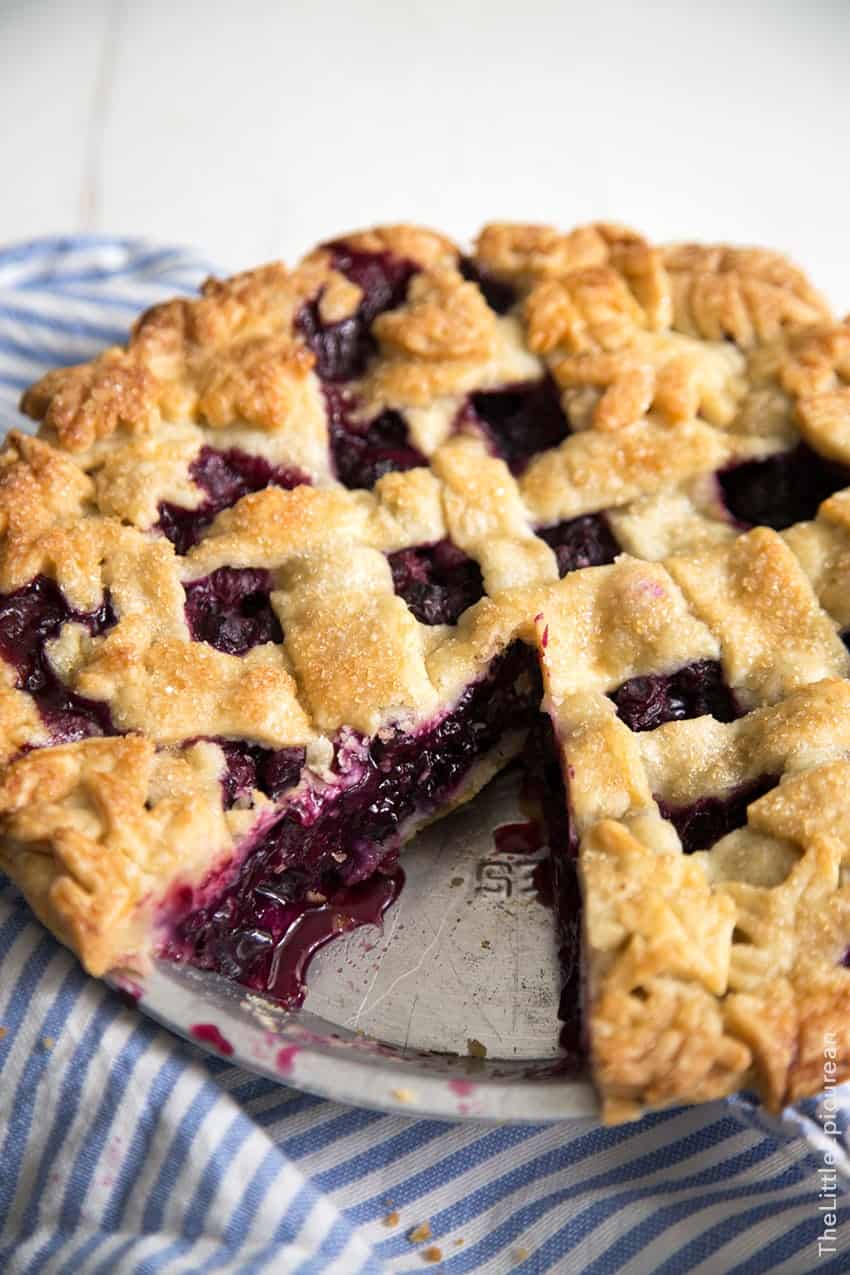 This new pie crust dough is a winner.
The finished pie turned out perfectly. I'd definitely give it an A+.
I adapted my usual go-to pie crust. Instead of adding egg yolks for additional fat, I used vegetable shortening.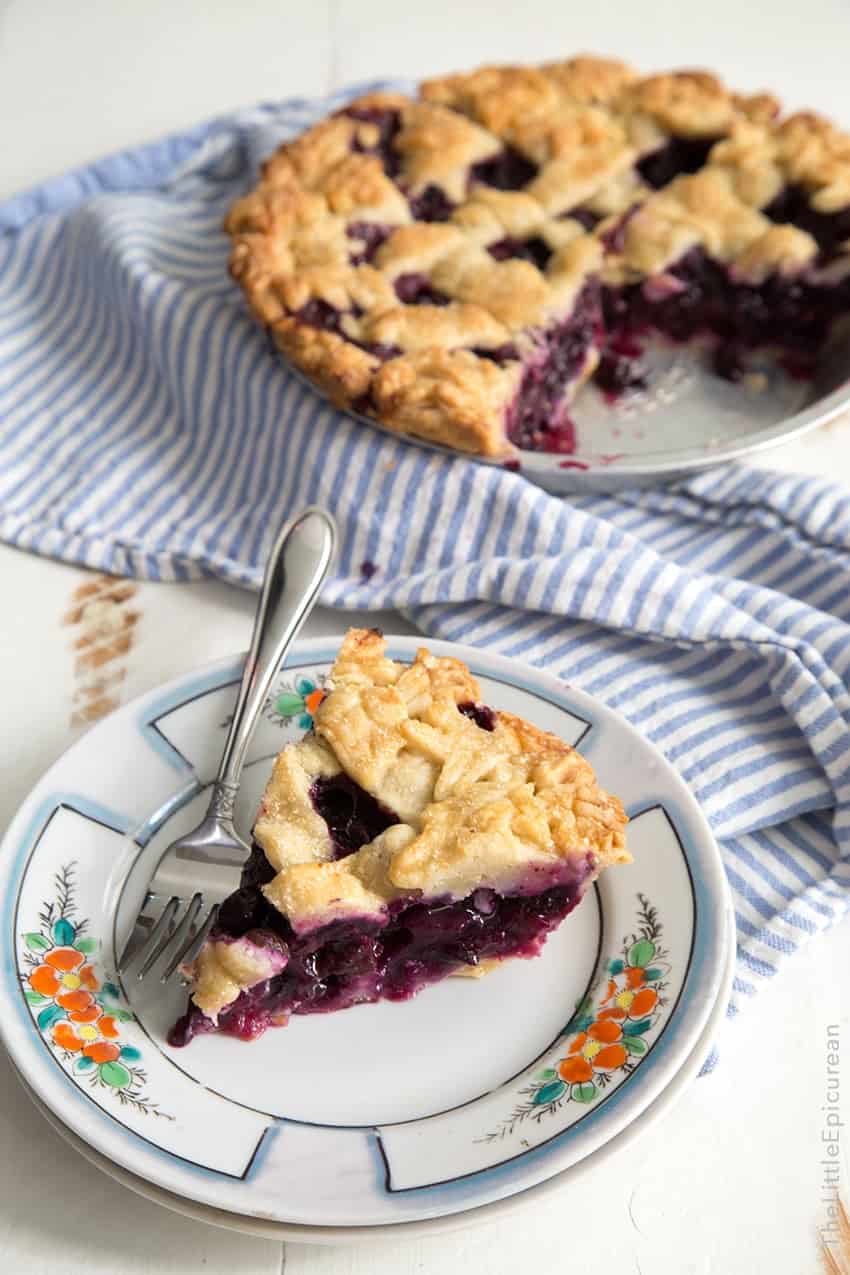 While I root for all-butter crusts, shortening does wonders for pie dough.
It adds fat without additional moisture making for a flakier crust.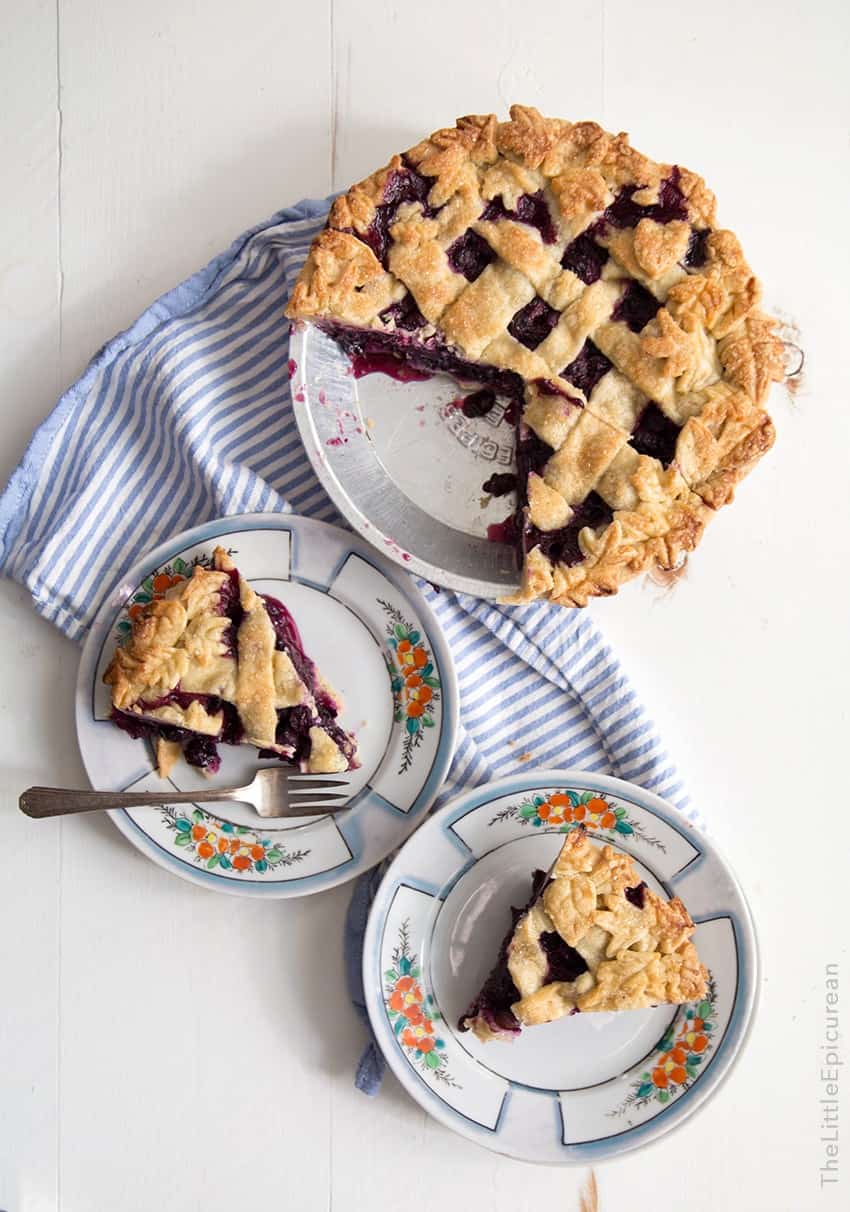 The finished pie still had many blueberries intact. It wasn't runny or gelatinous-jelly like.
One word of caution: cool the pie to room temperature before serving!
Hot fruit pies mean disaster. It'll be very difficult to slice and serve.
My suggestion, if you can't wait, let it chill in the fridge to speed up the process.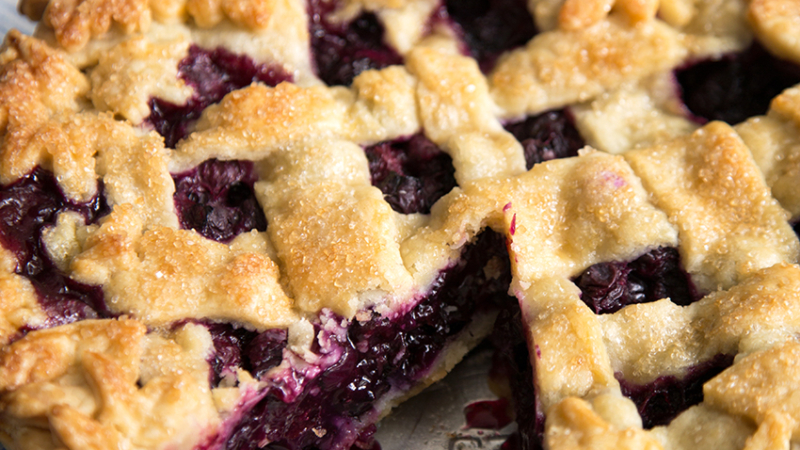 Ginger Blueberry Pie
Lattice topped pie bursting with sweet, juicy blueberries! The addition of ginger adds a pop of spice and intrigue.Yield: 9-inch pie
Ingredients
Pie Dough:
2 ¼

cup

all-purpose flour

(292 g)

1

teaspoon

fine sea salt

¼

cup

granulated sugar

(50 g)

1

cup

unsalted butter

(227 g), cut into tablespoons, cold

2

Tablespoon

vegetable shortening*

(25 g)

3

Tablespoons

ice water,

or more if needed
Ginger Blueberry Filling:
5

cups

fresh blueberries*

(800 g), rinsed and pat dry

5

Tablespoons

granulated sugar

(63 g)

1 ½

teaspoon

grated fresh ginger

½

teaspoon

fine sea salt

3

Tablespoon

cornstarch

(20 g)
Egg Wash and Topping:
1

large egg

pinch of fine sea salt

2

teaspoon

water

turbinado sugar, as needed to sprinkle
Instructions
Pie Dough:
In a food processor, pulse together flour, salt, and sugar. Add cold butter one tablespoon at a time with the food processor running. Stop the machine once the mixture is crumbly and like coarse sand in texture.

Transfer mixture to a bowl. Add shortening and 3 Tbsp of water. Fold to combine until dry ingredients are moistened. Dump shaggy dough onto a clean surface. Knead dough until it comes together.

If necessary, add 1 to 2 tablespoons of water if dough is too dry.

Divide dough into two equal parts. Flatten into disks and wrap in plastic wrap. Chill in the fridge for 15 minutes.
Ginger Blueberry Filling and Assembly:
Roll one dough on a lightly floured work surface. If dough is too hard or too cold, let it rest a few minutes until it is pliable. Roll dough to about 10-inches in diameter and about 1/4-inch in thickness. Place pie plate upside down over the rolled dough to make sure it is the correct size.

Generously butter the pie plate. Move dough into the prepared pie plate and firmly press it into the bottom and sides of pie plate. Trim excess dough. Cover with plastic wrap and let chill in the fridge.

Roll out the dough dough to 10-inches in diameter. Slice into strips. Punch out leaf shapes using cutters. Cover with plastic wrap and let chill in the fridge for 5 minutes.

Meanwhile, toss blueberries with sugar, grated ginger, salt, and cornstarch.

Pour blueberries in the chilled pie crust. Arrange chilled dough strips over the blueberry filling. Press the ends of the strips into the edges of pie crust. Arrange chilled leaf shapes as desired. Cover pie with plastic wrap and allow to chill in the fridge while oven preheats.


Egg Wash: whisk together egg, salt, and water until smooth.

Brush pie with egg wash. Sprinkle turbinado sugar, if desired.

Place an aluminum foil tent over pie. Bake for 30 minutes. Remove foil and bake for another 25-30 minutes until pie is golden brown and berry filling is bubbling. Cool to room temperature before slicing.
Notes
I used these 

pie dough cutters 

 
I tested this recipe using fresh blueberries. Frozen blueberries will not yield the same results.
For clean slices, chill pie in the fridge until cold. 
All images and text © The Little Epicurean
Looking for more fruit pies? Here are some favorites: