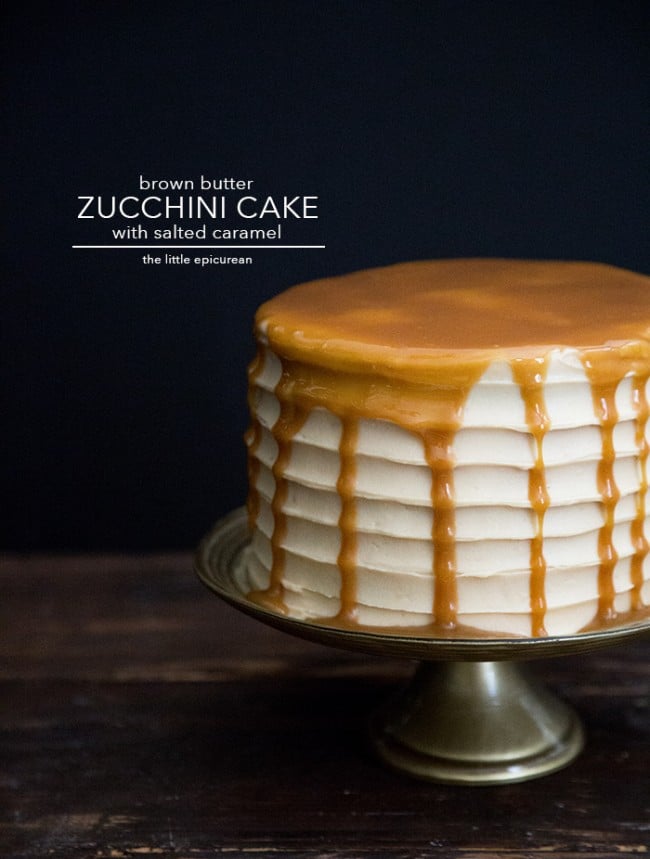 Can I offer you slice of my belated birthday cake?  Is 2 months too late to celebrate a birthday?  Okay, scratch that.  We're celebrating the fact that I completed another half marathon. (Check out my picture on Instagram.)
Hip hip hooray! Woot, woot!
In all honesty, I actually made this cake last week and I ate it all (with the help of Alex) well before the marathon.  Hey, I needed the carbs and energy to run 13.1 miles.  The calories were SO worth it.  Everything about this 6-inch, 5 layer, decadent and over the top cake is worth it.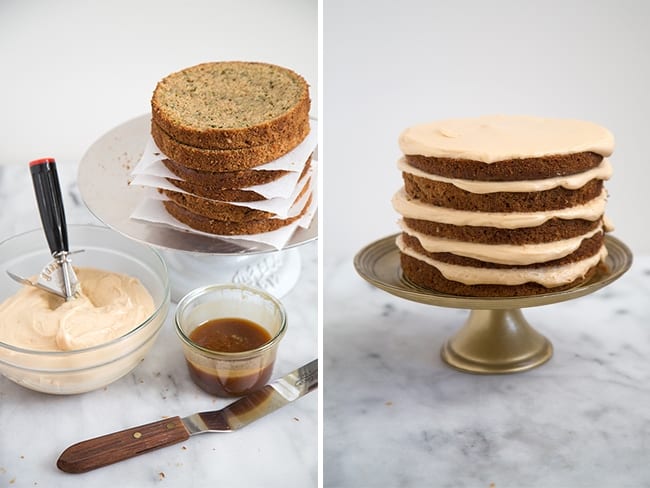 Originally I was going to make zucchini bread.  And then I thought, boring!  If carrots can be made into a delicious cake, why not a zucchini cake?!
I like vegetables.  I really do… especially when they are mixed into a cake.
Even though zucchini makes up a huge portion of the batter, this is hardly a healthy cake.  It's a brown butter zucchini cake with salted caramel cream cheese frosting and a heavy drizzle of salted caramel on top.  I wish that sounded healthy, however, it is absolutely fabulous and delicious!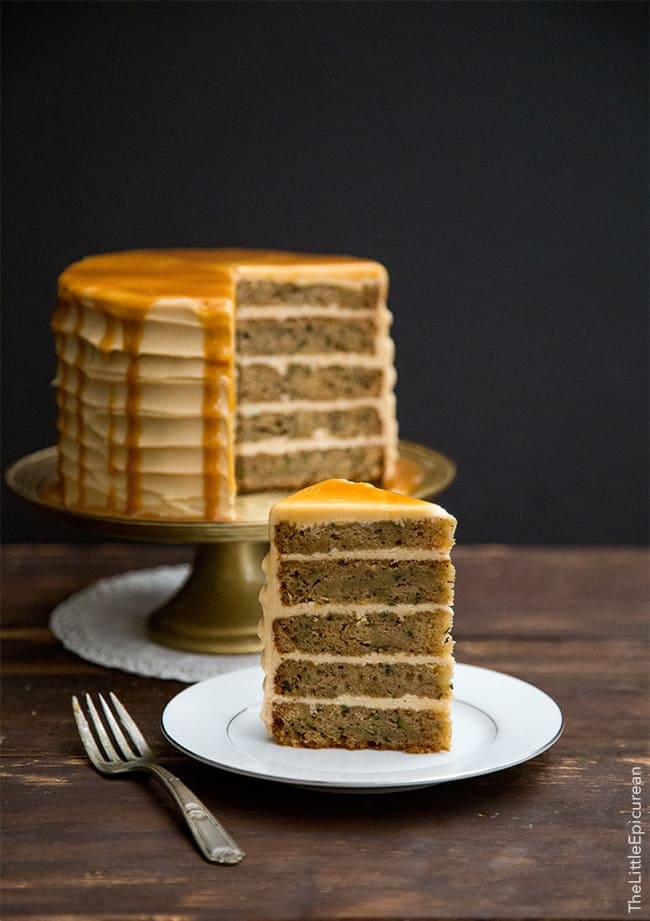 I've been eating too much chocolate lately and I needed a break.  When chocolate and I are not on speaking terms, I turn to brown butter.
Brown butter is a wonderful, wonderful friend.  It makes baked goods taste nutty without any nuts, it makes kitchens and homes spell amazing without any artificial air fresheners, and obviously it makes for the BEST pasta ever (see Brown Butter Spaghetti with baby kale and roasted butternut squash).
I'm going to have two slices.  One slice counts as my dessert of the day, and the second slices counts toward my daily vegetable intake.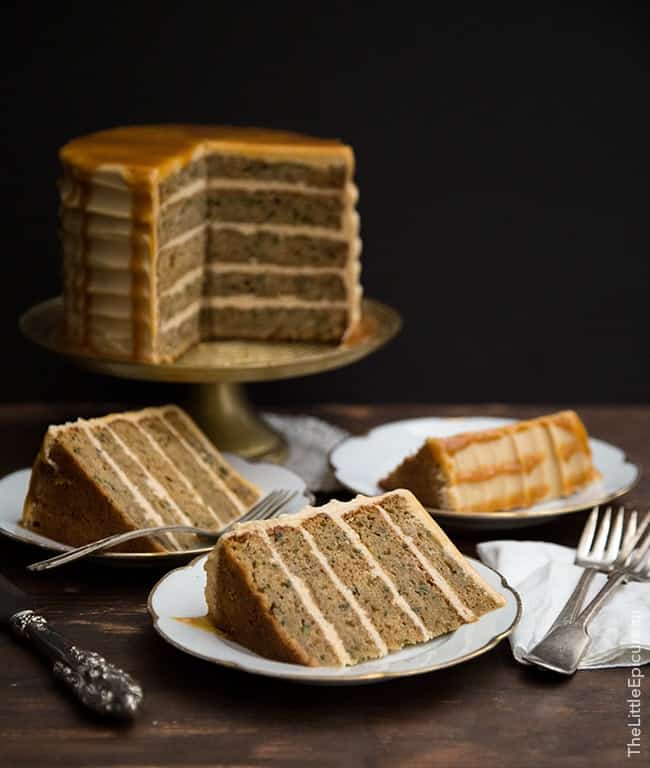 Like zucchini bread, this zucchini cake is moist but a whole lot tastier because of the brown butter.  I've paired it with a simple cream cheese frosting sweetened with homemade salted caramel.  (I took the caramel recipe I used in my banana cake with whipped caramel.)  If you are not up to making caramel, high quality store bought caramel also works.  The recipe will yield three 6-inch cakes.  I split each cake in half to create a total of six cake layers.  However, I only used five layers to build the cake. I like to reserve one layer for taste-testing (but mostly, snacking).
Brown Butter Zucchini Cake
Like zucchini bread, but better! This brown butter zucchini cake is moist and super flavorful. It is paired with a simple cream cheese frosting sweetened with homemade salted caramel.
Yield: three 6-inch cakes
Ingredients:
Brown Butter Zucchini Cake:
1 cup unsalted butter, cut into tablespoons
2 1/2 cups all-purpose flour
1 tsp baking powder
1/2 tsp baking soda
1 1/2 tsp ground cinnamon
1/2 tsp fine sea salt
3/4 cup granulated sugar
3/4 cup dark brown sugar, packed
4 large eggs, room temperature
1 pound shredded zucchini, about 3 cups packed
Salted Caramel:
3/4 cup + 2 Tbsp granulated sugar
3 Tbsp water
1/2 cup heavy cream, heated
1 tsp fine sea salt
3/4 cup + 2 Tbsp unsalted butter, softened, cut into tablespoons
Carmel Cream Cheese Frosting:
8 oz cream cheese
1/2 cup unsalted butter
2 cups powdered sugar
pinch of salt
Directions:
Brown Butter Zucchini Cake:
Place butter in a heavy bottomed sauce pot.  Melt butter over medium heat.  Once butter is melted, continue to cook over medium low heat until butter has browned and is fragrant.
During this cooking process, the butter will foam up.  Swirl the pan occasionally to check for doneness.  Carefully watch the butter because it can quickly burn and blacken.  When it is done it will smell nutty.  Pour the brown butter into another container and allow it to cool down. (If you want to speed up the process, let it chill in the fridge for 10 minutes or freezer for 5 minutes.)
Preheat oven to 350 degrees F.  Butter three 6-inch cake pans and line bottom with parchment paper.  Set side.
In a medium bowl, whisk together flour, baking powder, baking soda, cinnamon and salt.  Set aside.
In the bowl of a stand mixer fitted with paddle attachment, cream cooled brown butter with sugar and brown sugar.  Mix until sugar is thoroughly moistened.  Add eggs one at a time and continue to mix on low.
Add flour mixture and mix on low speed until combined.  Scrape down down as needed to ensure thorough mixing.
Add shredded zucchini and mix until evenly distributed.
Divide cake batter between the three prepared cake pans.  Level out batter using the back of spoon or a mini offset spatula.  Bake for 35-40 minutes until a toothpick inserted in center of cake comes out clean.  Let cool for 5-8 minutes before molding.  Let cool to room temperature on a wire rack.
Salted Caramel:
Using a heavy bottomed sauce pot, heat sugar and water on high heat.  Let sugar melt.  Do not stir or agitate mixture to prevent unwanted crystallization.
Lower heat and allow sugar syrup to color.  Remove from heat one syrup is aromatic and amber in color.
Warm up heavy cream in the microwave for 45 seconds.  Add about 1/3 of warm cream to sugar syrup and whisk.  BE VERY CAREFUL.  The mixture will bubble and steam vigorously.  Add remaining warm cream and continue to whisk until mixture has slightly cooled.
Add butter and salt.  Whisk until mixture is homogenized.  Let cool to room temperature.  Reserve about 1/2 cup of caramel.  Transfer remaining cooled caramel to the bowl of stand mixer fitted with a paddle or whisk attachment.
Whip caramel on medium speed for 5-10 minutes until caramel has thickened to the consistency of buttercream and is much lightly in color.  Set aside until ready for
Caramel Cream Cheese Frosting:
In the bowl of a stand mixer fitted with a paddle attachment, cream together butter and cream cheese until smooth.  Scrape down bowl as needed.
Add whipped caramel.  Mix to combine.  Add powdered sugar and salt.  Mix until smooth.
Using reserved caramel to drizzle on top of finished cake.
Note: If you are not up to making caramel, high quality store bought caramel can be used in it's place.  Adjust the amount caramel used in the frosting according to your taste.