Layered banana cake with whipped sea salt caramel. Tried of making banana bread? This cake is a great way to use up those ripe bananas!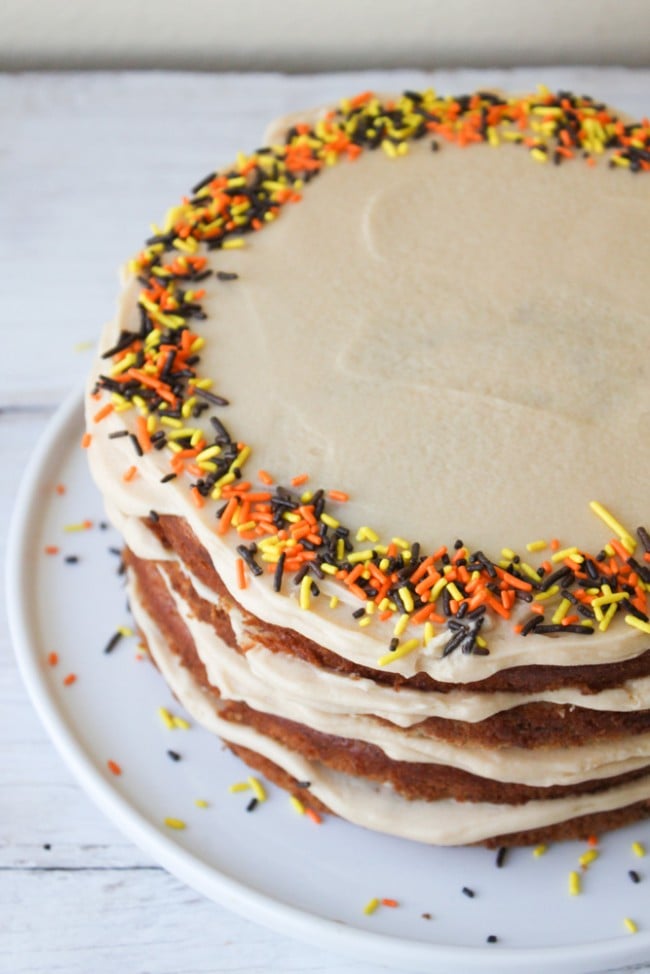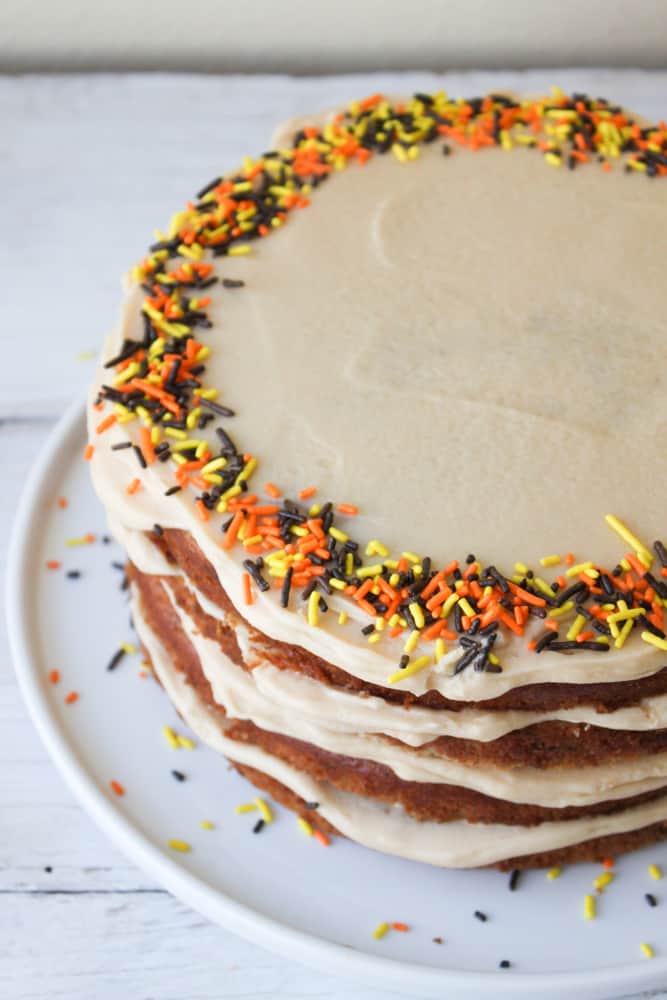 I was so excited for Autumn that I made a cake. That's normal for bakers, right?
Bananas were on sale last week- 3 pounds for 99 cents. I'm a sucker for sales, not only for clothing and shoes, but also for produce. What's a girl to do? Obviously I bought three pounds of bananas. I can't pass on a deal like that.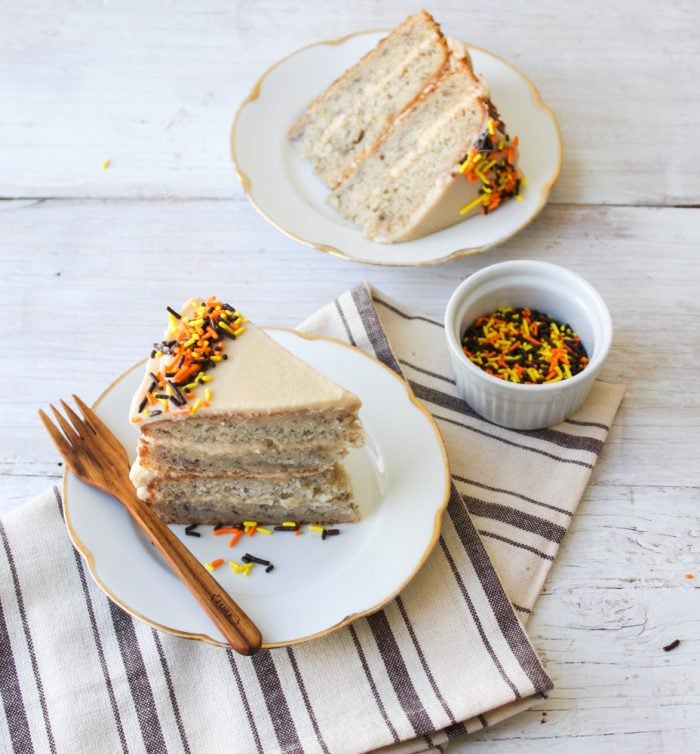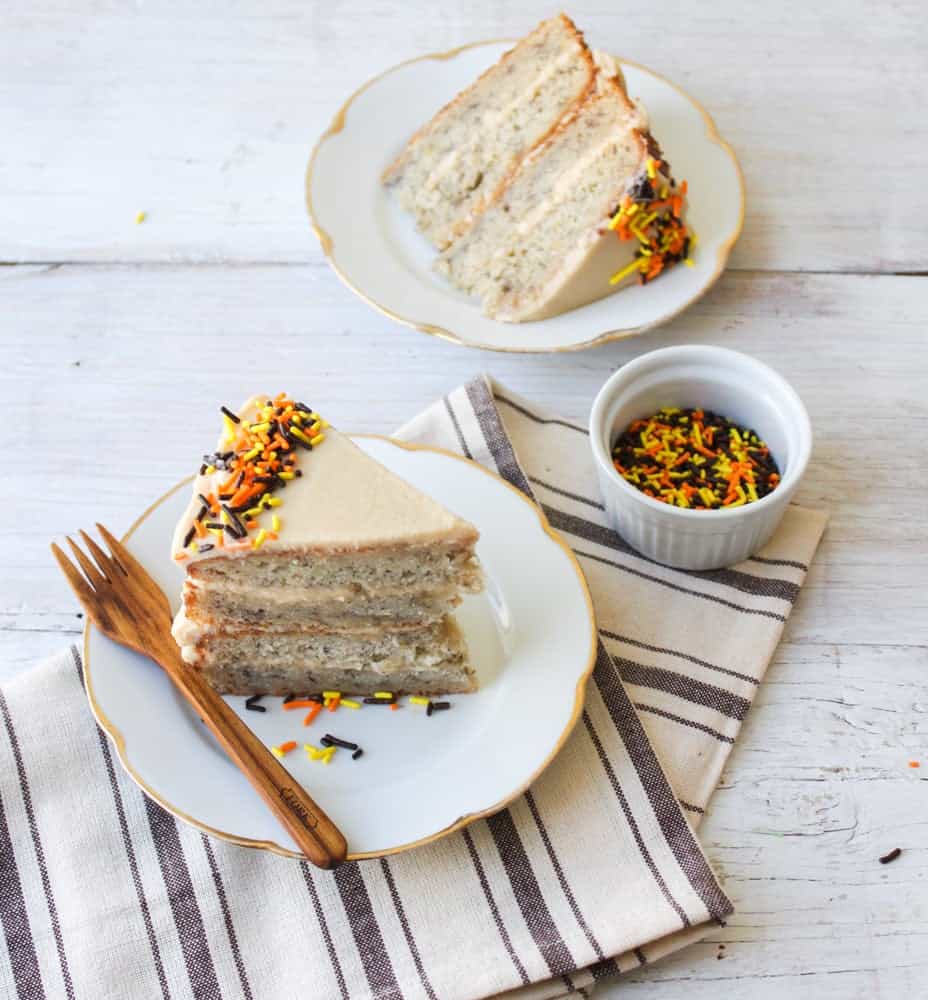 So I've been eating bananas day in and day out. I can't stomach another banana and they are getting far too ripe. I knew I would end up with too many bananas.
But no worries. When there is an abundance of ripe bananas, baking is always the solution. (see: choco-hazelnut banana bread and double chocolate chip banana bread.
Rather than make my usual banana bread, I made banana cake. With the slight autumn breeze flowing in the kitchen, I was inspired to make caramel. Not just any caramel, but whipped sea salt caramel.
I am more than pleased with the results of this spontaneous cake. The cake is so moist and flavorful; it could be snacked on all by itself.
But the show stopper here is the whipped caramel.  
Because of the amount of butter in this caramel recipe, it has the ability to transform into a frosting.  Whip enough air into the caramel and you get this amazing, rich, smooth and creamy caramel frosting.  
It's sort of like eating a Werther's Original caramel, but better. The finished cake is deeeelicious to say the least.
I'm glad Autumn is here.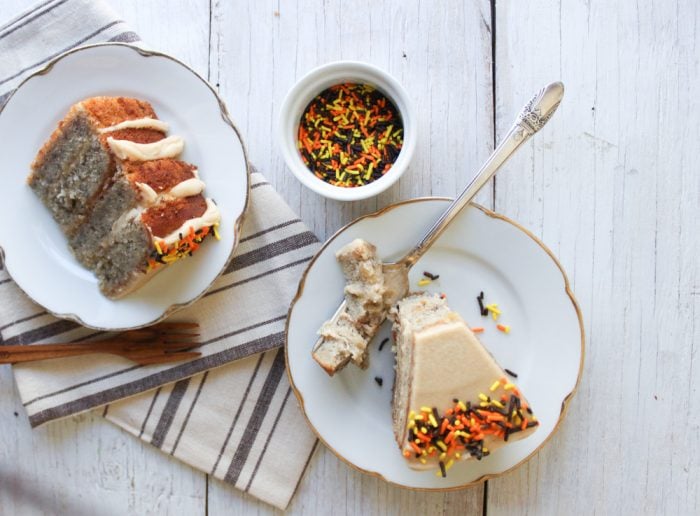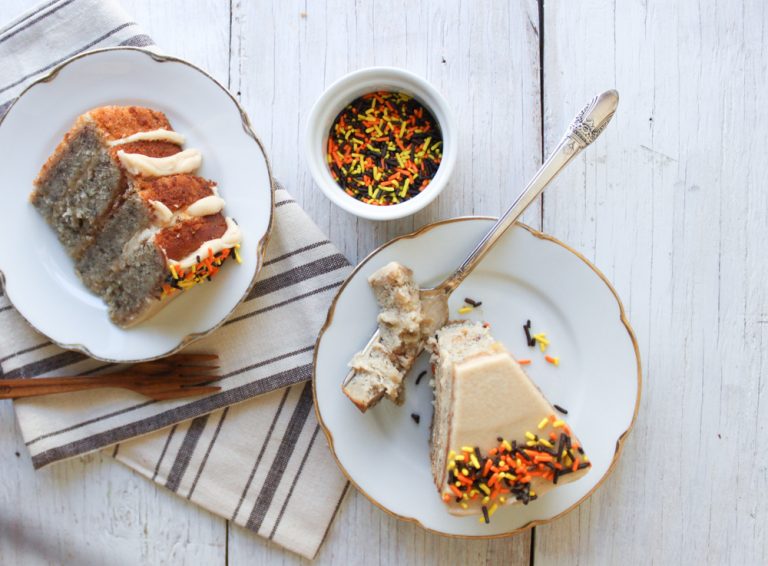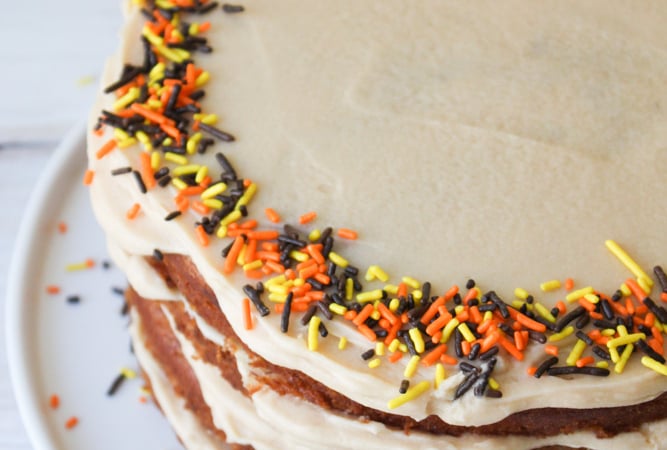 Banana Cake with Whipped Sea Salt Caramel
Ingredients
Banana Cake:
¾

cup

unsalted butter

softened

1 ¼

cup

granulated sugar

3

large eggs

room temp

1

teaspoon

pure vanilla extract

4

ripe bananas

mashed

3

cup

all-purpose flour

1

teaspoon

baking soda

1

teaspoon

baking powder

1

teaspoon

ground cinnamon

½

teaspoon

kosher salt

1

cup

buttermilk

¼

cup

sour cream
Whipped Sea Salt Caramel:
1 ¾

cup

granulated sugar

¼

cup

water

1

cup

heavy cream

heated

2

teaspoon

fine sea salt

or kosher salt

1 ¾

cup

unsalted butter

softened, cut into tablespoons
Instructions
Banana Cake:
Preheat oven to 350° F. Line two 9-inch round cake pans with parchment paper. Set aside.

In the bowl of a stand mixer fitted with a paddle attachment, cream butter until smooth. Add sugar and mix until creamy. Add eggs one at a time and mix until incorporated.

Add vanilla and mashed bananas. Mix until combined.

In a medium bowl, whisk together flour, baking soda, baking powder, cinnamon and salt.

In another bowl, mix together buttermilk and sour cream. NOTE: It will be chunky, that's okay!

Add ⅓ of dry mixture to mixing bowl, followed by half of buttermilk. Repeat and end with remaining ⅓ of dry mixture. Mix until flour is incorporated into batter.

Divide batter between the two prepared cake pans. Smooth out and level batter using mini off spatula or spoon.

Bake for 30-40 minutes, rotating pan halfway thru baking. Insert toothpick in center of cake to check for doneness. Toothpick should come out clean. Otherwise, bake for another 5-10 minutes or so.

Cool cake in pan for 5 minutes. Then loosen edges of cake with an offset spatula. Remove cake from pan and let cool to room temperature on wire rack.
Whipped Sea Salt Caramel:
Using a heavy bottomed sauce pot, heat sugar and water on high heat. Let sugar melt. Do not stir or agitate mixture to prevent unwanted crystallization.

Lower heat and allow syrup to color. Remove from heat once sugar syrup is aromatic and amber in color.

Warm up heavy cream in the microwave for 1 minute. Add about ⅓ of warm cream to sugar syrup and whisk. BE VERY CAREFUL. The mixture will bubble and steam vigorously. Add remaining warm cream and continue to whisk until mixture has slightly cooled.

Add butter and salt. Whisk until mixture is homogenized. Let cool to room temperature.

Transfer cooled caramel to the bowl of stand mixer fitted with a paddle or whisk attachment. Whip caramel on medium speed for 5-10 minutes until caramel has thickened to the consistency of buttercream and is much lighter in color.
Assembly:
Once cake has cooled to room temperature, slice each cake into two even layers.

Place one cake round on cake board. Spread about ½ cup of whipped caramel frosting on cake using an offset spatula. Repeat with remaining cake layers.

Chill cake in the refrigerator until ready to serve. Let cake sit at room temperature for about 20 minutes before slicing into.