During my high school years (circa late 90s- early 2000s), I relied heavily on All Recipes as my go-to source for baking adventures.  This was before I started my crazy cookbook collection, before there were thousands of food blogs to learn from, and when Food Network still played reruns of Emeril Live and dubbed Japanese Iron Chef.
I could only bake chocolate chip cookies for so long before I didn't want to eat them anymore.  I would scour All Recipes for new cookies I've never tasted or tried.  That's how I was first introduced to rugelach.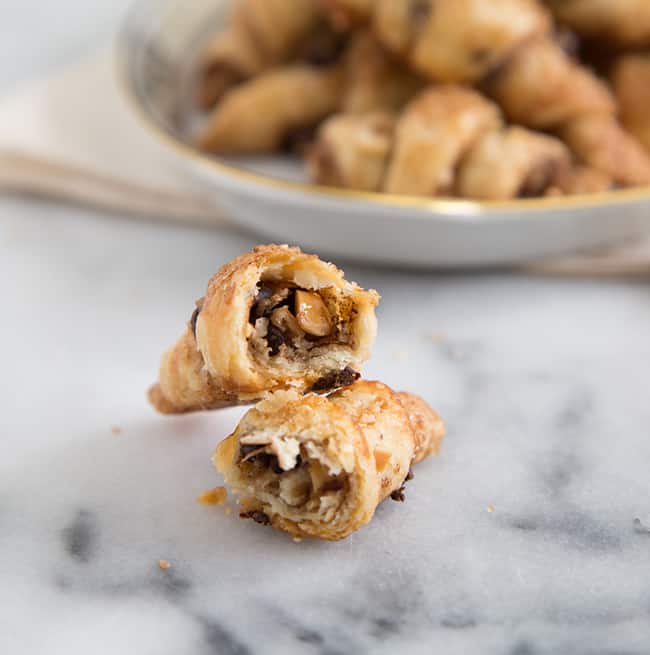 The first time I made rugelach, I remember my friends went into a frenzy.  None of them had ever tried this cookie pastry before.  We devoured the four dozen batch I made in one night.  Oh, the voracious appetite of high schoolers.
What's not to love about this sweet crescent shaped treat?  It's flaky like a palmier (also known as elephant ears), it looks like a cute tiny croissant, and the subtle cream cheese flavor is so addicting.  Till this day, some ten years after high school, I still have friends that ask me when I'm going to make them a batch of rugelach.  My answer is always the same: move and be my neighbor.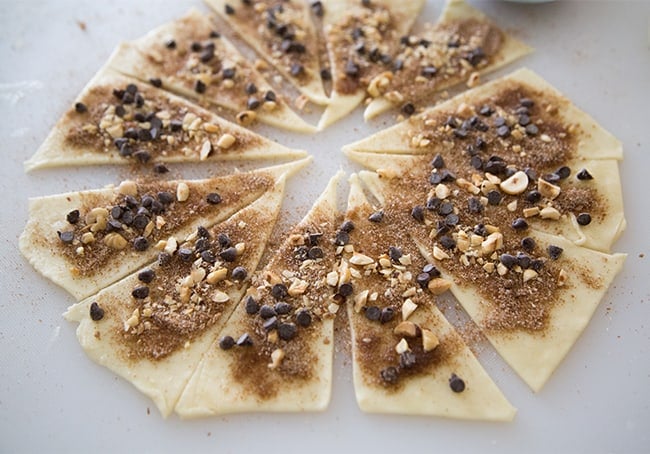 I find the easiest way to make rugelach is by rolling the dough into a circle and then slicing it like a pizza to get little wedges.  Rugelach can be filled with a variety of ingredients: raisins, walnuts, jams and jellies.  Since I've been on a Nutella kick lately, I made this chocolate hazelnut version.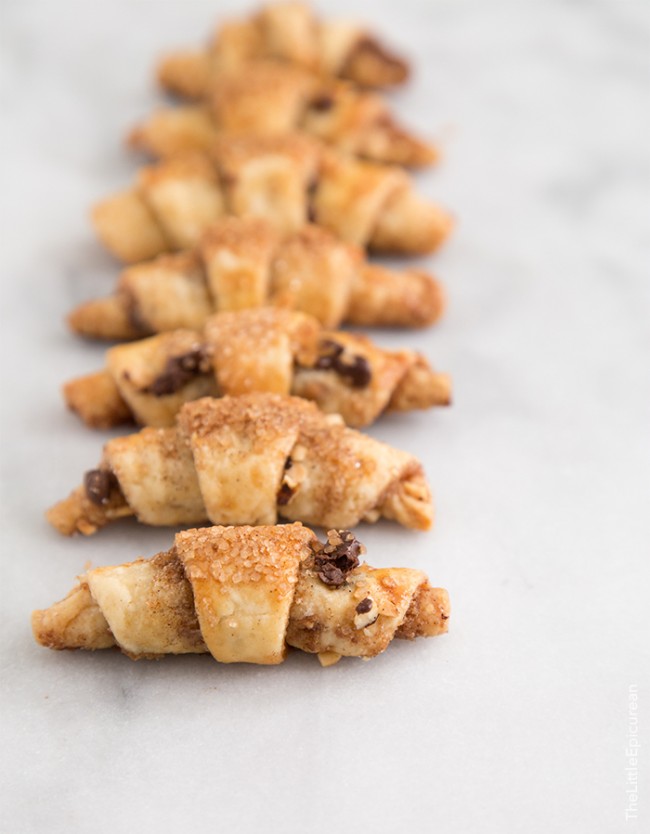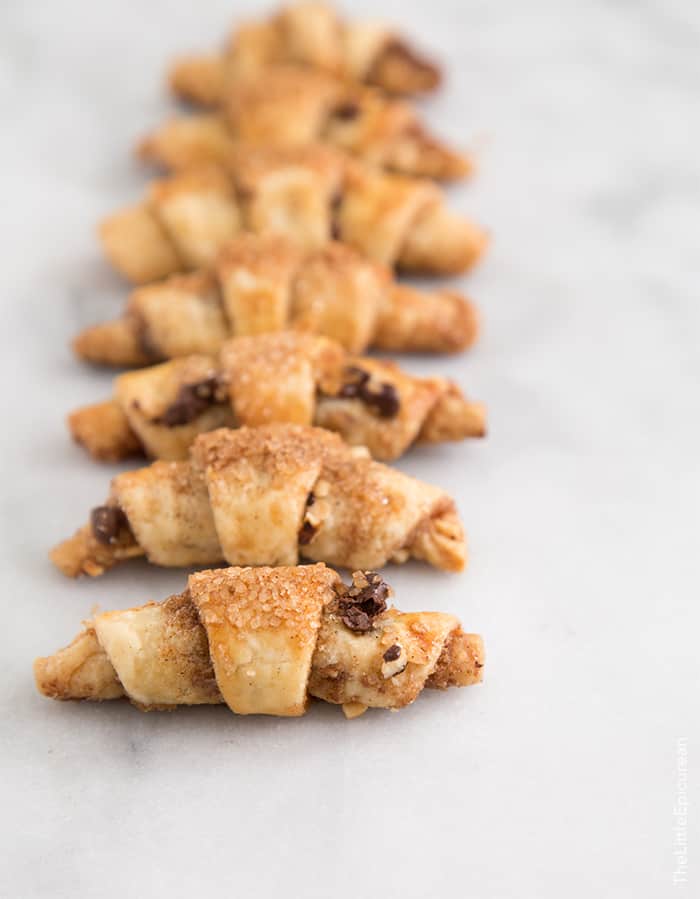 Because I'm big on crunch, I sprinkled the outside of the rugelach with turbinado sugar.  With the melted chocolate chips, toasted halzenuts, and flaky dough, this chocolate hazelnut rugelach is one cookie I can't ever tire of!
Chocolate Hazelnut Rugelach
Yield: makes about 4 dozen
Ingredients:
Dough:
1 cup unsalted butter, softened
8 oz cream cheese, room temperature
1/2 tsp kosher salt
2 cups all-purpose flour
Filling:
1/4 cup dark brown sugar, packed
1/4 cup granulated sugar
2 tsp ground cinnamon
3 Tbsp unsalted butter, melted, cooled
1 1/4 cup hazelnuts, toasted, skinned, chopped
3/4 cup mini chocolate chips
Topping:
3 Tbsp turbinado sugar
1/2 tsp ground cinnamon
1 large egg white
2 tsp water
Directions:
Dough:
In the bowl of a stand mixer fitted with a paddle attachment, beat together butter and cream cheese until smooth.  Add salt and flour.  Mix on low speed until ingredients are fully incorporated. Scrape down bowl as needed during mixing.
Transfer dough to a clean working surface.  Divide into 4 equal parts.  Pat into a flat disk about 1/2 inch in thickness.  Wrap in plastic wrap.  Place in the fridge and allow to chill for at least 1 hour until firm (or overnight).
Filling:
In a small bowl, combine brown sugar, granulated sugar, and ground cinnamon.  Set aside.
Place cooled, melted butter in a separate small bowl.  Keep chopped hazelnut and mini chocolate chips in separate bowls as well.
Assembly:
Preheat oven to 350 degrees F.  Line several baking sheets with parchment paper.  Set aside.
Work with one chilled dough disk at a time.  On a lightly floured surface, roll dough to circle with a thickness of about 1/4 inch.  Brush melted butter over the entire piece of dough.  Sprinkle about 1/4 of the sugar mixture over dough.  Sprinkle 1/4 of chopped hazelnuts and chocolate chips.  Press hazelnuts and chocolate chips into the dough.
Using a pizza cutter or sharp knife, cut the dough into wedges (triangles).  Beginning with the wide outside edge, roll dough.  Place cookies with the small tucked end underneath.  Space cookies about 1 1/2-inches from one another.
Repeat with remaining 3 disks of dough.
Whisk together egg white and water.  Lightly brush tops of rolled cookies with egg wash.  Sprinkle with cinnamon-turbinado mixture.  Bake for 18-20 minutes until lightly golden brown.  Let cool in pan for 3 minutes before transferring to a wire rack to cool to room temperature.