Guava rugelach made with cream cheese based dough and filled with guava jam, cinnamon sugar, and chopped walnuts.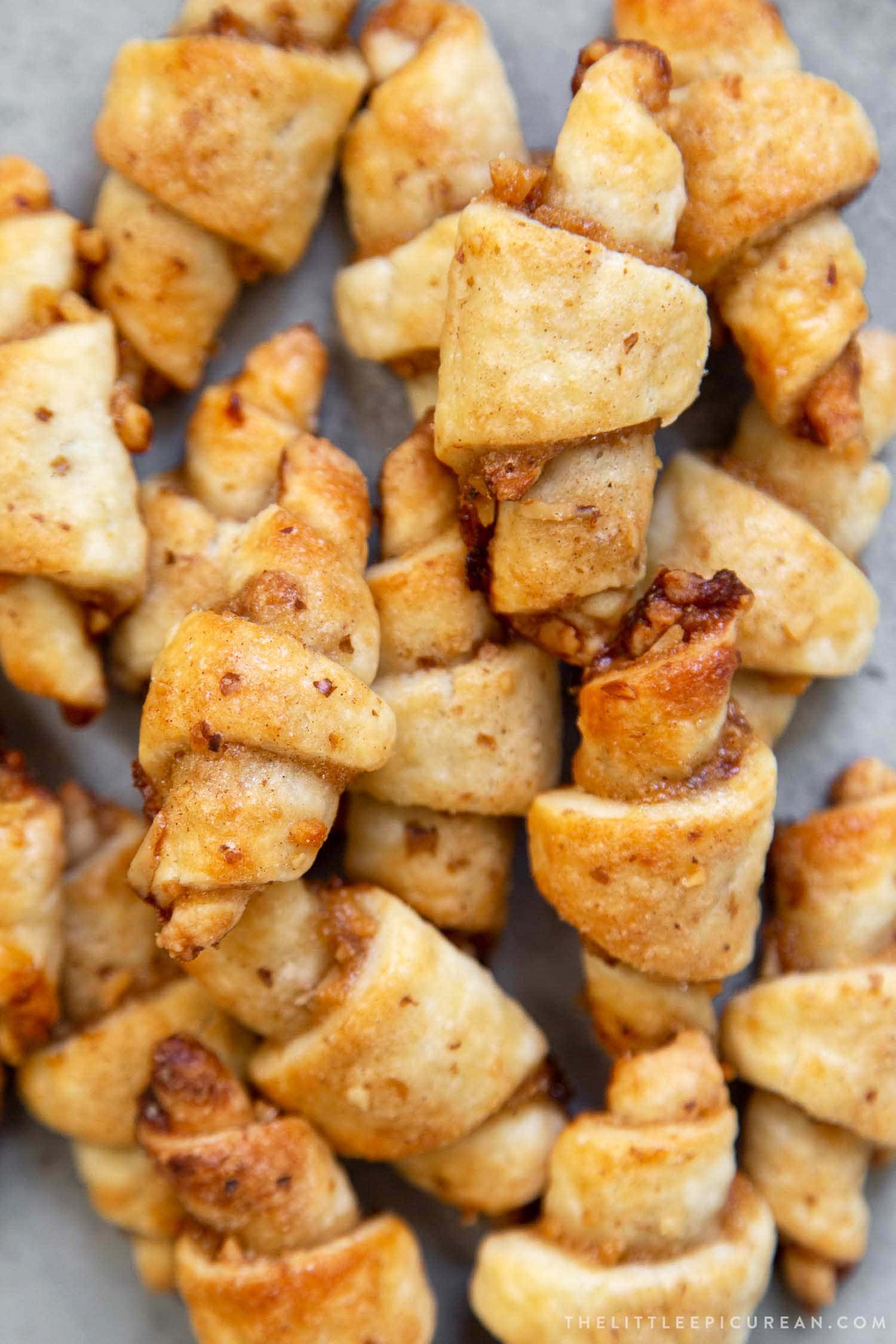 It's part cookie, part pastry, and all delicious.
Rugelach is a rolled pastry filled with your choice of fruit, nut, or chocolate. It is a traditional Eastern European treat that has become popular worldwide.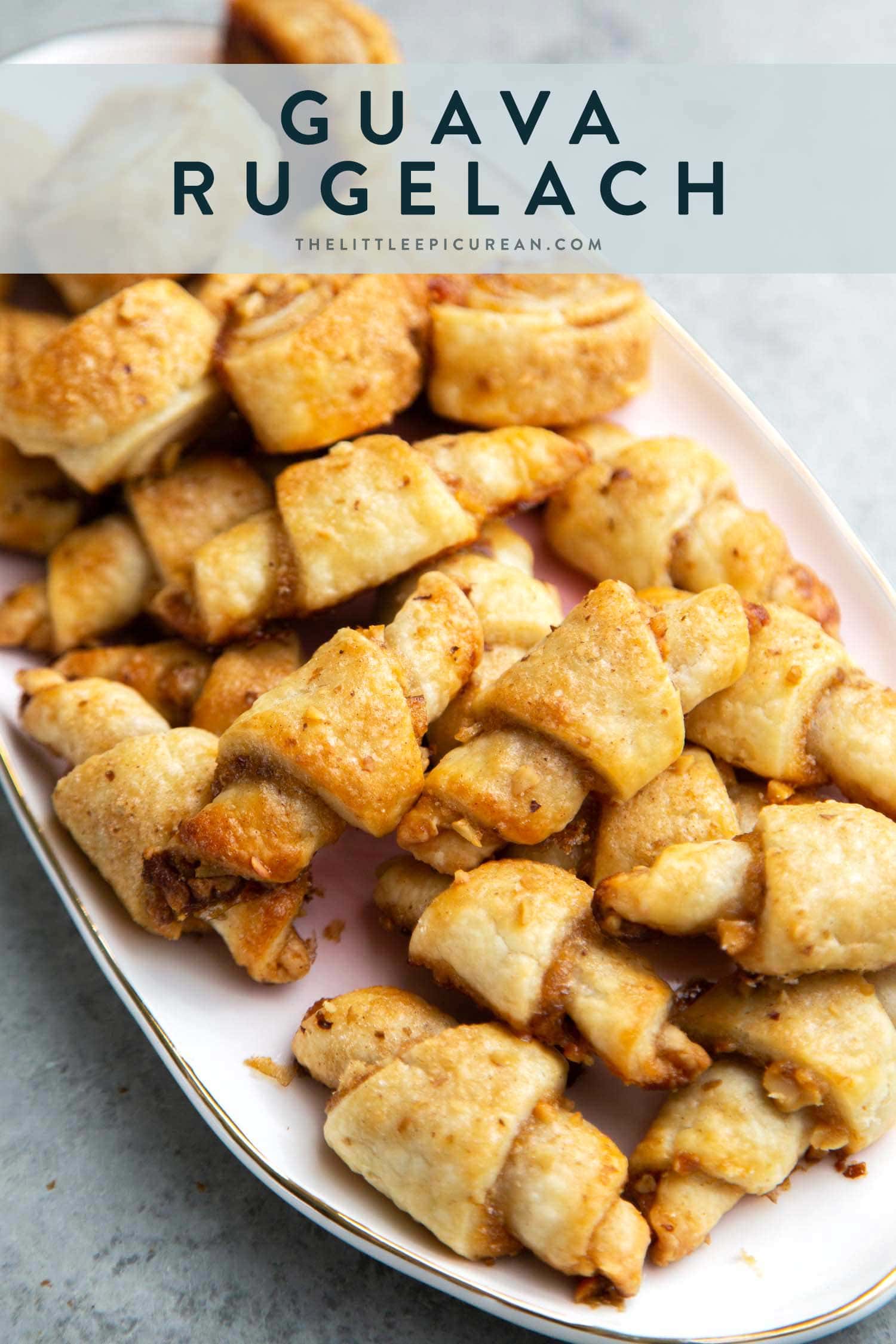 How to assemble rugelach
There are two ways to fill and assemble these little treats:
the traditional crescent shape
slice and bake round shape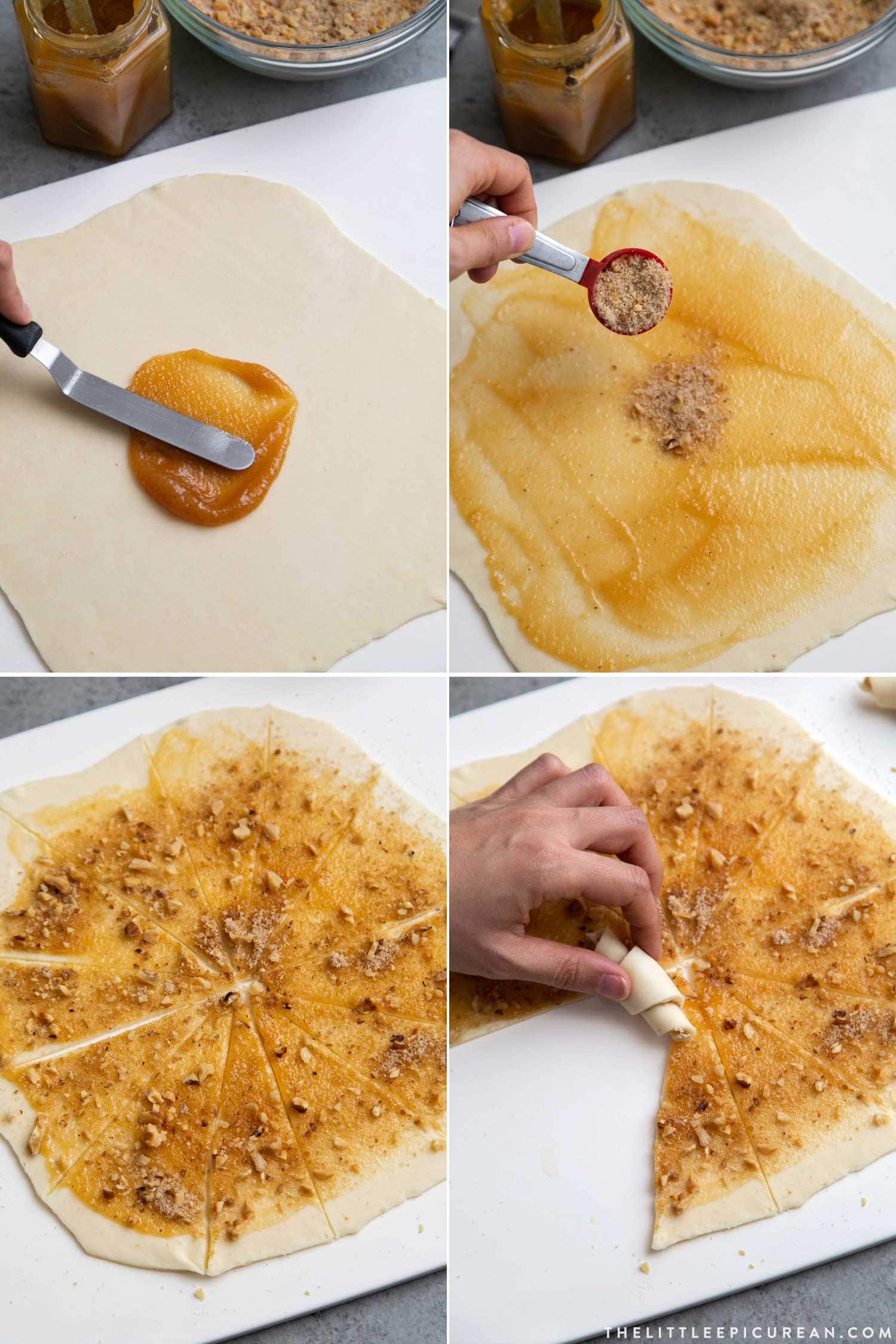 Crescent Shape Method
Roll dough out to a circle. Spread guava jam all over the surface.
Sprinkle cinnamon sugar and finely chopped walnuts all over.
Divide dough into 12 equal sized wedges (like a pizza!).
Starting from the outside, roll the dough inward.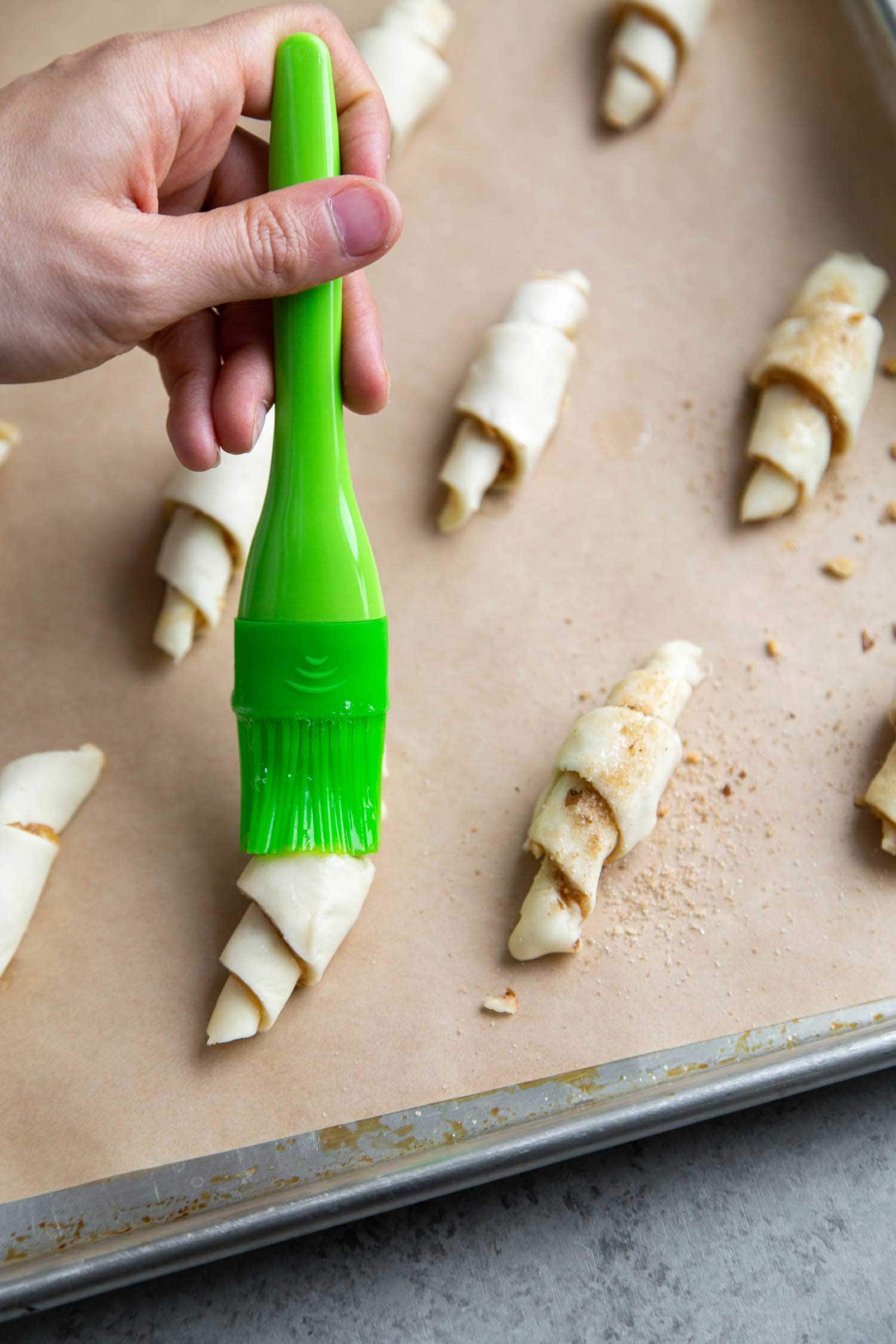 The rolled up rugelach can be left straight as photographed above, or bent along the edges to create more of a crescent moon shape like these chocolate hazelnut rugelach.
Before baking, the assembled guava rugleach is brushed with egg wash and topped with additional cinnamon sugar mixture.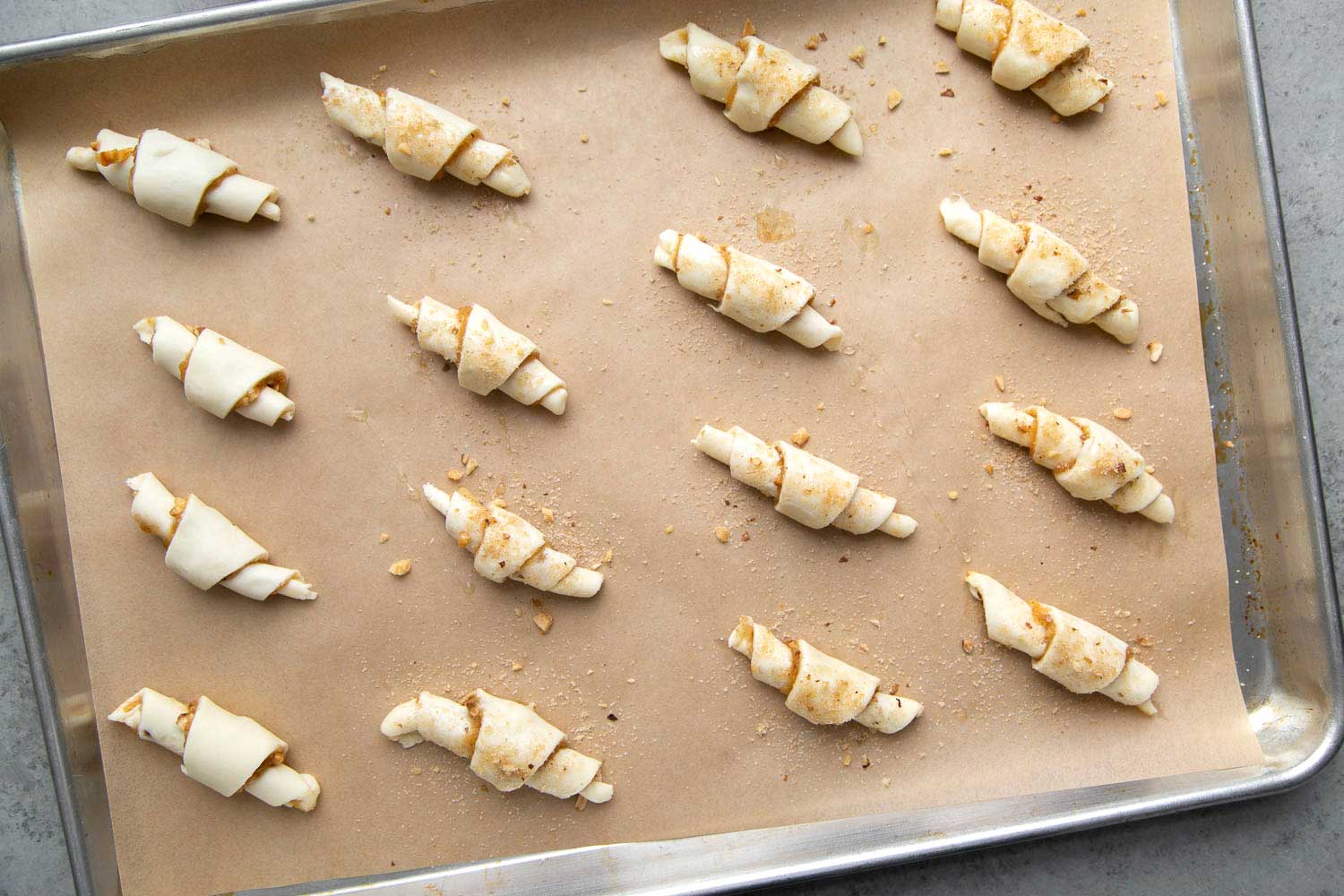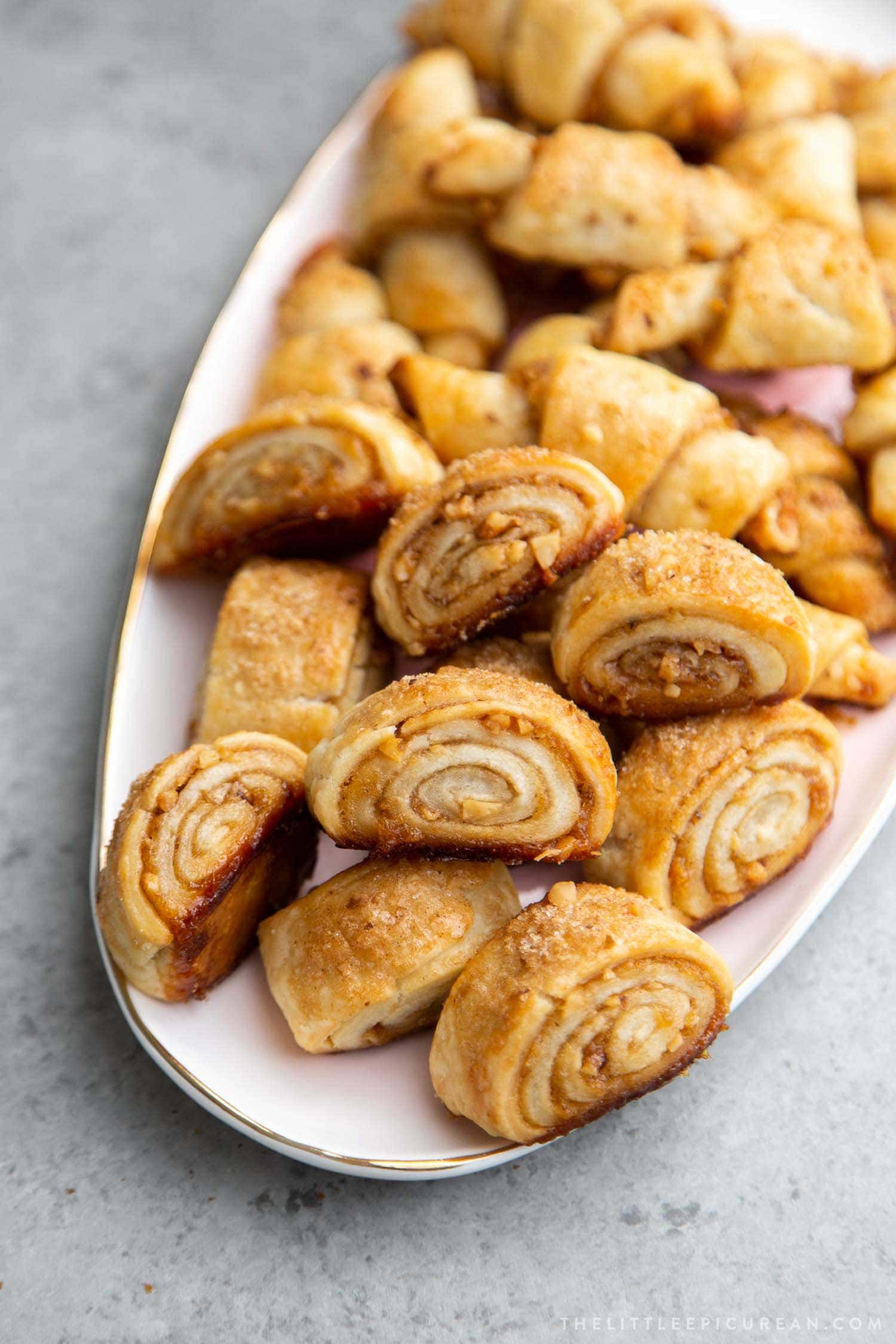 Slice and Bake Method
I was introduced to this "slice and bake" method from Dorie Greenspan's Baking Chez Moi. Learn more about the process in this raspberry rugelach recipe post.
It makes rugelach production a breeze! It's definitely a time saver and great for the busy holiday season.
These slice and bake rugelach are much smaller bite size pieces.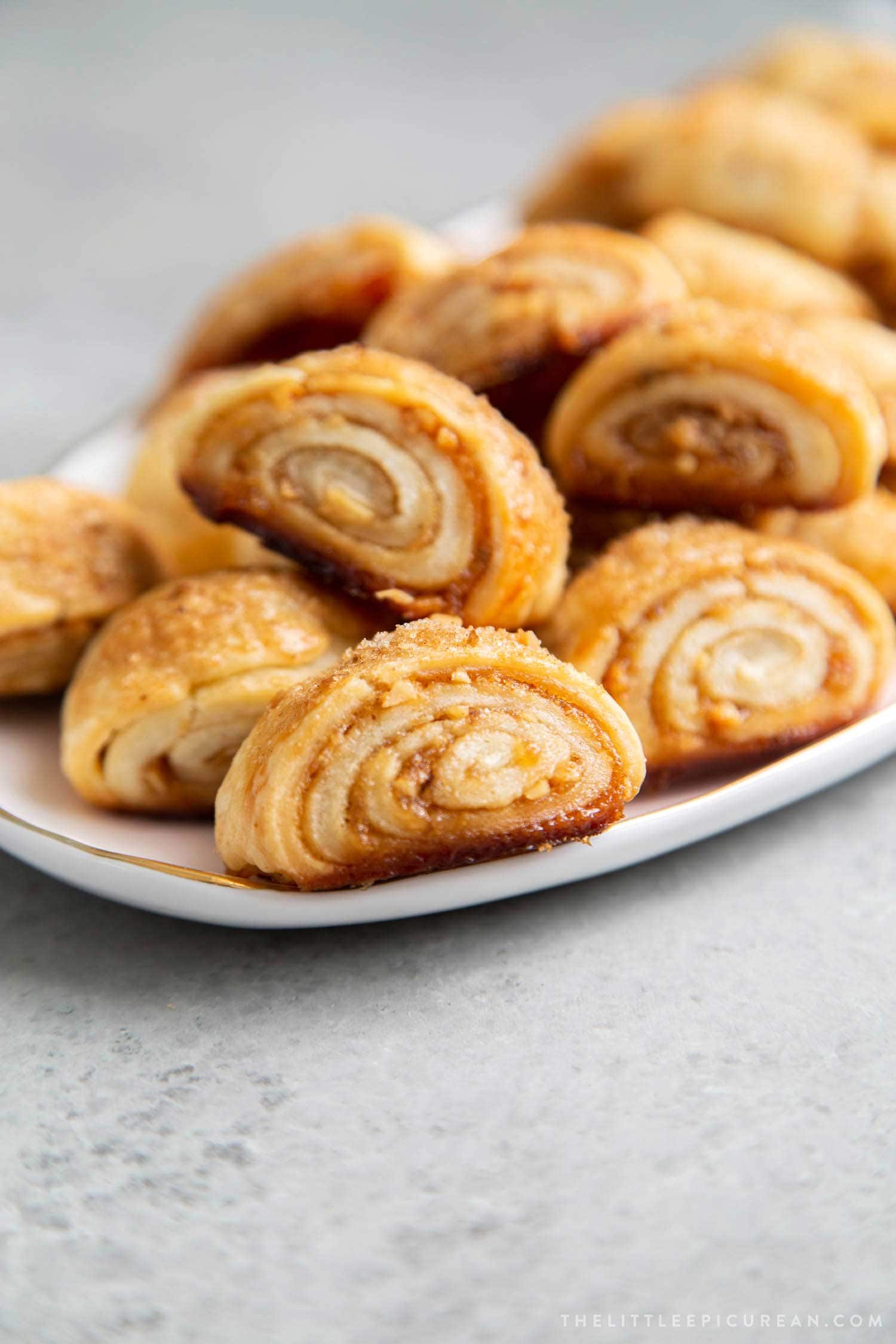 What makes these guava rugelach so tasty?
Rugelach has the texture of layered pastries like croissants and palmiers. Luckily, it's a lot easier to mix than those laminated doughs.
The cream cheese based dough has a sweet yet tangy flavor. It cuts through the fatty butter, making the dough seem "lighter."
These rugelach are filled with guava jam, cinnamon sugar, and finely chopped walnuts. The variety of textures and flavors keeps each bite interesting.
Guava is a tropical fruit that tastes like cross between a pear, strawberry, and tangerine. It's a bit on the tangy side. As such, it's wonderful when cut with the sweetness of cinnamon sugar.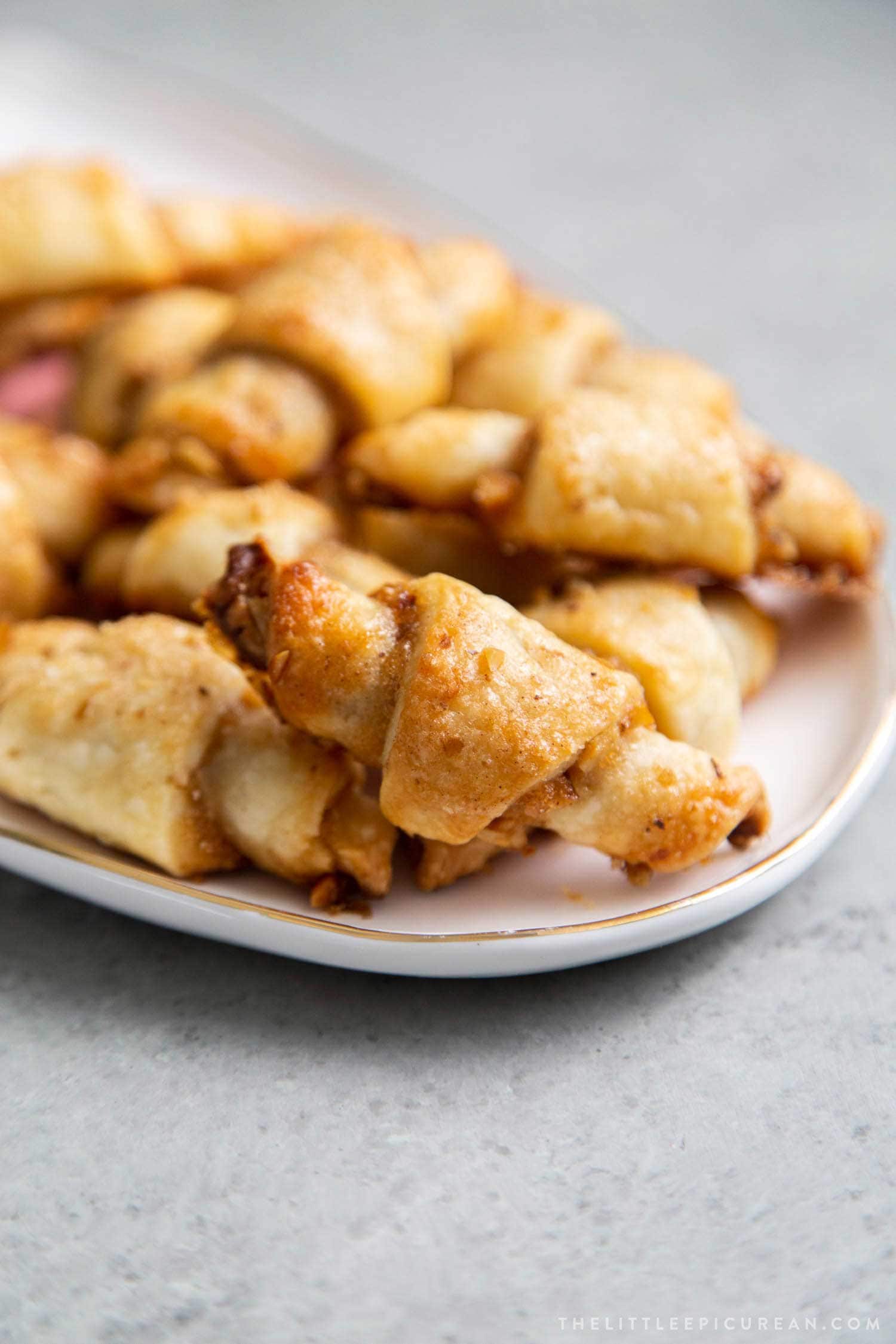 Not a fan of guava? No worries.
Fill the rugelach with your choice of topping. Choose from a variety of jams and jellies to chopped dried fruits and chocolates and nuts.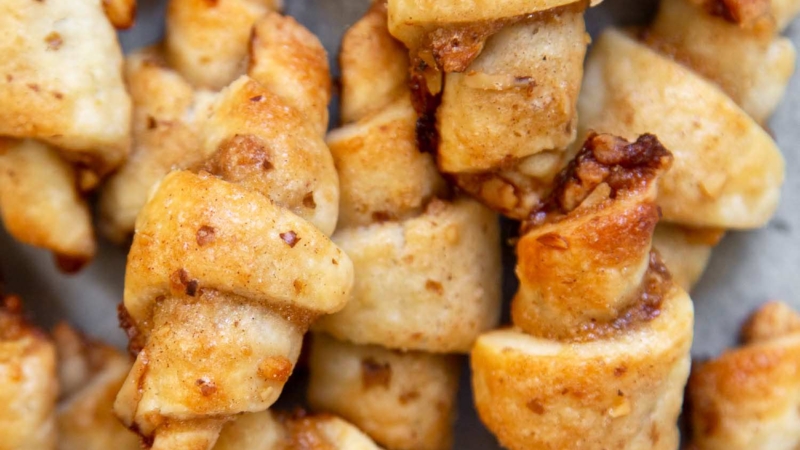 Guava Rugelach
Guava rugelach made with cream cheese based dough and filled with guava jam, cinnamon sugar, and chopped walnuts. 
Servings:
4
dozen cookies
Ingredients
Dough:
1

cup

(227 g) unsalted butter,

softened

8

oz

(227 g) cream cheese,*

softened

2

cups

(260 g) all-purpose flour

½

teaspoon

kosher salt
Filling:
6

Tablespoon

guava jam

½

cup

(65 g) toasted walnuts,

finely chopped

¼

cup

(55 g) light brown sugar

¼

cup

(50 g) granulated sugar

½

teaspoon

ground cinnamon
Egg Wash:
1

large egg white

2

teaspoon

water

pinch

kosher salt
Instructions
Dough:
In the bowl of a stand mixer fitted with paddle attachment, beat together butter and cream cheese until smooth. Add salt and flour. Mix on low speed until ingredients are incorporated.

Transfer to clean work surface. Divide into 4 equal parts. Flatten each to a disk. Wrap in plastic wrap and let chill in the fridge for least 1 hour (up to 24 hours) until firm.  
Filling:
In a small bowl, combine finely chopped walnuts, brown sugar, sugar, and cinnamon. Set aside.
Egg Wash:
Whisk together egg white, water, and salt. Set aside.
Assembly:
Preheat oven to 350°F. Line several baking sheets with parchment paper. Set aside.

Work with one chilled dough disk at a time. On a lightly floured surface, roll dough to a circle about ¼-inch thick. Spread 1½ tablespoon guava jam all over surface. Sprinkle about 2½-3 tablespoons of cinnamon sugar nut mixture over jam.

Using a sharp knife (pizza cutter or bench scraper), cut the dough into 12 equal wedges (triangles). Beginning with the wide outside edge, roll dough inwards. Place rolled pastry onto prepared baking sheet, making sure to keep the small tucked end underneath the pastry. Space pastries about 2 inches apart.

Repeat with remaining three portions of dough.

Lightly brush rolled pastries with egg wash. Sprinkle additional cinnamon sugar mixture on top.

Bake for 18-20 minutes until lightly golden brown. Let cool in pan for 3-5 minutes before transferring to wire rack. Cool to room temperature.
Notes
Do not overfill the rugelach. The filling will ooze out creating a mess causing the rugelach to stick to the parchment paper. 
Baked guava rugelach will keep stored in a container at room temperature for up to 4 days.
If dough gets too sticky, return dough to fridge and allow to cool. 
See post regarding freezing and making ahead. 
See post regarding "slice and bake" method.
Freezing Rugelach For Later:
Assembled rugelach (without the egg wash) can be frozen and saved for later.
Place assembled rugelach on parchment lined baking sheet. Keep in the freezer for 15-30 minutes until frozen solid. Remove from parchment and transfer to airtight bag or container.
Frozen rugelach will keep for up to 3 months.
Bake frozen rugelach in standard 350 degree F oven. Brush with egg wash. Add 2-3 minutes baking time to account for frozen dough.
Slice and Bake Method:
Roll dough into a rectangle about 12×16-inches. Spread jam over surface. Sprinkle cinnamon sugar nut mixture on top.
Starting at the long end, carefully roll up dough into a tight log. Place roll seam side down onto parchment lined baking sheet. Repeat with remaining dough portions.
Cover logs and let sit in the freezer for 15-20 minutes until almost solid.
Use a sharp knife (or serrated knife) to cut logs into 1-inch thick slices. Place slices on parchment lined baking sheet, seam side down.
Brush tops of slices with egg wash and sprinkle cinnamon sugar mixture on top. bake for 15-18 minutes.